Karen Parsons
. . . may we ever remember that we owe something more than prayers even on offering to the Lord that they who preach the Gospel shall be supported.
—Elizabeth Porter Phelps to Elizabeth Phelps Huntington, August 21, 1811
Sometime in the years from 1811 through 1813, Elizabeth Porter Phelps, a wealthy Hadley townswoman, donated two communion vessels to the congregation at the Church of Christ (fig. 1). Such gifts of silver, especially when inscribed with the donor's name, expressed something about the giver to her community. One convention of material culture criticism ascribes the gesture primarily to the desire to demonstrate status. Since Phelps belonged to a prominent, monied Massachusetts family, it would be easy to see these cups as nothing other than a display of class identity. A careful examination of the context in which Phelps made the gift, however, reveals the complexity of the role that church silver played in early-nineteenth-century New England life. In this broader view, it becomes evident that the gift brought together the social networks in which Phelps traveled as a wealthy woman with her intense dedication to her religious principles and community. The meaning of the communion vessels in particular is revealed in that context, since the Hadley congregation advocated a very open and inclusive communion ritual. Furthermore, the time at which Phelps gave the cups coincided with a membership crisis in the church in the years following the death of their beloved pastor, Rev. Samuel Hopkins.
Taken only at face value, Phelps's gift can be read as an expression of status simply by virtue of her family wealth and the high profile she maintained in her church. The family's wealth was certainly no secret to those who worshipped at the Church of Christ. Elizabeth's husband, Charles, owned six hundred acres, making him the largest landowner in town; in 1799 he paid almost twice as much land tax as the next largest property' owner.1 The Phelpses employed church members and local residents as farm workers, domestic servants, and skilled craftspeople at their estate, Forty Acres (fig. 2).2 The couple's activities within their church also demonstrated, intentionally or not, their financial well-being. Charles, who served as a deacon and played an important role in the 1807–1808 construction of the third meetinghouse, sold pews in this new meetinghouse to church members.3 He also owned three pews: numbers 26 and 28 each valued at $200, and number 70—which he probably rented out—valued at $24 in 1817.4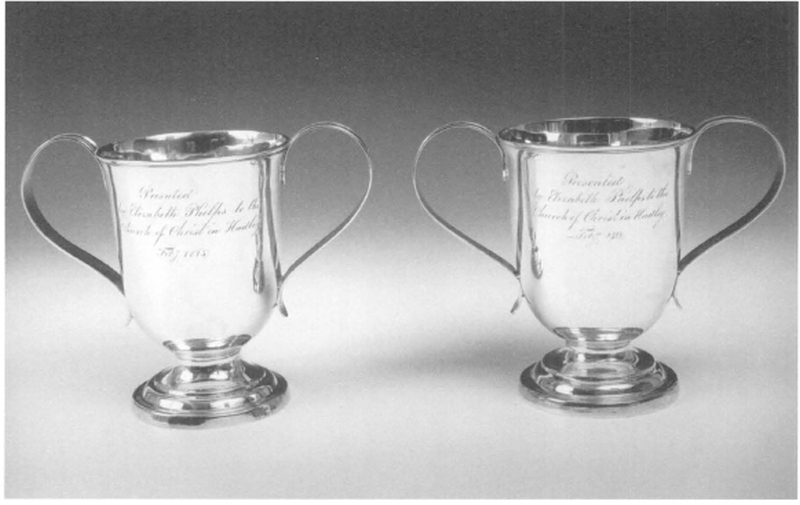 Fig. 1. Thomas C. Fletcher (1787–1866) and Sidney Gardiner (1791–1869), two-handled communion cups, Boston, Massachusetts, 1808–13. Silver; h. 5¼ in. Courtesy, First Congregational Church, U.C.C, Hadley, Massachusetts.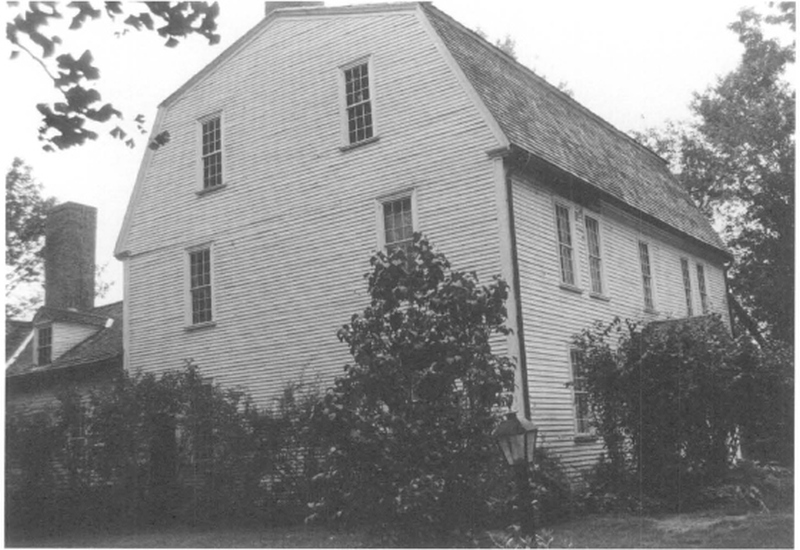 Fig. 2. Forty Acres (Porter-Phelps-Huntington House Museum), Hadley, Massachusetts.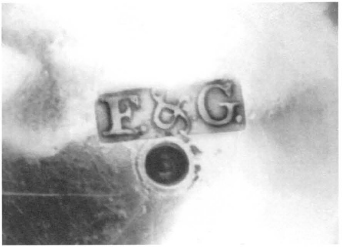 Fig. 3. Fletcher and Gardiner's mark on cups illustrated in fig. 1. Photo, courtesy First Congregational Church, U.C.C., Hadley, Massachusetts.
Befitting their financial position, the Phelpses communicated a taste for decor that was fashionable, genteel, and urban: while the surrounding area supplied their household labor, by 1800 the Phelpses looked often to Boston, not to Hadley, to furnish their home.5 Not insignificantly, the cups themselves were of Boston manufacture, making it all the more likely that Elizabeth's fellow churchgoers would have associated the cups with her social station. Each of the two five-inch tall cups bears a footed base, two strap handles projecting more than an inch and a half from its body, and an inscription that reads "Presented / by Elizabeth Phelps to the / Church of Christ in Hadley. / Feby 1813." On the underside of one cup's base appears the stamp "F.&G." in a rectangular surround—the mark of the silversmithing firm Fletcher and Gardiner (fig. 3). Thomas Fletcher and Sidney Gardiner ran a shop and retail store in Boston between 1808 and 1811. They sold goods produced by other metalworkers but found their greatest profit in merchandising wares made in their own silversmithing shop.6 Aside from the conflict in evidence—maker's mark versus inscribed date—Phelps apparently made the gift in the 1811 to 1813 time period.7
Considerable evidence and analysis about the social value of material culture appears in a pivotal exhibition catalogue entitled The Great River: Art and Society of the Connecticut Valley. In her discussion of how silver objects functioned to display the affluence of the area's elite, Barbara McLean Ward noted that gifts of expensive communion silver "made [the donor's] power and position manifest to all . . . their neighbors."8 In his contribution to the book, Robert Blair St. George asserted that the wealthy elite "preserved the image of corporate communalism to their own advantage" by making generous donations of church plate. Churches had no choice but to be subservient to these donors who, according to St. George, made "calculated acts of largesse" and thus maintained a level of control over their congregations.9 The Hadley church certainly did obtain its silver through a particular social network that included Phelps and a number of her friends. In the 1780s Lucretia Colt Walker gave two cups in memory of her first husband, Benjamin Colt.10 John Hopkins, another close friend of Phelps and the son of Rev. Hopkins, gave an enormous gift of silver fused-plate in 1824.11 The set was comprised of eight cups, four plates, two flagons, and one baptismal basin (fig. 4). Church records note that "two tankards and some cups were given by Major Erastus Smith" (fig. 5) on the same day that Hopkins presented his gift: "On July 4, 1824 . . . the church voted 'thanks to Major E. Smith and Captain John Hopkins for furniture for the communion table.'"12 Phelps also counted Smith among her convivial group of friends.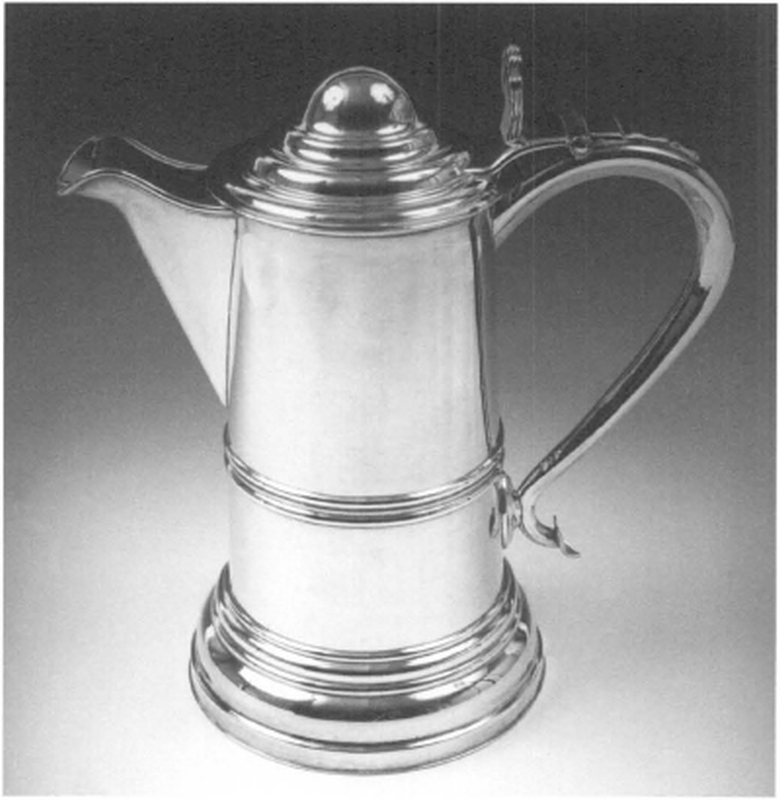 Fig. 4. Unknown maker, flagon, probably England, 1824. Silver fused-plate; h. 11½ in. Courtesy of First Congregational Church, U.C.C., Hadley, Massachusetts.
While many churchgoers certainly recognized Phelps's wealth and her social position as they drank from the cups she had given, that perception does not necessarily encompass the meaning that the objects would have carried for Phelps herself. Phelps's diary and letters reveal that her primary motivation for the gift was not to make a public statement about her wealth nor to gain power within the church community. The tenor of her spiritual life as she recorded it in these documents, as well as the many acts of Christian fellowship she performed, suggest that Phelps prioritized building and maintaining Christian fellowship above all or most other goals. Probably inspired by her friendship with Rev. Hopkins, the gift may have been intended to embody his beliefs about communion participation—a belief manifested in the very design of the cups and the way they functioned during the communion service.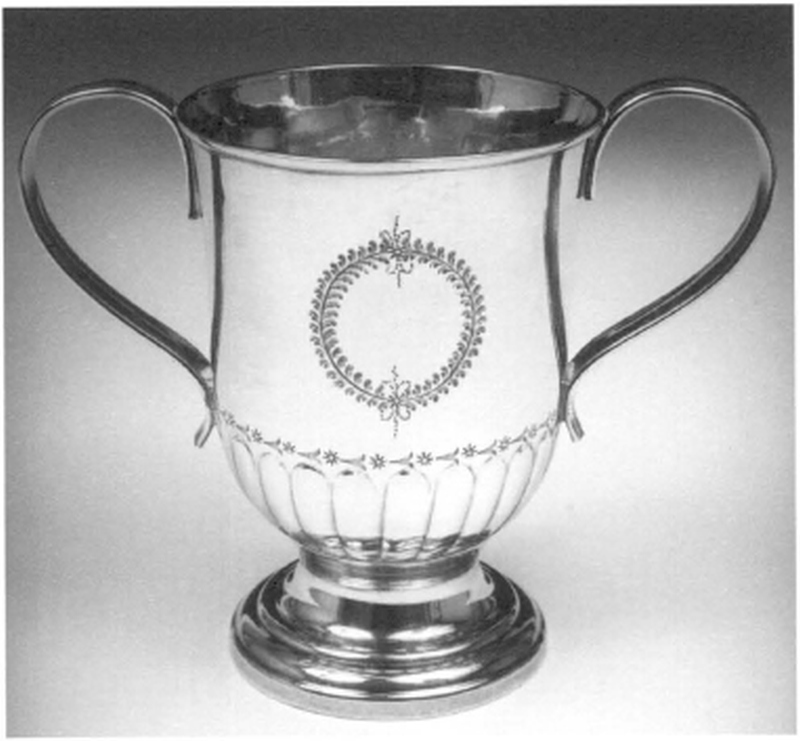 Fig. 5. Unknown maker, two-handled communion cup, probably England, 1824. Silver fused-plate; h. 5⅜ in. Courtesy of First Congregational Church, U.C.C., Hadley, Massachusetts.
Phelps's day-to-day life was very much a product of her fellowship in Hopkins's congregation. She lived her piety, integrating rigorous spiritual self-examination and dedicated discipleship into most everything she did. Her forty-nine years of highly introspective diary entries and numerous letters recount her noble deeds, moments of self-doubt, and concern for others' personal salvation. Phelps ardently pursued fellowship through daily acts of generosity—aiding the poor, the parentless, and the distressed. She actively looked to create spiritual fellowship with her husband, her household, townspeople, women in the community, and with Christians around the globe.
A testament to how closely Phelps wished to integrate religion into her daily life appears in her thoughts about her husband, who did not share her focus on spiritual matters. Charles apparently had little tolerance for religion that swayed from traditional Calvinism. In an 1807 letter to her daughter Elizabeth Phelps Huntington, Phelps reported that "we had Mr. Montague all day, a baptist preacher—your father stood it pretty well."13 Worse yet, Charles often failed to engage in spiritual introspection, and possibly her greatest disappointment resulted from their inability to share thoughts about religion. On the thirty-seventh anniversary of their wedding, Elizabeth reflected,
my feelings on this day have been tender & solemn—when I remember, what my expectations were before I married, respecting a life of religious conversation, & mutual enjoyment of the things of God—I am almost ready to sink in discouragement—my husband has treated me with that reserve & distance which I little expected . . . he finds not that inducement to converse upon experimental religion perhaps, which is requisite to a free Union & endearing interchanging of tho'ts & affections.—O how ought my heart to be humbled, low in the dust before God, that the privilege which I so ardently desired, & confidently expected, has been almost wholly denied me.14
Elizabeth's relationship with Hopkins may have satisfied her desires to "converse upon experimental religion" and acquired special significance as a result.
Phelps created other opportunities to foster Christian fellowship in her household, especially in the work spaces at Forty Acres, where she interacted with her domestic servants and their children. Approximately thirty women worked and lived at Forty Acres over two decades.15 Like the church community, this household staff was diverse, including white, African American, and Native American women. Most were young, at least two arrived at Forty Acres unwed and with an infant in their arms, and still others became pregnant while in Phelps's service.16 Phelps extended concern to these young mothers and in particular to their children. She and her husband sponsored two-and-a-half-year-old Submit West, the daughter of former servant Susanna Whipple, for baptism in the Hadley church in 1794.17 Later, Phelps kept Submit, or Mitte as she was called, off the town's pauper rolls by repeatedly securing her employment; bad behavior cost the teenaged Mitte four jobs in eighteen months.18
Phelps also showed special concern for two elderly German paupers, George and Mary Andries. Elizabeth cared for Mary in December 1783 when Andries believed she had been poisoned.19 In 1785, 1788, and 1793, Charles and Elizabeth Phelps visited the Andries in "their humble cottage at the edge of the woods opposite Forty Acres" to "eat Christmas supper," a German tradition not shared in the eighteenth century by most New England Congregationalists.20 After George's death in 1809, Phelps visited the eighty-five-year-old invalid Mary and "told her she must come live with me but that she must leave all her dirt & rags" behind.21 Speaking little English, in poor health, and unable to dress herself, Mary brought new challenges to the household. But to Phelps's delight, this poor widow sought God's help while resting at Forty Acres.
[S]he appears to be in prayer a great part of her time, uplifted eyes, with folded hands. . . . [H]ow should I feel was I such a poor helpless creature in a strange land without any person to depend on? [N]o where else but on clear, pure providence, indeed I can't but hope her eyes are fixed & trusting on God. . . . She says, "all is good, all is good."22
Evidence of such religious devotion apparently fulfilled Phelps's goals for her charitable work. All of her deeds tended toward bringing Christians together in a greater awareness of God's presence in their daily lives.
These deeds rarely passed without Phelps's self-evaluation of intentions and results. Often she emerged from this introspection humbled and more committed to her goals of spiritual fellowship. Phelps looked to God and through prayer for solace in these dark moments of self doubt. The birth of Submit West's mulatto child in January 1810, just after Mitte's nineteenth birthday, drew Phelps into a month-long flurry of reflection. She wrote, "Lord it is a sore grief to me, may my sin be set before me—my neglects be forgiven." Four weeks later she recorded,
we have been taught by experience so often that when we were endeavouring to do our best it has eventually been productive of the most unhappiness. . . . Oh Lord we desire to look to thee for direction. . . . if thou seest best that we should be more tryed, & grieved by her misconduct may we say in truth, they will be done. Lord there is one favour for [Mitte], which I may beg for . . . may the riches of sovereign Grace be exalted, in the salvation of her & her poor destitute child—we have dedicated her to the Lord in baptism & . . . where is so ever we have done wrong, may we all be forgiven & have true repentance.23
Outside of her home, Phelps propogated Christian fellowship no less ardently. She worked closely within her church's congregation in a number of capacities and pursued a discipleship well beyond it. Her efforts within her church ranged from finite tasks to ongoing and much more active organizing. When the congregation built its third meetinghouse, Elizabeth participated in the effort to furnish the new building with textiles. In July of 1809 she "rode into town of arrands. Carried a tablecloth to deacon Smiths for the communion table."24 On a broader scale, she vigorously organized Hadley women for church patronage and prayer meetings. During 1808, Phelps asked women to join a subscription for dressing the pulpit in the new meetinghouse. She traveled to "the Mills" and the town's Back Street—areas that held some dissension among the residents about where the new building should be located—and she asked the female inhabitants to put aside their differences and unite with women across town.25 In the spring of 1810, Phelps joined "the good women [who] had agreed to keep as a day of fasting & prayer for a blessing upon their families & others."26
While Phelps physically assembled with women for patronage and prayer, she also organized female believers to pray simultaneously, but in the isolation of their own homes. To celebrate the dedication of the new meetinghouse and, more importantly, the resolution of the divisions that had threatened the community, Elizabeth and other women "agreed to Join in a certain hour (altho' at our respective homes) & offer up our . . . thanks, to the great God who we think has answer'd our prayers."27 Phelps later invited women from different towns in the river valley, including a neighboring "pious widow" and a family member living in Middletown, Connecticut, to join in prayer at ten o'clock on Saturday evenings. She hoped these women, separated by geography but united in faith, would offer prayers for "our near relations."28 Phelps's enthusiasm for this dispersed prayer meeting indicates that she enjoyed fellowship on a spiritual level: she envisioned a Christian community that maintained its fellowship even when it could not gather together.29
As evidenced in her diary, Phelps also pursued her religious ideals with a missionary zeal, working and praying always for the winning of new souls to God. In 1805, for example, Phelps and other Hadley women took special interest in the "deranged" soul of local resident Samuel Porter: after prayer session on the Old Street, as Phelps wrote, "a number of women retir'd into a room [and] pray'd—this meeting called upon Lawyer Porters account who continues to be in distress for his soul."30 During a prayer meeting the following year, Elizabeth was overwhelmed by "a sudden & earnest desire . . . that a dear friend . . . might be fitted for, & brought to the Lords table, & faith immediately followed it—that it would soon be so."31 By 1807 Porter "appeared a very bright Christian" and in 1809 he joined the church.32 Phelps remarked that this was the "fulfillment of the faith which was so strongly impressed on my mind . . . in 1806."33
During the winter of 1810, Phelps witnessed the "signs of an . . . outpouring of the spirit" in Hadley that excited her hopes: "some are under convictions, may they . . . endure to the end & be saved."34 Two months later, she enthusiastically reported that two teenage girls "are very much altered, they are together several hours a day with their bibles alone.—have no conversation with anybody, tell none of their feelings unless to each other . . . the Lord is surely carrying on his own work & we will rejoice in it."35 At the same time that she hoped for increased faith in Hadley, she held great optimism for an apparent "outpouring of the spirit" across New England and even around the globe. She longed to hear reports about religion's impact. She asked her daughter Elizabeth, who lived in Middletown, Connecticut, to "tell in your next, how the small awakening process, in those few families by the river, & how religion is with you, as a town—O may there be many sons & daughters born into the real family of Christ."36 The Phelpses hosted regional Missionary Committee meetings at their home, and attended numerous ordinations and lectures by missionaries who worked around the globe.37 In December 1811, a jubilant Elizabeth reported, "O what good tidings are constantly saluting our ears, from many parts of the world. . . . [O]ur hearts leap for Joy when we hear how many instruments God is raising up."38 In many ways, her desires for the advancement of the gospel seemed to be fulfilled, in Hadley and beyond.
The inspiration for Phelps's hard work and ardent discipleship took shape in the Church of Christ congregation and specifically under the teachings of Rev. Hopkins, who was called to the pulpit in Hadley in 1755, just a few months after Elizabeth turned seven years old.39 He remained her pastor well into her adult life and became an important friend as well. In her diary, Phelps recorded numerous visits to Hopkins's home and wrote enthusiastically about these visits and his preaching. The ideal he inculcated in his congregants all those years was primarily one of religious fellowship. Some years later his successor, Rev. John Woodbridge, would recall Hopkins as a "distinguished . . . cultivator of peace among his people."40
The religious community Hopkins fostered practiced diversity in a variety of ways—not only by including the unconverted along with the converted, but also without discrimination as to race or denominational leanings. Hopkins welcomed African Americans to full membership in this overwhelmingly white congregation. At least five African Americans, four of whom were slaves, were admitted to full church membership between 1765 and 1776.41 Hopkins performed at least five marriages for African American couples from 1766 to 1808.42 Evidence suggests that the black congregants were segregated from whites in the meetinghouse: from the mid-eighteenth century, they sat in the gallery's back seats or in the "high pews in the corners over the stairs, which were very conspicious."43 No evidence survives revealing where they sat in the third meetinghouse, dedicated in 1808. Despite being physically marginalized from the rest of the congregation, and despite their small numbers, some African Americans were fully integrated into the spiritual fellowship of Hopkins's church. During a June 1768 worship service, "Ralf Way [a free African American] desired prayers for his child sick of the canker which is called the Throat Distemper . . . and has swept away a great many children."44 Between 1799 and 1809 at least four funerals of African Americans and one of a mulatto girl took place in Hadley. Elizabeth Porter Phelps attended these or burials and prayer meetings for the deceased.45
Hopkins also kept his church open to Christians with denominational leanings different from Congregationalism and thus deterred splinter churches from forming. A nineteenth-century Hadley native noted that "in Hopkins's day, it was a great point of interest to keep out other sects. And no small part of the minister's duty was to watch against interlopers."46 The most significant threat to church unity during his tenure came from Baptists. In 1805, Hopkins encouraged churchgoers to "mark them who cause divisions and offences, contrary to the doctrine which ye have learned," and, more specifically, "those who [are] commonly called Baptists among us." These persons sought to separate themselves from the congregation over differing ideas on the appropriateness of infant and adult baptism. Hopkins adamantly opposed the potential division. He argued that "Those . . . Baptists have no pretence of any sufficient ground for separation from our churches, save such of them as behold we are not churches of Christ, because baptized in infancy and that therefore they cannot partake with us at the table of the Lord." Hopkins urged his people to broaden the place of the baptismal ritual in the Hadley meetinghouse and to give the so-called Baptists no sufficient grounds for leaving the congregation. He stated that "we are ready to baptize [these people], at the age, and in the mode, they think proper; and when baptized, to receive them to our communion."47 Hopkins made it a priority to preserve the congregation's unity by identifying and promoting the common beliefs among groups. He thus managed not only to build fellowship within his congregation but also to keep other churches from forming in the town.
The communion ritual that Hopkins unfailingly kept open to a broad range of individuals played a vital role in his quest for religious unity.48 He consistently welcomed "all persons of a sober moral life" to the communion table, "whether they did or did not profess to have been subjected to renewed grace."49 The diverse group invited to this ritual, one of Christianity's most sacred, included the town's social elite, paupers, African Americans, churchgoers with Baptist leanings, conservative Congregationalists, and most importantly, individuals for whom the communion service offered an opportunity to experience conversion, not affirm an already publicly professed faith. Hopkins and his two predecessors, Isaac Chauncey and Chester Williams, all viewed this sacrament as a converting ordinance, not a reward for those who had publicly disclosed their conversion experience. These ministers, who maintained the church between 1695 and 1809, welcomed the converted and unconverted to hill participation in the Lord's Supper.50
After Phelps's donation, the church owned six two-handled vessels and used this form exclusively until 1824. Although no evidence reveals who selected Phelps's Fletcher and Gardiner cups for the Church of Christ, whoever made the choice—Phelps or the church deacons—clearly referenced the communion silver already used in the meetinghouse. The church owned four two-handled cups by 1800.51 In her essay "'In a Feasting Posture': Communion Vessels and Community Values in Seventeenth and Eighteenth-Century New England," Barbara McLean Ward suggested that a preference for a single form of communion vessel can indicate a congregation's desire to blur social distinctions among church patrons and members of the congregation.52 Since this reading could easily apply to the Hadley church, given its efforts to erase spiritual distinctions among participants during the communion ritual, it helps to explain the church's apparent preference for two-handled vessels in the absence of any other documentation. Its earliest ritual vessels were probably pewter and part of a set acquired after the town's settlement in 1659. Unfortunately, these no longer survive in the church collection.53 Beginning with the items extant from the eighteenth century, however, a relationship seems to appear between the church's emerging doctrine of an open communion and its preference for the two-handled communion vessels. In 1723, Peter Montague donated a two-handled silver cup made by Boston silversmith John Dixwell (fig. 6). Roughly half a century later, the church received another silver cup, made by Zachariah Brigden in Boston, bearing these oversized handles (fig. 7). Between 1781 and 1784, Lucretia Colt gave two silver fused-plate cups to the church in memory of her husband, Benjamin Colt (fig. 8). Silver and silver fused-plate vessels remained in use at the Hadley church until 1906, when small individual glass cups were introduced.54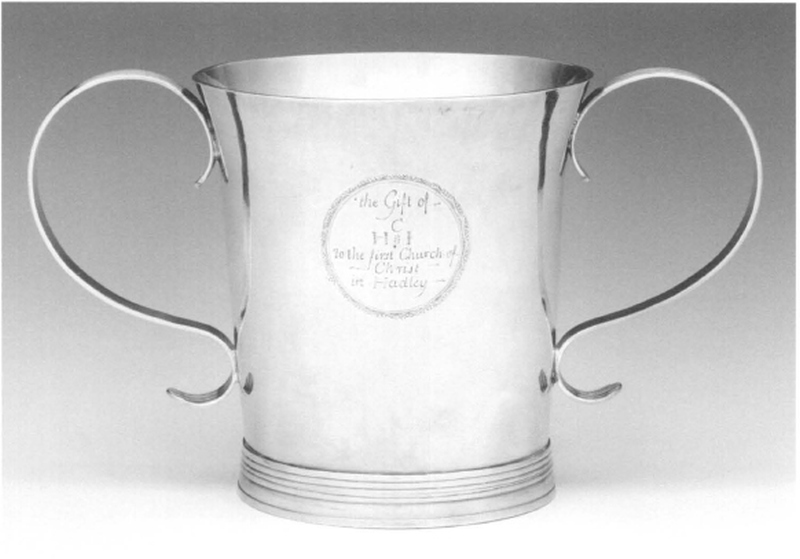 Fig. 6. John Dixwell (1680/81–1725), two-handled communion cup, Boston, Massachusetts, 1724. Silver; h. 5½ in. Courtesy of First Congregational Church, U.C.C., Hadley, Massachusetts, on loan to the Museum of Fine Arts, Boston. Photo, courtesy Museum of Fine Arts, Boston.
Among the unusually diverse population in Hopkins's meetinghouse, the passing of the communion vessel from one congregant to the next would have constituted in itself an act of spiritual fellowship. The communion ritual began with the minister's blessing of the wine, after which he poured it from a large vessel into the smaller cups. The blessed wine then stood for the blood Christ shed to forgive the sins of mankind and secure the promise of everlasting life. Thus bearing, in metaphor, the blood of Christ, the two-handled cups traveled through the congregation—"worthy deacons and communicants . . . passed them from hand to hand and from lip to lip as they took the cup and gave thanks."55 Drinking from the vessel, each communicant embraced this promise simultaneously with an entire congregation. Each time a participant transferred the cup to the next believer, a moment occurred when two members held the cup together, each grasping one of the handles. In the same way that the promise of an eternal spiritual life held meaning for the group as well as the individual, these two-handled cups facilitated a single participant's communion experience and linked it to that of others in the meetinghouse. Clearly, the two-handled cups favored by the Hadley congregation helped to promote Hopkins's vision of congregational unity.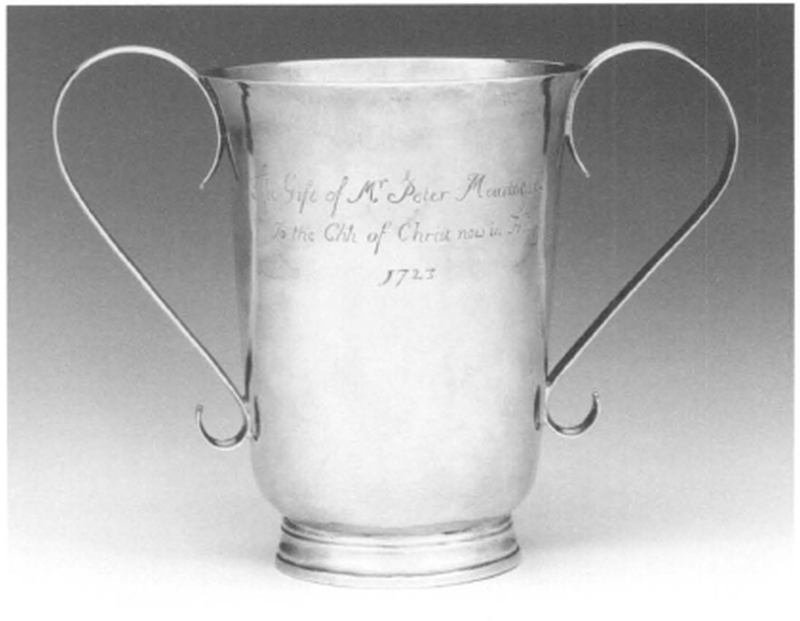 Fig. 7. Zachariah Brigden (1734–1787), two-handled communion cup, Boston, Massachusetts, 1723. Silver; h. 4½ in. Courtesy of the First Congregational Church, U.C.C., Hadley, Massachusetts, on loan to the Museum of Fine Arts, Boston. Photo, courtesy Museum of Fine Arts, Boston.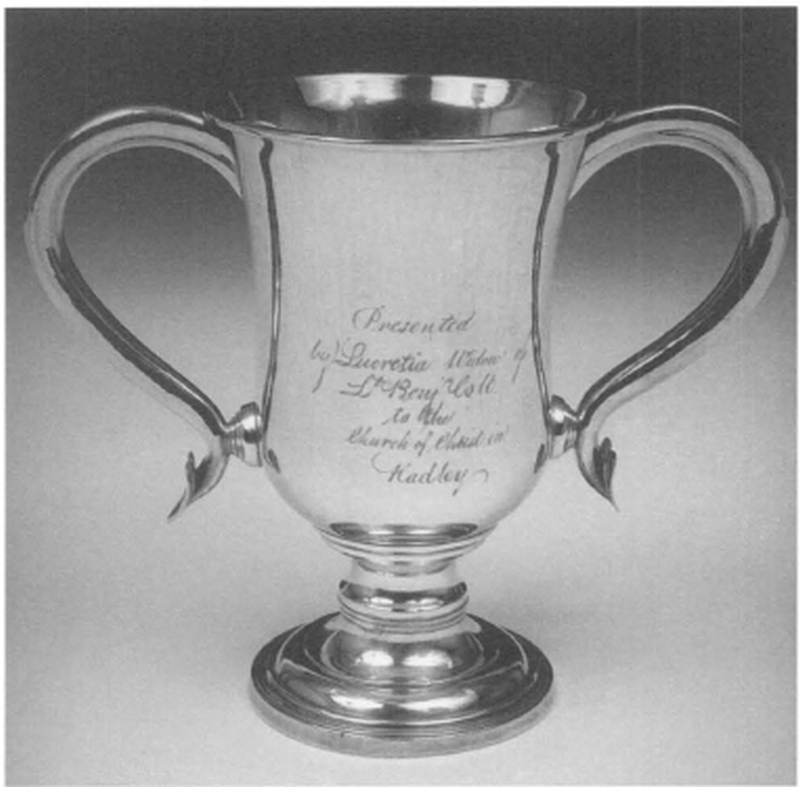 Fig. 8. Unknown maker, two-handled communion cup, probably England, 1781–84. Silver fused-plate; h. 6 in. Courtesy of First Congregational Church, U.C.C., Hadley, Massachusetts.
This inclusive invitation to church rituals had not always been in effect in Hadley. The town's first minister, John Russell, who served from 1659 to 1692, subscribed to more conservative ideas about who was eligible for the church's sacraments. The town's founding in 1659 resulted from a disagreement in the church in Hartford, Connecticut, partly over who could present their children for baptism. A minority in the Hartford congregation held fast to conservative teachings of their recently deceased pastor, Thomas Hooker, and believed that only full church members were entitled to baptize their children. These traditional Congregationalists rejected the less rigid view of their current minister, Samuel Stone. As Stone promoted the Half-way Covenant—this loosening of the rules governing baptism—the minority withdrew from the church, aligned with Rev. John Russell of Wethersfield, and removed to Massachusetts. As the first minister in the new town of Hadley, Russell enforced "strict Congregationalism" by allowing only members of the church in full communion to present their children for baptism and by administering communion only to "those who gave some evidence of faith and repentance."56
A less exclusive perspective about the church community came to the Hadley congregation after Russell's death in 1692 and with the calling of Isaac Chauncey three years later. Chauncey and his two successors, Chester Williams and Samuel Hopkins, subscribed to the theology advocated by Solomon Stoddard, minister in the neighboring town of Northampton from 1669 to 1712. Stoddard, who in his youth had experienced a conversion during a communion service, promoted "open communion" for all worshippers as a means by which they might feel that "'mighty change' in the heart."57 He did not require a public affirmation of faith for membership in the Northampton church; one needed only "evidence of good behavior[,] . . . a simple profession of faith," and Stoddard's approval in order to gain access to the communion ritual. Stoddard believed that individuals could experience conversion after "extensive preparation through baptism, education, prayer, communion and much consideration of God's word."58
During his lifetime, Stoddard gained limited support in the Connecticut River Valley for redefining the role of the communion service and the part that ministers could play—because they administered that ritual—in conversion. Staunch support came from some nearby churches and their ministers, especially Isaac Chauncey of Hadley and William Williams of Hatfield.59 After Stoddard's death, however, his views were challenged by his successor and grandson, Jonathan Edwards. Under Edwards's leadership, the Northampton church returned to strict Congregrationalist views requiring "those received into the church [to] make a credible profession of piety."60 This reversal contributed to great controversy in the church and resulted in Edwards's dismissal in 1750. Chester Williams, Hadley's minister at the time, sat on a county-wide ministerial council that heard Edwards's case. Williams voted for the preacher's dismissal, honoring Hadley's longtime allegiance to an open communion.61 In 1755, when Hopkins took his place at the Hadley pulpit, he joined with a congregation already well versed in the welcoming theology he espoused.
Despite the legacy of decades that gave foundation to Hopkins's principles, the Hadley congregation went into a crisis when they lost his leadership. In 1809 he suffered a number of strokes; about one, Phelps noted in her diary that he "had another shock, one side nearly dead."62 Paralysis forced him to retire from active ministry, although he remained the senior pastor at the church in name.63 Elizabeth visited him regularly over the next two years when immobility confined him to his bed. During the week before his death in March 1811, Phelps sat with him for at least two days.64 Less than a day after his death she was "at the meetinghouse to see about putting the pulpit in black."65 She later wrote, "Tuesday we attended the funeral of Dr. Hopkins—a dear good friend to us & to all mankind. May all follow him as he followed Christ."66 Phelps's first opportunity to take communion after Hopkins's death prompted an especially painful moment of self-examination. She wrote in her diary,
one more opportunity at the Lords table can it be that there is one spark of true grace—Lord awake this dead, hard, stupid, heart[.] [W]hat can, what shall I do, but endeavour, & really take my place, at the foot of the cross—Lord if I perish; I perish, surely it will be just—the Sovereign God has a sovereign right to chose who he pleases—to make one vessel to honour & another to dishonour.67
The loss was certainly a profound and personal one for Phelps, but she took no less personally the threat to the congregation that he had ministered so carefully After a lifetime of trying to live and support Hopkins's ideals, Phelps would do all she could to bolster the community's commitment after his death. In this context, it became clear that the communion vessels she gave sometime between 1811 and 1813 evoked Hopkins's vision of a unified church dedicated to an inclusive communion ritual. The gift must also have inspired helpful memories for the congregation as it found itself in a membership crisis.
Phelps's concern about threats to the congregation had already become evident a few years earlier, when the construction of the new meetinghouse stirred disagreement in Hadley. At that time, a number of Back Street residents refused to buy pews in the new building, and six months into the project less than half of the seating had been purchased.68 With great relief, Elizabeth reported that by the 1808 dedication of the meetinghouse,
those people who have been greatly displeased, & said many hard & bitter things against . . . those who have built the house, are now so far reconciled, that almost the whole of them, are coming into the new meeting-house, & either buying or hireing pews.69
It was clear to Elizabeth why this change of heart occurred. "This is the Lord's doing. It is marvelous in our eyes . . . we have long been sending up [our prayers] to the throne of grace for this very change of sentiment & conduct."70
Just as the church appeared unified after the meetinghouse dedication, and the Lord's good works were apparent in town, Hopkins's illness and death precipitated a dramatic membership crisis. Once Hopkins became bedridden in 1809, the junior pastor, Rev. Woodbridge, took over the pulpit; he did not earn popularity in town quickly. Phelps described him as "very much an orritor . . . [who] has too many gestures" and remarked that he gave "thanks very pathetically."71 By 1811, the year of Hopkins's death, a frustrated Woodbridge noted in his records that "die church diminishes with rapidity." He added an ominous warning: "Consider ye that slight the Lord. Presume his wrath anon."72 That year the congregation lost twenty-three members to death.73 Despite an extraordinary increase in new members—a four-fold increase over the previous year in new adult memberships, with thirteen new believers—the church's losses to death in 1811 were almost twice the number of new communicants.74 The following year brought only one new member to the church, and in 1813 only three adults joined.
Phelps focused her energies on the individuals who did join. She recorded their admissions in her diary and distinguished those who joined by adult baptism, and she took particular interest in the young women, who accounted for eleven—or 85 percent—of these new members.75 In May 1811 she wrote, "we have had a number join'd to the church . . . Polly Shipman is one [and] I suppose by what I see [and] have heard, she rejoices greatly in the Lord. O may there be many sons [and] daughters, born into the real family of Christ."76 Four months later, Phelps visited Betsey Smith shortly after her baptism and reflected,
I rode out east, the middle way to a cloathers—stopt a few moments at Sereno Smiths—[His wife] was taken into the church last Lords day—was baptized herself & three children, Lord Jesus was not my heart drawn forth in Love to thee, & thy members.77
The sentiment she expressed here, the dedicated effort to further the growth of the church, provides us with the context so easily overlooked in the standard analysis of church donations. Perhaps Phelps hoped her donation of communion vessels would buoy the spirits of a flagging congregation, drawing churchgoers' hearts closer to Jesus and to their fellow members, as she had felt during her visit with Smith.
The cups physically increased access to Hadley's communion ritual and built fellowship among the congregation. At the same time, they pledged support for the enlargement of a spiritual fellowship around the globe. While Phelps struggled in her life and writings to balance worldly concerns with the promise of eternal life, she clearly stated her belief in salvation through Christian fellowship with her gift of communion silver. In offering "something more than prayers" to Hadley's Church of Christ, Elizabeth Porter Phelps brought together her material and spiritual realms in these cups, and furthered her lifelong pursuit of Christian fellowship.