Jeannine Falino
"You would be surprizd to see the Equipage, the Furniture and expensive Living of too many, the Pride and Vanity of Dress which pervades thro every Class, confounding every Distinction between the Poor and the Rich," wrote Samuel Adams in 1785 to his cousin John.1 The displays of material wealth that Adams lamented were caused in part by rapid changes in population, occupations, and fortunes during the revolutionary period. However inappropriate this "expensive living" may have seemed to Adams, a trend toward broad ownership of genteel goods had been underway long before the colonial struggle for independence.
The Edinburgh-trained physician Alexander Hamilton, for instance, wrote of his encounter one evening in 1744 with a man named Morrison, whom he described in appearance as "a very rough spun, forward, clownish blade, much addicted to swearing, and yet at the same time desirous to pass for a gentleman." Hamilton sensed Morrison's keen awareness of their social differences as they sat together in a Delaware tavern, and his indignation when served a coarse meal of veal scraps in the physician's presence. According to Hamilton's recollection, Morrison declared that "tho he seemed to be but a plain, homely fellow, yet he would have us know that he was able to afford better than many that went finer: he had good linnen in his bags, a pair of silver buckles, silver clasps, and gold sleeve buttons, two Holland shirts, and some neat night caps; and that his little woman att home drank tea twice a day; and he himself lived very well and expected to live better."2
Samuel Adams's observations and Mr. Morrison's gold buttons reflect an improved standard of living in eighteenth-century America as well as the desires of those who aspired to this better life. Scholars of consumption patterns in pre-industrial England and America have shown how a nascent, wage-based economy offered appealing alternatives to the subsistence and barter systems that had been in use since the Middle Ages. In the new, cash-based paradigm, people from all walks of life used their income to purchase goods. Even in the colonies, where currency problems were rife until the formation of the new republic, the power of the purse had an enormous impact upon the marketplace, where manufactured products at all price levels soon began to enter everyday life.3
In eighteenth-century Boston, where vessels from abroad arrived with daily cargoes of valuable ceramics, hardware, and textiles, among countless other manufactured goods, the material life of the young province began to approach that of England. In this new Anglo-American outpost, it was not long before these items ceased to be luxury products. Instead, they became everyday objects of "comfort, convenience, and indicators of gentility," present at nearly every economic level of society.4 Taken together, these products define the consumer revolution in its infancy.
Although silver ranked near the apex of luxury items, probate records indicate that about 20 percent of New England households owned some silver by the second quarter of the eighteenth century.5 A close examination of who bought what from the silversmiths in the second half of the century can provide a particularly vivid picture of class and consumption in the Revolutionary era. The daybooks of Paul Revere II (1734–1818), the primary resource of this essay, will create that picture. Taken together with the data of Revere's extant silver and other published research, they demonstrate that Revere stood at an intersection of Boston's social and economic life and they reconfirm his status as Boston's most prolific and entrepreneurial craftsman.6 At the same time, the daybooks provide a remarkable portrait of Revere himself, both as a businessman and as a local citizen (fig. 1).
The daybooks, also called wastebooks or ledgers, are two volumes that Revere maintained between 1763 and 1797 to track current orders for silver.7 Revere recorded 588 customers in the two books, noting the charges for services that ranged from fashioning complete tea sets to making shoe buckles, from engraving Masonic certificates and bookplates to cleaning teeth, making harnesses, and performing minor repairs. As extensive as the information in the daybooks is, the volumes do not constitute a complete source for tracing all of Revere's silver; numerous pieces that he made during this period, including the Sons of Liberty Bowl, went unrecorded. To provide balance to the ledger records, the names of additional owners, gleaned from surviving objects, have been added for a total of 757 known patrons whose purchases ranged in date from 1754 to 1806.8
The consumption patterns of the era, described above, coincided with Revere's talents and skills as an entrepreneur. Although the entire body of Revere's silver production and the full complement of his patrons may never be fully known, the list of items and buyers noted in the daybooks can help determine how Revere's life intersected with market forces. Contrary to what one might expect, Revere's business did not entirely depend on high-end purchases from wealthy clientele, although he was one of the most successful colonial silversmiths and enjoyed their patronage. Rather, smaller purchases made up the large quantity of Revere's business. As will be demonstrated, he outstripped his peers by matching silver production to meet the needs of colonial Bostonians hailing from various economic strata. At the same time, as an energetic member of many social and political groups, Revere netted roughly 20 percent of each group as clients.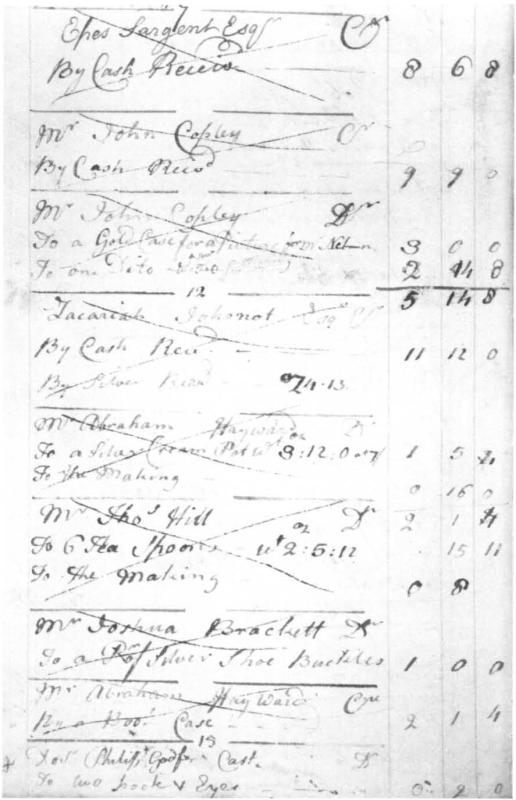 Fig. 1. Paul Revere's daybook, vol. 1, January 8, 1763. Revere Papers, Massachusetts Historical Society.
A brief review of Revere's career in contrast with those of his peers demonstrates that despite a slow start after his father's death in 1754, the young patriot rapidly joined the ranks of Boston's most productive silversmiths. Zachariah Brigden (1734–1787), Benjamin Burt (1729–1805), John Coburn (1724–1803), Daniel Henchman (1730–1775), and Samuel Minott (1732–1803) were Revere's approximate equals in age and activity according to this definition. During the pre-war period, Revere made at least 175 objects, a respectable second place to the 185 made by Benjamin Burt (1729–1805), who was five years his senior and another silversmith's son. Revere and Burt were far ahead of Brigden, Coburn, and Henchman, whose numbers were 56, 90, and 47, respectively. Only Samuel Minott came close to approaching the volume of Burt and Revere with 105 objects.9
TABLE 1. Paul Revere's Silver Production, 1761–75 vs. 1779–97.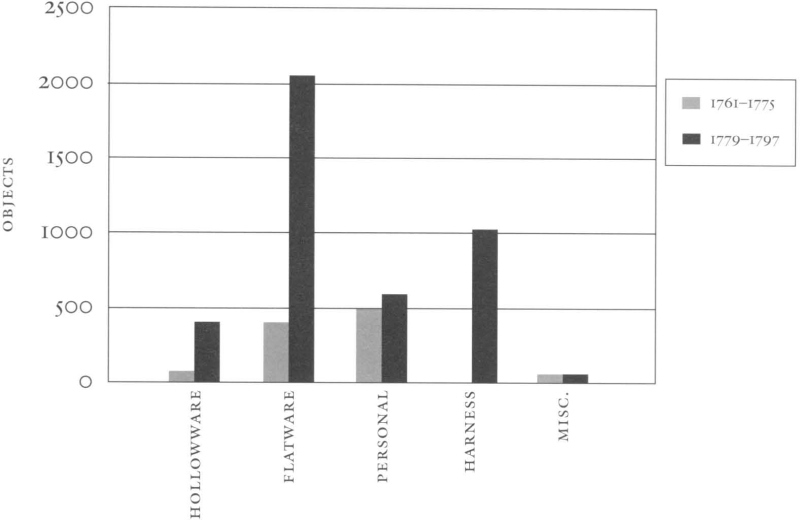 Source: Deborah Federhen, "Paul Revere, Silversmith: A Study of His Shop Operations and His Objects" (M.A. thesis, University of Delaware, 1988), table E.
His peers, fine silversmiths all, lost their momentum primarily to age, politics, and tradition. Samuel Minott sided with the English during the war and never regained his former level of activity; Daniel Henchman and Zachariah Brigden died early. Benjamin Burt held the most promise besides Revere for a long and busy career, but a comparison between Burt and Revere offers some clues to the latter's success.10 During the pre-Revolutionary period, Burt's clear superiority in numbers is easily appreciated by examining the most traditional forms favored at the time. He made forty canns to Revere's ten, thirty-two porringers to Revere's twenty-seven, twenty-six tankards to Revere's sixteen, and thirteen teapots to Revere's four. As years passed and the call for out-moded works declined, the situation reversed in Revere's favor. After the war, Revere proved himself capable of turning out quantities of sugar bowls, creamers, and teapots to meet the new fashion for tea equipage. Burt, by comparison, made few of these items and eventually fell far behind, never again to surpass Revere.
Revere's level of productivity was impressive; at least as remarkable was his ability to increase his business despite the disruptions of war and his own diverse activities. His ability to do so depended, again, on his entrepreneurial instinct, which led him both to maintain and exploit his many connections from many different social contexts and apparently to discern and respond to shifts in style and economy. Deborah Federhen, whose findings regarding Revere's sales activities are more complete than those gleaned from the daybooks, demonstrates that Revere turned out a greater quantity of low-end goods than he did high-end. According to her research, Revere generated far more flatware, personal articles such as shoe or knee buckles, and a greater quantity of harness fittings than previously thought.
Altogether, Federhen established that between 1763 and 1797, Revere's shop sold 565 hollowware items, a fraction of his total output of 4,792 objects. Of these, 2,479 pieces were flatware, 1,074 were personal items such as shoe and knee buckles, 1,044 were harness fittings, and 195 were miscellaneous items.11 While requests for hollowware rose somewhat after the war, flatware and harness trappings emerged as the major elements of Revere's postwar production. The number of personal accessories, such as buttons, buckles, and rings, also grew in the daybooks from a pre-war figure of 449 to 623 items purchased between 1783 and 1797; they stand for the countless individuals like the "rough spun" Mr. Morrison, who believed that these modest items heralded a better standard of living for himself and his family (table 1).12
As these figures demonstrate, Revere's true success lay in selling a high volume of low-end goods over a period of thirty years. If the daybooks are any indication, New England's wealthy tended to buy ambitious forms like candlesticks and snuffer trays from abroad, and used domestic smiths such as Revere for mending and providing more common vessels and spoons. Middling patrons typically purchased small personal items, spoons, and some vessels directly from their local silversmiths. The cultivation of this clientele, which first centered on Revere's family, neighbors, and congregation and gradually widened to include a social and political network, yielded an income that may have enabled him to attempt riskier ventures later in his career.
Among Revere's buyers, as among colonial silver buyers in general, the purchase of common items such as spoons far outstripped hollowware purchases; in Revere's orders, the ratio figured at nearly five to one and constituted the bulk of silver generated by his workshop. A relatively basic household necessity, spoons of any material appeared in colonial homes across the class spectrum. While eighteenth-century Americans first used wooden, horn, and pewter spoons for everyday use, they acquired silver as time and funds permitted. Small amounts of flatware and personal accoutrements made of precious metals first appeared in ordinary households about 1700. By the close of the century, a silver cup, a pair of spoons, or a watch could be found in all but the poorest households. In the postwar era, many modest Boston households owned at least one or two silver spoons, while those with greater incomes often owned a dozen or more. Most silversmiths at work in rural outposts produced modest quantities of spoons and little else.13
In contrast to the prevalence of spoons in Revere's business, hollowware constituted only 11 percent of his total output during the pre-war years and less than 9 percent in the years thereafter. Revere maintained this modest percentage by shifting hollowware production in the postwar years to sugar bowls, creamers, sugar tongs, and spoons—all newly fashionable forms of tea equipage. A review of the clientele for these more expensive items will turn up few government appointees or members of the mercantile elite, as these were the leading citizens who preferred imported goods. Revere's customers for these luxury items were, instead, prosperous merchants and tradesmen of the region. Their purchases, often made to commemorate marriage and birth, took place regardless of external events, as borne out by the seventy-five pieces of hollowware they acquired from Revere during the Revolutionary War.14 These customers probably would have bought even more silver from Revere if political and military activities had not kept him from his bench.
With the increased business that came into his shop after the war, Revere achieved near dominance of silver teapot production.15 He produced thirty-eight teapots during the same period that Burt and Brigden, for example, managed only five.16 Although colonial resistance to English taxes had restricted the drinking of tea beginning in the 1770s, with the new republic this beverage quickly returned to its former popularity. Given the variety of materials then available, the popularity of silver teapots in the postwar era is all the more remarkable. Customers could choose from an ever-growing variety of materials that ranged from inexpensive ceramics, pewter, and fused or "Sheffield" plate to silver vessels made by local Boston silversmiths.
Revere probably owed his success to a variety of factors. As a mature silversmith by 1780, Revere certainly benefited by return business from old customers and new ones acquainted with him from social or political encounters. He may also have enjoyed greater visibility among the silver-purchasing public due to his revolutionary activities, though no evidence now available can prove or disprove that thesis. His high production of fluted teapots, fashioned with rolled sheet silver, demonstrates his command of a stylish and economical method that may have proved attractive to his customers.17 Finally, Paul Revere III (1760–1813) may have revitalized his father's shop at a time when the patriot was attending to other business endeavors.
Other shifts in consumer trends also show markedly in Revere's later career. He took advantage of a growing desire to purchase silver in larger groups: whereas pre-war buyers usually purchased silver as single pieces, larger tea services purchased en suite came into vogue after the war. The broker John Templeman and his wife, Mehitable (1792), Burrell and Anne (Zeagers) Carnes (1793) (fig. 2), and merchant William Shattuck (1795) each ordered beverage services of varying sizes from Revere.18 Other customers purchased spoons in sets of six and twelve, adding significantly to the spoon volume mentioned above. Revere also demonstrated his responsiveness to consumer trends in his mastery of the water pitcher, another form that he produced in significant numbers near the end of his silversmithing career.19 At the end of the eighteenth century, so-called Liverpool ceramic pitchers were shipped from England in quantities to meet consumer demand in the new republic. Revere adapted the barrel-shaped form to silver beginning about 1800, thus creating a domestic source of competition for the import (fig. 3). Ebenezer Moulton of Newburyport, who hailed from the next generation of silversmiths, also took advantage of this opportunity; however, John Coburn, Benjamin Burt, and Samuel Minott, all of whom lived into the first years of the nineteenth century, failed to make this new and desirable item available to their customers.20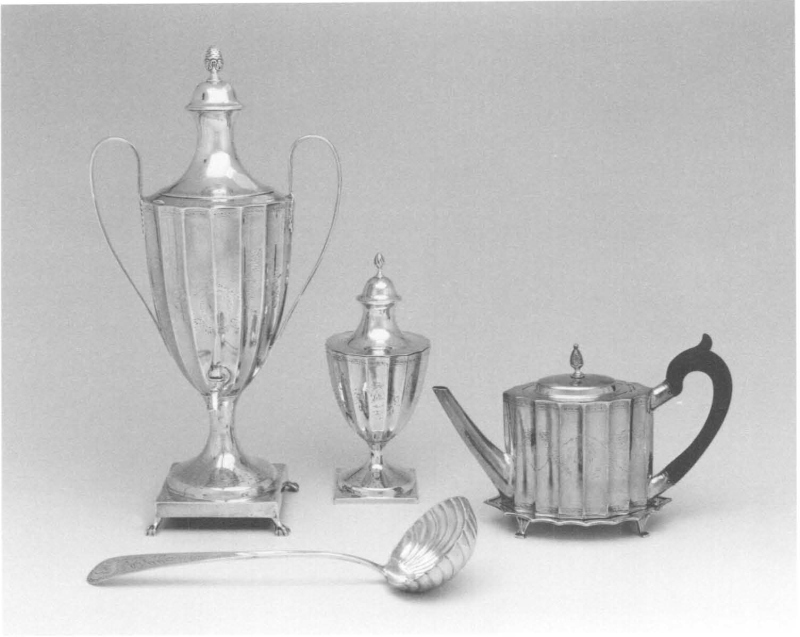 Fig. 2. Paul Revere (1734–1818), ladle and tea and coffee service, Boston, Massachusetts, 1793. Silver; h. (coffee urn) 13⅝ in. Museum of Fine Arts, Boston, Arthur Mason Knapp Fund (20.1634); Gift of Henry Davis Sleeper in memory of his mother, Maria Westcote Sleeper, by exchange (60.1419–20); Pauline Revere Thayer Collection, by exchange (60.1421–22).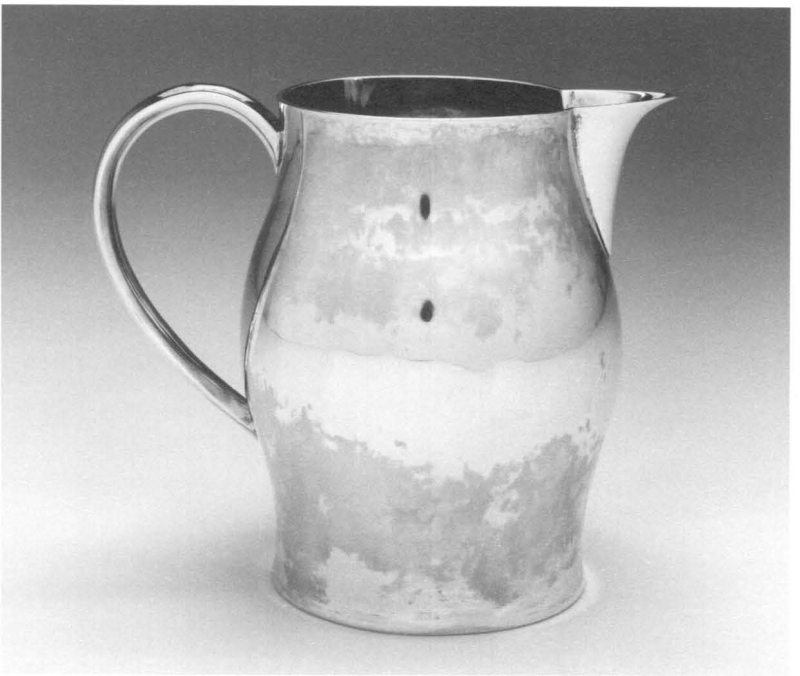 Fig. 3. Paul Revere (1734–1818), pitcher, Boston, Massachusetts, ca.1800. Silver; h. 6⅞ in. Museum of Fine Arts, Boston, gift of William Westfall (1991.1093).