IN Boston in the early eighteenth century William Price and Thomas Johnston were part of a growing circle of citizens intensely interested in music. Through the efforts of ministers, including John Tufts, Cotton Mather, and Thomas Walter, and laymen, among whom were Edward Enstone, Peter Pelham, and Stephen Deblois, the local audience for music grew rapidly. Price and Johnston played major parts and their musical pursuits were reflected in the life of the community.
Price did more than any other man to establish organ music in Boston's Anglican churches. His contributions to music in Boston were made as an earnest amateur performer on the organ, as a patron of music who contributed money and time to the enhancement of music in Christ Church, Trinity Church, and King's Chapel, and as a businessman and shopkeeper who advertised instruments and music books as part of his stock in trade.
Johnston was a contributor to the music of four different churches, the Congregational Brattle Square Church and the three Anglican churches, King's Chapel, Christ Church, and Trinity Church. Probably because of his interest in music, he eventually shifted his allegiance from Brattle Square, where he had long been a member of the congregation, to King's Chapel. He is buried in King's Chapel Burying Ground.
In addition to his church singing and his repairing and building of organs for several New England churches, he engraved music, printed it on his own copperplate press, and sold it in quantity to publishers who bound it in at the back of psalmbooks for which they printed the words. He ventured into the role of publisher late in life, sold copies of books containing his engravings of tunes to Boston customers, and made arrangements with peddlers to sell the books through the countryside.
His interest in music was carried on by his family. One of his sons earned his living through skills as a portrait painter and organist, another engraved a book of music for the composer William Billings, and a son-in-law in Boston was a secular singer of local repute. The family painting and decorating business, carried on after Johnston's death under the name Rea & Johnston, offered a remarkable diversity of skills and was itself a contributor to the musical life of Boston.
It would be a mistake to describe the contributions of Price and Johnston without at least mentioning other Bostonians who were equally influential. Among their contemporaries were the ministers who argued with considerable success in the 1720s for "Regular Singing, or Singing by Note" in the churches. There were the compilers of music, the Rev. John Tufts (A Very Plain and Easy Introduction to the Art of Singing Psalm Tunes, 1721)1 and the Rev. Thomas Walter (The Grounds and Rules of Musick Explained; or, an Introduction to the Art of Singing by Note, 1721), whose books went through many editions; the pamphleteers, including the Rev. Thomas Symmes (Reasonableness of Regular Singing, 1720) and the Rev. Cotton Mather (The Accomplished Singer, 1721); and a circle of friends and allies, including the Revs. Peter Thacher, Joseph Sewall, and others who signed the "Recommendatory Preface" to Walter's book. Among the laymen of Boston, the mezzotint engraver, teacher, and dancing master Peter Pelham sponsored some of the earliest concerts in Boston, beginning in 1731. His son, Peter Pelham, Jr., studied under the organist Karl Theodor Pachelbel in Charleston, South Carolina, returned to Boston to serve as organist of Trinity Church from 1745 to 1749, and migrated to Williamsburg, Virginia, where for nearly fifty years he was organist of Bruton Church.2
Perhaps even greater contributors to the growth of Boston's audience for music were Stephen Deblois, merchant and musician who was organist to King's Chapel and Christ Church, and his sons Lewis and Gilbert, builders of Concert Hall in Boston in 1754. Lewis was organist of Christ Church from 1747 to 1748 and again from 1760 to 1761. The stock of his store "At the Golden Eagle on Dock Square Boston" included "Musick Books, Instruments & Strings."3
Peter Pelham is the subject of a detailed study by Andrew Oliver, published in 1973 in Boston Prints and Printmakers 1670–1775; the Deblois family deserves similar treatment. Readily available information about Price and Johnston makes it possible here to sum up their business careers and give additional details of their musical pursuits.
Price was born in England in 1684; he was in Boston as early as 1714. A variety of records covering the fifty years from 1721 to his death in 1771 describe him as "print and map-seller," "cabinet maker," "picture man," and "merchant." His shop, the King's Head and Looking Glass, near the Town House (today's Old State House) offered framed prints, tea tables, looking glasses, "prospect glasses" (spy glasses), spectacles, toys, musical instruments, and other articles. It was to some extent a business in imported luxuries. Price became a solid citizen of Boston and, partly through his penchant for energetic advertising, he became a wealthy man.
A devoted churchman, he was one of the leaders in raising money for the construction of new Anglican churches in Boston. Between 1720 and 1750 he was concerned with every detail of the construction and decoration of Christ Church and later of Trinity Church. He was a strong supporter of King's Chapel as well, and contributed generously to its new structure built at mid-century from designs by Peter Harrison. He owned pews in all three churches; he was buried in Trinity.4
His bequest of downtown land and of his dwelling house was ultimately shared by King's Chapel and Trinity Church. In 1926 the property was sold for $500,000. Prudent investment by Boston trustees has made the principal of the Price Fund today more than a million dollars. As in the past, the income is divided between Trinity Church and King's Chapel. William Vail Kellen rightly called Price "a colonial philanthropist."5
Devoted Anglican that he was, Price had a longstanding interest in music as part of worship, in keeping with the practice of London churches of the day. He was a practitioner as well as an advocate. The first record we have of him in Boston is a vote of the vestry of King's Chapel, November 8, 1714, to pay him £7.10 "for one Qrs. Sallary due at Midsummer" for his services as organist until the arrival of Edward Enstone. He was also voted the same amount "for wt work he has done ab't the organ."
Enstone was organist of King's Chapel through 1723 and when he decided to give up the job, the church wardens and vestry voted on November 8 of that year "that Mr Edwḍ Enston deliver the key of the Organs to Messrṣ Price and Gifford, that they may practise on the Organ in order to quallify one of them to be Organist, as shall be best approved of by ye said Church Wardens and Vestry."6 Nathaniel Gifford won this presumably friendly contest and became organist of King's Chapel, succeeding Enstone on April 6, 1724.
There was no overabundance of organists in Boston, however, and Price was later to tender his services as organist to Christ Church. In 1736 he was one of the contributors to a fund for an organ there; in the same year he inspected and recommended an organ offered for sale by William Claggett of Newport. The church in accepting his recommendation received the benefit of zeal, it seems, but not of expert knowledge. Once installed in Christ Church, the organ repeatedly had to be tuned and repaired. "Stephen Deblois, Thomas Johnston, and Peter Pelham, Jr., each tuned this organ at some time between 1736 and 1743," writes Byron Wolverton, summing up these efforts, "and Thomas Johnston, James Buck, Messrs. Simpson and Edwards, and Mr. Halliburton all did some repair work on it before it was removed in 1752."7 What actually happened in 1752 was the decision of the vestry on April 15 to have Thomas Johnston take down the organ and rebuild it; the vote refers to Johnston's "Taking down the Old Organ and putting it up again pr agreement." Even this drastic step was recognized as only a stop-gap measure; the vestry was already discussing with Johnston the construction of a new organ. The vote to commission the organ from Johnston was taken on August 11, 1752, and the new organ apparently was completed and installed in 1759.8
As the church's first organist, serving without salary for the year 1736, being paid in successive years, and giving up the post in the spring of 1743,9 Price must have become quite familiar with the weaknesses of the first organ. His recommendation must also have been essential to bring about the commissioning of a locally made organ. Ordering one from London would have been far more fashionable and prestigious and probably, in the eyes of some church members, more reliable as well.
The musical pursuits of William Price and Thomas Johnston are sometimes woven together, as in portions of this narrative, but there is a little more that can be said specifically of Price from present information. Besides holding various offices and sitting on various committees in the Boston Anglican churches (a summary of his Anglican activities is given at the end of this article), he was a contributor of money, including a March 1743/4 donation of £20 for the chimes of Christ Church. On September 30, 1743, he subscribed £200, Old Tenor, toward the rebuilding of King's Chapel; he gave £40 more on October 13, 1752, to help complete it. In 1756 he subscribed £5 to the new organ for King's Chapel.
Beginning in 1743, Price advertised music and musical instruments as part of the stock of his store. Never backward in telling the world about his wares, he used the newspapers, mentioning musical offerings in the midst of his longer listing in the Boston News-Letter, September 22, 1743 (fig. 342). He also had the information engraved in open areas of the Burgis South East View of Boston (fig. 343) and the Bonner map of Boston, both of which he reissued with additions in 1743. He owned the plates for both prints; with the help of one or more Boston engravers he gradually filled every available space with advertising and with new information about the town. On the 1743 issue of the Bonner map, to an advertisement, already on the plate, of maps and prints, looking glasses, tea tables, china ware, and toys, he added: "Also Flutes, Hautboys, & Violins, Strings, Musical Books, Songs, Spectacles, & Prospect Glasses etc."10 Successive issues of the map, the last one in 1769, two years before Price's death, continued the advertisement without change. We know a little more about the musical side of Price's stock from a Boston News-Letter advertisement of May 10, 1750 (fig. 344), in which the list of his wares included "Violins and Strings, English and German Flutes, Reeds for Hautboys, Musical Books, etc."
Thomas Johnston's skills as a house painter and decorator, japanner, engraver, painter of coats of arms, church singer, publisher of singing books, and builder of organs (not necessarily a complete list, but one which suggests his versatility) will one day surely be the subject of a book, for there is a wealth of records and documents which would make possible a highly detailed study of his life and work as a colonial craftsman. To date, the most detailed survey is this writer's article of 1973; additional information on Johnston's organ-building is presented in Barbara Owen's article in the present volume. Because new information continues to come to light, it is possible here to add something to these two sources.
The earliest record of Johnston is his admission to the congregation of the Brattle Square Church in 1726. He soon emerges as a japanner, engraver, and coach, chaise, and sign painter who sold looking glasses and decorated furniture in the 1730s at his shop "At the Golden Lyon in Ann Street." The first record of his musical interests is his subscription in 1736 of £5 for the purchase of an organ for Christ Church.11 William Price's subscription of £30 at the same time has been mentioned earlier.
Johnston's energetic work as a music engraver began late in his career. Apparently the psalm-tune plates which he engraved were a substantial source of income, for in his nuncupative will (fig. 345) they along with his press are the only objects which he specifically leaves to his wife, the sole person mentioned. He continued to supply psalm tunes to publishers to be bound in at the end of psalmbooks, even after he became a publisher himself. His imprint is on the title page of the final (1764) edition of Thomas Walter's The Grounds and Rules of Musick Explained (fig. 346).12 Johnston can be caught in the act of selling one of Walter's compilations, for in a bill to Samuel P. Savage dated August 20, 1762, Johnston recorded the sale of "one of Walters Singg Books to Sone Billy" for three shillings fourpence (fig. 347).13
His business in wholesale distribution of engraved music to publishers seems to have been on a large scale compared to such personal sales, and he found at least one other means of distribution. In 1765 he brought suit against Abraham Stickney of Tewksbury, yeoman, who had taken fifteen singing books on two months' consignment and had returned neither books nor payment.14 Clearly Stickney was a peddler and Johnston had made arrangements for the books to be sold from door to door across the countryside.
To Barbara Owen's listing of the organs built by Johnston should be added information about a chamber organ or organs which served in a number of different settings. It is not known whether there were one or several of these, or whether Johnston was the builder, but the record does establish Johnston's ownership of an organ (and one capable of being moved from place to place) as early as 1741. On November 3 of that year, the vestry of Trinity Church decided that
A decade later, Johnston again lent an organ to one of the Anglican churches, this time to Christ Church. He had taken down the troublesome organ purchased in 1736 from William Claggett of Newport. According to Mary Kent Davey Babcock, "While the Claggett organ was dismembered, from January 1, 1752, . . . Johnston . . . set up an organ of his own make in the church and on March 30, 1752, the proprietors voted that 'Mr. Johnson should have a consideration for his Organ being used for the church for 3 mos. last past as the Vestry thinks proper,' Johnston receipting on April 16, 1752, for '£10 Old Tenour or £1, 6 sh. 8 d. Lawfull Money for Use of my Organ now standing in Christ Church'."16
In August 1752 the vestry commissioned Johnston to build a new organ "with the Echo equall to that of Trinity Church of this Town," Trinity's organ having been imported from London.
Possibly the same chamber organ which had been lent to Trinity in 1741 and Christ Church in 1752, or one comparable in scale, was advertised by Lewis Deblois in the Boston Gazette of June 27, 1763: "an Organ, made by Mr. Thomas Johnston of this Town, formerly made use of in Concert-Hall, and can be recommended." (For a reproduction of this advertisement from the Gazette, see Owen's figure 365 in this volume.) Deblois' father, Stephen, had used this organ or one like it, as suggested by the 1741 Trinity Church reference to Johnston's offer "to lend his Organ" and the information that it was "now in posesition [sic] of Mr Debloise."
The records might lead one to believe that such an organ was owned by Rea & Johnston, the family firm, in 1772, five years after Johnston's death. The account book of Rea & Johnston in the manuscript collection of Baker Library, Harvard Business School (fig. 348), records the transaction with Josiah Flagg, the Boston jeweler who was also well known as a musician, compiler of printed collections of psalm tunes (see Crawford, p. 610 in this volume), and concert master.
Since there are a number of possible explanations for the reference to "Cash Paid for fines for Attendg̣ Concert," more information must be obtained concerning who levied the fines and under what circumstances. The reference to packing the organ, however, suggests the possibility that the instrument was owned by Rea & Johnston, was moved to Concert Hall for Josiah Flagg's use during the concert, and was removed afterward. A painting firm whose equipment also included a copperplate press and a chamber organ was capable of providing printed concert tickets and a key instrument for the concert itself, in the versatile tradition of Thomas Johnston.17
Daniel Rea, Jr., who had married Johnston's daughter Rachel in 1764, was running the firm at this time. Like his father-in-law, he was a man of music. For several years he sang solos at dinners of the Ancient and Honorable Artillery Company of which he was a member, as Thomas Johnston had been before him. The entire company joined in the choruses. Rea once sang, it is said, at the request of George Washington.
He carried on the family firm in its full multiplicity of approaches to earning money. Thomas Johnston's printing press was frequently in use, sometimes for the printing of music engraved on copper plates. Music as a part of the firm's business can be glimpsed in accounts with Timothy White (fig. 349).
Although house painting was the firm's primary business and the painting of schooners and other vessels was frequently mentioned, the skills offered by Rea & Johnson extended even "To Glewing 4 fiddles."
Among Johnston's children, there was at least one accomplished musician. His son William Johnston (1732–1772) was organist of Christ Church in the three years before his coming of age and later a portrait painter in New Hampshire, Connecticut, and eventually Barbados. In a long letter written from Barbados in 1770 to John Singleton Copley in Boston, he discussed matters of painting but did not mention specifically his own career, presumably continuing, as a portraitist. He added, "I forgot to tell you I have an Organists Birth worth £75 Sterl'g per Ann."18
Another son, Benjamin Johnston (1740–1818), japanner and engraver of Boston, Salem, and Newbury, also inherited some of his father's interest in music. In 1779 he engraved on copper plates the thirty-two pages of one of William Billings' collections of tunes. The title page reads: Music in Miniature, containing a Collection of Psalm Tunes of various Metres, set in score by W. Billings. Printed & sold by the Author at his House in Boston. NE. 1779 Engrav'd by B. Johnston (fig. 350).19
Benjamin has also been called "an early organ builder" but F. W. Bayley, who made the statement in his Life and Works of John Singleton Copley (Boston, 1915), may well have been referring to hearsay which confused the careers of Thomas Johnston and his son. Bayley was describing Benjamin Johnston as the subject of a portrait which now hangs in the Rose Standish Nichols House Museum at 55 Mt. Vernon Street, Boston, and which was believed by Miss Nichols, decades after Bayley's statement, to be of Thomas Johnston. Bayley thought the portrait to be by Copley, later observers have suggested Feke, and both its identity and authorship are still uncertain.
In the story of the Johnston family, the visual arts and music appear again and again as interests; the inventory of 1767 of Thomas Johnston's estate is peppered with references to both (see Owen, fig. 367). In his letter to Copley from Barbados in 1770, William Johnston asked, "I think there was a picture done of Mr. Dipper: done in small life and given to Harry Liddle if you will give me a copy of it in black and white Chalk, Just the head; or with a black lead pencil. I want it for a Lady, you shall receive a compensation beyond your desires." Thomas Dipper was organist of King's Chapel in the years just before and after 1760. Henry Liddle appears in King's Chapel records as a substantial contributor to the building of the new church in stone, at mid-century; as a vestryman from 1754 to 1756 and again from 1771 to 1776; and as administrator of the estate of the Rev. Charles Brockwell who died in 1755. The reference to Dipper's portrait is one of many pieces of information which might be brought together to give a picture of the musical community in eighteenth-century Boston. Much more is likely to be learned, and in the process of learning one cannot help but be grateful for the survival of the records of the Anglican churches with their references to William Price, Thomas Johnston, and other contributors to Boston's musical life.
Surviving records of Boston's Anglican churches in the eighteenth century rank with newspaper notices and advertisements as leading sources which reveal the place of music in the life of the city. As this book goes to press the Colonial Society of Massachusetts has just issued the early records of Trinity Church. Through the kindness of the late editor-in-chief, James Bishop Peabody, the writer of this study was able to examine in advance photocopies of these manuscripts which give a year-to-year notation of church officers, expenditures, and other business. Such a comprehensive body of original source material is uniquely useful.
Records of Trinity's annual meeting include votes of each year's salary for a succession of organists. The identity and term of service of each man is quickly established. Henry Wilder Foote's ponderous volumes of Annals of King's Chapel fail to provide a comparable year-to-year record; there are many gaps in the information he offers. It is fervently hoped that the King's Chapel manuscripts provide a more complete record. More useful is Mary Kent Davey Babcock's Christ Church, Salem Street, Boston (Boston, 1947), which presents detailed, coherent, and connected information about music in the church and prints various documents in full. Despite its consideration for the student, her book still is no substitute for the full presentation of the actual records as they survive.
A listing of all the organists of the three Anglican churches before 1775 is one of the fundamental references necessary to describe the city's music and musicians in that era. A second is a chronological listing of books with printed music engraved in Boston before the Revolutionary War, along with essays and sermons dealing with music. The names of authors and publishers swell the list of those interested in music, and to some extent this is true of the engravers and printers as well. Starting from these sources it is possible to reach out for notes on concerts and concert places, on musicians, audiences, and patrons, gleaned from diaries, letters, and account books. The Trinity records, for instance, identify David Propert as organist of the church from December 1770 until the spring of 1773. There is a charming glimpse of Propert in John Rowe's diary for March 15, 1771. Returning home in the evening, Rowe writes, "I found Mr J. Lane & Mr Propert who supped & diverted us all the evening by playing on Sucky's Spinnet & Joyned by Mr J. Lane in singing—Propert is a fine hand." For a time in late 1772 and early 1773, Propert may have been replaced as Trinity's organist by John Cutler, to whom Rowe passed on the key to the organ after obtaining it from Propert on October 31, 1772. (The Trinity records show Cutler to have been substitute organist of the church from the 1750s; sometimes he served a full year, as in 1776 and 1780.) Rowe also notes going to concerts given by Propert on February 3 and 17, 1773, at the Coffee House. (Anne Rowe Cunningham, ed., Letters and Diary of John Rowe, Boston Merchant, 1759–1762, 1764–1779 [Boston: W. B. Clarke Co., 1903], pp. 213, 235, 238–239.)
A variety of other sources, sometimes fragmentary, contribute to the picture. We can glimpse the Boston writing-master Abiah Holbrook holding a private singing school during the summer of 1744, with the help of Edward Macom, "to teach youth the Rules of Psalmody" (Ray Nash, American Writing Masters and Copybooks [The Colonial Society of Massachusetts, 1959], p. 15). Another intriguing glimpse is of the efforts of a committee of the Second Church in Boston "to better the singing" in 1763; Master Hillar, choirmaster, submitted a bill for "singing, and candles to sing by" (Proceedings of the Bostonian Society at the Annual Meeting, January 10, 1888, pp. 19–20). The efforts to reform singing in the Massachusetts churches went on for decades after 1720; Judge Edward Winslow (1746/7–1815; Harvard 1765) of New Brunswick, looking back on his growing up in Plymouth, commented with acerbic humor, "You know I was born in a land of psalmody. For several years together there was nothing heard but old men and women bawling psalms and young men and maids screeching hymns" (W. O. Raymond, ed., Winslow papers [New Brunswick Historical Society, 1901], p. 285). Music in Boston's Anglican churches was of a higher order, the city had a concert life, as well, and a collection could be made of references to music at home. Anna Green Winslow, who had been sent from Nova Scotia to Boston to go to school and to see something of Boston society as she entered her teens, wrote in her diary of country dancing to a flute: "In the evening young Mr. Waters hearing of my assembly, put his flute in his pocket and played several minuets and other tunes, to which we danced mighty cleverly." Lucinda, a black servant, also played the flute for their dancing. On another occasion, on January 17, 1772, "We had two fiddles, & I had the honor to open the diversion of the evening in a minuet with miss Soley." (Alice Morse Earle, ed., Diary of Anna Green Winslow [Boston and New York: Houghton Mifflin Co., 1894], pp. 6–7, 16.)
Major sources of information on the arts and crafts in eighteenth-century Boston, and ones that eminently deserve to be published, are the Daniel Rea, Jr., and Rea & Johnston account books in the Manuscript Room of Baker Library, Harvard Business School. There are ten of these, embodying accounts for house painting and other services, 1764–1802:
Vol. 1, Day Book, 1771–1798 (Daniel Rea)
Vol. 1a, Day Book, 1778–1789
Vol. 1b, Day Book, 1797–1800 (Daniel Rea, Jr.)
Vol. 2, Day Book, 1789–1793 (Daniel Rea & Son)
Vol. 3, Day Book, 1794–1798 (Daniel Rea, Jr.)
Vol. 4, Day Book, 1799–1802 (Daniel Rea, Jr.)
Vol. 5, Ledger, 1764–1799 (Daniel Rea)
Vol. 6, Ledger, 1773–1789 (Rea & Johnston)
Vol. 7, Ledger, 1789–1792 (Daniel Rea & Son)
Vol. 8, Ledger, 1795–1802 (Daniel Rea)
Several passages have been quoted or reproduced, some pages earlier, from the Rea & Johnston ledger of 1773–1789.
Using available sources, a chronology of what can be learned of William Price as a churchman has been compiled and now follows. It is hoped this may be of use as a source in itself, in visualizing the man.
The summary given below is the most extensive one, to date, of Price's life as a supporter of the church, for him the minority Anglican church, in Boston in the years from 1714 until his death in 1771. His career as a businessman, including his energetic and successful efforts as a publisher of maps and views expressing civic pride in Boston, has been the subject of several detailed articles. Some business history can be glimpsed in the present listing. In his service to King's Chapel, Christ Church, and Trinity Church, Price held so many posts, official and unofficial, and served in so many ways that additional information is certain to come to light. The chronology presented here identifies printed sources by the author's last name; a key to titles is given at the end of the chronology.
| | |
| --- | --- |
| | Interim organist at King's Chapel until arrival of Edward Enstone in December (Foote, I, 204, 214). |
| 1722 | Contributed £8 to building fund of Christ Church (Babcock, pp. 60, 219). |
| 1722 | Contributed £2–12–0 to help defray expenses of Timothy Cutler, the Congregational clergyman and former rector of Yale College, who was going to London to take Episcopal orders (Babcock, p. 222). |
| 1723 | Bought one-third pew in Christ Church for £10, being one of the group who bought pews in the church at the time it was completed (Babcock, p. 237). |
| 1723 | Given permssion, along with Nathaniel Gifford, to practice on the King's Chapel organ so that one of them could qualify as organist, succeeding Edward Enstone. By a vote of church wardens and vestry of April 6, 1724, Gifford was chosen (Foote, I, 269; Babcock, pp. 151–152). |
| 1726–1742 | Vestryman, Christ Church (Edmonds, p. 257); advisor on architectural matters. "Price was paid fees for his drawings. . . . Price's active connection with Christ Church continued until 1743, and he is noted throughout as working on committees involving the ornamentation or furnishing of the church" (Foley, p. 75). An example is the detailed agreement of 1729 for architectural work inside Christ Church, between Thomas Tippin, joiner, and William Patten, John Howard, and William Price "on the part of Christ Church" (Babcock, p. 238). Price "drew plans for the organ and the spire, and most probably designed the pulpit" (Foley, p. 74). |
| 1727 | Dr. Timothy Cutler, rector of Christ Church, writing from Boston on October 10 to the secretary of the Society for the Propagation of the Gospel, declared "The Trade and Business of this Town is better represented than I can in prospect of it, which (with a plan of it) Mṛ Wm Price, a worthy Member of my Church, presents to the Society by my hands" (Foote, I, 325). |
| 1727 | Price one of thirty-one signers of a letter to the Bishop of London asking for "a Bishop Resident in these American parts . . ." (Foote, I, 352). |
| 1727 | Married Sarah Myles, niece of the Rev. Samuel Myles, rector of King's Chapel (Edmonds, p. 258). |
| 1728 | At Dr. Myles' death, was one of his executors, with Ann Myles, the widow, and Thomas Creese, apothecary, who was Price's brother-in-law (Edmonds, p. 258). Creese had married Ann, sister of Sarah Myles, on January 25, 1722 (Foote, ii, 421). |
| 1730 | Subscribed £10 for construction of Trinity Church, and pledged £100 (manuscript records of Trinity Church). |
| 1731 | Junior warden, Christ Church (Edmonds, p. 258). |
| 1732–1734 | Senior warden, Christ Church (Edmonds, p. 258). |
| 1733 | The United Vestries voted that he be added to the committee endeavoring to defend the Church of England in the Massachusetts Bay Province against discriminatory laws, including taxation of church members to help support the dissenting churches (Foote, I, 463; Edmonds, p. 258, gives the year as 1731—the correct date has not yet been established). |
| 1734 | One of four men, with John Jekyll, Capt. Philip Dumaresq, and George Monk, asked by the Trinity trustees to carry forward fund-raising efforts (manuscript records of Trinity Church, April 23, 1734). |
| 1735 | Trinity Church, newly built, was deeded to Peter Luce, Thomas Child, William Price, and Thomas Greene, "a Committee Chosen to build a Church," until such time as money "advanced is reimbursed." In 1739 the four men deeded it back to the wardens. (Edmonds, p. 258; manuscript records of Trinity Church.) Price's colleagues sought his counsel on architectural matters. At a meeting of the trustees on February 22, 1738/9, "Mr. William Price is desired by the Rest of the Trustees to Treat with a Carver about the Corinthian Capitals & Report his doing as soon as may be," and when Price reported on February 28 that William Redding, the carver, "would not Carve them well under Ten Pounds a piece," the trustees voted that Redding be given the job and authorized payment of £30. When the vestry voted in 1740 "That Gallery's be built round the Church," the church wardens were instructed to find workmen to do the job "on the best terms they can and Mr William Price be desired to give his advice therein" (manuscript records of Trinity Church, including meeting of vestry, September 1, 1740). |
| 1735 | Made agreement to take a pew in Trinity Church, and became one of the original pewholders in April 1736, the cost of a pew being £50 (manuscript records of Trinity Church). |
| 1736 | Subscribed £30 toward the purchase of an organ for Christ Church. This was the largest amount in the long list of subscriptions totaling £660.5 (Babcock, pp. 241–242). |
| 1736 | At a meeting of church wardens and vestry of Christ Church in March, Price offered to serve as organist without charge for one year and to serve four more years at salary of £40 per year (Babcock, pp. 150–151). |
| 1736 | One of forty-four subscribers, his contribution being £5 in a total of £167.7, to help defray expenses of the Rev. Timothy Cutler's son John who was going to England to be ordained (Babcock, p. 243). |
| 1736 | Visited Newport on behalf of the vestry of Christ Church to inspect organ offered for sale by William Claggett. Recommended its purchase, and Christ Church paid for the organ in October. First use of the organ in the church in December. Price served as organist from this time until Easter 1743. In keeping with his offer to the church, his first year of service was without salary (Babcock, pp. 124, 127, 150–153). |
| 1737 | Detailed bill (fig. 351) submitted by Price to the wardens of Christ Church for time spent and work done at various times in connection with the organ. Included were charges for "projecting and drawing a draft of ye Organ" and for "directing ye workmen in making it" (Babcock, p. 125). |
| 1740 | Pledged £3 per annum in response to continuing efforts to raise money for Trinity (manuscript records of Trinity Church, May 8, 1740). |
| 1740 | Construction of spire of Christ Church from his design. He submitted bill for design on March 26, 1746 (Foley, p. 74; p. 83, note 11). |
| 1741 | One of those appointed by Christ Church to congratulate William Shirley on the arrival of his commission as governor (Foote, I, 529). |
| 1743 | One of the twelve vestrymen of Christ Church who signed a bond of £1,100 on March 6 which was executed in favor of Thomas Gunter of Boston, merchant. Gunter then placed an order in London and obtained "A fine Ring of 8 Bells." Price also subscribed £20 toward the cost (Babcock, pp. 248, 249, 251). |
| 1744–1751 | Vestryman, Trinity Church (memorial tablet, Trinity Church). |
| 1745–1750 | Junior warden, Trinity Church (memorial tablet, Trinity Church). |
| 1746 | Death of the Rev. Addington Davenport, on September 6. He had been assistant minister of King's Chapel from April 1737 to May 1740, and then became the first rector of Trinity Church. In his will he appointed his "worthy Friend" William Price, cabinetmaker, an executor and one of his daughter Julia's guardians. Mrs. Price was Julia's god-mother (Foote, I, 481; Edmonds, p. 258). |
| 1747 | Subscriptions for rebuilding King's Chapel begun on September 30, 1747; Price subscribed £200 Old Tenor (Foote, ii, 120). |
| 1749 | Writing from Boston on October 6 to the secretary of the Society for the Propagation of the Gospel, Price noted that "We are very unsettled here in our Ecclesiastical State . . ." (Foote, I, 387). |
| 1751 | Vestry of Trinity Church on April 5 voted thanks to Price for a gift of £50 Old Tenor, "to be applyed towards the painting of the inside of said Church" (manuscript records of Trinity Church). |
| 1752 | Contributed £40 as one of the subscribers for finishing King's Chapel (Foote, ii, 123). |
| 1753 | Until his death in 1771 Vestryman, King's Chapel (Foote, ii, 607). |
| 1754 | Became proprietor of Pew 21 in King's Chapel. Continued to be proprietor of this pew and of Pew 60 in Trinity Church until his death (Foote, ii, 590). |
| | Subscribed £5 toward the new Bridge organ for King's Chapel (Foote, ii, 170). |
| 1763 | Subscribed £2.5 toward the cost of the Rev. William Walter's going to England (manuscript records of Trinity Church). |
| 1765 | Chosen a trustee of the Boston Episcopal Charitable Society, founded in 1724 (Edmonds, p. 261; Rowe, p. 80). |
| 1770 | Lent £1,200, at five percent interest, to the wardens of King's Chapel on May 31, to enable them to repay with interest £600 borrowed at an earlier time from the Episcopal Charitable Society to help finance the rebuilding of the church (Foote, ii, 421, footnote 2). Foote also notes that "July 22, 1771, the wardens gave a bond to Sarah Price, widow, for £400; but this seems to have been a further loan." On May 31, 1780, £600 were repaid, but in the 1780s Price's nieces, Sarah and Margaret Creese, had to sue and go as far as the Supreme Court of Massachusetts to obtain further repayment, the church's position being that Price's bequest to the church (see below) covered the loan. Additional details can be found on p. 421, vol. ii, of Foote as noted. |
| 1771 | Died May 17 at the age of eighty-seven; buried in Trinity Church after a sermon there by the Rev. Henry Caner, rector of King's Chapel. "His will . . . bequeaths his mansion house in Cornhill to his wife and nieces for life, to King's Chapel on their death, the income to be used for lenten lectures, time and subjects specified, a collection to be taken at them for the poor, surplus of revenue from estate to go to the general fund, and if not accepted by King's Chapel to revert to Trinity Church" (Edmonds, p. 261). The last of Price's heirs, Sarah Creese, died in 1809. In 1814, "Pursuant to the will, lenten lectures were arranged for, . . . to be given by the clergymen of King's Chapel, Christ Church and Trinity Church in turn, but this was naturally not a successful arrangement. On September 17, 1824, Trinity Church entered suit . . . and as a result of the litigation was given possession of the property to discharge all trusts under the will, pay all necessary expenses, and to divide the remainder of the income with King's Chapel; and this is practically in force today . . ." (Edmonds, p. 262; see his summary for additional details). |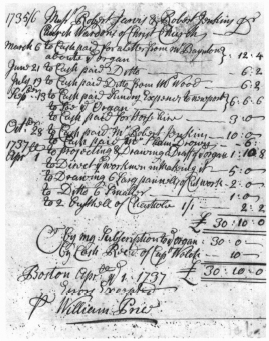 Fig. 351. ms bill from William Price to wardens of Christ Church, 1737.
Babcock Mary Kent Davey Babcock, Christ Church, Salem Street, Boston: Historical Sketches, Colonial Period, 1723–1775 (Boston, 1947).
Edmonds John H. Edmonds, "The Burgis-Price View of Boston" in Publications of the Colonial Society of Massachusetts, xi (Boston, 1910), 245–262.
Foley Suzanne Foley, "Christ Church, Boston" in Old-Time New England, li, no. 3 (January–March 1961), 66–85.
Foote Henry Wilder Foote, Annals of King's Chapel, 2 vols. (Boston, 1882; 1896).
Rowe Letters and Diary of John Rowe, Boston Merchant, 1759–1762, 1764–1779, ed. Ann Rowe Cunningham (Boston, 1903).
A letter from William Price asking for reimbursement from the selectmen for a house owned by him which was pulled down during a fire in 1762 (the request was not granted). In The Bostonian Society Publications, 2d Ser., i (Boston, 1916), 125–127.
Stephen Grant Deblois, The William Price Fund; Trinity Church in the City of Boston (Boston: printed for private distribution, 1883).
William Vail Kellen, "William Price: A Colonial Philanthropist," in Massachusetts Historical Society Proceedings, lxv (February 1936), 511–517.
Emma Forbes Waite, "William Price of Boston: Map-maker, Merchant and Churchman" in Old-Time New England, xlvi, no. 2 (Fall 1955), 52–56.