A Stated Meeting of the Society was held in the Hall of the American Academy of Arts and Sciences, on Wednesday, 19 February, 1896, at three o'clock in the afternoon, the President in the chair.
After the Minutes of the last Meeting had been read and approved, Dr. Gould spoke as follows: —
We have met this afternoon under circumstances of exceptional bereavement, and it is my sad duty to announce the death of three of our members who, within the brief interval of a single month, have been removed from our small company of one hundred.
At our meeting last month, the first tidings which met me on entering this Hall told of the decease of Mr. Brimmer, whose useful and benignant life had closed during the preceding evening. Not ten days later, on the 23d January, came the sudden death of Dr. Wigglesworth. On Tuesday of last week we were called to lament the loss of Dr. Slade, who during the last three years had rendered assiduous, faithful, and disinterested service to the Society as a member of its Council. In four short weeks these three good men have been taken from our community, to which they were so helpful, — each in his own especial way, — and which so much loved and honored them. Their services and good deeds will be commemorated later, in the most fitting way within our power. Each of them had claims upon the recognition and gratitude of Massachusetts which could not be overlooked, even were nothing uttered here. Yet this Society finds a melancholy satisfaction in commemorating the services and character of its departed members, who conferred new honor upon their lineage, and upon the early New England stock from which they sprung.
The many distinguished positions which Martin Brimmer has occupied in this community, his many public-spirited acts, and the many directions in which his personal influence for good was continually felt, made him especially well known to the citizens of Boston, notwithstanding the unassuming and modest traits which notably marked his character, and which his biographers cannot fail to record as among its peculiar charms.
Dr. Edward Wigglesworth, seventh of the name in as many successive generations, was descended from Edward Wigglesworth, who came to Massachusetts in 1638 at the age of thirty-four, bringing with him his son Michael, seven years old, who became the noted author of the "Day of Doom." From this last-named sprung a family which was conspicuous from the beginning among the scholars of New England. In 1652 he was a Fellow of Harvard College, as were also his son and grandson, each of whom filled the chair of Hollis Professor of Divinity. These and the later ancestors of our colleague, bearing the name, were graduates of Harvard, where he himself graduated in 1861.
The Civil War having then broken out, he enlisted at once as a private soldier in the Forty-fifth Massachusetts Regiment. At the expiration of the term of his enlistment he served on the Sanitary Commission, and later still in an army hospital as surgeon of volunteers.
After long study of his profession at Paris and Vienna, he devoted himself principally to the study of Dermatology, in which he rose to high professional eminence, and became one of the leading authorities. In the want of proper facilities for the care of patients, he established and conducted at his own expense an institution which he maintained until he had the satisfaction of seeing it incorporated into the City Hospital. He was liberal and generous to an exceptional extent, a constant friend and benefactor of the poor and the suffering, and an unselfish practical supporter of all movements in behalf of the true progress of the community, which came to his knowledge. Many will now miss the thoughtful care of an unknown friend.
Dr. Daniel Denison Slade was a descendant of the sturdy soldier whose name he bore, and whose part was so conspicuous in the first half-century of our New England history. The wife of Major-General Denison was a daughter of Gov. Thomas Dudley; their daughter Elizabeth was wife of President John Rogers, of Harvard College, and from this union came our colleague. Dr. Slade graduated in the Class of 1844, and studied medicine for several years in Paris. After some years of professional practice in Boston, he accepted a professorship of Zoology in Harvard University. After filling this office for eleven years, he exchanged it for the position of Lecturer on Osteology, where he continued for nearly eleven years more and until his death. For some time his health had been seriously impaired; but he bore disease and suffering patiently and bravely, and when death came it was only after three days of acute illness.
Apart from his professional and scientific pursuits, Dr. Slade was strongly interested in antiquarian studies, especially in those relating to our early New England history. He was quiet and modest, and mingled comparatively little with general society; but his gentle, kindly nature was always manifest. Nearly sixty years of intimate acquaintance with him, at school, in college, and in later years, enable me to bear witness to the amiability, loyalty, and sincerity of his character. His friends were warmly attached to him, and it would be long before one could find a more lovable man.
The Hon. George S. Hale followed with a brief but feeling tribute to the memory of his friend Mr. Brimmer. He alluded to the symmetry and even development of Mr. Brimmer's character, to the dignity of his bearing, the courtesy of his manners, and the purity of his motives. The world was made better by the life of such a man.
Mr. Hale also paid a warm tribute to his friend and classmate Dr. Slade.
Mr. William W. Goodwin spoke briefly of Mr. Brimmer's relation to the Old Colony. His grandmother on his father's side was Sarah Watson, daughter of Colonel George Watson, of Plymouth, and Eliza Oliver, daughter of Judge Peter Oliver, of Middleborough. She married Martin Brimmer, of Roxbury. Colonel Watson was born in 1718, and died in 1800. He was one of the most eminent citizens of Plymouth, and was universally respected. He was a devoted Loyalist, at least before the open outbreak of war in 1775; and in 1774 he accepted the office of Mandamus Councillor under the Crown. Bancroft thus describes a scene in the Plymouth meeting-house: —
"The people of Plymouth were grieved that George Watson, their respected townsman, was willing to act under his [the King's] appointment. On the first Lord's day after his purpose was known, as soon as he took his seat in meeting, his neighbors and friends put on their hats before the congregation and walked out of the house. The extreme public indignity was more than he could bear. As they passed his pew, he hid his face by bending his head over his cane, and determined to resign."144
Another daughter of Colonel Watson, Elizabeth, was a woman of great beauty; she married Thomas Russell, a distinguished merchant of Boston, and afterwards Sir Grenville Temple. Another daughter, Mary, married Elisha Hutchinson, son of Governor Thomas Hutchinson. Colonel Watson and his second wife (the one above mentioned) had their portraits painted by Copley; and these pictures were in Mr. Brimmer's possession. Mr. Brimmer was thus, through his grandmother, descended from George Watson, the earliest settler in Plymouth of the name of Watson, who came there before 1633. John, a grandson of George, and the father of Colonel Watson, was reputed to be the most wealthy man in the Old Colony.
Martin Brimmer, the grandfather of our associate, was active in developing the manufacturing interests of Plymouth, and was interested in the iron-works on the Town Brook. He made in Plymouth the first illuminating coal-gas used in this country. He was also engaged in business in Freetown. His son, George Watson Brimmer, designed the church of the First Parish in Plymouth, which was built in 1831, and was burnt a few years ago. The plan of this wooden church was nearly the same as that of the old stone Trinity Church in Summer Street, Boston, which was also designed by Mr. George Watson Brimmer.
Mr. Abner C. Goodell, Jr., spoke as follows: —
I trust I may be excused for calling the attention of the Society to the fact, which has not been commented upon either here or at the recent meeting of the Massachusetts Historical Society, that Mr. Brimmer's death closes the male line of descent from the original immigrant of the same name. Thus becomes extinct a family name distinguished in the annals of Boston for four generations.
The first Martin Brimmer, though not of the little band of Huguenots from Rochelle who, after the Revocation of the Edict of Nantes, found an asylum in the New World, was a member of the congregation that worshipped in School Street, under the ministrations of the Rev. Andrew Le Mercier. In 1730 an Act145 was passed for the naturalization of Le Mercier and other Huguenots of Boston, in the petition146 for which Martin Brimmer's name was included, and was the last signed to it, — he describing himself as a German Protestant from Hanover. I have seen him elsewhere described as a Walloon. We have the authority of our associate Mr. Henry E. Woods for assigning the year 1723 as the approximate time of his immigration.
Without detracting from the merits of our English ancestors, it may well be doubted if of the old families of Boston seven more famous names can be mentioned than seven which I have taken at random from the comparatively short list of persecuted Protestants from the continent of Europe to whom I have alluded. What would the history of Boston lose of its peculiar savor, and how barren of patriotic interest would it become, were it deprived of the names of Bowdoin, Faneuil, Revere, Sigourney, Johonnot, Chardon, and Brimmer! Yet the death of our highly esteemed associate forces upon us the sad reflection that one of these historic Boston names is extinguished.
Mr. President, — Apropos of what Mr. Goodell has said, it has been remarked that Mr. Brimmer was the fourth bearing the name Martin. As Registrar, I had occasion to look into his ancestry at the time of his nomination to membership in our Society, and it is my impression that there were five Martin Brimmers, but without my notes I cannot positively say that they covered five generations.147 Mr. Brimmer was eligible to membership through the Sigourney family, the first Martin Brimmer having married a daughter of Andrew Sigourney, whose parents came to Boston a few years prior to 1692, the date of ancestral residence required by our By-laws.
Mr. Edward Wheelwright paid this tribute to the memory of Dr. Slade: —
By the death of Daniel Denison Slade The Colonial Society of Massachusetts has lost a worthy and useful member. One of the Founders of the Society, he was until recently a member of the Council. His natural inclination toward historical research was doubtless fostered, soon after his graduation from Harvard, by his employment as assistant to the historian Jared Sparks. He bad already had experience as an original chronicler in keeping a diary, with unflagging perseverance, during the whole of his college life. No day during those four years was allowed by him to go by without a line. He would sometimes bring a volume of this record to the meetings of his Class in after years, and read passages from it both interesting and entertaining, enlivened as its pages were by the writer's peculiar and often unconscious humor.
The members of this Society do not need to be reminded of the interesting papers he has read to them. He read others before the Bostonian Society, and published still others in various magazines and periodicals, taking care to have them worthily illustrated. He inherited valuable historical papers and memoranda, and delighted to share with others the information to be derived from them. Only a week before his death he sent me a package of these papers, which he thought might be useful to me in some researches I was making. Nor were his literary labors confined to historical subjects. In the early years of his practice as a physician he frequently wrote for medical journals, and was the recipient of several prizes for essays on medical subjects; while in after years he often wrote and published articles upon topics connected with natural history, agriculture, and horticulture. The latest of his writings on the latter subject was a small volume entitled The Evolution of Horticulture in New England, published in the closing month of the last year. Another publication, several years earlier in date, was the record of an excursion on horseback in Western Massachusetts, in company with several of his daughters. Most of this work was done, moreover, amidst the duties of a professorship in Harvard College, in the intervals of more than one severe illness, and while for many years in a condition of health so delicate that it is a marvel to his friends and medical advisers that he lived, as he did, to a ripe old age.
Dr. Slade held an honored place in the profession of his choice, and was a pioneer in the effort to raise the standard of education and practice in veterinary surgery, having made a special study of the subject at the celebrated school of Alfort, in France. He was highly esteemed by his fellow physicians, and found among them some of his dearest and most attached friends. Dr. Richard M. Hodges, whose death was almost simultaneous with his own, is reported to have said in almost his last words, "Give my love to Slade;" while Slade, unaware of his friend's condition, but conscious that his own end was near, was almost at the same moment urging that Dr. Hodges should be sent for. Dr. Francis, of Brookline, his classmate as well as his intimate friend and trusted adviser, attended him in his last illness.
Community of tastes, and especially a common love of Nature in her wilder aspects, made Dr. Slade a valued friend to his classmate Francis Parkman, and the historian's chosen companion in several of his explorations of the wildernesses of Maine and New Hampshire. In his later years Parkman delighted to talk over with Slade the incidents of their early travels; and in the drives which, when debarred from walking, he was accustomed to take in the neighborhood of their respective residences, in answer to the question "Where shall we go?" almost invariably answered, "Let us stop at Slade's." Dr. Slade's love of Nature and his fondness for the simplicity of rural life led him to purchase "an abandoned farm" near Lake Winnipiseogee, where he delighted to pass a portion of the summer with his family, who fully shared his tastes. Of this farm he wrote a description in letters which were published in The Nation. This love of Nature extended to all created things, and made his position as Assistant in Osteology in the Agassiz Museum very congenial to him. The loving care with which he handled and arranged his specimens was delightful to witness.
Personally I have lost in Slade a very dear friend, one to whom, in the performance of certain duties that have been laid upon me, I have been accustomed to look for sympathy, and have never looked in vain. I first knew him when we entered Harvard College together, in the Class of 1844. During the Freshman year we boarded together at the same table, and roomed in adjoining houses in the Appian Way. I met him again in Paris when he was a medical student there. After he went to reside at Chestnut Hill I saw him less frequently than before, but was always sure of finding him at the annual meeting of our Class at Commencement. Never was he absent except when seriously ill. In the fast narrowing circle of his early associates he will be greatly missed.
Dr. Slade was a delightful companion. In his own inimitable way he was not only witty himself, but the cause of wit in others. Beneath an apparently impassive and somewhat sluggish exterior there lay, not always concealed, a warm and generous heart, a noble and chivalric spirit. His college associates were wiser than they knew when they gave him the title of "The Good Count." He was in truth, though after a simple and rustic fashion, one of Nature's noblemen. There was in him a charming union of naïveté and shrewdness, of frankness and reticence, of ambition and modesty, and with all and above all a steadfast loyalty to truth, to duty, and to friendship.
The Hon. John Lowell then spoke at considerable length touching the relations which existed between Dr. Slade and himself as neighbors. He had listened to the tributes which had been paid by classmates and friends, and as he listened he had felt that among those present no person was better entitled to bear witness to the many winning features in the character of our late associate, no person was better prepared to understand the justice of the eulogiums which had been pronounced upon his life and his work, than himself. Years of friendly intercourse as neighbors had ripened the friendship which existed between them; not as neighbors in a city block where one may live for years with scarcely any knowledge of the family next door, but as neighbors in suburban territory where friendly intercourse was constant, and under circumstances which compelled him to appreciate more and more, from day to day, the rich gift of the personal friendship which was thus bestowed upon him. The loss of such a man must be deeply felt by those who had come closely in contact with him, and by the Societies of which he was a member.
Dr. Charles Montraville Green spoke of the life and character of Dr. Edward Wigglesworth: —
It is not for me at this time, Mr. President, to attempt to present a just and worthy tribute to the life and character of our late associate: that sad duty will be performed by him who will be chosen to prepare, with deliberation, the Memoir for our Transactions. I wish rather to give expression to my sense of the great loss which this Society and this community have sustained in Dr. Wigglesworth's untimely death. I say untimely, because, although he bad accomplished much in twenty-five years of active professional life, he was still an earnest worker in the advancement of medical science, and in the varied philanthropic pursuits to which he had long devoted himself.
Graduating from Harvard College in 1861, and from its Medical School in 1865, Dr. Wigglesworth spent five years in Europe, chiefly in Vienna, Paris, and London, fitting himself for his chosen specialty, Dermatology. At this time specialism in all branches of medical science was in its infancy in this country; and on his return to Boston Dr. Wigglesworth devoted himself with energy and enthusiasm to his chosen field, becoming one of the pioneers in his department of practice. He opened a free clinic for diseases of the skin, and maintained it at his own expense until special departments in Dermatology were established in connection with the larger medical charities of this city. Subsequently he was appointed to the Department for Diseases of the Skin at the Boston City Hospital, and for many years has been its head. At the time of his death he had just completed his stated period of service for the year. For several years he was an instructor in Dermatology at the Harvard Medical School, and to this institution he long ago gave his valuable collection of models. In his earlier years Dr. Wigglesworth was a frequent contributor to periodical medical literature, and was an active worker in the various medical societies. He gave much time and effort to the establishment of the Boston Medical Library Association, and served until his death on its executive committee. He did good service as a member of the committee which raised the large sum of money required to provide the present seat of the Harvard Medical School. Indeed, it may be said, in the words of one of his contemporaries, "that he was always ready to encourage by word and deed, by suggestion, advice, and gift of money, all worthy objects demanding the active interest of the public-spirited physician; and his assistance was usually sought both in the inception and in the promotion of such objects."
In his private life Edward Wigglesworth was upright, loyal to his high ideals, tender, chivalrous. Generous to a fault, yet was his giving unostentatious. Of warm-hearted nature, and brilliant intellect, he was a delightful companion. He will be remembered as an accomplished physician, a public-spirited citizen, and a generous and lovable friend.
Mr. Abner C. Goodell, Jr., gave the following account of the Third Volume of the Massachusetts Colony Records, about which there has been a diversity of opinion among historical students and scholars: —
From the time of the division of the General Court, in 1644, into two separate branches, the House of Deputies conformed more and more to the pattern of the House of Commons. They elected a Speaker, and chose a Clerk, and began to keep a Journal distinct from the records of the Secretary. Unfortunately, all these Journals save those from 1644 to the end of the first session of 1657 are lost, — probably in the conflagration of 1711 or 1747, both of which wrought such havoc among the records in the Town House, or old Court House on King Street. The single printed volume of these Journals is erroneously included with the printed Records of the Governor and Company, and introduced by some incomprehensible but certainly mistaken explanation of its want of harmony with the other records, which are the legislative records of the upper branch, and were kept by the Secretary of the Colony. During the first General Court, under the new system, the Journal was kept with diurnal entries under appropriate headings. This practice was discontinued the next year. At first, against all votes and ordinances passed in concurrence, the minute was made in the Journal "by both;" and later, "per curiam." This practice seems to have been wholly discontinued after the May session of 1651.
In the October session of 1648 the manner of keeping records by the Secretary and the Clerk of the House was further regulated. All bills, laws, petitions, etc., passed in concurrence, and voted upon last by the Magistrates, were to be kept by the Governor until the end of the session; and, in like manner, all such papers last acted upon by the House were to remain with the Speaker. At the close of the session the assembled Court, or a committee of both branches, in presence of the Clerk and Secretary, were to deliver them to the Secretary to be recorded. This recording was to be finished in one month, after which the Clerk was to be allowed another month in which to transcribe this record into his book of copies. The Secretary's set was to be the official record.
Both sets of these books of record, which, by the same order, were to include, or to be accompanied with, other books containing all previous legislation not already ordered to be printed, were probably consumed with the House Journals. The records of the Magistrates or Assistants, and many if not most of the files, however, seem to have escaped the conflagration. These files were in two groups, — one composed, in part at least, of "such bills, orders, etc., which have only passed the Magistrates," and which were to be given into the custody of the Secretary to be kept on file; and another of similar papers, "such as have only passed the Deputies," and which were to be delivered to the Clerk of the House, to be filed and kept by him, in like manner.
The vote requiring that the orders, etc., enacted remain in the hands of the Secretary and Clerk of the House, respectively, until the end of the session was repealed in the first session of 1650, and the Clerk was ordered to send to the Secretary, from time to time, immediately after their passage, such bills, etc., as had been concurrently enacted, and voted upon last by the House. This substantially became the settled practice of the Legislature down to the adoption of the Constitution.
Mr. John Noble said that he had recently discovered in the Suffolk Court Files a fragment148 in the handwriting of Edward Rawson, which might prove to be interesting in connection with this matter.
Mr. Andrew McFarland Davis then said: —
I wish to submit for the consideration of the Society a curious blackmailing letter which was sent to Governor Shirley, in May, 1749. The anonymous writer, under threats of burning Shirley's country-house and of the commission of other acts of destruction of a similar nature by the band of conspirators in whose name he professes to speak, seeks to extort money from the Governor. Unless a motive is to be found in the sentence in the letter in which the writer alleges that all of those in whose name he pretends to speak had served in Shirley's regiment, and that not half of them had been paid for their services, there would not seem to be any special reason why the Governor should have been selected as a victim by the blackmailers. The original letter is on file at the Suffolk Court House, and from the indorsement it would appear that James Williams was indicted as the writer of it, and pleaded not guilty. There are, however, no other papers connected with the proceeding, and I have not found any reference to a trial in the Records of the Court.
The letter is as follows: —
May it plese your Exelelcey Your not complying with ours of May ye 20th 1749 Soterday which we left in your yard nixt ye Bookbinders Shop which we beleve you have Seen which has mad sum disspute amoung us for Sum was for going and firing your fine cuntry house without eney more Delay but Sum of us thot mabe you had not found it and therefore we Send you these fue lines which we are Shore you will find and by these you may find ye other by enquire tharefore Shall oneley ashore your Exelencey Except all that is in the other leter is preformed Which is that you take five hundred pound New tenor and and Carry the Same to that tree that Stands on your Right hand agoing over ye Nack abought half way over and Sum Distance out of ye highway and thare hid ye same close under ye Root of ye tree and cover it over with Durt So that it may be had close and that we may git it when we plese and with out Danger for we Shall not be all thare at a time So that thare will be a Nough left to full fill all that we have promissed in our other leter ye Sum of which is that if you Do not take five hondred pound New tenor with out Eaney privet mark of whot Nater so Eaver or Eney of it none nor Supspected but all good and carri it and hide ye Same whare you are diricted above on tuesday night which will be may ye 30 day 1749 then if you Dont then we will Shorley burn all yuore fine Countrey Seate and there on to be longing with out fail and other places which will be a disadvantege to you and cuntry to for we will not be Robled No more by your Exelencey then we will by Esqr Wills for all your good Counsel to him and your proclimation for if it was teen times as much as it is we Should mind it no more then the Durst under our feet or the b burning his house and him in the fray which we will as Shourly go as he is now alive if he dos not on our nixt Sumons proform which Shall Not be long we sware by the liveng God if it is his will that we or eney of us live long anugh and he may be glad to have ye Sumons before the fier for ye slig he pot on our forst but if he slits ye next he Shall fare ye worst for no proclimations with eney Considirations Shall avale aneything but the proformence of ye above for if your exeleucy Should Set a watch Round your house in the Cuntry or town of eney quantity of men Sum of us Shall be there for we have all sarved under your Exelenceys Ridgment in one place or other and Sum have bin disbanded and Naver halfe of us half paid and we Shall be Ready foreaver Round your Elboe to watch your motions we all have bound under Selves under a Solom and furm oth to stand by etch other in life and in death foreaver & eaver amen.149
It appears from the language of this letter that it was not the first communication of this character which had been sent; and we find, upon examining the records, that on the twenty-first of April, 1749, the Governor submitted the following message to the consideration of the General Court: —
Gentlemen of the Council & House of Representatives. One of the members of His Majesty's Council has laid before me a villainous paper, importing a wicked conspiracy for robbing him of part of his estate, by extorting a sum of money from him & threatening him with the burning of his house, warehouses, and vessels, and the murdering of his person in case of his refusal to comply with their demands.
Gentlemen, this being the first instance of this kind of execrable villany attempted in this Province, it highly imports this Legislature to make provision for preventing & punishing the same attempts for the future. Wherefore I desire you would immediately take the matter into consideration & do what you judge necessary before you rise.150
The Governor's message was referred to a joint Committee, and their report, which was prepared by Samuel Welles of the Council, was submitted the next day. The Committee recommended that a Proclamation should be issued offering a reward of Two hundred pounds, bills of the last emission, to be given to any person who should inform or discover one or more concerned in this wicked conspiracy, so that he or they might be convicted. If the informer should prove to have been an accomplice, he was to be forgiven. The Governor was recommended to insert in his Proclamation the sum and substance of the anonymous letter, and verbatim extracts from the impious, insolent, and inhuman language used therein, so that his Majesty's good subjects might be stirred up to join in bringing to exemplary punishment the profligate and abandoned wretches who were concerned in this wicked and impudent combination. It was also recommended that a Bill should be prepared for the prevention of such abominable and dangerous crimes in the future.
The report was read and accepted, and a joint Committee was appointed to draft a Bill in accordance with the suggestions therein contained. There is nothing in the Governor's message or in the report of the Committee to indicate what member of the Council was the recipient of the "villainous paper;" but in the letter to Governor Shirley the writer indicates his determination not to be "bobled" any more by his Excellency than by "Esqr Wills." It may be inferred from the language used that "Wills" had at that time already received a communication from the same writer, to which he had not responded in such a way as to meet with the writer's approval. There can be but little doubt that the "Esqr Wills" of the letter must have been Samuel Welles, a member of the Council,151 and the writer of the report which we have just been considering.
On the first of June, 1749, the Governor, in his message to the General Court, alluded to "an anonymous letter" sent to him to demand his laying a sum of money for the writer in a secret place. If the Governor should not comply with this request, the writer threatened to burn the Province House and Shirley's own house in the country. This letter, the Governor adds, "I shall order to be laid before you & desire you will without delay prepare a bill for suppressing this kind of wickedneſs & punishing the authors as they deserve."
The Court did not act promptly in the matter, and on the third of August the Governor laid before them a new instance "of the same kind of villany that was twice lately practised in this Province for extorting money by threatening gentlemen of substance with the destruction of their estates and persons in case of refusal to comply with the demands of these miscreants." This communication incited the Legislature to action, and on the fourth of August a joint Committee was appointed to prepare a Bill for preventing and punishing such pernicious practices in the future. The action of this Committee is to be found in Chapter 7 of the laws of 1749–50.152
Mr. Abner C. Goodell, Jr., presented a copy of a Proclamation by Governor Hancock, and said: —
Mr. President, — The interesting episode which our Corresponding Secretary has brought to light, and the formalities attending the issuing of the Governor's Proclamation, may be contrasted with a similar proceeding on a like occasion after the adoption of the Constitution of the Commonwealth.
In 1783 an anonymous letter was found at the door of one of the proprietors of Long Wharf, declaring a determination to set on fire the shops and warehouses extending along the wharf, unless the Proprietors forthwith signified in the newspapers their purpose to cause the removal from the wharf, or the closing of the business, of "all shop keepers, retailers, grog-sellers, etc."
Upon this, Governor Hancock, in the recess of the General Court, of his own motion apparently, and without even the advice and consent of the Council, issued a Proclamation for the discovery and apprehension of the author or authors of the threatening letter, "promising a reward of one hundred pounds to any person or persons who shall inform against, or discover, any one or more concerned in this wicked design." The Proclamation, which bears date 27 August, 1783, may be read in full in the forthcoming most interesting and valuable Supplement, by our associate Mr. Edwin M. Bacon, to the "Early Laws of Massachusetts" now being published by the State in a new edition under authority of Chap. 104 of the Resolves of 1889. The object of Mr. Bacon's Supplement is to supply the lamentable omissions in the official series. This he has not only admirably accomplished, but in so doing has revealed historical data never availed of by any historian, and of the greatest interest and value.
The text of the Proclamation is as follows: —
for apprehending the author of a threat to burn long wharf in boston unless shopkeepers cease business there.
By his Excellency John Hancock Esqr
Governor of the Commonwealth of Massachusetts
A Proclamation.
Whereas an anonimous letter was found at the Doors of one of the Proprietors of the Long-Wharf, in Boston, this morning, directed to Mr. Giles Alexander, wherein the writer declares "That it is determined to set the Long-Wharf on fire, except all shop-keepers, retailers, grog sellers &c cease to continue thereon as it is thought that it is a detriment to the shop-keepers and retailers of the town in general, to suffer any of that denomination to set up on Long-Wharf; and it is a pity that the wholesale merchants should suffer through their means, which must be the case if they cease not. If you mean to cause them to move off, make it known in one of the news-papers this week. If you slight this warning you'll have no other."
Which attrocious crime has been represented to me by the Proprietors of the said long-Wharf, praying for the interposition of the Government, in order to discover the author of it: And inasmuch as such an open and flagrant violation, both of the laws of God and man, hath a direct tendency to subvert all civil order and Government, and to render the lives and properties of the subjects of this Commonwealth, altogether precarious:
I have therefore thought fit to issue this Proclamation, hereby requiring all officers, civil and military, and all other subjects within this Commonwealth, to use their utmost endeavours for descrying, seizing, and bringing to justice, the author or authors of the infamous letter aforesaid, or any of his or their accomplices; — hereby also promising a reward of ONE HUNDRED POUNDS to be paid to any person or persons who shall inform against, or discover any one or more concerned in this wicked design, so that he or they may be convicted.
Given under my hand, at Boston, the twenty-seventh day of August, in the year of our Lord, One thousand seven hundred and eighty-three, and in the eighth year of the independence of the United States of America.
John Hancock.
By his Excellency's command John Avery, Secretary.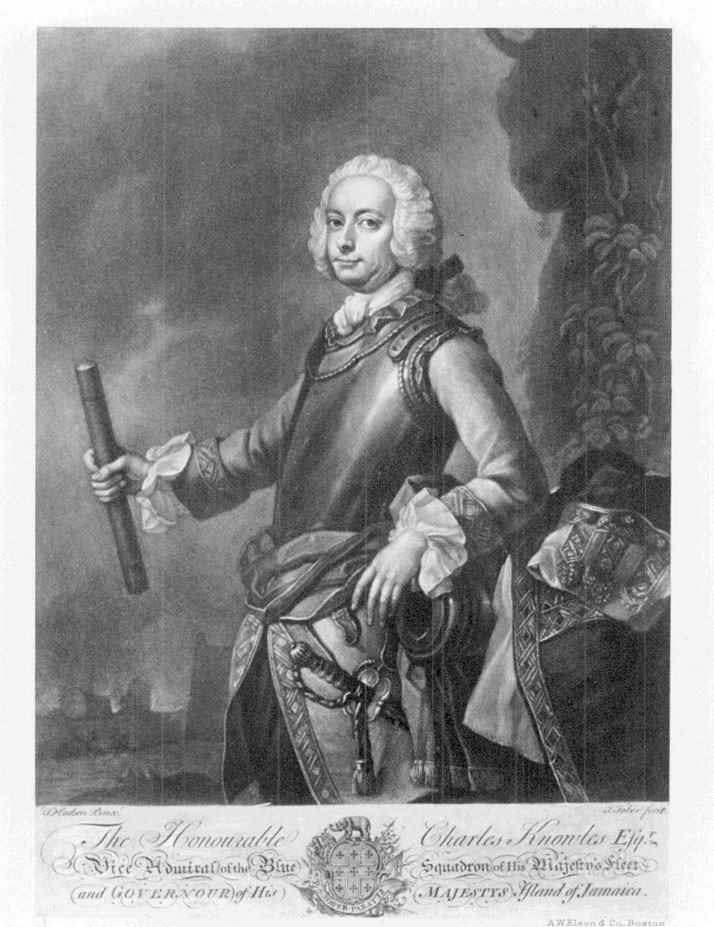 Engraved for The Colonial Society of Massachusetts from a rare print in the possession of Frederick Lewis Gay Esquire.