By Robert W. Lovett
ENOS HITCHCOCK, Chaplain during the American Revolution, minister of the Second Church, Beverly, and of the First Church, Providence, is a person worthy of further study. There are sketches of him in the Dictionary of American Biography, in Sibley's Harvard Graduates, and in accounts of Providence and the First Church.1 All of these biographical sketches naturally emphasize the later, more productive period of his life. I propose to consider here his early career, and its influence on his later achievements.
Enos was born in Brookfield, Massachusetts, on 17 March 1744/45; his parents were Peletiah and Sarah (Parsons) Hitchcock. Peletiah was of the third generation of Hitchcocks in this country, and the family had come up from Connecticut to the Springfield area. Enos had five older brothers, of whom three (Caleb, David, and Moses) lived to the turn of the century as substantial residents of West Brookfield. David, who kept the Old Hitchcock Tavern there, was made a Captain by Governor John Hancock.2
As was sometimes the case, it was the youngest son who was destined for College and the ministry. Enos entered Harvard in 1763 and graduated in 1767. He was twenty-sixth in a class of forty-two, though it should be noted that this does not necessarily represent scholarly rank. Upon graduation, he was granted the Hopkins Fellowship, receiving his M.A. degree in 1770, after the customary three years. According to Quarter Bills among his papers, he was at the College as late as the first quarter of 1771; but during parts of his graduate study he was keeping school at Truro on the Cape, and occasionally supplying the pulpit in Paxton, Dunstable, and the Old South Church, Boston. The manuscript notes of a sermon preached at the Old South on 5 April 1770 are extant. In April 1768 he joined the Truro Church, of which Caleb Upham, who was to become his uncle by marriage, was pastor. And in August of that year Upham, with several other ministers of the area, certified to his ability. One account indicates that he was licensed to preach in 1769, perhaps drawing an inference from the certificate. We know that by the fall of 1770 he was preaching frequently at the Second Church, Beverly.
The Second Church, Beverly (or the Precinct of Salem and Beverly, as it was officially called) was organized in 1713; its building was erected in 1714; and John Chipman was called as its minister in 1715.3 Chipman graduated from Harvard in 1711; he was to remain as minister of Second Church until his death in 1775, a span of sixty years. Even for a time when ministers were accustomed to stay with their churches, this was a noteworthy length of service. North Beverly, where the Church was located, was at that time essentially a farming community. Chipman, though somewhat liberal in theological matters and an adherent of the patriot cause, was not one to rock the boat. His pay was never large, but he managed to bring up fifteen children in the house (still standing), which he acquired of the Conant family. Upon the death in 1751 of his first wife, Rebecca Hale, he married Hannah, aunt of the patriot, Joseph Warren. She died in 1769, leaving her husband, who was approaching eighty, in poor health.
The aging pastor was reluctant to give up any of his authority, but in September 1770 he acquiesced in the engagement of Mr. Hitchcock by the Parish Committee for three Sabbaths. During the fall negotiations continued, with committees of the Church and Precinct meeting with the two ministers. In December, Chipman sent a communication to the Church, calling for a meeting at his home on the tenth, and stating in part: "You have now for considerable time past enjoyed the ministry of the word by Mr. Hitchcock . . . [If you are] so satisfied of the abilities and other qualifications of the said Mr. Hitchcock . . . [you will] unite with me in Inviting Him to take the oversight of the flock of God among us . . . as a Pastor with me, to assist me during the term of my Life, and to succeed me in the Office after my Death if the Lord will." At the meeting, Church members commended Hitchcock in such terms as "his aptness to teach," "the soundness of his doctrines," and "the good report respecting his daily walk and conversation." It was voted to call him as co-pastor, and Deacon Joshua Dodge, Deacon John Conant, and Benjamin Jones were appointed a committee to inform the Parish of this action. Subsequently, on 3 January 1771 the Precinct voted a formal call to Mr. Hitchcock, setting forth the financial arrangements. He was to receive £133–6–8 as a settlement, and a salary of £60 a year during Mr. Chipman's life. To further this, the latter gave up £20 of his annual pay, thus making the two salaries equal. A copy of Hitchcock's acceptance, dated 17 March 1771, was entered in the record book of the Church. In it he states his hope "that I may come to this people from time to time in the fulness of the blessing of the Gospel of peace, that I may be faithful and successful." The use of the last word seems in retrospect prophetic, for at least in his Providence ministry Hitchcock partook of some of the attributes of the successful businessman and man of the world.
On 21 March 1771 Enos was dismissed from the Truro Church and on the same day received into Second Church, Beverly. There is a bill from Harvard, dated 5 April, for "supper for 13 gentlemen," which may have been Hitchcock's way of saying farewell to his friends at Cambridge. There is also a bill for trucking his trunk, bed, and brass kettle from Boston; these few possessions were installed in the Chipman home, where he was to board for a time. As befitting his position, he acquired a chaise, and presumably a horse. The date for his ordination was set for I May; this was a serious yet gala occason. Friendly local ministers, plus ministerial friends of the candidate from a distance, were invited to participate, as is still the case today. Rev. Eli Forbes, of Enos's home town of Brookfield (and later of Gloucester), gave the opening prayer; James Diman, of Salem, who graduated from Harvard a year after Enos, gave the charge; Joseph Swain, of Wenham, extended the right hand of fellowship; and Elias Smith, of Middleton, gave the concluding prayer. The sermon,4 based on 1 Corinthians, chapter 9, verse 19, was given by Gad Hitchcock, of Pembroke, a first cousin of Enos. Churches in Manchester, Danvers, and the First Church, Beverly, were also represented; Rev. Joseph Champney, of the Beverly Church, was, like Chipman, getting old, and was to receive a young assistant the following year. Manasseh Cutler came from Ipswich Hamlet (now Hamilton), and recorded: "This day Mr. Hitchcock at Beverly and Mr. Story, at Marblehead were ordained. Attended at Beverly, a great number of people, but all behaved well; no disorder at all; a number of ministers and young preachers present." The Parish Committee made extensive preparations for the affair, including provision for the Council and the gentlemen scholars (doubtless College friends of Hitchcock), securing of the galleries, and the engaging of two constables and a grand juryman to look after the Meeting House. It may be that, because of the troublous times, some difficulties were anticipated; but, as Rev. Mr. Cutler noted, all went smoothly.
We may wonder how Hitchcock happened to choose North Beverly as the place to start his ministry, and how Second Church happened to choose this young man. Manasseh Cutler, who was about Enos's age, and a Yale graduate of 1765, was nearby; and it may be that Enos had some information that his friend, Joseph Willard, who was two classes ahead of him at Harvard, was to come in 1772 to Beverly as assistant to Rev. Champney. Hitchcock and Chipman must have been congenial, for even though the latter was infirm, he still occupied an important place in the community and Church. Enos had close connections with Cape Cod, and Chipman had come from Barnstable. In the end, Hitchcock realized that North Beverly was not a large enough situation for him, and leading churchmen of the area also later admitted that they had not realized his potentiality while he was with them.5 But for the moment, Church and man seemed well matched.
As soon as he was settled in his new job, Hitchcock took the logical step of marriage, which occurred on 21 June, at Truro. His wife was Achsah Jordan, ward of Rev. Caleb Upham, of that town. Caleb's wife, Priscilla, was a daughter of Rev. Benjamin Allen, of Falmouth, now Maine. Her sister, Elizabeth, married Clement Jordan, of the Cape Elizabeth-Falmouth area, and it was their daughter, Achsah, whom the Uphams brought up. Enos came to know Achsah in Truro, and the choice of the niece-by-marriage of his benefactor there was a reasonable one. But the choice was not only dictated by reason, for the few surviving letters between them show a warm and loving relationship. The Hitchcocks probably lived with Rev. Mr. Chipman and some of his family until their purchase of a house on 12 May 1772. On that date he bought of Joshua Dodge a house and land on the north side of what is now Conant Street, not far from the corner on which the Church stands.6 The same year he purchased of Henry Herrick five acres of pasture land; for, as most residents of the community, Enos turned his hand to farming. Diary entries record the trimming of apple trees, acquisition of a cow, and the setting up of fences. Bills indicate farm chores performed by Jonathan Leach, Jonathan Perkins, and one Trask; some of these may have been contracted for while Enos was absent in the Army. Benjamin Jones did carpentry work about the house at the time of its purchase; he also turned up the bedstead, polished a table, and raised the springs of the shay. Later, Samuel Dodge did some whitewashing, and Joseph Woodberry made a "cubbard for saller." Thus the property was kept in good order, but Achsah seems to have had a liking, doubtless shared with her husband, for occasional luxuries. For she wrote to him in 1779, while he was in the Army, that Brother Willard (Rev. Joseph, of Beverly) has a "curious little clock"; it cost only 200 dollars, and she would like to buy one. This sum represented nearly half of his Army pay, and one wonders how Enos received the suggestion.
A daughter, Achsah, was born to the Hitchcocks in 1773; she died at the age of eleven, after their move to Providence. Although she was their only child, their household was seldom without young people. Mary Giles bound her son, James, to live with the Hitchcocks until age fourteen, and to be "dismissed with suitable apparel for an apprenticeship." Polly Lambert, of Halifax, Nova Scotia, stayed with the Hitchcocks for several years. Her father, William, sent tea and sewing articles early in 1777, and her mother sent a bundle of goods in November of the same year. Enos went to the neighboring town of Manchester on 12 December 1777 to collect a Miss Darley, who came to board. She may have stayed for some time, since Phoebe Parsons, a cousin of Enos, wrote to him on 2 October 1779 that she, Mrs. Hitchcock and Miss Darley had visited at Capt. Israel Dodge's. Miss Parsons, who eventually became Mrs. Lane, also spent considerable time with the Hitchcocks. It is difficult to tell now whether some of these people were servants or boarders, or whether they were just keeping Mrs. Hitchcock company while her husband was in the Army. She seems to have suffered frequently from ill health and to have had some anxiety about her standing in the community. On I June 1779, she wrote to him, following a call on the Batchelders, commenting thus: "I . . . feel somewhat fatigued, and I am very glad that I am not so cumbered with the world as they are, all hurry and confusion, how much more happy am I in my plain habitat whare simplicity rains than I could be in the houses of those which caul themselves great . . . I cannot say but that they [the people of the church] are as kind to me as they ware last year. As to Mrs. Cleaves I like her much better than I did when you left me. I have reason to think that it is not all gold that glitters." Still rather young and new to the area, and with her husband absent a good deal of the time after 1775, she must have clung to whatever friends she could find.
As a minister, Enos could depend on visits to other ministers and churches for a change of scene. Pulpit exchange was frequent; for instance, on Sunday, 23 March 1774 Enos was at Wenham, where he probably preached, and on the following Sunday Joseph Cummings, who later often substituted for Hitchcock, preached at Beverly. On 13 August 1771, Hitchcock attended a lecture by Dr. Cutler, and Cutler reciprocated by attending, and preaching at, Hitchcock's "lecture" on 9 February 1776, and again on 28 February 1777. Surviving manuscript sermons of this period show that Hitchcock preached at Middleton (20 July 1775), Marshfield (26 May 1776), and Winchendon (1 August 1776). The Hitchcocks and Cutlers frequently exchanged visits, but Enos's closest ministerial friend was Joseph Willard, his Beverly colleague. They often journeyed to Cambridge, to visit Harvard, and to Boston together; on 29 November 1777, Enos recorded that he and Willard came home from Cambridge in a violent thunderstorm. Willard's son, Sidney, later recalled that he knew Hitchcock as Uncle.7 Thus social life with his parishioners was enlarged for Enos by his circle of ministerial friends and his occasional contacts with the College. News of the outer world was also brought by the papers, for he records subscriptions to three different ones, all reflecting the patriot cause.8 Hitchcock's later interest in the education of children is foreshadowed by a sermon preached at Beverly, on the Continental Thanksgiving, 9 December 1779. Of the need for education he says: "Tis a deplorable case that this whole town cannot afford one public school. If education of youth is neglected, a few years will reduce us to a state of ignorance and barbarism. Tis a piece of cruelty to children to neglect their early education; it puts it out of their power to serve themselves or mankind as they would do; it exposes them to many and great inconveniences; it has a most fatal effect on their morals; it endangers their liberties." One wonders how some of the more conservative members of his congregation accepted these sentiments, even with the excuse that the War gave them for doing nothing.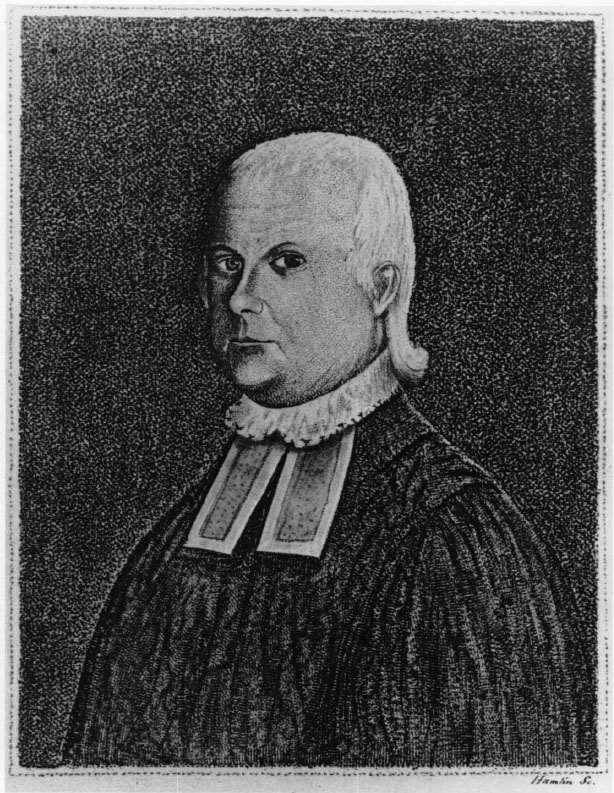 29. Stipple engraving of the Reverend Enos Hitchcock, by William Hamlin.
The Rhode Island Historical Society, Providence
30. First Congregational Church, Providence. Engraving by William Hamlin.
The Rhode Island Historical Society, Providence
The new minister's service to Second Church is divided, not quite in half, by the senior minister's death on 23 March 1775. Since report has it that Rev. Mr. Chipman was pretty much confined to his home the last four or five years of his life, the brunt of pastoral duties must have fallen on Hitchcock. The number of new members, of marriages, baptisms, and deaths, all recorded in the church book, drops off considerably after 1774.9 This may be accounted for in part by the War and Hitchcock's absence during a good part of each year in the Army. The surviving manuscript sermons for the years 1772 through 1779 total fifteen, and are for the most part either for fast days (in March or April), or Thanksgiving (November or December). Sermons preached out of town have been listed, and the few Army sermons will be noted later. As one of the learned men of the community, Hitchcock prepared obituaries for the local papers, such as one for Major John Leach, who died on 14 September 1774. He also doubtless prepared the lengthy Latin epitaph for Rev. Mr. Chipman. Other church business, of importance at the time, is indicated by a confession, in 1774, of a woman who had broken the seventh commandment, and by an appeal for prayers, on behalf of Joshua Balch, Jr. and his wife, who had lost their child. There can be no doubt that, with preparing of sermons, visiting the sick, administering church rites, consulting with colleagues, tending to his farm and household, and keeping up with local and outside affairs, Enos's time was well filled.
Chipman's death, occurring but a short time before the battle of Lexington and Concord, meant changes for both Hitchcock and the Church. The latter was prepared for an orderly transfer of leadership from their old pastor to his successor, but it was perhaps not as well prepared for the latter's wish to be an Army chaplain. On the senior pastor's death Hitchcock's salary was advanced by agreement to £95. Efforts by Hitchcock to serve both the Army and the Church may be sketched briefly here, followed by a more detailed account of some aspects of his Army service.1 At the beginning of the War it was the custom for Massachusetts clergymen to rotate service with the troops, a man's pulpit being filled by a colleague while he was away. Even later, chaplains like Hitchcock could serve in the field from April or May to November, and be at home on leave through the winter months. Thus Hitchcock could complete one of the longest terms of service of any Army chaplain, and also serve Second Church, to 1780, and First Church, Providence, thereafter.
As a young man and fairly recent Harvard graduate, there was no question of Enos's devotion to the Patriot cause. Tradition has it that he accompanied local minutemen under Capt. Caleb Dodge to Lexington on 19 April; it would certainly have been in character. On 31 May and 1 June 1775 he and Rev. Mr. Willard and Rev. Mr. Cutler were in Cambridge, visiting the troops.2 In the summer of 1776 he was at Crown Point, with the Third Massachusetts Continentals (Colonel Learned's regiment); this is attested to by three certificates, dated October of that year. On his way home, he purchased a horse at Greenbush. By January 1777, he had decided to ask for a commission in the Continental Army. At a meeting on 30 January, the Parish granted him a leave of up to a year, with his salary to be paid only while he was "supplying the desk," as the pulpit was called.3 Enos's commission was received on 3 February, and by June he was with General Paterson's Brigade in the northern campaign. Ebenezer Francis, a friend and parishioner of Hitchcock, commanded a regiment in the Brigade. There were many other local connections, for Manasseh Cutler had served as chaplain under Francis, while Henry Herrick, of Beverly, was Adjutant, and Jonathan Conant, another local resident, was Paymaster. The death of Francis in action at Hubbardton on 7 July was a severe blow to Enos; he wrote to Mrs. Francis on 21 July, expressing his sympathy, and he visited her on his return to Beverly. He contributed an account of the Battle of Stillwater to the Boston Gazette;4 and he appears in Trumbull's painting of the surrender of General Burgoyne at Saratoga, though it is not certain that he was there. He was given three months leave on 27 October, arriving home on 6 November. By May 1778 he was back with his Brigade, having been granted a five-months leave by the Church. He was stationed at Valley Forge, where he had an opportunity to observe the lack of supplies. On 27 August, the Parish voted that he receive £400, an indication of wartime inflation, for his services the rest of the year.5 In November he was granted a ninety-day furlough, arriving home on the twenty-fifth, after seven and one half months in the field.
The following February he again received leave from the Church to be absent in the Army; his pay, for such time as he filled the pulpit, was to be at the rate of £800. The Brigade was now at West Point, and it was here he took the opportunity to have his portrait painted.6 In October he was granted a leave on account of ill health, arriving home on 10 November. Whatever illness he suffered from—he records the taking of emetics and purges—the trip home soon found him well. He was back with the troops by the summer of 1780, again at West Point. On 2 October he witnessed the execution of Major André; in the company there happened also to be Major Jeremiah Fogg, of the Harvard Class of 1768. But his connection with Second Church had ended on 6 April; before considering the details of this event it is appropriate to discuss some aspects of his life as an Army chaplain. The backbone of dates already given, as he alternated between Church and Army, needs to be fleshed out with a bit more detail.
The duties of a chaplain then were probably not so different from what they would be today. Hitchcock preached of a Sunday whenever the soldiers were able to attend. A manuscript sermon exists, which was delivered at White Plains in 1778; and a sermon, The Devout Soldier, delivered at West Point on 23 June 1782, was later printed.7 On at least two occasions, 27 June and 11 August 1779, General Washington and members of his staff were present when he preached. An attendant of one of his services in the field characterized him as "a sensible and learned divine, of pure morals and correct principles, patriotic zeal and ardent attachment to his country's freedom."8 Enos sincerely believed he could improve the morals of the soldiers, and he actively supported Washington's efforts to reduce swearing among the troops. Writing to John Low, on Church matters, on 2 October 1778, he touched on what he felt he could do for the soldiers, stating, "by my presence and admonitions [I might] give some check to the dangerous growth of vice among our young people, who, I hope, will before long return to dwell with the multitude of their brethren in civil life."9 Like other chaplains, Hitchcock visited sick soldiers, performed marriages and christenings, conducted funerals, prepared epitaphs, and doubtless helped write letters home. The lack of adequate supplies troubled him, and in writing to his friend and parishioner, Capt. Josiah Batchelder, Jr., who was a Quartermaster and on the Committee of Supplies, he could best make this known. In a letter dated Valley Forge, 15 May 1778, he writes: "We have no prospect of clothing for more than three regiments of the brigade, and I never expect to see the troops of our State furnished till there is an agent appointed for that purpose, as the other States have, to see it delivered to our men. I hear the town's clothing is on the way; so I hope the shame of our nakedness will not long appear." Again, from West Point, on 13 July 1779, he sends Batchelder a long list of needed supplies; and, when writing on 12 October, he is happy to note that supplies have arrived.1 The home front was itself suffering from shortages, as witness a letter from Mrs. Hitchcock to her husband in reference to flour,2 and the gathering and transport of goods was difficult.
Hitchcock's own finances and his own supply of goods was naturally of concern to him. As a chaplain he received $20 a month; this was later increased to $33 and then to $40; he also had a ration and clothing allowance. When in receipt of funds, he would send money home by local couriers. A perennial optimist, he invested in lottery tickets, a practice which he seems to have continued after he left the Army.3 There is no evidence that he ever won anything. A record of losses in the field, and of a theft at home, together with bills for purchases, give us an idea of an officer's possessions. In the retreat from Ticonderoga Hitchcock lost two blankets and a pair of sheets, clothing, including a waistcoat, breeches, "overhawls," hat, shoes and stockings, a Bible and Psalm Book, food and drink, including sugar, chocolate, coffee, and rum, a looking glass, and various utensils. He had a suit of clothes made in Albany in 1777, and purchased linens, buckram, and hooks and eyes as well. His Beverly home was broken into on 9 December 1777; taken were lottery tickets, small change, a "blue huzzars' cloak," buckles, shirts, and stocks. Notice was sent to Boston, Ipswich, and Topsfield, and neighboring barns were searched. Enos was conscious of the fact that an officer's clothing should be of better quality than that of the ordinary soldier. Writing to Capt. Batchelder, he says, "The court passed a resolve to present the officers with two shirts, shoes and stockings. 'Twas to be supposed the things presented would be agreeable to the character of those to whom offered; but many of each have been sent, bearing no proportion, in quality, to the town's clothing to soldiers."4 Hitchcock's liking for the good things of life was perhaps furthered by his service as an Army officer; it certainly flowered during his later sojourn in Providence.
Enos's social circle was, if anything, extended, rather than curtailed by his Army service. He was frequently a guest at Headquarters, dined with General Gates, and often with Colonel Kosciuszko. En route to and from his Army posts he generally stayed with fellow ministers, for whom he might preach, in return for their hospitality. In New Haven he stayed with Ezra Stiles, President of Yale, who awarded him an honorary M.A. degree in 1781, and advised him about his change of jobs. Most of his travel was on horseback; he records purchase of a second horse, in September 1778, and the borrowing of a horse in July 1779, since his own mare was at pasture. He kept up a considerable correspondence with fellow ministers, Beverly friends, and College friends; it may perhaps be regretted that more letters to him than from him have survived. His success as a chaplain inevitably enhanced his reputation in ministerial circles, and made a move from North Beverly all the more likely.
By early in the year 1780 he seems to have concluded to leave Second Church, in part because of a lack of financial support. Letters from friends that spring ask about future plans, and suggest possibilities. Inflation had progressed to such an extent that, although the Beverly Parish offered Hitchcock £4500 (or 45 for 1), this was not enough. For a minister to leave his church at that time was a serious matter. On 28 March, the Church met; there was reference to the Parish's declining to fulfill their contract, and to divisions and contentions. The Church met again on 6 April and decided to dissolve the relation with their minister without an Ecclesiastical Council. It was stated that this was not due to any "male conduct" on his part, and that his "character stands fair with them." Deacon John Conant, Deacon William Dodge, and Benjamin Jones were directed to give him a certificate; he was also paid £1081 for his service during the year to date. Thus, because of wartime inflation, Hitchcock's connection with Second Church ended on a somewhat discordant note. It is possible also that Mrs. Hitchcock was not wholly happy in North Beverly, and wished to go to a place nearer her home on Cape Cod. Enos must have hoped for a larger opportunity, more financial support, and more cosmopolitan surroundings. Given the times and the man, his connection with Second Church probably would not have lasted long, but the War undoubtedly hastened its end.5
After looking around, and receiving advice from many friends, Hitchcock, in December 1780, made a temporary arrangement with the First Congregational Church, Providence. He continued in the Army and, as he did at North Beverly, supplied substitutes for the pulpit, until he was finally installed as Pastor on 1 October 1783. His salary was set at £200 a year, plus housing, and an annual allotment of 20 cords of wood. A parsonage, located on Benefit Street at the head of Church, was completed in 1784, with the aid of the Congregational Benevolent Society, the financial arm of the Church. Hitchcock proved a liberal in theological matters, calling for the rescinding of the 1743 vote of censure (which had resulted in the founding of the Beneficent Congregational Church), and supporting a more open communion. A new church building was constructed in 1795; it burned in 1814, but a replacement was built on the site. Relations between minister and church were occasionally troubled by money problems, but Hitchcock showed his good will by leaving $2,500 on his death for setting up of a ministerial fund.6
Proximity to Rhode Island College (later Brown) gave Enos further outlet for his interest in education. He became a Trustee in 1782, a Fellow in 1785, and was awarded an honorary s.t.d. degree in 1788. He was a good friend of James Manning, President of the College, preaching a sermon on his death in 1791. Hitchcock served as visitor to the public schools of Providence; A Discourse on Education, published in 1785, was an important contribution to the cause. His longest work, Memoirs of the Blooms grove Family, published in two volumes in 1790, was an effort at inculcating domestic manners in children. The characters, however, are wooden and the work, though popular at the time, had no lasting influence.7 He prepared and published The Parents' Assistant, an up-to-date and liberal catechism for children. One might wonder, as some contemporaries did, at Hitchcock's setting himself up as an expert on the bringing up of children; yet, as noted earlier, the household was seldom without young people; and after Achsah's death, they adopted a niece, Martha Hitchcock Jordan. They also looked after Elsie Talbot, daughter of Enos's correspondent, Silas Talbot, after her mother's death. A number of Hitchcock's sermons were also published, patriotic ones, for Independence Day or the death of Washington, or ones for ordinations and funerals.
Enos continued to see on occasion his old friends, Cutler8 and Willard. When the latter in 1782 became President of Harvard College he acknowledged Enos's congratulations in these words: "You will find us the same kind of folks we were at Beverly, and if you were welcome there, you certainly will be here."9 Enos went to Philadelphia in 1787 for the installation of Washington as president of the Society of the Cincinnati; he was chaplain of the Rhode Island Chapter. Willard and Hitchcock visited Vice President John Adams in New York in 1789. The Hitchcocks entertained Mrs. Stiles, from New Haven, the Cutlers, and other well known persons. The fine belongings in their home are shown by some of the Providence bills, as for gilding of picture frames, painting of the wine cooler, looking glasses, mahogany chairs, and silver cups. Books were not neglected, as is shown again by bills and by provisions in Enos's Will. Hitchcock also invested in a small way in Ohio lands, perhaps under the influence of Manasseh Cutler and of his Brigade Commander, General Paterson, who helped organize the Ohio Company. The question arises as to how Enos could afford these luxuries on his pastoral salary; one biographer speculates that income from Jordan lands in Maine may have helped.1 But he also seems to have been frugal in some matters, and to have been a good businessman.
In the late 1790's, Mrs. Hitchcock's health, which had never been good, worsened, and she died on 5 May 1801. The Benevolent Society took on the expense of the funeral, out of respect to the minister. Soon thereafter Enos's health also began to fail and he died of consumption on 27 February 1803, at the age of fifty-eight. His burial was attended, to quote the obituary in a local paper, "by his mourning relations, by the different societies of which he was a member, and by a great number of other citizens."2 His Will, as is so often the case, reflects some of his interests.3 It has been noted that he left $2,500 to the Benevolent Congregational Church for the "support of a learned and pious minister of the Congregational order." He gave sums of a few hundred dollars each to his two surviving brothers, and to the widow and children of his deceased brother, Moses. He also gave similar sums to three nephews; and to one, who had been living with him, he gave in addition a suit of mourning clothes and $3 a week while studying law. To other nephews he gave his right in the Ohio purchase. The distribution of his library is of interest; to Rev. Ephraim Ward, of Brookfield, he gave his set of Groves' Works, in ten volumes; nine volumes (not specified) were given to his adopted daughter; eleven volumes to Enos Cutler, the nephew who was studying law; eleven volumes to Jonathan Parsons; and sixty volumes to the Proprietors Library of the First Parish, Brookfield. To the same Library he gave $100, provided they raised a similar amount and incorporated. He gave a share in the Providence Bank to his adopted daughter, asking that she pay the interest to his "Blackman Caesar whom I purchased from slavery at 11 years, caused to be manumitted." All the remainder was left in trust for Martha Hitchcock Jordan, and on her death one-half was to go to the Congregational Benevolent Society, as before, and the other half to his family, as before. Martha died on 12 May 1803, at the age of twenty-five, and an additional $6,000 came to the Church at that time.
Hitchcock's epitaph states that as chaplain he was "respected and beloved by the immortal Washington," as minister he was "eminent for piety, urbanity, and charity," in his zeal for general education he "led the way to establish public schools in Providence," and in his earnest support of religion, he left a bequest to his Church.4 Though some of this might be discounted now, it does cover the main areas in which Hitchcock made his contribution, as chaplain, minister, and supporter of public education. Of the many qualities assigned to Hitchcock by his contemporaries and later writers one may select a few and conclude that he was a kind-hearted, public-spirited, urbane, and liberal man; in short, a noteworthy citizen.5