King William's War 1689–1697
In 1688 war erupted between French and English colonists (with their respective Native allies) along the northern border of Massachusetts Bay, in present-day Maine. By the summer of 1689, Britain had declared war on France, beginning the War of the League of Augsburg in Europe and King William's War in North America, but the colonists had already engaged in deadly frontier skirmishes.964 The war was marked by sporadic raids on northern settlements along a border that had been left particularly vulnerable after April 1689, when many militia companies returned home following the overthrow of Edmund Andros's Dominion of New England during the Glorious Revolution. Increasing Native attacks like the "massacre" at Schenectady to the west prompted Massachusetts Governor Simon Bradstreet to call for an invasion of French Canada in the spring of 1690. Under the command of Sir William Phips, the combined colonial forces first focused on gaining Port Royal, Nova Scotia. Following their success, Phips pushed for an attack on Quebec, for which Plymouth Colony supplied 200 men, including fifty Indians. The October attack failed miserably, as English colonists were repelled by forces commanded by the Governor of Canada, Louis de Baude, comte de Frontenac. The English retreat in smallpox-infested ships suffered gale-force winds that blew some ships so far off course that they eventually landed in the West Indies.
By the war's end, French colonists and their many Native allies had raided Dover (July 1689), Pemaquid (August 1689), Schenectady (9 February 1690), Salmon Falls (18 March 1690), Falmouth, now Portland, (27 May 1690), York (5 February 1692), Wells (10 June 1692), Oyster River (July 1694), Groton (27 July 1694) and Haverhill (15 March 1697), among other settlements. The English launched retaliatory assaults on the Maine-Quebec border, such as the Battle of Brackett's Woods in 1689, and on Native forts near Brunswick on the Androscoggin River in September 1691 and on another fort near Lewiston shortly thereafter. The English had succeeded in capturing Port Royal only to endure its recapture by the French a year later. The Treaty of Ryswick (30 September 1697) concluded the war, which had ended in a stalemate, and restored all colonial possessions to their original status.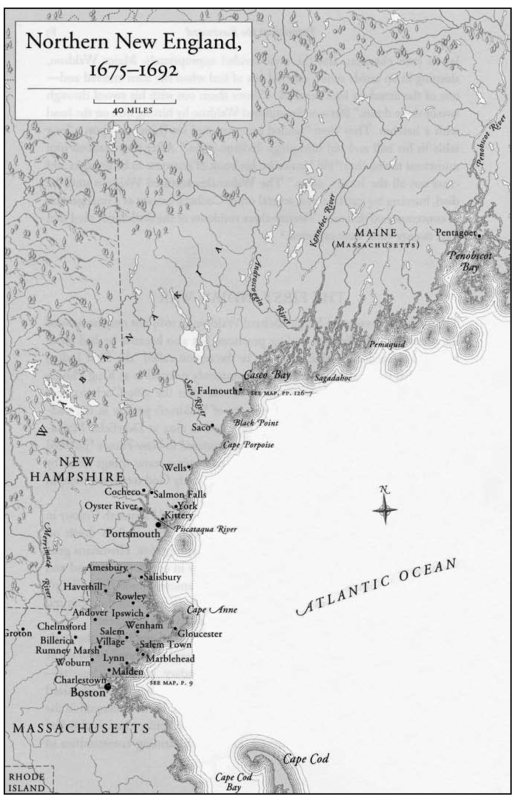 From In the Devil's Snare by Mary Beth Norton, copyright © 2002 by Mary Beth Norton. Maps copyright © 2002 by David Lindroth, Inc. Used by permission of Alfred A. Knopf, a division of Random House, Inc.
Many of the letters in this section include war news, especially since Plymouth Colony contributed both men and money to the war effort. In May 1690 the Plymouth Court ordered that sixty-two men under the command of Major John Walley join the combined forces of Massachusetts, Connecticut and New York at Albany, where they had gathered principally to defend the northern frontier.965 Cotton also received and conveyed news concerning Major Fitz-John Winthrop's aborted mission to attack Montreal in the summer of 1690;966 the desperate situation faced by families trying to live in border towns;967 the attack on York in February 1692;968 plans to construct Fort William Henry in Pemaquid beginning in 1692;969 the raid on Oyster River in July 1694;970 attempted peace negotiations at Fort William Henry in both 1693 and 1695;971 the capture of Bombazeen;972 attacks on Fort William Henry in 1696;973 and Church's attempted raids along the Maine coast and Newfoundland,974 among other war news. The taking and redeeming of captives on both sides was a primary war tactic, as it had been along the frontier since settlement began. Many of Cotton's letters described stealth raids, people taken, negotiations for their return, happy reunions, and even occasionally a daring escape.975
The war effort encountered resistance among Plymouth colony towns, several of which refused to send either men or money; in the years after the war, many towns struggled to pay taxes to the colonial government, which was desperately trying to cover soldiers' salaries.976