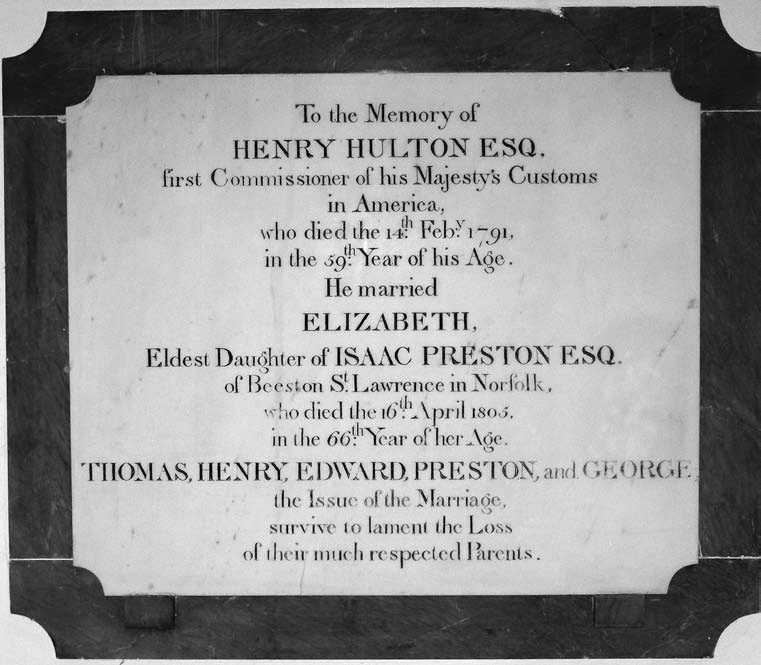 This tablet, dedicated to the memory of Henry and Elizabeth Hulton, is located in the west entrance lobby of St. Mary's Church in Andover, Hampshire. The Hultons' five sons intended it as a tribute to their loving parents. Originally placed in the old Norman era St. Mary's Church built on this site, it was hung in the new St. Mary's that replaced it in the 1840s. The dates for Henry are off. He actually died in his 60th year, on 12 February 1790. Photo by the author.
No other Odysseus will ever return to you.
That man and I are one, the man you see . . .
here after many hardships,
endless wanderings, after twenty years
I have come home to native ground at last.1
"I was no sooner arrived at those years, when it becomes expedient for every prudent person to think of his future establishment," Henry Hulton wrote in one of his memoirs, "than I found I had to enter life without the support of friends, and under the disadvantages of a narrow fortune."2 If those words held the attention of five readers and no one else, that would have been enough for Hulton; he penned them privately for his sons, not the general public. He did not pretend to have any insights that ought to be shared with the world beyond his family. He claimed no wisdom that should guide the founders of nations or builders of empire. He would have been content if his boys, the oldest of whom was still in his teens, found something in his life worth emulating, something in the "trials and difficulties, which he hath surmounted" that would "urge them to persevere with patience and fortitude, in the course of their duty"—an effort that he wished more parents would make for their children.3
Hulton did not set the opening scene of his autobiographical tale as pithily as Charles Dickens might have, but the point came through: he had not been born into a life of ease; he earned what he had. He wanted his sons to appreciate that they had been blessed with more advantages than he, so they ought to pay heed. He overcame adversity that they had been spared, but they would face challenges of their own and they must be able to rise to the occasion. He intended to show them how with vignettes from his own career.
It was advice that his own father, Edward, who died in April 1731, did not live long enough to offer. Henry had been born the preceding June, the youngest of five children, four boys and one girl. John, the firstborn, in 1720, had been followed by Samuel in 1722 and Edward in 1724. Ann was three-and-a-half years older than Henry.4 Their father died young. So did his middle child and namesake, who preceded him in death. The son of a glove maker to whom he had been apprenticed as a boy,5 the elder Edward Hulton had, at the time of his death, amassed a considerable estate for a tradesman. He owned buildings and land in and around Chester and, as was the custom, bequeathed the bulk of his property to his oldest son, John, after stipulating that his wife, Mary, be cared for out of the estate until her death. He left Samuel, the second oldest, some investment properties but nowhere near as much as he passed on to John. In addition to some personal effects, both Ann and Henry were given £400, ideally to be held in trust and earn interest until they each turned twenty-one. When necessary that money would "be Imploy'd for his & her Yearly Maintenance[,] Cloth[e]s[,] Education & Preferment in the World."6