A Stated Meeting of The Society was held at the house of the American Academy of Arts and Sciences, No. 28 Newbury Street, Boston, on Thursday, 27 March, 1913, at three o'clock in the afternoon, Vice-President Andrew McFarland Davis, A. M., in the chair.
The Records of the last Stated Meeting were read and approved.
The Corresponding Secretary reported that a letter had been received from the Hon. Charles Grenfill Washburn accepting Resident Membership.
Mr. George Fox Tucker gave an account of Paul Cuffee (1759–1817), son of an African negro slave, who was born on the Island of Cuttyhunk, became prominent and had a remarkable career in Dartmouth, New Bedford, and in foreign lands as shipbuilder, navigator, merchant, philanthropist, and public spirited citizen. In 1808 he joined the Society of Friends. He was a deeply religious man and was universally respected. A monument to his memory is to be erected next June at Central Village, Westport, by H. P. Howard of New York, a great-grandson.1
Volume II of the Society's Publications, soon to be issued, contains, besides the Province Charter (1691) and the Explanatory Charter (1725), the extant Commissions of the President of the Council for New England (1685); of the Governor, Lieutenant-Governor, and Secretary of the Territory and Dominion of New England (1686–1688); of the Governors, Lieutenant-Governors, and Secretaries of the Province of the Massachusetts Bay (1691–1774); and of the Collector, Surveyor, and Searcher of Customs in the Colonies of New England (1681). It also contains three Commissions not alluded to in these Notes — namely, Lord Willoughby's Commission (1667) as Vice-Admiral of Barbados, etc., and two Commissions (1727–1728) issued to Edmund Gibson, Bishop of London. The following six Commissions, mentioned in these Notes, are not printed in Volume II because no copies are known to be in existence:
| | | | |
| --- | --- | --- | --- |
| 1678 | July3 | Edward Randolph | Collector, etc. |
| 1691 | Dec.4 | William Stoughton | Lieutenant-Governor |
| 1691 | Dec.5 | Isaac Addington | Secretary |
| 17116 | | William Tailer | Lieutenant-Governor |
| 1715 | April 287 | William Tailer | Lieutenant-Governor |
| 17168 | | William Dummer | Lieutenant-Governor |
In preparing Volume II for the press, it seemed desirable, indeed necessary, to compile a List of Officials, 1685–1775, giving the date of each Commission, the date of taking office, and the date of leaving office. In the course of compiling the List,9 a mass of data was collected that seemed of sufficient value — sine it was largely obtained from manuscript sources, or from printed sources not easily accessible — to be put into convenient shape for consultation and reference. Hence these Notes. They are divided into the following six sections:
I Council for New England, 1685–1686
II Territory and Dominion of New England, 1686–1689
III Period from April 18, 1689, to May 16, 1692
IV Members of the Council, 1685–1691
V Province of the Massachusetts Bay, 1691–1775
VI Lists
It will be remembered that on June 27, 1683, a quo warranto10 was issued against the Massachusetts Colony Charter which had been granted by Charles I on March 4, 1629. Edward Randolph reached Boston on October 26, 1683,11 and on November 7 —
At the opening of this Court the Governor12 acquainted the Court, that since the last sitting of this Court Edward Randolph Esq̄, arrived, & had presented him wth his majtjes councils act, & his majtjes declaration & proclamation, wth the quo warranto issued out agt the Goūnor & Company, &c13
The Colony Charter was vacated by a decree in the Court of Chancery and judgment entered against it in October, 1684.14 At a General Court held on January 28, 1685,—
At the opening of this Court the Gouernor15 declard it, yt on the certeine or generall rumors in Mr Jenner, lately arrived, yt or charter was condemned, & judgment entred vp, &c, they lookt at it as an incumbent duty to acquaint the Court wth it, & leaue the consideration of what was or might be necessary to them, &c.16
On May 12, 1686, "At a Generall Court for Elections,"—
Symon Bradstreet, Esq̄, was chosen Goūnor for ye yeare ensuing, & tooke his oath ye same day.
Thomas Danforth, Esq̄, was also chosen Dept Goū, & tooke his oath at ye Goūnor house ye same day . . . .
Edward Rawson was chosen Secret̄, & tooke his oath 13 May.17
On May 14 Randolph reached Boston,18 bringing with him an Exemplification of the Judgment against the Charter19 and Dudley's Commission (dated October 8, 1685)20 as President of the Council for New England. On May 17 Dudley made a speech21 to the Court and left with it "a true coppy of his majtjes commission,"22 and on May 20 the Court sent its reply to "Joseph Dudley, Esq̄, & the rest of the gentn named in his majtyes com̄ission."23 On May 21 the Court met for the last time, the final entry in the record being, "This day the whole Court mett at the Goūors house, & there the Court was adjourned to the seccond Wednesday in October next, at eight of the clocke in ye morning."24
In the material preserved to us, from colonial days, only a few manuscript maps of New England, or some of its parts, among those known to have been made before Philip's War, can be found. Entries in town and in our Colony records show the existence at the time of maps, as well as plans of grants by the General Court, most of which have long since disappeared. These records have also saved for us the names of many surveyors, or artists, who eked out their livelihood by measuring lands and making draughts or plots of their work.
An interesting paper relating to a map of the country by one of their number, of which the following is a copy, is on file in the State Archives:
Boston Januarij ye iith 1676
M Rawson
Sr these are to request your Care to procure me Satisfaction for Drawing a Draft or plott of ye Country that I drew from that wch you Brought me being ye Coppie thereof and so you will oblidge yor Servant to Com̄ and
James Taylor
11: January 1676
It is ordered yt the Treasurer pay unto Mr James Taylor tenn shillings mony for his drawing a Copie of draft or plott of the Country wch ye Com̄issionrs sent to his Majtie had wth them past
E R Sc
[Endorsed]
Council Act as to paying James Taylor 10s
for copy of Map 11 Janury 1676
Ent.365
Savage says, "James [Taylor], Reading, may have been that surveyor, much employ, in 1671 and 2, d. at R. 1703."366 In 1676, there was a James Taylor, living in Springfield, who may have been the same person, and perhaps the artist mentioned above as well as the one who assisted Mr. Pynchon, of Springfield, in the survey given below. On April 19, 1671, Mr. Taylor laid out land near the Plymouth line, granted by the General Court to William Holloway.367 Under date of May 15, 1672, Major John Pynchon makes a report in pursuance of an order of the General Court, May 31, 1671, to run the south line of the patent, in which he says: "I went from Springfeild to Windsor the 31, day of October, 1671, having Mr James Taylor with me for the artist."368 The Court in approving the return thanks Major Pynchon "for his great pajnes therein, and that the artist, Mr James Taylor, be desired to make a plat of what he hath donne in parchment, protracting the ljne formerly draune by Nathaniel Woodward & Solomon Saffery."369 None of the handiwork of Mr. Taylor, identified as his, has come to light.
Nearest in date to the Taylor map of the country is one by Cotton Mather. Nathaniel Mather, his uncle, in a letter to Increase Mather, dated at Dublin February 26, 1676, writes:
I much rejoyce in God's great mercy begun in your son Cotton. I heartily thank him for his map of New England It helps mee much in understanding your & other narratives. One defect or two I observe in it, there is wanting a scale of miles & a compass, & if I have not forgotten (which it is like I may) the Blew hills are misplaced, for hee placeth them south from Dorchester, whereas according to my defaced idea of the Countrey, they were rather northward from it.370
Cotton Mather at this time was only fourteen years of age, and then in his sophomore year at Harvard College. No trace of this map has been found. In the same letter Nathaniel Mather thanks Increase for "3 of your historyes of the late war with the Indians," which but a short time before had been issued from the press of John Foster. In the same month William Hubbard signed the dedication of his forthcoming "Narrative of the Troubles with the Indians" (Boston, 1677), printed by John Foster also, which contained a map of New England, the first here cut. The three maps — Taylor's map of the country, the bill for which was rendered January 11, 1676–7; the Cotton Mather map, a copy of which was received in Dublin by February 26, 1676–7; and the so-called Foster-Hubbard map, engraved a few months later — were made at so nearly the same time that the question is naturally raised as to the probable connection between them.
There is among the Blathwayt Papers in the John Carter Brown Library a manuscript map which "was copied out of an Original Cut by Mr Stoughton & Bulkeley Agents of Boston," said on the back of the parchment to be "exactly Copied about 1678 from an Original Cut Sr Robert Southwell by Mr Stoughton and Mr Buckley." It shows the "Northmost Paralel Line" of the Bay Colony, at 43° 44′, crossing Lake Winnepesaukee, and the "Southermost Paralel Line," at 41° 55, making the coast line run from the mouth of the Kennebec River to the southern part of Plymouth Harbor. The map also indicates the settlements on the Connecticut River, the Charles, the Merrimac, and along the coast from Stamford, Connecticut, to the mouth of the Kennebec. William Stoughton and Peter Bulkley were chosen agents of the Colony in September, 1676, to go to England to defend our interests against the claims of Gorges and Mason. Can this be a copy from the Taylor map of 1676, or from the original from which he made his copy?371
An earlier map372 than these, presumably of a good part of New England, was made in 1665. It was requested by the Commissioners, Colonel Richard Nicolls, Sir Robert Carr, George Cartwright, and Samuel Maverick, who arrived in Boston on July 23, 1664, under orders from the King, one of whose objects was to settle all differences "which are arisen betwixt our seueral colonjes vpon the bounds & limits of their seueral provinces."373 In a letter374 dated at Newport May 15, 1664, they say:
That wee may prevent all mistakes in the King's business, through Colonell Niccolls in July, & ourselues in February last, desired that a map of your jurisdiction & ljmits might be made ready, wee now send you our desires & the Kings instructions to vs in that particcular vnder our hands. Wee hope to be wth you in the beginig of May at the furthest, (if God blesse vs,) against wch time wee desire the map of yor limitts may be ready. We shall not trouble yow to send any to shew us yor southerne bounds, they being vncontrouerted, & at so great a distance from you. [In a postscript] This mapp or draught wthin mentioned wee desire may be made with all exactnes possible, & wth all speed convenient deliuered to us.
Edward Rawson, Secretary, in his reply, May 5, 1665, says of the map:
For a mapp of the ljmitts of our jurisdiction, vpon first notice of yor desires first made knoune to the Gouernor & council by yr letter from Road Island, dated March 13, 1664, care was then taken, & now such further provision is made by this Court, that wee doubt not that you will spedily receive satisfaction therein.375
On May 24, 1665, Rawson writes to the Commissioners: "Wee haue sent heerewith sent yow a map of the lands wee conceive to be granted vs by our charter."376 Hutchinson says that before the General Court had an opportunity to answer the King's instructions, the Commissioners acquainted the Deputy-Governor and the rest that a map of the Colony must be laid before the Commissioners, "that they might hear and determine all claims made by such as bordered upon it."377 This map has not been found.
Two earlier manuscript maps of a part of New-England are extant: one in 1642, made by Woodward and Saffrey, of that part of the southern boundary line of the Bay Colony from the angle tree near the present north-eastern corner of Rhode Island to Windsor, Connecticut, in the State Archives; and the other the so-called Waters-Winthrop Map, made a few years earlier, in the Sloane Collection in the British Museum. Of the latter, Mr. Justin Winsor, in 1890, said after a careful examination of the map that the paper has no water-mark, that there is written on the back in Governor John Winthrop's hand, "Massachusetts in N: Englande," and that the paper shows the creases, which indicate that it was folded to be enclosed in a letter.378 This is the earliest manuscript map extant, following the settlement of the Bay Colony.
Robert F. Roden in his Bibliographical List of the Issues of the Cambridge Press mentions, under the year 1643, the title "Capital Laws of Massachusetts Bay. Cambridge, Stephen Daye, 1643." In his note to this issue he says:
This is the "Body of Liberties," the first Code, prepared by Nathaniel Ward. The Cambridge edition is referred to in the preface of "New England's Jonas," London, 1647; but no copy is extant.379
Roden errs in calling it the "Body of Liberties."380 It was simply the Capital Laws. On June 14, 1642, "It is ordered, that such lawes as make any offence to bee capitall shall fourthwth bee imprinted & published, of wch lawes the Secretary is to send a coppey to the printer, when it hath bene examined by the Govrnor or Mr Bellingham wth himselfe, & the Treasurer to pay for the printing of them."381
Hitherto we were forced to rely on the reprint of these Capital Laws that is found in Major John Child's New-Englands Jonas Cast up at London, printed in London in 1647. They were introduced in the body of the text, and there was no way to determine the extent and limits of Day's original edition. This uncertainty, however, is removed by the discovery of an earlier London reprint. It is in the form of a single-sheet, and is entitled "The Capital Lawes of New England, as they stand now in force in the Common-Wealth . . . . Printed first in New-England, and re-printed in London. for Ben. Allen in Popes-head Alley 1643." This early single-sheet reprint confirms the correctness of the Capital Laws as given in New-Englands Jonas, and reproduces Day's original edition, perhaps in the same outward form.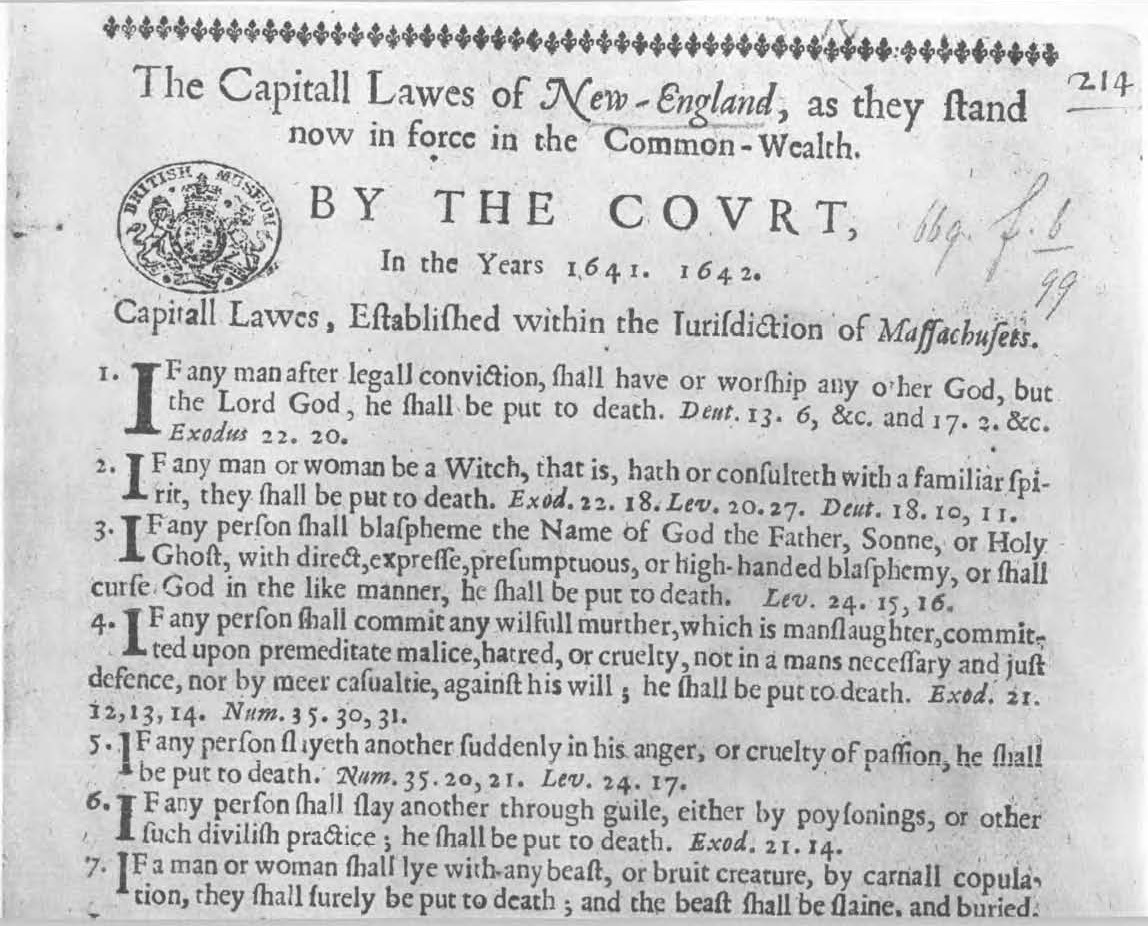 A transcript of Thomason Tracts 669. f. 6. (99.), in the British Museum, is submitted for comparison.
The Capitall Lawes of New-England, as they stand now in force in the Common-Wealth.
By the Covrt
In the Years 1641. 1642.
Capitall Lawes, Established within the Jurisdiction of Massachusets.
1 If any man after legall conviction, shall have or worship any other God, but the Lord God, he shall be put to death. Deut. 13. 6, &c and 17. 2 &c. Exodus 22. 20.
2 If any man or woman be a Witch, that is, hath or consulteth with a familiar spirit, they shall be put to death. Exod. 22. 18. Lev. 20. 27. Deut 18. 10, 11.
3 If any person shall blaspheme the Name of God the Father, Sonne, or Holy Ghost, with direct, expresse, presumptuous, or high-handed blasphemy, or shall curse God in the like manner, he shall be put to death. Lev. 24. 15, 16.
4 If any person shall commit any wilfull murther, which is manslaughter, committed upon premeditate malice, hatred, or cruelty, not in a mans necessary and just defence, nor by meer casualtie, against his will; he shall be put to death. Exod. 21. 12, 13, 14. Num. 35, 30, 31.
5 If any person slayeth another suddenly in his anger, or cruelty of passion, he shall be put to death. Num 35. 20, 21. Lev. 24. 17.
6 If any person shall slay another through guile, either by poysonings, or other such divilish practice; he shall be put to death. Exod. 21. 14.
7 If a man or woman shall lye with any beast, or bruit creature, by carnall copulation, they shall surely be put to death; and the beast shall be slaine, and buried. Lev 20. 15, 16.
8 If a man lyeth with mankinde, as he lyeth with a woman, both of them have committed abomination, they both shall surely be put to death. Lev 20. 13.
9 If any person committeth adultery with a married, or espoused wife, the Adulterer, and the Adulteresse, shall surely be put to death. Lev 20. 10 and 18. 20. Deut 22. 23, 24.
10 If any man shall unlawfully have carnall copulation with any woman-childe under ten yeares old, either with, or without her consent, he shall be put to death.382
11 If any man shall forcibly, and without consent, ravish any maid or woman that is lawfully contracted or married, he shall be put to death. Deut. 22. 25 &c.
12 If any man shall ravish any maid or single woman (committing carnall copulation with her by force, against her will) that is above the age of ten yeares; he shall be either punished with death, or with some other grievous punishment, according to circumstances, at the discretion of the Judges: and this Law to continue till the Court take further order.
13 If any man stealeth a man, or man-kinde, he shall surely be put to death. Exod 21. 16.
14 If any man rise up by false witnesse wittingly, and of purpose to take away any mans life, he shall be put to death. Deut. 19. 16, 18, 19.
15 If any man shall conspire, or attempt any invasion, insurrection, or publick rebellion against our Common-wealth, or shall indeavour to surprize any Towne or Townes, Fort or Forts therein: or shall treacherously or perfidiously attempt the alteration and subversion of our frame of pollity, or government fundamentally he shall be put to death. Num. 16. 2 Sam: 3 & 18 & 20.383
Per exemplar Incre, Nowel, Secret.
Printed first in New-England, and re-printed in London.
for Ben. Allen in Popes-head Allen 1643.
On behalf of Mr. Clarence S. Brigham a copy was exhibited of "Some Observations upon the French Tongue . . . . Boston in New England: Printed by B. Green, 1724."384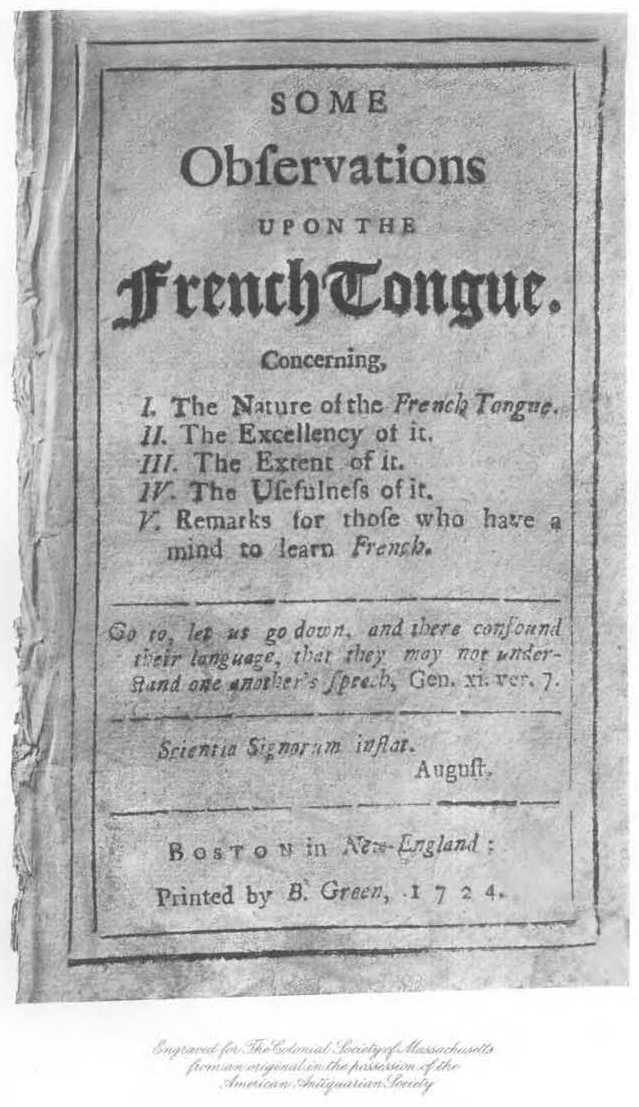 Early this month Mr. Brigham sent me this pamphlet which, he wrote, "seems to have been hitherto unnoticed by bibliographers," and asked, "Does a reading of it convince you that it is an American production?" He added that a short search had not revealed the name of the author. Though not important in itself, the pamphlet is of interest as being, so far as is known, the second book on the subject to be published in this country.385 An examination of the pamphlet indicates, though it does not prove, that it was written in this country,386 and if so, it is a natural presumption that the author was some one living in Boston or its neighborhood. The only clue lies in the dedication, which reads as follows:
To my Dear Brother
Mr. William Scott,387
Professor in the Greek Tongue, in the University of Edinburgh.
Dear Brother,
I RECEIVED last Fall the Latin, English and French Grammar388 that you have composed, and sent to me: I thank you heartily for that Present that I have Read with pleasure; and which is indeed excellent in it's Kind.
I send you as a return of Love, this short Treatise, which contains, as well as yours, several things relating to the French Language: And I Dedicate it to you as to a Person near related to me, whom I do greatly esteem, and who is a very competent Judge, as well as a great Admirer of the French Tongue.
I have more endeavoured to be Short and Clear (as you your self have done) than to make a great shew of Learning. For I have not made this Book for those who are Learned already, but for the use of those who have a mind to Learn: And not only for those who may have a mind to Learn French; but even for those who have neither Will or Opportunity to do it. For I thought in such a Time as this, when the French Language is so famous, and so much used, there is hardly any Body but that would be glad to have at least some general Notions of it.
I pray you to accept of this small Present as a token of my esteem and affection to you.
THAT Almighty GOD be pleased to pour down his most precious Blessings upon your self, your Spouse and Children; That you may bring them up for his Glory, and the Service and Ornament of his Church, is the Wish and Prayer of,
Dear Brother,
Your humble Servant, and Affectionate Brother,
A. L. M.
It occurs to me that the author may well have been the Rev. Andrew Le Mercier, who came to this country in 1715 to become pastor of the French Protestant Church in Boston and died here in 1764. The dedication to his Church History of Geneva, Boston, 1732, is signed "A. L. M.," and the dedication to his Treatise against Detraction, Boston, 1733, is signed "A. Le Mercier," though his name appears in full on the title-page of each of those volumes.389
Mr. Lindsay Swift spoke as follows:
Mr. Tuttle's paper brings to mind an interesting copy of Edward Winslow's Good Nevves from New England (London, 1624), that I first saw thirty years ago, when I had the pleasure of arranging and cataloguing the Library of John Adams, then deposited in the Thomas Crane Public Library in Quincy. It is the first of five or six pamphlets of the same date bound into a stout little quarto volume, and on the verso of the title-page is the following manuscript note:
At a Court of Commissrs for Setting Adjusting and Determining the Boundary of ye Colony of Rhode Island Eastward towards the province of the Massachusets Baye.
This Book was produced in Court by the agents for the province [Massachusetts] to the End they might give Several passages therein Contained as Evidence. But the agent for the Colony [Rhode Island] Opposed and the Court Rejected the same
Dated at ye Court of Com̄issrs Sitting in Providence in the Colony of Rhode Island The Twentithird day of June Anno Dom. 1741
Attest
Will Sam Ballard
I do not intend to enter this controversy over the boundaries of these two States — a controversy that was still going on in the sixties of the nineteenth century. It is enough to say that the commissioners appointed for settling the boundary line between the Province of Massachusetts Bay and the Colony of Rhode Island published "An exact plan" (Providence, 1741) that was republished in facsimile (Boston, 1848) by the Massachusetts commissioners on the boundary between the States of Massachusetts and Rhode Island in their Reports to the Governor and Council. The original map is in the Public Record Office, London.
I do, however, feel an interest in a book that was offered in evidence before the first commission a hundred and twenty years after its issuance and was thrown out, as good evidence sometimes is. Another feature of this particular copy is that it bears the autograph and many marginal notes of Thomas Prince, its owner, and yet I first saw it peacefully resting in the library of John Adams, along with several other volumes that once belonged to the Prince Collection. Now how did it come to pass that John Adams should be in possession of some of Thomas Prince's books? In the appendix to C. F. Adams's Life of John Adams is a reprint from the Boston Patriot of October 23, 1811, in which the first of the Adamses says:
I mounted up to the balcony of Dr. Sewall's church, where were assembled a collection which Mr. Prince had devoted himself to make from the twentieth year of his age. The loss of this library of books and papers, in print and in manuscript, can never be sufficiently regretted. Such a treasure never existed anywhere else, and can never again be made. He had endeavored, and with great success, to collect every history, pamphlet, and paper which could throw light on the Reformation, the rise and progress of the Puritans, and the persecutions which drove our ancestors over to this wild and unknown world.390
Adams was at this time (1773) preparing, with James Bowdoin, a report to the two houses of the Massachusetts Legislature containing "a statement of the title of the Province to certain lands to which the legislature of New York had asserted a claim." There was good reason then why John Adams, who wrote the report alone, should frequent the balcony of the Old South Meeting House and should borrow therefrom such a book as Winslow's Good Nevves. That he never returned it, shows that John Adams was, in this respect, pretty much like the rest of us, great man as he surely was. But time brings its satisfactions as well as its revenges. The Old South Church in course of time moved to the corner of Dartmouth and Boylston Streets, but without its precious Prince Collection, which before this moving had been conveyed in trust to the Boston Public Library, then on Boylston Street, but minus the few books that John Adams had borrowed so many years before. In 1894 the Public Library established itself on the corner opposite the New Old South, and the Prince books were within a few feet of their former guardian church. Meanwhile the Public Library had received in trust from the City of Quincy the John Adams Library, formerly deeded to and held by the Church and Temple Fund of that place. So at last the missing books are within a few feet of where they rightfully belong, and Thomas Prince's books and his beloved church are no longer widely divorced, but simply enjoying a separate maintenance.