JANUARY MEETING, 1917
A Stated Meeting of the Society was held in the house of the American Academy of Arts and Sciences, Boston, on Thursday, 25 January, 1917, at three o'clock in the afternoon, the President, Fred Norris Robinson, Ph.D., in the chair.
The Records of the last Stated Meeting were read and approved.
The Corresponding Secretary reported that letters had been received from Mr. Edmund Burke Delabarre and Mr. William MacDonald, accepting Corresponding Membership.
Mr. E. B. Delabarre read the following paper:
During the earliest period of interest in Dighton Rock and its strange writing,86 there seem to have been some, as Professor Greenwood implied in 1730, who suspected that possibly its characters were Oriental. This belief was doubtless closely connected with the many current theories as to the origin of the American Indians, — a problem which aroused interested discussion from almost the very earliest days of the colonies.87 On the one hand, northwestern Europe was looked upon by some as the home-land of some at least of the Indian tribes. But even more widely accepted as parents of the aborigines were Orientals, either from the eastern parts of Asia, such as the Siberian Tartars, the Chinese, or the Japanese, or from its western borders, such as the Lost Tribes of Israel, the sea-faring Phœnicians, or even the exiled Trojans.88 It was natural that, when this rock became known, some of the advocates of one theory or another should find in its curious characters evidence in favor of their views. But up to this time no very definite theory concerning the origin of the inscription had taken shape. During the next following one hundred years after Greenwood, it became generally held that some ancient people of Oriental origin carved this monument, and several theories ascribing it to different Oriental sources were announced. Some of them went so far as to discover a definite meaning for nearly every line upon the rock. Yet there continued an undercurrent of opposition to such speculations, and a belief that either the American Indians, or even the action of natural forces alone, were responsible for the markings.
I
Boston New England
Nov. 26. 1703.
May it please Your Lordship
My Relation to a person who has been sometimes admitted unto the Honour of Waiting on Your Lordship and who perpetually celebrates the Goodness and Candour wherewith you alwayes received him emboldens me to a presumption, which I durst not have Committed, if I had not been so Related and Informed.
And the Consideration which my Countrey is pleased, on many occasions to express for me, Obliges me, and almost commissions me, to Address Your Lordship, with some Representation of my Countreyes Interests:
Indeed, the Generous Temper of Your Lp, towards the people of those Dispositions in Religion at home in England, which are professed by a small Nation in those parts of America, and the service you did unto England, Yea, the Justice you did unto Mankind, in the Influence, You had upon that Act of Parliament310 upon which they enjoy so much of Liberty as they do, invites all persons of my character to speak of Your Lordship with a profound Veneration: And Your Lordship will not wonder at it, if they who are not writing of other Business, yett count it Business enough to burden you with Letters of Thanks, and even stiffle you with the number of Roses which they cast upon you.
But it is another matter that procures unto Your Lordship the trouble of these Letters.
The Gentleman who leaves them, is Colonel Charles Hobby, a Gentleman whose Capacity and Affection for Her Majesties Service, are not of the smallest elevation.
If there be now in London, as doubtless there are, persons who knew any thing of Jamaica, at the Time of his Residing on that Island, They will Report unto Your Lordship, how zealously he there served the Crown, in several posts, for many years together: and they will mention some Instances of his peculiar Courage and Conduct, wherein he did that, for which a knighthood might have been thought but a small Reward.311
Tho' he has within a few months, by certain disasters Lost an estate of Ten Thousand pounds value, he has a Considerable Estate yett left; And the putting of That into an agreeable Condition, was the whole and sole Intention, of the Voyage he has now undertaken.
But the best Friends of New England, upon the discourse of his Voyage applied themselves unto him, with their earnest sollicitations, That he would Wait upon Your Lordship, to see, whether the Government of this province, might not be obtained for him: Inasmuch as tis understood, That the Gentleman who is or present Governour has rendered himself so universally unacceptable, that there is a likelihood of his Removal.
My Lord
It is by persons of the most consummate prudence among us beleeved, That Colonel Hobby will not by an Imprudent and Improper Management, cause a fatal prejudice to Her Majesties Affayres in the province.
Colonel Hobby is One who worships God in the way of the Church of Engand; and tho' they who do so in this Countrey, are One very Little Congregation yett he is of that Congregation.
But he has propounded unto himself Your Lordships Excellent exemple for his Imitation, and he is for treating the Non-Cong with the Respects which are due to conscientious Christians.
His Carriage has been such (and particularly in the Command of no Little part of the Militia in this province,) that he is Beloved and esteemed by all parties among us, and he has a general Reputation throughout the Countrey; Even such an One, that Your Lordship will pardon me, if I freely offer my Thoughts, That it would be sensibly for the Queens Interest, to be served by a person of such a Reputation.
I will dare to assert for him, That the Queen has not a Truer Servant in America.
He will not irritate either the Councillors or the Representatives of or General Assemblies, by so disobliging a way of Trampling on them, as to render them Intractable. And yett he will, with an Inviolate Integrity pursue Her Majesties Gracious Intentions.
But I have given Your Lordship too tedious a Diversion. May the God of Heaven continue Your Lordship, as a Great Instrument of Good unto more than Three Kingdomes And may he multiply the Blessings of Heaven and Earth, on Your Noble Family.
Tis the Hearty Wish of,
My Lord
Your Lordships,
Most Humble & Obedient
Servant,
Cotton Mather.
[Addressed]
My Lord Nottingham312
II
My Lord
The kindness wch Yor Lordship was pleased to show to me (& to New England) when I was concerned in an Agency for this Province, has left indelible impressions in me, of gratitude. It was a sensible Joy to me when I understood that Your Lordship was returned to that high Station in the Court of England wherein you did wth great Prudence and Integrity serve his Late Majesty & the Nation.
It may be Yor Lordship will Expect that I should acquaint you with the state of Affairs wth us. I am sorry that I can give no better an account of them. The Generality of People throughout the Province have not the Love for the present Governr Mr Dudly that were to be desired. The old prejudices occasioned by his former mismanagements are revived. And his Conduct since his being Governr, has in divers Instances been very dissatisfactory to those that have been his best friends.
Prudent men with us cannot but think that it would conduce much for the Interest of her Majesties affairs in this Province, as well as be for the happiness of her Subjects here, might they have a Governr that should have the Love of the People, the Consideration whereof I humbly Leave with Yor Lordships wisdom.
My Lord. The Bearer hereof Coƚƚ. Charles Hobby is a person of real merit whom I can freely recomend to Yor Lordships favour. Hee is as to his principles in Religion a Protestant of the Church of England as by Law established, but of great moderation, having a respect for dissenters who are Good men & Loyal Subjects, as I know Yor Lordship also has.
If in any matter, I may serve her Majestyes Interest here, or Yor Lordships, please to Lay Yor Comands on,
My Lord
Yor Lordships humble Servant
Increase Mather.
Boston. December 8. 1703.
My Lord
If Yor Lordship shall be instrumental in procuring a charter for or Colledge you will bring this whole province under the greatest obligations with Gratitude.313
Mr. Henry H. Edes exhibited a cut of a satirical coat of arms of the Porcellian Club of Harvard College, speaking as follows:
At the meeting of the Society in February, 1906,314 1 communicated a letter written in 1799 by Amos Kent (H. C. 1795) to his brother, Moody Kent (H. C. 1801), which contained some interesting information concerning the early history of the Porcellian Club, of which both were among the early members.
Our associate, Dr. Franklin Bowditch Dexter, has recently edited for the Corporation of Yale University a volume called Itineraries and Correspondence of Ezra Stiles. On page 419 is a cut which reproduces a drawing found in the Itinerary for May, 1794. This drawing was made in 1793 by the Rev. Dr. William Jenks of the Class of 1797, while a Freshman, and was a satire on the Porcellian Club, then in the third year of its existence. The drawing fell into the hands of Miss Betsey Stiles while on a visit to her sister Mary, the first wife of the Rev. Dr. Abiel Holmes of Cambridge, and was sent by her to her father, President Stiles. Dr. Dexter very kindly permits me to communicate these facts to the Society for publication in our Transactions, together with a cut of the drawing. The ribbon bears the legend "The Arms of the Bloods of Harvd College." The arms are drawn in heraldic fashion, but with some inaccuracies, the bird, which forms the crest, for instance, facing the wrong way.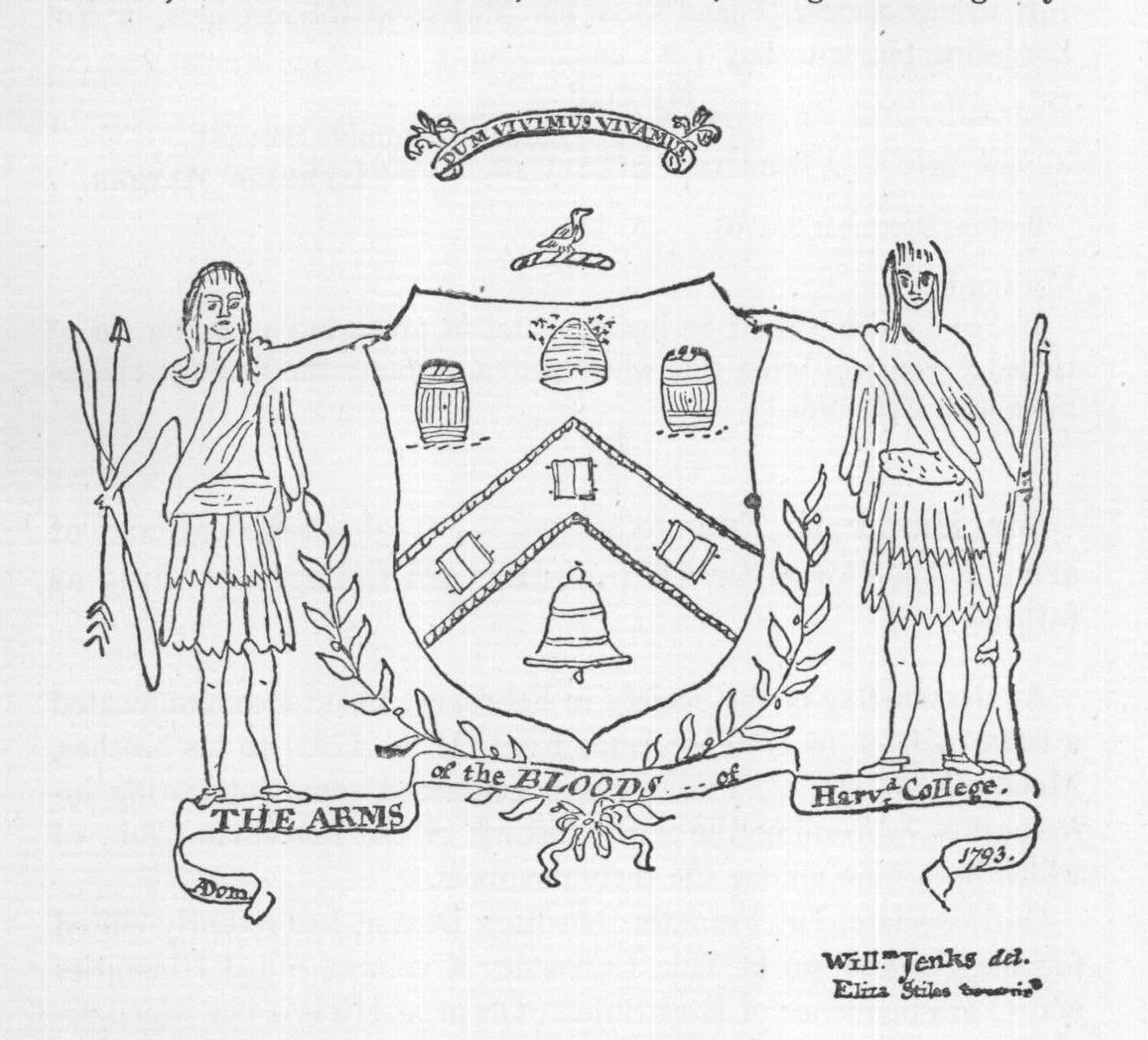 The three open books on the chevron were doubtless supposed to bear the word "Veritas" upon their pages, after the manner of one of the College seals. The College bell is probably the one depicted below the chevron, which is surmounted by a beehive and bees, and by two wine casks. The supporters of the shield appear to be Indians; and the motto above the crest, Dum vivimus vivamus, is the same as that found below the coat of arms of the Club in use to-day.
The Porcellian Club elected to its fellowship eleven men from the Harvard Class of 1797; but we do not find the name of William Jenks among them. Perhaps his satire may have spoiled his chance of preferment.
Mr. John W. Farwell exhibited a copy of La Nouvelle Testament, published at The Hague and Amsterdam in 1730, which bears on the title-page the autograph of Benjamin Franklin and on a fly-leaf the statement that it was bought at the sale of Franklin's library in Philadelphia in 1805.