IN early eighteenth-century Boston there were five men whose interrelated activities were important in the history of American printmaking.
There was Thomas Selby, respectable "perriwigg maker" and "tavernor." He owned the Crown Coffee House at the head of Long Wharf (where 148 State Street now stands). He was senior warden of King's Chapel.
There was William Price, British America's first church organist, by trade a cabinetmaker whose successful shop stood diagonally across from the Town House. He sold picture frames, mirrors, prints, maps, and toys. He published Captain John Bonner's famous map of Boston. He designed the steeple of Christ Church. He was instrumental in founding Trinity Parish.
There was Francis Johnston, a craftsman who could make a japanned box, engrave a copper plate, paint you a coat of arms, or build a church organ.
There was Thomas Dewing, who engraved and printed the Bonner map for Price. He announced upon reaching Boston in 1716 that he "Engraveth and Printeth Copper Plates, likewise Coats of Arms and cyphers in Silver Plate. He likewise cuts neatly in wood and printeth Calicoes &c."1 He made several workmanlike marine charts for Cyprian Southack. Dewing may have brought over a press for printing large intaglio plates. If he did not, who had one? If he did, did he take it away with him? Did he go away? These are important questions. Some authorities say that Dewing died of yellow fever in 1723; some say he sailed for the West Indies. But supposition and guesses are not solid evidence.
Probably he did not die. The Dictionary of National Biography points out (and so does Mr. Sinclair Hitchings) that an English print, dated 1745, is signed by Dewing, which only goes to show that conclusion-jumping is dangerous and that the Atlantic was not the barrier we sometimes think.
Then there was William Burgis.
william burgis
The name of Burgis is not forgotten, even at this end of the twentieth century, though best known, of course, in the two towns he honored with his attentions, New York and Boston. He is thought to have arrived in New York from England about 1718. He left New York for Boston late in 1722. If he ever said why, the reason has been lost. He took up lodgings at the Crown Coffee House and presumably lived in some style. In legal papers he was variously called Draftsman, painter, Gentleman, and innholder, but not engraver. The innholder title was by virtue of his marrying the Widow Mehitable Selby and her inherited estate after the death of his landlord. There followed a period of frenzied and somewhat random litigation which need not concern us here. In 1731 he deserted Boston and his wife and went to New York. It seems that the estate had been spent. This is a short biography, but it is about all that Burgis left us, aside from the prints. One can say that it at least allows the historian room for maneuver.2
Our man appeared from nowhere, was visible for something like a dozen years, then went back to nowhere. In this dozen years he had some connection, as designer, publisher, "undertaker," proprietor, even as engraver, with a number of copper plates, impressions from which are known to us if only in distressingly small numbers.
There are various questions we cannot answer. Why did he think he could make a living selling engravings in this undeveloped land? Did he sell prints successfully? If he did, where are the prints? If he did not, how did he manage to persist so long? If he had another string to his bow, what was it? Obviously it was something ephemeral or anonymous. The best we can do is to study the existing prints and hope that more prints and more information will be found.
As I see it, the prints number only ten, even including later states and some unlikely attributions. But there are undoubtedly undiscovered and unrecognized plates. And many must be completely lost. A strange point in all this is Burgis' relationship to the prints. Though he is carelessly spoken of as an engraver, there exists only one print on which his name appears in that capacity.
With the exception of a map, all the prints are landscapes or topographical views.
Let us turn our attention to the prints.
the great new york view
When first in New York Burgis published by subscription a very large view of the town, more than six feet long, engraved in England by I. Harris, drawn presumably by himself. I. Harris has been identified as John Harris, who worked between 1686 and 1740 and is known for architectural and topographic views. The print was made on four sheets of paper from four plates. Stokes, in his Iconography of Manhattan Island, dates the publication between 1719 and 1721. A mutilated impression, lacking large parts of the inscription, has been for many years at the New-York Historical Society. In 1913 an impression in perfect condition appeared and was sold by Robert Fridenberg, reputedly for $20,000.3 This impression is still owned privately. Its owner tells me that within ten years a third impression was sold by Sotheby's to an American dealer for a private buyer. This one, too, is said to be in near perfect condition.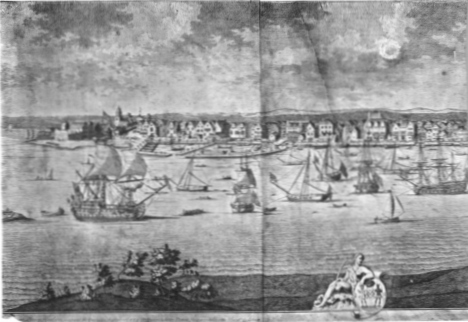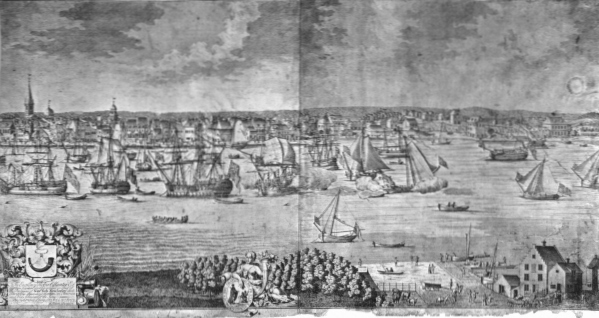 28. Burgis' South Prospect of New York, c. 1719–21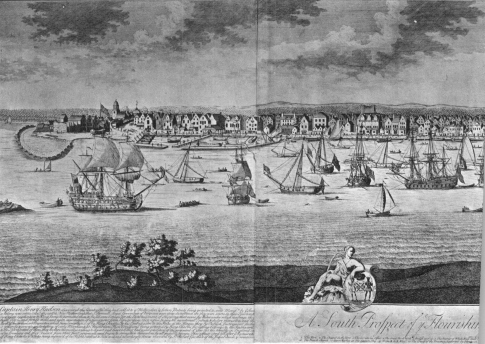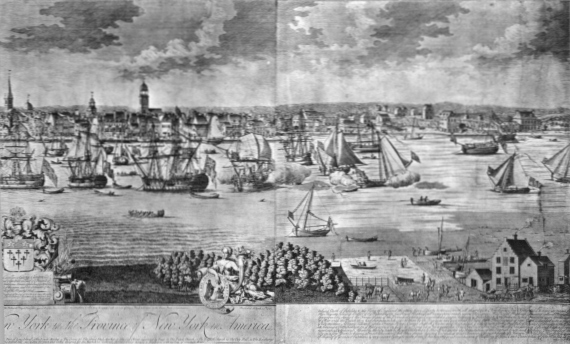 29. The South Prospect as revised and re-issued in London, 1746
In 1746 Thomas Bakewell of London issued a restrike of the great New York view, with additions and corrections on the plates. The dedication was made to Governor Clinton by Bakewell in place of the original to Governor Hunter by Burgis. The inference can be drawn that the plates of the New York view remained in Harris' hands until his death in 1740.4 In 1759 a large fire at Bakewell's address probably finished the plates. It is the only hint we have of the end of any of the coppers with which Burgis was concerned.
the great boston view
In 1725, in Boston, Burgis tried to repeat. A very large view of Boston from the southeast, that is to say from Castle Island, was published. It showed among other things twelve churches and fifteen shipyards and is said to contain the first American depiction of a schooner. It was in three parts; three sheets printed by three plates. The names of Burgis and Harris appear as draftsman and engraver, but the dedication is over the names of Thomas Selby and William Price, the landlord of the Crown and the thriving merchant. Burgis did not own the print!5 That we find Selby in the partnership suggests that even before sending the drawing to England Burgis may have been having trouble with his board bill.
An impression of this first issue of the great Boston view is in the British Museum. At intervals across its face were pasted engraved scraps of paper correcting it to 1736. I believe that these have been soaked off, revealing the print in its original form. A second impression may almost have reached us, or may still be safe and misplaced. Judge John Davis, an intelligent but trusting antiquary, is said to have given one to the City of Boston in 1830. It disappeared in some fashion at the time the new City Hall was built in the 1860's. The one in the Stokes Collection in the New York Public Library, referred to by Professor Reps in his paper, somewhat answers the description of the Davis impression. The latter was described by City Clerk McCleary as "very old and quite dilapidated."6
In 1743 a second state of the Boston view was printed. The amended plate was published by Price. Changes are numerous and interesting. Sixty references to key numbers in the picture compare to fifty in the first issue. A little view of Harvard College (from the west!) is on the western skyline, alongside the only known view of the third meetinghouse of the First Parish in Cambridge.7 Presumably Price dictated the changes. Possibly Johnston made them; possibly some Englishman. Opinions differ. No one knows where the plates had been stored. No one knows where they were printed. The only point we can rely on is that Harris, the original English engraver, died in 1740. The new issue is dedicated to Peter Faneuil, who had just given the city the first Faneuil Hall.
One can imagine that Burgis' Boston career was not wholly delightful. Publication of his major local work by his landlord and William Price could not have been the way he planned it. Then, too, there seems to have been an earlier effort which also ended in Price's hands.
the small boston view
The small Boston view (whether or not there really was one) presents an intricate problem. For this reason I am introducing it out of strict time sequence. The circumstances of the great New York and Boston views are needed for background.
In The New England Courant of October 8, 1722 (incidentally at a time when the editor's little brother Benjamin was running the paper), there was an advertisement reading:
A View of the Great Town of Boston taken from a Standing on Noddles Island, and designed to be cut on copper will be carried on by Subscription as such expensive works usually are. Those Gentlemen that would encourage such a Design may see the View at Mr. Price's Print and Map-Seller over against the Town House, where proposals are to be had and Subscriptions taken in.
No artist or engraver is named.
A month later, November 12, 1722, Burgis came out in the open, named himself as "undertaker" and suggested that speed was desirable. He promised that "Sufficient Security is given to conform to the Conditions of said Proposals or to return the Advance Money." It was not a success.
Six months later Price had replaced Burgis as "undertaker." In advertisements of May 13, 20, and 27, he pulled out all the stops:
A Prospect of the Great Town of Boston taken from Noddles Island and designed to be curiously cut on Copper Plate, will be carried on by Subscriptions as such expensive Works commonly are. Those Gentlemen that would encourage this Design may subscribe to the same at Mr. Thomas Selby's at the Crown Coffee House where proposals may be seen. The price is set lower than at first and those that do subscribe to this Prospect now will have it cheaper than those who do not. Subscriptions are also taken by William Price, Print and Map-Seller, over against the Town House where the Prospect is to be seen: where likewise you may have all sorts of Prints and Maps lately come from London, sold very cheap frames or without. N. B. No money to be advanced by the Subscribers but paid on the delivery of the printed copies. Those gentlemen who have subscribed to the former proposals will have their demands answered accordingly. The undertaker William Price desires all gentlemen to be speedy in their subscriptions, in order for the speedy sending of the drawing for England, for unless subscriptions come in it will not be printed.
To this day no one has seen any such large view of Boston from the northeast as this suggests. Very soon subscriptions were invited for a view from the southeast, as noted above, which was actually published. It is hard to guess what may have gone wrong; one "standing" is not greatly superior to the other.
In the Essex Institute there hangs a unique impression of an anonymous engraving with the title A North East View of the Great Town of Boston. It is small, only about nine by twelve inches. It is taken from a "standing"—or "sitting" if the man in the tricorn hat is William Burgis—on Noddles Island. Whether this is the original Burgis project or a shrunken form of it is hard to know. It seems likely that it is one or the other.
The title is nicely engraved in what I call the silversmith's manner. But by contrast the engraving of the scene is a bit naïve, more so than the work of John Harris. Was it then possibly made in America? The possibility certainly exists that Burgis' original drawing fell into the hands of an American engraver.
Another very curious point can be seen by examining the good reproduction published by the Essex Institute. The title is on a separate copper plate dovetailed into the pictorial plate. This curious piece of business calls for much more discussion than we have time to give it today.
the great harvard view
In 1726 Burgis produced, so far as we know without outside financial help, his well-known A Prospect of the Colledges in Cambridge in New England. He dedicated it to Lieutenant-Governor Dummer. No name is on the plate as artist or engraver. Hamilton Vaughan Bail, in his Views of Harvard, says that the plate seems to have been engraved by Harris. The work suggests it.
The reappearance in the nineteenth century of an impression of the first state of A Prospect of the Colledges . . . has its dramatic elements. Dr. Fitch Edward Oliver, a Boston physician, was cabinet-keeper of the Massachusetts Historical Society when he described it for the February meeting of 1881. He said that an old engraving of Harvard had been given to the Society in 1795 by Colonel William Scollay. On it was an engraved dedication to Lieutenant-Governor Phipps by William Price. It was mounted on a wooden panel, warped, cracked, and badly discolored. So, in due course—about eighty-five years as I figure it—the print was removed from the panel, laid down on paper, and framed under glass. How and by whom would be interesting to know. The doctor speaks: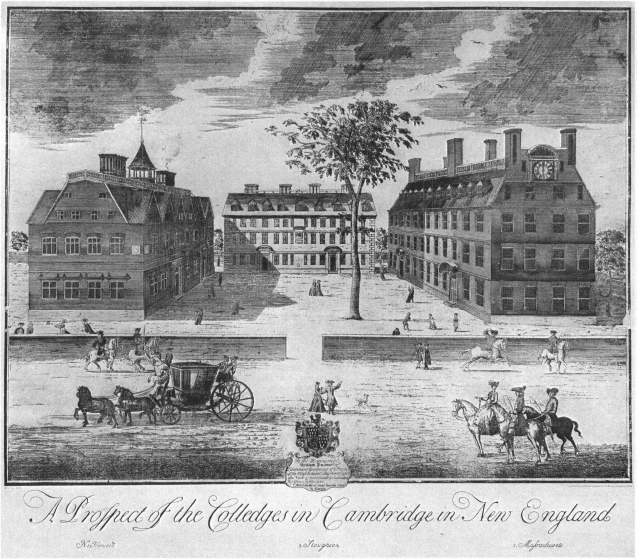 30. A Prospect of the Colledges in Cambridge by Burgis, 1726
On lifting it from the panel another engraving embracing the same view revealed itself, over which it had been laid, similar in character, but published at an earlier date. It is dedicated to Lieutenant-Governor Dummer, who went out of office in 1730, by William Burgis, and as it appears by the "Boston News Letter" of July 14, 1726, was first published on that day. No allusion is made to Burgis in the advertisement, but this is without doubt the print referred to.
My admiration for the doctor grows with these further words: "It measures a trifle less than the other in size, the difference being probably due to shrinkage occasioned by the more moist condition of the paper at the time of receiving the impression." I have a strong suspicion that the doctor did the restoration work himself. It seems fortunate that he did. He seems to have known what he was about. This impression of the print, revealed by removing the later issue, is still unique. It is colored by hand in a very simple way.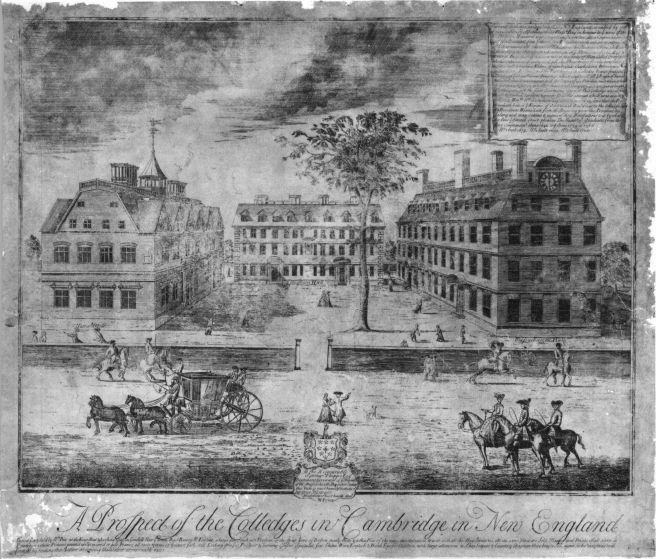 31. A Prospect of the Colledges, second state, 1743
Harvard and more recently the Massachusetts Historical Society have published facsimiles.
There is a second state, as noted. By 1743, its date of publication, Price owned this plate, too. The sky in the upper right corner is filled with a catalogue of his wares.
The old brick church, A print not yet discovered
The New England Weekly Journal of June 5, 1727, announces "A Draught of the Meeting-House of the Old Church in Boston, with the New Spire & Gallery & are to be Sold by Mr. Price, over against the Town-House and at the Book-sellers shops in Boston." This is the building familiar to us in Revere's print of the Boston Massacre as bearing the inaccurate clock.
But even John H. Edmonds, whose efforts to restore William Burgis to historical life and reputation have exceeded all others, wrote in 1914 that he knew of no copy of the print. Nor has one turned up since, I think. He did say of it, though: "Assumed to be a Burgis production from association."8
I wonder if he gave proper weight to our lack of proof that Burgis ever made a line engraving, and to Price's interest in steeples. This one, of course, stood next door to Price's home and shop. Now consider the following: Price designed the steeple for Christ Church; Thomas Johnston built the organ for Christ Church; Price was the first organist for Christ Church; Thomas Johnston was an engraver in line. It is all confusing and fascinating. But attribution by association is not at all certain.
And this is by no means the end of coincidences and associations in the Burgis circle. For instance, experts say that the pipework of the original King's Chapel organ resembles that of Renatus Harris, a famous English organ builder active from the 1670's until his death in 1724. The second King's Chapel organ was built by a pupil of John Harris, son and successor of Renatus.9 According to the Dictionary of National Biography the organ-building John Harris flourished in 1737; the engraver John Harris lived from 1680 to 1740. So all told there are more organs, engravers, Harrises, and Boston churches than anyone can yet sort out with confidence. Perhaps, you will say, if we can find just one more piece the puzzle will be clear. One more piece has just appeared.
While readying this paper for publication I learned what I should have found earlier, that the print made in 1745 by Francis Dewing (who probably did not die in 1723 of yellow fever) was an engraving of the east front of the organ in Salisbury Cathedral. Another organ! But this is not all. The organ in Salisbury Cathedral was built by Renatus Harris!10 Dewing, Burgis, Harris, Boston, organ, Dewing (not to mention Johnston). What can be said?
the map of boston
About July 3, 1729 (News-Letter advertisements came out on July 3, 10, and 17), Burgis published his map of Boston, engraved for him by Thomas Johnston. On the plate both Burgis' and Johnston's names are misspelled. But there can be no doubt of the identities. By this time Burgis had married the landlord's widow and the plate carries the legend "Sold at the Crown Coffee House." The misspellings point simply to a different hand in engraving the inscription. If Johnston took his plate to a silversmith-friend who was practiced in the art of cutting letters it need not surprise us. The great question is not why names were misspelled but why was the map published at all, in direct competition with Price? Price had issued the Bonner map just seven years before. Burgis' map was small and less convenient to use.
Edmonds mentions that at this moment Burgis' license to sell strong drink and to operate the Crown Coffee House was under consideration by the selectmen.11 Let us, too, consider his license. On his map is a rather overpowering cartouche bearing a dedication to the governor. Such dedications were very much a Burgis habit. Perhaps he found them useful. Perhaps the timing was good, too. In this instance Burgis' application for a license was dated July 4th, one day after the map was first advertised. Sadly, the application was disallowed. But this did not end matters. On July 23rd it was reconsidered and the decision was reversed. It is an interesting coincidence.
Burgis' map is rare today; three or possibly four impressions might be found. The Boston Athenæum owns one in fine condition of which it has published an excellent collotype facsimile.
the boston light
The mezzotint of Boston Light is remarkable in several ways. First, as has often been said, it is the only print known bearing Burgis' name as both artist and engraver. But in point of fact it is the only print bearing Burgis' name as engraver. Then, too, it is a very early example of mezzotinting in America, second only to Peter Pelham's portrait of Cotton Mather of 1727.12 It has been called the first maritime print made in America. It has often been somewhat unjustly described as crude or primitive. Actually, a good many German mezzotints of this period were no better, and it has a kind of breezy quality rare enough in any medium or time.
The question arises almost automatically whether Burgis and Pelham were acquainted. Of course they were. Documents are not needed. In a town of less than fifteen thousand people two men in the same line of very specialized activity, one newly arrived from London laden with attractive gossip and skills and the other if not homesick at least not averse to news from home—these two men were bound to meet. Does the next question even have to be asked? The answer to it is that Burgis tried mezzotint engraving because Pelham came to Boston. The relationship between them, whether tutelary or merely social, is hardly pertinent.
Until rather recently I had supposed that there was only one impression of the Burgis mezzotint of Boston Light in existence. For many years there was one in the office of the United States Lighthouse Service. This one is now in the possession of the Mariners' Museum and has been for several years. But suddenly five or six years ago another impression was bought from a New York dealer by Ambassador Middendorf. Now I find to my humiliated surprise that in 1914 Mr. Edmonds knew of one or more in private hands, though he named no names.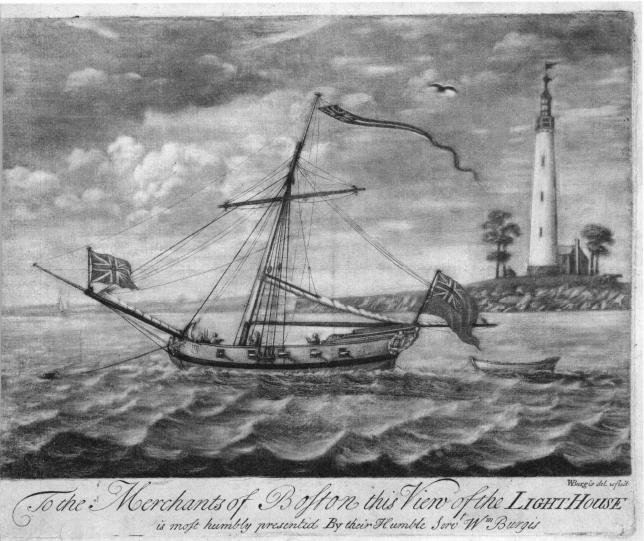 32. View of the Light House by Burgis, 1729
the view of fort george
An unsuspected Burgis print surfaced in 1948, when Harry Shaw Newman announced the discovery of a mezzotint of Fort George in New York which closely resembled the Boston Light in size and style. Burgis' name is on it, but only as dedicator. It has a little simple coloring, red and blue. This print has its own problems, since it closely resembles the right-hand end of the Carwitham view of New York, dated by I. N. Phelps Stokes between 1731 and 1736. I am aware of the suggestion made by Helen Comstock that the Carwitham views of Boston and New York are quite possibly based on drawings by William Burgis. At the present time I am not prepared to say what I think. The print discovered by Mr. Newman is now in the New-York Historical Society.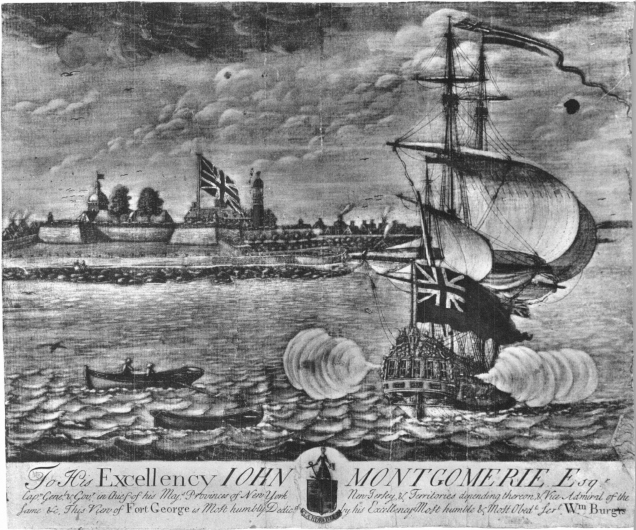 33. View of Fort George, c. 1729–31
There is also a Carwitham view of Philadelphia, but no one has yet tried to connect it to Burgis.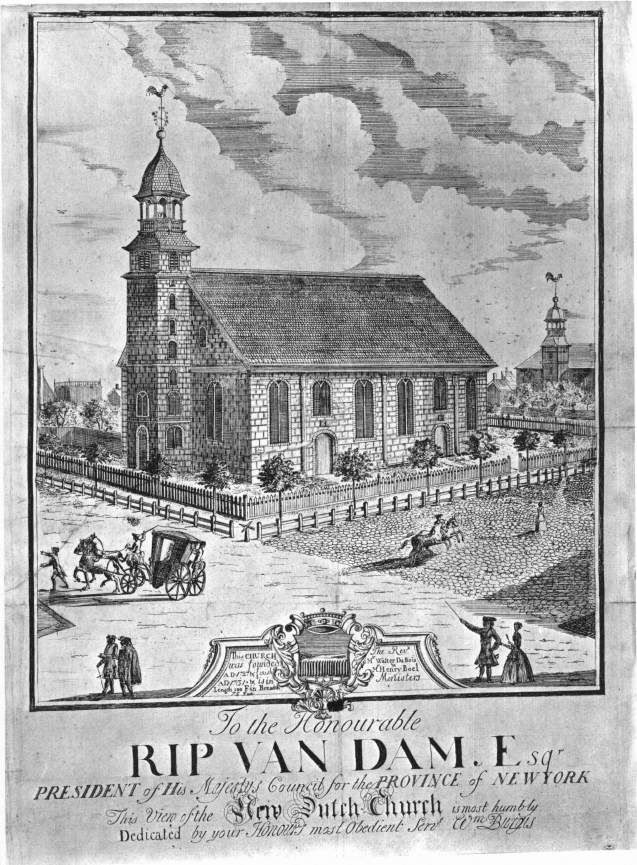 34. View of the New Dutch Church, 1731
the new dutch church
In the early 1860's a well-to-do young New Yorker named William Loring Andrews stumbled upon three treasures during what he ever after "regarded as an exceptionally successful book-hunting tour." On this trip, wherever he may have gone, he bought the second known impression of the Bradford map of New York and a scrapbook containing two unknown prints.13 One of the prints was a very neat view of what the publisher, who was William Burgis, called the New Dutch Church. Burgis dedicated it in the usual ornate style to the president of the Provincial Council, a gentleman with the admirable name of Rip Van Dam. This print is sound Burgis, at least as far as the drawing is concerned. The perspective is good. The coach and figures used to decorate the foreground are very reminiscent of those in A Prospect of the Colledges. It is a clean, neatly executed print. It has been dated 1731.
Though I have no more basis for it than a vague opinion, I feel the engraver was Thomas Johnston. (Psychic attributions are not uncommon in the painting galleries; perhaps the printseller ought to indulge himself from time to time.) In 1749, long after this, Thomas Johnston engraved a small view of Yale College after a drawing by his apprentice, John Greenwood. The resemblance to the style of work in the New Dutch Church is striking. Perhaps the psychic guess has some merit after all.
The print found by Andrews in the scrapbook is now firmly screwed to the wall in the American Wing of the Metropolitan Museum of Art. There is a duplicate in the New-York Historical Society. Curators in both institutions have invited my attention to virtues possessed by their particular impressions. Let me say that they are both very very good.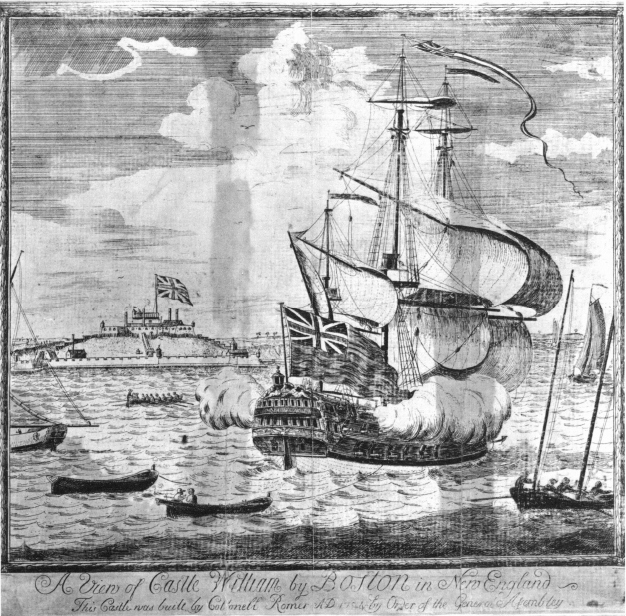 35. A View of Castle William
view of castle william
The other wonderful Andrews scrapbook acquisition was an anonymous engraving with the curious title A View of Castle William By Boston in New England, a line engraving which Andrews unhesitatingly credited to Burgis on the strength of the style of lettering in the title. It resembles that of the New Dutch Church. But this is far from conclusive. In the first place, the engraver of the title may not have been the engraver of the view; in the second, the resemblance is really not overwhelming. The view itself is rather convincing. It looks very much like Burgis. It is in the second line of the inscription that we may have an explanation of the Germanic "Castle William By Boston." It reads: "This Castle was built by Colonell Romer A D 1704 by Order of the General Assembly." Colonel Romer was the royal engineer in New England and a well-known person. His name was Wolfgang Wilhelm Römer, Romer with an umlaut. Apparently he should have been German enough to account for any sort of Germanic phraseology. But reading some of Romer's documents in the Massachusetts Archives has been of no help. He wrote an English prose which would have done credit to Joseph Addison, except where he refers to some of Thomas Brattle's ideas as "ridiculous." In any case he seems to have been too English for our purposes.
The Castle William view may not be a Burgis product at all, though I must say it looks it. There are times when I wonder whether it might not be a European engraving instigated by Romer after his return home in 1707.
The Andrews impression still seems to be our only one. It is on the wall of the American Wing near the New Dutch Church.
Such is the small list of prints known or reasonably considered to be somehow the work of William Burgis. Let us hope and watch for others.
conclusion
To describe William Burgis as an early American engraver, as is frequently done, is to state only part of the fact. Burgis was partly an engraver; much more he was an instigator of prints. He made drawings for others to engrave and he published prints on occasion. No real proof exists that he made any line engravings.
But past all question we can say of him that he was involved in one capacity or another with more American prints before 1735 than any other person. And most remarkable of all may have been his entire concern with landscape and topography in an age of portraiture.
There can be no doubt that he was a man of talent; of culture too, in all probability.
My hypothetical Burgis is an Englishman who arrived in New York with some plans, some resources, and some previous acquaintance with British print publishing. After many months he was able to make a trial of the local market with his great view of New York. Then, for whatever reason, probably financial, he moved on to Boston, the larger and more English town. In Boston it is likely that he ran into something unexpected, the weakening but real Puritan aversion to decoration for its own sake plus the (alleged) Yankee willingness to be a bit sharp in business. As I imagine it, Burgis may not have been wholly happy here, but I think we may all be glad that he came.
checklist
Following are short descriptions of the prints which have been with some reason associated with the name of William Burgis. In the present state of our knowledge such a list can neither be considered complete nor accurate. It is presented here merely as a handy tool.
1.
W. Burgis Delit et Excudt I. Harris fec.
A South Prospect of ye Flourishing City of New York in the Province of New York in America
Line engraving 20.7 × 76.10 C. 1719–21 State: i
Distinguishing point of the first state: Dedication to Governor Robert Hunter.
Locations: (1) New-York Historical Society (mutilated; lacking most of title inscription). (2) A perfect impression sold by Robert Fridenberg to Edward W. C. Arnold in 1913; still in private hands. (3) Another fine impression which was bought in London "ten or twelve" years ago for a private owner (information from owner of the Fridenberg impression).
2.
[Anonymous] I. Harris fec.
A South Prospect of ye Flourishing City of New York in the Province of New York in America
Line engraving 20.12 × 77.6 March 25, 1746 State: ii
Distinguishing points: Burgis' name has been removed; armorial matter changed and dedication made to Governor George Clinton; date in province seal changed from 1717 to 1747; internal changes in the view described in Stokes's Iconography, 1, 273.
Locations: (1) New York Society Library. (2) The British Museum. (3) New-York Historical Society.
Note: Stokes points out that the first part of the publisher's imprint, "London Printed and sold by Tho. Bakewell, Map and Print Seller against Birchin Lane in Cornhill," is centered under the escutcheon and dedication and that the uncentered remainder, "where Merchants and others may be supplied with all sorts of Maps, Prints & Pictures at the lowest prices," may well be a later addition and so point to this being State iii instead of State ii. As a matter of fact the whole publisher's imprint is off center.
3.
[William Burgis?] [Anonymous]
A North East View of the Great Town of Boston
Line engraving 8.9 × 12.7 C. 1723 Only state
Distinguishing point: Not dedicated to anybody!
Location: Only known impression in the Essex Institute, Salem, Massachusetts, the gift of Thomas Prince in 1850.
Note: Attributed to Burgis in Publications of the Colonial Society of Massachusetts, xxv, 231–232.
4.
W. Burgis Delin. I. Harris Sculp.
A South East View of ye Great Town of Boston in New England in America
Line engraving 24.8 × 52.8 C. 1725 State i
Distinguishing point: Dedication by Thomas Selby and William Price to Governor Samuel Shute, who left for England January 1, 1722/3.
Locations: (1) The British Museum. (2) The Stokes Collection, New York Public Library.
Note: The print in the British Museum had additions and corrections pasted on, bringing the view to 1736. These were engraved, but by whom? The additions are:
51. Hollis Street Meeting. Built 1731. [The earliest view of the original church.]
52. Trinity Church founded 1734.
53. Lynde Street Meeting Built 1736.
10. South Street Meeting House, built 1669. [The new church of 1729 is shown without correcting the reference.]
20. The old meeting-house, built 1630. [Shows the new church, built 1712–13, and the new spire and gallery, 1727.]
The additions to the key, 51, 52, and 53, as above, are also on a slip pasted on. And added somehow to print or plate are the words: "Printed Coulred & Sold by William Price Print & Mapseller over against the Town House in Boston where may be had the Plan of the Town. . . ."
W. Burgis Delin. I. Harris Sculp.
A South East View of ye Great Town of Boston in New England in America
Line engraving 24.8 × 52.8 1742–43 State ii
Distinguishing points: Dedication to Peter Faneuil by William Price; engraved additions and corrections; sixty references in the key; corrections rather crudely engraved and carelessly placed; Harvard College appears (wrong way around) on skyline.
Note: This issue, sometimes called the restrike and sometimes the second state, can better be called the second state, since on this occasion the plate was actually modified.
6.
[Anonymous] [Anonymous]
A Prospect of the Colledges in Cambridge in New England
Line engraving (hand-colored) 18.10 × 23.15 July 14, 1726 State i
Distinguishing point: Dedication to Governor Dummer by William Burgis.
Location: Massachusetts Historical Society; unique impression.
Note: Hamilton Vaughan Bail in his Views of Harvard suggests that this, like the New York and Boston views, was probably engraved by John Harris in England. He suggests that the print, advertised as published "This Day, July 14, 1726," actually was intended for publication in time for Commencement, which fell on July 6th that year.
7.
[Anonymous] [Anonymous]
A Prospect of the Colledges in Cambridge in New England
Line engraving 18.10 × 23.15 1743 State ii
Distinguishing points: Dedication by William Price to Lieutenant-Governor Spencer Phipps. A long description of Mr. Price's stock in trade in upper right corner.
8.
[Anonymous] [Anonymous]
A Draught of the Meeting-House of the Old Church in Boston, with the New Spire & Gallery & are to be Sold by Mr. Price, over against the Town-House and at the Book-sellers shops in Boston
Line engraving (?) Size? June 5, 1727 Only state?
Note: Advertised in New England Weekly Journal for June 5, 1727, as "this day published." No impression was known to Mr. Edmonds in 1914; so far as I know no copy known today. But notice the great view of Boston is known with an engraved correction paster showing the church, spire, and gallery. Did the engraver of one engrave the other? Are they from the same plate?
9.
[Anonymous] Thos. Johnson
Plan of Boston in New England
Line engraving 10.4 × 14.4 1729 ("About July 3rd") Only state
Locations: (1) Boston Athenæum. (2) American Wing, Metropolitan Museum of Art. (3) Library of Congress.
Note: Dedicated to Governor Burnet by "Will Burgiss." The fact that Burgis' name and Johnston's name are both misspelled points to probability that title was not engraved by Johnston.
10.
W. Burgis del et fecit.
To the Merchants of Boston this View of the Light House . . .
Mezzotint 8.12 × 11.2 August 11, 1729 Only state
Locations: (1) Mariners' Museum, Newport News, Virginia; (2) collection of J. William Middendorf.
Note: The first maritime print issued in America. Picture of the first lighthouse. The only print bearing Burgis' name as engraver. Second mezzotint made in America.
11.
[Anonymous] [Anonymous]
To His Excellency IOHN MONTGOMERIE Esq. . . . This View of Fort George . . .
Mezzotint 10 × 12.3 C. 1729–31 Only state
Location: New-York Historical Society (only known impression).
Note: Date of print presumably after publication of Burgis' map of Boston and before Montgomery's death in July 1731.
12.
[Anonymous] [Anonymous]
To the Honourable RIP VAN DAM, Esqr President of His Majesty's Council for the PROVINCE OF NEW YORK This View of the New Dutch Church is most humbly dedicated by your Honour's most Obedient Servt Wm Burgis.
Line engraving 13.12 × 9.12 1731 Only state
Location: American Wing, Metropolitan Museum of Art (only known impression).
Note: Church stood at corner of Nassau and Liberty (then Crown) Streets. Discovered and owned for many years by William Loring Andrews, who bought it in a scrapbook in the early 1860's.
13.
[Anonymous] [Anonymous]
A View of Castle William By Boston in New England. This Castle was built by Colonell Romer A D 1704 by Order of the General Assembly.
Line engraving Size? Date unknown Only state
Location: American Wing, Metropolitan Museum of Art (only known impression).
Note: Colonel Romer, mentioned in the title, was Wolfgang Wilhelm Römer, an English military engineer, apparently of German extraction (hence possibly the Germanic "By Boston"). Discovered and owned for many years by William Loring Andrews, who found it in the same scrapbook mentioned under no. 12. He saw so much similarity in the title lettering of no. 12 that he made the attribution to Burgis. This is not too certain, if for no other reason that the similarity of lettering is not too impressive.
bibliography
In addition to those works to which specific references have been made (which are useful far beyond the narrow points referred to) there are other authors and titles whose ideas have become so intricately combined in this study as to render any attempt to unravel the threads both tedious and pointless. The major titles follow:
Andrews, William Loring, A Prospect of the Colledges in Cambridge in New England Engraved by William Burgis in 1726. New York, 1897.
Edmonds, John H., "The Burgis-Price View of Boston." Publications of the Colonial Society of Massachusetts, xi (1910), 245–262.
Green, Samuel Abbott, "The Earliest Print of Harvard College." Harvard Graduates Magazine, v (1897), 325–326.
Stokes, I. N. Phelps, and Daniel G. Haskell, American Historical Prints, Early Views of American Cities, Etc., from the Phelps Stokes and other Collections. New York, 1932.
Waite, Emma Forbes, "William Price of Boston, Map-Maker, Merchant and Churchman." Old-Time New England, xlvi, No. 2 (Fall 1955).
Winsor, Justin, The Memorial History of Boston. Vol. ii: The Provincial Period. Boston. 1881.