To Boston in 1727 came Peter Pelham, the English mezzotintist. Within two years he was followed by John Smibert the London, Scotsborn portraitist, eight years his senior. For a quarter of a century these two lived in Boston in close proximity as neighbors and often as business associates, and they died within eight months of each other. During this period Pelham is known to have painted six portraits, two of which have survived, and produced fifteen mezzotint engravings; at the same time Smibert painted some 240 portraits, of which not many more than one hundred can today be found.
There were not the opportunities open to a portrait engraver that were available to a portrait painter. Pelham's art to be profitable required some sort of mass circulation, unlike a single painted portrait. Hence only public figures were suitable subjects for mezzotint reproduction; and the public figures of the day who presented themselves to Pelham were Shirley and Pepperrell after the success at Louisbourg, Harvard's great benefactor Hollis, and the great and popular divines, almost all of whom he reproduced—and it is to his works that we turn principally to see their likenesses.
Many articles have been written about Pelham and his American mezzotints. Many of the great institutions have one or more examples of them though they are indeed rare. But they are well known, have often been described and it is scarcely to be hoped that there are any more to be discovered. It may be possible, however, to consolidate the facts known about Pelham and to add some flesh to the bare bones of his skeletal life. I propose to run through his life more or less chronologically so far as I have been able to trace it in this country, and to let his superb American engravings, the work for which he is best known to us, take their places as they will as the tale unfolds.
Pelham was born in London about 1697, the son of "Peter Pelham, Gent." according to the records of St. Giles in the Fields.1 If Pelham's father could have claimed and used the distinctive appellation of "Gentleman," it is not unlikely that young Peter received the education and absorbed something of the manners and deportment of a gentleman. But his father appears to have been anything but well-to-do, and in 1713 Peter, aged sixteen, was apprenticed to John Simon (1675–c. 1755), one of London's leading engravers in "metzotinto." Simon's fortunate association with Sir Godfrey Kneller afforded the young apprentice ready access to the best portraits of the day for his models. He profited by the exposure, learned his art well, and between 1720 and 1726 is known to have produced at least twenty-five mezzotint portraits of the highest quality of prominent persons of the day.2
But not even London could support all the artists and engravers of the day, many of whom were obliged to turn their hands to other activities; and it was probably for this reason, as well as others that occasioned whispers of family disagreement, that Pelham left London for the new country, sometime in 1726 or in 1727, and by 1727 was settled in Boston. We must remember that at this time the only means of reproducing portraits was by engraving, and that of all the forms of engraving the mezzotint was best adapted to produce light, shadow, depth in a manner closest to painting. In Boston, a principal town of the New World, Pelham had reason to hope for a market for his mezzotint engravings. But there were not always subjects at hand whose prominence and popularity would assure a market sufficient to make mezzotint reproduction of their portraits profitable. And there was no Kneller in America, no portrait painters whose works were suitable for mezzotint reproduction; he was for the moment left to his own resources—to paint the portraits he needed himself.
He had the good fortune, however, to pick as his first subject a person of wide prominence, the great and aged divine Cotton Mather. How the opportunity arose is not known, but it is probable Pelham himself sought it out, for it was he who advertised his proposals for its execution. Pelham's portrait of Mather was done some time in 1727 and is now owned by the American Antiquarian Society. Though the painting displays a measure of competence, it is not impressive; the mezzotint done from it is of a decidedly higher order of workmanship and bears the distinction of being the first mezzotint known to have been made in America. It is perhaps Pelham's finest engraving but, like almost all his later ones, it differs markedly from those he had done in England. This was not due to any deterioration of his skill but arose from a difference in purpose between the artist in England and the artist in America. The sophisticated English sitter required flattery, the American sitter, provincial and years behind his British cousins in matters of style and dress, simply wanted a likeness.
Pelham caught his subject in the nick of time; Mather died February 13, 1728. Pelham, his hand grasping Time's forelock, advertised in the papers in late February his "Proposals"
He had obviously brought some of his English prints with him to America and perhaps even the plates themselves to furnish a supply for sale.
The Massachusetts Historical Society possesses the only known receipt for a subscription to the Mather print, taken out by the Rev. Benjamin Colman March 19, 1728.4 A handsome number of subscriptions must have been forthcoming, for in May Pelham was able to acquaint "the Publick, that the Plate in Mezotinto of the late Rev. Dr. Cotton Mather, is now ready for the Press, but as there are several Receipts of the Subscriptions given out, and not accounted for to him; he humbly desires all Persons forthwith to send all those Receipts they design not to pay for, till which time the Prints cannot be deliver'd out." In other words, no credit. The notice had the desired effect and in June the Gazette advised that prints would be delivered "the begining of next Week;" and that "those Gentlemen who Subscribed at Mr. Jonathan Barnards facing the Town-House, are desired to take their Prints Subscribed for, of him, at his shop, where they'll afterwards be Sold; as also by the Author Peter Pelham at his house in Summer-Street facing the New-South Meeting Boston."5
We may have some clue as to how many subscriptions constituted "a handsome number," in a venture of Pelham's stepson Copley in 1765. Copley advertised a proposal to publish mezzotint portraits of old Dr. Joseph Sewall, to be made in England after a portrait to be painted by Copley, unless, as he said, "in the meantime the Father of Mercys should take the Good Doctor to himself." The advertisement specified that "the Gentlemen who are desirous to forward the work must subscribe for prints to the amount of three hundred at three shillings and four pense per print."6 Copley's three shillings and four pence were undoubtedly sterling and would perhaps compare with Pelham's five shillings, old tenor.
The next notice of Pelham appears in an advertisement in August 1729: "To be Lett, a Brick House facing the New-South Meeting House in Summer Street: Enquire of Mr. Peter Pelham, at his House over against William's Court in Cornhill."7 A search of the Registry of Deeds for Suffolk County fails to reveal any dealings by Pelham in real property within the county at any time during his life; this notice might therefore suggest a "sub-let" or perhaps a commission undertaken for an undisclosed principal.
And then in the minutes of the Vestry of King's Chapel for February 27, 1730, we find that it was "voted that Mr. Peter Pellham have the Pew in the North Gallery (formerly Mr. Job Lewis) sd Pellham Paying twenty pounds for the same."8 Lewis acquired a better pew and shortly became organist and "dark" of the Vestry.
The next mezzotint of which we have record was not produced until 1735. In the meantime to support his family Pelham had to turn his hand elsewhere, exactly where we learn from two sources. The records of the Superior Court of Judicature for Suffolk County reveal that in 1730 Pelham, describing himself as "Dancing Master," brought suit against one "Benjamin Endicott, Bookbinder" for failure to pay what must have been the then equivalent of today's tuition. The account annexed to the writ reads:
Boston/1730

Mr. Benjamin Indicott Dr. to Peter Pelham

Decbr. ye 7th. To teaching, 1 Quarter

2.10

Left of a former acc't unpaid

.10

To hiring money

.10

3.10

Boston, June/the 15th 1731

Errors Excepted by

Peter Pelham
The curious may calculate how much money was hired and at what rent. On default of the defendant "altho solemnly called to come into Court" the court granted judgment to the plaintiff for three pounds ten shillings together with costs taxed at two pounds nine shillings and nine pence, and on June 21st John Darrell, Deputy Sheriff, returned the writ endorsed, "By virtue of this writ I attacht the Defts Body and have taken his bond." Presumably Pelham was paid and we have been furnished with the knowledge that by 1730 he was already running a dancing school and with some clue as to how much he charged for instruction.
The second source of information of his activity at this time was obtainable, as he intended, from the newspapers of the day. The Boston News-Letter in December 1731 carried the following notice:
Then with the best interest of his audience in mind he added, "N.B. There will be no admittance after Six." This was Pelham's second "first," as it was the first public concert in America of which we have notice.10 Here was a source of income and Pelham had the ingenuity to make the most of it. He was an Anglican and a parishioner at one time or another of several prominent Episcopal churches. He was no Puritan; indeed, as E. P. Richardson has suggested to me, he was an anti-Puritan. With his concerts and assemblies he was in fact one of the first fresh breezes of the Enlightenment that blew across what must have seemed to some as the stifling atmosphere of early eighteenth-century Puritan Boston. In 1732 the Gazette carried a very long notice relating to Pelham which I believe has often been misconstrued:
On at least two occasions, the latest in 1970,12 this satire was cited in all seriousness as an instance of public censure of such assemblies; an interpretation which to my mind can only be explained by supposing the writers had not read the last two sentences.
In the same paper a few weeks later, advice was given "to the Gentlemen and Ladies Subscribers and others, that the Assembly which is to be held at Mr. Pelham's great Room (by Subscription) will be open'd on Wednesday the Tenth of January, and continue six Wednesdays during the Months of January, February and March. . . . " It then continued: "Whereas it was falsely and maliciously Reported that the said Assembly was put off last Wednesday; this is to Inform the Publick that it was then held, and will certainly Continue as above mentioned."13 Presumably madam and miss continued "to shake their Heels Abroad."
At about this time Pelham's first wife, Martha, died, leaving him three sons, Peter born in London in 1721, Charles in 1722, and William born in Boston in 1729. Her death was probably the occasion for the notice in the Gazette early in 1734 that he was breaking up housekeeping in his house near the Town House and that there were "to be sold sundry sorts of Household Goods (for Cash) very Cheap," until 12 o'clock every morning but not later "on account of his preparing for his School in the afternoon which he continues to keep as heretofore."14 According to most accounts it was on October 15, 1734, that he married, as his second wife, Margaret Lowrey, possibly the widow of Isaac Lowrey.
Now if for a moment we look back a few years we will notice the arrival in Newport in January 1729 of John Smibert from London with Bishop Berkeley and his entourage. Here would seem to have been an answer to Pelham's need of a competent portraitist in the colony whose works could be engraved. By May 1729 Smibert was in Boston painting the Brinleys, Hutchinson, and others, completing twenty-six portraits by the end of the year. By the end of 1733 he had painted an additional fifty-eight portraits, mostly of well-known inhabitants of Boston.15 But so far as we know it was not until 1734 that Pelham took advantage of Smibert's portraits. The reason presumably was that none of the persons yet painted by Smibert had the popular appeal sufficient to justify printing a few hundred mezzotint reproductions.
In October 1734, however, Smibert painted the Rev. Benjamin Colman, minister of the Brattle Square Church. Colman was a 1692 graduate of Harvard College and was once the youngest and became the oldest minister in Boston, having served the Brattle Square Church from 1699 to his death in 1747. He was also treasurer of Harvard College from 1717 to 1728 and, as we have seen, was a subscriber to Pelham's print of Mather. Smibert's portrait of Colman must have been the opportunity Pelham had waited for. He went promptly to work and his mezzotint after Smibert is inscribed "J. Smibert Pinx—P. Pelham fecit/1735." The portrait has disappeared but the prints were well received and several have survived. In 1759 Colman's son-in-law, the Rev. Ebenezer Turell, in his Life of Colman wrote, "His Picture drawn in the Year 1734 by the greatest Master our Country has seen, Mr. John Smibert, shows both the Face and Air to Perfection; And a very considerable Resemblance is given us in the Metsotinto done from it by Mr. P. Pelham, which is in many of our Houses."16 Smibert's Notebook omits any price paid for Colman's portrait (though he was at that time charging £25–30 for a half length), and no advertisements for subscriptions have been found. This may well have been a joint venture between Smibert and Pelham and is the first of six instances of Pelham's engraving portraits after Smibert.
It was perhaps about this time that Smibert painted his friend the minister of the Old South, the Weeping Prophet, as the Rev. Joseph Sewall was called. The portrait is not listed in Smibert's Notebook and has not been found, but its existence is attested by the inscription at the foot of Pelham's undated mezzotint of the minister: "J. Smibert Pinx—P. Pelham Fc."
Another of Pelham's undated prints portrays the poet and humorist the Rev. Mather Byles, the Old Light, first minister of the Hollis Street Church. Lacking any portrait to follow, Pelham painted one himself, now owned by the American Antiquarian Society, by gift from Mrs. Frederick Lewis Gay whose husband had purchased it in 1908 from the estate of a Byles descendant, the Hon. Mather Byles DesBrisay of Bridgewater, Nova Scotia. J. T. Flexner describes the portrait as a "stiff translation of [Pelham's] engraving technique into paint."17 The mezzotint is unquestionably a superior work of art. As recently as 1969 the American Antiquarian Society acquired from Mrs. Elizabeth L. Langford of Vancouver, British Columbia, a descendant of Byles, the original copper plate from which the prints were pulled, together with a few recent restrikes of inferior quality. The engraving shows Byles as a young man, taken perhaps only shortly after he became minister of the Hollis Street Church in 1732, or perhaps at the time of his marriage in 1734 to Anna, the daughter of the late Dr. Oliver Noyes in whose house Pelham lived; but some opinions place it as late as 1739. Pelham's brief sojourn in Newport, mentioned later, adds to the difficulty in dating the prints of Sewall and Byles. From the fact that the original Byles portrait as well as the original copper plate descended through the Byles family, we may conclude that Pelham was commissioned by Byles to paint the portrait and reproduce it. No advertisement for its sale or that of Sewall has so far been found.
It has been often stated, without the authority's being given, that Pelham went to Newport in 1734, returning in 1737, though the exact dates of his move and return, the reasons for it, his place of living while there, or his occupation are not known. It must have taken him a couple of months to engrave Smibert's October 1734 portrait of Colman and the plate is dated 1735. In all probability he did not leave Boston until later in that year. His daughter Penelope is variously stated to have been born in Newport and in Boston in 1735; the original records of Trinity Church, Newport, disclose that a Penelope Pelham was in fact baptized in Trinity on March 31, 1736.18 There was at the time living in Newport an Edward Pelham, Jr., who had a daughter Penelope, born in 1724 and married in 1741. It is entirely possible that these were Peter Pelham's cousins, and that might account for the change in residence soon after his remarriage, and for the choice of the name Penelope for his daughter at the baptism in the family church in Newport. There was then no newspaper in Newport and the early town records of deeds, wills, town council and selectmen's meetings, etc., were badly watersoaked and made almost illegible at the time of the evacuation of the British. Without these sources of information it has not been possible to discover whether Pelham owned his own home or carried on his trade as engraver, schoolmaster, or dancing master. Dancing, however, was popular in Newport and "by 1741 young aristocrats met regularly in an assembly to dance minuets and 'sett Country dances.'"19 But Newport at this time was jealous of its own inhabitants' means of livelihood and circumspect about admitting strangers, voting that "no tradesman should receive license to open shop until the constable had ascertained him to be an inhabitant in good standing."20 Pelham's activity there remains a mystery.
Just when Pelham returned to Boston we do not know, but a meeting of the selectmen of Boston held December 28, 1737, considered his petition "Praying for Liberty to Open a School in this Town for the Education of Children in Reading, Writing, Needle work, Dancing . . . &c," and voted that he have "Liberty Granted him to keep such a school Accordingly, while he continues to regulate the same in Conformity to the Laws of this Province and has the Approbation of the Select men of the Town for the time being."21
With such authority obtained, the Gazette early in 1738 advised that "Mr. Peter Pelham gives notice to all Gentlemen and Ladies in Town and Country that at the House of Philip Dumerisque Esq. in Summer Street (next to his own Dwelling house) Young Gentlemen and Ladies may be Taught Dancing, Writing, Reading, Painting upon Glass, and all sorts of Needle work."22 But note that in the request for authority from the selectmen, "dancing" came almost at the end of the list of subjects to be taught, whereas in the advertisement it was mentioned first. Pelham, the anti-Puritan, knew where the interest lay. Dumaresq the merchant, vestryman of Trinity Church of which Pelham was a member, and commissioned the following year by Governor Belcher as captain and commander of the Young Eagle, letter of marque of thirty guns, was doubtless delighted not only to aid Pelham, but to open his house to the ladies and gentlemen of Boston for such gaiety and social intercourse as Pelham's talents promised. Later in the year we learn that Pelham had "removed his School to the House of Mr. John Powel in Leveret's Lane near the Town House, Boston, Where he teaches Drawing, Writing &c" and where "Youth may be Boarded or half Boarded."23
On November 8, 1738, Pelham was "made" a Mason in the First or Mother Lodge of the Ancient and Honourable Order of Free and Accepted Masons in America at Boston, founded only five years before.24 The following December he was elected secretary of the lodge and the records of subsequent meetings were for many years entered in a new and beautiful hand. A sample page of the minutes of the meeting of April 23, 1740, is an example and reveals how Pelham could qualify as a writing master. And we note the presence at that meeting of "Bro. T. Phillips" of whom more later. On June 28, 1741, his minutes disclose that he was "directed to have a copper plate engraved for blank summonses." Here was an outlet for his skill as an engraver, as well as a source of income, and perhaps examples of his summonses still exist in Masonic files. On September 23, 1741, the lodge voted that "some perticular order should be observed in toasting the health of our Rt. W. Bro. the Honble Mr. Belcher," just retired as governor, and a committee "to form a speech and wait upon him" was appointed which included Pelham as secretary. After a decent interval of a month, similar action was taken with respect to William Shirley, Belcher's successor as governor. In both instances the elaborate speeches were signed by Pelham as secretary of the lodge, and, with the replies of Belcher and Shirley, were published in the Boston Gazette.25
On August 21, 1744, at Pelham's request his son Charles was elected secretary of the First Lodge in his place, and Pelham was voted "Ten Pounds with the Thanks of the Society for his past Services." In 1750 he was master of the Third Lodge and his son Charles its senior warden. The membership of the Mother Lodge included many of the first men of the colony: Governor Belcher, the two Oliver brothers, Jeremiah Gridley, one of the Hutchinsons, Stephen Deblois, Ellery, Francis Johonnot, Thomas Phillips, and many more of similar social standing. We get a sidelight on Masonic life from the Rev. William Bentley, Salem's diarist, some years later when an effort was made in Salem to combine the Marine Society with the Masons. Bentley, who opposed any merger, wrote, "It deserves to be remembered, Masonry has an object beyond the Marine Society. It is not a mere promise to distress, but a design to urge the social passions by the most familiar and innocent social pleasures."26 It is perhaps not impossible to conjure up visions of Pelham the dancing master urging the social passions with Governor Belcher, Judge Oliver, and Jeremiah Gridley. And there can be little doubt that his association with such persons in the respectable position of secretary of the Lodge may well have been a help to him in his writing schools and assembles and also have furnished a source of subscriptions to his prints. For example, on December 27, 1749—St. John's Day—the brethren of the First Lodge attended service at Christ Church to hear a Masonic sermon by their Rev. Brother Charles Brockwell. The formal Masonic parade and celebration that followed was the occasion for the well-known lampoon by the wit and distiller Joseph Green.27 But it is not at all surprising to discover that a few months later, as we shall see, Pelham painted Brockwell's portrait, reproduced it in mezzotint and no doubt received subscriptions from the well-to-do members of the First Lodge.
At some time in 1739 Pelham's correspondence with his father and sister in London was resumed. The old gentleman wrote on September 12, 1739, that he had learned that his son "was married to a second wife with a Prospect of an Increase of your family without any fortune, which makes me Concerned at your being too near Related to me by being forst to labour under Deficultys as I my self am and have been for many years," referring to his own financial plight. He then continued with hints of previous family disagreement or impropriety on his son's part, now happily past: "Since you make me believe you are sorry for what is Past I cannot be of that stubborn and unforgiving Disposition as not to Pardon and wipe of all Misdemeaners, and do heartily forgive what Ever has been amiss in you on my account, and never for the future I hope shall have any more Cause of Complaint."28 He added that he had heard that his son "Lim'd very well and in a handsome manner which I am heartily glad of." This remark is of particular interest for only the Mather portrait is known to have been painted in America before 1739, and this may be evidence that Byles's portrait was also done by then. For the next several years the correspondence continued and Pelham's maiden sister Helena even sent over presents for the children, including for Penelope, in February 1742, a "Ring and a necklace, and a Pelerin to waire a bought your neck, such a one as your baby [doll?] has on," commenting also, "you are the preteyest letter wrighter I ever knew."29
By 1740 Pelham had acquired a pew in Trinity Church, to which he had moved with others when King's Chapel became overcrowded. The vestry minutes for March 1740 noted the payment "By Tho. Phillips for Pew No. 88 to Peter Pelham for £50."30 This was of course Pelham's lodge brother, "Thomas Phillips of Boston Shopkeeper," as Trinity's records described him and this generous gesture suggests again the advantage to Pelham of his Masonic connections. One of the vestrymen at the time was Capt. Philip Dumaresq and it is not surprising to learn that young Peter Pelham, Jr., became the first organist of Trinity, a post he held until 1749, receiving a salary of £100 per annum and in 1743 an additional £5 per annum "for a person to assist him blowing &c."
In March 1742 the Selectmen of Boston granted Pelham permission "to dig up the Pavement and open the Ground in Leverett's Lane in Order to repair the Drain running from the House wherein he Dwells into the Common Shore." The ecological rage had not yet arrived, but the permission nevertheless was only granted "upon Condition that he forth with make good the Ground and Pavement again and keep the same in repair from time to time to the Satisfaction of the Select Men."
December 1743 finds Smibert at the eleventh hour painting another prominent divine and popular New Light, the Rev. William Cooper, minister at the church in Brattle Square and assistant to Dr. Colman. Cooper at the height of his activity as a New Light, active in the cause of religious enthusiasm, died on December 13, 1743. There would have been an enthusiastic reception of his likeness as a keepsake and Pelham set about at once to scrape a plate from Smibert's portrait. The prints, showing the portrait reversed, were issued May 1, 1744, the News-Letter advertising: "just done—The Effigies of the Rev. Mr. William Cooper, in Metzo Tinto, of the best Size and Sold by Stephen Whiting, at the Rose & Crown Union Street, Boston."31 This print appears to be a finer work than the painting though the latter has been overpainted and marred by the passage of time. This is another instance where Smibert noted no price paid for the portrait; and the print itself bears the inscription: "Printed for & sold by Stepn Whiting at ye Rose & Crown in Union Street Boston." Whiting was active from this period into the 1770's despite an interim bankruptcy, selling "a Great Variety of Maps, Prospects and Metzotinto Prints . . ." on terms, as he said, whereby "Traders may be supply'd at a reasonable Lay."32 The Cooper portrait and print may therefore have been a venture of a three-way partnership between Smibert, Pelham, and Whiting.
The next event of moment to Pelham, as indeed to the colony, was the reduction of Louisbourg on June 17, 1745. Immediately Governor Shirley and Sir William Pepperell, in charge of the colony's forces, became heroes and had to be immortalized in portraits, and what portraitist was there more able than Smibert. He painted Shirley in July 1746 and Pepperell in August. On February 5, 1746, engineer Lieutenant-Colonel Richard Gridley had drawn a plan of the city and fortress of Louisbourg from first-hand observation, six months previously.
In September the Boston papers advertised for sale Pelham's mezzotint engraving of Gridley's plan of Louisbourg.33 A fine print, 17¼ × 21⅛ inches, with an elegant dedication to Governor Shirley, it was to be sold by Smibert, the price to be "Twenty Shillings, Old Tenor." It is a magnificent engraving and excessively rare.
In 1747 Pelham made plates of both Pepperell and Shirley after Smibert's portraits; the latter, advertised for sale at Pelham's School in the Boston Evening Post as "a curious Print of His Excellency William Shirley Esq. done in metzotinto,"34 was inscribed as having been done "at the request of several Merchants and Gentlemen of Boston as a Memorial of their Grateful Acknowledgment to his Excellency for his Signal Service in the Preservation of Nova Scotia from falling into the Enemy's hands in 1744 and the Reduction of the Island of Cape Breton to the Obedience of his Majesty in 1745." That of Pepperell is three-quarter length, though the portrait from which the print is taken, owned by the Essex Institute, is full length. It is inscribed: "Sold by J. Buck in Queen Street Boston," suggesting another joint venture. Buck, whose shop was known as "the Spectacles" was another of those who sold "Sundry Sorts of Maps, Prints, Metsotintos, &c."35
On April 25, 1748, the marriage intentions of Pelham and Mary, the widow of the tobacconist Richard Copley, were published. No record can be found of the death of Pelham's second wife nor is it known when Richard Copley died, but his estate had not yet been administered. Perhaps the forthcoming marriage forced the widow Copley's hand, for we find that on May 2 letters of administration on her husband's estate were granted to her with, curiously enough, "Peter Pelham, gentleman and Robert Skinner, peruke maker" as sureties. An inventory of the estate filed on May 6 disclosed assets appraised at £97/13/6.
In Trinity Church on May 22, 1748, Pelham and the widow Copley were married. She quickly sensed the needs of herself and her new husband to support their conjoined and growing families and was only too glad to add her bit to his livelihood. The Gazette soon proclaimed that "Mrs. Mary Pelham (formerly the Widow Copley on the Long Wharf, Tobacconist) is remov'd into Lindel's Row, against the Quaker's Meeting House, near the upper End of King Street Boston, where she continues to sell the best Virginia Tobacco, Cut, Pigtail and Spun, of all Sorts, by Wholesale, or Retail, at the cheapest Rate."36 A few months later Pelham advertised that his "Writing and Arithmatic School near the Town House (during the Winter Season) will be open from Candlelight 'till Nine in the Evening as usual for the benefit of those employ'd in Business all the Day," and then he added a plug for his wife's tobacco business.37 By March 1749 he had opened a dancing school at Mr. Maverick's in King Street where, he advised, that "Due attendance will be given on Mondays, Thursdays and Saturdays in the Afternoon, under such private and regular Order as formerly kept by him, for the benefit of his Scholars."38
On learning of Pelham's marriage to the widow Copley, his father wrote November 30, 1749, the last letter of which we have record, that he was "extreamly well Pleased that God has blest you with so Choice a Companion, which is the greatest Pleasure and Comfort of Life."39 The elder Pelham survived his son, dying in 1755 and leaving his estate in trust to his unmarried daughter Helena with remainder to his son's issue.
It was early in 1750 or at the end of 1749 that John Greenwood painted the Rev. Thomas Prince, pastor of the Old South Church and well-known historian.40 Prince was an obvious subject for a mezzotint and subscriptions must have readily been come by. Pelham set to work and by May 24, 1750, the News-Letter could advise that "An accurate print in Metzotinto of the Rev. Mr. Thomas Prince" could be had at the Spectacles in Queen Street;41 in all likelihood a second venture between Pelham and Buck.
By this time Smibert's eyesight had deteriorated to the point where he had ceased to paint portraits and the year 1750 became a busy season for Pelham the artist. He was an active member of the Episcopal church and devoted this year to painting the portraits and engraving from them prints of Boston's four leading Episcopal ministers. There can be little doubt that such activity would have been an inspiration to the young twelve-year-old Copley, his stepson, and that he in turn would have helped operate the press and pull the prints from the four plates. In September Pelham's son Charles wrote to him from Newport, undoubtedly referring to these prints, "Bro'r Phillips Informs me, if you will send him Receipts, he will Engage to procure 20 or 30 Subscribers without fail, so if you see cause you may do it writing him a line informing him I had acquainted you of his proposition, which he says he would be glad to do to serve you."42 "Bro'r Phillips" was, no doubt, the same Thomas Philips who was a member of the First Lodge and who had given Pelham pew 88 in Trinity Church, and who would have been happy to see his Brother Brockwell's portrait well received.
In March 1751, the Gazette noticed that "The Sett of Prints of the four Episcopal Ministers, grav'd in metzotinto by P. Pelham, and Printed by him, are now ready to deliver to the Subscribers, and others, who may be supplied with Frames and Glass's of several Sorts at his House near the Quaker's Meeting-House in Boston."43 This large venture Pelham apparently undertook alone. The four ministers were the Rev. Henry Caner, minister of King's Chapel from 1747 to 1776, the Rev. Charles Brockwell, Pelham's lodge brother and Caner's assistant at King's Chapel from 1747 to his death in 1755, the Rev. Timothy Cutler, rector of Christ Church from 1725 to 1765, and the Rev. William Hooper who had been the dissenting minister of the West Church until 1746 but who then saw the light, took Anglican orders, and became the first rector of Trinity Church.
In May 1751 Pelham obtained permission from Harvard College to engrave the portrait of Harvard's great benefactor Thomas Hollis after a painting done in England in 1722 by Joseph Highmore. The print advertised for sale in September44 is a more sophisticated, elegant portrait than those lately done by Pelham, more like the earlier prints done in England, but then it was after a portrait that had been painted in the elegant English style.
Last to be mentioned is Pelham's "accurate Print in Metzotinto of the Rev. Mr. John Moorhead," dated 1751, which was for sale at the Spectacles, Buck's shop.45 Pelham's painting of Moorhead from which the print was taken is lost but it may well have been influenced by that done by Greenwood which is signed and dated 1749 and is not unlike the print. The Rev. Mr. Moorhead was the minister of what was known as the "Church of Presbyterian Strangers at Boston in New-England." To his likeness Pelham added a Latin inscription, perhaps more suitable for a sun dial, "Transit hora, Sine mora, Sic transit Gloria Mundi, Praeter Deum, Optabile Nihil Est."
This, so far as is known, ended Pelham's artistic career. He died early in December 1751 and was buried on December 14 from Trinity Church. The following year letters of administration were granted to his widow on the surety of "William Macklevain, Trader and Charles Pelham, Merchant." His estate must have been small for no inventory was ever filed though on August 2 the administratrix dutifully advertised: "All persons indebted to the estate of Mr. Peter Pelham, late of Boston, deceased, are hereby requested to pay the same to Mary Pelham, Widow, Administratrix to said Estate; and those to whom the Estate is indebted are desired to apply to the said Administratrix in order for a settlement."46
We know of one item of the estate that was on hand—the copper plate from which the Rev. William Cooper's engravings were pulled. In 1753 young Copley, at the threshold of his career, tried for a moment to emulate his stepfather and produced a mezzotint of the Rev. William Welsteed by the simple device of taking the Cooper plate, making appropriate changes in the face and Geneva bands and only the necessary changes in the inscription.47 But it was his only attempt at mezzotint. Years later when he issued proposals for prints of the aged Dr. Joseph Sewall, he painted his portrait and then sought through the aid of Benjamin West and others to find a British mezzotintist to make the plates, but there is no evidence he succeeded. Though we should not exaggerate the influence of Pelham on Copley as I believe is often done, it cannot be doubted that even the few years of his life with Pelham, the talented schoolmaster, master of reading, writing, music, dancing, and social deportment helped to make the young son of the Long Wharf tobacconist familiar with the ways of the well-to-do gentry of the day, perhaps even gave him social aspirations, and must have smoothed the social road for him when his talents placed him in such demand as the first portraitist of his day.
What has happened to the fifteen copper plates? That of Mather turned up in 1860 and is now believed to be in the Library of Congress. That of Byles is at the Antiquarian Society. Perhaps the others were ground down and used again. Copley's use of one for the Welsteed print would be an example. And then there is that curious statement in John Chaloner Smith's British Mezzotints, where, after listing almost all of Pelham's American prints, he says, "It is stated on the authority of the late Rev. Wm. Jenks of Boston, that Callendar, an engraver, acquired and destroyed these plates."48 Jenks was the learned Boston theologian and antiquary who died in 1866; Joseph Callender, who died in 1821, was a Boston engraver known chiefly for his bookplates. Nothing further is known of the source of Jenks' authority.
Pelham's contributions to the arts in eighteenth-century America were his six painted portraits, his engraving of the plan of Louisbourg, and his fourteen mezzotint portraits, most of the highest quality, and one the first mezzotint ever to be produced in America. These engraved portraits set him apart in first place in the development of mezzotint engraving in this country, though his equal was long in appearing. But he was a man of wide talents, of all of which he made use to support his family: painter, engraver, musician, writing master, schoolmaster, dancing master, and a forerunner of the Enlightenment. His assemblies and schools, which were by far the greater part of his life's activity, must have set a high tone to that form of social and educational activity in Boston. Though it is, however, for his mezzotint portraits that we now remember him and by which he earned a first place in the annals of colonial American art, yet at his death more than two centuries ago, he was probably remembered simply as he was described in his widow's petition seeking administration of his small estate, as "Peter Pelham, late of Boston . . . Schoolmaster."
list of mezzotints by peter pelham
The prints listed below are identified by their numbers in David McN. Stauffer, American Engravers upon Copper and Steel, 2 vols. (New York, 1907), and John Chaloner Smith, British Mezzotint Portraits, 4 vols. (London, 1884). Sizes are as given in Stauffer, height first, width, second, though Stauffer's measurements include the image only, without the inscription. The statement of location of imprints is limited to those institutions within a short radius of Boston. There are, of course, examples at many other institutions and in several private collections. The print of Edward Holyoke dated 1749, though often listed as by Pelham, has been purposely omitted because it is no longer considered as having been Pelham's work. Locations have been abbreviated as follows:
| | |
| --- | --- |
| AAS | American Antiquarian Society |
| BPL | Boston Public Library |
| BS | Bostonian Society |
| EI | Essex Institute |
| H | Harvard University |
| JCB | John Carter Brown Library |
| MFA | Boston Museum of Fine Arts |
| MHS | Massachusetts Historical Society |
| MMA | Metropolitan Museum of Art |
| WAM | Worcester Art Museum |
1. The Rev. Cotton Mather (1663–1728)
Stauffer 2469; Smith 26. 11.15 × 10.10
Inscribed: "Cottonus Matherus / S. Theologiae Doctor Regiae Societatis Londinensis Socius, / et Ecclesiae apud Bostonum Nov-Anglorum nuper Praepositus / AEtatis Suae lxv, mdccxxvii,—P. Pelham ad vivum pinxit ab Origin Fecit et excud."
Portrait at: AAS; copper plate at LC.
Imprints at: AAS; MFA, incl. original, second state, and late restrike by Joseph Sabin; H; MHS; WAM; and JCB, Sabin restrike.
2. The Rev. Benjamin Colman (1673–1747)
Stauffer 2463; Smith 7. 8.9 × 7.6
Inscribed: "The Reverend Benjamin Colman D.D. / I. Smibert Pinx—P. Pelham Fecit / 1735" Portrait lost.
Imprints at: AAS; EI; JCB; MFA, two states; MHS; WAM.
3. The Rev. Joseph Sewall (1688–1769)
Stauffer 2473; Smith 34. 8.7 × 7.3
Inscribed: "The Reverend Joseph Sewall D.D. / I. Smibert Pinx.—P. Pelham Fecit."
Portrait lost.
Imprints at: AAS; EI; JCB; WAM.
4. The Rev. Mather Byles (1707–1788)
Stauffer 2461; Smith 3. 5.7 × 4.7
Inscribed: "Mather Byles A.M. et V:D.M. / Ecclesiae apud Bostonum Nov-Anglorum Pastor. / P. Pelham ad vivum pinx. & fecit."
Portrait, replica of portrait, and copper plate at: AAS.
Imprints at: AAS, including later restrikes; BPL; WAM.
5. The Rev. William Cooper (1694–1743)
Stauffer 2469; Smith 11. 11.12 × 9.9
Inscribed: "I. Smibert Pinx.—P. Pelham fecit / The Revd Mr William Cooper / of Boston in New England AEt. 50. 1743. / Printed for & sold by Stepn Whiting at ye Rose & Crown in Union Street, Boston"
Portrait at: MHS; copper plate reused by J. S. Copley for his mezzotint of The Rev. William Welsteed.
Imprints at: AAS; EI; H; MFA, with statement that it occurs in two states; WAM.
6. Plan of Louisbourg 1746
Stauffer 2475; not in Smith. 17.8 × 21.4
Inscribed: "A Plan of the City and Fortress of Louisbourg / with a small Plan / of the Harbour—/ P. Pelham Fecit 1746, Sold by J. Smibert in Queen Street Boston N:E–"
Imprints at: JCB; MHS; WAM.
7. Governor William Shirley (1694–1771)
Stauffer 2474; Smith 35. 11.13 × 9.13
Inscribed: "His Excellency William Shirley Esqr Captain General & Governeur in Chief &c of the Province of the / Massachusetts Bay in New England, & Colonel of one of his Majesty's Regiments of Foot. To whom this Plate done from the original painted by Mr. J. Smibert at the request of of [sic] several Merchants & Gentlemen of Boston as a Memorial of their Grateful Acknowledgments to his Excellency for his signal services in the Preservation of Nova Scotia from falling into the Enemy's hands in 1744 & the Reduction of the Island of Cape Breton to the Obedience of his Majesty in 1745, is Humbly Dedicated by his Excellency's Obedient Servt P. Pelham 1747."
Portrait lost.
Imprint at: MMA.
8. Sir William Pepperrell (1696–1759)
Stauffer 2471; not in Smith. 11.13 × 9.13
Inscribed: "Sir William Pepperrell Bart. Colonel of one of his Majesty's Regiments / of Foot, who was Lieutenant General and Commander in Chief of the American / Forces employd in the Expedition against the Island of Cape Breton which was / happily Reduced to the Obedience of his Britanick Majesty June the 17. 1745 / J: Smibert Pinx / Sold by J. Buck in Queen street Boston / P: Pelham fecit et ex: 1747."
Portrait at: EI.
Imprints at: AAS; MFA; MHS.
9. The Rev. Thomas Prince (1687–1758)
Stauffer 2472; Smith 32. 11.13 × 9.9
Inscribed: "Jno. Greenwood Pinx.—P. Pelham fecit / Thomas Prince A. M / Quintus Ecclesiae Australis Bostonii Novanglorum Pastor, e Collegiae Harvardini / Cantabrigiae Curatoribus, Samuelis Armigeri Filius et Thomae AM. denati Pater / Printed for & sold by J. Buck at ye Spectacles in Queen-street Boston. 1750."
Portrait at: MHS.
Imprints at: AAS; BS; EI; H; MFA, in two states; WAM.
10. The Rev. Charles Brockwell (1696–1755)
Stauffer 2460; Smith 2. 11.12 × 9.12
Inscribed: "The Reverend Charles Brockwell, A.M. / Late of Catharine Hall in Cambridge, his Majesties Chaplain in Boston N:E. / P: Pelham pinx: et fecit 1750. Sold by P: Pelham in Boston."
Portrait lost.
Imprints at: AAS; EI; H; MFA.
11. The Rev. Henry Caner (1700–1792)
Stauffer 2462; Smith 4. 11.12 × 9.13
Inscribed: "The Reverend Henry Caner. A:M. / Minister of Kings Chapel Boston. / J: Smibert pinx:—P: Pelham fecit, 1750. Sold by P: Pelham in Boston."
Portrait lost.
Imprints at: AAS; H; JCB; MFA.
12. The Rev. Timothy Cutler (1683–1765)
Stauffer 2465; Smith 12. 11.8 × 9.9
Inscribed: "The Reverend Timothy Cutler.D.D. / of Christ Church Boston N-E. / P: Pelham pinx: et fecit. 1750. Sold by P: Pelham in Boston"
Portrait lost.
Imprints at: AAS; H; MFA.
13. The Rev. William Hooper (c. 1702–1767)
Stauffer 2468; not in Smith. 11.8 × 9.9
Inscribed: "The Reverend William Hooper A-M. / Minister of Trinity Church Boston N-E. / P-Pelham pinx. et fecit 1750. Sold by P- Pelham in Boston"
Portrait lost.
Imprints at: AAS; H; MFA.
14. Thomas Hollis (1659–1731)
Stauffer 2466; Smith 23. 11.15 × 9.12
Inscribed: "Thomas Hollis late of London Mercht a most generous Benefactor / to Harvard College, in N.E. having founded two Professorships and ten / Scholarships in the said College, given a fine Apparatus for Experimental / Philosophy & increased the Library with a large Number of valuable Books &c. /Jos. Highmore pinx. 1722—Ob: 1731. AEt 71.—P. Pelham ab origin: fecit et excudt 1751."
Portrait destroyed when Harvard's library was burned in 1764.
Imprints at: AAS; EI; H; MFA.
15. The Rev. John Moorhead (c. 1703–1773)
Stauffer 2470; Smith 28. 11.3 × 9.5
Inscribed: "The Reverend John Moorhead Minister of a Church of / Presbyterian Strangers at Boston in New-England. Transit hora, Sine- / mora, Sic transit Gloria Mundi. Praeter Deum Optabile Nihil Est. / P: Pelham pinx: et fecit 1751. Sold by J. Buck at ye Spectacles."
Portrait lost.
Imprints at: AAS; BS; MFA; MHS; WAM.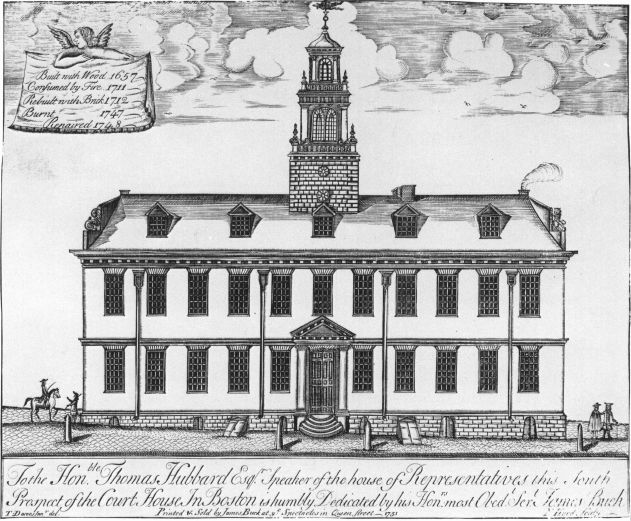 78. South Prospect of the Court House in Boston, 1751