Preparations for Promotion
THE problem of Madame de Leval and her fellow countrymen was but an embarrassing side issue to Bingham's speculation; if he were to realize what he hoped from the Maine lands, he must start promotion on a large scale, both at home and abroad. Before proceeding further, it would be necessary to obtain accurate, trustworthy information on the District of Maine, the more so because of the rage for speculation in lands then prevalent and the large number of disappointments that investors, both in America and in Europe, had suffered as a result of inadequate knowledge of what they were buying. Bingham had received from Duer the sketchy reports of the Penobscot Million made by Phineas Bruce of Machias and Major Lemuel Trescott of Passamaquoddy.310 It now behooved him to enlarge and verify this body of information.
Accordingly, shortly after his return to Philadelphia upon the completion of his transactions with the Massachusetts Land Committee, he wrote to General Benjamin Lincoln at Hingham, enclosing a list of forty-four questions on the soil, climate, location, resources, and other characteristics of the District of Maine. General Lincoln, because of his prominent part in the Revolution and his service as Secretary of War under the Confederation, was a man whose word would be widely respected. He had intimate knowledge of Maine as a result of some speculations in that region in which he himself had been involved in the middle 1780's. Despite the fact that the General's land ventures down east had proved costly failures, his enthusiasm for the region was undiminished and his answers to Bingham's questions would have warmed the heart of any chamber of commerce.311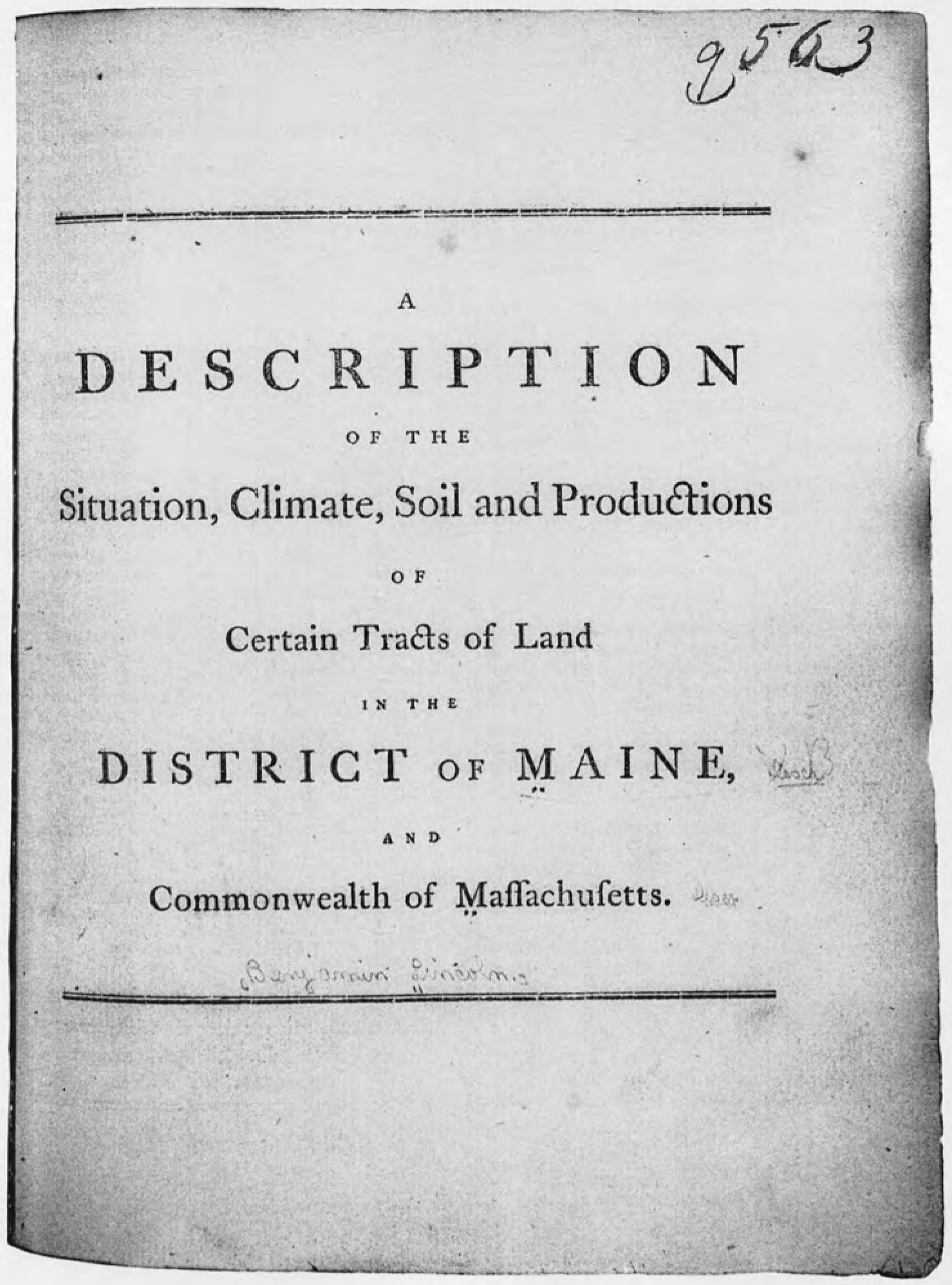 Title-page of Bingham's pamphlet published to advertise the Maine Lands.
Bingham sent a similar set of queries to Charles Vaughan,312 one of the leading citizens on the Kennebec, and was so delighted with the answers that General Lincoln and Vaughan gave him that he wrote to General Henry Jackson in Boston and asked him to have the questions printed on blank forms, with the suggestion that he get as many as possible of the members of the Massachusetts General Court from the District of Maine to fill them in.313 General Lincoln's reputation and the enthusiasm for Maine which his replies evinced prompted Bingham to print the letter, after some editing had been done, in his pamphlet published in the spring of 1793 and entitled A Description of the Situation, Climate, Soil, and Production of Certain Tracts of Land in the District of Maine and Commonwealth of Massachusetts. Four of the Maine members of the Massachusetts legislature produced a similar set of answers which were likewise printed in the pamphlet.314 These testimonials, especially the opinion of such a prominent citizen of the United States as Benjamin Lincoln, would serve, Bingham hoped, to stimulate interest in the Maine lands both in America and abroad.