In 1875, Henry Adams, the grandson of President John Quincy Adams, commented, "The Quincys are, strictly speaking, an old family. They belonged to the colonial aristocracy."1
There were a great number of heroes of the American Revolution, many who bravely fought and died for the cause of independence. Yet there were few great Americans who sacrificed their lives as they battled their oppressors, using only thoughts and words as their weapons. Josiah Quincy "Junior" was among those special few. A frail and chronically-ill boy, Josiah Jr. endeavored to become an accomplished young man both through his intelligence and moral obligation to his family's name. That he was brilliant there is no doubt. That such intellect was influenced at an early age is obvious. The legacy of his forebears, who were particularly prominent in local politics, was passed down to him. Even though such ancestor worship was shrugged off by older brothers Edmund and Samuel, Josiah Quincy Jr. aspired to transcend his patrimony.
Since 1633, the Quincy family of Massachusetts had experienced a steady accumulation of wealth, influence and respectability. Even in the highly unstable society of colonial Massachusetts, where fortunes and reputations could be lost on the turning of the tide, the Quincy family had achieved prominence while capitalizing on the economic benefits that often came with such distinction. Many early family members also effectively held public office as religious conservatives, monetary moderates and, more importantly, men with keen legal minds.
Thus, to the manor born was Josiah Quincy Jr., in a large house located on Summer Street in Boston where his father's gardens stretched back to meet those of brother Edmund. Justice Edmund and Colonel Josiah Quincy were partners with brother-in-law Edward Jackson in a thriving Boston mercantile firm that owned, among other assets, a privateer christened Bethel. While Josiah Sr. sailed abroad seeking trade, Edmund remained home tending to the business, his bench, and both his and his brother's families. It was here, in Boston, that Josiah Quincy Jr. first learned of his family's distinguished heritage from both his father, the world traveler, and from Edmund who, as a justice, was already caught up in the rising tempest that ultimately led to the American Revolution.
As a boy, Josiah Jr. was made aware of his father's ascension to the rank of colonel and commander of the Third Suffolk militia regiment. Colonel Quincy became a staunch member of the Sons of Liberty and, like older brother Edmund, joined St. Andrew's Masonic Lodge. Once political factions had formed in Massachusetts, there was never any doubt where Colonel Quincy stood, frequently corresponding with Boston Latin School classmate Benjamin Franklin to denounce the oppressive measures imposed by Britain.
As Parliament continued to initiate new forms of taxation upon the colonies, all but one of the Quincy men began to question their place in the empire. It did not matter that cousin Abigail Adams had traced the emigration of the DeQuincey family from Normandy, France, to England in 1066 and claimed that the family pedigree, distinguished by a crest of seven mascles conjoined,2 was affixed to the Magna Carta. By the mid-eighteenth century, patriot Quincy elders were more concerned about the history unfolding upon American soil rather than relics of the past attributed to fair England.
Still, for many locals it was obvious that the Quincys had been set apart from other Massachusetts settlers when emigrant Edmund Quincy disembarked in Boston on September 4, 1633, with his wife, children and six servants.3 Because of his social standing in England, Edmund Quincy was elected to the General Court as one of its first representatives and awarded a substantial land grant south of Boston at Braintree.
Second and third generation Quincys expanded the Braintree land holdings and attained their own local recognition. The second Edmund was elevated to the rank of colonel in the Suffolk militia, appointed a justice and, like his father, elected representative to the General Court. The third Edmund, the first of many Quincys to attend Harvard College, served as a judge on the Superior Court of Judicature for twenty years. Judge Quincy was so highly regarded by leaders of the Bay Colony that he was elected commissioner by the General Assembly and sent to England to settle a boundary line dispute between Massachusetts and New Hampshire. After an unexpected financial windfall in 1749 for the fourth-generation descendants, Justice Edmund and Colonel Josiah returned to the town of their ancestors in Braintree where Josiah Jr.'s father was bequeathed a portion of the Braintree lands, the four hundred acre "Lower Farm," near Mount Wollaston.
At that time the homes of Colonel Josiah and Justice Edmund were within sight of each other. As a young man, neighboring new-found friend John Adams was a frequent a visitor to their homes where he sought to quench his thirst for political knowledge. Alternatively, John Adams's father, Deacon Adams, entertained Edmund and Josiah Quincy in the parlor of his nearby home where Josiah Jr. sat at their knees and listened to the cases against oppression facing this older generation.
It was at Braintree that Josiah Quincy Jr. was also introduced to his father's cousin John Quincy (the maternal grandfather of Abigail Smith, who later married John Adams) for whom "Quincy" Massachusetts was named. Here, both young Josiah Jr. and John Adams visited "grandfather" Quincy's rambling house at his nearby Mount Wollaston farm. Colonel and commander of the Suffolk militia regiment, justice, Braintree town moderator, representative to the General Court and speaker of the House, member of "His Majesty's Council," trustee of the Punkapoag Indians, and overseer at Harvard College, John Quincy enjoyed a public career that became legendary in family circles.
During his long lifetime, Braintree citizens steadily kept John Quincy in offices of great responsibility where he voiced the people's frustrations and aspirations. When the early antagonism between the colonists and the royal governors first began, it was Speaker Quincy who threatened the governor with rejections of the measures aimed at exacting submission from the colonists. Having clashed with the king's representatives for years, all that would be denounced by the next generation in rebellion against the crown had already been argued in the General Court by Speaker Quincy.
AMERICAN LINEAGE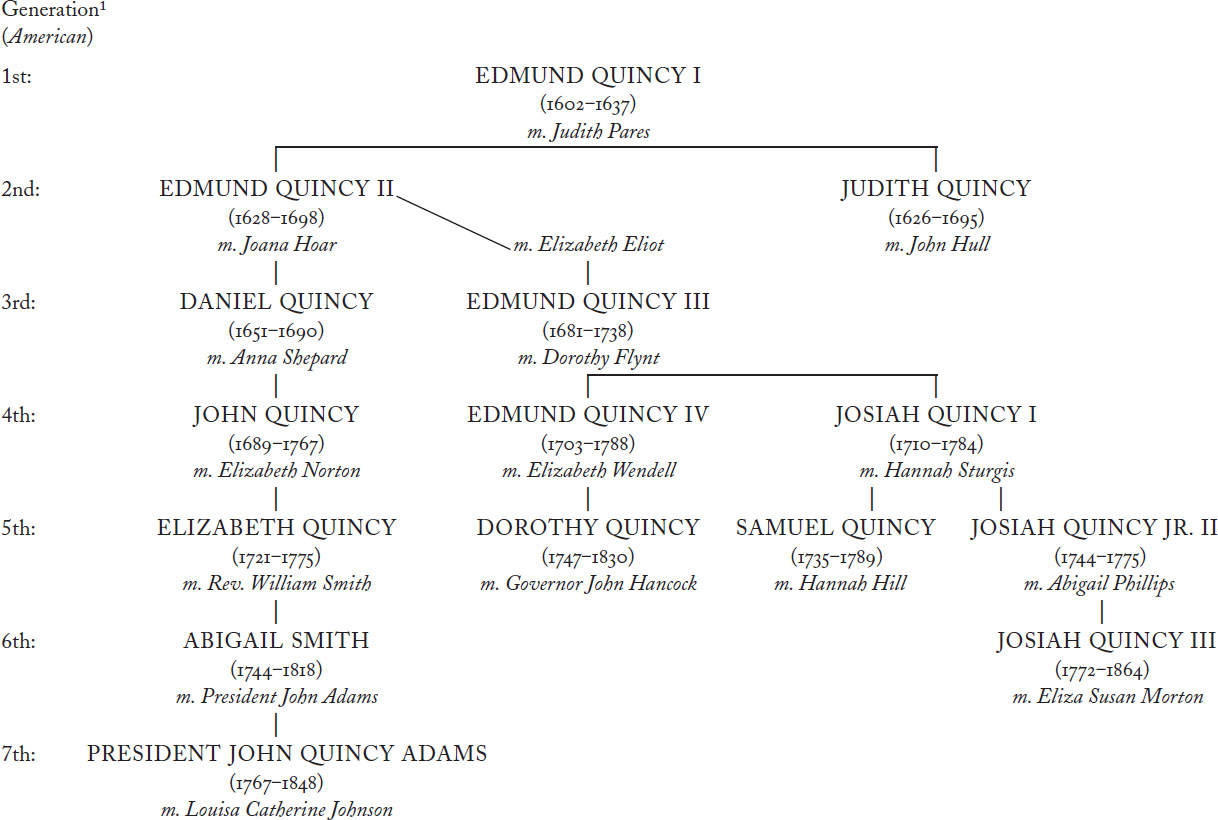 Note: Roman number are imposed in order to distinguish persons bearing the same name in different generations of the family. The persons so designated did not themselves, nor did the family generally, use this enumerative device. Some of these numbers appear out of sequence; the missing names are not applicable to this chart at this time.
1. Salisbury, Edward Elbridge, Family Memorials – Quincy (A Series of Genealogical and Biographical Monographs), Privately Printed, 1885. Other Quincy family genealogy sources: Massachusetts Historical Society, Quincy Historical Society, and personal papers of the Quincy family. (Note: This is a selective family chart that does not indicate all of the marriages nor all of the descendants during this time period.)
By the time Josiah Quincy Jr. was prepared for Harvard, his mind was set to follow Quincy family leaders, with an unmatched passion for mastering the law. Despite his frustration at being continually ill, he won the freshman detur, excelled at scholarship and, at commencement, was a respondent. Upon receiving his master of arts, Josiah Jr. delivered the English oration on the subject of "Liberty," or, as others remembered his impassioned address, that of "Patriotism."4 It was a speech that enraptured the audience and was recalled a half century later, earning him the sobriquet, "the Patriot."
Josiah Quincy Jr. married Abigail Phillips of the prestigious Phillips family and had three children, two of whom died young. After being admitted to the bar, he sought the position of barrister but the Superior Court denied him such status because of his early radical political views. Josiah Jr. quickly shook off the appellation as insignificant anyway and, instead, threw himself into what became the Revolutionary cause. His political writings, which first appeared in the Boston Gazette in October 1767, were filled with patriotic fervor. A brilliant attorney, Josiah Jr. openly associated with many colonial dissenters and, it is said, was the first private lawyer in Boston to boldly hang his own signboard over his office door. Josiah Jr. was twenty-six years old when he was personally engaged by Captain Thomas Preston to defend the British soldiers charged with murder in the Boston Massacre.
Josiah Quincy Jr. felt no need of stepping to the drum of other Massachusetts patriots. When they became divided under the impact of the Port Bill, he rose at town meeting and announced that if the colonies were to be saved, it would not be by the Sons of Liberty alone. Of the proposal by the Boston Whigs to send him to England, Josiah Jr. realized that this possibility would be his last chance of gaining full recognition as a patriotic leader and that his unrestrained devotion to the cause would not otherwise deny him the opportunity.
In England, there was considerable indignation among many political circles that Josiah Quincy Jr. was "a very unfit person" to be considered an emissary, or even "Peace Maker." After three months and frequent sessions with Dr. Benjamin Franklin, Josiah Jr. became convinced that American rights could only be won with blood. By early December 1774 he had raised his peace terms, demanding that Parliament repeal every questionable law and recall its troops from all American colonies. Feeling defeated, Josiah Jr. was of two minds about sailing home. His health was failing and he was disillusioned by the failure of supposed friends in Parliament to deliver their promised support.
He departed England in March 1775 and during the month-long crossing his health was worsened by the wetness and cold of the Atlantic. Praying vainly that he could remain alive long enough to see his wife and father one last time, he did not know that his brother Samuel was sailing in the opposite direction, bound for mother England and following other Loyalists into exile. When the Boston packet made Gloucester Harbor on April 25, 1775, it was clear that Josiah Jr. would not be carried ashore breathing. He had finally made the ultimate sacrifice for freedom's cause, while physicians stood helplessly by in his cabin.
On his tombstone were inscribed the following words written by John Quincy Adams:
Brilliant talents, uncommon eloquence, & indefatigable application
Raised him to the highest eminence in his profession,
His early enlightened, inflexible attachment to
The cause of his country,
Is attested by monuments more durable than this,
And transmitted to posterity
By well-known productions of his Genius.
In essence, Josiah Jr. was convinced that the economic and political oppression that Britain imposed upon the colonies was Parliament's effort to eventually enslave its American subjects. Couple this controversial political conviction to his prolific legal interpretations and that he was impetuous, impassioned and vehement concerning American liberty, and you have a true historical phenomenon.
For Josiah Quincy Jr., thoughts of American independence began at a very early age when his father and uncle bitterly complained of the increasing costs of doing business solely with Britain and sought trade for their mercantile business with other European nations. Such open defiance would later influence Josiah Jr.'s views on the meaning of liberty.
Josiah Jr. married into one of Boston's wealthiest families and lived quite comfortably. Many books from his personal library were imported by his father's shipping company, which allowed him to peruse and explicate volumes. Not one to spend his idle time mingling with Samuel Adams, John Adams, James Otis and other Sons of Liberty at Thomas Dawes's hall near the Liberty Tree, he preferred the isolation of reading and interpreting the written works of others, as was his custom.
Thus, by wealth and intellect Josiah Jr. became a man apart who refused removal from the cause. Too frail and poor-sighted to do battle alongside fellow patriots, he convinced himself that he could alter the path to war diplomatically. Had he heeded the advice of friend Dr. Joseph Warren and entreaties from his wife and family to journey south for his health instead of sailing for England in the fall of 1774, his involvement with the American cause may have ended under more favorable circumstances.
John Quincy Jr.
Harwichport, Massachusetts