A Stated Meeting of the Society was held at Gore Hall, Cambridge, on Thursday, 27 April, 1911, at eight o'clock in the evening, the Hon. John Adams Aiken, LL.D., in the chair.
The Records of the last Stated Meeting were read and approved.
The Chairman announced that the President had appointed the following Committees in anticipation of the Annual Meeting:
To nominate candidates for the several offices, — the Rev. Henry Ainsworth Parker, the Rev. Dr. Edward Caldwell Moore, and the Rev. Dr. William Wallace Fenn.
To examine the Treasurer's accounts, — Messrs. Edward Percival Merritt and Mark Antony De Wolfe Howe.
The Corresponding Secretary reported that a letter had been received from Mr. John Trowbridge accepting Resident Membership.
On Monday the 16th of January, 1764, while the Massachusetts Legislature was in session at Boston, —
Colo Clap and Others a Committee of the House of Representatives waited upon his Excellency acquainting him that as the House are apprehensive that the Small Pox will soon prevail in the Town, it being as they are informed by the Selectmen in seven or eight houses; and desiring that his Excellency would please to adjourn them to Cambridge.
The Secretary delivered the following Message from his Excellency the Governor to the two Houses respectively vizt.
Gentlemen, His Excellency directs that this Great and General Court be adjourned to Cambridge, to meet at Harvard College on Wednesday next at 10 o'clock in the Forenoon. And declared the Great and General Court to be adjourned accordingly.1
Court adjourned to Cambridge
Towards midnight of Tuesday, the 24th, Harvard Hall, in which the General Court had been holding its sessions, caught fire and was wholly destroyed together with its contents,2 which consisted not only of the library and philosophical apparatus but the private property of such students and others as had chambers in the building. The fullest description of the disaster is contained in President Holyoke's letter to the press,3 which forms the basis of the accounts by Quincy,4 Peirce,5 and Eliot.6 There is little if anything to be added to what has been written of the occurrence,7 but there are, however, certain other sources of information which, though not unknown, have hitherto been ignored.
It might be expected that the newspapers of the period would furnish something of value, but a careful search has failed to discover more than a few official notices. To be sure the tragedy did not go unsung, though it requires a stretch of the imagination to call the results poetry. The question of the stamp taxes was occupying the public mind at this time to the exclusion of all else, and it is, no doubt, to this fact that the paucity of other material in the press is due. Even the laying of the corner stone of the new Harvard Hall, 26 June, 1764, is dismissed with a few lines and a copy of the inscription on the stone.8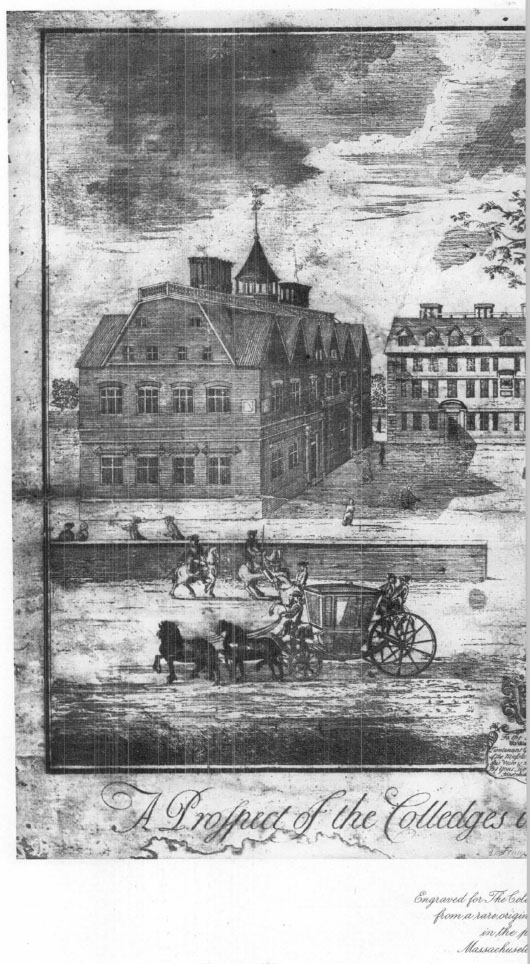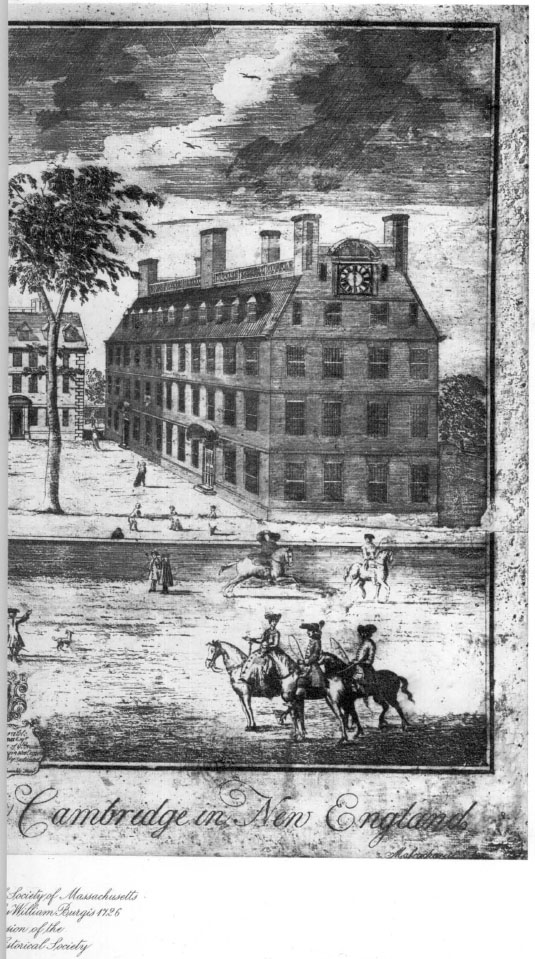 In the State Archives, however, there is unpublished material of actual worth, not the least valuable part of which lies in the inventories of losses filed with the Legislature by the students whose quarters had been destroyed. These lists throw an interesting light upon the personal belongings of college men of the time, besides compelling admiration for the feats of memory required in their making.
President Holyoke's letter, already alluded to, was followed by this appeal by way of postscript:
Cambridge, Jan. 26. 1764. As the General Assembly have this day chearfully and unanimously voted to rebuild Harvard-Hall, it encourages us to hope, that the Library and Apparatus will also be repaired by the private munificence of those who wish well to America, have a regard for New-England, and know the importance of literature to the Church and State.
The appended notices are a direct outcome of the fire, and concern the students, borrowers of books from the College library, and intending donors:
WHEREAS by the righteous Providence of GOD, the most antient of our Buildings is destroyed by Fire, and thereby the Hall and the Kitchen, as well as the Library and Apparatus, have been consumed; and especially whereas the Small Pox is now in several Places at Boston, and it is apprehended will increase: Therefore the Students of Harvard College, (whose Return to the College should, but for the above Considerations, have been on Wednesday the 8th Instant) are hereby notified, not to return to the College at that Time, nor till they have Notice of a proper Time for it, by the President, in the public News-Papers.
In the mean Time we recommend it to them, that they diligently follow their Studies under the Influence and Direction of the Minister or Ministers of the several Towns to which they belong, or any other Gentlemen of Learning that they may converse with.
EDW. HOLYOKE, President,
In the Name of the President and Fellows of Harvard-College.
Cambridge, February 1. 1764.9
A VOTE of the Corporation of Harvard-College, February 1. 1764.
THAT whosoever have in their keeping any of the Books belonging to the late Library of Harvard-College, do as soon as may be, make Return of them to the President; or at least an Account of every one of said Books, which they have in their Possession.
Edward Holyoke, President.
NOTICE is hereby given to such of the Students of Harvard-College as have a Desire to improve themselves in the Hebrew Language, during their Recess from the College, that they may have one of the new Hebrew Grammars10 by applying or sending to the President.
Edward Holyoke, President.
Cambridge, Feb. 2, 1764.11
WHEREAS the Honorable and Reverend the Board of Overseers of Harvard-College have recommended it to the Corporation to appoint proper Persons to receive the Donations in Money or Books, of any Persons in America, who may be dispos'd to contribute to a new Library for the College, and that Notice be given in the public News-Papers, that such Persons are ready to receive such Donations; and that if any Person desires their Names may be concealed, and would signify any Mark or Word, by which they would have the Receipt of their Donations ascertained, such desires shou'd be comply'd with.
Therefore in conformity to the above Recommendation, the Corporation make it their earnest Request, That the Reverend Ministers of all Denominations in this and the neighbouring Governments, would undertake to be Receivers of such Donations, as may be made by pious and charitable Persons in their respective Parishes; And that they will be pleas'd to signify to their People (in such manner as their own Prudence shall direct) that they stand ready to receive such Donations: And that they will be further pleas'd in convenient Time, to Inform the President at Cambridge, or the Hon. Thomas Hubbard of Boston, Esq; the Treasurer of said College, what Donations may be deposited with them.
And We humbly hope, that all who wish well to the Interests of Religion and Learning, will compassionate our present destitute State (by which the Students are under much Disadvantage, as to their Learning) and will have their Hearts and Hands opened to contribute liberally to the Reparation of the great Losses, both in the Library and Apparatus, which GOD in his holy Providence hath suffer'd to befall the Society under our Care.
EDWARD HOLYOKE, President.
in the Name of the Corporation.
Cambridge, March 5, 1764.12
The first of the following two poems, which was given a place of honor on the front page of the Massachusetts Gazette of 2 February, 1764, is aptly described by the author of the second poem as a "school Boy's Hexametric Toil." A third poem appearing in the press, called Harvardinum Restauratum, has already been printed by this Society.13
In Conflagrationem Aulæ Harvardinæ Cantabrigiæ Nov-Anglorum die 24io Janij 1764.
QUIS lacrymas retinere potest, dum fatur Amicus
Harvardi veteris Fatum? Nutricis ut almæ,
Quâ. Juvenes dociles literatis artibus omnes
Instructi benè sunt: sed nunc fundamine rasa
Nobilis hæc domus est, flammarum vi furiatâ: —
(Coctilibus Muris vim solùm obstantibus ignis,
Chasmata multa manent illis ut Fulmine fracta.)
Terribilis fuit Eventus per Numinis Iram! —
Quarè Deus nobis voluit contendere tantis
Ærumnis — Morbos varios rapidumque per Ignem,
Non decet ignarum, secretas dicere Causas —
Hoc mihi sufficiat, talis Divina voluntas: —
Hâcce Domo curâ, sumptûque Volumina multa
Musarum, assiduo Juvenum Studio esse repôsta:
(Antiquos, Scilicet,14 literatos, atque modernos:)
Unusquisque refert, simùl his consumtaque flammis:
Heu! dolor eventû fatali corda Virorum
Afficit immodicus, Fautores qui literarum
Semper erant opibus! Jam, jam radientur at Ipsi
Splendore, ut Sphæris distinctis Sidera Cæli.
PHILOMUSUS.
To the PRINTERS.
You are requested, when you have Room, to give the following Lines a Place in your valuable Gazette.
S P Q R.
The Lamentation of HARVARD.
ALAS! how am I chang'd! Revolving Suns
Through many a Period joyfully have smil'd,
On my once happy Seat; where uncontroll'd
I sat, the Mistress of this western World,
And sent my learned Youth throughout the Land,
To guide with happy Skill, both Church and State.
Around my sacred, venerable Elm
My frequent Buildings rose; whose ample Domes
Inclos'd my fav'rite Sons,15 an happy Tribe
On either Side th' Atlantic far renown'd.
My Fame throughout the Land of Liberty
Was circulated wide: Nor did I want
Instructors of my own, to lead the Youth,
Their younger Brethren, through the lovely Fields
Of Science, humane and divine; whose Paths
Delightsome, Hand in Hand they trod apace
With eager Steps, till at the sacred Shrine
Of fair Philosophy arriv'd, they paid
Their humblest Adoration at her Feet.
But now, how chang'd the Scene! behold the Walls,
Not long ago the fam'd Repository
Of solid Learning, levell'd to the Dust.
Ye Flames, more merciless than the fell Hand
Of all-devouring Time; more savage far
Than Earthquake's horrid Shocks;16 why did ye not
Recoil with Shame, when near the sacred Volumes,
Arrang'd with Care, your pointed Spires approach'd?
Why could ye not, the fam'd Museum spare,
Unrival'd in Columbia, where my Sons
Beheld, unveil'd by Winthrop's17 artful Hand,
The Face of Nature, beautiful and fair?
Ah fatal Night! why didst thou not remain
Perpetual, and with dusky Pinions, veil
These awful Ruins, Beauty laid in Dust?
Where are my Comforters? where the whole Band
Of laurell'd Bards, once nourish'd at my Breast,
Who not long since condol'd Britannia's Loss
When George the great resign'd his earthly Crown?
Where is my Ch—ch, my L-w-ll, H—p—r, D—n,18
The Popes and Priors of our western World?
Alas their Harps are on the Willows hung!
Sated with Fame, and all the World's Applause,
Their tuneful Pens lie dumb; not one of all
Can "pay the grateful Tribute of a Song."||
But should our Land again (which Heav'n forbid)
Be call'd to mourn our happy Sov'reign's Death,
Should golden Prizes, once more be propos'd;
How would their Fancies take poetic Fire;
How would they mount the Pegasæan Steed,
And soar aloft, to gain immortal Fame?
Avri sacra Fames!— —
What base Ingratitude then, to neglect
Their Alma Mater in her mourning Weeds!
Ye sleeping Bards! light up your wonted Fires,
Let not the school Boy's Hexametric Toil*
Remain the only lasting Monument
Of my sad Overthrow: But come my Bards
Approach my awful Ruins, stand around
Your once lov'd Nursery, behold my Woe,
Gather my Ashes, and let that Reward
Your pious Care to mitigate my Grief,
And to perpetuate in elegiac Verse
The sad Remembrance of that fatal Night,
When Science fell a Victim to the Flames.
|| See Piet. & Gratulat. No VII. p. 20.
* See the Massachusetts-Gazette of February 2. 1764, column 1.19
We now reach the records of legislative action. For the sake of convenience the material bearing upon the claims for losses has been kept together, though this necessitates a departure from strictly chronological order.
Edward Breck to the Church of CHRIST at RAINFORTH.
DEerly beloved in the Lord Jesus Christ, I have sundry times had a mind to salute you in the Lord, but partly my own rudeness, and partly other obstacles in the way, I have not yet communicated any thing to you, as to the Church of Christ since my departing; but because God hath removed me so far distant, by reason whereof I am never like to see your faces, and age and weakness coming upon me, putting me in minde of my end; that I might do something at last whereby to testifie my love & dear respects to you, and that in all this length of time of absence, you might perceive that I have not wholly forgotten you, but with many secret desires breathed after your eternal welfares; I have therefore for your sakes, pressed myself to break through many difficulties, presuming upon your kind acceptance, notwithstanding you finde in me much weakness in expression, matter, argument, &c. But not to trouble you with a long Preface, where my work is small, little I have to say, and slenderly I shal deliver it, unless God make known his power through weaknes; that which I have to say is a friendly exhortation to continue in the grace and faith of our Lord and Saviour Jesus Christ, and not to be carried away with every wind of Doctrine, whereby you should be spoiled of your faith and hope [ii]121 which you have in the Lord Jesus Christ: Oh Beloved! Remember the dayes of old, and the yeers of ancient times, when after the Marian-times that Religion began to spring God honoured Rainforth with many godly pillars, men famous in their days, for faith and holiness, and the profession of true Religion, when the Country was overwhelmed, or greatly clouded with Religion, or Superstition, yet these men (whose names are not yet worn out of memory) cleave fast to the truth; the face of opposing, jeering, scorning and reproaching enemies, their reproaches did not dant the spirits of these men, but they patiently bare it with joy, and prest on forward in the waies of Truth of the Gospel, for the price and high calling of God in Iesus Christ: The next Generation I was a little better acquainted with, whose names are fresher in your memories, divers godly people God raised up to do him some Service, and to profess and defend his Truth, & maintain his Ministery, which was a great thing they laboured after; these men gave not their mindes with Balaam, to look out for visions, to curse Gods People, nor to rail on Magistracy, nor Ministry, but humbly and in the feare of the Lord, submitted themselves to Jesus Christ in the use of his owne Institutions, so farre as he gave them liberty and ability thereunto.
And now, what the present Generation is since I left the Countrey, I do not so well know, many of the old flock being dead and removed; [iii] yet (I hope) there is some breathings of Spiritual life amongst you, and men holding forth the faith, and profession of faith and true Religion in sincerity, notwithstanding what may be otherwise found among you: My Exhortation therefore is, To hold forth this Faith, and continue faithfull therein untill Death, never leave it, forsake it not lest God forsake you, and cast you off for ever; but Truth is Beloved, and that which is my griefe, that I have been informed, and dare not but believe it, that there are men among you who are departed from the faith and purity of the Gospel to depend up Jesuiticall and Satannical delusions, I mean such as go under the name of QUAKERS, who depend not upon the Scriptures, for Light, but on what they receive from a Spirit which casteth them into a Trance, what these Trances are, let men of understanding judge, for I am weak, onely tell you what I think, they are either from the good Spirit of GOD, as hee spake by the mouth of his holy Prophets in Visions, &c. or from the DEVILL; if they bee from the good Spirit of GOD, then they are like to that Spirit which spake by the PROPHETS, they accord with all the writings of the Prophets, and most of all with all the doctrins and sayings of Jesus Christ, his Ordinances and Institutions. Secondly, they bring a man that receive them, into a humble, low, and meane esteeme of HIMSELFE, [iv] so that he will be ready to fall down with the Prophet, Esay 6. 5. and to cry, Wo is me, I am undone, because I am a man of unclean lips, and I dwell among men of unclean lips, for my eyes have seen the King of the Lord of Hosts; his neer approach to God laid him low, but for brevities sake, I give you no more Arguments, but let the spirits of these Quakers be tried a little by these briefly, Doth that spirit which casts you into your trances make you like the old Prophets? Doth it accord with the Law, and Testimony? with Moses and the Prophets? with the Writings of the holy Apostles, and the Doctrines of Christ, his Orders and Institution? then something might be favourably spoken in defence and excuse thereof; but if on the contrary, the spirit which bringeth you into your Trances, when your bones quake, and you think you hear the voice of God, if the revelations and visions of this spirit speak contrary to the Prophets and Apostles, yea sometimes contradict and blaspheme, yea and sometimes amongst yourselves be contrary to your owne visions; yea, if this spirit when you speak, teach you to speak non-sense, idle, rediculous and foolish things, bee said false doctrine, and contradictions, if it provoke you to speak blasphemously against the Lord Jesus Christ, crying downe his Institutions, as Magistracy, Ministry, Sacraments, Sabboths, &c. let me ask you, Did that spirit ever proceed from the Father and the Son, that breathed out Blasphemies in his face? Judge [v] in your selves. You think it no blasphemy, but I pray consider it, Christ held forth in his Ordinances he breatheth in them, and walketh in the middest of the Golden Candlesticks, conveying his heavenly Grace through them as through so many golden pipes: Now to have Magistracy, and Ministery, Sacraments, &c. spoken against, trodden underfoot, and held in contempt, and esteemed as very sleight and slender things, and those that cleave to the Scriptures and Ordinances to be accounted as Antichristian, Carnall, &c. I pray you whom doth this strike? on whom doth it light, if not on Christ the Author? and it not then Blasphemy? what do you call it? You may try a little what spirit it is that lets you into your trances by the effects, if your spirit make you more sensible of Originall sin, more sensible of your own vileness, more humble you, and cast you down in the sight of God, and lay you low, so that you can cry out with Job, Behold I am vile, what shall I answer thee? and with Isaiah cry out, Woe is mee, I am undone, Isa. 6. 5. then it were considerable; but if on the contrary, it makes the heart swell, and to cry, Stand apart, I am more holy then thou; and all that come not up to your attainments are of small value, little worth, just as the Pharisees, who trusted in themselves that they were righteous, and despised others: If I say it be thus, then judge you [vi] what spirit it is, I dare be hold to affirm, it is the Spirit of Satan, and not of God; you may think this hastily, and suddenly conclude; and I confess, I have not waded very deep into this matter, yet what is not from God I can easily conclude it is from the Devil, or man corruption, which is no better, I know no medium, unless it be the Jesuits, who no doubt have had a large hand this way by their sorceries to deceive the people, and have been known in London to quake and speak in the Congregations; these men (it is little doubt) might make a covenant with the Devil, & in the finest way of witchcraft & sorceries convene it over unto others; by an implicite covenant seduce men, thinking no such thing, but rather as though God had more abundantly declared his love to them more then to any people in the world, whenas indeed the matter is nothing els but Satan transformed into an Angel of light; for this purpose let me make bold to report unto you this story which is credibly reported to have been in or about Bristol, There was a mans wife desired to go to one of the Quakers meetings, her husband was unwilling, but after importunity he gave her leave, but she was so wrought upon in that meeting, that when she came home againe shee was filled with REVELATIONS, and spoke as though shee had spoke with the Tongue of ANGELS, to admiration farre above her selfe, her HVSBAND told her, she was bewitched, [vii] she was far enough from believing that, but he could not satisfie himselfe, but would search her body, to see what tokens he could find, & about her arm he found a silk thred; he inquired, how that came there; she seriously confessed, she knew nothing of it; well, saith he, this shall not remain here; then they took it away, and then she returned to be the same woman that shee was before she went to the Quakers Meeting: If this be a true Story, as I credibly believe, tell me, if there were witchcraft used in this Quakers meeting, yea, or nay?122
Oh Beloved I you may well think the Devil hath a finer way of witchcraft now, then ever he had since the world began; no doubt yee can very well paint men to come to the Lords Table, and to preach Christ, for he hath sometime been a Preacher of Christ himself, you know, for no good will to Christ, you may be sure; but who are they that are most apart to be taken? Are they men who of old hath been most neer to God, and walked before God, as your father Abraham did, and lived the life of faith and holiness, and injoyed many sweet, and pleasant Soliloquies, peace and joy in believing, and many unspeakable consolations? I am apt to think few of these men are taken, if any at all; but rather, fickle minded men, unconstant, and unstable in their ways, such as perhaps, do change their God and Religion divers times, or proud persons, such as affect singularity to be alone, & think it a brave thing to be taken up with Rapters above other [viii] men, who but they in the world! & in the mean time, who more proud, more fickle, and unconstant, more wrathful & passionate, more railing & blaspheming? can you think the Spirit of God doth close better with, those men then any other? Truly no: And what can you imagine wil be the issue, after a curse driven this way? a certain time truly it is probable their works wilbe made manifest, & the tree wil be known by its fruit, if it be not already a little; I have learned what befel Grinton,123 a people come up to Trances and Revelations, fel at last to Popery and prophaneness, as I have been informed, and Popery I think is the main thing the Devil drives at now, rather I think, because the Jesuits hath been the chief fomenters of this Quaking Religion, and how do you finde it for the present in these people? do you often see them upon their knees? bewailing their sin? fill'd with godly sorrow & repenting-hearts? a thing God much delights in; with hearts weary and heavy laden, such as Christ calls to come unto him? do you finde them frequent in Familie-Duties, Catechizing, praying, &c. if you do, I shall be glad to hear it, and how it is I will not censure; but if you find it otherwise, then consider what fruit it is. Oh beloved! what shall I say? my hearts desire is, that you may be establish't in the faith of Gods elect, and that those that are already deluded may be reclaimed, and that all men may prevent the danger; if what I have said be but slender, as well it may be, that which I shall say can be but of [ix] like nature: Yet if I may not weary you too much, I would propose some Quaeries to these men, and present the matter to consideration in another view. 1 Qu. By whom do you hope to be saved? My charity bids me make your answer, By Jesus Christ the Son of God, who also in time became man, and made satisfaction-to divine justice for the sin of his people, &c. I hope you will accept my Answer. 2 Qu. How came you to know there was ever such a man in the world? Here also I will presume to answer for you, By the Prophets which went before him, and by the witness of his holy Apostles, and Evangelists, who have left the Story in their holy record of the new Testament. I trust you will not deny this neither. 3 Qu. If Christ be the Saviour, and that the light and knowledg of him do spring from holy Scriptures, I ask, whether the Scriptures be any rule of Faith and Life in these days? Or are they abrogated, and put an end to by Christ, and hath he appointed another way for bringing his Elect to eternal life and salvation? This Question I must leave you to answer your selves, onely for my part, I know no other way whereby to come to Christ my Saviour, then the holy Scriptures, which he hath commanded me to search, and which hee promised eternal fife, Iohn 5. and whereof he curseth all men that addeth to them, or detracteth from them, Revelations 21. What you have to say to these things I know not, but these things I know; and this I know, that no man speaking by the Spirit of God calleth Jesus execrable, and what they do less that [x] vilifie and slight his Word and Ordinances, and upon a Spirit which crosseth and contradicteth Christ, and his Word and Ordinances; but I weary you too much, I shall leave this Quaking Religion to its tottering, untill it fall to its utter Ruin, which will be in Gods due time accomplish't, onely one word more, my Dearly Beloved, as I earnestly desire you to take heed of this Quaking Religion, so also of all other Sects and Schismes, Errors, and Heresies, whatsoever, and to settle your selves in the Faith and holy Order of the Gospel of Jesus Christ; to worship and serve him according to his appointment, but what that is I determine not, but whether Presbyterian or Independant, as many use terms which are better forborn, as God shall guide your Judgements, so walk in holiness of life, and beware of corrupt conversation; I have heard of too much that way, sundry, if not many, given up to lasciviousness, Covetousness, Drunkenness, Drinkings, Tiplings dayly, to the wasting of their Estates, and Ruine of their own souls: Take heed, take heed, O beloved take heed; I shall not need I hope to oppress you with many words, you have the LAW of GOD ingraven upon hearts, which convinceth your Consciences here, and will Judge you at the last Day, if Repentance prevent not; But I shall say no more, but commend you to God and to the WORD of his GRACE, which is able [xi] to build you up further, and to give you an inheritance among them that are sanctified. The Grace of our Lord Jesus Christ be with you all, and alway: Amen.
Dorchester, in

New-England,

Aug. 17.

1655.

Your old Friend, and

Brother in the Lord

Iesus,

Edward Breck.
Mr. Matthews made the following remarks:
To Miss Pauline Willis124 I am indebted for copies of four letters written by members of the Washington family of which the originals are in her possession, and for the introductory note which follows.
In his last visit to New England, in 1789, Washington spent the night of November 4th at Haverhill and the next day went to Andover, where he was entertained at the house of Judge Samuel Phillips. An interesting account of this visit was given in 1856 by the Rev. John L. Taylor,125 and under date of November 5th, 1789, Washington himself wrote:
About sunrise I set out, crossing the Merrimack River at the town, over to the township of Bradford, and in nine miles came to Abbot's tavern,126 in Andover, where we breakfasted, and met with much attention from Mr. Phillips, President of the Senate of Massachusetts, who accompanied us through Bellariki127 to Lexington, where I dined, and viewed the spot on which the first blood was spilt in the dispute with Great Britain, on the 19th of April, 1775. Here I parted with Mr. Phillips, and proceeded on to Watertown, intending . . . to take what is called the middle road from Boston. The country from Haverhill to Andover is good, and well cultivated. In and about the latter (which stands high) it is beautiful. A mile or two from it you descend into a pine level, pretty sandy, and mixed with swamps, through which you ride several miles, till you begin to ascend the heights on which the town of Bellarika stands, which is also pleasantly situated 10 miles from Andover.128
As a result of this visit, Colonel William Augustine Washington, a nephew of the General's, was induced to send his two sons, Augustine and Bushrod, to the Andover Academy, where they lived in the family of the Rev. Jonathan French. This school for boys having been founded by Judge Phillips with financial assistance from his father Samuel Phillips of North Andover, and his uncle John Phillips of Exeter, it was but natural that he should take an interest in all the scholars, and particularly in these great-nephews of our first President.
Three of the following letters were addressed to Judge Phillips by members of the Washington family regarding the two young men, the fourth is a letter from their father William A. Washington to his uncle, which the latter speaks of and encloses with his own; it was never returned to him. The first was published by Mr. Taylor,129 the others have not been printed before, so far as is known.
It may be well to preface the letters by explaining the relationship of the writers to General Washington. Colonel William Augustine Washington, born in 1757 at Wakefield, Bridge's Creek, Virginia, was the son of Washington's half-brother Augustine, who married Anne Aylett. In 1780 Colonel Washington married his first cousin, Jane, a daughter of Washington's own brother, John Augustine of Bushfield, whose wife was Hannah Bushrod. It was the last who wrote one of these letters, in which she speaks of her grandsons as the children of "a darling daughter of mine." Of the two sons of Colonel Washington who were at Andover Academy, the elder, Augustine, was born in 1778 at Haywood, Virginia, and died at the age of twenty. Bushrod was born in 1785 also at Haywood, died in 1830, and is buried in the vault at Mount Vernon. He married his second cousin, Henrietta Spotswood, a daughter of General Alexander Spotswood and his wife Elizabeth Washington, who was a sister of Colonel William A. Washington.
I
Mount Vernon. 28th. Sep. 1796.
Sir,
The enclosed letter, from my nephew to me, accompanying one from him to you, (which have been to Philadelphia & back), must be my apology for giving you the trouble of reading this address. I shall only add, that if there are any arrearages yet due to you, & you will let me know the amount, it shall be remitted from Philadelphia; at which place I expect to be by the first of November.
I am sir
Your Most Obedt Hble Servt
Go Washington.
The Honble Saml Phillips Esqr
II
Haywood. Sep. 12th. 1796.
My Dr Unkle,
Wishing to make a remittance to Judge Phillips for the use of my sons, I dispatched my Steward with the inclosed letters to Fredericksbg with 150 Dollars Alexandria Bank Notes, desiring him to exchange them for Bank Notes of the United States, which he was not able to accomplish in the towns of Port Royal, Fredericksbg, Falmouth or Dumfries, he brought back my letter & money. As you were so obliging as to say you would make remittances for me, "the means being put into your hands;" I have taken the liberty of inclosing you, with the inclosed letters, 150 Dollars Notes of the Bank of Alexandria, & shall esteem it a particular favr if you will exchange them for United States, or a Bill on Boston, & remit it with the inclosed letter to Judge Phillips. I have in my letter to Judge Phillips taken the liberty of mentioning that the remittance would now be made thro' you, mentioning at the same time my disappointment. I do not know whether he is advance or not for me, having made a remittance of 200 Dollars this Spring — & when I left Boston I had paid up in advance for their schooling & Board, & left some money with Judge Phillips for their necessary supplys, but I would allways wish to keep money in his hands, so that he should never be in advance for me.
Our relation Mrs Mildred Lee, is no more, I have just recd a letter from Mr Corbin Washington130 informing me that she expired the 8th Inst.
It gives me much pleasure to hear that you & Mrs Washington enjoy good health, which may you long continue to do is the fervent prayer of my Dr Sir
Your Affectionate Nephew
WM AugT Washington.
III
Bushfield. May 22nd. 1797.
My Dr Sir,
It is a long time since I have had the pleasure of a letter from you; a few lines now & then informing me of the progress of my sons, would confer a singular obligation on me, I have proof of your candor wh. I assure you my Dr Sir I consider as the surest token of Friendship & esteem. The affectionate manner in which my son, in all his letters mentions you, seems as if you were considered by him more as a parent than a common Friend. You have certainly Sir placed me under obligations to you that I fear I can never repay — accept the acknowledgments of a grateful heart, whilst you have thus confered obligations on me, to ask for farthur favors would be ingratitude, I shall therefore only inclose you my son Augustines last letter to me, & unless it should be perfectly convenient to you to comply with his request, I would not wish you to put yourself to the smallest inconvenience; If it should be otherwise; I can only say that I should be rendered extremely happy. In my last letter to my son I mentioned to him a remittance which I expected would have been made about that time, a disappointment took place which I was not apprised of till last month; The difficulty of procuring Bills on Boston or United States Bank Notes, in the part of the Country I live induces me to give this letter open to my Friend Genl Lee, who is on his way to Alexandria & will procure one or the other & inclose in this letter to you, I hope it will speedily get to your hand with 300 Dollars — & that I shall never in future be so backward.
I have met with severe affliction since I had the pleasure of seeing you; the loss of a beloved wife,131 myself a cripple almost with the gout, which has confined me the whole Winter to my Bed & Room; & now my Dr Sir I am beholding the dayly decline of a beloved Daughter; cast off in the Bloom of youth by an incurable pulmonary complaint, she is now so far gone that we expect her dissolution dayly.
With the sincerest Respect & Esteem
I am Dr Sir Your Most Ob Sert
WM AugT Washington.132
IV
Bushfield Virginia October 5. 1795.
Sir,
Although I have not the pleasure of your acquaintance, give me leave to address you as one under whose prudent care Col. Washington has placed his sons Augustine, & Bushrod. I am Sir grandmother to these dear children & from the account given me by their Father of their situation I am perfectly satisfied. Col. Washington who is an affectionate & attentive parent read you letter with much pleasure & approbation, he also favored me with a perusal of it. Augustine possesses a great fund of sedateness & goodness of heart — his Brother is of a very sprightly disposition, or as it is generally termed wild, yet very innocently so, their young minds are both humane & accommodating, & I trust will conduct themselves in such a manner as to obtain the regard of those who may have the care & instructing of them — at our parting I gave them my promise of a correspondence, when ever it shall be convenient for them to write to me, it will give me extreme happiness — their dear departed mother was a darling daughter of mine — their loss in her has rendered them doubly dear to me — I think I was told that your lady had been much indisposed — before this I hope she has recovered her health — with compliments to Mrs Phillips.133 I am very respectfully — Sir
Your most ob' Humbl Servt
Hannah Washington.134
The Chairman, himself a graduate of Andover Academy, spoke of the interest taken in the Washington youths at Andover, and said that it was hoped to procure copies of portraits of them to be placed in the Academy.
Mr. Julius H. Tuttle read the following paper:
What the Bay Colony might have gained if Dr. William Ames had lived to enter into the work of the founders here must be left to conjecture. It was his design to come over to help the struggling settlements; but before his plans could be carried out he died in 1633 at Rotterdam,135 where he had entered into the ministry only a short time before. There and at the University of Franeker he had as colleague the Rev. Hugh Peter, and at the latter place as pupil, Nathaniel Eaton, whose united interest in his family probably led later to an important service to Harvard College in its earliest years.
Of Dr. Ames, Cotton Mather said that he had "a scholastical wit . . . joined with an heart warm in religion,"136 and called him "that Phœnix of his age;"137 but he sheds no light upon his material possessions, especially the value and extent of his library. Hugh Peter settled in Salem in 1635, where he soon became the minister of its church. The next year, October 28, 1636, the General Court records its gratuity "towards a schoale or colledge" of £400, "the next Court to appoint wheare & wt building."138
In the early summer of 1637 the Mary Ann brought over Joan (Fletcher), the widow of Dr. Ames, and her three children; and we have Mather's statement that Dr. Ames's library was "translated hither" with them.139 Mrs. Ames settled also in Salem, and here the friendly interest of Mr. Peter appears. Felt in a sketch of his life says:
Peters is elected an Overseer of the College. At the same session, he enjoyed the high satisfaction of knowing, that the Legislature granted to Joan Ames, the worthy relict of his colleague in Rotterdam, Dr. Ames, £40. Thus generously dealing, they mention her deceased husband, as "of famous memory." She, having come over with her children and his valuable library, had been granted land at Salem, and received as a member of the church there. Such beneficence was most probably manifested through the kind regard and exertion of Peters, who was a sincere friend of Ames and his family.140
Nathaniel Eaton, the other friend, as well as pupil, of Dr. Ames, at Franeker, came to New England also in 1637, and was chosen "Professor" of the "School or Colledge" at Newtown,141 and on November 20, only five days later than the gratuity to Mrs. Ames,142 it is recorded that "Mr Eaton is left out of this rate, leaveing it to his discretion what hee will freely give towards these charges."143 His service to the College was recognized also by the General Court on June 6, 1639, when five hundred acres of land were granted to him, "if hee continew his imployment wth vs for his life, to bee to him & his heires."144
Mr. Eaton attended to the instruction of the first students of the College, the management of the donations, and the superintendence of the first college building till 1639, when the unfortunate difficulty with Nathaniel Briscoe brought his usefulness to an end and hastened his departure. It was near the close of his first year that John Harvard died, on September 14, 1638, leaving a bequest of one-half of his estate and his library to the College.145 How soon afterward the students had the use of this collection is not known. It appears that the estate was not settled for some time, although on June 6, 1639, Thomas Allen the executor was granted by the General Court five hundred acres of land "in regard of Mr Harvards gift."146 It is likely that at the very outset the College was in great need of a library for the use of the students, and that the friends of the school were striving to accomplish the purpose which they had at heart.
At the time of the gratuity to Mrs. Ames, in November, 1637, it was voted by the General Court to establish the college at "Newetowne,"147 that Mr. Eaton should be relieved from the payment of his rate, and that twelve persons named, including Mr. Peter, should be a committee on the College.148
No record has been found to show that there was a library in the possession of the College before that of John Harvard was received; but it may be inferred from what is here given, and perhaps from the gratuity to Mrs. Ames, that the students had the use of a collection of books in that early day of small things. Daniel Neal, in his History of New England, says:
Harvard College being built, a Foundation was laid for a Publick Library, . . . The first Furniture of this Library was the Books of Dr. William Ames, the famous Professor of Divinity at Franequer, whose Widow and Children, after the Doctor's Death, transported themselves, and their Effects, into these Parts.149
Another reference to Dr. Ames's family is found in the Dictionary of National Biography: "He appears to have died in necessitous circumstances, for his family received assistance from the town council at Rotterdam and eventually sailed to New England."
In 1634 there was printed a catalogue of Dr. Ames's Library, whether for the purpose of the sale of the collection by Mrs. Ames, or for its use in Rotterdam while she remained there, is not known. The title is:
Catalogvs | Variorum & insignium | Librorvm | Clariss. & celeberrimi viri | D. Gvilielmi Amesii S S. Theologiæ | Doctoris, & Professoris olim in illust. | Acad. Franekeranâ. | [Printer's emblem.] Amstelodami. | Typis Joannis Janssonii An. mdcxxxiv. 4to. pp. 22.
By a rough approximation, from the entries in this Catalogue, the library must have contained about six hundred volumes. In the Prince Collection at the Boston Public Library, the catalogue is bound in at the end of a volume of tracts. Thomas Prince's handwriting appears in several places in the volume; and one of his entries is on the farewell sermon of Thomas Hooker (second edition, London, 1641): "about mid July. 1633. He sail'd from the Downs for N E."
If the assumption is correct that Mrs. Ames brought the whole of this collection with her to Salem, and shortly afterward to Cambridge for the use of the College, that these books became an important part of its library150 to which later the bequest of John Harvard was added, then the expressed desire of Dr. Ames to follow his friend Thomas Hooker to New England, and to render such service as he could here, was in part fulfilled.
Mr. Frederick L. Gay stated that three drawings of Harvard College, done by Du Simitière, were in the possession of the Library Company of Philadelphia.151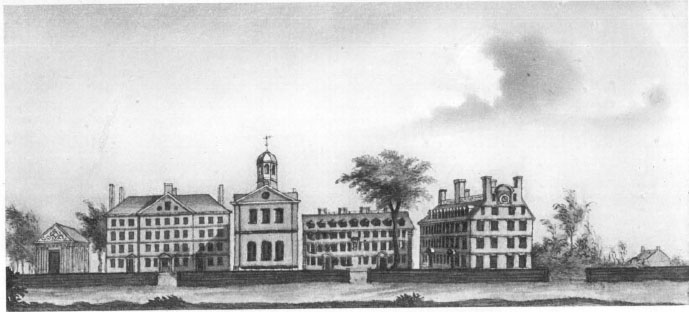 View of Harvard College about 1764
Engraved for The Colonial Society of Massachusetts from the original by Du Simitière in the possession of The Library Company of Philadelphia
Mr. William C. Lane exhibited some recent acquisitions to the College archives, and two volumes called Harvard Degrees and Diplomas, collected and compiled in 1909 by our late associate, Mr. Morris H. Morgan.
Mr. Henry H. Edes read extracts from documents relating to the contributions from several towns in 1653 toward the support of Harvard College and to the searching investigation of that seminary ordered in the same year by the General Court. These documents were recovered by the Corporation last year and include the rough draft of the long-sought report of the investigation and many papers of deep interest to the student of the early history of the College, including abstracts of the accounts of both Eaton and Dunster.
On motion of Mr. Lane, it was —
Voted, That the President be authorized to appoint a Committee to examine the evidence in regard to the foundations of two early houses lately uncovered by the excavations in Massachusetts Avenue, Cambridge, and report thereon for the benefit of the Harvard Memorial Society, which desires to erect a tablet commemorating these houses.
Mr. Edes, the delegate from this Society appointed at its last meeting to attend the conference held in New York on 25 March, to consider the preparation of a dictionary of American biography, reported that the meeting was largely attended; that tentative plans for the preparation of such a dictionary were made; that committees to further the undertaking were appointed; and that much interest and enthusiasm were manifested by those in attendance.
NOTE
John Tompson, whose losses by the burning of Harvard Hall in 1764 are recorded on page 35 above, was inadvertently overlooked in the biographical notes. He was the son of the Rev. William Tompson (William, Samuel, Edward) of Marshfield, and Scarborough, Maine, and wife Anna Hubbard; was born at Scarborough 3 October, 1740; Harv. 1765; ordained in 1768 at Portland, Maine; pastor at Standish and South Berwick, Maine; married first, 22 November, 1768, Sarah Small of Somersworth, New Hampshire, who died 30 August, 1783, aged 35 years; married secondly, in February, 1784, Sarah, daughter of Elisha Allen and widow of Capt. Samuel Morrill, born at Salisbury 14 February, 1743, and died at South Berwick 24 August, 1825. He died at South Berwick 21 December, 1828. (New England Historical and Genealogical Register, xv. 114–115; Ridlon, Saco Valley Settlements and Families, p. 1176.)