Reflecting on Forty Years of Studying Boston Late Classical Furniture
PAGE TALBOTT
In his autobiography, A New England Boyhood, published at the end of his life, Edward Everett Hale (1822–1909) described the typical parlor of his youth in Boston in the early nineteenth century: "Furniture was stately, solid, and expensive. . . . The furniture of a parlor would generally be twelve decorous heavy chairs, probably hair-seated, with their backs against the walls; a sofa which matched them, also with its back against the wall; and a heavy, perhaps marble topped centre table. There might be a rocking chair in the room also."1 Reading this paragraph in 1973, while a first-year student in the Winterthur Program in Early American Culture (now the Winterthur Program in American Material Culture), I wanted to know more.
Sitting on a worn, decorative rag rug on the floor of a densely packed library a few months later, I painstakingly paged through Antiques, starting with the first issue and moving forward. Thankfully, each volume year was carefully bound, making the job somewhat easier. I scanned—with my eyes—each page for furniture, either documented, identified, or recognizable as made in Boston between 1810 and 1835. Meanwhile, on the black-and-white TV set in the adjacent living room, the nightly broadcast of the Watergate hearings was playing, revealing widespread evidence of political espionage by the Nixon reelection committee, illegal wiretapping of thousands of citizens by the administration, and contributions to the Republican Party in return for political favors.
These two worlds collided in the Pumpkin House at 305 Warren Street in Brookline, Massachusetts, home of Bertram and Nina K. Little, where two friends and I were house-sitting between my first and second years in the Winterthur program. During that summer and in the months on either side, I began my study of Boston late classical furniture, first by working through city directories and newspapers—as all good Winterthur culture students must eventually do!—and later by visiting public and private collections in the Boston area to study furniture thought to have been made there. I had already, of course, carefully read the catalogues of two iconic, groundbreaking exhibitions focused on the American nineteenth century: one produced by the Newark Museum in 1963, the other by the Metropolitan Museum of Art in 1970.2
Since that summer, I have had the privilege of corresponding and visiting with curators, dealers, and collectors of Boston late classical furniture. I received outstanding advice as well as pithy comments from many of them.3 Early in my search I contacted Richard Randall (former curator at the Museum of Fine Arts, Boston, and director of the Walters Art Gallery), who authored a book on the MFA's American furniture, and I asked for his insights. His reply was, "I myself do not like stylistic designations, since they are always wrong in the end. However I made up the name of the style you are studying some years ago, since, as you certainly realize, it was all made by Duncan Phyfe's brothers, Boston Phyfe, Baltimore Phyfe, etc."4 And Sam Pennington, founding editor of Maine Antique Digest, was interested in and bought several pieces of this style, "especially when it's cheap, which a lot of the not-quite-first rate stuff seems to be in New England today."5 Roger and Peggy Gerry were two of the most generous among the collectors I met, and Albert Sack had an eye for Boston classical furniture during his entire career, which lasted into his nineties.
One of my most valued mentors has been Stuart Feld, who was and still is a collector of Boston classical furniture. He wrote that he lucked into an outstanding find while he prowled the streets of Boston as a graduate student, thereby beginning, as he has written, a "collection and a passion that has consumed a vast amount of time and energy" for fifty years. Feld, now with his daughter Elizabeth, has published five important catalogues of American classical decorative arts—one focused solely on Boston.6
What caught Stuart's eye was a pair of klismos chairs with carved drapery splats, carved tablets, and ornamented seat rails—forming a combination of elements that appears to be unique to Boston. Chairs of this type and other furniture that references the upholsterer's art, adapted in wood on Boston-made furniture, have intrigued me for all these years (fig. 1). I wrote about these chairs and others, as well as Boston sofas and stools, in the furniture issue of Antiques in May 1991.7 At that time, I described variations of the swag-back chair I had seen in the intervening twenty years, and now, twenty years later, even more variants have come to light.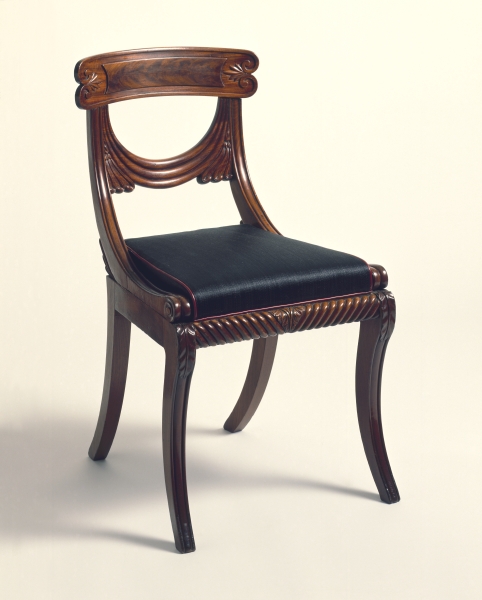 I recently reviewed my files and was struck by the frequency and variety of drapery-inspired elements used on seating furniture, primarily in England and then in Boston, but also in other American cities. In Salem, Philadelphia, Norfolk, and Newport during the late eighteenth century, for example, shield-back chairs based on Hepplewhite's and Sheraton's designs featured finely carved drapery swags, often paired with vertical carved splats or urns. In his encyclopedic catalogue on Samuel McIntire, Dean Lahikainen reported that "one of McIntire's favorite ornaments was what he called 'draperies,' the carved representation of gracefully gathered fabric tied with bow knots or suspended from rings or cloak pins." Lahikainen connects this motif to funerary art, wherein the drapery device was often combined with an urn, recalling the Greek vessel that carried oils used to anoint the body. He cites an English precedence for this ornament as early as 1757 in a design by Robert Morris for a mausoleum or summerhouse.8
For Boston so-called swag-back chairs, however, I believe the influence stems from British furniture whose wooden back was draped with pleated fabric. In my 1991 article, I briefly discussed the precedents for the use of the drapery motif on furniture, citing Sheraton, Tatham, Hope, Smith, and Ackerman.9 Subsequently, I have seen a number of English Regency chairs, which appear to be the closest European models for the Boston examples (fig. 2). In his reminiscences, Arthur Negus illustrated English chairs of this type and suggested that the backs imitate "a sort of rather pretty swag or shoulder line of a woman's dress for a back."10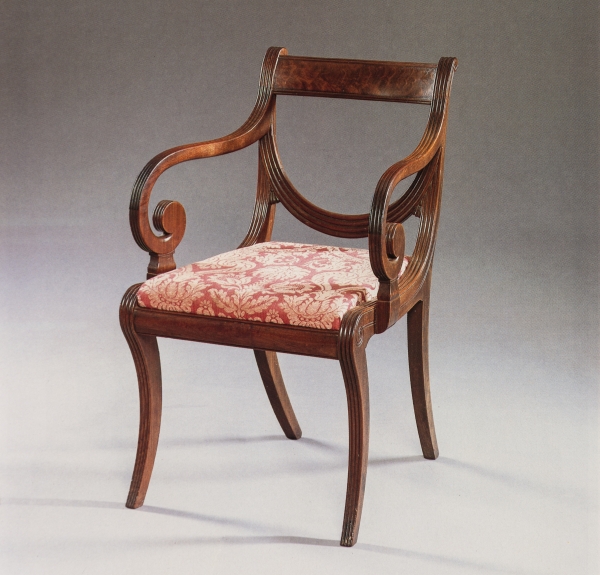 Lahikainen acknowledged that draperies also "carried meaning as a symbol of wealth and power during ceremonial occasions," which may more closely match the interpretive intent of those who designed Boston swag-back chairs of the early nineteenth century. He also illustrates examples from other crafts, such as bookplates and wallpaper.11 An example of McIntire's work that particularly caught my eye was a carved panel from the facade of the Ezekiel Derby house (fig. 3), with two sumptuous swags with a "cloak pin" as the "point of suspension." The design resembles a detail on the back of a set of chairs of about 1815 (fig. 4) that descended in the family of John Clarke Lee (1804–1877) of Boston and Salem, on which the swag is a more literal takeoff on drapery than other examples displaying more obviously classical references.12 The stylized leaf ornament ending in scrolls on the crest rail is a most unusual variant. These chairs are the only ones of the form that I have seen, and they could perhaps represent a Salem-made version of the more common Boston form.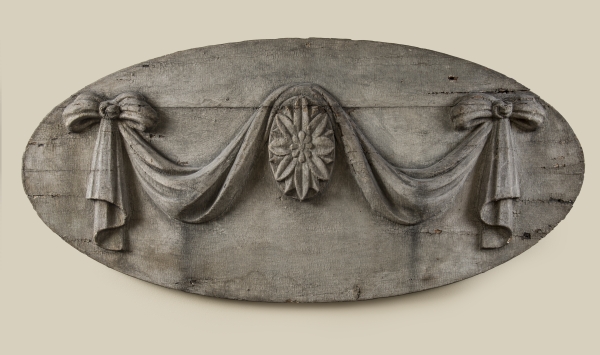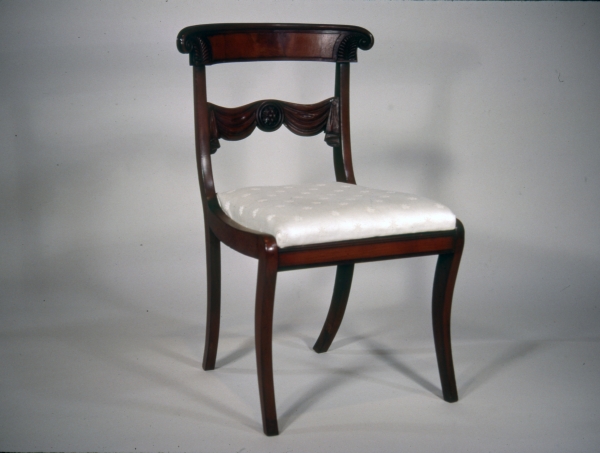 In Boston, the most common configuration of these swag-back chairs features three to four swags, supported by three to four scrolls, and a molded crest rail with carved palmette or anthemia. The most elaborate examples have a twisted, reed-carved front seat rail with a central, carved acanthus leaf, repeated at the knee, with a stance that reflects that of a Grecian klismos chair.13 Armchairs of this type are rare. The arms on the pair at the White House (fig. 5) consist of concave supports with bird heads at the seat, resting on the molded side seat rails, which end in carved volutes. The area below the stile at the rear is filled with what has been called "carved darts that emphasize the sweep and rise of the back."14 Thought to have come from the Hancock house in Boston, these are among the fanciest and most intriguing chairs of this type.15 But they are part of a larger group, which includes a pair at Winterthur (see fig. 1) that descended in the family of Grenville Temple Winthrop (1807–1852).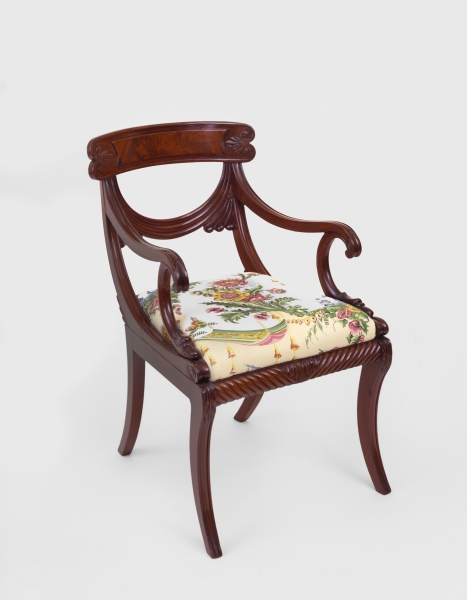 Wendy Cooper describes Winterthur's chairs in Classical Taste in America—another important chapter in the scholarship of early nineteenth-century decorative arts—and relates their shape to those illustrated in Henry Moses's A Series of Twenty-Nine Designs of Modern Costume (London, 1823) and engravings after drawings by Adam Buck that featured Grecian klismos chairs with curved backs.16 This observation, as well as my previous analysis of the crest rail on Boston classical chairs, leads me to believe that chairs of this type were made after 1820.17 With no firm documentation to date the construction of these chairs, this theory awaits confirmation.
So, in the period from 1810 to 1840, was the swag motif used elsewhere in the United States? In her book on Duncan Phyfe, Nancy McClelland illustrates a New York klismos chair, said to have belonged to Sophia Miles Belden, with eagles' heads holding up a swag, but Peter Kenny describes these as out of the ordinary.18 Swags can often be found as a decorative element on looking glasses, and of course carved drapery elements were a common feature in federal-style architecture, as seen in a detail from Asher Benjamin's American Builder's Companion (fig. 6).19 But the swag-back chairs of Boston stand out as a distinctive design in American furniture.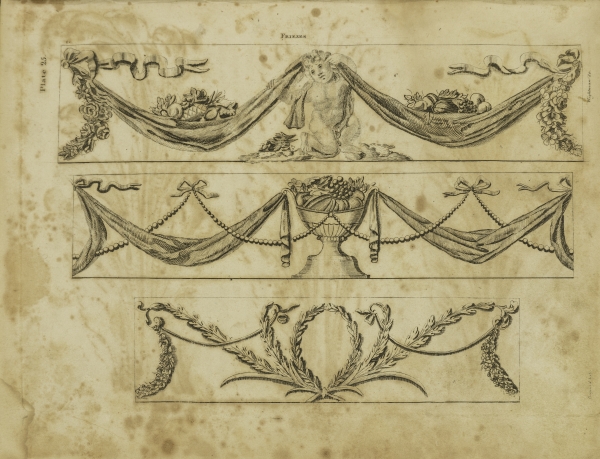 In addition to the swag-back chairs and related eccentric upholstery forms, other uniquely Boston furniture forms abound: card and center tables with square, tapered (or pylon) shafts (see fig. 9), dramatically veneered secrétaire à abattant (fig. 7), pier tables with flattened ball feet (see fig. 11), and card tables with attenuated "spidery" legs and lyre bases (fig. 8). Adaptations of both the English Regency and French Napoleonic styles, these regional forms have been a major part of my study over the years.
Frustratingly few of these forms have been attributed to a single cabinetmaker, although the names of Thomas Seymour and Isaac Vose have been associated with certain examples—notably the pylon-based card table made for Peter Chardon Brooks by Thomas Seymour (see fig. 9) and the later version with the label of Isaac Vose and Son.20 However, examples of these forms that are attributable to or—better yet—labeled by a specific cabinetmaker are rare. Rather, these Boston forms are ubiquitous and reflect a particular, regional aesthetic. Additionally, the pylon form was applied to every other table form, including center, work, and dining tables with the same range of quality.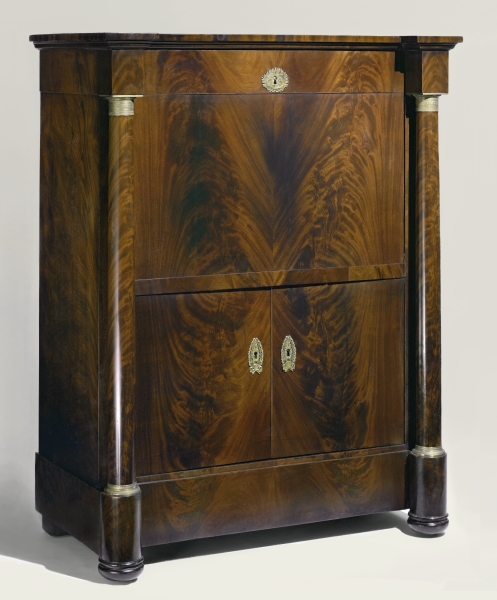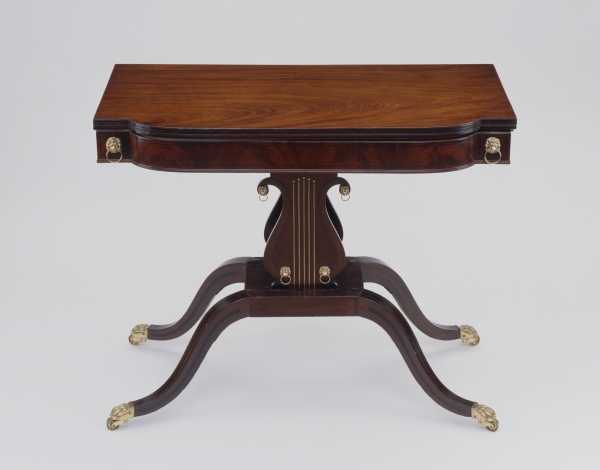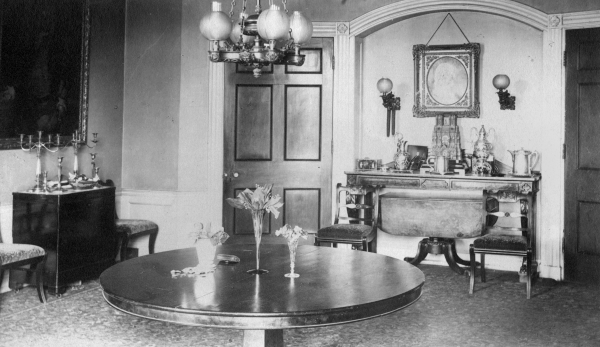 Were it not for a handful of key tastemakers of the period, we would have even less documentation of the work by Boston cabinetmakers of the early nineteenth century. These men (and women) owned splendid houses on Beacon Hill in Boston, country houses in its environs, and, in some instances, additional residences in towns at some distance from the city, such as Worcester, but still tied into the Boston social scene. The furnishings in houses owned by families with the surnames Appleton, Codman, Coolidge, Derby, Dexter, Gardner, Gore, Hancock, Lee, Lyman, Otis, Peabody, Perkins, Salisbury, Sears, Swan, Ticknor, and Tuckerman, among others, have allowed us to better understand how furnishings were chosen, which cabinetmakers were deemed the most fashionable, how much the furniture cost, and how long it took to make.
Some of these furnishings are today in the former homes of these families, which are now historic house museums, among them the Harrison Gray Otis House in Boston; the Colonel Black Mansion in Ellsworth, Maine; Gore Place in Waltham; and the Salisbury Mansion in Worcester. Others can be found in private institutions that were once their residences and still retain some of the original furnishings, such as the Somerset Club and the headquarters of the Massachusetts chapter of the National Society of the Colonial Dames of America on Beacon Hill.21 Some of the finest examples of furnishings owned by members of Boston's elite, such as the Sears and Appleton families, have found their way into museum collections.22
Let us consider the furnishings of two of Boston's finest early nineteenth-century houses—one owned by textile merchant Nathan Appleton (1779–1861) and his wife, Maria Theresa (1786–1833); the other by his neighbors David (1787–1871) and Miriam Mason Sears (1780–1870).
The Appletons lived first at 54 Beacon Street, a home built by Asher Benjamin in 1808 for James Smith Colburn, which Appleton furnished with goods purchased in Italy and London as well as in Boston. In 1809, he had commissioned from his brother Samuel in London "a pair of Grecian Lamps—rather elegant than showy" and various other items, expecting him "to bring a great many pretty things."23 Some of these furnishings stayed behind when, ten years later, Nathan Appleton moved up the street to 39 Beacon Street with his wife and their four children, all under the age of eight.24 Appleton purchased many distinctive examples of fine and decorative arts for the new house, perhaps over a number of years.25
Until the mid-1970s, most of the Appletons' purchases remained intact in the home of a direct descendant who lived on nearby Mt. Vernon Street. Early photographs show the furniture in situ on Beacon Street in 1886 or 1887, when Nathan's son William Sumner Appleton (1840–1903) owned the house. (His son, named for his father, later founded the Society for the Preservation of New England Antiquities, now Historic New England.) These images help to confirm that the furniture in Nathan and Harriot Appleton's granddaughter's house in 1973 did, in fact, belong to the family in the nineteenth century.26
Photographs of the dining room taken ca. 1886 (figs. 9, 10) show a sideboard with quatrefoil insets, a large, round, expandable dining table with a pylon-shaped base, curule stools, four chairs from a set of twenty-four, and a drop-leaf pembroke table with single pedestal, among other furnishings. The chairs (fig. 11) represent a popular form in Boston, with reeded sabre legs and seat rail, carved medial splat, and in the crest a rectangular frieze in the center of the top rail carved with bow, crossed quiver, torch, and drapery swags. The cupid's bow with crossed quiver and torch is a symbol of marriage, so perhaps these chairs were made for the earlier house. The use of this motif seems to have been unique, but two other distinct decorative types have been identified: one with a carved lyre on the tablet (fig. 12) and another with a carved stylized acanthus motif on the splat.27 Several of the acanthus-decorated chairs of this type have carved paw feet. In addition, scholars have located several chairs of this style that have little or no carving but rather molded crests or splats, underscoring the different price-point options open to purchasers.28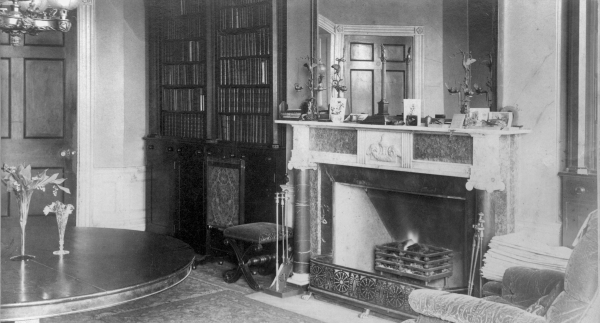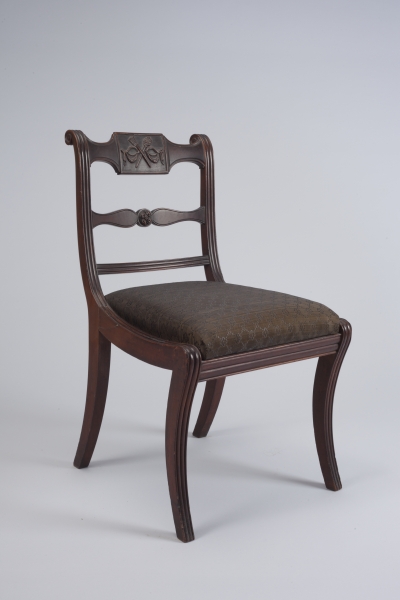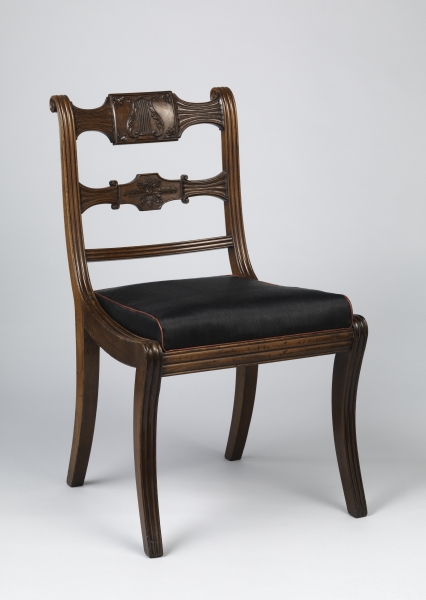 Over the years, an impressive array of high-quality pieces owned by the Appletons has been identified. Among the family's furniture are a pylon-based card table; a rosewood marble-topped center table in the French style; a three-part Cumberland-form dining table with reeded legs; two monumental bookcases (see fig. 10); a French secretary; a pair of rosewood pier tables with the marble made to fit the curve of the Appletons' Beacon Street house (see fig. 11); two additional pairs of French-style pier tables; and a paw-foot pier table with specimen marble top, gilt mounts, and cut-brass inlay in the skirt (see fig. 12). The brass inlay on this spectacular pier table relates to those found on two large récamier sofas and a second pair of récamier sofas (see fig. 14; see also fig. 13). Other examples owned by the Appletons include a pair of pylon-shaped pedestals (figs. 13, 14); a set of English cane-bottom chairs with brass inlay on the crest rail, and another large set of klismos chairs with scroll and anthemion carved back splats (see fig. 36).29 This extensive trove of furniture invites questions: Excepting the English set of chairs, did Appleton commission all his furniture from a single shop? Over how many years? Did other Boston customers select furniture with extensive brass inlay? If so, how commonly?30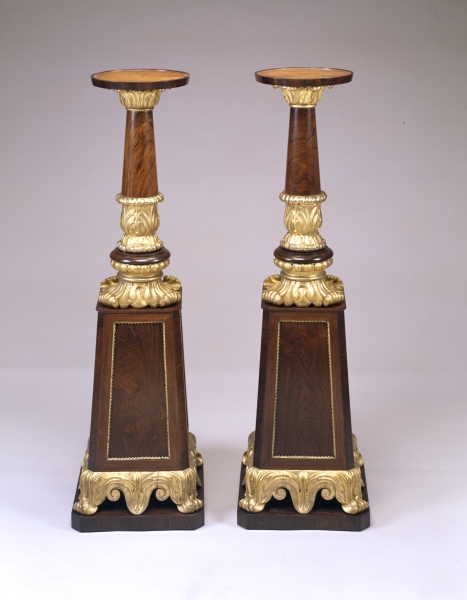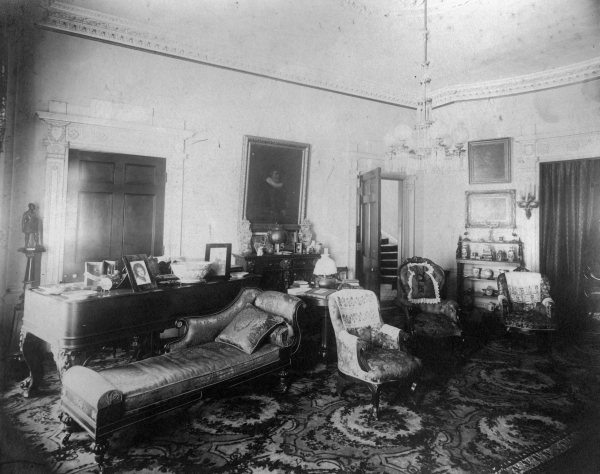 The Appletons' neighbor, David Sears, was one of the wealthiest men in Boston and served in the Massachusetts legislature as a representative and, later, as senator.31 He and his wife, Miriam, lived in a townhouse at 42 Beacon Street that was designed by Alexander Parris.32 In Classical Taste in America, Wendy Cooper highlighted the Searses as compelling examples of Americans influenced by French fashions in their purchase of both Parisian-made goods and Boston decorative arts in the French taste.33 Among the furniture they purchased for their new house around 1822 was a spectacular yet practical secrétaire à abattant—an early version of the Wooton patent desk—with storage compartments fitted with pigeonholes and drawers on either side (see fig. 41), a pair of maple, paint-grained rosewood curule benches with cast and die-stamped gilt brass and gilt bronze mounts (fig. 15), a center table with elegant marble top (see fig. 40), a rosewood bookcase and cabinet, and a pair of rosewood carved and gilded card tables (fig. 16).34 These furnishings joined the Searses' previous French acquisitions in their new home, the most expensive in Boston at the time, in part because of its granite exterior. No documentation has yet surfaced to identify the makers of these elegant pieces, although Robert D. Mussey Jr. and Stuart Feld believe the card tables were made by Thomas Seymour.35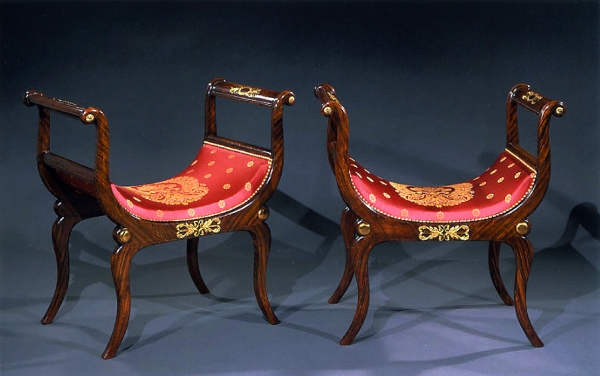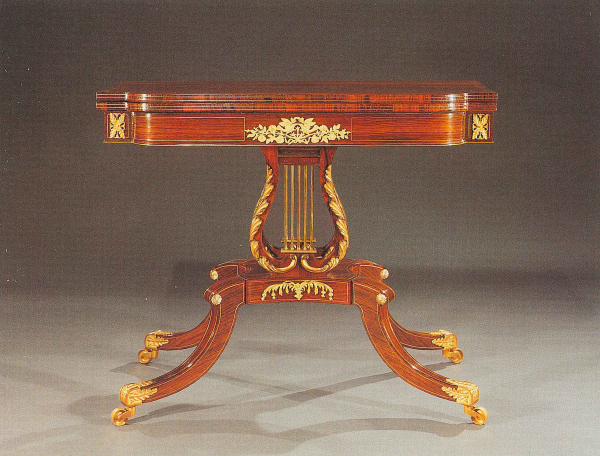 The household furnishings of Stephen Salisbury (1746–1829) and his wife, Elizabeth Tuckerman (1768–1851), of Worcester, Massachusetts, are the mother lode of material from this period. Many outstanding documents—including letters, receipts and other papers relating to decades of acquisitions on deposit at the American Antiquarian Society, and a number of original objects primarily owned by the Worcester Art Museum but in private collections as well—record the quality and nature of the interior of their house, known today as the Salisbury Mansion.36 Among the well-known craftsmen patronized by the Salisburys were cabinetmakers William Hancock, who supplied a sofa and rocking chair among other purchases, Isaac Vose, who provided a large number of furnishings over two decades, and George Archbald.
With family ties in Boston, Elizabeth and Stephen Salisbury were in a fortunate position to send orders through relatives, who could also oversee their execution. To illustrate the quality and extent of correspondence that punctuates this story, consider the following excerpt from Abigail Salisbury to her aunt Elizabeth in July 1820:
I feel persuaded the sofas will please you. They are to be of the same pattern that we saw in the hands of the workman, but the work is to be reduced and proportioned to the size of the sofas. He will have them completed as soon as the chairs. We have directed the cushions to be tufted. As Vose says, they will wear that much better. . . . I think that this is very probable as the plain kind cannot be stuffed so tight but they wrinkle. Vose is much pleased with his success in the side table and the card tables. He says they are greatly admired. We think they are very rich and handsome and the sofas being of the same style of work and not varnished will correspond exceedingly well.37
Due to serendipity and generous donors, several pieces of the furniture discussed in this letter have been identified, including a sofa and card tables with idiosyncratic eagle-head feet (see fig. 22) and a side table and wine cooler with quatrefoil inset panels (see fig. 23); some are on display in the drawing room at the Salisbury Mansion and at the Worcester Art Museum. In addition, companion side chairs to one that was in the Worcester Art Museum, given by the Salisburys, have now been reunited in the house. More pieces await discovery.
After Stephen Salisbury died in 1829 his widow began to redecorate, making improvements to the older, west end of the mansion. For these new interiors, Elizabeth patronized George Archbald (formerly of Emmons and Archbald) and William Hancock. She turned to Archbald when, in 1831, she sought a center table for the parlor. Edward Tuckerman, her agent, described a visit to Archbald's showroom, where he examined "the center table . . . and [I] think as Sophia does that [it] is quite too large. Would not a pretty white marble table on casters not more than 2 foot look well in the center of your parlour? For a lamp in the evening . . . to work by?38
A short while later, Tuckerman returned to Archbald's establishment and again sought a marble-topped center table, which, according to Archbald, was "out of fashion. Mahogany are only now used."39 That seems to be what Elizabeth ultimately bought, for in 1831 she paid $70 for a mahogany center table. In addition, Archbald furnished a sofa, a table, a set of twelve painted fancy chairs, two stools, and a low French bedstead. Among other furnishings, William Hancock supplied Mrs. Salisbury with one of his ubiquitous rocking chairs covered in "green medallion figure plush," a type found today in many private and public collections (fig. 17).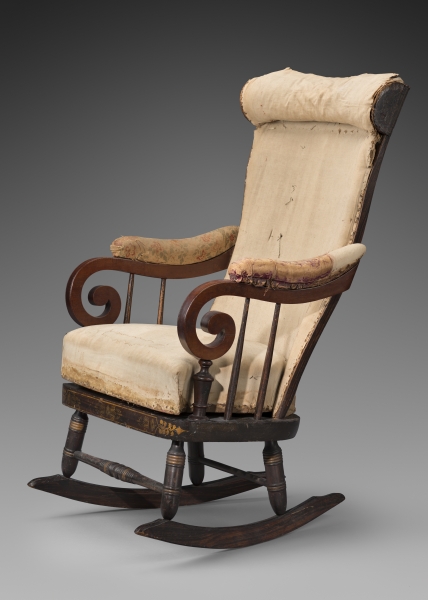 In the Boston furniture industry between 1810 and 1835, the number of allied craftsmen gradually expanded and became increasingly more localized, with the size of shops shifting from small enterprises of only a handful of journeymen and apprentices to those that employed many and varied skilled workmen. In Boston in 1810, for example, eighty-three craftsmen were working in the furniture trade; by 1835 that number had grown to 278, with the greatest concentration in the area between State, Union, and Hanover Streets.40
Robert D. Mussey Jr.'s description of John and Thomas Seymour's business network, and the research on the firm of Isaac Vose and Son presented in this volume by Mussey and Clark Pearce, helps document this changing environment.41 Many firms, such as those of Seymour and Vose, expanded their wares to include a variety of household goods, previewing the expansion of the upholsterer's trade when soft goods became central to a furniture business. Cross-pollination among cabinetmakers and others in the trade, who frequently shifted employers as business ebbed and flowed or who struck off on their own, led to an increasingly identifiable Boston style, accompanied by a parallel difficulty in attributing the work to a single craftsman.
The question of attribution has been a challenge, given the lack of labeled examples. One reason for the dearth of labels reflects the nature of the furniture business, whereby a large portion was sold at auction, particularly those held by the Massachusetts Charitable Mechanic Association (MCMA). In the case of the Seymours, Mussey has proposed that the labels were reserved "primarily for their finest pieces."42 Of course, bills of sale connected to specific furniture represent another kind of documentation, but such documentation is limited and related to the most successful—and thus best-known—craftsmen. The majority of labeled pieces, with the exception of those mentioned earlier, were either made by little-known craftsmen producing unexceptional but tidy furniture or sold by furniture warehouses, where the goods of multiple craftsmen were offered under one roof.
Among the best known of these middlemen is Rufus Pierce, whose furniture warehouse at 17 Market Street in Boston was open only a short time. However, he clearly made extensive sales during the years he operated (alone and in progressive partnerships with Edmund Parson, Isaac Allen, and Nathan Messer) before being forced to move his trade to New York City.43 More study will help unravel the complexities of the Boston furniture trade, linking cabinetmakers' names with goods stamped by warehousemen.
During the past forty years, we have learned a great deal about Boston late classical furniture, but plenty more remains a mystery. Is there a particular craftsman to whom we can associate the introduction of the swag-back chair, and by what means did this form become so ubiquitously popular in the city? The names of Seymour, Vose, Emmons, and Archbald are connected with many of the finest pieces of Boston classical furniture, but what of the other cabinetmakers whose names have been found on high-style examples: Timothy Hunt, Cornelius Briggs, William Fisk, and others? As more is learned about these craftsmen, will they ultimately become associated with some of the pieces currently attributed to Vose and Seymour? In addition to the archives of the Appletons, Searses, and Salisburys, are there other caches of well-provenanced furniture and primary documents that will provide us with information about makers, patrons, and family networks? These and other questions will inform research for years to come.