Benjamin Bass and Boston Sideboards:
A Question of Attribution
MORRISON HECKSCHER
In 1930 and 1931, Fiske Kimball, the legendary architectural historian and museum director, published a series of articles in Antiques on the furniture carvings of Samuel McIntire, a corollary to his principal researches on the Salem architect.1 Kimball began the section on case pieces with the famous demilune commode (fig. 1) that Martha C. Codman had inherited through descent from Elizabeth Derby and given to the Museum of Fine Arts, Boston, in 1923. The attribution of its carving to McIntire, perhaps based more on provenance than style (Elizabeth and Elias Hasket Derby having been leading patrons of McIntire), was not altogether compelling, and Homer Eaton Keyes obliquely questioned it in an editorial in the same issue entitled "A Perplexing Sideboard."2 The sideboard in question (fig. 2), then the property of Townsend H. Soren of Hartford, Connecticut, shared with the Derby commode a large and distinctive rosette-like carved motif at the top of each leg; the piece bore the pencil inscription "Mary Wood, April 14 1810 Boston, Mass," which to Keyes suggested its likely date and place of origin. The carvings on the two sideboards, however, were patently the work of different hands.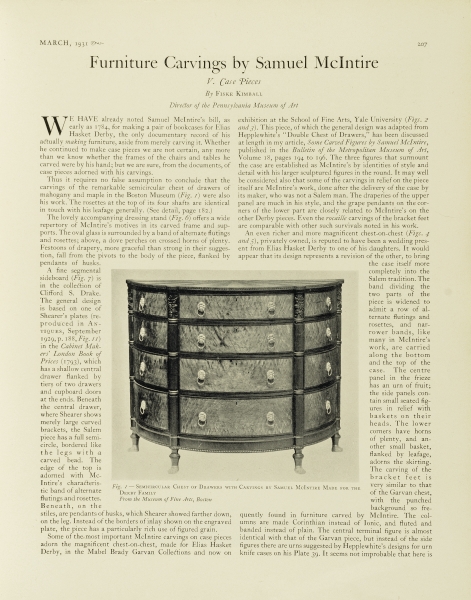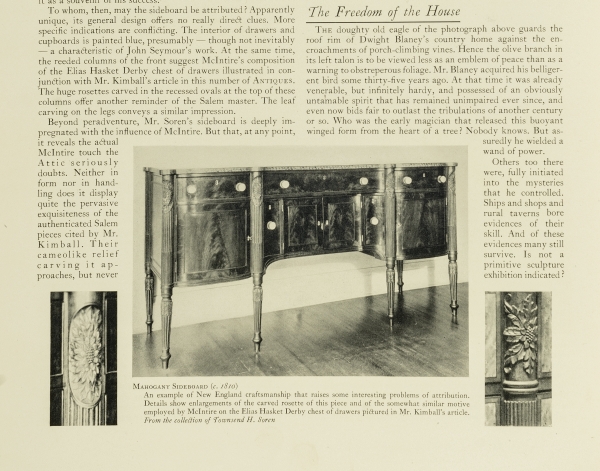 In 1937, also in Antiques, Mabel Munson Swan published her revelatory researches on the Boston cabinetmakers John and Thomas Seymour.3 On the basis of a labeled Hepplewhite-style tambour desk—with straight tapered legs, lightwood inlays, and blue-painted interiors—she attributed a superb tambour sideboard (then the property of Andrew Varick Stout; see fig. 9), the Derby commode, and the Soren sideboard to the father and son team. In a concurring brief, Keyes went further, postulating that the Soren sideboard represented a recognizable late Seymour style in the Sheraton manner.4 Ten years later, yet again in the same magazine, the Museum of Fine Arts, Boston, curator Edwin J. Hipkiss published a newly discovered Thomas Seymour bill of 1809 to Mrs. Derby for $295 worth of furniture, of which the most expensive piece, at $80, was the demilune commode.5 Swan's Seymour attribution was thus confirmed, but to Thomas alone.
One thing none of these publications recorded, however, was that in 1934, three years after Kimball's article and three years before Swan's, Kimball came upon what looked to be a virtual mate (fig. 3; see also fig. 7) to the Soren sideboard. Perhaps inspired by Keyes, he attributed it to Boston rather than Salem.6 The recent discovery on this latter piece of the maker's signature (fig. 4), that of Benjamin Bass Jr. of Boston, is the occasion for this new study.