For us in America, even more than in England itself, the courts of common law have become the guardians of constitutionalism. Its source, far more than we have realized, may be found in another kind of court—the courts of neighbors, the "little commonwealths," which preserved an ancient experience that most Englishmen had shared.
John P. Dawson419
THE Boston Weekly News-Letter for the week ending 12 December 1728 reported:
On Thursday Night of the 5th of this instant December, died here after long indisposition the Honorable John Clark Esq. about 61 Years old; he was made a Justice of Peace June 7, 1700, sometime since was Elected One of His Majesties Council of this Province and is to be interred on Saturday next the 14th.420
Apart from his will,421 which was proved before Samuel Sewall on 23 December 1728, very little remains of the record of the life of John Clark. The will is suitably, but not emphatically, pious. The estate's account, submitted on 3 May 1731, discloses property worth well over £6000, including a large number of modest debts owed Clark.
There are a few other facts to be gleaned from surviving records. Clark graduated from Harvard in 1687; his senior oration was entitled, "An Morborum Sedes Sit Anima Sensitiva."422 Both his grandfather and father were physicians, an occupation which John Clark, Esq., also followed, although the extent of his medical activities is unclear. In his will he left to his son John "all my Instruments and utensills of surgery." Samuel Sewall, a prominent figure in Massachusetts legal affairs, reported in his diary that on 23 January 1718/19 Dr. Clark came to treat his daughter Hannah's swollen ankle.423 Hannah recovered six months later.424
John Clark's life was very much like, and yet contrasts with, that of a close contemporary, Cotton Mather. Mather lived from 1663 until 23 February 1727/8, almost exactly the same lifespan as John Clark. They both resided in the north end of Boston, and John Clark belonged to Cotton Mather's church, the North Meetinghouse. Mather mentioned Clark in his diary occasionally. He was identified as being on several special committees having to do with repairing the meetinghouse.425 Sewall, by contrast, recounted numerous meetings with Clark on ceremonial occasions and referred to Clark at death as his "beloved Physician."426
The major element of contrast, evident in the Journal of the House of Representatives of Massachusetts,427 is that as Mather's political power receded, Clark's grew, along with that of the group of people with whom he was identified politically, primarily the Elisha Cookes, father and later son. David Levin has argued that Cotton Mather lost his power because of the witchcraft episode and his family's identification with the Charter of 1691, which Increase Mather obtained from King William.428 Clark apparently joined what has been called the "popular party"429 in the House, a loose grouping of representatives characterized by opposition to the royal governors under the Charter of 1691 in general, and opposition to provincial taxation in particular.
Once Clark's rise to political prominence was achieved, it continued nearly to the end of his life. He was named a justice of the peace on 7 June 1700.430 First elected representative to the General Court from Boston in 1708,431 he served until he was elected to the Governor's Council by the General Court in May 1715.432 He remained on the Council until the Royal Governor, Samuel Shute, rejected his re-selection in 1720.433 Clark was promptly returned as a member for Boston and immediately elected Speaker,434 being reelected in 1721,435 1722,436 and 1723.437 Elisha Cooke, the son, replaced Clark temporarily in 1722 on account of Clark having an "indisposition."438 He was re-elected to the Council and accepted by the Governor in 1724,439 serving there until his final illness.440
Clark's political position in the ongoing fights between the Governor and the House of Representatives of this period is shown by the Journal report of Clark's election as Speaker after Shute's rejection of him as a councillor:
A Message from his Excellency by Mr. Secretary, in the words following, Viz I Accept the Choice of John Clarke Esqr as Speaker of the House of Representatives.
August 23d 1721 Samuel Shute Ordered That the said Message be Returned by Mr. John Fortes, and that he inform his Excellency, that this House, when they sent up to Acquaint his Excellency, and the Honorable Board [Council], with the Choice of a Speaker, they did it for Information only, and not Approbation.441
Not surprisingly, the first Amendment to the Second Charter, included in King George's Explanatory Charter of 1726, provided that a Speaker chosen by the General Court must be presented to the Governor "for his Approbation."442
There are other bits of evidence which demonstrate Clark's adherence to the "popular party." Clark and Cooke were frequently elected together and Cooke succeeded Clark as Speaker. Clark is identified as being a member of the numerous committees appointed by the General Court to audit the province's financial affairs, including the validity of muster rolls.443 His service on these committees occurred at a time of constant, but not savage, conflict between the General Court and the royal governors over financial affairs. In his years as Speaker, Clark had to speak officially for the General Court on such matters. In a letter to Governor Shute, dated 1 September 1721, he defended the House vigorously, but not disrespectfully, for adjourning in a prior session without the Governor's permission.444 The second Amendment included in King George's Explanatory Charter decreed that the General Court could not adjourn itself for more than two consecutive days "without leave from the Governor."445
These facts and the will were all we previously knew about John Clark. But, by great good fortune, it has recently been discovered that Clark also left a 269-page judicial book, still in private hands, which contains 1,379 entries describing his actions as a justice of the peace from July 1700 until December 1726. The book may be akin to an official record, for it does not contain a single personal comment or reference. The litigants' names are listed first; the dispute described; the disposition entered; moneys received are noted; and occasionally the legal issue applied in a case is adumbrated. The book appears to have been kept chronologically and contemporaneously; only an occasional entry is out of order.446 Later notations are made on earlier entries in the event of the issuance of a writ of execution, but such notations are separately dated.447
After spending considerable time with a book such as Clark's, one is tempted to overrate its importance. As a record describing the activities of a busy justice of the peace in the fairly stable, legally speaking, period of the second charter, it is unique. It permits some evaluation of social developments in Massachusetts in the provincial period. Finally, it is a document which allows one to assess, probably as well as any eighteenth-century legal materials, the performance of a true lay judge. Clark was a physician, a commercial figure, the owner of several parcels of real estate, and, as just described, a politician of some eminence. He was not a lawyer, and there is no evidence that he had any legal training or access to any legal materials, such as a copy of Lambard's Eirenarcha: or of the Office of the Justice of Peace or Dalton's The Countrey Justice.448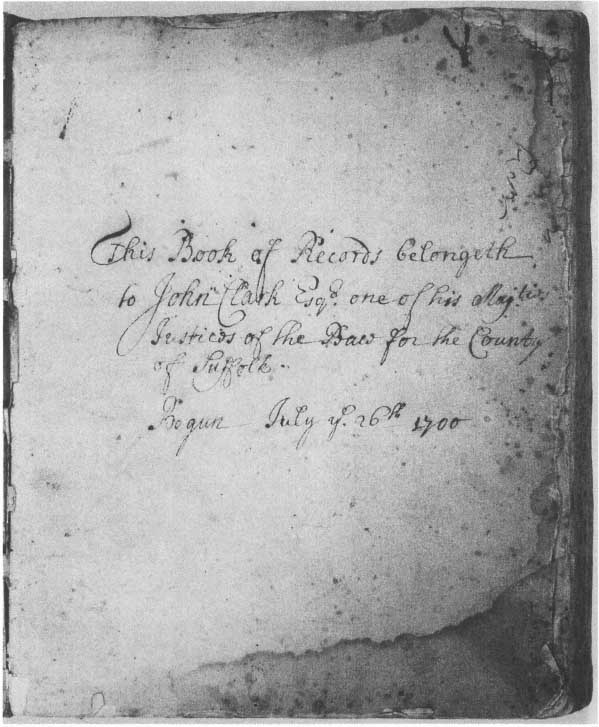 10. Title Page, Book of Records belonging to John Clark (1667–1728), Justice of the Peace, Suffolk. Courtesy, Collection of James A. Henderson, Jr.