THIS list comprises Boston craftsmen engaged in furniture making during the eighteenth century (1701–1800). It includes men still working in the Jacobean style of the seventeenth century as well as those working in the William and Mary style fashionable in the first quarter of the century, in the Queen Anne and Chippendale styles popular for about seventy years, and in the fashion of the American Federal period of the last fifteen years of the century when Boston finally recovered from the depression and depopulation of the war and postwar years.
Joiners, turners, japanners, cabinetmakers, chairmakers, Windsor chair makers, upholsterers, and even a few specialists who made picture frames are included. Occasionally several occupations are listed for one man; secondary occupations are in parentheses.
Craftsmen endowed with ability and financing often engaged in several trades; more often men were forced by lack of ability and financing to try various trades. Some trades were closely related. The men who joined furniture, joiners and shop joiners, were often also housewrights, house joiners, house carpenters, or ship joiners. Japanners were often painters. Upholsterers sold fabric and so were usually shopkeepers, often attaining the rank of merchant. And everyone who became wealthy became a gentleman, an appellation usually omitted on this list. Some crafts were almost indistinguishable: turner and chairmaker, joiner and cabinetmaker, and, in the late eighteenth-century, chairmaker and Windsor chair maker.
Furniture craftsmen of surrounding towns (e.g., Charlestown, Roxbury, Dorchester) are not included unless they worked at some time within Boston. The men who made and sold pulls and other hardware for furniture are omitted. Also omitted are the housewrights, carpenters, and ship joiners, who, masters of the art of joinery, no doubt occasionally made a piece of furniture.
Information considered uncertain is bracketed. To simplify use of the list, parenthesized "Sr." and "Jr." were added to names of men not necessarily so designated in their lifetimes.
Addresses are most often of house and shop. Addresses known to have been of homes alone are omitted. Known addresses of shops are so designated. Documented pieces of furniture are noted. For more information on individual craftsmen, additional reading references are indicated. Author's complete name and title are given in a bibliography at the end of the list.
Abbreviations are as follows: b. (born), bapt. (baptized), i.m. (published intention to marry), and d. (died). The reader may assume that most craftsmen were working at their trade by the year of their marriage and usually were still working at the time of death.
Working dates given are documented dates during which craftsmen worked in Boston at the furniture trade. Working dates before 1701 and after 1800 have been omitted.
Data was gleaned from records of the Suffolk County Inferior Court of Common Pleas; Registry of Probate; Registry of Deeds; Superior Court of General Sessions; Boston Directories for 1789, 1796, 1798, 1800; Boston Assessor's List of 1780. Additional information came from "Boston Inhabitants," compiled by Annie Thwing, at the Massachusetts Historical Society; "Craftsmen List" (unpublished), compiled by Kathryn C. Buhler, at the Museum of Fine Arts, Boston; "List of Furniture Craftsmen" (unpublished) by Brock Jobe; and genealogies. Published lists (i.e., Paul Burroughs, American Collector, September, 1937; Mabel M. Swan, Antiques, March and April, 1948; and Ethel Hall Bjerkoe, The Cabinetmakers of America [Garden City, New York, 1957]) were used, and names were omitted of men now believed to have had other occupations.
Myrna Kaye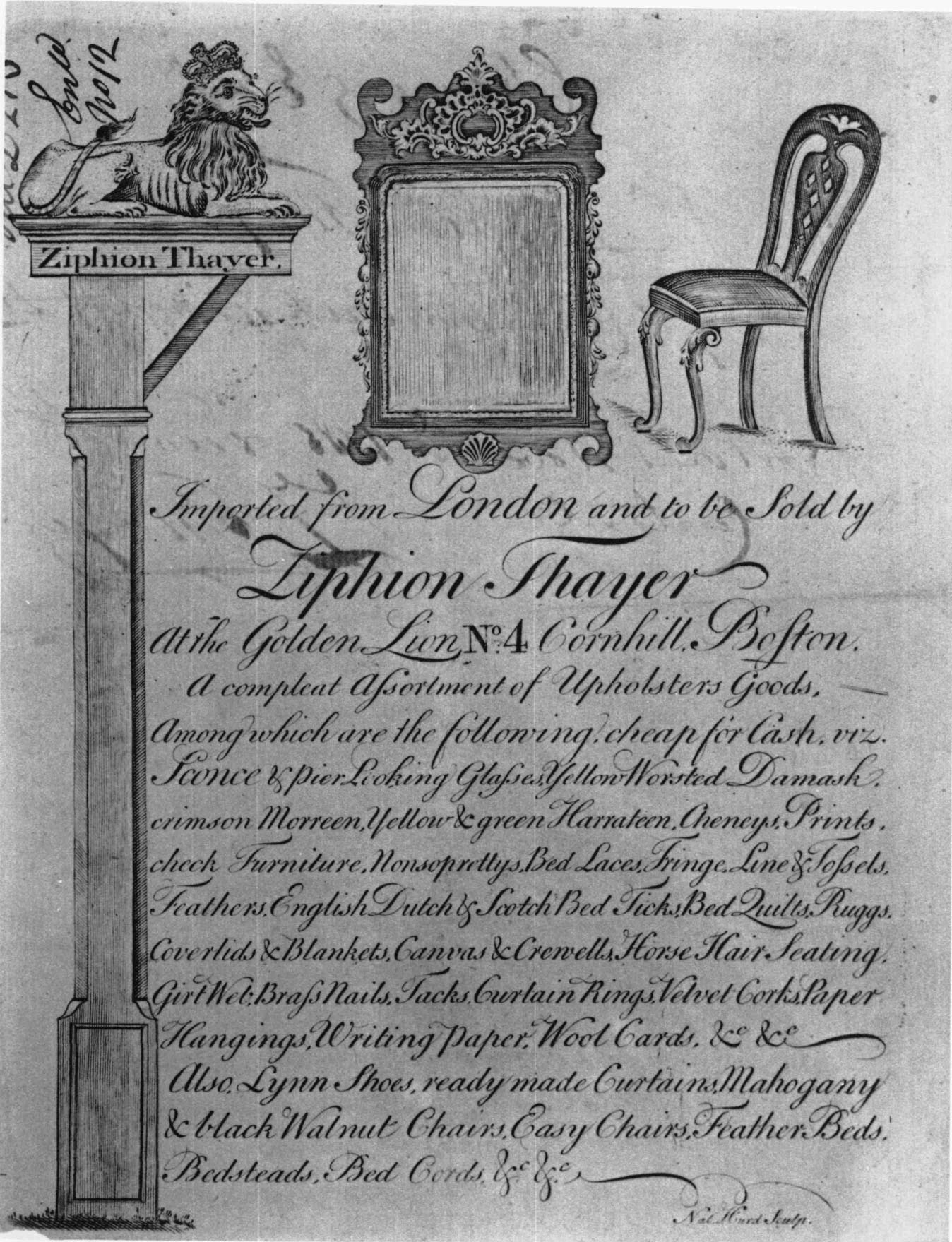 174. Trade Card of Ziphion Thayer. Drawn and engraved by Nathaniel Hurd, Boston, c. 1765–1777. Copperplate engraving; h. 7⅜ inches, w. 5⅜ inches (engraved surface only). (Worcester Art Museum, Worcester, Massachusetts.)
LIST OF BOSTON FURNITURE CRAFTSMEN
| | |
| --- | --- |
| | working dates |
| Acres, George; Cabinetmaker; Back Street. | 1789 |
| Adams & Todd; Cabinetmakers; partners Samuel Adams & William Todd; Cambridge Street; labelled card table (Antiques, lxxxi [April, 1962], 412); ref. Randall "Works II." | 1798 |
| Adams, Elisha; Cabinetmaker; partner Abner Guild (Guild & Adams) (1796–1798); partners' shop 48 Orange Street (1796–1798), jointly owned land on Federal Street (1798), Adams property on Hollis Street (1800). | 1796–1800 |
| Adams, Jacob; Cabinetmaker, (Auctioneer); shop Dock Square. | 1788–1789 |
| Adams, John; Joiner; [possibly b. 1704 (Newbury); in Littleton, Acton, Chelmsford (1737), in Newbury (1753)]. | 1758 |
| Adams, Joseph; Windsor Chair Maker, Cabinetmaker, (Hackney Coachman), (Hostler); m. Mary ——— by 1782; Center Street. | 1789–1800 |
| Adams, Samuel; Cabinetmaker; partner William Todd (Adams & Todd) Southack's Street (1796), Cambridge Street (1794–1800); for labelled table see Adams & Todd; ref. Randall "Works II." | 1794–1800 |
| Aimer (Amer), Thomas; Cabinetmaker; d. 1798; worked for Samuel Stratford (1791–1795), in 1796 Aimer sued saying he "reasonably deserved" payment of $682 for four years' labor. | 1791–1798 |
| Alcock, John; Chairmaker; [probably son of My lam Alcock] m. Hannah Walker 1733, m. Mary Souther 1749; Orange Street. | 1740–1746 |
| Alcock, Mylam; Chairmaker; b. 1680, m. Elizabeth Gent 1704, m. Mary Hodgen 1712, m. Ester Androse 1716. | 1738 |
| Alexander, Giles; Cabinetmaker; partner Samuel Stone (Stone & Alexander) (1796); shop Back Street (1798–1800); for labelled furniture see Stone & Alexander. | 1792–1800 |
| Alexander, William (Jr.); Cabinetmaker; Back Street. | 1780–1796 |
| Allen, Henry; Joiner, Turner. | 1719 |
| Allen, Jonathan; Joiner. | 1717 |
| Allen, Samuel; Upholsterer; [possibly trained by Samuel Ridgway, chairmaker 1758–1764] Federal Street. | 1800 |
| Andrews, ——; Cabinetmaker; arrived from London 1716. | 1716 |
| Apthorp, Charles; Upholsterer, (Merchant); b. 1698, m. Grizzelle Eastwicke 1727, d. 1758. | 1721 |
| Armstrong, John; Cabinetmaker; m. Christian Bass 1747, d. 1785; estate £24:16:1. | 1747–1785 |
| Armstrong, Richard; Chairmaker; m. Mary Fairfield 1714; rented shop and cellar near Town Dock (1717–1719). | 1717–1719 |
| Arnit, William; Joiner; arrived from Scotland 1766. | 1766–1780 |
| Arnold, John; Cabinetmaker; i.m. Abigail Foster 1763, d. 1784; estate £54:7:4. | 1783 |
| Atkins, Gibbs; Cabinetmaker; b. 1739, left Boston for Halifax 1776, state sued to take Atkins' property because he was Tory (1781), in Boston 1787, d. 1806; owned property Middle Street, Prince Street; documented desk and bookcase (figs. 129, 130), documented desk and bookcase (fig. 131); ref. Hipkiss. | 1775–1800 |
| Audebert, Isaiah; Chairmaker; b. 1724, m. Sarah Pattin 1751, d. 1769; shop Milk Street and Battery March Street (1760), house and shop Summer Street (1769); estate £407:8:5. | 1752–1769 |
| Austin, John; Carver; m. Susanna Screech 1750; worked in Charlestown (1750–1770). | 1770–1786 |
| Badger, Benjamin; Joiner; b. 1712 (Charlestown), m. Rebecca Jones 1733, d. 1757. | 1734–1740 |
| Baker, Joseph; Joiner; [probably m. Hannah Barnes 1727] rented shop Fish Street. | 1733–1735 |
| Ballard, Daniel; Shipjoiner, (Joiner); d. 1741; estate £1472:0:3 excluding house and pew; ref. Singleton. | 1720–1740 |
| Barnard (Burnard), Thomas; Housewright, House Carpenter, Joiner; father and son of same name; father b. 1657, m. Elizabeth ——— about 1680, d. 1716; son b. 1684, [probably m. Sarah Parker 1713;] [possibly father was housewright and carpenter; son was housewright and joiner]. | 1713 |
| Bass, Benjamin Jr.; Cabinetmaker; d. 1803; Orange Street. | 1798 |
| Bass, Joseph; Upholsterer; shop 3 Newbury Street. | 1800 |
| Bass, Moses Belcher; Upholsterer; bapt. 1735, m. Elizabeth Wimble 1769, m. Margaret Sprague 1773, d. 1817; shop Ann Street (1757–1762), 66 Orange Street; ref. Smith. | 1757–1800 |
| | 1733 |
| Batson, John; Joiner. | 1719 |
| Baxter, Thomas; Upholsterer; ref. Singleton. | 1751 |
| Beath, Joseph; Carver; carved bed headboards and cornices for Samuel Grant, upholsterer. | 1760–1761 |
| Belknap, Samuel; Joiner, Housewright; owned house Sudbury Lane until 1715; in Hartford, Connecticut, 1718. | 1714 |
| Bennett, Thomas; Joiner; worked with Thomas Tippin (1723). | 1723–1729 |
| Bent, William & Adam; Instrument Makers & Carvers; 26 Orange Street. | 1800 |
| Bickner, Benjamin; Joiner. | 1718 |
| Bisby, Jonathan; Cabinetmaker; Washington Street. | 1798 |
| Blackford, Thomas; Chairmaker. | 1784 |
| Blair, Bethel; Joiner; m. Elizabeth Snelling 1745; Purchase Street; declared incompetent 1757. | 1750 |
| Blake, Samuel; Chairmaker; Newbury Street. | 1789 |
| Blake, William; Cabinetmaker, Windsor Chair Maker; m. Sarah Gandell 1792; shop Fore Street next to Draw-Bridge (1789), Lynn Street (1800); ref. Fraser "Painted." | 1789–1800 |
| Bleigh (Bligh), Samuel; Joiner; m. Ann East 1709, d. 1766. | 1720–1727 |
| Bobb, John; Turner. | 1741–1742 |
| Bowler, James; Upholsterer; worked with a Mr. Paine. | 1736 |
| Bowles, Joshua; Carver; Ward 1. | 1760–1780 |
| Bramley, Benjamin; Joiner; m. Dorcas ——— about 1710. | 1717 |
| Breck, Nathaniel; Joiner, Shopkeeper; m. Martha Ireland 1707; [possibly worked with Thomas Odell (1724)] shop west side of Union Street until 1726, moved to east side of Union Street at the sign of the Cornfields. | 1715–1726 |
| Brewer, John; Joiner. | 1704 |
| Brickhead, William; Upholsterer; arrived from London 1716. | 1716 |
| Bridge (Bridges), George; Turner; [possibly m. Anna Crump 1721, m. Sarah Earle 1723]. | 1724–1734 |
| Bright, George; Cabinetmaker, (Chairmaker); b. 1727 son of John Bright (Sr.), m. Eunice de Larue 1750, m. Amy Adams Vincent, daughter of John Adams, 1789, d. 1805; John Johnston & Daniel Rea, painters, decorated some furniture for Bright (1788); shop Fish Street; called upon by courts as arbiter of cases involving other cabinetmakers (1780, 1789); estate $8459.75; signed desk and bookcase (figs. 124, 140), documented chair, one of thirty made for Massachusetts State House (Montgomery, no. 134); ref. Montgomery, Randall American Furniture, Randall "Bright," Swan "Johnstons." | 1760–1800 |
| Bright, John (Sr.); Chairmaker; b. 1681, m. —— about 1726, m. Elizabeth Pierce 1740, m. Sarah Batt 1747, d. 1766; billed (1734) Samuel Samber £18:3:8 for frames of twelve "ordnerey Chairs," four easy chairs, and eight other chairs; Fort Hill vicinity; ref. Randall "Bright." | 1734–1766 |
| Bright, John; Upholsterer; [probably son of George Bright] m. Mary Adams 1788; partner William Bright (1796–1799); shop 17 Marlborough Street (1789), shop 44 Marlborough Street (1796–1800); ref. Randall "Bright." | 1788–1800 |
| Bright, John & William; Upholsterers & Lace Manufacturers; 44 Marlborough Street. | 1796–1799 |
| Bright, Joseph; Cabinetmaker, Upholsterer, (Chairmaker); bapt. 1767, son of George Bright; Franklin Street; ref. Randall "Bright." | 1797–1800 |
| Bright, Richard; Cabinetmaker, Joiner; son of John Bright (Sr.), m. Ann Ingersoll 1753; partner Thomas Bright; 44 Marlborough Street; ref. Randall "Bright." | 1780–1789 |
| Bright, Thomas; Cabinetmaker, Chairmaker; son of George Bright; partner Richard Bright (1789); 44 Marlborough Street (1789), Spring Street (1796), Franklin Street (1798), Water Street (1800); ref. Randall "Bright." | 1789–1800 |
| Bright, William; Upholsterer; bapt. 1752, son of George Bright, m. Sally Malcolm-Butler 1797, d. 1799; partner John Bright; 44 Marlborough Street. | 1796–1799 |
| Brimmer, Andrew; [possibly Cabinetmaker] 62 Cornhill; only evidence of Brimmer as a cabinetmaker is a questionably labelled desk (Antiquarian, xiv [May, 1930], 60). Label does not mention cabinetmaking. | [1789] |
| Brocas (Broccas), John Sr.; Cabinetmaker; d. 1740; Union Street (1708); estate £259:19:5 old tenor. | 1701–1740 |
| | 1728 |
| Brown & Thayer; Upholsterers; partners William Brown and William Thayer; shop Hanover Street. | 1798 |
| Brown (Browne), Benjamin; Joiner. | 1708–1720 |
| Brown, Enoch; [possibly Cabinetmaker] only evidence of Brown as a cabinetmaker is a questionably labelled desk and bookcase (Antiquarian, xiv [March, 1930], 88; xiv [May, 1930], 12). Label does not mention cabinetmaking. | [1783] |
| Brown, Joseph; Joiner. | 1723 |
| Brown, Joseph; Cabinetmaker; Marlborough Street (1798), 45 Orange Street (1800). | 1798–1800 |
| Brown (Browne), William; Joiner; b. 1671, i.m. Anne Frost 1696, d. 1745; Prince Street; estate £1659:2:3. | 1711–1737 |
| Brown, William; Upholsterer, Merchant; partner William Thayer (Brown & Thayer); shop Hanover Street. | 1798 |
| Buck, James; Picture Frame Maker, Print Seller, Glazier; Queen Street (1748–1751); ref. Dow. | 1747–1751 |
| Budd (Bud), Edward; Carver; m. Dorothy ——— about 1664, m. Elizabeth Samms 1705, d. 1710; shop and wharf Ann Street between Cross Street and Mill Creek. | 1701–1709 |
| Bull, Charles; Cabinetmaker; arrived from North Carolina 1716. | 1716 |
| Bumstead, Jeremiah; Joiner; [probably b. 1678] m. Elizabeth Bridges 1705, m. Bethia Sherrer 1726. | 1701–1710 |
| Bumstead, Josiah; Upholsterer, (Paper Stainer); 53 Marlborough Street. | 1795–1800 |
| Burbeck, Edward; Carver; carved capitals on Faneuil Hall (1768). | 1715–1785 |
| Burrill, George; Chairmaker. | 1721 |
| Burrows, William; Frame Maker. | 1751 |
| Bushell (Bushnell) (Bushel), John; Joiner, Housewright; m. 1711, d. 1731. | 1713–1720 |
| Byles, Jonas; Upholsterer. | 1782 |
| Cabot, George; Joiner, (Housewright). | 1701–1714 |
| Call, Isaac; Chairmaker; inventory 1790 £14:16:10 included no tools. | 1790 |
| Campbell & Ward; Cabinetmakers; partners James Campbell and Moses Ward. | 1791 |
| Campbell, Henry; Upholsterer; Spring Lane. | 1798–1800 |
| Campbell, James; Cabinetmaker, Chairmaker; d. 1809; partner Moses Ward (Campbell & Ward) (1791); Spring Lane (1796–1800). | 1791–1800 |
| Cary, Edward; Cabinetmaker; North Street. | 1796–1797 |
| Chamberlain, William; Chairmaker; b. 1755, m. Sarah Cox 1779, [possibly m. Ruth New 1795]. | 1798 |
| Cheever, Daniel; Joiner; tools in inventory £4:2:10. | 1771 |
| Cheever, Joseph; Cabinetmaker. | 1775 |
| Clarke, Daniel; Cabinetmaker; moved to Salem 1794. | 1768–1794 |
| Clasbey, Robert; Chairmaker. | –1778 |
| Claxton, Salmon Grave (Salmagrave); Joiner; m. Margaret Woodmancy-Richardson 1715, d. by 1745. | 1714–1715 |
| Clement, Thomas; Cabinetmaker. | 1768 |
| Cleveland (Cleaveland), Samuel; Joiner, Mariner; b. 1704 (Charlestown), m. Hannah Belcher 1732. | 1732 |
| Clinton, Francis; Joiner; b. Ireland, given permission with William Freeland to practice joinery in Boston 1730. | 1730 |
| Clough, Ebenezer; Joiner; [probably b. 1716] m. Elizabeth Welch, daughter of Thomas Welch, Charlestown joiner, 1738, d. 1751; estate £200:9:7¾. | 1739 |
| Clough, Samuel; Joiner; b. 1665, m. Ruth ——— about 1688, d. 1707; estate £241:1:1. | 1701–1702 |
| Clow (Clough), Joseph; Joiner. | –1776 |
| Codner, William; Carver. | 1711 |
| Coffin, William; Cabinetmaker, Tavernkeeper; Bunch of Grapes Tavern (1731); [probably moved to Marblehead 1759]. | 1731–1758 |
| Cogswell, John; Cabinetmaker, (Surveyor of Boards); b. 1738, m. Abigail Gooding 1762, i.m. Abiel Page 1782, d. 1818; shop 49 Middle Street (1782–1800); estate $39,235.57; signed chest-on-chest (figs. 125, 139, 143); ref. Downs "Cogswell," Downs American Furniture, Randall American Furniture, Young. | 1767–1800 |
| Coit, Job (Sr.); Cabinetmaker, Joiner; b. 1692, m. Lydia Amie 1713, d. 1742; apprentice Joseph Davis (1726); owned house, shop, land Ann Street between Mill Creek and Cross Street; estate £1747:9:8 old tenor; signed desk and bookcase (figs. 62, 63, 64); ref. Evans, Mooz, Winchester. | 1718–1742 |
| Coit, Job (Sr.), & Company; Joiner. | 1720 |
| Coit, Job Jr.; Joiner; b. 1717 son of Job Coit (Sr.), m. Rebecca Parkman 1739, d. 1745; estate £82:8:0 old tenor; signed desk and bookcase (figs. 62, 63, 64); ref. Evans, Mooz. | 1738–1745 |
| Coit, Joseph; Cabinetmaker, Joiner; b. 1721 son of Job Coit (Sr.), m. Dorothy Vesey 1745; apprentice Joseph Booker (1748–1758). | 1747–1758 |
| Coit, Nathaniel; Joiner; b. 1714 son of Job Coit (Sr.), m. Elizabeth Ricks 1738, d. 1747. | 1745 |
| Collins, Daniel; Cabinetmaker; b. 1717 younger brother of Samuel Collins, i.m. Hannah Cherritoe 1750, d. about 1757; estate £318:2:1. | 1751 |
| Collins, Samuel; Cabinetmaker; b. 1706 older brother of Daniel Collins, m. Hannah Palfry 1731, d. 1751, estate £22:4:1¼. | 1737 |
| Collins, Thomas; Joiner; arrived in Boston 1718. | 1718–1719 |
| Collins, William; Joiner; i.m. Elizabeth Gaar 1728; Middle Street. | 1722–1729 |
| Colvill, John; Cabinetmaker. | 1765–1767 |
| Conerry, William; Joiner. | 1736 |
| Coney, Daniel; Joiner, Cabinetmaker; b. 1709, d. after 1774; charged £20 for teaching joinery to David Stimpson for fifty-one weeks (1733–1734). | 1733–1768 |
| Courser (Corsser) (Corser), John; Joiner; m. Sarah Wakefield 1703, d. 1756; apprentice John Whitehorne (1714–1721); shop Union Street. | 1713–1729 |
| Cosely, William; Cabinetmaker. | 1797 |
| Cox, Lambert; Joiner; m. Elizabeth Hinchcomb 1726. | 1728 |
| Crafts, Thomas; Painter, Japanner, Justice, County Treasurer; b. 1740, m. Frances Pinckney Gore 1763, d. 1799; Cornhill (1789–1796). | 1763 |
| Crockford, William; Turner; d. about 1756; estate £166:11:3. | 1738–1756 |
| Crouch, Jacob; Carver, Merchant; warehouse and land Merchants Row at Shippens Dock. | 1719 |
| Crouch, Jacob, & Company; Carvers; [Crouch and William Shute, jointly sued (1719), probably constitute company] Merchants Row at Shippens Dock. | 1719 |
| Cumber, John; Carver, Picture Frame Carver; rented shop Back Street (1737). | 1735–1750 |
| Cummings (Cummins) (Cummens), William; Cabinetmaker; worked with Alexander Edwards Jr. (1799); 10 Orange Street. | 1798–1800 |
| Cunnabell (Cunabel) (Cunable), John (Sr.); Joiner; d. 1724; practiced joinery in London before coming to Boston; ref. Singleton. | 1701–1724 |
| Cunnabell (Cunable), John Jr.; Joiner; son of John Cunnabell (Sr.), joiner, d. 1705. | 1705 |
| Cunnabell, John; Joiner; [probably b. 1725 son of Samuel Cunnabell, joiner, m. Sarah Crafts 1748] apprentice John Bell. | 1746–1752 |
| Cunnabell (Cunable), Samuel; Joiner, Housewright; b. 1689 son of John Cunnabell (Sr.), m. Abigail Treadway 1710, m. Mary Diamond 1713, i.m. Hannah Blanchard 1739, inherited father's tools 1724, d. 1760; owned property Mill Pond; estate £118:18:2½. | 1710–1725 |
| Dalton, William; Windsor Chair Maker. | 1800 |
| Darrell (Dorrell), John; Joiner, Housewright; [probably b. 1685, m. Rachel Thwing 1706, d. 1746]. | 1713–1722 |
| Davies, Samuel; Cabinetmaker; furniture warehouse Newbury Street. | 1792 |
| Davis, Benjamin; Chairmaker (Turner); m. Elizabeth ——— about 1700, d. 1718; estate £850 included a lot of thirty-four chairs £3:1:0. | 1714–1718 |
| Davis, John; Cabinetmaker. | 1719–1741 |
| Davis, Joseph; Cabinetmaker; m. Sarah Parsons 1728; apprenticed to Job Coit (Sr.) (1726); signed dressing table (fig. 68). | 1729–1732 |
| Davis, Robert; Japanner; m. Elizabeth Randle, daughter of William Randle, japanner, 1735, d. 1739; signed high chest (fig. 35); ref. Rhoades and Jobe. | 1735–1739 |
| Dearborn, ———; Carver, Gilder, Picture Frame Maker; shop Milk Street; labelled picture frame (Winterthur). | 1799 |
| DeCosta, Anthony; Carver. | 1729 |
| | 1729 |
| Deshon, Moses; Carver, (Auctioneer); m. Percis Stevens 1731, m. Mehetabel Gerrish 1739; carved Peter Faneuil's coat of arms for Faneuil Hall (1743). | 1743 |
| Dewing, Francis; Engraver, (Carver), (Calico Printer); arrived from London 1716; King Street (1716); principally an engraver, "He Likewise Cuts Neatly in wood." | 1716–1727 |
| Dillaway, John; Cabinetmaker; m. Mary Cook 1740, d. 1779; rented building from Mrs. Bethel Blair (see Blair) (1761–1762); estate £838:0:0. | 1758 |
| Dillaway, Thomas; Chairmaker, Carpenter. | 1795 |
| Doak (Doaks), William; Windsor Chair Maker; Back Street. | 1787–1789 |
| Dogget, William; Housewright, Printers' Furniture Maker; d. between 1795 and 1798; Milk Street. | 1789 |
| Down, Thomas; Upholsterer; 44 Cornhill. | 1796 |
| Downe, Samuel; Upholsterer; brother of William Downe, upholsterer. | 1759–1783 |
| Downe (Downes) (Donn) (Downs), William; Upholsterer, (Shopkeeper); b. 1676 brother of Samuel Downe, upholsterer, d. about 1753; inventory 1753 £1777:15:0. | 1720–1753 |
| Drew, John; Joiner; in Portsmouth, New Hampshire, 1723. | 1714–1716 |
| Drinker, Edward; Joiner, Innholder; [possibly b. 1680] m. Tabitha Baker 1718, d. 1783; originally of Philadelphia; returned Philadelphia 1745; inn Salutation Alley and Ship Street (1736–1741). | 1730–1734 |
| Dupee, Isaac; Carver, (Merchant), (Gentleman); d. 1766; Boston Gazette February 9, 1761, "since the late Fire (on Dock Square) he has opened a Shop the North side of the Swing-Bridge . . . ," shop Oliver's Dock (1763–1765). | 1758–1766 |
| Edes, Edward; Joiner, (Shipjoiner); father and son of same name and trade; father m. Martha Frothingham 1704, m. Susannah Welch 1714, d. by 1733; son b. 1705, m. Sarah Mills 1728. | 1709–1733 |
| Edwards, Alexander (Sr.); Cabinetmaker; b. 1733, i.m. Sarah Greenough 1757, d. 1798; shop Back Street. | 1760–1798 |
| Edwards, Alexander Jr.; Cabinetmaker; worked with William Cummings 1799. | 1799 |
| | 1800 |
| Everard, Jonathan; Upholsterer. | 1703 |
| Evory (Ivory), James; Turner. | 1727 |
| Fearservis, Robert Jr.; Chairmaker. | 1780 |
| Fernside (Farnside), Jacob; Joiner; d. 1716. | 1701–1716 |
| Ferris, Samuel; Joiner. | 1719 |
| Finch, Caleb; Joiner; m. Mercy Alkin 1714. | 1722 |
| Fisk (Fiske), Samuel; Cabinetmaker; d. 1797; [probably worked with Stephen Badlam, cabinetmaker, Dorchester] partner son William Fisk; estate excepting real property $1589.28; signed card table (Israel Sack Brochure Number Eighteen no. 1468), [probably maker of chair (fig. 7) stamped "S.F," card table stamped "S.F" and "WF" (DAPC), chair stamped "S. Badlam" and "S.F" (Montgomery no. 30), lolling chair stamped "S. Badlam" and "S.F" (Montgomery no. 110)]. | 1792–1797 |
| Fisk (Fiske), William; Cabinetmaker; b. 1770, d. 1844; partner father Samuel Fisk (1797) [probably maker of chair stamped "WF" (Randall American Furniture no. 158), card table stamped "S.F" and "WF" (DAPC)]; shop Washington Street, on the neck; ref. Randall American Furniture. | 1797–1800 |
| Fitch, Thomas; Upholsterer, Merchant; b. 1669, m. Abiel Danforth 1697, d. 1736; estate excepting real property £3388:8:11. | 1701–1736 |
| Foot, Thomas; Cabinetmaker; m. Ruth Mecom 1760; shop Oliver's Dock (until fire 1760), after fire shop in house Horn Lane, Creek Square (1796). | 1754–1796 |
| Forrest (Forest), John; Upholsterer; Newbury Street. | 1796 |
| Forrester, Robert; Joiner. | 1714–1729 |
| Forsyth, John; Upholsterer; d. 1764; estate £4:0:6. | 1761 |
| Foster, Abraham (Sr.); Joiner; b. 1716, m. Elizabeth Davis 1742, d. by 1749. | 1742 |
| Foster, Abraham (Jr.); Cabinetmaker; b. 1744 son of Abraham (Sr.), joiner; Fish Street; estate $2519.70. | 1762–1796 |
| Foster, James Hiller; Upholsterer; shop 56 Marlborough Street. | 1796–1800 |
| Foster, Jesse; Windsor Chair Maker, Chairmaker; shop Water Street. | 1796–1799 |
| Francis, Abraham; Cabinetmaker; d. 1720; estate £2658:12:0; ref. Singleton. | 1720 |
| Francis (Frances), Joseph; Chairmaker; Water Street; stamped easy chair and stamp illustrated (Antiquarian, xiv [May, 1930], 56), privately owned stamped lolling chair. | 1789 |
| Francis (Frances), Simon; Cabinetmaker; shop Middle Street. | 1798–1800 |
| Freeland, James; Cabinetmaker; [possibly son of William Freeland] m. Ann Armstrong 1769, d. 1802; North End; estate $9374.50. | 1764–1800 |
| Freeland (Fryland), William; Joiner, Retailer; b. Ireland, [probably m. Jane Miller 1732] permit to practice joinery in Boston 1730; shop Milk Street and Battery March Street; tools and furniture destroyed in fire (1760); retailing near Hancock's Wharf (1765), near Pitts Wharf (1782). | 1730–1760 |
| Freelove, James; Cabinetmaker; Fish Street. | 1800 |
| French, Samuel; Joiner; arrived from Great Britain and warned to depart. | 1715 |
| Frogly, Henry; Joiner. | 1712 |
| Frost & Davis; Cabinetmakers; [probably James Frost] shop Ship Street. | 1800 |
| Frost, James; Cabinetmaker. | 1798 |
| Frothingham, Benjamin; Cabinetmaker; b. 1708 son of Nathaniel Frothingham, joiner of Charlestown, m. Mary Edmond 1733, m. Mildred Peck 1756, d. 1765; shop Milk Street and Battery March Street destroyed by fire (1760) and moved to Charlestown; estate £743 old tenor. | 1734–1760 |
| Frothingham, Benjamin Jr.; Cabinetmaker; b. 1734 son of Benjamin Frothingham, cabinetmaker, d. 1809; [probably trained by father in Milk Street shop] in Charlestown 1754; signed desk and bookcase (figs. 97, 162); other furniture originated in Charlestown shop; ref. Comstock, Spalding, Swan "Charlestown." | –1754 |
| Fullerton, Stephen; Chairmaker; b. 1731 son of William Fullerton (Sr.); shop Milk Street and Battery March Street destroyed by fire (1760). | 1758–1769 |
| Fullerton, William (Sr.); Chairmaker; b. 1702, m. Mary Crowell 1725, i.m. Lydia Coit, widow of Job Coit (Sr.), cabinetmaker, 1742, d. 1750. | 1730–1742 |
| Fullerton, William Jr.; Chairmaker; b. 1727 son of William Fullerton (Sr.), m. Mary Browne 1750; shop Milk Street and Battery March Street destroyed by fire (1760). | 1751–1760 |
| Furbur (Furber), Jethro; Joiner; [probably m. Mary Manwaring 1728, m. Sarah ——— about 1765] d. about 1769. | 1728 |
| Gale, Joseph; Upholsterer; m. Mary Alden 1736, d. 1774. | 1733–1766 |
| Gershom, Thomas; Cabinetmaker; Back Street. | 1789 |
| Gee, ———; Chairmaker. | 1740 |
| Gibbons, Peter; Joiner; m. Elizabeth Harrod April 1724, m. Elizabeth Warren November 1724, d. 1729; estate £529:12:6 old tenor. | 1724–1728 |
| Gibbons, Thomas; Cabinetmaker; [probably m. Jane Hambleton 1724] d. 1745; partner Lenier Kenn (1731–1739); employed Daniel McGregor (1740); estate £26:6:0 old tenor. | 1730–1740 |
| Gidding, Joseph; Joiner; d. 1788; inventory 1788 £126:18:1½. | 1788 |
| Gifford (Gillford), Samuel; Upholsterer; arrived from London (1717) and warned to depart. | 1717–1725 |
| Gilbert, Nathaniel; Joiner, Housewright; working in Hull 1714. | 1712 |
| Glen, Robert; Joiner; m. Margaret Rankin 1736; rented shop Mackerel Lane. | 1749–1753 |
| Goodwin, Thomas; Joiner. | 1730–1740 |
| Gookin, Edmund; Joiner. | 1715 |
| Gore, John; Japanner, Painter, Shopkeeper, Gentleman; b. 1718, m. Frances Pinkney 1743, d. 1796; apprentice John Johnston; shop Queen Street; estate $12,626.54. | 1741–1761 |
| Gore, Stephen; Carver. | 1785 |
| Gould (Gold), Bartholomew; Joiner; m. Elizabeth Lee 1728. | 1729 |
| Gould (Goold), Benjamin; Turner; d. 1801. | 1758–1800 |
| Grant, John; Joiner. | 1719–1729 |
| Grant, Joseph Jr.; Upholsterer. | 1739–1759 |
| Grant, Moses; Upholsterer, Shopkeeper; b. 1745 son of Samuel Grant, upholsterer, d. 1817; partner father (1784); shop 6 Union Street (1789–1800). | 1784–1800 |
| Grant, Samuel; Upholsterer; b. about 1705, m. Elizabeth Cookson 1729, d. 1784; apprentice John Breck Jr. (1753); partner son Moses (1784); Grant's trade card (fig. 24). | 1753–1784 |
| Gray, Samuel; Upholsterer. | 1762 |
| Gray, William; Upholsterer; b. 1724, m. Elizabeth Hall 1759, d. 1775; inventory 1775 £2481:18:5. | 1748–1775 |
| Grayham, James; Chairmaker; rented shop Mackerel Lane. | 1760–1771 |
| Greenough, Thomas; Cabinetmaker. | 1777 |
| Greenwood, John; Cabinetmaker. | 1760 |
| Gridley, Isaac; Cabinetmaker. | 1750 |
| Griffin, Morris; Chairmaker, Turner; b. 1704, [probably m. Mary Allen 1733] m. Martha Pierce 1744, m. Sarah Jones 1747, d. 1752. | 1737–1747 |
| Guild & Adams; Cabinetmakers; Abner Guild and Elisha Adams; shop 48 Orange Street. | 1796–1798 |
| Guild, Abner; Cabinetmaker; partner Elisha Adams (Guild & Adams) (1796–1798); partners' shop 48 Orange Street (1796–1798); jointly owned land on Federal Street (1798), Guild alone at 48 Orange Street (1800). | 1796–1800 |
| Guild, Benjamin; Cabinetmaker. | 1800 |
| Hading, Mark; Joiner; arrived from London. | 1716 |
| Hall & Bisbe; Cabinetmakers; [probably Simon Hall] Washington Street. | 1796 |
| Hall, Edward; Cabinetmaker; [maybe the father of, or the same man as, the chairmaker listed below]. | 1767–1768 |
| Hall, Edward; Chairmaker; [maybe the same man as cabinetmaker listed above] shop Cross Street (1796–1798), 72 Middle Street (1800). | 1796–1800 |
| Hall, John; Cabinetmaker; Washington Street. | 1798–1800 |
| Hall, Peter; Upholsterer; moved to New York by 1743. | 1732 |
| Hall, Sewel; Cabinetmaker; Back Street. | 1796 |
| Hall, Simon; Cabinetmaker; [probably partner Bisbe (Hall & Bisbe)] Battery March Street; called upon by courts as arbiter with George Bright of case involving cabinetmaker John Otis (1789); John Johnston & Daniel Rea, painters, decorated some furniture for Hall (1791). | 1780–1799 |
| Hammatt, John B.; Upholsterer; 9 Union Street. | 1800 |
| Hancock, William; Chairmaker; Congress Street. | 1796 |
| Hannah, William; Joiner; i.m. Martha Clark 1695. | 1701–1707 |
| Hardy, Joshua; Chairmaker; shop Orange Street. | 1796–1800 |
| Hartshorne (Hartshern), Ebenezer; Joiner; b. 1690, m. Mary Lowden about 1712, moved to Boston from Charlestown 1743, moved to Concord 1746, d. 1781; signed high chest (fig. 19); Randall & McElman. | 1743–1746 |
| Hay, Charles; Chairmaker, Joiner; m. Theodosia Napping 1724. | 1724–1726 |
| Hay, Edmund; Cabinetmaker; partner William Hay (1798–1800); partners' shop Battery March Street (1798). | 1791–1800 |
| Hay, Edmund & William; Cabinetmakers; Battery March Street. | 1798–1800 |
| Hay, William; Cabinetmaker; partner Edmund Hay (1798–1800); partners' shop Battery March Street (1798). | 1798–1800 |
| Hayward, Abraham; Cabinetmaker; d. 1796; Ann Street (1789); shop White Bread Alley; shop inventory $94.50. | 1780–1796 |
| Hayward (Haywood), John; Cabinetmaker; shop Ann Street (1796); shop Ship Street (1798). | 1796–1798 |
| Hendrick, David; Chairmaker, Sexton; Cow Lane. | 1796–1800 |
| Hichborn (Hichborne), Thomas; Joiner, (Ship Joiner). | 1714–1721 |
| Hilliard, Peter; Joiner. | 1729 |
| Hobart (Habbot) (Hubbard), Gabriel; Carver; m. Ruth ——— about 1721. | 1721–1725 |
| Hogh, Robert; Joiner; arrived from Ireland 1766. | 1766 |
| Holden, Jonah; Cabinetmaker; Washington Street. | 1798 |
| Holland, Samuel; Joiner; i.m. Elizabeth Howard 1722, i.m. Mary Webber 1743. | 1725–1745 |
| Holmes, Nathaniel; Joiner, Distiller, Shopkeeper; b. 1703 son of Nathaniel Holmes, joiner and bricklayer, m. Mary Webber 1728, m. Rebecca Goodwill 1747, d. 1774; took Thomas Sherburne as apprentice (1733), as partner (1736–1737); employed Richard Woodward (1736); worked at distilling and general merchandizing (1735–1774). | 1725–1740 |
| Homer, Andrew; [possibly Cabinetmaker] only evidence of Homer as a cabinetmaker is a questionably labelled table (Antiques, xvii [May, 1930], 448, and Antiquarian, xiv [May, 1930], 62). Label does not mention cabinetmaking. | [1780] |
| Hopkins, David; Chairmaker. | 1786 |
| Hopkins, Thomas; Chairmaker. | 1784–1792 |
| Howe & Alexander; Cabinetmakers; 56 Back Street. | 1793–1800 |
| Howe, John & Son; Turners; 3 Back Street. | 1796–1800 |
| Howe, John (Sr.); Cabinetmaker, Turner, (Joiner); d. 1823; worked with son [probably John, possibly Thomas] as turners (1796–1800); shop 3 Back Street. | 1776–1800 |
| Howe, John (Jr.); Turner; b. 1764, [probably m. Hannah Homer 1793, m. Rebecca Bass 1795, m. Mary Howland 1797] d. 1828; [probably worked with father as John Howe & Son at 3 Back Street]. | 1796–1800 |
| Howe, Thomas; Turner; 5 Middle Street. | 1796–1800 |
| Howell, William; Cabinetmaker, Joiner; d. 1717; ref. Forman, Singleton. | 1714–1717 |
| Hubbard, Richard; Carver, Chairmaker. | 1733 |
| Hughes, Robert; Japanner. | 1726 |
| Humphreys (Humphrys), John; Joiner, Chairmaker; | 1702–1704 |
| Hunt, Edward; Cabinetmaker; [probably m. Sarah Fairfield 1746]. | 1784 |
| Hunt, Francis; Cabinetmaker, Joiner; m. Sarah Edgar 1736, d. 1752. | 1740–1752 |
| Hunt, Thomas; Turner; d. about 1733; estate £1042:2:0 old tenor. | 1712–1733 |
| Hunt, William; Cabinetmaker; m. Ruth Page 1734; [probably served as servant to Edward Mirick, Charlestown cabinetmaker (1731)]. | 1740–1741 |
| Hunting, Asa; Cabinetmaker, Chairmaker. | 1790 |
| Hutter, John; Wood and Ivory Turner; Water Street. | 1798 |
| | 1708 |
| Jackson, Fyfield; Cabinetmaker, Joiner; m. Mary Bennet 1724, d. 1728. | 1723–1724 |
| Jackson, John; Joiner; arrived from England and warned to depart. | 1716 |
| James, George; Picture Frame Maker, Upholsterer; Newbury Street. | 1798–1800 |
| Jarvis, ———; Joiner; arrived from London 1768 [possibly John Jarvis, cabinetmaker]. | 1768 |
| Jarvis (Jarves) (Jarvas), John Jackson; Cabinetmaker; b. England, m. Hannah Seabury 1788, m. Sally Cunningham 1793, d. 1823; shop 76 Newbury Street; ref. Swan "ii." | 1787–1800 |
| Jenkins, John; Joiner; m. Margaret Snelling 1732, d. 1745; shop Green Dragon Lane; estate £2427:9:10 old tenor. | 1734–1745 |
| Jent, Peter; Chairmaker; trained by Edmund Perkins, chairmaker; given "freedom clothes" 1741. | 1741 |
| Johnson, James; Chairmaker; m. Mary Berry 1729, m. Jane Barber 1730. | 1734 |
| Johnson, John; Cabinetmaker. | 1797 |
| Johnson (Johnston), Thomas; Cabinetmaker; b. 1715 (Charlestown), m. Susanna McMillian 1739, d. 1787; Back Street; inventory 1787 £340:9:0. | 1736–1787 |
| Johnson William; Joiner; brother of Thomas Johnson, cabinet-maker, bapt. 1713, m. Anna Burnell 1737, d. 1756. | 1741–1756 |
| Johnston, John; Portrait Painter, Painter, (Japanner); b. about 1753 son of Thomas Johnston (Sr.); apprenticed to John Gore, japanner; partner Daniel Rea (Rea & Johnston); ref. Swan "Johnstons." | 1773–1789 |
| Johnston (Johnson), Thomas (Sr.); Japanner, Painter, Engraver, (Looking Glass Seller); b. 1708 (England), m. Rachel Thwing 1730, m. Bathsheba Thwing 1747, d. 1767; estate £912:1:10; ref. Fales, Downs "American Japanned," Swan "Johnstons," Whitehill and Hitchings. | 1732–1767 |
| Johnston, Thomas Jr.; Japanner; b. 1731 son of Thomas Johnston (Sr.), d. about 1776; ref. Swan "Johnstons," Whitehill and Hitchings. | 1758 |
| Jones, John; Cabinetmaker. | 1719 |
| | 1716 |
| Kelsa, James; Cabinetmaker; Water Street. | 1796 |
| Kenn, Lenier; Cabinetmaker; partner Thomas Gibbons. | 1730–1739 |
| Kennedy, Quintin; Joiner. | 1714 |
| Kingman, Seth; Cabinetmaker; Fish Street. | 1789 |
| Knepton (Knapton), Joseph; Joiner; arrived from London 1714, went to Barbados and returned to Boston 1716. | 1714, 1716 |
| Knight, Richard; Carver; North Street near Battery. | 1701–1706 |
| Knowlton, Ebenezer; Cabinetmaker; bapt. 1769, d. 1810; shop Ann Street (1796), shop Moore's Wharf (1798–1800); labelled tambour desk (American Collector, 1 [December, 1933], 1); ref. Ormsbee "New Boston." | 1796–1800 |
| Lamb, Edward; Chairmaker. | 1741 |
| Lambert, John; Joiner; [probably m. Abigail Bumstead 1713]. | 1713–1722 |
| Lane, John; Chairmaker, Chair Caner; husband of Sarah Lane, d. about 1737; from London; School Street. | 1730–1736 |
| Lane, Sarah; Chair Caner; widow of John Lane, m. John Goodwin 1738; School Street. | 1737–1756 |
| Laply, George; Joiner; arrived in Boston 1764. | 1764 |
| Laply, Patrick; Joiner; arrived in Boston 1764. | 1764 |
| Larkin, Elisha; Cabinetmaker; Back Street. | 1796 |
| Larkin, John; Chairmaker; b. 1724 son of Edward Larkin, chair maker of Charlestown, m. Katherine Frothingham about 1748, d. 1798; [probably worked in Charlestown 1746–1748 and 1756–1773] Boston shop Moore's Wharf; estate £27:3:2. | 1789–1798 |
| Larrabee, John; Cabinetmaker, Joiner; b. 1713, m. Sarah Wallis 1740, d. 1778; estate £227:2:0. | 1748–1778 |
| Latta, William; Joiner; arrived in Boston 1768. | 1768 |
| Lawrence, John; Chairmaker. | 1732 |
| Learee, Samuel; Joiner. | 1710 |
| Learnard (Learned), Elisha; Cabinetmaker; [possibly b. 1765, d. 1827] 50 Back Street; ref. Randall "Works i." | 1796–1800 |
| Leech, James; Joiner; b. 1721; inherited tools from father John Leech. | 1748 |
| Leech (Leach), John; Joiner; m. Ruth Miller 1713, d. 1748; left joiner's tools to son James Leech; estate £2378:8:8 old tenor. | 1740–1748 |
| Lemon (Lemmon), William; Upholsterer; m. 1796, d. 1827; moved from Salem (1799); 55 Marlborough Street (1800). | 1799–1800 |
| Lenox, David; Cabinetmaker, House Joiner; m. Abigail Wakefield 1730, d. 1765; estate £127:6:2. | 1731–1765 |
| Leonard, Henry; Turner. | 1743 |
| Lester, William; Cabinetmaker; Washington Street. | 1800 |
| Lilke (Lilhi), Thomas; Cabinetmaker. | 1796 |
| Lincoln (Linkhorn), John; Carver; [probably did carved work on chairs for Samuel Mattocks, chairmaker] promised court to pay Mattocks £4 worth of carving work on demand (1722). | 1722–1725 |
| Linsey, Thomas; Turner; posted as a drunkard (1728). | 1728 |
| Little, David; Joiner. | 1724 |
| Livermore, Thomas: Joiner; d. 1709. | 1701–1709 |
| Lloyd, Francis; Carver, Gilder; Milk Street. | 1800 |
| Lord, Robert; Joiner; m. Katherine Haley 1738; [possibly inn-holder (1724)]. | 1735 |
| Lord, Rupert; Upholsterer; shop Cornhill. | 1714 |
| Loring, John; Turner. | 1793 |
| Loring, Joseph; Turner; Pond Street (1789), School Street (1798–1800). | 1785–1800 |
| Loring, William; Joiner. | 1734 |
| Love, William; Chairmaker. | 1732 |
| Luckis (Lucas), Benjamin; Cabinetmaker; Middle Street. | 1768 |
| Luckis (Lucus), Thomas; Carver; d. 1808; North Street (1796–1800). | 1760–1800 |
| Lush, George; Turner. | 1793 |
| Lynham, George; Cabinetmaker; at "the Chest of Drawers in Middle Street" (Boston News-Letter, December 21–28, 1719). | 1719 |
| | 1760 |
| McDonald, William; Carver, Gilder; Essex Street (1796), Pond Street or Rowe's Lane (1798). | 1796–1798 |
| McGregor, Daniel; Joiner; worked for Thomas Gibbons (1740). | 1740 |
| McKeen, Robert; Chairmaker. | 1790 |
| McKeller, John; Joiner; arrived from Scotland 1767. | 1767 |
| McKenzie, James; Cabinetmaker. | 1750 |
| McMillian, James; Cabinetmaker; m. Ann Brown 1748, d. 1769; apprentice Morgan Kavanagh (1753–1757); shop and house Back Street; estate £540:4:0; stamped desk and bookcase (fig. 101). | 1749–1769 |
| Marpel, Henry; Joiner. | 1733 |
| Marston, Daniel; Cabinetmaker. | 1799 |
| Martin, William; Cabinetmaker; 44 Newbury Street. | 1798 |
| Mason & Winslow; Looking Glass Makers. | 1799 |
| Mason, David (Sr.); Upholsterer; b. 1703, m. Susannah Steven 1725, d. 1746; shop Wing's Lane. | 1726–1746 |
| Mason, David (Jr.); Painter, Japanner; b. 1726 son of David Mason, upholsterer, m. Sarah Goldthwaite 1748, m. Hannah Symmes 1751, d. after 1792; shop under Edes & Gill's Print Office, Queen Street; shop Fore Street (1782); ref. Brazer. | 1758 |
| Mason, Richard; Joiner; d. 1725; owned property Newbury Street; estate £500 old tenor. | 1725 |
| Mattocks, James; Joiner, Cabinetmaker; b. 1694, brother of Samuel Mattocks, chairmaker, m. Sarah Pearce 1726, moved to Middletown, Connecticut, by 1742; Ann Street near Mill Creek. | 1726–1735 |
| Mattocks, Samuel; Chairmaker, (Innholder); b. 1688, brother of James Mattocks, joiner, m. Admonition Tucker 1712, m. Sarah Cross, owner of inn, 1723, m. Mary Spooner 1727, d. about 1739; listed as innholder 1728; [John Lincoln probably did carved work for Mattocks]; owned property on Ann Street near Mill Bridge. | 1720–1729 |
| Maverick (Maverike), John; Cabinetmaker, Shopkeeper; m. Elizabeth Mattocks sister of Samuel Mattocks, chairmaker, 1710; partner George Thomas (1714); owned property Middle Street, called shopkeeper (1729–1743). | 1707–1720 |
| Mellendy (Melleday), John; Joiner; b. 1705 (Charlestown); North Street near Winnisimmet Ferry (1725 – about 1750). | 1729 |
| Mellens, Thomas; Joiner, Carver; [probably m. Susanna Bill 1720, i.m. Martha Williston 1729]. | 1721–1723 |
| Messenger, Ebenezer; Turner, Joiner; b. 1697 son of Thomas Messenger, joiner, m. Rebecca Sweetzer 1719; ref. Forman. | 1718–1722 |
| Messenger, Henry; Turner; ref. Forman. | 1720–1721 |
| Messenger, Simeon; Joiner; b. 1645, m. Bethiah Howard about 1668; ref. Forman. | 1701–1710 |
| Messenger, Thomas; Joiner; b. 1662, m. Elizabeth Mellowes about 1685; ref. Forman. | 1701–1712 |
| Messenger, Thomas; Turner; b. 1691 son of Thomas Messenger, joiner; ref. Forman. | 1713–1720 |
| Metcalfe, John; Joiner. | 1734 |
| Mills, George; Cabinetmaker; [probably b. 1721] [possibly m. Mary Baker 1750]. | 1759–1762 |
| Moberly, Thomas; Joiner; m. Mary Howard 1731. | 1732 |
| Montgomery, Hugh; Joiner; [possibly m. Martha Mayo (Mayhew) 1738]. | 1715 |
| More, Samuel; Carver; arrived in Boston 1736. | 1736 |
| Morgan, William; Cabinetmaker; Beacon Hill. | 1795 |
| Morris, Samuel Jr.; Joiner. | 1718 |
| Morse, Jonathan; Joiner. | –1776 |
| Mull, James; Joiner; arrived from Scotland 1766. | 1766 |
| Mulligam, John; Joiner; m. Elizabeth ——— about 1690. | 1708 |
| Murfey (Murphy), James; Joiner, Mariner; arrived from Newfoundland 1739. | 1739 |
| Needham, Thomas; Turner, Joiner, Cabinetmaker; father, son, and grandson of same name and trade; father b. 1728; son b. 1755, d. 1787; grandson b. 1780, d. 1850; family moved to Salem (1776); in Boston by 1796; Hanover Street (1796–1798), shop North Square (1800); ref Montgomery. | 1796–1800 |
| Nelson, William; Cabinetmaker; North End; advertised spinning wheels. | 1754 |
| | 1727–1729 |
| Newell, John; Joiner; arrived from Ireland 1766. | 1766 |
| Nichols, Alexander; Joiner; arrived from Ireland 1766. | 1766 |
| Nichols (Nicholls), John; Joiner, (Merchant); b. 1654. | 1709–1725 |
| Nichols, John; Joiner; [probably b. 1715 son of William Nichols] d. 1764; held post of viewer and sealer of wood 1740; inventory 1764 £10:0:0. | 1740 |
| Nichols, William; Joiner, Auctioneer; b. 1692 son of John Nichols, joiner, m. Bethia Webb 1714, d. after 1774; owned property Middle Street deeded to him by father (1722); in late '30's and '40's designated "Gentleman." | 1719–1733 |
| Norton, William; Upholsterer. | 1739–1740 |
| Nottage (Knottage), Josias; Joiner, Housewright; m. Elizabeth Wallis 1726. | 1728 |
| Odell, Thomas; Chairmaker; m. Anna Wakefield 1710, m. Sarah Peck 1737; [possibly worked with Nathaniel Breck (1724);] rented shop Water Street near head of Oliver's Dock (1720–1721). | 1712–1728 |
| Orr & Sewell; Cabinetmakers; [probably John Orr] Back Street. | 1796 |
| Orr, John; Cabinetmaker; [probably Orr of Orr & Sewell]. | 1796 |
| Otis, John; Cabinetmaker; working in Plymouth 1789. | 1780 |
| Paddock, Jonathan; Chairmaker. | –1777 |
| Page, Benjamin; Cabinetmaker; Fish Street (1789). | 1779–1794 |
| Paige, John; Turner. | 1702 |
| Paine (Pain), Edward; Upholsterer, Chaisemaker. | 1732–1741 |
| Paine (Pain), Stephen; Joiner; [probably third son of William Paine (Sr.), joiner] m. Mary Kennet 1709; worked with William Paine [probably his brother] 1728; shop near Town Dock (1727–1728). | 1715–1732 |
| Paine, Thomas; Joiner; b. 1680 son of William Paine, joiner, m. Elizabeth Pierce 1703, m. Eunice Treat 1721, m. Dianer Milborn 1729; inherited one-half father's tools 1712. | 1712–1725 |
| Paine (Payn), William (Sr.); Joiner; d. about 1711; father of Thomas, William, [and probably Stephen], joiners. | 1701–1711 |
| Paine (Payne), William (Jr.); Joiner; b. 1688 son of William Paine (Sr.), joiner, m. Hannah White 1709, m. Hannah Stevens 1718, m. Mary Ruggles 1734, m. Mary Lowder 1737, m. Sarah Sloley 1751, d. about 1766; inherited one-half father's tools 1712; worked with Stephen Paine [probably his brother] 1728; estate £16:7:3. | 1712–1732 |
| Parkman, Samuel; Joiner, Shopkeeper; b. 1695, brother William Parkman, joiner, m. Dorcas Bowes 1729, d. 1767; principally shopkeeper after 1740. | 1730–1740 |
| Parkman, William; Joiner, Cabinetmaker; b. 1685, brother Samuel Parkman, joiner, m. Hannah Goodwin 1705, m. Hannah Harris 1750, m. Mary Hawkins 1757, declared incompetent 1774, d. 1776; apprentice Hugh Brown (1749–1759); shop at the Case of Drawers (1723), shop Scarlet's Wharf (1750). | 1714–1775 |
| Parsons, William; Joiner; [probably b. 1614, m. Ruth ——— about 1644, d. 1702]. | 1701 |
| Partridge, Nehemiah; Japanner, (Painter); m. Mary Ffilbrick 1718, d. about 1726; Tremont Street (1712), Mill Bridge (1713), Water Street at head of Oliver's Dock; moved to Portsmouth about 1720; ref Brazer, Fraser "Painted," Fraser "Pedigreed," Lyon. | 1712–1717 |
| Peak, Henry; Joiner; i.m. Abigail Delliway 1736; rented two chambers Fish Street (1749). | 1749 |
| Peake, John; Joiner, (Sawyer); b. 1685, m. Sarah White 1714, m. Margaret ——— 1721. | 1723 |
| Pearce, Benjamin; Chairmaker. | –1776 |
| Pearce, Joseph; Joiner; b. 1682, m. Mary Mellins 1718, m. Sarah Pain 1730 [probably daughter of William Paine and sister of Thomas, William, and Stephen, all joiners], d. about 1751. | 1718 |
| Pearson, James; Chairmaker; m. Elizabeth ——— about 1701, m. Mary Cockroft 1711, m. Priscilla Jackson 1712. | 1716 |
| Peck, Nathaniel; Chairmaker; m. Lydia Chaffin 1740, m. Mary Marion 1742. | 1784–1790 |
| Pendleton, Roger; Japanner; d. 1712. | –1712 |
| Perkins, Edmund (Edmond) (Sr.); Joiner, Chairmaker; b. 1683, m. Mary Farris 1709, m. Ester Frothingham 1722, d. about 1761; apprentice Peter Jent (–1741); shop Mackerel Lane destroyed by fire (1760); estate £40:13:11. | 1711–1750 |
| Perkins, Edmund Jr.; Chairmaker; son of Edmund Perkins (Sr.), d. 1773; lost tools and furniture in fire (1760); estate £6. | 1760–1762 |
| Perkins, Henry; Chairmaker; b. 1710 son of Edmund Perkins (Sr.), m. Mary Kilby 1737, m. Grace Thaxter about 1745, d. 1783; lost tools in fire (1760). | 1738–1783 |
| Perkins, John; Chairmaker; b. 1723 son of Edmund Perkins (Sr.), m. Susanna Tuck about 1745, moved to Gorham, Massachusetts (now Gorham, Maine), by 1771; loss in fire (1760) £649:7:6 old tenor; shop Battery March Street. | 1750–1760 |
| Perkins, William; Chairmaker; b. 1716 son of Edmund Perkins (Sr.), m. Mary Hind 1748, d. 1759 or 1760; estate £24:0:1. | 1750 |
| Perring, Charles; Joiner; arrived from London 1768. | 1768 |
| Peters, Benjamin; Joiner. | 1776 |
| Pickman, Nathaniel; Upholsterer; rented house Marlborough Street (1739–1741). | 1739–1744 |
| Pike, Timothy; Chairmaker. | 1776 |
| Pillet (Pillett), John; Joiner; Lynde Street (1720). | 1714–1725 |
| Pimm (Pymm), John; Cabinetmaker, (Joiner); m. Jane Tout 1744, m. Hannah Mower 1751, d. 1773; signed high chest (fig. 37); ref. Fraser "Pedigreed," Randall American Furniture. | 1735–1770 |
| Poignand, David; Cabinetmaker; b. St. Heliers, Isle of Jersey, m. Delicia ——— about 1787; documented desk and bookcase, chest, table (Antiques, xliii [February, 1943], 87). | 1788 |
| Powell, John; Chairmaker. | 1775 |
| Price, William; Cabinetmaker, Print Seller, Merchant, Shopkeeper; b. 1684 (England), m. Sarah Miles 1727, d. 1771; shop Cornhill (1733–1737); ref. Brazer. | 1714–1730 |
| Prichard (Pritcherd), John; Joiner, (Housewright); Marlborough Street. | 1713–1717 |
| Prince, John; Upholsterer; arrived from Topsham 1716. | 1716 |
| Putnam, Joseph; Chairmaker; b. 1714 (Salem), brother of William Putnam, m. Sarah Uran (Vran) 1735, d. 1788; apprentice James Burton (1755–1765); shop Milk Street and Battery March Street destroyed by fire (1760); estate £684:10:5. | 1750–1767 |
| Putnam, William; Chairmaker; b. 1717 (Salem), brother of Joseph Putnam, m. Ruth Leach, daughter of John Leach, joiner, 1740, d. 1749; shop near Oliver's Dock, South End; estate £2511:12:0 old tenor. | 1749 |
| Ragget, Thomas; Joiner; arrived from Great Britain and warned to depart 1715. | 1715 |
| Rand, Robert; Joiner, (Lumber Merchant); m. Susanna Cheever 1709, d. about 1752; Mill Creek and Ann Street. | 1712–1751 |
| Rand, Robert Jr.; Lumber Merchant, (Joiner); b. 1719 son of Robert Rand, joiner, m. Martha Grice 1756, m. Mary Simpkins 1773, d. 1794; owned shop and wharf Rand's Wharf. | 1756–1788 |
| Randle (Randall), William; Japanner, (Cabinetmaker), Looking Glass Seller; m. Mary Butler 1714; advertised "Looking-Glasses of all sorts, . . . Chests-of-Drawers, Tables, . . . all sorts of Japan-work, Done and Sold by William Randle at the Sign of the Cabbinett, a Looking-Glass Shop in Queen-Street near the Town-House" (Boston News-Letter, April 25, 1715); shop Dock Square (1731), shop Hanover Street (1738); signed high chest (Adams National Historic Site, Quincy, Massachusetts); ref. Brazer, Fraser "Pedigreed," Lyon, Randall "Boston Japanner." | 1715–1739 |
| Rann, John; Cabinetmaker. | 1776 |
| Ransom, Ebenezer; Joiner. | 1776 |
| Ray (Wray), Caleb; Joiner; m. Ann Tolman 1704, d. 1721. | 1713–1715 |
| Rea & Johnston; Painters, Gilders, (Japanners); partners John Johnston and Daniel Rea, brothers-in-law (1773–1789); ref. Swan "Johnstons." | 1773–1789 |
| Rea, Daniel (Sr.); Painter, (Japanner); m. Rachel Johnston, daughter of Thomas Johnston (Sr.), 1764; [probably worked for father-in-law (1764–1767)] took over father-in-law's business (1767); partner John Johnston (1773–1789); partner son Daniel Rea (Jr.) (1789–1800); ref. Swan "Johnstons." | 1767–1800 |
| Rea, Daniel (Jr.); Painter, Japanner; partner father Daniel Rea (Sr.); ref. Swan "Johnstons." | 1789–1800 |
| Read (Reed), Bridges; Joiner; [probably m. Mary Ventiman 1725] rented shop Fish Street in North End. | 1728–1735 |
| Redin (Redden), Henry; Carver. | 1714–1728 |
| Reed (Read), Richard; Cabinetmaker; father and son of same name and trade; father m. Hannah Walker 1705; son b. 1708. | 1732 |
| Richards, Edward; Joiner; [probably brother of William Richards, carver] m. Mary Kidder 1703, m. Hannah Copp 1722. | 1715–1733 |
| Richards, Edward Q.; Chairmaker; Devonshire Street or Pudding Lane. | 1796–1798 |
| Richards, William; Carver; [probably brother of Edward Richards, joiner]. | 1739 |
| Ridgway (Ridgeway), Ebenezer; Chairmaker; b. 1739 son of Samuel Ridgway Sr., m. Mary West 1762; shop Fish Street (1789). | 1773–1800 |
| Ridgeway, Nathaniel; Chairmaker; b. 1729 son of Samuel Ridgway Sr., i.m. Rebecca Gooding 1754. | 1754 |
| Ridgway, Samuel Sr.; Chairmaker; b. 1700 (Charlestown), m. Naomi Reynolds 1724, d. 1773; apprentices Miles Hubbard (1749–1761), Samuel Allen (1758–1764), John Taylor (1759–1771); shop Ann Street with son Samuel; estate £193:16:7. | 1748 |
| Ridgway (Ridgeway), Samuel Jr.; Chairmaker; b. 1726 son of Samuel Ridgway Sr., m. Elizabeth Gedney 1754, m. Mary ——— by 1784, d. 1799; shop Ann Street (1786), shop Fish Street (1789); estate $14,089.05. | 1773–1790 |
| Righton (Wrighton), Francis; Upholsterer, Shopkeeper; m. Elizabeth Royal 1706; still had shop 1743. | 1712–1716 |
| Roberts, ———; Joiner; arrived from London 1765. | 1765 |
| Roberts, Joshua; Japanner; d. 1719; employed by William Randle, japanner. | 1714–1719 |
| Roberts, Samuel; Chairmaker. | 1783–1784 |
| Robins, James; Joiner; Ward 4. | 1780 |
| Robinson, George; Carver; father and son of same name and trade; son b. 1680, m. Sarah Maverick 1698, d. 1737. | 1706–1720 |
| Robinson, Richard; Cabinetmaker; m. Abigail Medeenor 1733, m. Sarah Powell 1748. | 1747 |
| Robinson, William; Cabinetmaker; earlier of Arrowsic Island. | 1715–1717 |
| Rogers, James; Chairmaker; m. Elizabeth Phillips 1756, d. 1793; Friends Street; estate £215:0:0. | 1766–1793 |
| | 1720–1749 |
| Ross, Benjamin; Cabinetmaker. | –1775 |
| Salisbury, Benjamin; Joiner; b. 1699, m. Deborah Sterns 1732; apprentice Samuel Wood (1743–1752); Bangs Alley (1751), Mackerel Lane, where personal possessions destroyed by fire (1760). | 1720–1760 |
| Salisbury, John; Cabinetmaker; in Hingham 1793. | 1768 |
| Samber, Samuel; Upholsterer. | 1734 |
| Sanborn (Sanburn), Reuben; Windsor Chair Maker; Lendell's Row (1796), shop Leverett's (or Quaker's) Lane (1798), shop Doane's Wharf (1800). | 1796–1800 |
| Sandford (Sanford), John; Carver, Gilder; 39 Cornhill. | 1789–1798 |
| Saxton, William; Grocer, Crockery Seller; [possibly Cabinetmaker] 85 Newbury Street; sold groceries and crockeryware (1789), shop 2 Dock Square. Only mention of Saxton as cabinetmaker is a questionably labelled desk (Antiquarian, xiv [May, 1930], 62). Label does not mention cabinetmaking. | [1785] |
| Scott & Willard; Windsor Chair Makers; [probably Edward Scott and Josiah Willard] Water Street. | 1800 |
| Scott, Edward; Cabinetmaker, Windsor Chair Maker; [probably partner Josiah Willard (Scott & Willard)]. | 1800 |
| Scottow, John; Cabinetmaker; b. about 1701, m. Elizabeth Lock about 1726, d. 1790. | 1764 |
| Seaver & Frost; Windsor Chair Makers; [probably William Seaver] 57 State Street. | 1800 |
| Seaver, William; Windsor Chair Maker, Cabinetmaker; Vose's Wharf (1796), shop Liberty Square (1796–1798), Battery March Street (1800). | 1796–1800 |
| Seymour, John; Cabinetmaker; b. England; arrived Portland 1785, Boston 1794; worked with son Thomas; Creek Square; labelled desk (Montgomery no. 184), labelled desk (Stoneman nos. 4–8); ref. Hipkiss, Montgomery, Ormsbee, Randall American Furniture, Randall "Seymour," Stoneman, Swan "Seymour." | 1796–1800 |
| Seymour, Thomas; Cabinetmaker; b. 1771 (England) son of John Seymour, cabinetmaker; arrived Portland 1785, Boston 1794; worked with father, John Seymour, Creek Square; for documented pieces and bibliography see John Seymour. | 1799–1800 |
| Sherburne, Thomas (Sr.); Cabinetmaker; b. 1713 (Portsmouth), m. Margaret Goldthwait 1739, i.m. Abigail Elwell 1757, d. 1784; apprenticed to Nathaniel Holmes (1733); partner Holmes (1736–1737); shop Back Street; ref. Dow. | 1736–1784 |
| Sherburne, Thomas (Jr.); Cabinetmaker; b. 1741 son of Thomas Sherburne, cabinetmaker, d. 1806. | 1784–1796 |
| Shove, Theophilus; Jomer, Glazier. | 1736–1740 |
| Shute, William; Carver; m. Martha Budd daughter of Edward Budd, carver, 1690, d. 1746; worked with Jacob Crouch (1719). | 1716–1721 |
| Simms (Symmes), Andrew; Joiner, Shipjoiner; b. 1704, d. after 1780. | 1739–1764 |
| Simpkins, John; Upholsterer, (Shopkeeper); b. 1740, m. Elizabeth Grant, daughter of Samuel Grant, upholsterer, 1764, d. 1831; Cornhill (1789). | 1760–1789 |
| Simpson, Jehabed; Joiner; arrived from North Carolina 1768. | 1768 |
| Simpson, John; Joiner; b. 1668 (Charlestown), m. Rely Holmes 1695; Union Street and Creek Lane. | 1706–1709 |
| Simpson, Josiah; Cabinetmaker; Exchange Lane (1782–1789). | 1780–1793 |
| Skilling (Skillin), John; Carver; b. 1746 son of Simeon Skilling (Sr.), carver, m. Mary Fowle 1795, d. 1800; partner Simeon Skilling (Jr.) (1780–1800); apprentices Isaac Fowle, Edmund Raymond (1800); shop on wharf north of Governor Hancock's, Skilling's Wharf (1796–1798); documented pediment figures on chest-on-chest by Stephen Badlam of Dorchester Lower Falls (Antiques, xx [December, 1931], 341); ref. Swan "Revised," Swan "Orrery," Swan "Skillin," Thwing. | 1780–1800 |
| Skilling (Skillin), Samuel; Carver; b. 1742 son of Simeon Skilling (Sr.), carver, d. 1816; Barret's Wharf (1796–1798); for bibliography see Simeon (Sr.). | 1780–1800 |
| Skilling (Skillin), Simeon (Sr.); Carver; b. 1716, d. 1778; Salutation Alley; inventory 1786 £181:0:7; ref. Swan "Orrery," Swan "Skillin," Thwing. | 1767–1778 |
| Skilling (Skillings) (Skillin), Simeon (Jr.); Carver; b. 1757 son of Simeon Skilling, carver, m. Margaret Casheau 1782, d. 1806; partner John Skilling (1780–1800); shop on wharf north of Governor Hancock's, Skilling's Wharf (1796–1798); for documented pieces and bibliography see John Skilling. | 1780–1800 |
| | 1750 |
| Smith, Benjamin; Chairmaker; arrived from New York 1716. | 1716 |
| Smith, Mathias; Turner. | 1714 |
| Smith, Thomas; Chairmaker. | 1742 |
| Smithen, Joseph; Turner. | 1728 |
| Snelling, Joseph; Joiner; Ward 2. | 1780 |
| Snow, Henry; Cabinetmaker, Joiner; m. Lillie Poor (Power) 1743, m. Elizabeth Shirley 1776, d. 1778; damages from fire (1760) £88, inventory 1778 £259:10:0. | 1743–1778 |
| Snowden (Snoden), David; Chairmaker; b. 1705, m. Margaret Gallop 1734, d. about 1745; estate £1890:3:6 old tenor. | 1727–1739 |
| Spear, John; Cabinetmaker. | 1798 |
| Spear, Paul; Innkeeper, (Chairmaker); m. Clemence Weld 1756, d. 1792; estate £626:15:4. | 1760–1767 |
| Sprague (Sprage), Ebed (Ebenezer); Chairmaker; shop Liberty Square (1796), Battery March Street (1798). | 1796–1798 |
| Stafford, Samuel; Cabinetmaker; Kilby Street. | 1789 |
| Starr, Eleazer; Joiner; employed other joiners (1718); shop Mackerel Lane (1723). | 1712–1723 |
| Stelling, Peter; Joiner, Cabinetmaker; Wentworth's Wharf (1731), Corn Court (1732). | 1728–1733 |
| Stevens, Erasmus; Joiner, Wharfinger, Gentleman; m. Persis Bridges 1707, m. Susanna Pinkney 1739, d. 1750; rented shop Clark's Wharf (1707), rented wharf from Clark (1730–1739). | 1707–1729 |
| Stevens, John (Sr.); Joiner; [possibly b. 1671 brother of Erasmus Stevens] d. 1745. | 1740 |
| Stevens, John Jr.; Joiner, Housewright; son of John Stevens (Sr.), joiner. | 1743 |
| Stevens, Place; Joiner; b. 1696, twin brother Thomas Stevens (Jr.), joiner, son of Thomas Stevens (Sr.), joiner. | 1729–1732 |
| Stevens, Thomas (Sr.); Joiner; m. Sarah Place 1695, d. by 1724; estate £212:10:16 old tenor. | 1701–1718 |
| Stevens, Thomas (Jr.); Joiner, Housewright; b. 1696, twin brother Place Stevens, joiner, son of Thomas Stevens (Sr.), joiner, m. Elizabeth Martin 1729. | 1729–1732 |
| Stokes, Joseph; Carver, Gilder, Milk Street (1798), Federal Street (1800). | 1798–1800 |
| Stone & Alexander; Cabinetmakers, Chairmakers; partners Samuel Stone and Giles Alexander; Prince Street corner of Back Street (1796); labelled chair (Montgomery no. 31), labelled desk (Swan "ii," fig. 3), two labelled chairs (Henry Ford Museum); ref. Montgomery, Swan "ii." | 1792–1796 |
| Stone, Ebenezer; Windsor Chair Maker; b. 1763, brother of Samuel Stone, cabinetmaker. | 1786–1800 |
| Stone, Samuel; Cabinetmaker; b. 1760, brother of Ebenezer Stone, chairmaker; partner Giles Alexander (1792–1796); Ann Street (1800); for labelled furniture see Stone & Alexander. | 1794–1800 |
| Storer, Joseph; Joiner. | 1776 |
| Stratford, Samuel; Cabinetmaker; employed Thomas Aimer (1791–1795); shop Lendall's Row (1798). | 1791–1798 |
| Sumner, Ebenezer; Chairmaker; m. Lydia Britton 1757. | 1763 |
| Sutton, William; Joiner; b. 1667, m. Mary Johnson 1695, d. about 1721. | 1714–1715 |
| Swaney, William; Cabinetmaker; Newbury Street. | 1798 |
| Swanton, Samuel; Cabinetmaker; d. 1777. | –1777 |
| Syvert, Elias; Joiner. | 1724–1725 |
| Terutch, Richard; Joiner; arrived from Ireland 1767. | 1767 |
| Thacher, Joseph W.; Paper Hanging Dealer, Upholsterer; 2 Cornhill. | 1798 |
| Thayer, William; Upholsterer, Merchant; partner William Brown (Brown & Thayer); shop Hanover Street. | 1798 |
| Thayer, Ziphion; Upholsterer, Trader; 4 Cornhill (1789), Water Street (1796); Thayer's trade card (fig. 174). | 1764–1799 |
| Thomas, George; Cabinetmaker; father and son of same name and trade; father m. Rebecca ——— about 1680; son b. 1698; son working by 1712; [father] partner John Maverick (1714). | 1706–1717 |
| Thorpe (Thorp), Henry; Chairmaker. | 1797–1798 |
| Tippin (Tippen), Thomas; Joiner; worked with Thomas Bennett (1723). | 1723–1729 |
| | 1710–1718 |
| Todd, William; Cabinetmaker; m. Rebecca Fearing 1797, d. 1800; [probably partner Isaac Vose or possibly Stephen Vose (Vose & Todd) (1796)] partner Samuel Adams (Adams & Todd) (1798); for labelled table see Adams & Todd; ref. Randall "Works 11." | 1796–1798 |
| Tolman, William; Gilder. | 1800 |
| Tookey (Tuckey), John (Joshua); Chairmaker; m. Sarah Scot 1718; arrived from England and warned to depart 1717. | 1717–1719 |
| Torrey, William; Joiner; d. by 1786. | 1728 |
| Toult, Frederick; Joiner; Frog Lane. | 1796 |
| Townsend, Davis; Joiner; m. Sarah Snelling 1732, m. Mary Forbes 1743. | 1729 |
| Trenchard & Dixon; Carvers, Engravers, Gilders; Milk Street. | 1798 |
| Trevett (Trevet), John; Chairmaker; m. Esther Perkins, daughter of Edmund Perkins, chairmaker, 1749; [probably worked with brother-in-law John Perkins, chairmaker] co-owner with John Perkins of property on Battery March Street, site of Perkin's shop. | 1749 |
| Tuck, Joseph; Chairmaker; worked with Samuel Tuck (1798); shop Battery March Street. | 1795–1798 |
| Tuck (Tucke), Samuel Jones; Chairmaker, Windsor Chair Maker, Windsor Chair Manufacturer; Gentleman; worked with Joseph Tuck (1798): manufactory Battery March Street (1796–1800); Windsor chair stamped "S. J. Tucke" (Colonial Williamsburg), Windsor chair stamped "S. J. Tucke" (Winterthur), set of six Windsor chairs stamped "S. J. Tucke" (Gore Place). | 1794–1800 |
| Tucker, James; Turner; loss in fire (1760) £10:9:0. | 1760–1769 |
| Tucker, Joshua; Turner; arrived from London 1717 and warned to depart. | 1717 |
| Tufts, Samuel Putnam; Chairmaker. | 1794–1800 |
| Turner, Joseph; Joiner; i.m. Deliverance Hazelton 1736, m. Elizabeth Kenley 1738. | 1738–1740 |
| Turner, Matthew; Joiner. | 1701–1716 |
| Underwood, Anthony; Chairmaker; b. 1680, m. Jane Place 1703, d. 1749; estate £2011:5:0 old tenor. | 1709–1717 |
| | 1780 |
| Underwood, John; Chairmaker, Turner; d. 1758; Middle Street 1743 | 1732–1743 |
| Veasey (Veazie), Benjamin; Chairmaker; Ward 12. | 1780–1784 |
| Veasey, John; Chairmaker; Ward 12. | 1780–1782 |
| Vergoose, Isaac; Joiner, Ship Joiner; m. Elizabeth Pain 1731. | 1734–1738 |
| Vincent, Clement; Chairmaker; i.m. Mercy Langdon 1741, m. Ann Durant 1769; fire (1760) destroyed tools and unfinished furniture worth £4:6:2½. | 1751–1760 |
| Vincent, William; Joiner; arrived from Bristol 1716. | 1716 |
| Vinton (Vintenan) (Vintenon), John Lewis; Joiner, Housewright; i.m. Margaret Mooney 1742. | 1725 |
| Vose & Todd; Cabinetmakers; [probably William Todd and Isaac and/or Stephen Vose] Cambridge Street. | 1796 |
| Vose, Isaac; Cabinetmaker; [probably partner William Todd (Vose & Todd)] worked with Stephen Vose (1798–1799); John Johnston & Daniel Rea, painters, decorated some furniture for Vose (1785); Orange Street (1789). | 1785–1800 |
| Vose, Stephen; Cabinetmaker; worked with Isaac Vose (1798–1799). | 1798–1799 |
| Wade, Thomas; Upholsterer; d. by 1757; inventory 1757 £39:4:10. | 1739–1747 |
| Waghorne, John; Japanner, Teacher of Psalmody; South End; ref. Brazer. | 1739–1740 |
| Wakefield, Obadiah (Sr.); Joiner; b. about 1677, m. Rebecca Waters 1701, d. 1733. | 1709–1718 |
| Wakefield, Obadiah Jr.; Joiner; b. 1702, m. Elizabeth Willis 1713. | 1714 |
| Walker, Richard; Cabinetmaker. | 1761 |
| Ward, Moses; Cabinetmaker, Shop Joiner; partner James Campbell (Campbell & Ward) (1791); Leverett's (or Quaker's) Lane (1796). | 1791–1796 |
| Warham (Wareham), Charles; Cabinetmaker, Joiner; b. 1701 (London), m. Martha Giles 1722, d. 1779; shop near Dock Square; moved to Charleston, South Carolina, by 1733; ref. Singleton. | 1724–1731 |
| | 1764–1796 |
| Waters, Ebenezer; Chairmaker; Orange Street (1789), Moon Street (1796–1800). | 1789–1800 |
| Waters, Samuel; Chairmaker; shop Kilby Street. | 1800 |
| Watson, William; Joiner; m. Elizabeth Indecott 1715, m. Abigail Trott 1723. | 1715 |
| Webb, John; Cabinetmaker; m. Hannah Burrill 1740, m. Christian Bailey 1741, d. about 1761; estate £6. | –1761 |
| Webb, Thomas; Joiner; d. 1728. | 1723–1728 |
| Webber, William Jr.; Joiner; b. 1707, m. Rebecca Thomas 1731. | 1733 |
| Webster, Francis; Cabinetmaker. | 1793 |
| Welch, John; Carver; b. 1711, m. Sarah Barrington 1735, m. Dorcas Gatecombe 1741, m. Elizabeth Hall 1753, d. 1789; carved codfish for House of Representatives; Dock Square; ref. Brown, Swan "i," Swan "Johnstons." | 1734–1789 |
| Welch, John Jr.; Carver; b. 1735 son of John Welch, carver. | 1780 |
| Wharton, Thomas; Joiner. | 1733 |
| Wheeler, Samuel (Sr.); Joiner, Chairmaker; b. 1689, m. Mary How 1726, d. about 1748; shop Orange Street; estate £942:5:0 old tenor. | 1720–1747 |
| Wheeler, Samuel (Jr.); Chairmaker; [probably b. 1728 son of Samuel Wheeler (Sr.)] Orange Street. | 1757 |
| Wheeler, Thomas; Turner; [possibly b. 1731 son of Samuel Wheeler (Sr.), chairmaker] Pleasant Street. | 1800 |
| Wheelwright, Theodore; Upholsterer. | 1750 |
| Whetcomb (Whetcombe), William; Upholsterer. | 1707–1727 |
| Whitehome, George; Ship Carpenter, Shipwright, Joiner; d. by 1728. | 1724 |
| Whitehorne, John; Carpenter, Joiner; m. Hannah Kettle 1723; apprenticed to John Courser March 1714 – September 1721. | 1721–1724 |
| Whiting, Stephen (Sr.); Japanner, Looking Glass Maker, Print Seller; b. 1720; declared bankrupt 1758; shop Union Street opposite Cornfield; labelled looking glass (Israel Sack, Inc.); ref. Brazer, Dow. | 1743–1773 |
| Whiting, Stephen Jr.; Looking Glass Maker, Picture Frame Seller, Japanner; shop Union Street below Cornfield (1771), near Mill-Bridge (1773); ref. Dow. | 1767–1773 |
| Whitwell, Samuel; Joiner; m. Abigail Champney 1701, m. Elizabeth Archer 1712, d. 1727; estate £75:10:0 old tenor. | 1721 |
| Wilkins, John; Joiner; m. Ester Walker 1723, d. 1724 or 1725; estate, in joiner's tools and "stuff," £35:4:1 old tenor. | 1724 |
| Wilkinson, Thomas; Chairmaker; shop 18 Winter Street. | 1796–1800 |
| Willard, Josiah; Chairmaker, Windsor Chair Maker; [probably partner Edward Scott (Scott & Willard)] High Street. | 1799–1800 |
| Willcox (Wilcox), Jesse Barber; Joiner; m. Beulah Meriam 1792. | 1798 |
| Williams, Daniel; Cabinetmaker; d. 1778. | –1777 |
| Williams, John; Joiner; [probably the John Williams, joiner, who arrived from Ireland 1715]. | 1743 |
| Williams, Oliver; Upholsterer; b. 1679, [possibly m. Hannah Adams 1724]. | 1703–1708 |
| Wilson, William; Turner; d. 1732; estate £389:12:8 old tenor; inventory 1732 included "6 Carved foreparts for Chairs –0:6:0." | 1701–1732 |
| Winston, Stephen; Joiner; arrived from Long Island 1716. | 1716 |
| Wittemore (Whittemore), Daniel; Joiner; m. Mary Turell 1715, m. Mary Chamberlain 1719, m. Elizabeth Townsend 1746. | 1715–1718 |
| Woodward, Nathaniel; Joiner, House Joiner; m. Priscilla Alley 1710, m. Elizabeth Hunt 1739, d. about 1744; estate £135:13:6. | –1744 |
| Woodward, Richard; Joiner; m. Susanna Luce 1747; worked for Nathaniel Holmes 1736; Fish Street 1751; moved to Dedham by 1752. | 1736–1751 |
| Young, John; Joiner. | 1715–1717 |