A Stated Meeting of the Society was held at No. 25 Beacon Street, Boston, on Thursday, 26 December, 1901, at three o'clock in the afternoon, the President, George Lyman Kittredge, LL.D., in the chair.
The Records of the Annual Meeting in November were read and approved.
The President announced the death of Professor James Bradstreet Greenough, a Resident Member, and paid a tribute to his memory.256
Mr. Albert Matthews read a paper on the term Indian Summer, speaking in substance as follows:257
However much we Americans may abuse our ever changing climate, there is at least one portion of the year upon which we unite in lavishing praise. It need scarcely be said that I allude to that highly indefinite but always delightful period known as the Indian summer. Connected as this season is, both by name and in popular belief, with the aborigines, it would seem as if the name itself must be of some antiquity; yet, so far as my observation goes, it is not until the year 1794 that the expression Indian summer occurs at all, and not until the nineteenth century that it became well established. If the term is, in fact, barely more than a century old, it would again seem as if we ought to be able to trace out its origin with some certainty. Yet such is far from being the case.
In a little more than a century there has grown up a popular belief that there occurs in our autumn a spell of peculiar weather, and to this has been given the name of the Indian summer. It has been stated that this spell appears in September; that it comes in October; that it occurs in November or not at all; that it takes place in January; that it lasts for three or five days only; that it extends over a period of more than four weeks; that it is peculiar to New England; that it does not occur in New England at all; that it is now more marked than was formerly the case; that in former years it was more pronounced than it is now; that it has at present ceased to occur anywhere. Amid these various and conflicting assertions, it is not easy to arrive at any definite conclusion; but, eliminating the points in regard to which there is divergence of opinion, it is tolerably clear that this supposed spell of peculiar weather is characterized by three special features, — by a warmth greater than that of the few days or weeks immediately preceding, by smokiness, and by haziness. It is true that some scientific writers have denied the existence of the increased warmth and have declared that the alleged smokiness is an optical illusion. But the popular belief — and it is with this only that I am concerned — appears to be such as I have described.
The statement already made that the term Indian summer itself is unknown until 1794, and the further statement that allusions to the Indian-summer season under any name appear to be unknown until late in the eighteenth century, will doubtless cause surprise and arouse opposition; for they are in direct conflict with popular belief and with many assertions to the contrary. For nearly a century people have been asserting that the term Indian summer was known to and employed by our early writers. Yet this is clearly a mistake. Of the seventeenth century writers, some make no allusion at all to climate, while others occasionally indulge in an observation about the weather, but cannot be said to discuss climate. In general, however, at least some brief remark about climate — or, as many authors were fond of calling it, the "air" — was thought proper, and the works in which such discussions occur are numerous. In the eighteenth century there were also some writings from which allusions to climate were absent, but as a rule the allusions were frequent. The fact that so many writers previous to 1800 neither employed the term nor recognized the season, is equally singular and noteworthy.
While at Le Bœuf, a few miles from the present city of Erie, Pennsylvania, Major Ebenezer Denny made this entry in his Journal on 13 October, 1794:
Pleasant weather. The Indian summer here. Frosty nights.258
Mr. Matthews then gave a series of extracts illustrating the history of the term from its earliest recorded appearance in 1794 to the present time; and continuing, said:
From the evidence which has thus far been presented, it is seen that the term Indian summer first made its appearance in the last decade of the eighteenth century; that during the next decade the expression "second summer" was used, indicating that there was no generally accepted designation for the supposed spell of peculiar weather in autumn; that this spell itself was first noted shortly before 1800; that the term Indian summer became established about twenty years after its earliest appearance; that it was first employed in western Pennsylvania; that it had spread to New England by 1798, to New York by 1809, to Canada by 1821, and to England by 1830; that the term is not merely an Americanism, but has become part of the English language in its widest sense, having actually supplanted in England expressions which had there been in vogue for centuries, and is now beard among English speaking people throughout the world; that it has been adopted by the poets; that it has often been employed in a beautiful figurative sense, as applied to the declining years of a man's life; and that it has given rise to much picturesque if also to some flamboyant writing. In short, to write in praise of the Indian summer is now a literary convention on three continents. So varied a history in little mole than a century is certainly remarkable.
If, as we have seen, the term Indian summer is popularly used in an indefinite way, no less vague and uncertain are most of the explanations which have been advanced to account for its origin.
Mr. Matthews then went on to give these explanations in detail and to consider them critically, and in conclusion said:
There are perhaps no words or phrases which are so difficult to trace to their origin as those which are, or may be, or are supposed to be connected with the Indians. Few Indians before 1800 could write, of the few who could still fewer did, and of the few who did none appear to have written about their own people. Consequently our knowledge of the languages, religions, myths, legends, traditions, manners, and customs of the Indians come to us through the whites; and among peoples which have no literature of their own it is notoriously difficult to arrive at true accounts in regard to such matters. There is certainly no lack of variety in the theories which have been discussed, but however it may appear to others, it does not seem to me that any one of them has any substantial basis in fact. It is possible that the name will some day be traced to an Indian myth or legend; but we cannot at present say with certainty that the allusions to the Indian summer in those tales related by Schoolcraft and by Jones are genuine, and the evidence points to the conclusion that these allusions have found their way to the Indians from the whites. We shall, therefore, be obliged to suspend judgment with respect to the origin of the name of the Indian summer until fresh evidence as to the early history of the term is produced.
A long discussion followed the reading of this paper, in which President Kittredge, the Reverend Edward Hale, Mr. Denison R. Slade, Mr. Lindsay Swift and others participated.
Mr. Henry H. Edes exhibited an original Commission dated 13 June, 1692, to Thomas Leonard of Taunton as Captain of a foot company of militia in that town. The Commission is signed by Sir William Phips, Governor, and Isaac Addington, Secretary, of the Province of the Massachusetts Bay.
Mr. Edes also exhibited "An ELEGY in Memory of the Worshipful Major Thomas Leonard, Esq., Of Taunton in New-England; Who departed this Life on the 24th Day of November, Anno Domini 1713. In the 73d. Year of his Age." The Elegy259 was written by the Reverend Samuel Danforth of the Harvard Class of 1683, long the minister of the Taunton Church.260
Mr. Henry W. Cunningham, having been called upon, spoke as follows: —
Mr. President: I wish to communicate to the Society a Journal, covering the period from the twenty-sixth of April to the second of July, 1776, kept by Lieutenant-Colonel Joseph Vose of Milton, Massachusetts, on the expedition sent by way of the Hudson River and Lake Champlain into Canada to reinforce the troops that had been sent there in 1775 under the command of General Montgomery and General Thomas.
This Journal is in the form of a letter written by Colonel Vose to his wife at Milton, and evidently is, as its opening sentence declares, "A Memorandum Drew from ye minutes I took Daily." It was probably written in camp some time after the occurrences mentioned took place, as, for example, under the date of the twenty-third of May, in speaking of the cartel after the affair at the Cedars, he says, "the Same cartel was afterwards Carried to Congress, but they Comply'd not with it." This, too, may account for some slight inaccuracies of dates, — as when he places the death of General Thomas261 on the twenty-eighth of May instead of on the second of June, although, even in this case, he may be merely noting the information brought to his camp.
Joseph Vose came of an old New-England family and was born on the twenty-sixth of November, 1738,262 on the farm in Milton that had belonged to his family for three quarters of a century. At the age of twenty-two, he married Sarah, daughter of Josiah Howe.
Colonel Vose was a farmer both before and after the Revolution, and at all times a public-spirited citizen interested in town affairs; and with a deep interest in the military, he played a prominent part in the army during that stirring period. Previous to the outbreak of hostilities, he had been a Colonel of the district militia and a Major in Heath's Suffolk Regiment.263 On the twentieth of May, 1775, he had taken a party of sixty men in boats to the light-house in Boston Harbor, which they burned, and from which they carried off a field-piece, the swivel and the lamps. Early in 1776, he was commissioned Lieutenant-Colonel of the 24th Continental Infantry of which John Greaton of Roxbury was Colonel,264 and after the evacuation of Boston, he went with his regiment to New York and thence up the Hudson and into Canada. In 1777, he was made Colonel of the 1st Massachusetts Regiment and joined the army under Washington in New Jersey, participating in the battle of Monmouth. He served with Sullivan in his Rhode Island Campaign in 1778, took part in the Siege of Yorktown, and at the close of the war was made Brigadier-General by brevet. He was one of the original members of the Massachusetts Society of the Cincinnati. He died in Milton on the twenty-second of May, 1816.
The expedition of which this Journal gives a partial sketch, was sent from New York in the latter part of April, 1776, and consisted of four regiments, the 8th, 15th, 24th and 25th Continental Infantry, commanded by Colonels Enoch Poor of New Hampshire, and John Paterson, John Greaton and William Bond of Massachusetts, respectively, with General William Thompson of Pennsylvania as Commander of the expedition until its junction with the forces already in Canada.265 The men suffered hardships tramping in wet weather through the wilderness, but were in good spirits, and anxious to join the Army and take part in the storming of Quebec. Their ardor received a check upon their arrival, on the eighth of May, at Sorel, where they beard of the defeat at Quebec and met returning troops, many of them sick with smallpox. After camping there for about two weeks, orders were received to proceed up the St. Lawrence to Montreal and have the men inoculated for smallpox. On this march they fell in with the delegates from the Continental Congress and beard of the disastrous skirmish at the Cedars. Colonel Vose remained several days in Montreal, many of his command sick from their inoculation, and for a time his men were the only American troops in the hostile city, and were daily expecting an uprising of the inhabitants. From Montreal they took part in forays towards the Cedars, to Three Rivers and to Chambly, and thence, with all the other American troops in Canada, began that masterly retreat, with the enemy close upon them, up the Richelieu River and Lake Champlain to Crown Point and Ticonderoga. Lieutenant-Colonel Vose had an important command in the rear, and in his Journal he gives many details of his experiences on land and water.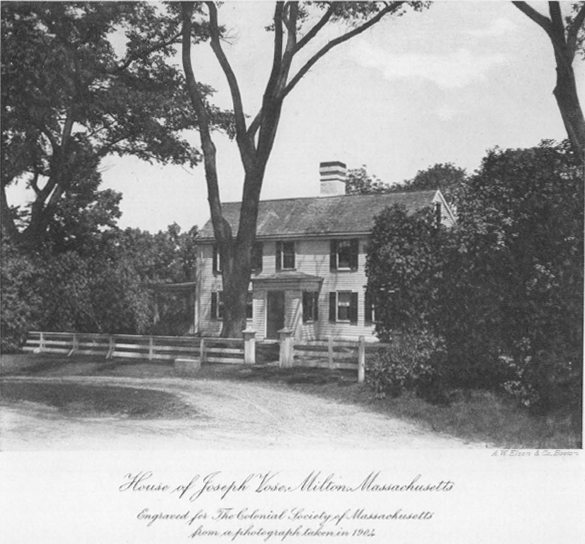 At the beginning of this Journal, the writer speaks of a previous one giving an account of his trip from Cambridge to New York, and he closes it with a promise of another giving more details of the movement of our troops in Canada; but this is the only Diary or paper266 of Joseph Vose that is known to be in existence. If this distinguished officer did write other Journals it is unfortunate that they have been lost, and it is hoped that the publication of this one will induce all who are of the Vose blood to search their old family papers for other writings of Joseph Vose.
JOURNAL OF LIEUTENANT—COLONEL JOSEPH VOSE.
A Memorandum Drew from ye Minutes I took Daily. 1776. To Mrs. Vose. — Mam. from Cambridge to N. York, I sent you home a Memorandum. — March 30th, then arriv'd att N. York, which time we fortified ye Governor's Isleland & the City. Spent the time very Agreeably, while we was there; Set Sail for Albany, with Greaton's Regiment — Patterson's, Bond's & poor's,267 under the Command of Genḷ Thomson, with our Regiments all Hearty & well & in good Spirits, we lived well upon our Passage went on Shore got Butter Egg's, & every thing we wanted. I had a fine Cabbin to lodge in & the best Voyage I ever went by water.

Arriv'd at Albany the City was much bigger than I expected. we got some Necessaries for the Regṭ

Set out for half-moon,268 there fell a Heavy rain in the morning, which made it had Travelling, the Land from Albany to half moon is exceeding Good,

take our baggage out of ye Battoes, as it went from Albany to half moon in Battoes, we arrived att Stillwater that Night where we took up two Deserters of Colọ Poors Regṭ & sent them back to Albany. Nothing Extrodiary happen'd to Day.

Sunday Morning, Clear & Pleaseant, we then put our baggage into Battoes, & March'd for Saratoga where we arrived before Night. we took out baggage out of the Battoes, & carried it across the Carrying-Place about one mild, then Carried it about 3 mild by Water to fort Miller the land from Still Water to Fort Miller very good, some part of the Regimṭ tarry att Saratoga, & some part at fort Miller, Colọ Greaton & my self tarry with Gelḷ Schuyler. Genll Schuyler has got a very Grand farm, & Elegant Buildings, 2 mild from Saratoga.

Set out for Fort Edward, past fort miller where there was grand Saw mills, Arrived att fort Edward Before Night, Raind very hard Soon after we got there, Nothing Extraordinary happened to Day. only that several of our men fired att Deer & Did not kill them. —we viewed the Old fort, & thought it was grand once

Marched for fort George, & Schyenesborough,269 take our baggage out of the Battoes, those men that are the least able to Stand fatigue we send with ye Waggons & baggage to fort George, or fort Wṃ Henry. the rest with Colọ Greaton & my self, with 4 Days. Provision upon our Backs, worse travilling men never travailed, this Day we see where Genḷ Putnam was taken by the Indians, & tied up to a tree,270 It now Rains exceeding hard & we have no Shelter, But the Woods. this march proceed's from the Neglect of not having battoes built.

We marched for Schyenesborough where our men took Cold lying on the Ground, & no Shelter the travailing still remains exceeding bad, some Places water is very high, where we have to wade, we Arrive att Schyenesborough Before Night where we had good Shelter. Capṭ Bent271 & myself went to a tavern about a Mild from the Regṭ where we were grandly entertaind the men Still Remain in high Spirits athou Such a Fatigue through ye woods, Just before Night 2 of Capṭ William's272 men got into an old Canoe above the falls their not minding they were so near the falls they got affrighted, & both Jumpt out, one got in again & we could not come att them to give 'em any Assistance the Canoe Driving Down the falls with one that had hold of the Stearn of ye Canoe, it heave him 10 feet high & Broke the Canoe when it passed the falls one of them we found hanging to a bush almost Dead. but revived, & the other never was Found, though there was great Search made from. his Name that was Drowned was howe, Brother to James Howe the Baker at Roxbury.273

this Morning Clear & Pleasant, we Set out from Schyenesborough & Sail to Ticonderoga along the South-Bay. &. Arrived at 12 o the clock, our Regṭ then went into the old french Barracks, our baggage is not Come from fort George this afternoon we go out, & view the Ground where ye Battle was fought 1758 & find the mens bones where the battle was fought, my Self & some of ye Officers goes Farther over to the Carrying Place where Lord. Howe274 landed with 20. thousand men, & had not marched, but a little. way before he was Killed, & we saw, the Place, we Still wait for our Baggage to come over lake George, & Does not arrive to Night

this morning Clear & Pleasent, our Baggage is Just arrived, we Cart it over the Carrying Place to our Battoes We Drew here 10 days Provisions, for to Carry us to Sṭ Johns; here I bought 2 Barrels of beer to Drink on the lakes. We got ready to set off. att 4 o'Clock, & Saild to Crown Point, that Night. Where we Landed, & the Soldiers went into ye old Barracks, the Officers got into the tavern.

this morning we rise by times, went viewed the old fort, that was Burnt Down I think it was the Grandest fort that ever was built in America, we put our baggạẹ on board the Battoes ye men in high Spirits & are afraid Quebec will be taken before we get there. we now Pursue our Voyage for Sṭ Johns, we arrive att Split Rock275 the wind being so Strong against us & the Sea. Rough that we are Obliged to go on shore, & tarry that Night.

Sunday. — the Wind Still Continues Contrary, & look's Promissing for a Storm. We order'd the men to Clear a Spot of Ground as it was a Wilderness, So that the Rev. Mṛ. Barnum could276 Preach a Sermon to us. he Preached from Proverbs, Chapṭ 18. — & Vers. 10. — the Wind Still Continues Contray & we are Obliged to tarry here this Night.

this morning cold, & Snows fast the Wind Contrary, we Still tarry, one of our men. brought me 2 Partridges, which I Stew'd & had a fine Dinner, the Storm Still Increases, I have got good Beer & Brandy, So that we faired very well, though our, Situation was bad. Nothing remarkable to Day

this morning Clear & Calm, Snow ankle, High. Set out very early on our passage this Day we rowed, 60 miles to the Isle of Mott,277 ye men Still in good Spirits we were troubled to Keep the men from rowing beyond their Strength. the land very good on each side ye lake as we past it, we tarried that Night on the Isle of Mott.

this morning Cloudy the Wind fair, & a fine Gale, we had good Sails to the Battoes & they Saild very fast we arrived at Sṭ Johns,278 12 o'Clock, there made a Short Stop & took in Pilots to go to Shambly,279 we went about 6 miles from Sṭ Johns, there all the men got out of the Battoes except 6 men in each Boat to Go Down the Rapid. I went Down in one of the Battoes as being use to handling an oar the Rapid exceeding Swift, we arrived att Shambly 4 o Clock & there the Rain Came on very fast hindered our Proceeding that Night we tarry here this Night, Col. Greaton &, myself. with Mṛ Barnum tarried in a french House, the Soldiers went into Barraks.

This morning I began to think of some had conduct. Somewhere. we Set early for Sorell, fair Wind & very Pleaseant river. Setled thick on both sides, had not saild far before we saw the women Standing in the water, up to their knees, washing, which I thought very odd, but it was ye Custom among the People though the weather was very cold for the Season. the men Still in good Spirits, & many wagers laid Betwen Officers, we should arrive to Quebec Before Saturday Night, that Day Met a number of Yorkers from Quebec, they said, their times were out Which Still caus'd me to Suspect that matters were conducted had at Quebec. we aniv'd att Sorell about Sun Down. & as we came to the Shore, we receiv'd the news of our People's Defeat att. Quebec. & their retreat towards us. which gave us a great Shock Indeed, & orders not to proceed any farther. As our Regṭ Sat out from Albany 1 Day Before the rest, & our men being so Resolute to get forward that they gaind one Day of the rest of ye Regiments extrodiay att. 12 o Clock that Night we heard 2 Swiffles fire, which Alarm'd us, but we soon found that it was the Return of Capṭ. Stevens280 from the 3 Rivers. Capṭ. Stevens with his Company of Artillery went from Cambridge with 2, — 13 inch Mortars, & went as far into Canada as 3tḥ Rivers, & their Received orders to go back to Sorell.

A Battoe Arrived this morning, which Confirms the news of the Retreat, we hear that Genḷ Thomas is bringing up the Rear of the Army, & here we be in this Situation, & have Strict orders not to go Forward.

Battoe comes in, the men bring news that the Army want boats to Retreat with ye Sick. we Immediately sent 10 Boats which was all ye boats we had then went 50 men under ye Command of Cap. Bent in those boats they went about 30 miles below 3th Rivers. then they put themselves into 2 Battoes, & Delivered the rest to the sick, as they were afraid of ye small-Pox.

the battoes Still Keep coming in Load'd with men Sick of the Small Pox. Such a Sunday I never saw, for to see the french Attend at mass, & very Strict in their Religion, all which seem'd to be Superstitions to us

Genḷ. Thomas not arrived we cant learn. whether he Determines to come to Sorell or Fortify Point d.Shambo.281 40 miles this Side of Quebec.

Genḷ. Thomson with Genḷ. Arnold arrive here from Montreal. Nothing extreme to Day.

2 Vessels come from Montreal loaded with Provisions & Artillery Stores.

We hear this Day that Genḷ. Thos. will soon arrive.

Order's to day from Genḷ. Arnold for ye Surgeon to Innoculate ye men, to my Great Surprize.

this morning Cloudy, & very Cold for ye Season Our Provision is very Short, brought to half an allowance.

Genḷ. Thomas arrives, Steady & Calm he tells me he was Sorry that he had been so Deceiv'd in the Situation of our Army he likewise Informs me that they had a Council of War. Before Quebc̣ — & the Result was to Retreat to Point. d.Shambo, for they had not 1000 Effective men att. Quebc̣ their Camps being att Such a Distance from each Other, that it was Impossible to Collect any Number of men together

We have this Day orders to go to Montreal to have the Small pox, but as Soon as we Had Orders to have the Small pox the Officers & men were so eager to get it, that many of them would not wait till we got to Montreal, but Stole the Infection, & Innoculated each other.

we set off this afternoon for Montreal in Battoes, & Saild 15 miles.

Clear & very cold for the Season we set off early for Montreal. ye wind a Head. Something of a Current. this is ye River Sṭ Laurence From Sorell to Montreal which is very Pleaseant Setled thick on both Sides, ye women are a Washing in this river like the Other we pass Several very fine mass, — Houses. we go now some on the land the rest are in the Battoes, we meet two of the Contḷ. Congress which Inform us of very had news, that there was a Small Fort call'd the Cedars about 30 miles Above Montrl. they tell us it is taken by the Enemy, & all the men, & that Major Shearbon282 went out with a party & they were all tak'n they likewise said that it was talked of at Montreal that Day at 12 o Clock, that ye Inhabitants Intended to take arms that Night & Conquer our People they advise us to march Into town that Night as we were 15 miles off at Sun Dawn. the men are very much Fatigued. but As the case was Represented to us In such a bad Situation, we exerted ourselves & went in, we arrived about 9, o'Clock at Night, very Dry & Cold for the season, the ground hard, which lamed some of ye men Montreal was a much bigger City than I had any Idea of. we Remain'd in Montreal 2 Days. with very few men, and as the Enemy had taken Majṛ. Shearbon with his party, & got the fort att the Cedars, we expected, an Attack every Hour.

A party of men arrive from Sorell Intending to go & retake the fort at. the Cedars.

this morning set of with the addition of 300, more, under the command of Gen!. Arnold to go to the Cedars, they Came up to the enemy About Sun Sett the enemy on one Side of the River & they ye Other, with our Prisoners tht they took, in ye evening they sent a flagg over to the Genḷ with proposals of exchanging Prisoners, as we took a Number of Prisoners att Sṭ. Johns. the Enemy likewise told them that if they Pursued their measures, they would Destroy every one of our men that they had Prisoners att ye Cedars The Genḷ. Would not comply with it. the enemy sent another flagg at 12 o'Clock ye Same Night, & Still said that they Would Destroy our Prisoners if we pursu'd them. Then Genḷ. Arnold setled the Cartel with them to exchange Prisoners & leave 4 Captṣ. with them, as Hostiges but they soon Broke the Cartel in firing upon our men. the same Cartel was afterwards Carried to Congress but they Comply'd not with it. because the enemy fired upon our men after ye Cartel was made, & broke it. but the Cartel was Astonishing to me, & had I have had an own Brother there, I should have been for Pursuing them, & taking them it was in the Genl'ṣ Power to have taken them, & I Dont think that they Durst to have killed a Prisoner all to besaid of it is the fortune of War.

Clear & Pleaseant but very Cold for ye season. Nothing Remarkable to Day.

Our Regiment are Still in Montreal In a very Poor Situation, our Officers & men are Breaking out with the Small Pox, & no other troops in the City but ours, & expecting every Night to be Attack'd I went the rounds almost every Night for a week, 6 to. 1. of our Number is in ye City almost all against us & very Malicious but we Keep good Guard, & are Determin'd that if they Do rise, we will give them Good battle.

Nothing extraordỵ to Day.

Genḷ. Arnold arrives from the Cedars brings news that there is a Cartel Consented to. by both Parties, & have exchang'd Prisoners.

this Morning Clear & Pleaseant, a Number of our Troops Return from the Cedars, we have this Day Orders to Go to St. Johns, to have, & Recruit of the small pox. Colọ Greaton Marches this Day with part of the Regṭ. for Sṭ. Johns. ye reason of the Whole Regt'ṣ not going to day is for want of Battoes. the Genḷ sends to me to Night about 11 o'Clock that he had had Information by friends that the Inhabitants Intended to take us that Night, likewise said to me. to do the best I could. I accordingly went & awoke all the Soldiers, & made them Dress themselves & Load their Guns Lying on their arms to be ready Instantly. I told them further if they Did take us, it should not be for Nothing I then went the rounds, & to the Guards Doubled the Centinels, giving them orders to fire upon any Person that Did not give a good account of himself.

This morning Clear & Pleaseant but Cold, & Dry for the season. Colọ Stark with Colọ Read Arrive here from Sṭ. Johns with part of their Regiments the Genḷ. Orders that the Remainder of Col. Greatons Regṭ. go Immediately to Sṭ. Johns, & that I must tarry for he could not spare me, I send the Regṭ. off as soon as I can, an express arrive from Shambly to Montreal, & Informs us that Genḷ. Thomas Died last evening.

The Genḷ orders me this morning to go to Shambly, as soon as I got to Shambly I met Genḷ. Sullivan,285 to my great Joy, & as I talked with the Genḷ. he gave me orders not, to go to St. Johns. to tarry, only to get Colọ Greaton, with the rest of the officers, that were fit for Duty, & push for Sorell as Quick as Possible.

Our Regṭ is now at the worst with ye S. Pox, No more well than enough, to tend ye Sick. Colọ Greaton with my self went only with each of us a waiter, we set off for Sorell, go to Shambly & overtake Colọ Stark,286 with part of his Regṭ we are in Company together on the way to Sorell we lodge this Night, about 10 miles below Shambly.

Fair this morning Clear & Pleaseant fair wind, & we set sail for Sorell — Arrive at Sorell 3, o'Clock, Just as we arrive, Genḷ. Thomson287 was in readiness to march. to the 3 Rivers with 700 men to meet the enemy, also he was to Join 700 men more att sṭ. Fransway's,288 & Proceed to the 3 Rivers, which is about 90 miles this side of Quebec, as they said, there was 4. or 500. of Regulars which had there been no more our Troops would have taken them with ease. But our troops were mislead by a Pilot after they landed, & went from their Battoes which much Disappointed them, for as they Intended to have took the enemy under Surprise, in the Night, they were keep marching in a Swamp till after Sun-rise, all very unlucky for us, for ye Night before there came 6, or 8 Vessels up as far as, 3, Rivers, and the Instant our People came in Sight, they landed their men from the Shipping, which made their Numbers, vastly Superior to ours, there was a Shot or two on each Side, & our People Retreated, but the Retreat, was so bad, their, being under Such bad Circumstances, that the enemy took Genḷ Thomson, with about 120 more.

This morning fair and Clear, Nothing Remarkable to Day.

Cold & Dry nothing Remarkable to Day.

Clear & Pleaseant, we hear that the Soldiers will be in to morrow from 3 Rivrs

the Battoes arrive that went for 3 Rivers the Soldiers march by land, N. remarklẹ

they arrive about 6 miles from Sorell. Where we send the Battoes after them bring them to sorell.

this morning clear & Pleasent, we begin to fortify with a great Deal of expedition.

this Day 500 men are ordered upon Fatigue, with the Greatest expedition.

500 men this Day Fortifying at Sorell

We have this Day news the enemy are a going to Montreal by us & not attack us, the Genḷ this Night calls a Council of war of all the field Officers there is upon ye Ground. the Chief of the Counsil were for Retreating, I among the Small Number for Staying.

this morning left the Works att Sorell, & Retreated to Shambly. Bringing all Stores, & left nothing.

We move our Stores from Shambly to Sṭ. Johns, as fast as Possible. the Rapids exceeding had to get the Battoes over, & caus'd much work with Difficulty to do it.

Reported that the Enemy are very nigh us, the Genḷ. sends me this morning to a Place called Centras, half way, Between Shambly, & Sṭ. Johns, with Strict orders that no Officer or man should pass, till all the Artillery Store & Baggage were got forward

this morning the Rear march from Shambly with all their baggage, to Centras. from there I Bring the rear to St Johns.

this Day we send our Sick & Artillery Stores To the Isle of Mott.

We have this morning a Council of war the Council Determines to Retreat to the Isle of Noix289 with all Stores, & from thence to Crown Point as Quick as possible. we tarry to the Isle of Noix till we can get our Sick to Crown Point, & our Artillery Stores to the Isle of Mott.

our Boats are not Returned from C. Point

Some Part of our boats Return, for more Stores.

this Morning Clear & Pleaseant, about 3, o'Clock there set off. 7. Officers 4 Privates to go about half a mild across the lake to get some Beer, they went without arms, & entered the House Close to the lake. but there was Indians, lay In Ambush, & rose upon them, Killed 4 & Scalped them they also took the rest. the Genḷ. Sent a Party over as Quick as Possible, but the Indians were gone our People Brought over back again, the Dead men that were Scalped 2 officers, & 2 Privates. Such a Sight I never beheld with my eyes as to see men Scalped.

this Day it is Reported that there was 2 boats coming from the Isle of Mott to the Isle of Noix, they went on shore about 9 miles from the Isle of Noix after some Necessaries, the Indians came upon them out of the woods, killed & took, about one half of them, the rest got. Into a boat & pushed for the Isle of Mott the other Boat Floated alone, & came Down to the Isle of Noix, with one Dead man in it.

the talk this morning is that we shall not get off. to Day. our boats are not come, & the enemy on both sides of us.

We Still Remain, & the Boats do not Return.

We remain under the same Circumstances.

Our Boats appear in sight, & come, we Load our baggage & their is not boats Enough to take us all in. 12 Hundred of us, are Obliged to march by land. We set off. att 12, o'Clock, under the Commd. of Colọ Wayn,290 Colọ Greaton in front Majṛ Morgan in the Center, Colọ Porter & myself, brought up the Rear, We all expect, that the enemy have laid in wait for us, we have 1200 the best of Troops, & are Determined if we meet with them, to cut them off. Root, & Branch, we crost the river in Battoes & marched about 5 miles then we come to where the men was killed a Day or two before, we there burn, 2 Dwelling Houses, 1 Saw mill, & one Grist Mill. Which belonged to a torey, where the men were Killed, & Scalpt, as I wish every torey's house was burn'd upon ye Continent he being gone off to the enemy we could not catch him, we had orders to take ye Cattle with us, my bringing up the Rear Guard, we Drove the Cattle on side of the lake, I went in among the Cattle with a Hatchet & Knocked Down 10 of them, & Stuck them, in less than 10, Minutes the men hove them into the Battoes. — 2 Cows, & calves, I put on board alive. We then Pursued our march, with our front flank, & Rear Guards, about 6 miles farther, worse travilling men never travailled, it rains exceeding hard, & Night comes on, which makes it very Dark, we are Alarm'd about 11, o'Clock att Night, but soon find it is only some of our flank guard, that had got lost, in the woods

We rise very early this morning, & go Down to our Battoes. Dress the Beef that we had Killed ye Day before — Cooked some of it, & eat. it is the first fresh beef that we have eat this 2. Months Our Boats arrives from the Isle of Mott to us about 11, o Clock, then we went into ye Battoes & set off for Point, aufare, about 8 miles from the Isle of mott, we came to Point Aufare, burned a large torey House took in a number of our troops, & went to the Isle of mott.

We load all our Battoes, with Artillery Stores & Provisions, sett out about 3, o Clock with 100 battoes, in 4 Divisions, went about 12 miles that afternoon we past the vessels that had the Artillery Stores Provisions &c. before Night.

We set off again early this morning for Crownt-Point, & go abot 20 miles where there is a number of families lives. Friends to us we there tarry for the Vessels to come up. but they Do not heave in Sight. orders, from the Genḷ Just before Night. for me with Colọ Mc̣Field to take 500, men. go Down & bring up the Vessels, we go Down in the Night, & Come up with one of them, but it was very Dark, & she had like to fired upon us thinking it was her enemy. We went on Shore upon one of the Islands & tarry all Night.

Genḷ Sullivan with the army set off for Crown Point from Gilliland's Creeck. we tarried with the Vessels, & came that Night up to Split Rock where there were a Number of the Inhabitants. Durst not tarry for fear of Indians, & came with us to C. Point. we make a tarry here this Night below Split rock

this morning we rise by times, & put 70 Head of Cattle on board of the battoes & Vessels, we then set out for Crown. Point being a Calm we have to toe the Vessels which makes it late before we get to Crown Point. I have now arrived att Crown Point. there never was a grander Retreat made, than what we made from Sorell, to Crown Point, all the way, for I brought up the rear myself all the way, & know very well, therefore you may hear what Stories you will it is the truth what I tell you.

but Canada has been a very unfortunate Place for Generals. Genḷ Thomas Died with the small Pox, Genḷ Thomson Taken Prisoner, Genḷ Sullivan has Resign'd & Gone from us, which I am very sorry for. Our troops are now Chiefly at Ticonderoga, fortifying that, & on an Hill Close by. A very Good Place, some part of our Troops are att Crown Point we have 4. arm'd Vessels upon the lake, we have 4 Gundeloes built, & 4 more building for which I think we shall Command the lake without any Difficulty, each Gundelow, Carries 4 Guns. our Army Is now about 4000. Strong our Sick are moved to fort George. I understand there is a large Numbr. of troops a Coming, but I am Sorry there is any troops a Coming before our times are out. that they might take our Places. I shall send you the Remainder of the Journal as soon as I have opportunity. the Particulars, concerning the retreat from Quebec, to Sorell, I will send you in the next Journal, so that you may know it is not so bad as you have heard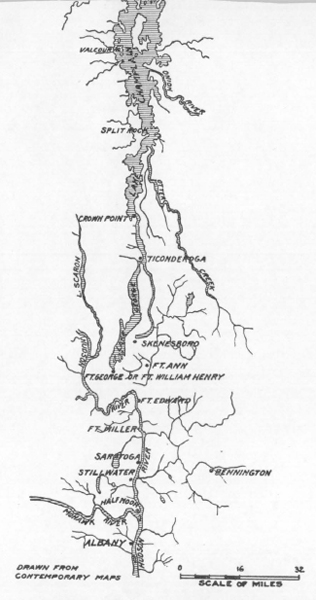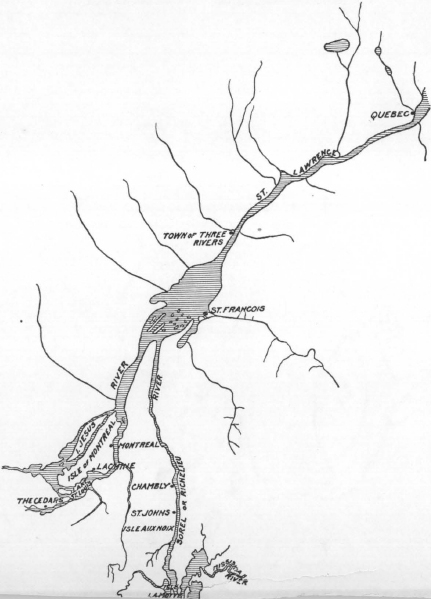 The Hon. Marcus Perrin Knowlton, LL.D., of Springfield and Mr. James Atkins Noyes of Cambridge were elected Resident Members, and Benjamin Franklin Stevens, L.H.D., of London, England, a Corresponding Member.
In the absence of Mr. Andrew McFarland Davis, Mr. Edes communicated a Memoir of Robert Noxon Toppan, which Mr. Davis had been requested to prepare for publication in the Transactions.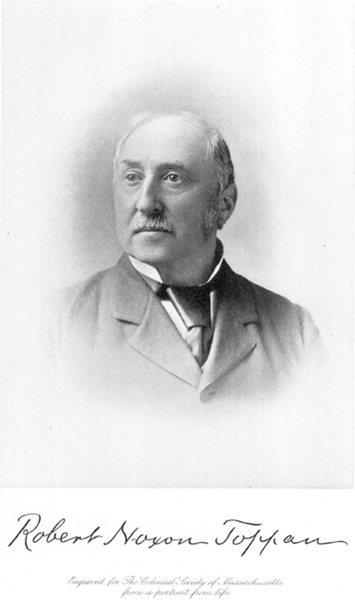 ROBERT NOXON TOPPAN, A.M.
by
ANDREW McFARLAND DAVIS.
At the third Stated Meeting of this Society, in March, 1893, Robert Noxon Toppan was elected a Resident Member. He had at that time already laid the foundation for the reputation which be afterward acquired for thorough and scholarly historical work, so that he was welcomed to our fellowship as a desirable addition. During the period of his membership his fame as an investigator and as a careful and diligent student of historical facts steadily grew, and to this was finally added full recognition as a discriminating and conscientious editor through the publication, in 1898 and 1899, by the Prince Society, of his Edward Randolph. His contribution to our proceedings of two brief but learned papers, — The Right to Coin under the Colonial Charters, read at the February Meeting in 1894, and The Failure to Establish an Hereditary Political Aristocracy in the Colonies, communicated in March, 1897 — aided materially in establishing his name as an historical student. With the growth of knowledge of his capacity on our part, came the desire that the Society should profit by it, not only through communications at our meetings, but also through service in the body of officers to whom is intrusted the management of our affairs. Conservative in temperament, prudent, cautions and conscientious in all his actions, be was eminently fitted to act as an adviser in such a body, and the selection of his name as a candidate for member of our Council was endorsed by the Society with cordial recognition of the fitness of the nomination. His unexpected death on the tenth of May, 1901, came as a shock to the community. Those who knew him best and who were most familiar with the work which He had performed, best know what we had a right to expect from him in the future, and can best appreciate our loss.
Mr. Toppan was born in Philadelphia on the seventeenth of October, 1836. It seems almost a pity that one can not substitute Newburyport for Philadelphia, and thus be able to say that he was the sixth Toppan in the direct line of male descent from Abraham Toppan to be born in Newbury or Newburyport. Charles Toppan, his father, who was born there in 1796, had not, however, the same mental characteristics as his four predecessors of the name of Toppan. He was gifted with a natural capacity for sketching and was fond of art and of travel. Life in Newburyport under these circumstances was not congenial to his disposition and he moved to Philadelphia, where, at the early age of eighteen years, he formed a connection with a firm of bank-note engravers, thus laying the foundation for a prosperous career which culminated in his being selected as President of the American Bank Note Company in 1858, at which time the more prominent of the bank-note engravers of the country consolidated their forces by the organization of this company.
In 1826, Charles Toppan married Laura Ann Noxon, a daughter of Doctor Robert Noxon of Poughkeepsie, New York, after whom their son Robert Noxon Toppan was named. In 1852, the family went abroad and remained until 1854. They then moved to New York, where they established a home which they occupied until Mr. Charles Toppan resigned the presidency of the American Bank Note Company in 1860, and again went abroad, where he remained until his death, at Florence, Italy, in 1874.
Robert's early education was begun in private schools in Philadelphia. When he reached the point of preparing for college, he studied under a private tutor with a view to entering Yale College. His course of study was, however, interrupted by his joining the family in their migration to Europe in 1852. During this trip he was for a brief space of time at a boarding school in Paris. On his return to this country, in 1854, Robert renewed his studies under a tutor, but this time with a view to entering Harvard College, which he accomplished in 1855, gaining admission to the Sophomore Class. In 1858, he graduated with rank high enough to secure his election to the Φ. B. K., and then joined his family in New York. It was his desire at that time to follow in the footsteps of his father. Whether the next move that he made was in the line of that desire, or indicates an abandonment of the purpose, it is difficult to say, but as a matter of fact, instead of entering the service of the American Bank Note Company, he enrolled himself at the Columbia Law School and simultaneously entered a downtown law office as a student. This Law School was then in its infancy and the methods of instruction permitted — perhaps it may be said that for a time they encouraged — this course. Robert was not alone in it; many of his fellow students did the same. He took his LL.B. from Columbia College in May, 1861, and on the fourth of June of the same year was admitted to the New York Bar. It can hardly be said that he ever entered upon active practice in New York, but for a short time he had a desk in the office of his relative Mr. Samuel B. Ruggles.
In 1862, Mr. Toppan published a translation of certain selections from Jouffroy's Mélanges Philosophiques and Cours de Droit Naturel under the title of Moral Philosophy: Extracts from Jouffroy. These extracts taken together, says the translator in his Preface, —
"form a complete whole. The first lays down the problem of human destiny, and shows that the problem can only be solved philosophically by a study of the facts of human nature. The second gives a description of the moral facts of human nature. The moral facts of human nature being ascertained, the third gives us the moral law that we ought to obey, in order to accomplish as fully as possible our destiny in this world."
Jouffroy was a pupil of Cousin and it is said that being uncertain about the enigma of our destiny, yet detesting incredulity, he was "resolute to solve the question by the light of reason, since He had lost that of faith." The moral problem which is laid down in these extracts is given by the translator as follows: —
"What I ought to do, is to go toward my end; what every intelligent and free being ought to do is to proceed toward his end; in advancing toward it this intelligent and free being and myself not only do what we ought to do, go toward our good, but we contribute also to the realization of absolute good, which appears to be made up of the accomplishment of all the particular ends of all the beings composing the creation.
"This, gentlemen, is my solution of the moral problem. I said, that not only is this solution manifest, but that a method results from it to determine for all beings known to us in what good consists, and consequently what we ought to do; and therefore the rule of our conduct in all possible cases."
It happens that the copy of Moral Philosophy: Extracts from Jouffroy on the shelves of the Library of Harvard University is the one which was presented by the translator to Dr. James Walker. The generation of Harvard students which came under the influence of that remarkable teacher is now passing away, but the tradition of his great personal ascendancy and of the sway that he exerted over the lives of his pupils is still fresh. It is perhaps too much to assert that this recent graduate, in thus sending to his former preceptor these extracts from Jouffroy, desired to show him that escape from personal contact had not released him from the beneficent influences exerted by his presence; but at least we can say that the rule of his life was to be found in the moral law laid down by Jouffroy, and that he always did his part toward contributing to the realization of absolute good.
The same year that the translation from Jouffroy was published, Robert closed his desk in Mr. Ruggles's law office and joined the family in Europe. For many years he remained there, journeying from city to city, a spectator here of some great festival or pageant, a participant there in some great historical event. His mind was stored with reminiscences connected with current affairs in Eastern Europe, covering the gamut from coups d'état in Paris, to the peaceful election of a Pope in Rome; from the glittering and gorgeous display of the Empire in the days of its supreme power in the capital city of France, to the havoc and distress upon the battle-field of Sedan, where the Empire breathed its last, which he visited while yet the dead were unburied and many of the wounded uncared for. He became, of course, a proficient linguist and when in Madrid was tendered the position of Secretary of Legation by the Hon. John P. Hale, then our Minister at the Spanish Court. This office seemed to him to open up a career for which his contact with the European world appeared eminently to have fitted him, and be gladly accepted it. An unfortunate attack of illness prevented him from entering upon his duties, however, and to his great disappointment, he was obliged to give up the place. If we bear in mind the influence of his father's artistic temperament upon his tastes, and take into consideration the extraordinary opportunities which he had enjoyed for travel and for acquiring different languages, we can realize that a diplomatic career must have seemed tempting to him and can appreciate how great the blow which closed what seemed to offer an opening to enter upon such a career.
During his entire stay in Europe, Mr. Toppan maintained close touch with his native land, through the necessity for frequent visits upon matters of business. He always had a fondness for Newburyport, and when, a few years after the death of his father, he returned to this country, he made his headquarters at that place. On the sixth of October, 1880, he was married there to Sarah Moody Cushing, the daughter of the Hon. William Cushing of Newburyport. The marriage was followed by another trip to Europe, after which Mr. and Mrs. Toppan lived for about a year in Newburyport. In 1882, they moved to Cambridge, where he afterward built a house for his family, in which they now reside.
Mr. Toppan's interest in Newburyport was, of course, based upon the fact that his ancestors had lived there. He was much concerned in the history of his own family and incidentally in the history of the town. He was proud of the record of the town and welcomed the efforts of its people to keep alive a knowledge of their past. These efforts were at that time fairly represented by the work of the Historical Society of Old Newbury, an organization having a membership of representative men of the place, all of whom felt kindly towards the purposes of the organization, but none of whom had interest enough in the subject to enter actively upon the work of the Society, or to spur others on to do what he himself did not care to undertake. The spasm of energy which had led to the establishment of the Society was followed by a period of torpor after the enthusiasm of the founders had subsided. Mr. Toppan deliberately set himself to work to revive the interest of Newburyport people in historical work and to stimulate the Society into some sort of activity. Largely through his personal influence, a room for the use of the Society was secured in the Public Library building. He cast about for some means of interesting his fellow-members in active work, and it occurred to him that it would be a good idea to secure from each person whose family was entitled to a coat of arms, a shield upon which those arms should be emblazoned. The act of looking up the question would set each member of the Society at work and the shields, when obtained, could be used to decorate the hall in which they met. This ingenious idea was actually carried out and fully realized the hopes of its originator.
Mr. Toppan's position in political affairs was one of sympathy with every movement which tended to elevate the morals of the country or to reform recognized evils existing in our form of government. Being absolutely without political ambition, he held a position of indifference to partisan questions and ever stood ready to co-operate, with personal service or with purse, in the strife for determining, upon broad grounds of principle, the various political questions which arose during his period of manhood. He believed that political science was worthy of study and that the world would be benefited if educated men should turn their attention towards the solution of its problems. With the purpose of carrying out these views, he consulted with Professor Torrey and, in 1880, forwarded to the Treasurer of Harvard College one hundred and fifty dollars, "to be used as a prize or prizes, to be awarded in 1881, on Political Science, in the graduate department of the University." From year to year thereafter he repeated this gift, until 1894, when he deposited three thousand dollars with the Treasurer of the College, as a fund for the annual offer of a prize for essays on Political Science, and the Toppan Prize then became one of the annual prizes of the University. Owing to occasional lapses in the bestowal of the prize, the fund has increased to nearly thirty-five hundred dollars. This serves as a compensation for the reduction of interest carried by the general fund and practically guarantees the accomplishment in the future of the wish of the founder, — that the amount offered annually for the Toppan Prize shall be one hundred and fifty dollars.
Mr. Toppan's publications, if we exclude the translation of Jouffroy and a single paper on Bank Note Engraving, may be divided into two classes: those dealing with the subject of money, and those which treat of topics connected with our local history. All, however, are distinctly historical in character. In dealing with them it will perhaps be more in consonance with the methods employed herein to classify them under these headings than to describe them in chronological succession. In treating of money, we should naturally expect that one whose material interests were so closely associated with bank note engraving, would have selected for study that branch of the subject which deals with paper-money. Such, however, was not the case. Circumstances turned his attention toward the questions of what would be the best metal for use in a uniform international coinage and what would be the best unit for such a coinage. The various papers which he published on these questions were put forth while the struggle between gold and silver was in progress in this country, and his participation in this controversy furnishes illustration of what I have already said concerning his readiness to co-operate in the determination of political questions upon the basis of principle. His views upon the questions under discussion were clear and well defined and would, perhaps, through their own force have led him to take up his pen in their advocacy, but if he needed stimulation he found it in the sympathetic attitude of his friend and relative, Mr. Ruggles, in whose office he at one time had a desk, who was then Chairman of the Committee of the New York Chamber of Commerce on International Coinage, and who as a delegate had already ad vocated the twenty-five franc piece as a unit for such a coinage, at the International Statistical Congress at Berlin in 1863, and again at the Monetary Congress at Paris in 1867. Mr. Toppan's first publication on the subject of Money was in the form of a letter, in 1877, addressed to Mr. Ruggles as Chairman of the Chamber of Commerce Committee on International Coinage. It was published by the Chamber of Commerce under the title of The Historical Succession of Monetary Metallic Standards.
In 1878, Mr. Toppan was a delegate to the International Congress for the Unification of Weights and Measures and Money. We have no record of any communication from him to that body, but in December of that year he submitted to the American Social Science Association a communication in advocacy of the adoption of a unit previously proposed by himself for an International Coinage. This paper was published in 1879, under the title of A Unit of Eight Grammes, proposed by Robert Noxon Toppan. He reverted to the subject in April, 1880, when he read a paper before the Numismatic and Antiquarian Society of Philadelphia, which was published by that Society, under the title of Some Modern Monetary Questions viewed by the Light of Antiquity.
In 1884, he took up the subject again and published a little book entitled Historical Summary of Metallic Money. In this he gives the names of the several authors upon whom He had relied for information concerning both ancient and modern monetary systems. This volume may be said to be the most complete and the most ambitious of his several publications on Money.
In 1888, he read a paper before the American Antiquarian Society at its April meeting in Boston, which was published in the Proceedings of that Society, and was also separately printed under the title of Monetary Unification.
In all these papers he was the advocate of a single standard, which, in his opinion, could be only gold. He believed that there was a tendency towards unification, but that on account of national prejudices and jealousies no existing coin could be adopted as the International Unit. In the coinage of all nations which had made use of gold, he found some coin which approximated closely to our five-dollar piece. Inasmuch as it was not probable that either the sovereign, the twenty-five franc piece, the twenty-mark piece, or the five-dollar gold piece could be adopted, by reason of national jealousies, be proposed a compromise unit which should weigh eight even grammes and which should be nine-tenths fine. While this would not agree with any existing coin, it would closely approximate one of the coins in use in each of the prominent monetary systems of the world, and its adoption would cause but little disturbance to values, and would entirely eliminate the question of national prejudices. The discussion of the subject carried on in these various publications, indicates extensive research and scholarly attainments. I have already stated that all were historical in their treatment of the subject. Without undertaking to go into detail upon this point, it will be sufficient to recall the titles of these papers to show the extent of the work of this nature necessarily performed in some of them, by the writer.
Mr. Toppan's first contribution towards our local history was a set of biographical sketches of the natives and residents of Old Newbury, Massachusetts, prepared for the celebration of the two hundred and fiftieth anniversary of the settlement of the town, in response to a resolution of the Historical Society of Old Newbury. He was restrained to brevity by the words of the resolution, and, in some cases, still further by the meagreness of the details which could be found concerning some of the characters; but he succeeded in getting together a series of sketches of great value as a contribution toward the local history of Newbury; and they were creditable to the writer. They were published by the Society under the title of Brief Biographical Sketches. For some reason, the volume does not contain any sketch of the life of Edward Rawson, one of the early settlers of the town and one of the proprietors of 1642. Mr. Toppan left a manuscript sketch of the life of Rawson, which was read at a subsequent meeting of the Society.
The two papers read by Mr. Toppan before this Society in 1894 and 1897 have already been mentioned. Their titles sufficiently indicate the interesting character of their contents, and it only remains to say, that although both are brief, they are representative in the thorough and systematic character of the researches upon which they are based.
During the years 1898 and 1899, the Prince Society issued the five volumes comprising the work entitled by the Society in its calendar, Edward Randolph, and more specifically described upon the title-pages in the volumes as "Edward Randolph: including his Letters and Official Papers from the New England, Middle, and Southern Colonies in America, with other Documents relating chiefly to the vacating of the Royal Charter of the Colony of Massachusetts Bay, 1676–1703. With Historical Illustrations and a Memoir." The Memoir, which is comprised in the first volume and in the first half of the second, is the most extensive and most elaborate historical production from Mr. Toppan's pen. It is based largely upon the documents and letters contained in the volumes which succeed it, and is worthy of its place at the front of this work. Like the Randolph papers, it is profusely annotated with helpful cross-references, explanatory notes, and notes containing additional information. The whole work bears evidence of patient labor, diligent research, and scholarly knowledge of the subject. For several years, while engaged in preparing these papers for publication, Mr. Toppan was occupied in the study of the papers themselves and of the contemporary literature on both sides of the Atlantic which could throw light upon the subject, or upon the lives of the men mentioned in the papers. The student of these volumes has the benefit of this protracted study, the result of which is one of the best edited series of papers to be found among the many which treat of the history of the Colony of the Massachusetts Bay. Mr. Toppan himself might well have been content to rest his reputation as an historical student and an editor upon this publication alone, and he had every reason to be proud of its reception by students of American history.
Mr. Toppan rounded out his work in this line by communicating to the American Antiquarian Society in October, 1899, a copy of a fragment of the Records of the Andros Council, which is in Randolph's handwriting and is now in that Society's possession; and by communicating to the following April meeting a copy of the official transcript of the Andros Records in the form in which they were transmitted to London. Both of these documents were published in the Society's Proceedings. He also communicated to the Massachusetts Historical Society, at its meeting in November, 1899, a copy of the Records of the Council meetings under President Joseph Dudley; and these were in turn published in the Proceedings of that Society. The importance of this work will be realized if it be remembered that the published Records of the Massachusetts Colony end in 1686. The Records of the Province have never been published, but the edition of the Province Laws, edited by our associate Mr. Abner C. Goodell, partially covers this defect. These laws do not begin, however, until 1692. In the progress of his work, Mr. Toppan's attention was called to this lamentable gap in our State publications, and in this easy manner he rendered a service of great importance to students of American history.
There still remains one publication of Mr. Toppan which I have hitherto mentioned only casually. In 1896, be read before the Trustees of the American Bank Note Company, a paper which was published under the title of A Hundred Years of Bank Note Engraving. His scholarly methods of research were so much a part of his every effort, that even in this paper, which was not prepared for a learned Society, one can recognize their effect upon him. In it he touches briefly upon what was then known of the early banks of New England and afterward gives an account of the different bank note engravers of America and of the several inventions which have modified the process of engraving and printing.
At the time of his death, Mr. Toppan was a member of the Numismatic and Antiquarian Society of Philadelphia, the American Historical Association, the American Antiquarian Society, the American Philosophical Society, the Colonial Society of Massachusetts, the Massachusetts Historical Society, the New England Historic Genealogical Society, the Bunker Hill Monument Association, of which he was a Director, and the Prince Society, of which he was Corresponding Secretary.
I have failed in what I have written, if my account of Mr. Toppan's life and work does not bring before the reader the picture of one who was faithful in the performance of every trust which he assumed. Modest and unpretentious in his deportment, simple and manly in his ways, he trod the path of life with an ever enlarging circle of friends whose respect and esteem for him increased with their intimacy and their knowledge of his doings.