A Stated Meeting of the Society was held at No. 25 Beacon Street, Boston, on Thursday, 26 March, 1903, at three o'clock in the afternoon, the President, George Lyman Kittredge, LL.D., in the chair.
The Records of the last Stated Meeting were read and approved.
The Corresponding Secretary reported that letters had been received from the Hon. Winthrop Murray Crane of Dalton and Mr. Thornton Kirkland Lothrop of Boston accepting Resident Membership.
Mr. Charles K. Bolton read the following paper on an incident of the battle of the Brandywine.
The morning of the eleventh of September, 1777, dawned hot and sultry, with a damp haze over the meadows which border Brandywine Creek. The American army under Washington lay in the fields on the northern bank of the stream, with woodland on the right and hills and cataracts to the left. Toward the woods and Birmingham Church, General Sullivan was stationed. Toward the left, General Armstrong with a smaller force added strength to the natural barrier formed by the torrent. In the centre, facing Chad's Ford, Wayne commanded the artillery, with Greene upon a rising slope at the rear.
The British army lay to the south of the Brandywine. The Hessian troops under Knyphausen were face to face with General Wayne, with Chad's Ford between them. The plans of Washington depended upon knowing the position of Cornwallis, who held the rest of the British army under his command. Early in the day there came a report that Cornwallis was marching eighteen miles up the southerly bank of the Brandywine, to cross the two forks beyond Birmingham Church and come down upon Sullivan.
If this could be ascertained to be true, Washington meant to cross the stream and defeat Knyphausen before Cornwallis could come to his relief. But General Sullivan could not or did not get confirmation of the report, the opportunity was lost, and the day wore on in uncertainty.
General Knyphausen kept the American artillery apprised of his presence across the ford. Between the clouds of smoke and dust, the tall hats and martial uniforms of the Hessians were visible to the gunners. Among the Americans were Captains Briant1 and Gridley,2 the former of whom at least had more than once distinguished himself before the eyes of Washington. They were part of a group of men who had met often at the White Horse Tavern in Boston,3 a little south of the present Adams House. Major-General Lincoln of Hingham and Colonel John Crane, who lived in Tremont Street opposite the present Hollis Street, were of the number. Lincoln was at this time in the Saratoga campaign, while Colonel Crane was with Washington's army, commanding the Third Continental Artillery.
The first lieutenant of Captain Briant's company in the regiment was Joseph Andrews4 of Hingham, whose father was a selectman of the town in 1777. Joseph was scarcely twenty. At the beginning of the year a call came for men for the army, and his mother, with foreboding of misfortune in her heart, begged him to remain with her. The excitement was great; reports of Burgoyne in upper New York and Howe in New Jersey made him eager to join in the struggle. In camp and afterward during the long weeks of pain and loneliness he often said: "My mother was sorry to let me come into the army." On the first of February Andrews received a commission as Lieutenant of artillery, and on the tenth of May David Briant was made Captain of the company.
At last when word came to Washington that Cornwallis had crossed the forks of the Brandywine and was nearing Birmingham Church, Sullivan's men were wheeled about to meet them. Cornwallis's advantage over Sullivan soon became evident and Knyphausen gave the order to advance across Chad's Ford. When the Hessians, who led the British advance, had crossed the Brandywine they halted, changed their tall hats for heavy brass caps (which were carried by a loop on a button at the hip), and then pressed steadily over the field toward the hill. In the midst of the conflict Captain Briant fell mortally wounded, leaving Lieutenant Andrews in command of the company. It was a grim and bloody promotion, with the Hessians pressing toward him as they forced back the wavering ranks led by Sullivan. Wounded himself, the Lieutenant still kept to his guns. Lafayette was not far away, and forty years after, he recalled the fight which Lieutenant Andrews made on that day. At last a bullet struck Andrews just above the knee; as his men carried him back toward the rear he cried to the gunners: "My fellow soldiers, fight on, fight on, the day is ours!"
When Sullivan gave way, Cornwallis came down upon Wayne and Armstrong who were compelled to retreat to avoid being surrounded, and the battle was lost. Through the following weeks, while Washington kept General Howe near Philadelphia that he might not go to the aid of Burgoyne, Joseph Andrews lay upon his bed at Trenton.
General Lincoln had written from Boston to the family that their son and brother was wounded, and added: "I further say, I believe that all the wounded will recover, your son among the rest." News of the battle reached Boston on the twenty-second of September, and General Lincoln, who had come east, wrote on the twenty-fifth to the family. Later Captain John Gridley sent two letters. The first I give as it was penned, except to add marks of punctuation and the necessary capitals. It is addressed "To Joseph Andrews in Hingham to be left at Mr Dd mortons in Boston at Sin of the black an white hors in faver of Capt Niles."1
Autillery Park ner Philadelphia NoveR 3 1777
Sir
I have recved a letter direted to your Son dated Sept 24. Your Son was wonded at brandewine battel. He was with me. He was wonded in the thye, letel above the knee, and was sent of[f] with the wonded So that I Could not Send you word how he was be for, my not being well. I Got liberty to go and see him, & I found him Sixty milles from Campt. When I Saw him he was so over joyed that he Could not Speek for sum time; he Cried all the time that I was with him. I Staed with him half a day; I was ablige to return to Campt. I ordered the Doctor to Purches every artical of life that he wanted; and he has had a vielent fever with his wond and he is so bad that he Could not wright to you. He desired me to wright to you. I Sent a Sergent to take Care of him. I hop in my nest I shall informe you that he is better. Be for I went to see him I heard that he was ded, but when I found him he told me that he was so bad that he never expcted to goe abrode againe. I desired him to make him self easey, and with the blesing of God I left him. He praid that I would wright to you; I promised that I would.
P. S. he told me that he had ben so bad with the fever that he Could not be removed in the bed for twelve days, but his fever had left him. But his wond was very bad.
I am yours John Gridley Capt of Artillery in the Park.
Pray wright to me if you See this.
The second letter follows:
Camp neer Phidelphia Novemr 25th 1777
Sir
I am Sory that I must inform you of the deth of your Son, So worthy a Brother Officer of mine. He was with me at the Battel of Brandeywine river. He was wonded the 11 of Sept.; tho I mus escape he must fall. Tho he was wonded he Spoke to the men these words befor he left the field: my felow Soldiers fight on, fight on, the day is ours! And he left the field. I have lost levi Bicknel1 that died of the same wond in his knee, and two more men that was wonded in the knee the same as your Son. He often told me that his mother was sorry to let him Cum into this army, but for all [that] he Bled and died for his Country, tho a worthy Officer. When I was to se him at Trinton, where he lay upon his bed, he Said to me: Are we like to git the day? I told him we whare and he Said that [was] all he wanted, but dont for git to wright to my farther an mother an brothers an sisters. Let them know that I have fought for them an for the genraticion [generation] that is to Cum.
This morning I recvied a letter by my sargent ho I Sent to take Care of him after he was wonded. The Sergent brot me this dolful news of his deth. In my letter from the doctor was these words: This willinforme you of the death of your friend Lieut Andrews on the morning of the 22d Inst.; he Suffred much during the Course of his illness but bore all with Amazing fortitude and Grate resolution. You may assure your self and allso all his relations that he wanted for nothing that was requisited to make him as comfortibel as Posibell. The family wheare he lay whare kinde to him in the highest degree, affording him every assistince, nursing him as tenderly as if he had been their dearest relation.
These words the doctor wright to me Capt Gridley Sir his Effects is at this house I think it would be proper for you to Cum and take them away, the nurse that tended him expects Sum Present you will [be] abel to Judge of its propriety by being on the Spot. Deer Sir I will do all for you that lays in my power. It is forty or fifty miles from hear (turn over leafe)
Sir if you will let me have his Sword to rember him by I will pay you for it, for he was as [a] brother to me, and I loved him as if he had ben my one brother.
Pray Sir wright for what things that you would have of his Sent to you and I will Send them and the rest I would sd them to vandeu for thay will fech a Grate price hear and I will Send you the money for them this winter for I expect to Cum hom to Boston and I will Cum and See you. Pray wright to me what you would have don with his Cloths and I will do it for you. Thair is a post that Cums for this regt he will be in boston a bout three weeks hence; his name is morison. If you will go to dimon Mortons at Boston he will tel you about him, not havin time to wright more; and I will wright by the Post and he will leave it at morttons.
I am your humbel Sarvent
John Gridley Capt of Artillery1
Colonel John Crane wrote from Camp Valley Forge, Pennsylvania, 28 January, 1778, that Andrews was "a brave officer and the promising good soldier," and that he "was buried in a very decent and Respectable manner."
On behalf of Mr. Edmund M. Wheelwright, Mr. Henry W. Cunningham communicated a contemporary copy of a letter written from Wells 25 April, 1689, relating to an Indian attack on Saco and Cape Porpoise. The letter follows:
Wells; 25th Aprill 1689
May it plese your Honrs. wee haue receiued certain information that ye 2–th:1 of this Instant being Lords day, the Indians; suposed to be eight or ten; sundry of them well known to ye inhabitance of Saco came upon said town, surprising yo people, in their houses: wounded to ye number of fiue or six, burnt two houses, with all the goods ye owners with great difficulty escapeing: y next day they came to Cape-Porpus burnt a house begun to be Garrisoned, belonging to Nichoƚs Moorey slew one young man: uiz: John Barrett (whose father and two Brothers, were killed by sum Indians as is supposed, ye last fall) took ye slain mans horse and another out of a pasture and rode about triumphantly in uiew of ye desolate Inhabitance: who for their safty) were forced to forsake ye Terra firma. or main, and to betake themselues to an Island: where is a Garrison, where they remained in a deplorable case, and are subject to staruing, or murder, or both if speedy succor be not afforded, their cattle, it is to be feared, are mostly killed ye Indians shooting uery often in ye woods. ye certainty, of ye premises we reciue from two men, who went on purpose for information: of which we thought meet to giue your Honrs: an account so leauing your Honrs: to ye Protection of heauen, and ye sad case of ye distressed to your most serious compastionate thoughts, wee subscribe
Your Honrs: most humble seruants—
Samuell Wheelwright
Richard Martyn
Francis Littlefeild
John Wheelwright
Nathanll: Masters
Jonathan Hamands
To ye superior Powernow in being at Bostonwith care and speed.
[Filed]
Saml. Wheelwright &c.
dated Wells Apr. 25, 1689,
To the Executive at Boston, relative to Indians' attack on Saco.
Mr. Henry W. Cunningham spoke as follows:
This letter appears to be an original record of one of the countless attacks of the Indians upon the outlying settlements of early New England. The slender thread of pioneer towns that stretched along the coast and on the banks of the rivers to the east and north of the mouth of the Merrimac, was constantly open to attacks from the savages who still roamed in large numbers through the forests behind these towns. Though the settlers were ever on the alert and many of the towns had their little garrisons, these savage forays came so quietly and so quickly that a tragedy was enacted and the Indians were gone almost before an alarm could be given.
During the few years preceding the writing of this letter, affairs had reached such a pass that no one dared to accept a grant of land or a mill privilege at any distance from the centre of the town, upon the usual condition of settling upon it within two years. Shortly before, some Indians had been captured and sent as prisoners to Boston, but Andros upon his return from New York had set them at liberty.
In his paper on A Frontier Family, read before this Society in May, 1894,1 Mr. Wheelwright told many tales of hardship and suffering that befell the Wheelwright family and other early settlers at Wells, and in that paper communicated other letters of a similar import to this one. Some of the letters were addressed to Major Charles Frost at Portsmouth, who was commander of the military forces in Maine; but this letter is of importance from the facts that it is addressed to the unknown new rulers at Boston and that it was signed by the principal men of Wells, then a shire town and the seat of the Court.
Of the signers, Samuel and John Wheelwright, respectively the son and grandson of the Rev. John Wheelwright, are too well known to need comment. Jonathan Hammond (or Hamands, as he spells it) was the oldest son of William Hammond, an early and prominent settler who is said to have died in 1702 at the great age of one hundred and five.2 Jonathan reached the allotted age of man, but his fear of the Indians was fully justified, as he was later killed by them and scalped. He with William Frost had in 1682: received a grant of two hundred acres of land on the west side of Little River, with the privilege of building a saw mill, which was erected the next year.3
Francis Littlefield and his father Edmund were both early settlers at Wells and prominent in its affairs, and Francis had received an additional grant of one hundred acres of land only three years before this time.4
Nathaniel Masters was probably a son or a grandson of John Masters, who was admitted a freeman at Watertown in 1631 and died in 1639, and may himself have been of Beverly in 1659.5
Richard Martyn was the son of Richard Martyn of Portsmouth, New Hampshire, one of the founders of the church there and a leading man in the Province. He was born 10 January, 1660, and took his degree of A.B. at Harvard College in 1680, his name standing at the head of a rather distinguished list of five members.6 Among these were John Leverett, afterwards Fellow and President, William Brattle, later Fellow and Treasurer, and Percival Green, the story of whose connection with the famous turkey supper at Harvard in 1672 was told us by Mr. Noble in April, 1897.1 Richard Martyn was settled as minister at Wells in accordance with the town vote of 21 June, 1689:
The town agreed with Richard Marten, who was then living in Wells, in the capacity of a school-master, to become their minister.2
They voted him the use of the parsonage and a yearly salary of fifty pounds to be paid in specific articles. Though he thus became the minister of Wells, he was never regularly ordained, and for that reason his name never appeared in italics in the Harvard Triennial Catalogues. He died of the smallpox at Portsmouth on the sixth of December, 1690.
The two John Barretts, father and son, and Nicholas Moorey, who are mentioned in the letter, one as having been killed by the Indians in this attack, were all early inhabitants of Wells or its vicinity, and in 1684 had received grants of land on the Little and Mousam Rivers.3
The address of this letter, "To ye superior Power now in being at Boston," has a peculiar significance, as the Andros government was overthrown just seven days before the date of the letter, and the writers were uncertain to whom to address it.
Mr. Henry H. Edes called attention to the fact that at least three of King William's letters of instruction to the authorities at Boston—dated 30 July, 12 and 15 August, 1689—were addressed in a similarly vague way,—namely, "To such as for the Time being take Care for preserving the Peace and Administring the Laws, in Our Colony of the Massachusetts Bay in New England in America."4
Mr. Andrew McFarland Davis exhibited a photographic copy of a Resolve of the General Court in 1725, in the Chamberlain Collection in the Boston Public Library, printed in the form of an Executive Proclamation, upon the distress suffered by the ministers of the Province in consequence of "the great and growing difference in the value of the Bills of Credit," and calling upon the towns to take action for their relief. Mr. Davis also mentioned some new light that he had recently obtained on the subject of the Land Bank from an examination of the Boston Weekly Journal and the Boston Weekly Rehearsal for 1733.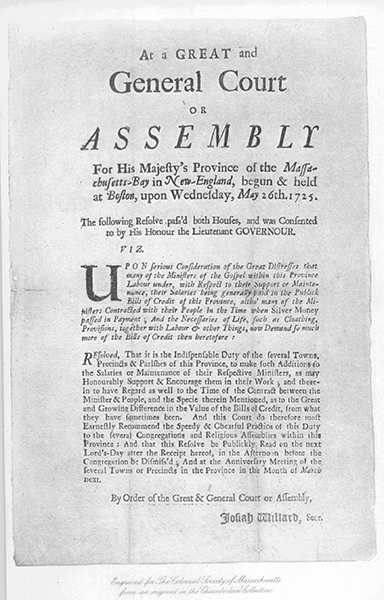 On behalf of Dr. Norton Folsom of Cambridge, a grandson of the Rev. Joseph McKean, Mr. Edes presented to the Society an original Petition of Amy McKean, the widow of Dr. McKean, to the Massachusetts Legislature for leave to sell real estate in Cambridge. The Petition, dated Cambridge, 11 June, 1818, bears the endorsement of James Winthrop, Abiel Holmes, Thomas B. Gannett, Levi Hedge, and William Hilliard, and is accompanied by the draft of a Resolve to carry into effect the prayer of the petitioner. The Petition was not presented to the Legislature, but a similar one was sent to the Supreme Judicial Court, which granted a license for the sale of the property in the following autumn. The thanks of the Society were returned to Dr. Folsom for his acceptable gift.
Mr. Edes communicated the following letter written in 1648 or 1649 by Joseph Parker, one of the founders of Andover, Massachusetts1, to the Rev. John Woodbridge,2 the first minister of that town, after his return to England in 1647.
Respected Sr you tould me when you was with us. that you did desire to buy my Land: I haue appointed my Vncle webb in case he doe not haue it himselfe to giue you the offer of it in the first place: and if you please to buy it will be content to take pay in corne or Cattle as indifferent men shall Iudge hear with us. and if you please to let me haue 10 Akers of your farme Land one the west sid of [torn].
I expected an Answer from you whether you đ đ my Letters the Last yeare: so1 with my Cind Loue vnto you and mr Beniamin2 I end
Yor to Command
Joseph Parker
Andr in new England
[Addressed]
To the Reud
mr Iohn Woodbridḡ of Andeur [England]
Mr. George Arthur Plimpton of New York was elected a Corresponding Member.