JOSIAH QUINCY JR.'S
The Reports
(Part One, 1761–1765)

Volume Editor
DANIEL R. COQUILLETTE
J. Donald Monan, S.J. University Professor, Boston College Law School
Charles Warren Visiting Professor of American Legal History, Harvard Law School

With special thanks to Brandon Bigelow, Kevin Cox, James Dimas, Elizabeth Kamali, Michael Morales, Thomas J. Murphy, Christina Nolan, Nicole Scimone, Brian Sheppard, Susannah Tobin, Elisa Underwood, and Mark Walsh, exceptional research assistants and colleagues, and Charles Riordan and Patricia Tarabelsi, the invaluable Editorial Assistants to the Monan Chair.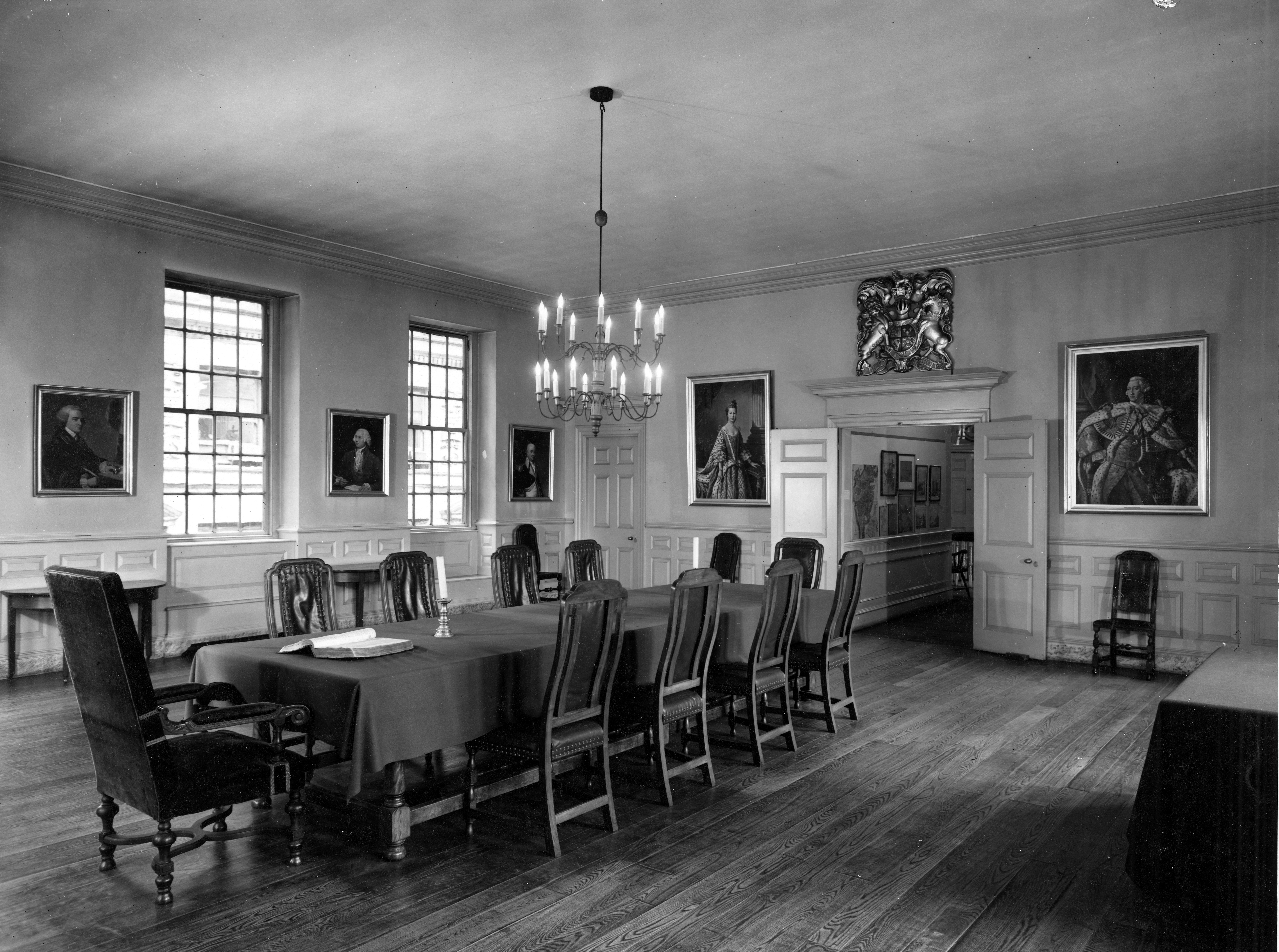 ILLUSTRATION 2: Council Chamber of the Old State House, Boston (1748), with the Royal Coat of Arms, see Frontispiece. From a photograph of George M. Cushing, taken in 1966. (The Arms were removed during the evacuation of Boston of March 17, 1776, and later replaced by a carefully researched replica.) Courtesy of the Bostonian Society. Many of the cases reported by Quincy were argued in this building particularly before 1769. One of the most famous, Paxton's Case of the Writ of Assistance, Reports, infra, pp. 51–57 (Case 22, 1761), was certainly argued here, with Quincy regrettably absent during most of James Otis's famous argument. John Adams described the scene in a letter to William Tudor of March 29, 1817, as follows:
In this chamber, round a great fire, were seated five Judges, with Lieutenant-Governor Hutchinson at their head, as Chief Justice, all arrayed in their new, fresh, rich robes of scarlet English broadcloth; in their large cambric bands, and immense judicial wigs. In this chamber were seated at a long table all the barristers at law of Boston, and of the neighboring county of Middlesex, in gowns, bands, and tie wigs. They were not seated on ivory chairs, but their dress was more solemn and more pompous than that of the Roman Senate, when the Gauls broke in upon them.
In a corner of the room must be placed as a spectator and an auditor, wit, sense, imagination, genius, pathos, reason, prudence, eloquence, learning, and immense reading, hanging by the shoulders on two crutches, covered with a great cloth coat, in the person of Mr. Pratt, who had been solicited on both sides, but would engage on neither, being, as Chief Justice of New York, about to leave Boston forever. Two portraits, at more than full length, of King Charles the Second and of King James the Second, in splendid golden frames, were hung up on the most conspicuous sides of the apartment.
The Works of John Adams, Second President of the United States . . . (ed. Charles Francis Adams, Boston, 1850–1856), vol. 2, p. 124. See also Charles Warren, History of the Harvard Law School . . . (New York, 1908), vol. 1, p. 58.
There were even more extraordinary connections between this room and Quincy's Reports. Josiah Quincy's great-grandson, Samuel Miller Quincy (1833–1887), who edited the first edition of the Reports, was instrumental in saving the Old State House and founding the Bostonian Society. In an impassioned plea, in 1881, he wrote:
Against these walls rattled the bullets of the Boston Massacre, and within the same walls the defense of the same men who fired these bullets was bravely undertaken by two of the foremost patriots and sons of liberty, John Adams and Josiah Quincy, Jr. And in this building, according to the former, the child Independence was born.
Proceedings of the Bostonian Society, May 24, 1887, p. 21.
When Samuel Quincy died, on May 23, 1887, he was eulogized the very next day in this very room. See id., pp. 3–27. With special thanks to Mark Sullivan. The room today has a different appearance, being used by the Bostonian Society to exhibit historical artifacts.
ILLUSTRATION 3: Samuel Miller Quincy (1833–1887), great-grandson of Josiah Quincy Jr. and editor of the 1865 edition of the Reports. Crayon portrait by Otto Grundmann, circa 1887. See Proceedings of the Bostonian Society, May 24, 1887 (Boston), p. 4. The resemblance to his great-grandfather and grandfather is striking. See the Gilbert Stuart portrait (1825) Josiah Quincy Junior, and Gilbert Stuart portrait (1824) of his son Josiah Quincy (1772–1864) in Quincy Papers, vol. 1, frontispiece and p. xxxiv, respectively.
Quincy's Reports
Daniel R. Coquillette
These are the first reports of the Superior Court of Judicature of the Province of Massachusetts Bay, direct ancestor of the great Massachusetts Supreme Judicial Court. The preservation and transcription of these historic Reports is a story that is truly stranger than fiction. The terrible Civil War, so accurately feared by Josiah Quincy "the patriot" in his Southern Journal of 1773, found his great-grandson, Samuel Miller Quincy, in command of the Seventy-third United States Colored Troops north of New Orleans on the Mississippi at Port Hudson.1 Samuel Quincy, then a Lieutenant Colonel, had been severely wounded twice at Cedar Ridge in 1862 and then taken prisoner, spending three months at the infamous Libby Prison in Richmond. On release, he was a broken man.2
Most others would have accepted a distinguished respite, but Samuel Quincy returned in March 1863 to lead the Second Massachusetts as Colonel at the terrible battle of Chancellorsville. Like his great-grandfather, he was sickly, "his constitution, never robust" (perhaps with the same hereditary proclivity to tuberculosis), and Chancellorsville was too much . . . he resigned in June 1863, "discharged for disability from wounds."3
But like his great-grandfather, Samuel Quincy was also irrepressible. In November 1863, he joined up again, this time as Lieutenant Colonel of the Seventy-third United States Colored Troops, the former 1st Louisiana Native Guards, rising to be Colonel of that famous black regiment and to be Military Governor of New Orleans.4 He later would command the Ninety-sixth United States Colored Infantry, as well. How his great-grandfather, whose hatred of racism and slavery filled the Southern Journal, would have been proud!
And what was Samuel Quincy doing in 1864, in the middle of this terrible Civil War, in command of his black troops, blockading the Mississippi north of New Orleans? He was transcribing his great-grandfather's manuscript Law Reports! These had been in the possession of Samuel's grandfather Josiah, our Josiah's son, the Mayor of Boston and President of Harvard. As Samuel noted in his brief Preface, dated February 9, 1864, reproduced supra, his grandfather was alive, and "in his ninety-third year."5 Samuel now had the original documents, nearly a century old.6
We will never know what caused Samuel Quincy, on the military field in the midst of this national calamity, to transcribe his great-grandfather's manuscripts. But we are forever in his debt. He had originally hoped to do even more. As he said, "It had been my intention to give an outline of the history of the Province during the period which it embraces, as well as some biographical sketches of the most distinguished of those whose names are mentioned, but that the breaking out of the war in which this country is still involved has suddenly called me from the profession to more engrossing duties. . . ." Reports, p. iv. Under the conditions, even with the help of Horace Gray, it remains astonishing that the work was completed by February 9, 1864, and published in a single edition by Little, Brown and Company in Boston in 1865.
Samuel Quincy's transcription has been tested thoroughly against the manuscript, and has proven so accurate that, with occasional lapses marked in the notes, we have reproduced his exact pages here, with new annotations-including the biographical sketches he wished to have done. This also provides what jurists call "star pages," a text that retains the pagination of the first edition, so that citations to the Reports as authority will always be uniform. Few copies of the 1865 edition survive, and those few are cruelly disintegrating through the wartime use of pulp paper. But the debt this new scholarly edition owes to Samuel Quincy is great indeed.
Across these pages are spread the drama, the pathos, the greed, the cruelty, the bravery and nobility of colonial Americans, great and humble, men and women, of many races and backgrounds. As my esteemed friend and colleague, the Hon. Hiller B. Zobel, put it so well, these types of legal records are "the Pompeii of Paper." As he said, so eloquently, "No ice storms encapsulated any 18th century town; no embalming ash has brought the Revolutionary days to us intact. But we do possess pieces of that past life, preserved without change, and lying, like the wall paintings of Pompeii, beneath a layer of dust, awaiting excavation. We call them court records."7
Quincy was very aware that he lived in a momentous crux of American history. "Learn Wisdom from the present Times!"8 he exhorted in his Reports, and, indeed, that was clearly one reason he embarked on such a novel project.
There is so much for us to learn. Let me choose just one example. On March 22, 1770, Quincy received an agonized letter from his father, the "Colonel." He had just heard that Quincy had agreed, with his cousin by marriage John Adams, to represent the British soldiers who had fired into an unarmed Boston mob on March 5, 1770, the "Boston Massacre."9
It must be remembered that the occupying Nineteenth Regiment was regarded with fear and loathing by the patriot cause.11 Yet Quincy replied, on March 26, 1770,
It took both a brilliant and courageous mind to understand that the patriot cause would be best advanced by an adherence to the rule of law, applied equally to friends and enemies.13 "Learn Wisdom from the present Times!"14 exhorted Quincy, as he wrote these, the first Reports of the now Supreme Judicial Court of Massachusetts. So, in our own "present times" we can draw again on the inspiration of Josiah Quincy Junior and the legal heritage he so powerfully records in the following pages. For here, in the words of Martin Luther King Junior, are "those great wells of democracy which were dug deep by the founding fathers. . . ."15 Here, in these Reports, is something worth more than arms and money. Fortunate we are in this great inheritance. "Learn Wisdom!"