SEQUENTIAL AND ALPHABETICAL TABLE OF CASES
Pages in the new edition are collated to the original Quincy Reports 1865 pages.
note: In the new edition, cases following Draper v. Bicknell (Case No. 45), Quincy Reports, p. 164 (1765) are in Quincy Papers, vol. 5. All earlier cases are in Quincy Papers, vol. 4. With many thanks to Charles Riordan and Patricia Tarabelsi, Editorial Assistants to the Monan Chair.
SEQUENTIAL TABLE OF CASES

[Quincy's Reports, Part One, 1761–1765]

Quincy Papers, vol. 4

case no.

case name

quincy reports (1865) page no.

volume 4 page no.

1

Poor v. Dougherty (1762)

1

78

2

Baker v. Frobisher (1762)

4

86

3

Ingraham v. Cook et al. (1762)

4

90

4

Newman v. Homans (1762)

5

94

5

Zuill v. Bradley (1762)

6

98

6

Blower v. Campbell (1762)

8

102

7

Jones v. Belcher (1762)

9

104

8

Minot v. Prout (1762)

9

106

9

Dudley v. Dudley et al. (1762)

12

110

10

Jackson v. Foye (1762)

26

128

11

Wiswall v. Hall (1762)

27

132

12

Sayer et al. v. Thorp et al. (1762)

28

136

13

Oliver v. Sale (1762)

29

140

14

Hallowell v. Dalton (1762)

33

150

15

Gould v. Stevens (1762)

34

152

n/a

Memorandum of 1762, Members of the Bar

35

156

16

Wrentham Proprietors v. Metcalf (1763)

36

158

17

Derumple v. Clark (1763)

38

164

18

Daniels v. Bullard (1763)

41

172

19

Barnes v. Greenleaf (1763)

41

174

20

Elwell v. Pierson (1763)

42

178

21

Russell v. Oakes (1763)

49

188

22

Paxton's Case of Writ of Assistance (1761)

51

194

23

Ruddock v. Gordon (1763)

58

208

24

Gardiner v. Purrington (1763)

59

212

Rogers v. Kenwrick (1763)

62

218

26

Girdley v. Balston et al. (1763)

65

224

27

Brown v. Culnan (1763)

66

228

28

Dunten v. Richards (1763)

67

230

29

Baker v. Mattocks (1763)

69

234

30

Scollay v. Dunn (1763)

74

246

31

Angier v. Jackson (1763)

84

270

32

Poor v. Doble (1763)

86

276

33

Lovell v. Doble (1763)

88

280

34

Dom. Rex v. Doaks (1763)

90

286

35

Dom. Rex v. Gay (1763)

91

290

36

Allison v. Cockran (1764)

94

296

37

Hanlon v. Thayer (1764)

99

306

38

Dom. Rex v. Pourksdorff (1764)

104

314

39

Ballard v. McLean (1764)

106

320

40

Bromfield v. Little (1764)

108

324

n/a

Charge to the Grand Jury by the Chief Justice (March Term, 1765) ("Charge Number 1")

110

328

41

Whitney v. Whitney (1765)

117

340

42

Banister v. Henderson (1765)

119

344

43

Rochester Proprietors v. Hammond (1765)

159

400

44

Dom. Rex v. Mangent (1765)

162

406

45

Draper v. Bicknell (1765)

164

412
ALPHABETICAL TABLE OF CASES

[Quincy's Reports, Part One, 1761–1765]

Quincy Papers, vols. 4 and 5

vol. no.

case no.

case name

quincy reports (1865) page no.

volumes 4 & 5 page no.

4

36

Allison v. Cockran (1764)

94

296

4

31

Angier v. Jackson (1763)

84

270

5

76

Anonymous (1770) [A hypothetical Quincy case similar to Fowle v. Richardson, 1770, in which Quincy was counsel. See annotations to Case 76.] [Note, Chronological Break-this is a Trowbridge Manuscript reproduced by Samuel Quincy]

370

780

5

53

Apthorp et al. v. Eyres (1766)

229

556

5

62

Apthorp v. Shepard (1768)

298

660

4

2

Baker v. Frobisher (1762)

4

86

4

29

Baker v. Mattocks (1763)

69

234

4

39

Ballard v. McLean (1764)

106

320

4

42

Banister v. Henderson (1765)

119

344

4

19

Barnes v. Greenleaf (1763)

41

174

5

78

Bishop v. Brig Freemason (1763) [Note: this is an incomplete fragment by Quincy, written when he was only nineteen. See annotations to Case 78.]

387

808

4

6

Blower v. Campbell (1762)

8

102

5

52

Box et al. v. Welch et al. (1766)

227

550

4

40

Bromfield v. Little (1764)

108

324

5

54

Bromfield v. Lovejoy (1767)

237

570

4

27

Brown v. Culnan (1763)

66

228

5

55

Carpenter v. Fairservice (1767)

239

574

5

60

Curtis v. Nightingale (1767)

256

606

4

18

Daniels v. Bullard (1763)

41

172

17

Derumple v. Clark (1763)

38

164

5

74

Dewing v. Train (1772)

339

742

4

34

Dom. Rex v. Doaks (1763)

90

286

4

35

Dom. Rex v. Gay (1763)

91

290

4

44

Dom. Rex v. Mangent (1765)

162

406

4

38

Dom. Rex v. Pourksdorff (1764)

104

314

4

45

Draper v. Bicknell (1765)

164

412

4

9

Dudley v. Dudley et al. (1762)

12

110

5

30[b]

Dunn v. Scollay (1765) [See Scollay v. Dunn]

187

478

4

28

Dunten v. Richards (1763)

67

230

4

20

Elwell v. Pierson (1763)

42

178

5

68

Flagg v. Hobart (1772)

332

720

5

71

Fowle v. Wyman (1772)

336

730

4

24

Gardiner v. Purrington (1763)

59

212

5

57

Gibbs v. Gibbs (1767)

251

592

4

15

Gould v. Stevens (1762)

34

152

4

26

Gridley v. Balston et al. (1763)

65

224

5

58

Hall v. Miller (1767)

252

596

5

66

Hall v. Richardson

329

712

4

14

Hallowell v. Dalton (1762)

33

150

4

37

Hanlon v. Thayer (1764)

99

306

5

75

Hooton v. Grout (1772)

343

750

4

3

Ingraham v. Cook et al. (1762)

4

90

4

10

Jackson v. Foye (1762)

26

128

4

7

Jones v. Belcher (1762)

9

104

5

73

Little v. Holdin (1772)

338

738

4

33

Lovell v. Doble (1763)

88

280

5

56

Malcolm v. Gleason (1767)

251

590

4

8

Minot v. Prout (1762)

9

106

4

4

Newman v. Homans (1762)

5

94

5

59

Noble v. Smith (1767)

254

600

47

Norwood v. Fairservice (1765)

189

482

4

13

Oliver v. Sale (1762)

29

140

5

65

Parker v. Willard

326

706

5

46

Pateshall v. Apthorp & Wheelwright (1765)

179

466

4

22

Paxton's Case of the Writ of Assistance (1761)

51

194

5

48

Pond v. Medway (1765)

193

490

4

32

Poor v. Doble (1763)

86

276

4

1

Poor v. Dougharty (1762)

1

78

5

51

Pynchon, Executor v. Brewster (1766)

224

544

5

67

Reed's Case (1772)

331

716

4

43

Rochester Proprietors v. Hammond (1765)

159

400

4

25

Rogers v. Kenwrick (1763)

62

218

4

23

Ruddock v. Gordon (1763)

58

208

4

21

Russell v. Oakes (1763)

48

188

4

12

Sayer et al. v. Thorp et al. (1762)

28

136

4

30

Scollay v. Dunn (1763)

74

246

5

61

Silvester Richmond, Esq., Appellant v. Benja: & Edward Davis, Appellees

279

634

5

63

Symes & Wife, original Plaintiffs v. Hill, original Defendant

318

692

5

64

The King v. John Johnson Grant

326

704

5

77

The Petition of the Jurors in the Trial of Captain Preston and the British Soldiers (1771) [Note: this is based on a description published by Quincy in the Boston Gazette, May 20, 1771.]

382

798

5

72

Thwing v. Dennie (1772)

338

734

5

70

Tuttle v. Wilmington (1772)

335

728

5

50

Tyler v. Richards, Administrator (1765)

195

496

49

Watts v. Hasey (1765)

194

492

5

69

Whitney v. Haven (1772)

334

726

4

41

Whitney v. Whitney (1765)

117

340

4

11

Wiswall v. Hall (1762)

27

132

4

16

Wrentham Proprietors v. Metcalf (1763)

36

158

4

5

Zuill v. Bradley (1762)

6

98

4

n/a

Memorandum of 1762, Members of the Bar

35

156

4

n/a

Charge to the Grand Jury by the Chief Justice (March Term, 1765) ("Charge Number 1")

110

328

5

n/a

Memorandum of August 27, 1765 (Destruction of Chief Justice's House)

168

446

5

n/a

Charge to the Grand Jury by the Chief Justice (August Term, 1765) ("Charge Number 2")

175

458

5

n/a

Memorandum of Bar Harmony (1765)

197

502

5

n/a

Memorial of the Town of Boston (1765)

198

506

5

n/a

Charge to the Grand Jury by Justice Lynde (March Term, 1766) ("Charge Number 3")

215

530

5

n/a

Charge to the Grand Jury by the Chief Justice (August Term, 1766) ("Charge Number 4")

218

534

5

n/a

Charge to the Grand Jury by the Chief Justice (March Term, 1767) ("Charge Number 5")

232

562

5

n/a

Charge to the Grand Jury by the Chief Justice (August Term, 1767) ("Charge Number 6")

241

578

n/a

Charge to the Grand Jury by the Chief Justice (March Term, 1768) ("Charge Number 7")

258

610

5

n/a

Charge to the Grand Jury by the Chief Justice (August Term, 1768) ("Charge Number 8")

301

666

5

n/a

[Quincy notes that his absence from the court prevents his taking any minutes in the subsequent August Term, 1768]

305

673

5

n/a

Charge to the Grand Jury by the Chief Justice (1769) ("Charge Number 9")

306

674

5

n/a

Memoranda (August Term, 1769). Quincy observes there is not a "Quorum of the Court, without the Chief Justice, he, though now the Commander in Chief of this Province, sat and acted, at the Opening of this Court, which very speedily adjourned to November"

316

688

5

n/a

Memorandum (1771). Quincy notes resignations of Chief Justice Lynde and Justice John Cushing, and appointment of Peter Oliver as Chief Justice and Nathaniel Ropes and William Cushing as Justices, to take their seats in February Term, 1772.

330

714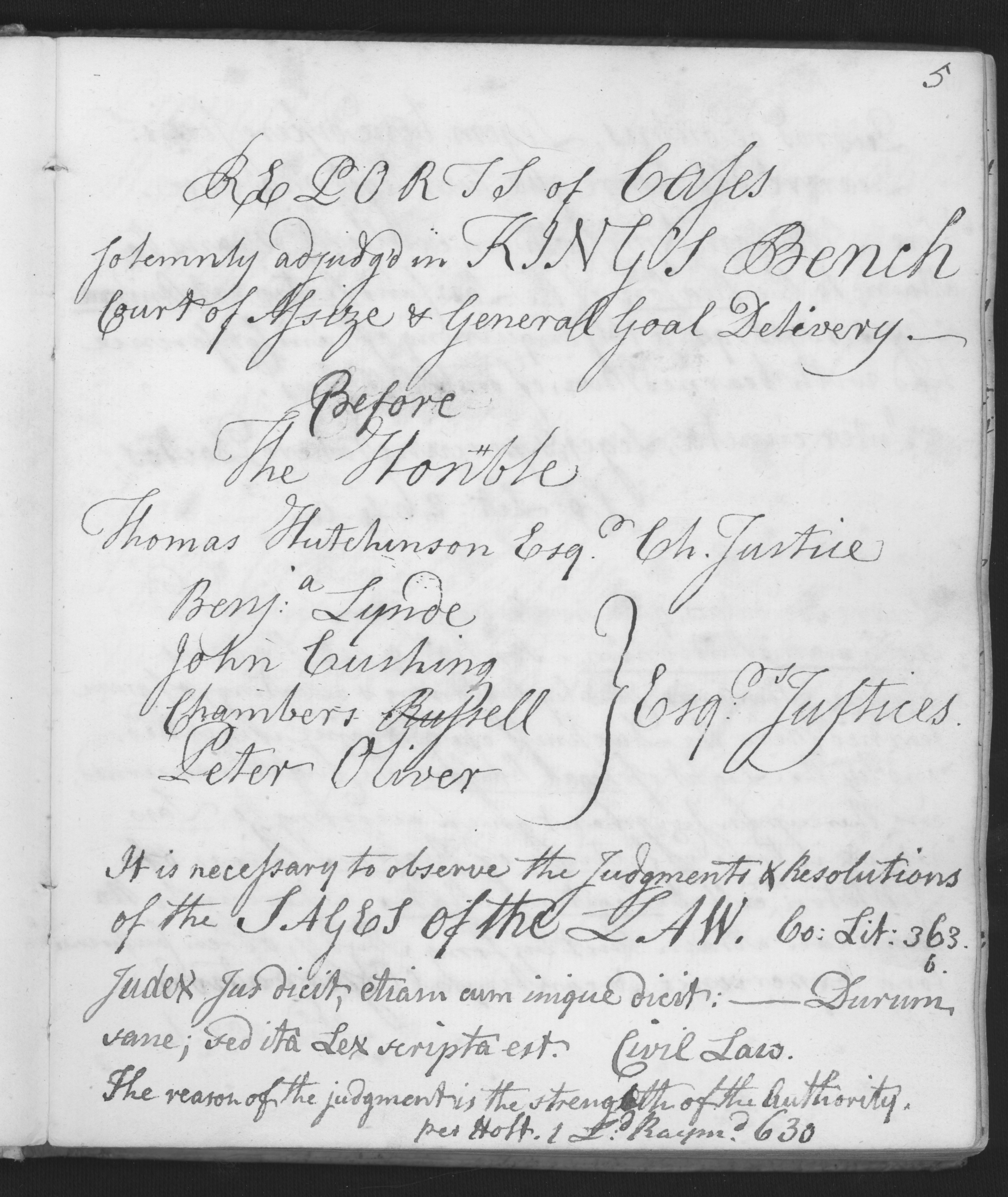 ILLUSTRATION 7: Josiah Quincy Jr.'s Law Reports, Massachusetts Historical Society, P347, Reel 4, QP57, p. 5. Title page of second section of Quincy's Reports. See Cox chart, Appendix II, Law Commonplace, Quincy Papers, vol. 2, p. 429. The accompanying quotations read:
It is necessary to observe the Judgments & Resolutions | Of the SAGES of the LAW. Co: Lit: 363.b. ["Coke on Littleton," Edward Coke, First Part of the Institutes of the Lawes of England (London, 1628), p. 363b.]
Judex Jus dicit, etiam cum inique dicit:-Durum, sane; sed ita Lex scripta est. Civil Law. [See "Quincy's Latin Maxims," Law Commonplace, Appendix I, p. 323, Quincy Papers, vol. 2.]
The reason of the judgment is the strength of the Authority. | per Holt. 1 Ld Raym.d 630 [Lord Raymond's Reports (London, 1743), vol. 1, p. 630.]
The Latin reads, "A judge speaks the law, even when he speaks unjustly, though strictly and precisely; but thus has the law been written." Many thanks to Elizabeth Papp Kamali, classicist beyond compare, and Charles Donahue Jr. All Quincy manuscripts courtesy of the Massachusetts Historical Society