MODERN mariners with their electronic resources may brush aside the old-fashioned idea of dead reckoning, but a voyage into the remote maritime past of New England cannot do without it. With this in mind I take my departure from Robert Frost's poem, A Record Stride, in which he philosophizes in doggerel about a pair of old shoes in his Vermont bedroom closet. As he tells the story of these "Old rivals of sagging leather,"
I wet one last year at Montauk
For a hat I had to save.
The other I wet at the Cliff House
In an extra-vagant wave.
Two entirely different grandchildren
Got me into my double adventure.
But when they grow up and can read this
I hope they won't take it for censure.
I touch my tongue to the shoes now
And unless my sense is at fault,
On one I can taste Atlantic,
On the other Pacific, salt.
You could taste Atlantic salt, I am certain, on a New England artifact a good deal more venerable than the poet's well-worn shoes. In the Massachusetts Historical Society is Cyprian Southack's copy of The English Pilot, The Fourth Book. The salty leather covers of this volume, and the gathering of charts they protected, have literally been through the wars, for they survived Captain Southack's repeated encounters with the French and Indians in a long series of expeditions along the coasts of northern New England and Canada. The captain earned a reputation which the record of his eventful life fully supports: he knew more about the New England coast than any other mariner of his day. He came to Boston in the 1680s, and by 1697 Lieutenant Governor William Stoughton of Massachusetts could write of him to the Council of Trade and Plantations in London: "Captain Southack is constantly employed to cruise about the Capes and convoy vessels from Virginia, Pennsylvania, Connecticut, etc., between Massachusetts, Martha's Vineyard and Rhode Island." Stoughton went on to comment on the first Province Galley, which Southack commanded: "She has been of great service and the commander has acquitted himself with great care and diligence, none of the vessels under his charge having miscarried."
Southack himself was not one to let his services go unnoticed, and his voice can be heard like a foghorn out of the New England past. From St. John's in Newfoundland, writing on 18 June 1690, to his father, once a lieutenant in Charles II's navy, he boasted: "I have cleered all the French from Nova Scotia and some parts of Newfoundland…the English hearts are all brisk in this Cold Country." To the hot-tempered Joseph Dudley, Governor of Massachusetts, he wrote to report on the progress of various assignments, and always included respectful protestations. In a letter of 13 June 1707, following an unsuccessful expedition against Port Royal, he averred, "Sir, may I Not Live one Menett If Ever I should be Disobedient to Yo'r Excellency Orders or Not Prove my selfe Lke a True Englishman and a Louer of my Cuntrey."
He left behind him an abundance of letters, memorials, reports, and testimonials. His desire to obtain and communicate information was strong and persistent, and often inseparable from his persistence in publicizing himself and his services. The awards and citations received for his work suggest qualities often seen in people successful in public life: he was a sociable person and found influential friends; he kept up a stream of communications to persons, usually the governor and council, who held direct authority over him, and his communications emphasize their titles and authority and his desire to be their faithful servant. He understood that public notice of his services was just as important as the services themselves. When he was presented to King William III in London on 26 February 1694, and gave the king a copy of his Draught of New England, Newfoundland, Nova Scotia and the River of Canada, and received as reward a royal order that he be paid fifty pounds to buy a gold chain and a medal, it would seem that all this took a good deal of arranging, and that one of the arrangers must have been Southack himself. After various assignments he was diligent in obtaining honorable discharges or testimonials of good service, all the more necessary if an expedition had failed or if he had not been able to fulfill his instructions.
The carrying sound and generous quality of his words to us, across centuries, are found not only in documents but in his maps and charts, which sometimes are more valuable for his engraved comments than for the accuracy of his surveying. He worked, it seemed, with the simplest of tools, lead line and compass, and, of course, with reference to existing charts available to him. The eighteenth-century revolution in map and chart making caused his cartographical efforts to look much more primitive by mid-century, in the brief space of a generation, than they did in the years he was making them. It would not be quite accurate to say that his charts were quickly outdated, for adaptations of some of them lived on in The English Pilot, The Fourth Book, throughout the eighteenth century, while others in the course of the century went through revisions and new editions as separately issued single-sheet charts.
Our human desire to be remembered he amply shared, and affixed his name to personal real estate and, when cruising, to an occasional available landmark. In Boston there were once Southack's Lane or Southack's Court, later Howard Street, and Southack's Pasture. There was once a Southack Island not far from "Biddiford," and there were Southack's Bay and Cape Southack in Nova Scotia and Southack's Pond at Spanish River on the coast of Cape Breton Island. A number of these names are found in the copperplates which make up his New England Coasting Pilot, which also records "North Channel or Southacks Channel" on Cape Cod and (a notably bold raising of his banner off the coast of Maine) "Southacks Island or Monhegon." Not one of his namings for himself, to the best of my knowledge, has survived. In 1775, when Thomas Jefferys published A New Map of Nova Scotia, and Cafe Breton Island with the adjacent farts of New England and Canada, Southack had been dead only three decades and several of his charts were still in print in their later editions. Jefferys in looking at "a great number of actual Surveys, and other materials," probably including some of Southack's charts, bowed to only one of the captain's namings; he shows "Southacks I." about ten miles to the north of Monhegan. The Southack name was already only one step from extinction on the printed sheets of surveys Down East.
Southack came to Boston during the brief reign of James II, years in which Edward Randolph was continuing his efforts on behalf of the crown to bring the New England colonies firmly under royal control. A chronology in the papers of the family lists 24 November 1685 as tne date of his arrival in Boston. A meager clue to his activities during the following three and a half years was discovered by the late Theodore Southack in the Jefferys Papers at the Massachusetts Historical Society: a receipt signed by Southack for £5.12.8 from John Usher, the colonial treasurer, for the use of Thomas Cooper. The money was in payment for "Dishes, Spoons, Potts etc. del. att the Castle on Castle Island." Southack, it would seem, was a minor military or naval member of a short-lived and bitterly resented administration. From his point of view, probably the less said, the better, about those early years. King James's desire to centralize control over all the New England colonies was expressed in 1686 in the appointment of Joseph Dudley as President of New England, succeeded a few months later by Sir Edmund Andros as Governor of New England. When Bostonians rose against Andros on 18 April 1689, the governor took refuge in the Castle on Castle Island. Where was Southack on that day? We do not know, but the outnumbered garrison prudently surrendered, and Andros was soon on his way to England.
As a Royalist and an Anglican (he is remembered in a memorial tablet in Christ Church in Boston), Southack belonged to a minority. It was a good deal harder to be of his persuasion in Boston at the end of the Andros regime than it was thirty years later when the Anglicans were fully and firmly established. In 1689 he was twenty-seven, and his fortunes lay in America. It seems to have been his job to recoup the family fortunes, such as they once were, for his aged parents had fallen on evil times. He set out to join the Boston establishment. By many acts of public service, and by vociferously emphasizing his role as a public servant, he quickly achieved this goal. A step was taken on 16 July 1689, when the Admiralty granted him letters of marque against the French. Whether he put them to immediate use, we do not know, but in 1690 and 1691 privateering was an important part of his activities.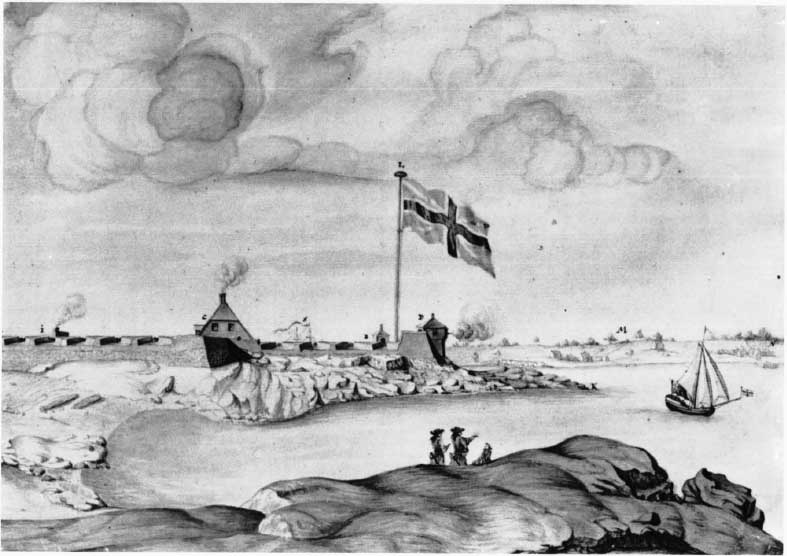 31. Detail of pen and watercolor view of Fort William and Mary, Piscataqua River, 170;. Key letter "S" identifies Province Galley. (Text p. 51)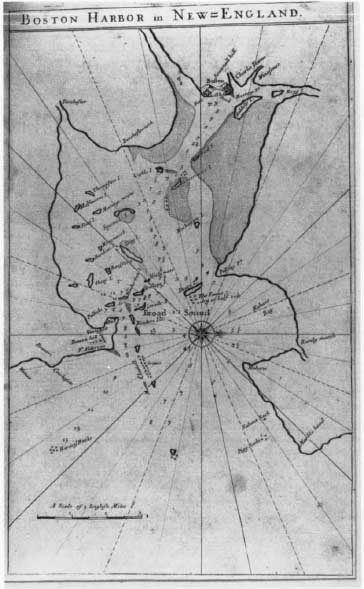 32. Boston Harbor in New-England, circa 1689, from The English Pilot, The Fourth Book. (Text p. 51)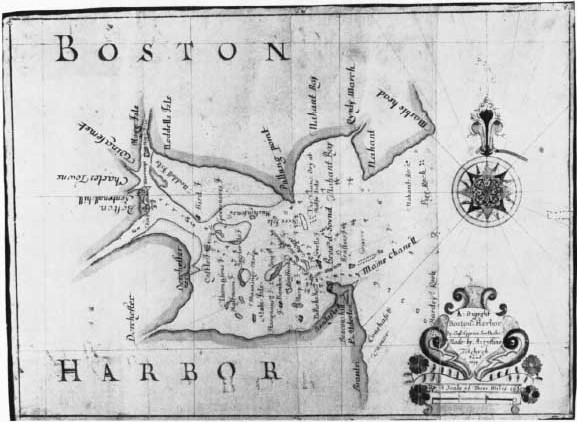 33. "A Draught of Boston Harbour by Capt Cyprian Southake Made by Augustine Fitzhugh," 1694. (Text p. 51)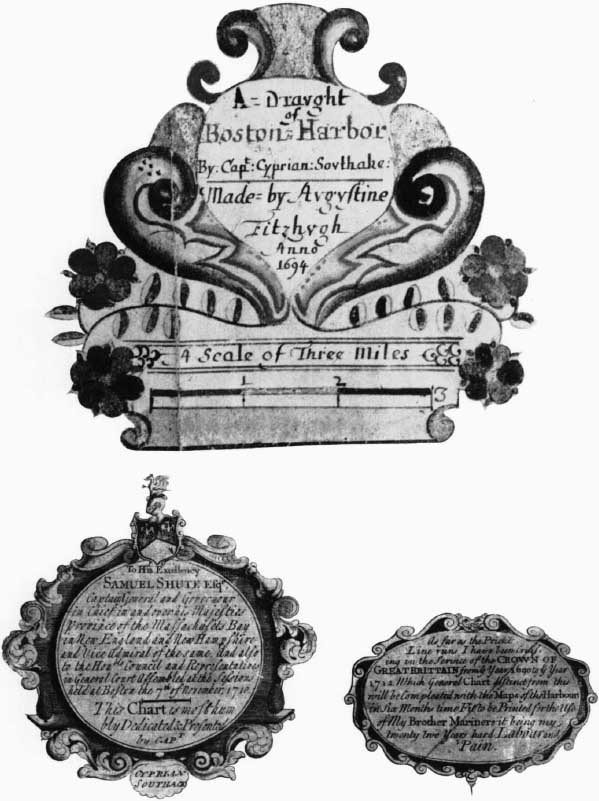 34. (Upper) Cartouche from Cyprian Southack's 1694 manuscript map of Boston Harbor. (Lower) Cartouches from Southack's "A New Chart of the English Empire in North America," 1717. (Text p. 49)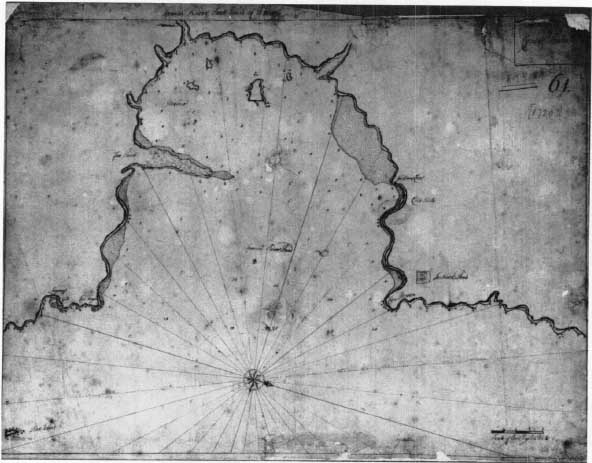 35. Cyprian Southack's manuscript map of Spanish River, Cape Breton Island, circa 1720.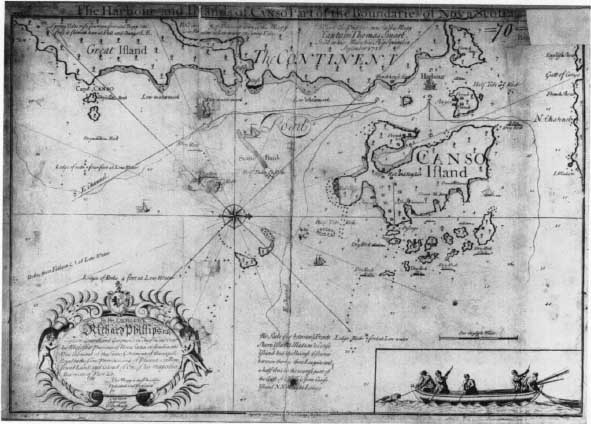 36. Cyprian Southack's 1720 map of "The Harbour and Islands of Canso Part of the Boundaries of Nova Scotia." (Text p. 59)
A few scraps of fact tell us his story to 1690; in that year the record of his career suddenly becomes full to overflowing, and so it continues for more than three decades. He married, on 19 February of that year, Elizabeth the daughter of Captain John Foy, a well-known Boston shipmaster. On 29 April, in command of Porcupine of sixteen guns, with 117 men, he sailed from Boston as part of Sir William Phips's expedition against Port Royal. The venture met with immediate and stunning success. The fort surrendered on 11 May; on 22 May, Phips sailed for Boston, Southack for Cape Sable. Although he had received a discharge from Phips, his assignment, formal or informal, seems to have been to complete the work at hand. The object was not to take possession and to occupy—there were no men in reserve for that long-term commitment—but to destroy and move on. On 25 May Southack's ship and tender were in [his spelling] Bathechr Harbor; in the afternoon, there was an encounter with "40 French Indians" in canoes. His men killed two of them and wounded four.
On 29 May, he was at La Have, where his shore party of fifteen men, sent at midnight in the long boat, captured the French planters on shore and forced them to take an oath of allegiance to William and Mary. Captured French soldiers he sent to Boston. On 3 June, he reached Canso, and on 4 June, leaving his lieutenant in command of Porcupine, he and fifty men in the tender "made Saile for Shabocter [Chebucto] Fort," seven leagues away. At 4 o'clock in the morning, probably of 5 June, his party landed and a brief siege ensued. After seven hours, the fort was afire and the governor surrendered. Shortly afterward, powder and shells within the fort blew up. Southack remained five days to demolish the fortifications. He also seized several French ships. It was during this Canso chapter of his voyage that Southack became, as he ever after asserted, the first Englishman to navigate the Gut of Canso. "I was ye first English man that ever went through it 1690," he declares in one of many engraved comments in his New England Coasting Pilot of 1733. Of his various claims to precedence, this is one of the more unlikely, considering the cruisings of English fishermen in the area from year to year, beginning by 1550 or earlier.
On 18 June he was at St. John's, Newfoundland, and on that day wrote the long letter to his parents on which much of this narrative is based. On 27 June, Porcupine captured William, and on 20 July Gift of God. Richard, alias Frederick, was seized in July, as well. In that month Southack at least briefly was at Isle Percée.
Samuel Sewall, in his diary for 16 August 1690, noted: "Capt. Cyprian Southack comes in, saith he saw not the Fleet." Sir William Phips's expedition against Quebec had sailed from Boston Harbor on 9 August. Phips commanded thirty-two vessels and, in the words of the Reverend John Wise, "about 2500 Souldjiers and Marriners." In his absence, Southack had been appointed one of the corps commanders. He was fortunate to arrive in Boston too late to serve in the expedition. Ships and men finally reached anchorage off Quebec 6 October; military operations ashore were badly bungled, and in little more than a week, the defeated force was on its way back to Boston.
Sewall mentions Southack again in a diary entry for Tuesday, 16 September: "About eleven at night a Fire breaks out at the House of Jno Allen, Worsted Comber, in which his Apprentice, Sam. Worster, was burned, with the House of Lieut. Reynolds, Mr. Bligh, Langden and a great part of Savil Simson's. The wind being Sou-west the South-Meeting-House was preserv'd with very much difficulty, being in a flame in diverse places of it. Capt. Cyprian Southack, and Lieut. David Mason did very worthily, hazarding themselves with many others on the Lead for a great while."
Southack's good fortune in missing the Quebec expedition had also enabled him to attend the trying of prize cases in Boston 2 September.
Southack emerges in the public record of Boston in 1690 as a strong contributor to the success of the Port Royal expedition, which was made even more of a success by his ensuing operations along the coasts of Nova Scotia. When he wrote of his exploits from St. John's, Newfoundland, on 18 June, probably taking advantage of the impending departure of a vessel for England, he urged, "Dear Father give a full Account of my Voyage to the Lords of the Admiralty, or whome it may concerne." We do not know what his fellow Bostonians thought of him in his year of opportunity, but presumably he stood high in their estimation, the more so after his exertions helped save the South Meeting House on 16 September.
Between 1692 and 1717, Southack and Elizabeth Foy had eleven children, only two of whom, in that hazardous era of childbearing, died young. Southack acquired land in Boston and built two houses, the first in 1703, the second to which the family moved about 1720. He sold or rented property on occasion, and made his own small contribution to the tearing down of Boston's hills by selling sand and gravel from his land. He became a solid citizen of Boston. Samuel Sewall, with tenacious Yankee self-esteem, could nonetheless view him as an equal. For 13 October 1702, Sewall recorded: "Went with the Govr to Hogg Island, son and daughter Sewall, Mrs. Anne, Mrs. Mary Dudley there, Tho. Dudley, Capt. Southack, Mr. Paul Dudley, Mr. Tho. Richards, Col. Townsend, Mr. Brattle, Col. Povey the Lieut. Govr, Cous. Jer. Dum̄er had a good treat there. I was sorry Mr. Addington and Mr. Pemberton, and Mr. Roberts were not there, and therefore Returning Thanks closed thus; Bring us to thy Entertainment in Heaven, where not one of the Company shall be wanting.…"
Despite his active life ashore, Southack was married to the sea; his career can be measured, year by year, by the ships he commanded, including privateers and the Province vessel, and by the ships he owned, including a number of fishing vessels. In a cartouche in A New Chart of the English Empire in North America, which he issued in Boston in 1717, he says, "As far as the Prick't Line runs I have been Cruising in the Service of the Crown of Great Brittain from ye Year 1690 to ye Year 1712." His travels to that time, as indicated by "the Prick't Line," extend from the mouth of the Hudson River all along the coast and up "Canada River" (the St. Lawrence) and to Labrador and Newfoundland. He had cruised the Bay of Fundy and coasted the other shores of present-day Nova Scotia; he had coasted Gaspé. He shows a few soundings on "Georges Banck" and other offshore banks.
Looking back at Southack's eventful career, the twentieth-century observer may naturally begin with his years of cruising in the two Province Galleys. The broader picture of his life is one of service in a variety of vessels. His role in some ways was that of a British naval officer—and so he sometimes saw himself—although he was paid by the province. From year to year British men-of-war were in Boston, and at times he cruised in company with them or went on board them with specific instructions. Along the way he commanded many different ships, most of them built in Boston, and all of them having Boston as home port.
His first command in what was to be a long-standing assignment to guard the coasts of New England came in 1692. Instructions dated at Boston 31 March from Governor Bradstreet and the Council of Massachusetts-Bay "To Captain Cyprian Southack Commander of the Briganteen William & Mary" begin:
Whereas this Coast has lately been annoyed by a Vessell man'd with French men and others comeing from Port Royal or St Johns River, who have committed divers Spoyles, and Surprised several vessells with their goods belonging to their Matles [Majesties'] Liege people of this place And the Briganteen William and Mary, whereof you are Comander being Set forth on their Matles [Majesties'] Service to pursue and attack the said Enemy, and for the recovery of said Vessells and goods and the doing of such further service against their Matles [Majesties'] Enemies ffrench or Indians as you may be capable of and shall have opportunity for.…
William and Mary cruised at intervals during the spring and summer of 1692. Southack and his men were paid off on 15 August, and the province also paid the owners of the vessel.
This arrangement was temporary and improvised, at best, and on 11 December 1693, the General Court ordered that "there is need of building and fitting of a small vessel mounted with ten guns and a suitable number of oars, to cruise on this coast for the better securing of trade and navigation." Southack commanded the galley from 1696 until it became evident in 1704 that the vessel's life was over. Of the second Province Galley, Robert E. Moody has written: "The Province Galley, built in 1705 by the Province of Massachusetts Bay, was perhaps the best-known craft of her period in New England. She was in reality the province 'navy,' and as such, was busily engaged during Queen Anne's War in the transport of troops and supplies, a duty for the performance of which she had been built."
There is a picture of Province Galley—part of a picture—in a meticulous pen and watercolor View of Fort William and Mary, Piscataqua River, in the British Museum. The view was made in 1705 in the course of Colonel Römer's fort-building assignment along the New England coast, and in the key to points of interest, the letter "S" identifies "The Province Gaily Capt Cyprian Southack Comander." Unfortunately, only her masts show, with the cross-trees in sight above the parapets of the fort.
Southack was not the only commander of Province Galley. The first galley was completed in the summer of 1694, and for the next two years was commanded successively by Captains Dobbins, Mould, and Mason. Southack took command in the summer of 1696. Following his assignment as commander of William and Mary in Province service in 1692, he had taken part in 1693, in company with the Nonesuch frigate, Captain Richard Short, in an expedition against Nova Scotia. Late in 1693 he was in England as master of Friend's Adventure, 120 tons, twelve men. There he remained for some months, and his audience with King William, mentioned earlier, occurred on 26 February 1694. The present location of the "Draught" of New England, Newfoundland, Nova Scotia, and Canada River which he presented to the king is unknown. Southack may have sought help from a London professional, as he did in the preparation of a handsome manuscript on vellum which survives in the British Library: A Draught of Boston Harbour By Capt Cyprian Southack Made by Augustine Fitzhugh Anno 1604. In London Southack could hire a skilled practitioner, and Fitzhugh presumably drew and colored this highly decorated plan to the captain's order, based on the copperplate chart (sometimes thought to be Southack's design) in The English Pilot, The Fourth Book of 1689.
As commander of Province Galley from 1696, Southack had many different assignments: transporting high-ranking officials, sallying forth in response to reported seizures of ships by pirates, convoying merchant vessels or fishing vessels, carrying troops in expeditions against Nova Scotia, sailing to Maine to defend settle merits or with instructions to trade or parley with the Indians. There was the galley itself to take care of. At intervals she was careened and scraped; there were crew members to be enlisted; there were times of outfitting. Southack for many years had the contract for victualing. Presumably he made a profit on it, but eventually it became a cause of controversy. A glimpse of the galley in an interval of inactivity is the order, dated 25 September 1702, "To Capt Cyprian Southack Comander of the Province Gaily" from the Council of his Majesty's Province of the Massachusetts Bay:
Whereas no present Service offers for his Maty Ship the Province Gaily under your Command
To the intent therefore That the Charge of the Province may be eased
You are hereby ordered to cause the sd ship to be haled in upon the Flatts where she may lye safe and well with her furniture on board, on float each ride, & to unbend and bring on shore her low sailes and then to discharge the Master and Six of the Company belonging to sd. Ship, The rest of the Officers and Seamen to continue upon her till further order and diligently to attend their duty on board in carefully looking after her which you are to see to.…
Since Southack was an energetic narrator of his adventures, it seems only fair to let him describe some of them in his own words. A lengthy comment engraved as part of his New England Coasting Pilot summarizes a number of experiences in a style which hurries together many facts presented almost in stream of consciousness.
Minutes made in my Voyages when sent in his Majries Ship Squirrel Capt. Thomas Smart Comr. by Govr. Shute and the Honble. Council of ye Massachusets bay in N. England there commissioner year 1718 to Govr. S. Ovide De Brovillian of Island Breton, Concerning Antient Boundaries of Nova Scotia, Which shews that the French have nothing to do with any part of ye Continent nor Islands of Canso to Cape Rosiers: Year 1722 when sent in his Majties Schooner William Augustus by Govr. Phillips of Nova Scotia, was in this harbour of Louisbourg three French men of war one of Sixty Guns, one fifty Guns, and another of thirty Guns, thirty Sail of Merchant Ships forty Sloop & Schooners, & two hundred Shallops all french, & a great many times more I have been in this harbour I have been takeing of Nova Scotia three Times & Placentia in Newfoundland one time, Year 1690 in Company with Sr Wṃ Phips, Year 1693 in Company wṭh their Majties Ship Nonesuch Capṭ Richḍ Short Comṛ 1710 in Comṇy wṭh General Nicholson & Commodore George Martin in her Majties Ship Dragon. I took in Year 1690 Placentia with part of my Ships Company by land and mounted Placentia Guns at Sṭ Johns Newfoundland for the service of the Crown of Great Britain. And in Year 1696 in Company with Coll Benjamin Church who did great Services for his Country, And Capṭ William Higgins Commander of his Majesties Ship Arrandell, We tooke Sṭ Johns in the Bay of Fundy and brought away twelve forty two pounders with all their Stores, and Mounted these Cannon at his Majesties Castle William at Boston in New England. And likewise sixteen Eighteen pounders New Guns and Stores Sr William Phipps and I took at now Annapolis Royall, And Mounted them at Castle in Anno 1690.
The declaration ends with place and date of writing and name of writer: "Boston in New England October the 30th 1733. Cyprian Southack."
Boston's Castle William, it would seem from Southack's account, was well armed with French cannon. As his listing reveals, Southack was from time to time in company with ships of the Royal Navy assigned to the New England coast: Nonesuch, Arundel, Deptford, Dragon, Squirrel. The presence of these vessels was an on-again, off-again thing, and even when they were at Boston, their captains were by no means willing to undertake all the assignments the governor and council had in mind. This was a lesson the province government had to learn. In 1692, when Southack was in command of William and Mary, chartered and outfitted by the province, the council on 17 May had ordered that she be discharged, "there being one of their Majties Frigatts now assigned to guarding the Coast." Southack's initial instructions from the governor had been: "to set Sayle from Boston, and to cruise within the Bay for the Security of Vessells inward & outward bound and along the Eastern Shore as far as Casco, or further as you may receive Intelligence or have a prospect of doing Service against the common Enemy ff rench or Indians, and Omit no opportunity that shall be put in yor hand, for pursueing and prosecuting the said Enemy, makeing what Spoyles you can upon them by Sea, or Land; but let yor Station be principally betwixt Piscataqua and Cape Cod." One frigate could not make these reaches of coast completely safe from attacks on shipping, and neither, as experience was to prove, could one province vessel. Only the conquest of Canada could bring greatly increased security of the coasts. Massachusetts leaders, including Southack, must be credited with stubborn pursuit of that goal. With the final conquest of Port Royal in 1710 and success in the next decade in extending control over much of the coast of Nova Scotia, they had come a long way.
Southack's New England Coasting Pilot, to return to that work and to the voice of the captain heard in so many of its engraved comments, is full of observations on the rivers, bays, inlets and little seaports of New England and Nova Scotia. Although the first edition was published in 1729 and the second in 1733, Southack had been actively at work on the project for at least fifteen years before its publication. When he tells us of shipbuilding in Cohasset and Scituate, he carries us back into the early eighteenth century, and gives us historical perspective on the great era of North River shipbuilding of about 1800, memorably described by Samuel Eliot Morison in his Maritime History of Massachusetts. The Pilot notes:
Conchaset & Scituate
Small Rivers for Wood Boats
tho they build a great many
Ships here & bring out at
high Water, no place of Trade
There are many glimpses of navigation. He talks at some length of the Bay of Fundy. Here is one comment:
Chignicto Town and Marsh
Minas River and Chignicto Road
with the several Branches belonging
to them Places in the Bay of Fundy
is very difficult Sailing the
Tides rise here at Spring Nine
Fathoms so if you bring a Tide
with you, you cannot come to
any danger ye Creeks all being
Steep to be sure when you
Anchor at high Water that you
Consider much ye Tides Fall
A second comment on the bay gives us still another glimpse of his sailing adventures:
River very long a great many
branches in it the falls is
by the Sea, I have been Ninety
Miles above the Falls in a
Brigantine of a Hundred Tuns
at high water go over the falls
little Tyde when eight miles
in ye River Trade great fishing
for Salmon good Ship Timber
much land for Farming if peace
with the Indians all Woodland
One of the longest comments in the Pilot tells the story of a triumph any New England coastguardsman would be (or would have been) proud to have among his annals:
At Casco Bay Year 1702
the Indians came together
being upwards of five Hundreds
besides French Commanded by
Monsr Bobasier who had ransacked
laid waste ye several Settlements
& before mentioned &, being
blush'd with Success having
taken one great Sloop and Two
Shallop & much plunder attempted
to undermine ye Fort by ye
Water side in which they
Proceeded two days & nights
& probably would have affected
their design if they had not
been prevented by the Arrival
of Capt. Southack in the Galley
who rais'd the Seige made them
burn their Sloop with all their
Stores & Plunder, retook their
Shallops and shattered their
Navy which was upwards of
two Hundred Cannoes
Most certainly, this was an arrival just the way Southack spells it, with a capital "A." An extraordinary experience fifteen years later was anything but a triumph and must have inspired in the captain recollections of disgust accompanied by some appropriately salty curses. Sent by Governor Shute from Boston to the scene of a pirate shipwreck at Eastham on Cape Cod, Southack had the unpleasant task of burying numerous corpses and a notable lack of success in recovering pirate treasure. Local authorities, leaving the job to him and his crew, refused to have anything to do with it, and while they washed their hands of the matter, they and their fellow Cape Codders whom Southack interviewed professed to know remarkably little about the wreck or the salvage operations which obviously had gone on before the captain's arrival. Southack's reference to the incident in the Pilot is brief, and of special interest in terms of geography, for he and his men were able to bring their boat through a now-long-vanished passage across Cape Cod at its elbow:
The Place where I came
through with a Whale Boat
being ordered by ye Governmt
to look after ye Pirate Ship
Whido Bellame Commandr
castaway ye 26 of April 1717
where I buried One Hundred
& Two Men Drowned
The wreck of Whidah, Captain Samuel Bellamy, became a part of Cape Cod folklore, and Thoreau in his Cape Cod reported that heavy seas still, in the mid-nineteenth century, sometimes washed coins from the wreck onto the beach.
In the Pilot, Southack has other exploits to tell of. In human fashion, he mentions successes and omits failures; as an Englishman born and bred, he gives a distinct impression of the invincibility of the English. He does not mention, for instance, the fight near the mouth of the St. John River on 14 July 1696. There, Province Galley, Captain Southack, and two Royal Navy vessels, Sorling, Captain Eames, and Newport Galley, Captain Paxton, encountered Profond and Envieux. The French had the better of the engagement and captured Newport Galley.
Most notable among his omissions is any mention of his part in the unfortunate Canada expedition of 1711. At the time of the expedition, Southack no longer commanded Province Galley. He had commanded her in the expedition against Port Royal in 1710, but afterwards he had a falling-out with the province on the subject of victualing the vessel. The contract was given to a Captain Belcher, who lived ashore, and Southack resigned his command.
Before British ships and troops had left England for Boston on the first leg of the expedition, Southack with strong recommendations had been chosen chief pilot of the expedition. Admiral Sir Hovenden Walker, who commanded the expedition, later recalled plans made well in advance for Southack in Province Galley to lead the fleet up the St. Lawrence.
When ships and troops reached Boston, the admiral lodged in Southack's house, a further testimony to the captain's reputation and to the recommendations given by his friends in England. Not only did Walker find Southack no longer in command of Province Galley; he also found him "no way inclined to go upon the Expedition." First Southack pointed out that he had never been beyond the mouth of the St. Lawrence; next he told the admiral he had been "not so well treated by the Government here as he thought his services required." He went into detail on the subject of the victualing contract.
Southack's excuses seem out of character for a veteran of so many expeditions; he may well have taken a shrewd and skeptical measure of Admiral Walker. The Braddock expedition of 1755 against Fort Duquesne is the familiar example of how differently British regulars newly arrived in America and Americans with local knowledge and experience approached a campaign.
By the time the expedition sailed, however, the Admiral's desires had been fulfilled, and the way had been cleared for Southack to command Province Galley. In June and July of 1711, the galley, under the command of Captain Pickering, was engaged in a round trip to New York, and when she returned to Boston, repairs and refitting were necessary. Southack was now commander, and under Walker's authorization he drew bills on the Admiralty for a total of £2,200 for refitting. The work was not completed when the fleet of sixty-eight vessels with 6,463 troops sailed on 30 July.
The galley, when ready, sailed for Annapolis Royal with additional troops and supplies. Off Port Roseway, Southack met returning transports carrying colonial troops. He learned that on the night of 22 August, the expedition had come to grief in wind and fog in the St. Lawrence near Egg Island. Eight transports and almost 900 men were lost. Walker directed a return to England.
In Boston, soon afterwards, Southack found that neither the government in London nor that in Boston would pay for the refitting of the galley during July and August. In October 1711, he petitioned the queen to direct payment; in January 1712, Admiral Walker wrote the Admiralty asking consideration for Southack; in October 1712, court hearings began on the efforts of Andrew Faneuil to obtain payment from Southack for repairs and outfitting, and William Clark to obtain payment for victualing. In 1713, the Governor's Council and House of Representatives approved payments of 1,182 pounds, eight shillings, to Faneuil, and 321 pounds, eight shillings to Clark. After further court action by Clark, Southack eventually, in October 1715, won a court ruling that he was not personally responsible for the charges.
While the court cases dragged on, Southack's seafaring life continued, and for the only time in his life, he sailed up the St. Lawrence to Quebec. In a note engraved on one of the plates of The New England Coasting Pilot, he says that on 1 June 1714, Colonel Nicholson, governor of Nova Scotia, and Colonel Dudley, whom he describes as governor of New England, sent him to Quebec "to sett at Liberty all her Majestys Subjects Prisoners of troops of ye French & their Indians." On Southack's advice, the province made use of the brigantine Leopard, 120 tons, Beamsley Perkins, commander, for the voyage. Leopard passed through the Gut of Canso ("then I took a very good Survey," says Southack), anchored off Quebec, and lay there for almost a month. In the end, Southack's mission was successful, and Leopard returned with twenty-seven Englishmen released by the French.
Before the voyage, Southack had been granted £10 for his own and the officers' table. Afterward, he was rewarded with the round sum of £100 covering wages, expenses, and his accomplishment in "making a Chart or Draught of Canada River." The "Draught" was highly regarded by members of the government in Boston. According to council records, it "was inscribed This Plan humbly presented to His Most Excellent Majesty, in the name of the Governor, Council & Assembly of His Majesty's Province of the Massachusetts Bay in New England & signed by the Governour.
"And ordered that the same be put up in a box superscribed to Mr Agent Dummer with a letter from the Secretary directing him to wait on His Excellency General Nicholson and acquaint him of the time when he intends to present it & pray the favor of his company at the presentation thereof."
The years after Southack's command of Province Galley were increasingly devoted to diplomatic assignments including the voyage to Quebec. He continued to look after his fishing interests and for a time was a member of the government of Nova Scotia. In every minute he could spare, he devoted himself to completing and correcting and finding financial backing for the publication of his New England Coasting Pilot.
Southack's naval career as New England's pioneer coastguards-man ended in 1723. From 1 July 1721, to 17 August 1723, he commanded the schooner William Augustus, Nova Scotia's counterpart of the earlier Province Galleys. She had been built in Boston for this duty. In her, Southack traveled to Louisbourg in 1722 on assignment from Governor Phillips of Nova Scotia.
The captain's experience on the coasts of Nova Scotia went back thirty years; he had become an expert, as his assignment in 1718 to accompany Captain Smart there to negotiate boundaries with Governor St. Ovide De Brovillian attests.1 He collected cartographical information, and in 1720 a copperplate chart summed up his findings. The Harbour and Islands of Canso Part of the Boundaries of Nova Scotia was engraved in Boston by Francis Dewing in 1720. Southack dedicated it to Governor Phillips of Nova Scotia. In the same year, Phillips appointed Southack a member of the Council of Nova Scotia, and Southack took the oath at the house of Lieutenant Governor Doucett in "His Majesty's Garrison of Annapolis Royal" on 25 April.
After his appointment the next year to command William Augustus, Southack, in company with Governor Phillips and an engineer, carried out a survey of the eastern coast of Nova Scotia. The cruise went as far as Canso. There the governor and the captain stayed during the winter. With spring came troubles in various places with the French and Indians. Southack was busy with assignments much like those of his Province Galley days. There were parleys with the Indians, attacks by Indians on fishing vessels, reprisals at the direction of Governor Phillips and a parley at Louisbourg with St. Ovide de Brovillian. Southack returned home at the end of September 1722. A year later the governor ordered that the William Augustus be laid up. He could no longer afford to maintain her (her twelve crew members received £4 each, monthly).
The captain's fishing interests in Nova Scotia continued. A listing of allotments at Canso, called fishery rooms, with names of holders, is dated 1725 and includes the note: "Cyprian Southack has a peninsula 2,740 feet long by 1,620 feet broad."
The old captain spent more and more time ashore, after his active service in Nova Scotia, but he never quite left the sea. In 1726 he piloted a group of vessels which sailed from Boston to meet the Indians in Maine and ratify a peace; he carried out a similar assignment the next year. Ashore, he had the pleasure in 1729 of receiving from London sheets printed from the copperplates of The New England Coasting Pilot; he prepared a second edition in 1733 and published it the next year. His last voyage was again to Maine in 1742 (he was eighty). His assignment was "to Assist in Conference and Management of affairs with the Indians.…" He was not alone in maintaining the seafaring tradition in his family, for at this time, from 1740–1744, his son-in-law, Captain Edward Tyng, commanded the province snow Prince of Orange, and Tyng commanded her at the siege of Louisbourg, as well, in 1745. He acquitted himself with energy and distinction. Captain Tyng did not spend all of his working life at sea; he was also a Boston merchant, an occupation foreshadowed in part by the estate accumulated by Cyprian Southack.
"Yesterday morning," reported The Boston Weekly News-Letter of Thursday, 28 March 1745, "died here in the 84th Year of his Age, Capt. Cyprian Southack, who formerly, for many Years, was an experienced and ingenious Sea-Commander; a Gentleman well-respected by all who knew him: His Funeral is to be next Saturday."
Sources
For eighty years, a succession of scholars has worked on Cyprian Southack—W. F. Ganong, Victor Paltsits, F. L. Gay, John Edmonds, Clara Le Gear, Lawrence Wroth, and Theodore Southack. Ganong in Canada, and Paltsits on his behalf in New York, were compiling information as early as 1897. In Boston, Gay, who for a time employed Edmonds as his librarian, joined him as early as 1904 in gathering Southack material. The hazards which awaited them were the abundance of surviving Southack correspondence. Most of those who have pursued the story of his career have spent so much time preparing notebooks and files of typed transcripts that in the end they never got around to making a narrative of what they knew. The present writer has his personal compilation of typed transcripts, too, but also has the good fortune to be the inheritor of a great deal of intelligent effort by those who have gone before.
In his memoir of F. L. Gay (1856–1916), published in Volume 19 (1918) of the Transactions of the Colonial Society of Massachusetts, George Parker Winship says: "During these years [roughly 1907–1916] Mr. Gay took up the systematic investigation of a number of subjects about which he had been gathering data and ideas during the previous decades. One of these that had been in his mind much of the time for thirty years and that was all but completed for publication, dealt with the career of Cyprian Southack, privateer, pioneer New England cartographer, and for nineteen years Captain of the Massachusetts Province Galley.…"
I have not found any "all but completed" account by Gay, but I have used his notes (Massachusetts Historical Society) and those of Paltsits (Manuscript Department, New York Public Library), as well as the John Edmonds papers at the American Antiquarian Society. Articles by Clara Le Gear, who wrote the sketch in the Dictionary of Amerlcan Biography, and by Lawrence Wroth, are extremely helpful, and these and other published notes on Southack are listed below.
At the time of his death in 1970, Theodore Southack had completed a brief biography of Southack which, with some revision, would be the perfect introduction to a volume of Southack's letters and papers. Such a volume would be the fulfillment of the efforts of Ganong, Paltsits, Gay, and Edmonds; the present article is a step in that direction. Incidentally, Southack's conversational maps and charts have been quoted extensively here—a personal emphasis—and the papers will receive the attention they deserve only through a volume like the one just suggested.
published notes on southack
In the preparation of her brief article on Southack which was published in the Dictionary of American Biography, Vol. 17, 1935, pp. 408–409, Clara Egli, later Clara LeGear, consulted the small circle of scholars interested in Southack and canvassed the writings about him. She listed printed sources at the end of her sketch. In 1954 she published, in Imago Mundi, XI, "The New England Coasting Pilot of Cyprian Southack," concluding with a list of Southack's maps and charts.
These two articles taken together have long offered the best available printed summary of Southack's career, now supplemented by Donald F. Chard's article in Dictionary of Canadian Biography, Vol. Ill (University of Toronto Press, 1974), pp. 596–597, and by the present article.
Lawrence Wroth in The John Carter Brown Library Annual Report, 1941–1942 (Providence, 1942), analyzed Southack's A New Chart of the English Empire in North America of 1717. He emphasized its importance as a political document warning of French encirclement of Britain's North American colonies. In 1942, also, the John Carter Brown made the New Chart available to scholars through a collotype facsimile printed by the Meriden Gravure Company. A second printing was published in 1961. Wroth's inquiry into Southack's map- and chart-making he continued in a paper, "Some American Contributions to the Art of Navigation, 1519–1802," read in Boston on 11 April 1946 before the Massachusetts Historical Society. Published in Volume 68 of the Society's Proceedings, his essay was issued separately in Providence by The Associates of the John Carter Brown Library in 1947; his summary of Southack's cartographical accomplishments appears on pp. 14–16. He concludes:
In his own time and for fifty years after his death, certain of his charts were at all times in the hands of English and American mariners. Because of the inclusion of these charts in The English Pilot. The Fourth Book the seal of authority was stamped plainly upon them. If one may use sentiment, as has sometimes been done, to bridge the breaks in a line of descent, it is not difficult to think of Southack as the ancestor of the United States Coast Survey, which today carries on a continuous charting and recharting of our waters.
John F. Campbell elaborates on this conclusion by tracing the ancestry of the Coast Survey on pp. 29–30 of his History and Bibliography of The New American Practical Navigator and The American Coast Pilot, published by the Peabody Museum of Salem in 1964:
Parts of The American Coast Pilot (1796) were copied verbatim from John Norman's American Pilot (1791) which in turn was copied from Captain Cyprian Southack's The New England Coasting Pilot (ca. 1729–1734). Captain Southack had himself plagiarized other sources such as English Pilot, Fourth Book (1689).…Notwithstanding the inaccuracies of these early printed sailing directions (The New England Coasting Pilot did not contain printed sailing directions, but had multifarious notes on the charts), Captain Southack's Pilot is a direct ancestor of Blunt's American Coast Pilot.
One more indispensable published source is Harriet S. Tapley's "The Province Galley of Massachusetts Bay, 1694–1716," Essex Institute Historical Collections, LVIII, 1922, pp. 73–88 and 153–175.
The writings just listed, beginning with Clara LeGear's articles written during her career in the Map Department of the Library of Congress, may be considered part of the second chapter of modern interest in Southack, his maps and charts, and his maritime career. The first chapter begins in the 1890s.
W. F. Ganong, in A Monograph of the Cartography of the Province of New Brunswick (Transactions of the Royal Society of Canada, 2d series, 1897–1898, vol. 2, sect. 2, 1897, p. 369), devotes a long paragraph to Southack as "A map-maker of much independence and originality of orthography." His emphasis is on Southack's charts of parts of the Canadian coast. Ganong's comments mark the period at which scholars began to make significant collections of information on Southack.
An extremely knowledgeable article, probably by John Edmonds, appeared in the Boston Sunday Globe of 13 November 1904. It was headed "By Boat Across the Cape" and subtitled: "Channel Formerly Existed Through Which the Atlantic Could be Reached from Barnstable Bay—How It Was Used in 1717 by Capt. Southack, Who Buried the Dead from the Wrecked Pirate Ship Whido." An illustration has the legend: "Southack's Map Showing Channel Across Cape Cod in 1717."
Edmonds, who in his later years was the archivist of the Commonwealth of Massachusetts, put his scholarly talents to work because of an earlier Globe article, followed by conversations with Gay and other interested parties including one of Cyprian Southack's descendants. In a letter to Gay of 14 August 1904 he reported:
Your letter received would have answered sooner but I was in hopes of seeing Mr. Southack and Mr. Shillaber about the chart and a manuscript chart showing "the place he went through" which Mr. Ernest says Mr. Shillaber has. I wrote on Sunday last to the owner of the guns at Chatham and the chart at Woods Hole but as yet have received no word. The writer of the article is Winfield M. Thompson, a member of the Globe staff at present vacationing in Maine. Charles H. Taylor Jr. told me that he had been trying to get the chart but not with much success. Mr. Thompson was joint author with Thomas W. Lawson on the History of the American [sic] Cup.
The day and month of Thompson's article of 1904 are not yet established. The article touched off more than Gay's and Edmonds' inquiries and Edmonds' Globe article of 13 November. For the Boston Transcript, J. R. Crawford wrote an article which I know only through a reference to it, "Searching on Cape Cod for Romance Long Buried with the Pirates." This elicited a response, an unsigned article probably appearing in the Globe and probably by a journalist working with Edmonds, who is quoted. A clipping does not include place or date of publication. The article begins, in part, "and so the romancing of J. R. Crawford in the Transcript of Sept. 29 is enhanced by additional information in regard to the old chart which furnished the inspiration that drew Mr. Crawford to Cape Cod."
The article also says, referring to the wreck in 1717 of the pirate ship Whidah and a vessel she had captured, "For many years coppers and silver 'cobs' have been found on the Wellfleet shore, and only a few years ago two guns from her or the wine ship were brought into Chatham." The guns, according to the article, were secured by Captain Webster Eldridge of Chatham about 1900.
The Boston Globe of Tuesday, 26 September 1916, carried an unsigned article headed "Capt. Southack's Picture of Boston Light" and subtitled: "Inserted in 'New England Coasting Pilot,' Reprinted in 1734 from 1720 Edition—Second, If Not First, Representation of Beacon." It is well informed and is probably the work of John Edmonds.
Edmonds took his research and writing seriously. In a letter to the editor of the Boston Transcript, dated 7 October 1920, he declared:
Having for some twenty years been recognized as an authority on early New England maps and mapmakers, particularly Capt. Cyprian Southack, I was sorry to see my notes on Southack's Chart and the wreck of the Whidah spoiled in last night's Transcript by a careless introduction, even if there is a possibility of the notes for the same having been furnished by F. Lee Phillips, of the Library of Congress. I should have been better pleased had I been asked for further information.
He then went on to correct various points.
The Globe article of 26 September 1916, on the view of Boston Light in Southack's New England Coasting Pilot had been forgotten (by newspapermen, at least) by the time of a Boston Transcript article by H. A. Gray on 14 January 1930. Titled "Old Boston Light Comes Out of the Shadows," it reproduced the "Hitherto Unpublished View, Unfamiliar Even to Historians," from Gray's personal collection of views of lighthouses.
Because of Edmonds' recurrent presence, the newspaper literature cannot be dismissed as insignificant. Doubtless there are more articles than those I have cited. Their often careful antiquarianism reflected a desire to put on paper all the facts, and as far as Southack's life is concerned, the facts constitute an embarrassment of riches. Clara LeGear's concise sketch in the Dictionary of American Biography in 1935 gave her fellow historians a well-built first step, and with her help, more of Southack's career and accomplishments have found their way into print.