DECEMBER MEETING, 1919
A Stated Meeting of the Society was held at the house of the American Academy of Arts and Sciences, No. 28 Newbury Street, Boston, on Thursday, 18 December, 1919, the President, Fred Norris Robinson, Ph. D., in the chair.
The Records of the Annual Meeting in November were read and approved.
The Corresponding Secretary reported the death on the twenty-second of November of Mr. Franklin Carter, a Corresponding Member.
The President announced his appointment of Messrs. Edward Channing, William Roscoe Thayer, and Frederick Jackson Turner as delegates from this Society to the annual Conference of Historical Societies to be held in Cleveland this month in connection with the meeting of the American Historical Association.
Mr. William C. Lane exhibited a water-color view of Harvard College made by Houdin d'Orgemont in 1795, and spoke as follows:
This early water-color view of Harvard College is the property of Miss Ada Bouvé of Hingham, who inherited it from her mother, Mrs. Thomas Tracy Bouvé, to whom it had come from her grandfather, Mr. Nathan Thayer of Hingham.
Mrs. Bouvé sent a photograph of the drawing to the Library in 1895, and at that time communicated the following information in regard to it:
It was painted in 1795 by Houdin-d'Orgemont, a young Frenchman, who fled from Guadeloupe, one of the French West Indies, in fear for his life during the troublous times preceding and subsequent to the execution of Louis XVI and his Queen Marie Antoinette. He found refuge in Hingham, Mass., where he lived, with a younger brother, at the house of Mr. Nathan Lincoln. Upon the restoration of order in France, he was called home; but, not being permitted to land when he reached the island, returned to Hingham, where he resided some time longer.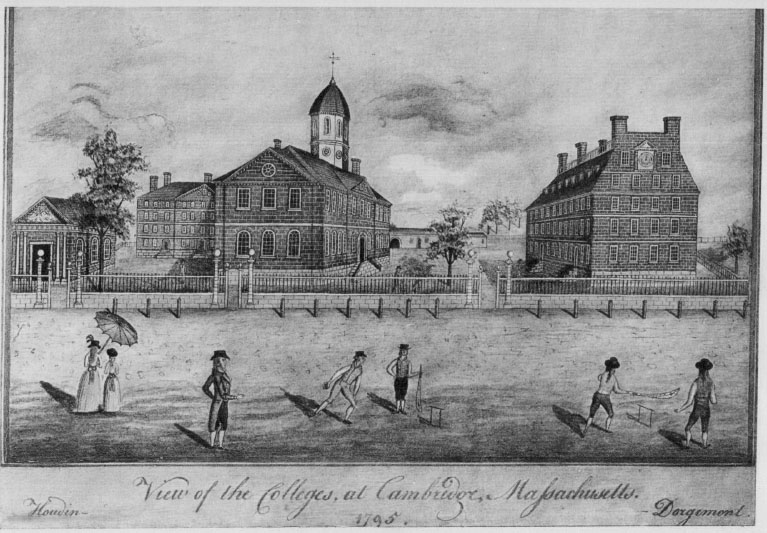 Engraved for The Colonial Scoiety of Masschusetts from the original in the possession of Miss Ada Bouvé
The two brothers were young men of considerable culture, and probably went to sketch many places in the vicinity, though I do not learn that any other of their sketches have remained in the family of their friends in Hingham.
Mr. Albert Matthews read the following paper, written by Professor Kenneth Colegrove of Northwestern University: