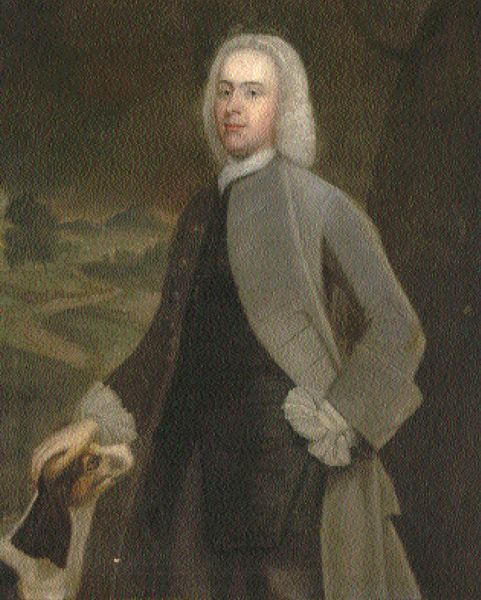 illustration 1. Quincy's pupil master, Oxenbridge Thacher (1719‒1765) by Robert Feke, or In the manner of Robert Feke (c. 1748 or 1749). Thacher was a leading member of the Boston bar. At only twenty-one, Quincy assumed Thacher's law practice upon his teacher's death in 1765. See "The Making of a Patriot," by Neil Longley York in Quincy Papers, vol. 1, p. 17. Image courtesy of Yale University Art Gallery, Gift of Thomas Thacher, B.A. 1938. See also note 42, infra. My thanks to Kevin Cox for tracking down the original portrait at Yale University, and to David Warrington, for locating a copy at Harvard Law School.
The Legal Education of a Patriot:
Josiah Quincy Jr.'s Law Commonplace
Daniel R. Coquillette*
Much has been written about the history of American legal education. And almost all of it is about law schools. Literally hundreds of volumes have described the hundreds of professional law schools established in North America, from the prototype Litchfield Law School (1784 to 1833) to the newly published account of the "Dark Ages" of the 1960s through the early 1980s at Yale Law School.1 Even the different, but related, phenomenon of teaching law to undergraduates as a "liberal art," symbolized Thomas Jefferson's establishment of the Professorship of Law and Police at The College of William and Mary in 1779, has been carefully chronicled.2 But the lawyers who founded this nation and defended the early Republic, famous lawyers, learned most of their law a very different way. Take Massachusetts as an example. John Adams, Robert Treat Paine and James Otis Jr. were great lawyers, but they never attended a law school. Neither did Patrick Henry, Joseph Story, James Monroe or Thomas Jefferson. John Marshall was another, if one overlooks a brief tuition from George Wythe while Wythe was at William and Mary.3 Story and Jefferson established great law schools, but they did not learn law that way themselves.
Of course, the primary method for learning law in the American colonial period was apprenticeship. That would be true for much of the next century, too. Perhaps because most books about legal education are written by law professors, apprenticeship as a pedagogy and a course of study has been widely overlooked and belittled.4 The popular conception is that apprentices were educated by chance, picking up whatever learning they could while copying documents and running errands for their indifferent masters.5 Possibly there would be useful books in their masters' libraries, possibly not. Possibly they would have the chance to browse in whatever books there were, but it would all be happenstance. Certainly, whatever instruction there was would be practical, not theoretical, and would focus on local, not national, law and certainly not—even more inconceivable—international law!
But the history of the pre-revolutionary bar seems most odd if this was truly the case. Take, for example, the legal world of 1773 described in Quincy's Southern Journal, set out Volume 3. While there was an occasional lawyer who had "experience" at the remarkably lax Inns of Court in London, particularly in the South, most of Quincy's professional acquaintances in South Carolina, North Carolina, Virginia, Delaware and Pennsylvania were taught by apprenticeship.6 Yet there was a clear sense of a legal elite, with a firmly established professional identity. John Adams's Diary paints a similar picture—a self-defined and small professional elite, set apart by education and skill from a host of "petty foggers."7 It is true Quincy had a low opinion of the training of some of the Southern lawyers he met, particularly in South Carolina, but that, in itself, speaks of professional standards.
My thesis is that, at its best, elite legal apprenticeship had both a pedagogy and a curricular structure that was far from random. It was neither "local" nor necessarily "practical" in its forms, and it could include comparative study, particularly of Roman law. This education may not have been ideal, nor uniformly excellent, but given a good tutor and a good student it was rigorous enough to explain the strong sense of legal professionalism to be found in America before the Revolution.
Why has this been so overlooked? First, the institutional records of this type of legal education are relatively scarce. The few that have survived tend to be the legal commonplace books of the apprentices, and these, although not rare, have rarely been published. This alone makes Quincy's Law Commonplace of 1763 an important document, and it has never been transcribed or published until now. Unless included in the papers of an Adams or a Jefferson, such records have usually been inaccessible to all but a handful of scholars.8
But there is a further reason. Most American legal historians, even those who are not trained as lawyers, have been subconsciously "brainwashed" by two powerful, and complementary, visions of legal education, which have been superimposed on each other. The first was the vision of Joseph Story, and the second of Christopher Columbus Langdell.
Joseph Story (1779–1845) was, at age thirty-two, the youngest Justice of the Supreme Court ever appointed and, at age forty-nine, the "Savior of Harvard Law School." Founded by the proceeds of the will of Isaac Royall in 1817, the Harvard Law School had previously failed to compete effectively with apprenticeship and was down to one student in 1829.9 A generous donor, Nathan Dane, agreed to establish a newly endowed professorship, but only on the condition that Story would take it. Without abandoning his judicial career, Story took this position as well.
He had a simple formula for success. Harvard Law School must become an elite, national institution, drawing students from all states. To do that, it must offer broad instruction in legal theory, legal history, comparative and international law, and constitutional law.10 Its graduates would be the meritocrats of the new Republic, displacing both the hereditary oligarchy of the Federalists and the egalitarianism of the Jacksonian Democrats.11 The cornerstone of the pedagogy would be well-organized treatises, which Story himself would write as part of his duties. Readings from these would be required for each class, and the teacher would reinforce each section by lecturing, backed up further by a second teacher, who was called a "crammer." (This was initially John Ashmun.) The "crammer" would drill the class in the lessons learned. The competition was, throughout, with apprenticeship. Story and his intellectual heirs at Harvard had every incentive to describe the apprenticeship process as haphazard and parochial.
Harvard Law School and its peers have remained national and elitist, just as Story had hoped. But the Civil War greatly damaged the very sense of "nation" that Story extolled.12 A returning veteran, Oliver Wendell Holmes Jr., found the School in shambles, and said so publicly.13 Once again a savior was needed. In a brilliant move, the newly appointed President of Harvard, Charles Eliot, turned to a practicing lawyer with no educational experience, and made Christopher Columbus Langdell the Dean in 1871.
Langdell (1826–1906) had impressed Eliot, a chemist, with the idea that law could be taught as a science, "dissecting" appellate cases to discover the underlying principles of the law, just as chemistry is taught through experiments, or biology through dissection of organisms. Langdell published the first case-book in 1871,14 and began teaching courses by the "Socratic" method, questioning students on the assigned cases, rather than lecturing from treatises. Despite early protests, this "interactive" pedagogy became a great success. Langdell also organized the curriculum into the required first year courses familiar today, the ideological "cubbyholes" of contract, tort, property, procedure, and, in some instances, criminal law. The power of this first year "boot camp" on the intellectual development of modern American lawyers has been profound. "Thinking like a lawyer" has been defined by this educational experience for more than a century.
Those conditioned by the legal pedagogy of Story and Langdell look at the elite apprenticeships of the pre-revolutionary period and see nothing familiar, and, therefore, are inclined to see nothing. Quincy's Law Commonplace does not use the intellectual "cubbyholes" of Story's treatises or of Langdell's curriculum.But it is highly structured in its own way. Apprenticeship was not taught by lecture or by the Socratic method, but it had its own pedagogy and its own theory of learning, and it was a fairly formal theory, at that.
Leading intellectuals of the seventeenth-century profession, including Francis Bacon, Mathew Hale, and John Locke, advocated a "two-pronged" approach to learning law: learning by "maxims" and learning by "commonplacing." As we will see in Quincy's Law Commonplace, these were closely related pedagogies, and each had an extensive common law literature.15 It was Bacon's belief that all education was based on four "rational arts": "the Art of Custody or Memory," the "Art of Elocution [or Transmission]," the "Art of Inquiry or Invention" and the "Art of Examination or Judgment."16 The first two "arts" are appropriate to basic education. You need to "memorize" the vocabulary and the structure of a science, or a language, before you can progress, and you need to know how the science or language is transmitted, by books or other sources, and how to find what you need to know. The second two "rational arts" are more appropriate for advanced study—how to design original research, the "art of inquiry," and how to exercise mature judgment, and distinguish between the foolish and the wise. The latter art, Bacon maintained, had to be taught by experience.
Bacon, like many of his contemporaries of the Enlightenment, saw "maxims" as an ideal way to memorize and to store legal knowledge. Often based on Roman models, such maxims would be a "search engine" for relevant precedents and authorities, in a day long before word searchable texts. Mathew Hale, and other less well-known contemporaries, linked learning by maxims with keeping commonplace books, both for students and practitioners. The commonplace book was usually organized around alphabetical topics, but these topics often were suggested by, or contained, maxims.
Keeping a law commonplace was not "interactive" in the same way as being interrogated by a "crammer" after one of Story's lectures, or being cross-examined by a "Socratic" law professor pursuing Langdell's case method. But it was an active, and often creative and critical process, in which the student interrogated the basic sources of the law and distilled, for the student's own purposes, the essence of the law. And this process was hardly unstructured. As we shall see, Quincy was very much aware of John Locke's "A New Method of a Common-place book," first published in French as "Methode nouvelle de dresser des Recueils" in the Biblothèque Universelle et Historique in July, 1686, and then translated into English in 1697, as well as Mathew Hale's Preface to Rolle's Abridgment of 1668, which specifically addressed legal "commonplacing."17 Not only did he follow these guides, but he created both an initial index and a sophisticated final cross-index that linked comparable subjects and ideas. Finally, he did not just copy the relevant sections of cases and treatises, but condensed and arranged them in a highly individual way, using both American and English sources, and cross-citing to his own manuscript Law Reports of cases in the Massachusetts Superior Court of Judicature. (Hereafter, "Reports.")18 He also, on occasion, criticized these sources, marking "query" in the margins and noting inconsistencies. Indeed, compared to the passive, painstaking note-taking and copying of a Litchfield student and the treatise-based lectures of Story's Harvard Law School, Quincy's Law Commonplace seems original and analytical, not unlike the interactive pedagogical goals of Langdell's "Socratic" method, the "modern" approach that evolved more than a century later.
There was one final surprise. In Volumes 3 and 4 (1764–1765) of Quincy's four original notebooks there were 22 pages of Latin Maxims, now brilliantly translated and annotated by Elizabeth Papp Kamali and included as Appendix III to this volume. These maxims, in turn, were hardly random, and reflected a letter of advice on Roman law by Professor Francis Dickins, who taught Roman Law at Cambridge from 1714–1755 as the 16th Regius Professor of Civil Law. This letter, originally addressed to Jeremy Gridley, law tutor to John Adams and dean of the Boston bar, was copied into Quincy's Note Book, Volume 4, at pages 148–150, by another hand. So learning by maxims and commonplacing extended, at least in Quincy's case, to comparative legal studies. Roman Law was the common denominator within the continental legal system of the day, as well as the basis of the Admiralty proceedings so important to New England, not to mention the law of the Spanish and French possessions in the New World, including Louisiana.19 The Latin Maxims were hardly an archaic exercise, but rather a link between Quincy's legal studies and the world beyond the seas.
In short, Quincy's Law Commonplace is important. It is not just important because its author was a courageous patriot and, by all accounts, a brilliant man. It is also a particularly complete and convincing evidence of how the elites of the pre-revolutionary bar learned law, by apprenticeship, structured and focused by a pedagogy of maxims and commonplacing. It may not be our modern idea of legal education, but it was serious legal education nevertheless. To the extent that it offered a very different pedagogy to that which dominates modern American legal education, it remains fascinating to innovators and reformers.20 To the extent such an education strengthened and molded the legal elite of the pre-revolution, it remains important to the history of our nation.