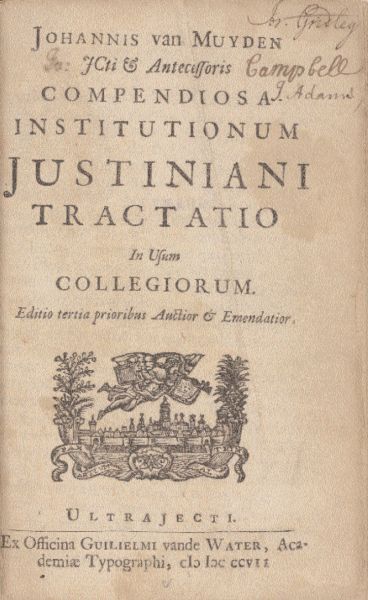 The Gridley-Adams copy of Johannis Van Muyden's Compendiosa Institutionum Justiniani Tractatio (Utrecht, 1707). This book was loaned by Jeremiah Gridley to Quincy's first cousin, John Adams, in 1758, and bought by Adams from Gridley's estate after 1767. Image courtesy of The John Adams Library at the Boston Public Library, Copley Square, Rare Books & Manuscripts Department. Adams was proud of his learning in Roman law. See "Introduction," supra, pp. 31–32.
QUINCY'S LATIN MAXIMS
EDITOR'S NOTE
Daniel R. Coquillette
The discovery and analysis of this important document is a tribute to skilled research assistance. First discovered and partially transcribed by Michael H. Hayden, Esq., Boston College Law School, Class of 2004, Quincy's Latin Maxims were initially translated with great skill by Susannah B. Tobin, Harvard Law School, Class of 2004, and then were put, with amazing persistence and intelligence, into this final translated and annotated form by Elizabeth Papp Kamali, Harvard Law School, Class of 2007. I have already expressed my deep appreciation to all three of these talented scholar professionals, but I should say again what a privilege it has been to have them as students and colleagues.
The lost art of learning and persuading by maxims has already been described in the Introduction, "The Legal Education of a Patriot: Josiah Quincy Jr.'s Law Commonplace (1763)," set out above at Section II "The Pedagogy," pp. 31–36. Two masterful works, Francis Bacon's Maxims of the Common Lawes (written 1596–1597, 1st ed., London, 1631) and Frances A. Yates's The Art of Memory (Chicago, 1966) are separated by more than three centuries, but they both remind us what a powerful legal and intellectual tool the maxim was, and still can be. Thanks to the intelligent alertness of my three young colleagues, and to the exceptional translation and annotations by Elizabeth Papp Kamali, we can revisit, again, this extraordinary form of learning.
In this section of his Law Commonplace, Quincy thankfully numbers his pages accurately, neither skipping nor repeating page numbers. Thus all Quincy page references use his original numbering.