THE Stated Meeting of the Society for this month, postponed by vote of the Council, was held, by invitation of Mr. Henry Herbert Edes, at No. 62 Buckingham Street, Cambridge, on Thursday, 4 May, 1922, at eight o'clock in the evening, the President, Fred Norris Robinson, Ph.D., in the chair.
The Records of the last Stated Meeting were read and approved.
The President announced the death, on the seventeenth of April, of Richard Middlecott Saltonstall, a Resident Member.
The President appointed the following Committees in anticipation of the Annual Meeting:
To nominate candidates for the several offices,—Messrs. Samuel Williston, Morris Gray, and William Cushing Wait.
To examine the Treasurer's accounts,—Messrs. John Eliot Thayer and John Lowell.
Dr. Charles L. Nichols spoke of Samuel Danforth's Almanack for the Year 1647 as the earliest perfect almanac now in existence printed in British America, and the only book with the imprint of Matthew Day. He called attention to the arrangement with the month of March as the first page of the Calendar and to the mention in the "Chronological Notes" of the discovery of the "Chrystall Hills" in 1642 by Darby Field—that is, the White Mountains in New Hampshire. This unique almanac was originally owned by the Rev. Samuel Haugh of Reading, then by Judge Samuel Sewall, and is now in the Henry E. Huntington Library of San Gabriel, California.
Mr. Samuel E. Morison read extracts from two commonplace-books kept by Ephraim Eliot,73 and exhibited two prints. Of one of these, made by Nathaniel Hurd in 1762 and representing an episode in the career of the notorious Seth Hudson, the following account is copied from one of the commonplace-books:
Compiled by Eph Eliot in conformity to the picture.
In the year 1762, there appeared in Boston, a curious character who called himself Doctor Hudson74—gave out that he was a Dutchman—that he was possessed of a large fortune, & was travelling for his amusement. He dressed very gaily—tried to push himself into genteel company & though rather expensive in his appearance, he shewed but little money & displayed no resources—he was well watched. After some time a bad fellow was detected in putting off a note purporting to be from the treasurer of the province, which proved a counterfeit. His name was Howe.75 He confessed that he was a partner in villainy with Doctor Hudson, & that they had been privately engaged in making up a number of the province notes, which were in high credit in this & the neighbouring provinces & sold readily at an advanced price. The Doctor was also taken into custody—they were tried & convicted; and ordered to the pillory & whipping post. It was a very mortifying thing to the Doctor—but excited the attention of the people greatly. Their exposure in the pillory was accompanied with a collection of an immense crowd & immoderate exultation. Mr Nathaniel Hurd, an eminent engraver, put out a caricature print of the exhibition, which excited much attention. Hudson was represented in the pillory & at a short distance was Howe stripping near the whipping post by the side of Jack Ketch, to whom he addressed himself with "here's a back for your whip shillaly"—who answers, "& on my shoul here is a whip." A gentleman who stands by the pillory, asks Hudson "Doctor, How does the physic work?" & is told "Faith it has brought me to a stool." The devil is represented flying towards him, exclaiming, "This is the man for me."76 The Doctor is supposed to address the multitude in the following speech, which is printed below the above described representation—viz. (author unknown).77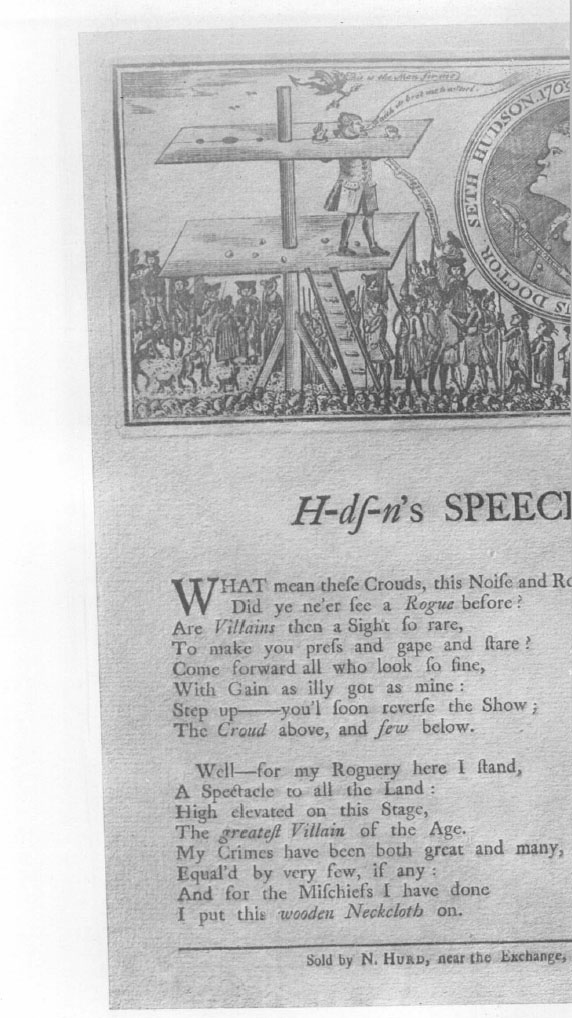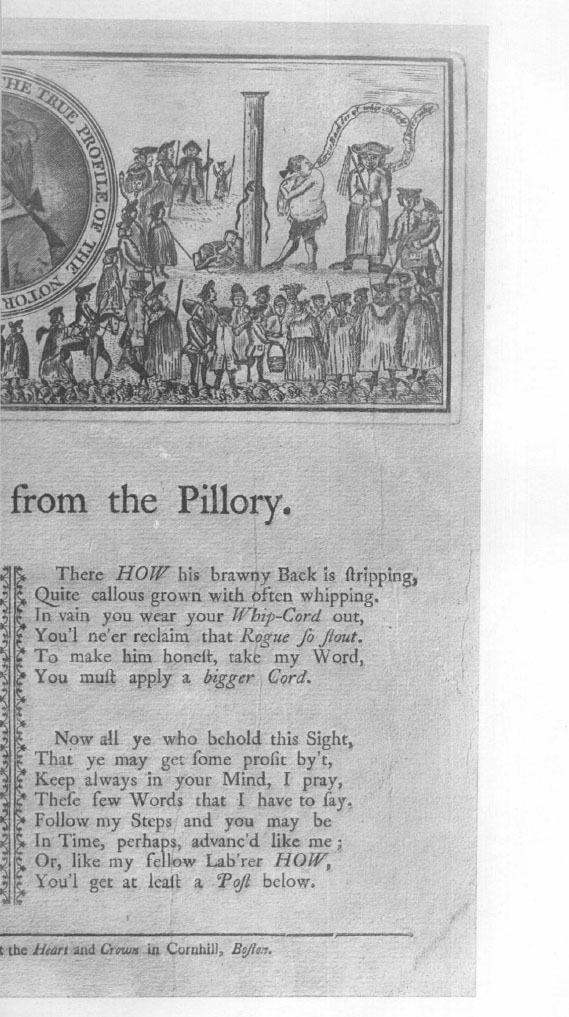 Engraved for The Colonial Society of Massachusetts from an original owned Miss Mary Lincoln Eliot
H-ds-n's Speech from the pillory
What mean these crowds, this noise & roar?
Did you never see a rogue before?
Are villains then, a sight so rare?
To make you press & gape & stare?
Come forward all who look so fine,
With gain as illy got as mine.
Step up—You'll soon reverse the show;
The croud above—and few below.
Well, for my roguery here I stand,
A Spectacle for all the land
High elivated on this stage
The greatest villain of the age
My crimes have been both great & many,
Equal'd by very few—if any,
And for the mischief I have done,
I put this wooden neckcloth on.
There's Howe his brawny back is stripping
Quite callous grown by frequent whipping
In vain you wear your whip-cord out—
You'll ne'er reclaim that Rogue so stout
To make him honest, take my word,
You must apply a bigger cord.
All ye who now behold this sight
That ye may get some profit by't,
Keep always in your mind I pray
The few words that I have to say
"Follow my steps—and you may be
"In time, perhaps, advanc'd like me—
"Or like my fellow Lab'rer—Howe
"You'll get at least a post, below.
In front of the print is the representation of a medallion, on which is a profile of Hudson, dressed in a bag wig, with a sword under his arm, (as he generally appeared before his detection) partly drawn from the scabbard, with the words "Dutch Tuck," on the exposed part of the blade.
The print thus described by Mr. Eliot was published on March 12, 1762, and is here reproduced from an original owned by Miss Mary Lincoln Eliot, a granddaughter of Mr. Eliot. An examination of the Boston Evening Post for the early months of 1762 discloses the following references to Seth Hudson and Joshua Howe:
At the Court of Assize, &c. held at Charlestown last Week, one Joshua Howe, of a Place called Westmoreland, in the Province of New-Hampshire, was convicted of procuring and keeping in his Possession sundry Tools for counterfeiting Dollars, with Intent to use them for that End, and for soliciting and tempting divers Persons to be concerned with him therein, and for counterfeiting the Province Treasurer's Notes, &c. He was sentenced to be set in the Pillory one Hour, to be whipped 20 Stripes, and to pay a Fine of £.20.—And upon another Indictment against him for counterfeiting Dollars (of which Crime he was some Years ago convicted) he was sentenced to be committed to the House of Correction, and there kept to hard Labour for the Term of 20 Years. (February 1, 1762, p. 3/3).
On Tuesday last Joshua How received 20 Stripes, and stood in the Pillory one Hour, at Charlestown, agreeable to that Part of his Sentence mentioned in our last Monday's Paper. (February 8, 1762, p. 3/1.)
On Thursday Night last the noted Dr. Seth Hudson, who has been for some Months past confined in the Gaol in this Town on Suspicion of counterfeiting the Province Securities, had well nigh made his Escape from thence, but being discovered he was prevented. (February 8, 1762, p. 3/2.)
Last Friday Afternoon at the Superior Court held here, came on the Trial of the noted Dr. Seth Hudson and Joshua How for counterfeiting the Province Treasurer's Notes, which Fact was proved so plain against them by the Testimony of the Evidences, that the Jury, without going out of Court, bro't them both in guilty: Several other Indictments were found against the said Hudson for Crimes of the like Nature, for which we hear he is to be tried this Week:—The Court House being too small for the Concourse of People that came to hear the above Trial, the Court was adjourned to one of the largest Meeting-Houses in this Town, where the greatest Number of People attended that was ever known at any Trial in this Place before. (March 1, 1762, p. 3/1.)
At the Superiour Court held here last Week, the noted SETH HUDSON, having been convicted on four several Indictments of counterfeiting the Province Treasurer's Notes, was sentenced to be set in the Pillory one Hour, to be whip'd 20 Stripes, to suffer one Year's Imprisonment, and to pay £. 100 as a Fine to the King, upon each Conviction: The corporal Punishment to be inflicted four Times also.
—His Confederate Joshua How, who was convicted of the like Crime on two Indictments, was sentenced to be set in the Pillory one Hour, to suffer one Year's Imprisonment, to be whip'd 39 Stripes, and to pay £. 100 Fine on each Conviction. (March 15, 1762, p. 3/1.)
Friday last, just after Hudson and How receiv'd their Sentence, appeared in Public, a humourous Copper Plate Print, representing the Punishment of two Criminals. . . . On the right of the Profile is display'd a Whipping-Post, with the Apparatus thereto belonging, near which Hudson's Fellow-Labourer Mr. How, is described as stripping, and turning his head sideways to his dear Brother the Whipper, and saying, "Here's Back for your Whip, Shilaly!" [Shilaly is a Nick-Name given to the Whipper] to which the exquisitely droll Shadow of Shilaly replies "By my Shoul here's Whip!"—Under the Picture are four Paragraphs of satirical witty Verse, applicable to the Subject, (intitled, "H-ds-n's Speech from the Pillory") which afford a few humbling Considerations to those concealed Criminals, who are conscious of being comparatively guilty of Crimes similar to those for which Hudson and How justly suffer.
[The above humourous Piece may be had of Nath. Hurd, Engraver, near the Exchange, and of the Printers hereof. (March 15, 1762, p. 3/1.)
Mr. Samuel C. Clough made the following communication:
Some time ago Mr. Tuttle called my attention to a newspaper article regarding a piece of property in Boston the owners of which were unknown. That this particular piece of land had remained unbuilt upon for over two hundred years was no news to me, but the publicity relating to this fact awakened my interest as to its reason and origin.
This land forms a hollow square on the northeasterly side of Creek Square, in the rear of an estate numbering 80 to 88 Blackstone Street, owned by one of our associates, Mr. George Nixon Black. The entire block is bounded by North, Union, Marshall, Hanover, and Blackstone Streets. It is of interest to note that there are several landmarks still in existence within these limits, that the northerly abutter was formerly John Hancock, and in the near neighborhood stood the Old Feather Store, Triangular Warehouse, and Faneuil Hall. The streets surrounding this block have undergone various changes to conform to modern times, but the old square has remained unchanged for nearly two centuries. The location of this particular piece of land is indicated on the accompanying chart, and was originally covered by the water of the harbor; hence its origin and formation are due to the circumstances relating to its development.
This chart shows the conditions existing prior to 1640, and before a time when any attempt was made to improve them. The leading merchants had their houses near the center of the town or in the vicinity of the head of State Street. Referring to the chart, it will readily be seen that very little of the shore line between the present Milk and Hanover Streets was free of marsh land, and that it was very irregular on account of the several creeks and coves. The opportunity of landing or shipping goods was very limited, and naturally restricted to those merchants who had suitable wharf rights.
Within thirteen years after the settlement of Boston, three enterprises were started which led to the development and formation of this section of the present city. On May 29, 1643, Valentine Hill with Governor Winthrop commenced the project of digging Shelter Creek south of the present State Street and making suitable provision for wharfing. On November 29, 1641, Valentine Hill and his associates were granted all the waste ground in Bendalls Cove, now Faneuil Hall Square. On July 31, 1643, Henry Symons, George Burdon, John Button, John Hill, and their partners, were granted "All that Cove on the Norwest side of the Causey leading toward Charleton," for the purpose of damming the high tide in such a manner as to operate mills for grinding corn. The "Causey" or causeway ran along the easterly shoreline of the cove, on a parallel line northwest to the present Salem Street. This project gave the mill proprietors the privilege of cutting through the marsh between the cove and a creek on the line of the present Blackstone Street, thus bringing their interests into union with those of the Bendalls Cove proprietors. The spur of land and marsh on the northwest side of the present North Street formed a natural dividing line between these two enterprises, and we will turn our attention to their development.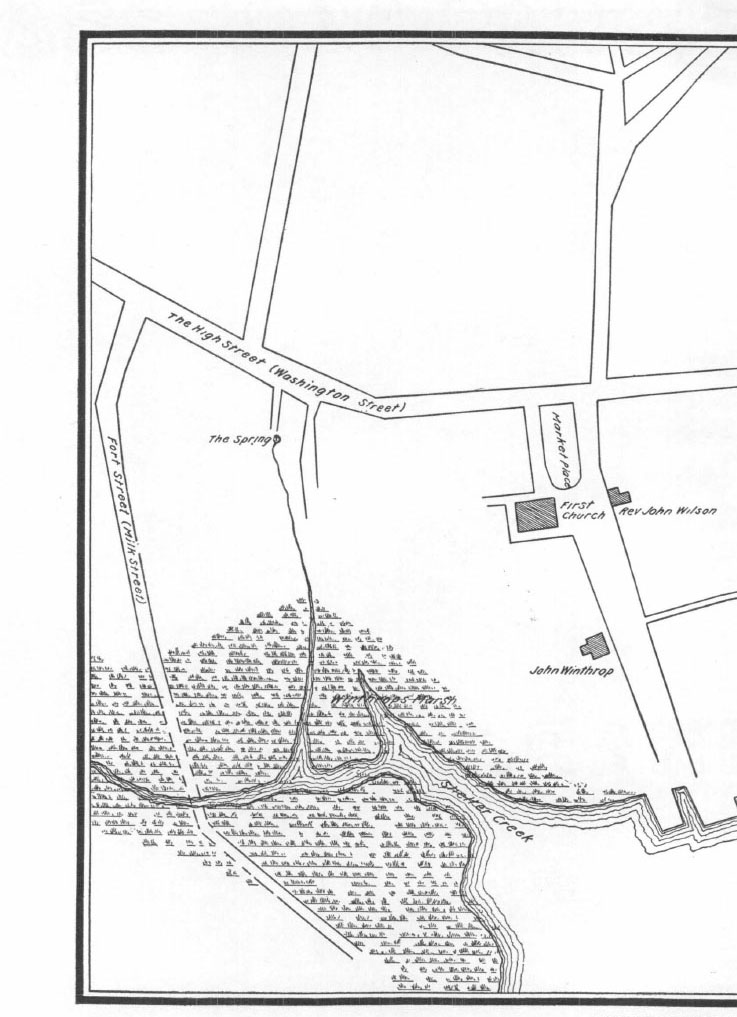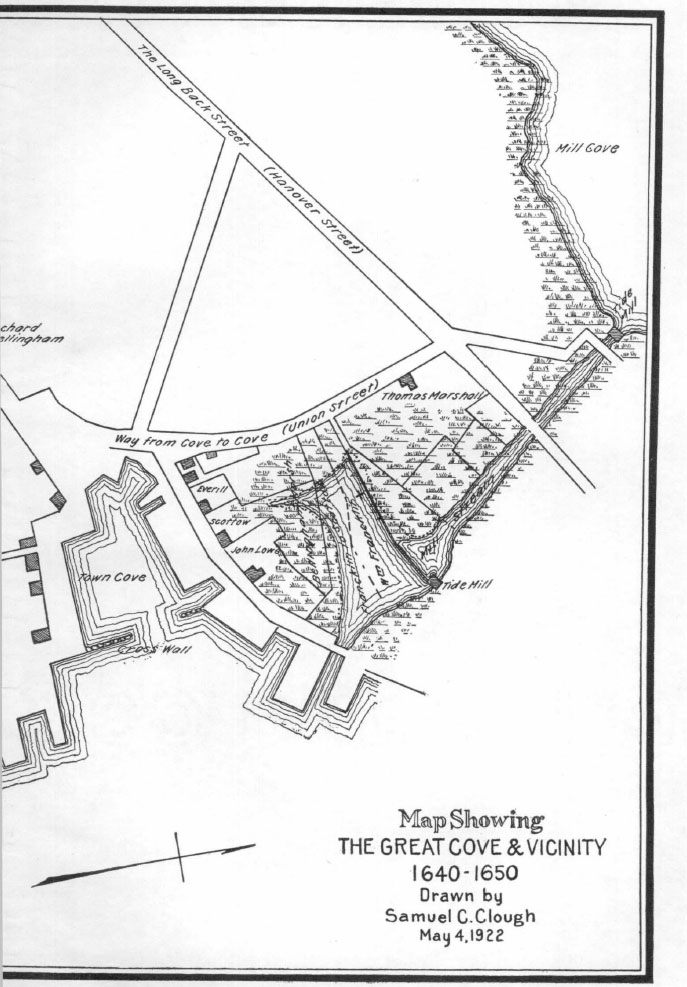 ENGRAVED FOR THE COLONIAL SOCIETY OF MASSACHUSETTS
As early as 1637, John Lowe was granted a piece of marsh which afterwards became his houselot on that site known to the Bostonians in the last century as "Simmons's Oak Hall." John Hill and Henry Symons built their homes near the corner of the present North and Union Streets. A large portion of the marsh east and north of Hill and Symons was granted to Richard Bellingham on the "quiet resignation of all claim unto the waste before his house." This marsh extended from the present Union Street, its northerly boundary line running on a slant line to the rear of the present No. 48 North Street. From this line it embraced all the land to the present North Street excepting those lots before mentioned of Hill, Symons, and Lowe.
It was stipulated in the first grant to the Mill Cove proprietors, that they should have a strip of marsh 60 feet wide throughout, and by a later grant 33 feet of marsh were added. Through these grants, John Milom, who seems to have been the most active proprietor, became invested with a strip of marsh on the southwesterly side of the Mill Stream, between the present Hanover Street and North Street, excepting a broad creek which extended westerly toward Union Street. This fell to the share of another proprietor—William Franklin. The westerly line of the creek was about 80 feet east of the present Union Street, and a portion of his marsh extended further west, including the present Marsh Lane, which was the private entrance to Franklin's wharf.
Bellingham disposed of his land fronting to North Street in lots and sold the entire marsh in the rear to James Everill. Everill sold the lower portion in form of a triangle to Joshua Scottow in 1650. In 1651 Scottow purchased half of Franklin's creek and marsh. It was Scottow who developed this creek and made it suitable for mercantile purposes, and for many years it was known as Scottow's Dock.
One of the first mills built by the Mill Cove proprietors was located on a site corresponding to about No. 79 Blackstone Street, which required a crosswork to retain the tide water. This was ordered to be removed in 1649, but the westerly portion probably established the southerly line of Franklin's first wharf.
William Franklin lived at the upper corner of the present Exchange Street and Adams Square. By a deed unrecorded, he sold all of his wharf property to Samuel Bennet of Lynn, who conveyed the same to William Brown and George Corwin, both merchants of Salem, in 1665 and 1666. James Russell, of Charlestown, who married Abigail, the daughter of George Corwin, came into possession of one-half of the Franklin property. The other half he purchased of William Brown in 1686.
In 1703 Russell sold the property to David Jenner in two portions which were divided by the broad passage now known as Creek Square. The upper portion included a part of the Crawford Range Co. and the present Marsh Lane. The lower portion comprised all wharfing, warehouses and tenements, northeast of the broad passage, with the Mill Creek on the northeast and Scottow's Dock on the southeast. Jenner conveyed the property in half portions to Jeremiah Allen and James Barnes in 1703 and 1704. In the description of these deeds no information is given that will determine the outline of the wharf to the east and south, it simply says "swinging around on the Mill Creek and Scottow's Dock."
In 1706 Allen and Barnes sold the entire property to Adino Bulfinch in three separate parcels: first, the portion west of the broad passageway; second, a warehouse and wharf butting on Thomas Winsor; and third, a tenement, lean-to, and wharf, bounded northwest on the warehouse, northeast on the Mill Creek, and southeast on Scottow's Dock. In the same year (1706) Bulfinch mortgaged the third parcel to Thomas Willis of Medford and in this instrument we find the following clause:
And it is hereby Mutually, Covenanted, agreed & Consented unto by and between the sd. Adino Bulfinch and Thomas Willis, parties to these present for themselves, their heirs and assignees in the manner and form following anything herein contained to the Contrary Notwithstanding, That is to say that about Thirty one foot and an half of Land or Wharf of the above granted premises reaching as far as the middle of the sd. well lying on the South Easterly side of the said Bulfinche's land and before the Message or Tennement of the said Ground hereby granted at Eight foot distance from the said Tennement, and so ranging down the aforesaid breadth of Thirty one foot and an half to the Dock and broad passageway together with the said Well shall forever hereafter lye in Equal and perpetual Common between the sd. parties and their heirs and assignees without Inclose for the use and accommodation of the housing and Lands there both of the sd. Bulfinch and Willis and for the passing and repassing into, out of and from the same, with Cart, Man or otherwise by and through a Gateway of about 10 foot meant to be made at as against the aforesaid broad passage. . . .
And also that the sd. Thomas Willis his heirs or assignees shall not at any time or times hereafter build, Erect or set up any thing against that part of the South East side of the sd. Bulfinche's Warehouse which comes out about nine foot and three Inches beyond the front of the sd. Tennement hereby sold.
In 1708 Thomas Willis conveyed the southeasterly portion, there being three distinct tenements, to his son Stephen Willis. The last reference to this clause appears in a deed in 1761 when a portion of the estate was conveyed to one of the heirs, Thomas Parker. In this deed the original conveyance of Franklin to Bennet is also mentioned. In 1785 the Parker heirs sold a portion to Thomas Dillon and another portion to Samuel Whitwell. In this last conveyance we find a blacksmith's shop, which is probably the one standing there to-day, which seems to be in violation of the clause made in 1706. The restricted area is indicated on the last chart. This chart also shows the cut made on the southwesterly side of Blackstone Street when it was widened in 1834.
Mr. Morison also exhibited a satirical print which is thus described by Mr. Eliot:
In the beginning of the year 1768, when the measures of the British government were assuming more & more of a threatening appearance, the house of Representatives of Massachusets voted to send a circular letter to the legislatures of the several provinces, upon the alarming state of affairs with the mother country. This measure gave so much umbrage to his majesty, the King, that he sent out orders to Governor Bernard, peremptorily to demand that the said vote &c. should be rescinded, & obliterated. This demand being judged unreasonable, after debate, a vote was passed not to conform to it. Seventeen members only voting for it, & ninety two against. These numbers therefore were used in a political manner—Seventeen being called the Tory number—and the glorious Ninety two, as it was called, was denominated that of the Whigs.78 The seventeen members were branded with the name of Rescinders, & were held up to view in a contemptuous manner. In order to render them more contemptable, Paul Revere, (afterwards Colonel of a regiment in the service of the Commonwealth of Massachusets, but then a Silversmith & Engraver) issued a caricature print, headed with the words—
The delineation was, a monstrous open jaw, resembling that of a shark, with flames issuing from it, & the devil with a large pitchfork driving the seventeen rescinders into the flames—exclaiming "Now I've got you—a fine haul, by Jove." As a reluctance is shown by the foremost man, at entering, who is supposed to represent the Hon. Timothy Ruggles Esq. of Worcester,79 another devil is drawn with a fork, flying towards him, crying out—"push on Tim." Over the upper Jaw is seen in the back ground, the Cupola of the province house with the Indian & bow & arrow, (the crest of the province arms). In this house was the Governor's residence.
A copy of this print fell by accident into the writers hands—some time since. He enquired the particulars of Col. Revere respecting it. The Colonel was then eighty years of age, & observed that he had seen a copy of it for forty years—was pleased to find that one was in preservation & offered to buy it. He said that he was a young man, zealous in the cause of liberty when he sketched it80 & had forgotten the circumstances—but this he did remember, that while he was doing it, the famous Doct Church81 (then considered a leading whig, though he afterwards proved defective) came into his shop & seeing what he was about, took a pen & wrote the following lines as an accompaniment. The Colonel then delivered them with much pathos exactly as they are on the print.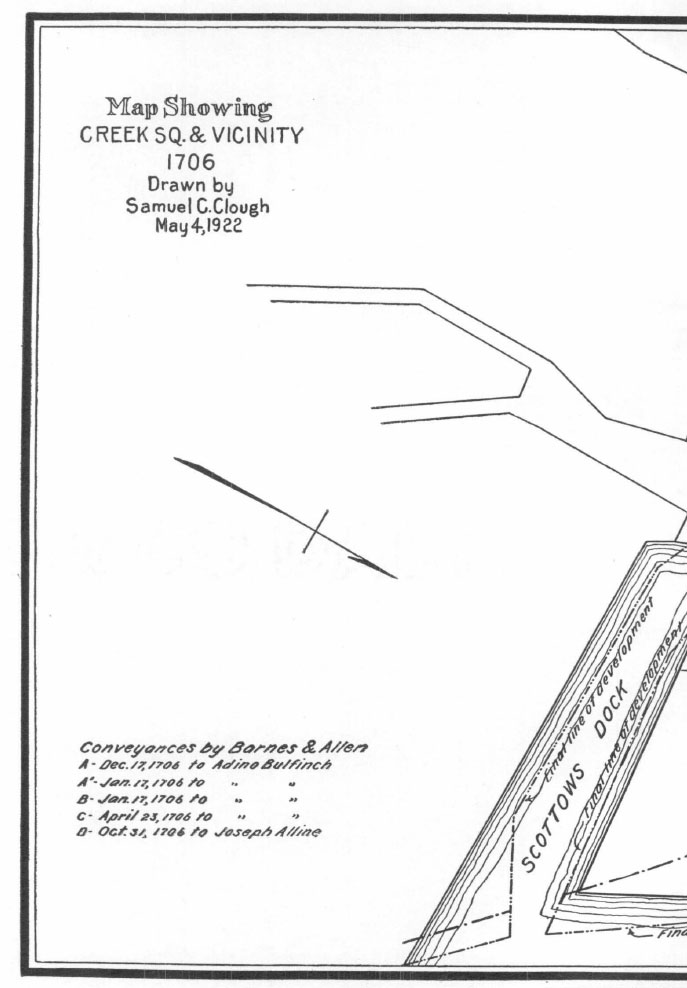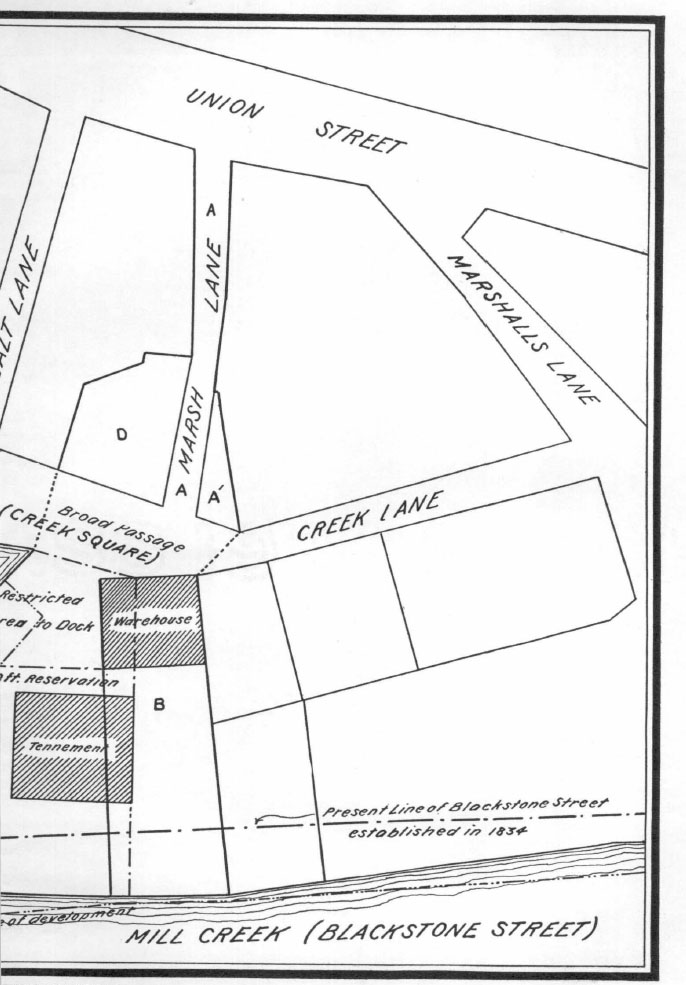 ENGRAVED FOR THE COLONIAL SOCIETY OF MASSACHUSETTS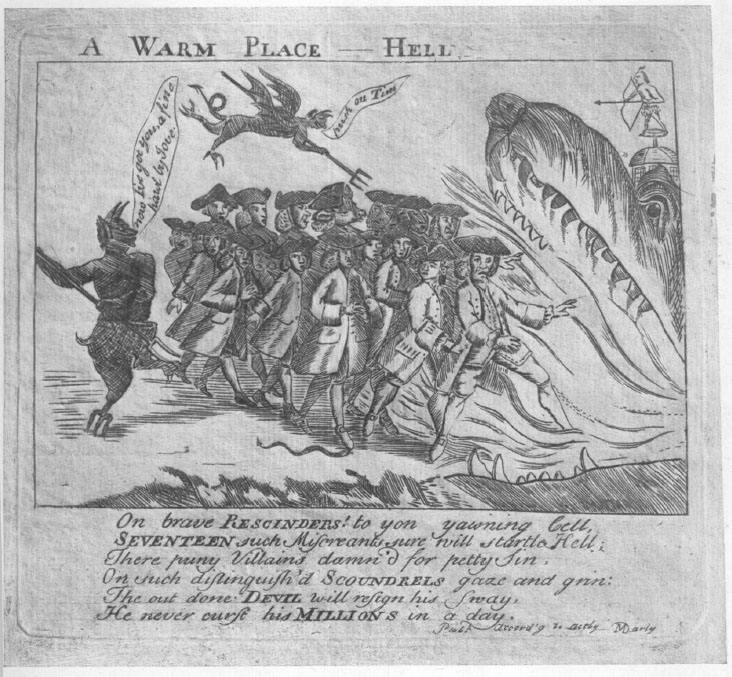 Engraved for The Colonial Society of Massachusetts from an original owned by Miss Mary Lincoln Eliot
"On brave Rescinders! to yon yawning cell,
"Seventeen such miscreants, sure will startle Hell.
"There puny Villains damn'd for petty sin,
"On such distinguish'd Scoundrels gaze & grin.
"The out done Devil will resign his sway,
"He never curst his millions in a day."
He was asked to call over their names, but could recall only the above named Timothy Ruggles, & Doctor Robert Calef82 of Ipswich, whom he had particularized in the print with a Calfs head.
Our reproduction of this print is from a copy also owned by Miss Mary L. Eliot.
Mr. Julius H. Tuttle submitted two papers relating to the New Hampshire Grants, now Vermont:
The following papers by Charles Phelps,83 which are submitted with the kind permission of Dr. James Lincoln Huntington of Boston, a descendant whose family owns the ancient Phelps homestead in Hadley, are of interest in connection with the Massachusetts and New York claims to these Grants. It may perhaps be possible to identify the fifty townships referred to in the Massachusetts claim, which Mr. Phelps was struggling so hard to establish.
I
For Mr. Charles Phelps, Jr., in Hadley pr Favor of Mr. Warner of Hadley.
June 5, 1774.84
Having arrived at Boston, Monday night after I left your house, and Waiting upon Councillor Bowdoin,85 and Mr. Adams,86 the General Courts Committee, appointed to draw up the State of this Province, Claim and Right to those 50 Townships etc. It was in manner finished, Mr. Adams Red it to me for my Consideration thereof: I desired to have it Prepared and Finished against fryday that week, ready to Present it to the General Court for their Perusal, Previous to my throwing in a Petition to have them immediately Prosecute all those measures and prepare all those matters Necessary for the preparing a Successfull Transmit of our Claim, Petition, and Remonstrance, to the King and Council. For the Reanexing them Lands to this Province, which measures to be so undertook and gon through with, would take up near 8 months Do what we could, before they would be accomplished, and that altho the sentiments of administration at home, are at present so bad, that it would not do at all, now to Send the Petition for the reanexing of them Lands yet, never-the less, that was not aney reasonable objection, against the Performing now Everything Necessary, and keeping all the Performances therefore untill the Circumstances of things were altered in favour of the Petition and then send Immediately for the Recovery thereof with all the Prerequisits therefor ready in the archives of the Court—for many important Reasons therefor I adduced, gained the opinion of all I discoursed with of both Houses to assist me in the Petition I preferred for that Purpose—I thought best to Enter the Petition at the Council Board obtained the favorable reception thereof after its being red at the board they Called upon me for the State of the Claim or title of the Government which was ordered Last Session to be Drew etc I presented it but it was not signed they said then I carried it Back to the Committee for Signing: they had no Commission from the Province attested by the Secretary87 in form as they ought to have of ye appointment wherefore could not attest it regularly before the Commission was made out by the Secretary these caused a delay 2 Days then the Governor88 last Satterday noon adjourned the General Court over to Salem Next tuesday to sit there where and when the Court must meet—Now I must improve my time Every way for advantage against the sittings of the Court there where I must attend. I waited upon Governor Hutchinson at the Castel with an address to his Excellency to do in all the Possible favor he can when he arrives at England and when our Petition and the matter there of shall be sent there for Consideration of the King and Council the Governor tells me if I gow over to England in behalfe of the Inhabitants of them Lands he will Do all he Can for their good Consistant with his Circumstances and advises the People by all means to send over a Petition for their reliefe and Settlement of their title and he thinks they will succeed, he advised me to apply to Governor Gage as soon as possible for his assistance in the Premisses and to heare of Him what Lord Dartmouth told him about those lands before he left England and the favor the People had Shewen them alredy by the Board of Trade there and having Waited upon Governor Gage for that Purpose he assures me to assist me and the People on them Lands and the Government of the Bay (the Circumstances of all which I Disclosed to him) to the utmost of his Powers, and told me many things from Lord Dartmouth very favorable for the People and the Success my Petition met with at England to Stop New York Protest89 and if application is properly made both Governors tell me they think Releife for them will be obtained by King and Council.
Governor Hutchinson has advised me to a method for my Security and the People Particularly if the Province Do nothing further for our Help as yet or never shall Effectually apply for a reunion with this Government and he hear assured me he will yeald me all his kind assistance if I should go there whilst he is there unless his Majestys assignation Does not Necessarily Prevent him Doing it otherwise he tells me I may Depend upon his assistance and favor and he Encourages my going if the People on the Lands Can Raise ondly one Hundred Sterling for me in a method he has kindly Continued for me if this Government Do Nothing to Encourage me which under the Present Situation of things I Cant See any Grate Likely hood of their Doing anything at present of Sending a Petition for the Reanexing of them Lands to it. I have opened the affair of my new Petition which the Council have Lying before them for the Premisses to Major Hawley90 whereupon he assures me he will Do all he Can to assist me and Several of the Leading Gentn of the Honorable House of Representatives have Expressed their Sincere Desire of having my new Petition answered and promise me using their Influence for my obtaining the Prayer thereof. But Colonl Bowen fiercely opposes me and I supose Some others are of His mind So that it remains very Precarious whether I can Get my Affairs Completed to my mind as proposed things are in such a bad State at Home against this Province.
Butt all this Does but Employ my mind with greater assiduity more Vigour and resolution to do Something for a Particular or Generall Benefit I am not in the Least Intimidated or Sunk under Discouragement but are Determined I will if Possible Drive through all opposition thrown in my way for I all ways Knew nothing Short of Doing all I Possibly were Capable of would Effect the business but I apprehend by what one of the Gentn of the Honorable board told me I shall be favored by the board in my affairs and I hope I shall by the House
for if I find out it will Rub hard at the House I shall insist upon having the Board and House forming them Selves in one Grand Committee and I Permitted to have a full Hearing before them upon the floor of the House for it as a matter of such Vast Consequence I have a Good Plea to be heard at Large in that manner and then I have an apprehension I can Convince the whole Court that my new Petition and my plan therein is Converted in such a manner that it Will Necessarily appear to a Demonstration to be the Best Way that can be taken to obtain the End Designed in the opinion of Every one that Can Comprehend it.
I am very sensible of my Weakness and Inability to Perform a task So Difficult & Grate against Such Discouragements and opposition the Case is attended with having no more Influence than I have in that Grand Assembly many of which always Suspicious of an Importunate Solicitor being moved from his own Private Interest to Gain an Emolument to himselfe and Family rather than the Common utility of the whole
Hower things may turn If I do all I can I shall have nothing to Lament for my not doing my best to accomplish the Scheem but on failure I Shall therefore With a Humble resignation to the Disposition of Infinite Wisdom Submit this and all other affairs and the Event Waite for in a Way of Duty alone is the Sentiment and Resolution of your loving Father
C. P.
My Love to you, your Worthy, tender hearted and most kind and affectionate mother, your Dear Spouse, your Brothers and Sisters etc. At Present Im in Health Hoping you all are So too; not Knowing when I can return, wishing of You and them all Possible Happiness and tranquility; tho' She your once With Endearment and fillial Affection Esteemed it your Honour, and Delight, to Address, with the Endearing Appelation of Mother, Lamentably Destitute of Both.
My Good friends, Mr. John Adams and Mr. Wm Pynchon91 have got my Case continued from Last March Court to next July Court the week after Commencement before Judgement can be given against me therefore then I must have the money to pay to prevent Execution
Yesterday I went to the Castel again to present my Last address to Governor Hutchinson and Get his Assistance Promised me if I ask it in the Premisses and take my Leave of Him and Wish him a good Passage to England and Safe arrival there and the Happiness of his Majestys favor Whome he has Promissed him to pay him well for his going home to receive further pledges of His Princes favour and a Pension there Equal to His Sallery Here as Governor.
A Number of Gentn went over from Boston to the Castle to take their Leave of Him92 and Wish him a Good and Comfortable Passage & Safe arrival there and His Kind admittance Into the Presence of His Majesty who ordered Lord Dartmouth to send him the Special marks of His favor and his Invitation to set off for England as soon as possible that he may receive him Into his Royal Presence as the Governer Hutchinson told me with his own mouth, and a Grate Deal besides he Disclosed to me Which I Cant Let you know by Letter.
The Ship fell Down to the Castle yesterday in which the Governer takes his Passage for England with one Son and one Daughter having one Son there alredy as he told me himselfe
C. P.
For my Dear and Well beloved Son Charles Phelps in Hadley
Wishing all Happiness and the Enjoyment of Every Domestick Blessing in that Peacefull family Where He Exhibits that filial affection so Much to His Kind Mothers Satisfaction.
II
To the Honorable Council of the State of Massachusetts Bay
Having the fore part of June Last Set out upon my Intended Journey to Boston but being taken Ill upon the Road unable to proceed wrote Largely upon the Important Subject of my Intended theem when I should arive and Sent It by a young Gentn Who promised me he woud faithfully Deliver it to the Honorable Artemas Ward Esqr with his own Hand. Since which I have had no Intelligence thereof nor of anything being done in Consequence of it; living so far in the Inland woods from Roads Leading to Boston But Mr John Clark rides post from Boston to Northfield weekly therefore should be Glad to have the Secretary93 or one of His Clerks send me Intelligence of what acceptance those matters had with the Honorable Board if any & whether any thing has been Done upon them Petitions by Either House of the Honorable Legislature and send it by Mr Clark to my son Charles Phelps at Hadley as he passeth through that town Every week.
And if there has no notice been taken thereof by the Legislature I should be Glad to know that also, however I Shall think it very Strange that matters of So much Importance of such vast Consequence to Government in General as well as what Grately affects so many respectable Petitioners many of whom are Gentn of fortune Honor & Influence at Court that the Court Can Suffer the Intrest of their Constituants of So much Worth to the whole Government to Lye so Long unnoticed & wholly neglected after so many pressing motives to Induce the Legislature to take it Into their most Serious Consideration & publish Some resolves that the world may know it is an object they Intend In proper time to obtain the acquisition of however Long it has Lain in the ashes of ministerial opposition formerly & now Lies under the obstruction of hot Bloody & all Distressing Civil Wars since those in such Struggles for part of the object by Vermont & New York State for it will be almost an unpardonable Crime in me to Suffer the Intrest of so many Hundreds of my worthy & most respectable Constituents neglected when they all view it of such a benefit to Government also to have their affairs soon brought upon the Carpet by me therefore I beg I may receive Intelligence hereof by Mr Secretary Avery or his Clerk—by the means above mentioned which is the safest I know of.
To Close shall beg Leave ondly to Sugest that as the Struggles between New York State and Vermont riseth higer and higer very fast Governor Clinton has Sent an Express Lately to Congress of those matters of Disturbances & Information of Vermont upon his Subjects & yr property Living on the 50 townships &c in Consequence whereof Congress Sent a Committee up at Bennington to Inquire Into the truth of facts between the two Contending parties & report to Congress what they find for an adjudication Decisive respecting Vermont at Least as we all Soposed and as those matters would naturally open to a Sceen of Important transaction which might very much affect the rights of Massachusetts to those 50 townships which Covers near 50 miles of County north & Southrd. the one halfe of the bredth of the Bay State; and Consequently must necessarily affect their Intrest & right of Soil beyond New York State west; the very Lands reffrd to in that Important Petition I sent Last June to Boston affore sd it was thought necessary for me to attend that Committee of Congress at Bennington in respect to my Constituants Rights &c as well as the Rights of the Bay thereto Least something Disadvantageous to my Constituants &c might Ensue relative to matters of Such vast Importance & Delicacy which my Constituants Expect I Should be always upon my watch & guard in the premises in their behalfe and accordingly exerted by a watchful policy of a neglect in my selfe if I should omit I gave the Committee of Congress an account of what my Constituants had done both relative to the 50 townships & those Lands west of New York State and the incontrovertable rights of the Bay State to the same as fully as I was able as far as was pertinent on that occation of their coming &c And as matters then opening between the portion of New York & Vermont rendered it necessary that the Committee might Know the Ingratitude & Baseness of Vermont officers &c in favor of New York & how Inconsistant they were to Justice and the rights of 2 States and their Treasonable Information & premeditated Conspiracies against their alleigence to New York authority and Government & Contrary to resolves of Continental Congress &c But Some Disturbances having Since fallen out between the two Contending Governments officers & subjects of New York State & Vermont which made it Necessary for the County Convention under New York authority to meet and they having so met Determined to send an agent for the County of Cumberland to Lay open their Abuses from Vermont before the Legislature of New York State and by their Joynt Assistance with the County; Petition Congress by sd agent, to resolve against Vermonts faction any Longer to exist or their obstruction of the authority of New York State and that Vermont Should no Longer be Suffered to Exist to the perpetual vexation of the People and that the authority of New York be in full Erected without any Controul from Vermont &c And altho in the room of a better I being appointed their agent yet I shant have it in my Province or within the Duty of my agency to Say anything of the right of the Bay &c because the Bay in their Legislative Capacity put in no Claim Either to Jurisdiction or Soil & if they Did it would be a matter very Different in its Nature & opperation to what I are to solicit which is that New York States authority be Exercised free of any molestation from Vermont throughout that District of Country as it was at the Commencement of this War or at the Declaration of Independence & because we all Conclude Congress wont Enter into the Consideration of the Disputes that may arise about the Limmits or Jurisdiction of Different States whilst it is not settled whether the Independence & Sovereignty of the united States of America be admitted by Grate Britan & so long as they maintain the Hottest war against america for our setting up Independance & Sovereignty against Brittan. But nevertheless I are of the opinion & beg Leave again herewith to offer it that it is perfectly Consistant with the Justice prudence & wisdom of the massachusetts Honorable Legislature to resolve their aincient and Continued Claim be Sent to Congress Respecting the 50 townships & their western territory as Soon as possible if it is not Done Conform to those Petitions herein before mentioned sent Last June to Court as I trust they were Delivered to Councillor Ward94 however all must be submitted to the wisdom of the Standing Guardians of the State to whom of Right those Important matters belong therefore to conclude my address beg leave of assuming the honour of Subscribing my Selfe your Honours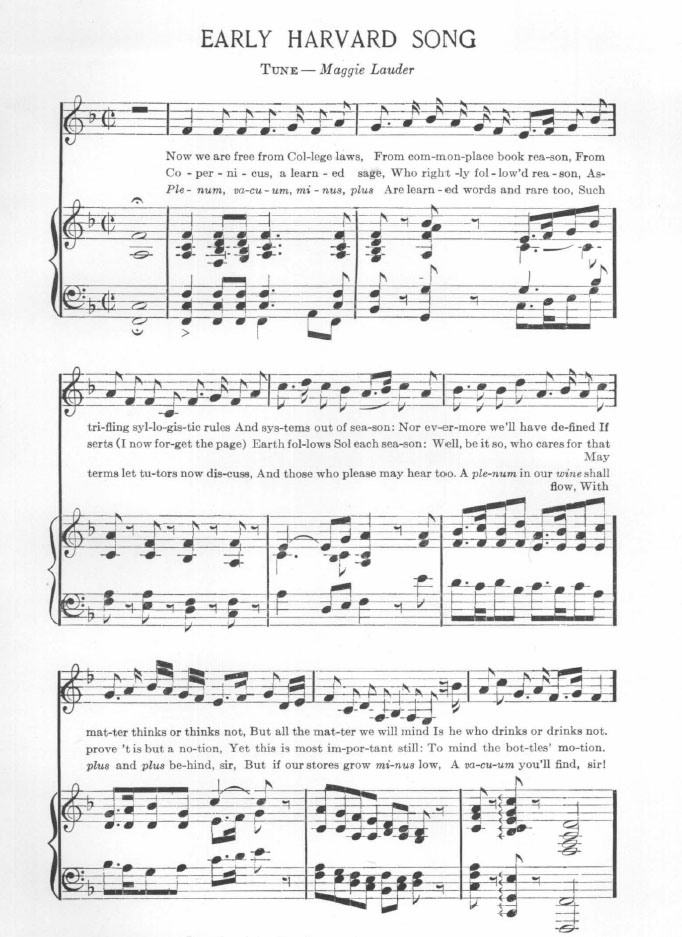 Reproduced for The Colonial Society of Massachusetts
much obliged & most Humble Servant at Comd
Charles Phelps.
July 28th 1779
To the Honorable Council of State in Boston.
Mr. Morison also communicated an early Harvard song, taken from one of Mr. Eliot's commonplace-books. "Before commencement," wrote Mr. Eliot, "when the senior class bid adieu to Harvard University, it used to be customary for them to dine together in public, after having a valedictory oration;95 and the following song was annually for many years sung in full chorus—viz."
Tune Maggie Lauder
Now we are free from college laws,
From commonplace book reason
From trifling Syllogistic rules
And systems out of season;
Nor evermore we'll have defined
If matter thinks or thinks not—
But all the matter we will mind
Is he who drinks or drinks not.
Copernicus, a learned sage
Who rightly followed reason
Asserts (I now forget the page)
Earth follows Sol each season
Well, be it so, who cares for that
May prove 'tis but a notion,
Yet this is most important still,
To mind the bottles' motion.
Plenum, vacuum, minus, plus
Are learned words and rare too,
Such terms let Tutors now discuss,
And those who please may hear too.
A plenum in our wine shall flow
With plus and plus behind Sir,
But if our stores grow minus low
A vacuum you'll soon find, Sir.
Mr. Henry H. Edes exhibited the second volume of the Rev. John Pointer's Chronological History of England, published at Oxford in 1714, which once belonged to Thomas Prince and bears his autograph as well as the book-plate of the New England Library. It also contains some manuscript notes96 by Prince, and apparently was the book which suggested to him the format of his own book entitled Annals of New England, which is almost an exact copy of Pointer's volumes.
Mr. Albert Matthews communicated the following paper, written by Mr. Clifford B. Clapp of the Henry E. Huntington Library of San Gabriel, California: