February Meeting, 1941
A STATED meeting of the Society was held, at the invitation of Mr. Samuel E. Morison, at the Club of Odd Volumes, No. 77 Mount Vernon Street, Boston, on Thursday, February 27, 1941, at three o'clock in the afternoon, the President, Kenneth Ballard Murdock, in the chair.
The records of the last Stated Meeting were read and approved.
The Corresponding Secretary reported the death of samuel henshaw, a Resident Member, on February 5, 1941, and that of Charles Rockwell Lanman, a Resident Member, on February 20, 1941.
The Corresponding Secretary reported the receipt of a letter from Mr. Thomas Herbert Johnson, accepting election to Corresponding Membership in the Society.
Mr. Elliott Perkins of Cambridge was elected a Resident Member of the Society.
Mr. Robert E. Peabody read the following paper:
NO one who studies the period of the Napoleonic Wars can help being struck with the similarity between that time and the present and between the problems created by the activities of two insatiable conquerors separated by a distance of a century and a quarter. Although one does not, perhaps, often think of it, the devastation of the Napoleonic Wars created a refugee problem paralleling that of today, and many people at that time sought to escape from war-torn Europe to start life anew in this country. Thus there came to the United States at the beginning of the last century, even as is happening today, many people of different nationalities, people from various walks of life, good and bad, educated and uneducated. Everyone is aware that the present influx of fugitives has brought to our shores many artists, musicians, scientists, and people of talent, and it can be assumed that the Napoleonic exiles included a like portion of such persons.
In April, 1937, I read before this Society a paper on the voyage of the Salem ship Mount Vernon to the Mediterranean in the years 1799–1800.447 At that time one of the things that especially interested me was the fact that the Mount Vernon brought back to Salem one such refugee from the Napoleonic Wars, an Italian artist who soon created quite a reputation in this country as a marine painter and an interior decorator. His name was Michaele Felice Corné, and all that I knew of him when I first wrote was that he came over in that ship and that some of his pictures hang in the Marine Room in the Peabody Museum in Salem. Being myself a would-be marine artist, I became intrigued to find out more about him, and I now give the story as I have been able to piece it together.
In July, 1799, the ship Mount Vernon, Captain Elias Hasket Derby, Jr., sailed from Salem for the Mediterranean on one of those trading voyages which formed the basis of New England commerce at that period, and after a passage of seven weeks, which included a stop at Gibraltar, she anchored at the port of Naples. For a year previous to her arrival Naples and the surrounding country had been the scene of revolution and much bloodshed. King Ferdinand of Naples, alarmed at the growth of the French republican movement and fearing that it would extend to his kingdom, made so bold as to declare war on France, hoping to obtain aid from England and Austria. This rather imprudent move of his resulted in the French quickly turning on him, and in January, 1799, a French army, aided by the Neapolitan Republicans, captured Naples. The King and Queen fled to Palermo, and the city remained in the hands of the French for several months until Nelson, returning with his fleet from the Battle of the Nile, stopped in at Naples and took up the cause of King Ferdinand. With the encouragement of this assistance a Neapolitan army was organized amongst those who had fled from the city, and after much fighting, while Nelson's fleet attacked from the sea, Naples was finally recaptured in June, 1799, and the French driven out. A few weeks later the Mount Vernon arrived from Salem with a cargo of Cuban sugar. In view of the devastation caused by the war there was a great demand for this commodity, which gave Captain Derby the basis for the successful trading that he carried on at Naples and other Italian ports during the next few months, enabling him to purchase a return cargo not only for his own ship but for three smaller vessels as well.
As one might expect, the ravages of the fighting around Naples left many people homeless, ruined, and disillusioned, and when the Mount Vernon was ready to leave for home, it can well be imagined that there were many who would have liked to take passage on her for America to escape from war-torn Italy. At any rate, when the ship was about to sail, Captain Derby was approached by a Neapolitan artist, Michaele Felice Corné, who, weary of his service in the Neapolitan army, was anxious to get away from it all and come to America. He had been drafted into the forces raised to repel the French, and, although in no way a military man, had risen to be a captain of the King's Life Guards. However, with the expulsion of the French and the restoration of peace, he was only too glad to give up military service and try his fortune in the United States.
On her eastbound passage the Mount Vernon had had an exciting encounter with a French fleet off the southern coast of Spain and another lively brush with a couple of French feluccas as she was approaching Gibraltar. In the Peabody Museum at Salem there are many paintings of the Mount Vernon by Corné, including several depicting these incidents. One can surmise that, knowing of these two engagements and Captain Derby's great pride in the manner in which the Mount Vernon came through them, Corné made some of these paintings even before the ship sailed for home, and offered them to Captain Derby, thus getting the Captain to bring him to America. However this may have been, when the Mount Vernon sailed from Naples in April, 1800, she had on board as passenger Michael Felice Corné, and on July 7 he arrived on board of her at Salem.
The Mount Vernon, if one may judge from the number of paintings of her known to be in existence, must have been Corné's favorite subject, for, in addition to those he did for Captain Derby, he made others, either on the voyage across or after his arrival in Salem, for Captain Luther Dana, First Officer of the Mount Vernon, whose descendants have a set, and for various of the men who were on the ship at the time. The result was that Corné arrived in Salem with a reputation as a marine artist, and in a shipowning community he soon obtained orders from shipowners and captains for paintings of other ships. Thus there is today a goodly number of examples of his work in the Marine Room of the Peabody Museum, where most of the pictures of the Salem ships of the past have found a safe resting place.
I have been unable to discover anything of Corné's early history and background except that he was born in Elba in 1762. Captain Derby, with whom he lived for a time after first coming to Salem, used to say that Corné was of a noble family and the brother of a count. This, however, did not prevent him, soon after his arrival in this country, from opening a confectioner's shop, from which he obtained some income to supplement that derived from his artistic endeavors. It is not known whether he was originally a painter of marine subjects or only took up this form of art on account of his voyage on the Mount Vernon. While some of his ship paintings have merit, they are not by any means in a class with those of his contemporaries, the Roux family of Marseilles, whose ship paintings are among the best of the time. His work does not show the innate understanding and feeling of ships and sails, of winds and seas, which one finds in the paintings of the Roux.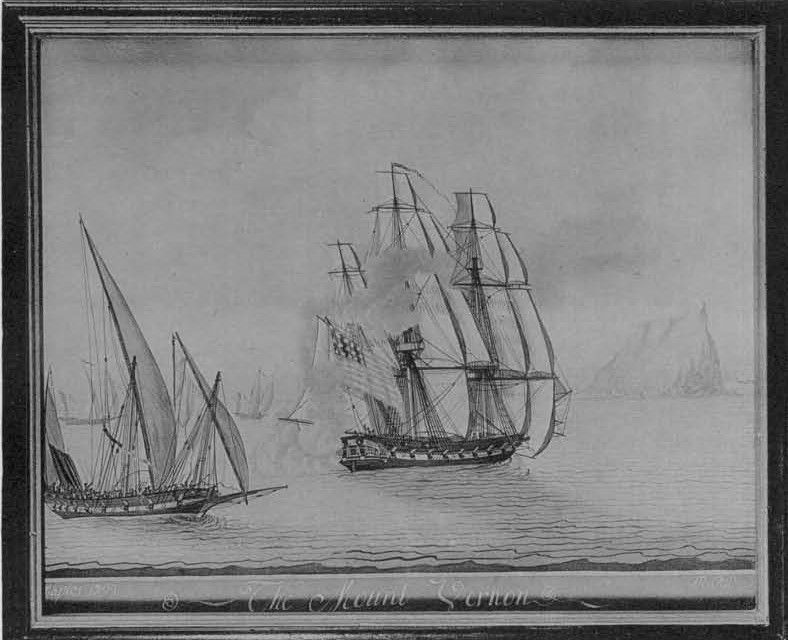 The Ship Mount Vernon
By Michaele Felice Corné
Corné was, however, a man of energy, and, seeking a wider field than that offered by ships, he apparently soon began to take orders for interior decoration of houses, doing such things as wall paintings, frescoes, and ceilings. For Captain John Derby, the brother of the man who brought him to America, he painted a fine picture of various Derby ships on the cupola of the Captain's house. This cupola is now to be seen in the grounds of the Essex Institute in Salem. A fireplace cover done by Corné is in the Peabody Museum, showing the godowns at Canton, which he evidently copied from one of the old Chinese paintings which were then being brought to Salem. Another sample of his work in the same place is a decorative panel or sign with the name "East India Marine Hall," and a ship under full sail flying the Derby flag, evidently departing from Salem for the East Indies. But the finest examples of Corné's work to be found in Salem until recently were the painted wall decorations in the Barnard Andrews house on Essex Street. The subjects were all country landscapes and pastoral scenes: a waterfall, for instance, a thatched cottage with figures, and a lively hunting scene. The paintings were on thin paper pasted to the plaster walls and covered with a varnish wash which in the passage of time gave the pictures a warm glow as on the works of old masters. The subjects were interesting, and the whole effect most charming. Unfortunately, when the house was sold a few years since, the interior woodwork was removed, and the wall paintings have disappeared.
Another house decorated by Corné at about the same time was the Oak Hill mansion in nearby Peabody. Here Corné made two mural paintings, both depicting what was apparently a family group gathered about a cottage door. While perhaps not remarkable from an artistic point of view, they were extremely decorative, the general effect being one of browns and greens. This house, too, was sold some years since, and the paintings are gone.
Such work as this soon began to give Corné a reputation as an artist and interior decorator, and, wishing a larger field for his efforts, he moved to Boston, which was then becoming a center of wealth and culture. Here he painted frescoes and wall scenes for various houses, the most famous of which was the Hancock house. This building having been demolished long ago, there is nothing left to show of this work of his, nor can I find that there is any of his interior decoration to be seen in Boston today.
However, soon after completing his work at the Hancock house, and no doubt as a result of his reputation derived from that undertaking, Corné received an order to decorate the house of Sullivan Dorr in Providence. This work was done about 1812, and as the house, fortunately, is still standing, one can see today what was probably Corné's best and most important decorative painting, and what is as well one of the finest examples of early American wall painting left in this country. The paintings, covering the walls of the parlor and upper and lower halls, depict a variety of subjects. There is a tropical scene, with palms and lush foliage, on one wall; a New England snow scene, with sleighs and a frozen river, on another. He did several views of ancient castles and classical ruins; there are pastoral scenes, a hunting picture, and pictures of a waterfall and of cliffs by the seacoast. Finest of all is a painting of his native Bay of Naples, with Vesuvius in the background, an American frigate lying in the roadstead, and many interesting figures of people in the costumes of the time shown in the foreground along the waterfront. In fact, it is the numerous figures and their gay costumes which give so much decoration and interest to Corné's wall paintings. They appear in all his pictures: women in costume, children, soldiers in uniform, huntsmen in red coats, farmers, and fishermen.
One who knew him in his later years relates that it was usually Corné's custom not to paint directly on a wall but to cover the surface with wide strips of white paper, joining the edges neatly, and putting the whole on like ordinary wallpaper. He first would sketch his subject in charcoal and then wash it in with water colors, using in the foreground opaque colors laid on with sizing. When doing one of these large decorating commissions he had for an assistant another Italian refugee, Botomore by name, a native of Bologna. Botomore was originally a confectioner, but Corné took him up, and under his instruction the assistant could wash in some of the simpler parts of a decorative scheme, mix the colors, and make himself generally useful. Eventually Botomore became so indispensable to Corné that he lived with him during the remainder of his life as his man Friday. Under the influence of America, Botomore became known as Billy, and so he was always called.
Thus Corné apparently eked out a fair living, doing interior decorating and occasionally making a ship painting and other odd sketches, until the War of 1812 began, in which the United States was successful in numerous naval combats. When word reached Boston of the victory of the Constitution over the Guerrière, there was tremendous excitement, and Corné, taking advantage of this situation, secured a large canvas, as big a one as he could get into an exhibition room, and quickly made his picture of this famous battle. People flocked to see it, paying an admission fee for the privilege, and the success of this exhibition led Corné to paint "The Surrender of the Java to the Constitution," "The United States and the Macedonian," "The Battle of Lake Erie," and a number of other pictures which were exhibited to crowds. Book publishers soon took advantage of this situation, and Abel C. Bowen, a Boston engraver, entered into a deal with Corné to publish a history of the United States Navy, Bowen writing the narrative and Corné furnishing the illustrations. For this book, entitled The Naval Monument, Corné made about twenty-five paintings of all the important naval engagements of the War of 1812, and from these Bowen made wood engravings for the illustrations. The book was published in 1816 and was a great success. Unfortunately, Bowen's engravings are rather crude and do not really do justice to Corné's paintings, most of which have long since disappeared. However, the original of Corné's "Constitution and Java" is in the Addison Gallery at Andover, Massachusetts, and his "Battle of Tripoli" is at the United States Naval Academy at Annapolis. Moreover, the New Haven Colony Historical Society has a fine set of four of his paintings of the battle between the Constitution and the Guerrière which are said to have been done for the Constitution's commander, Captain Isaac Hull, and were given by him to Yale University. Two of these paintings are reproduced in The Naval Monument. Although copies of this book are now only in the hands of collectors and a few libraries, Corné's original illustrations are still found reproduced in history books of the present day.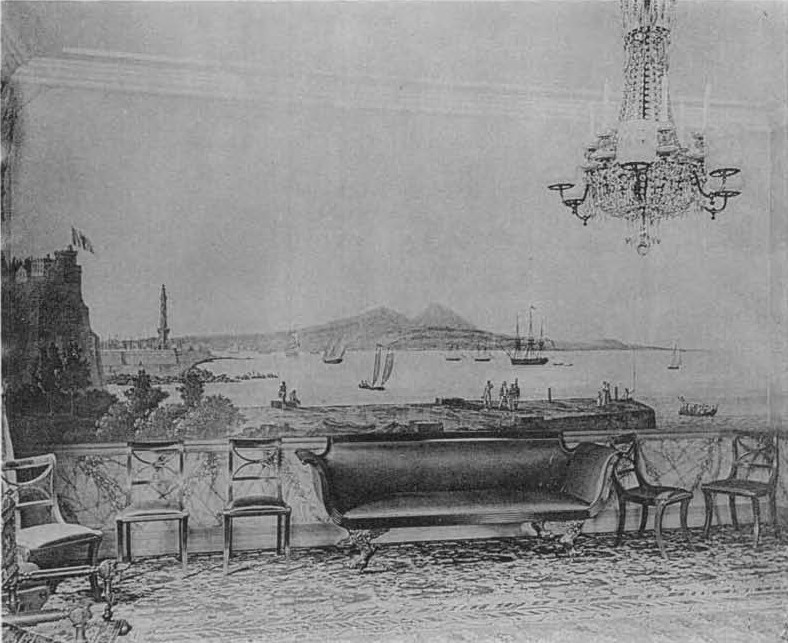 Wall Painting by Michaele Felice Corné
In the Sullivan Dorr House, Providence, Rhode Island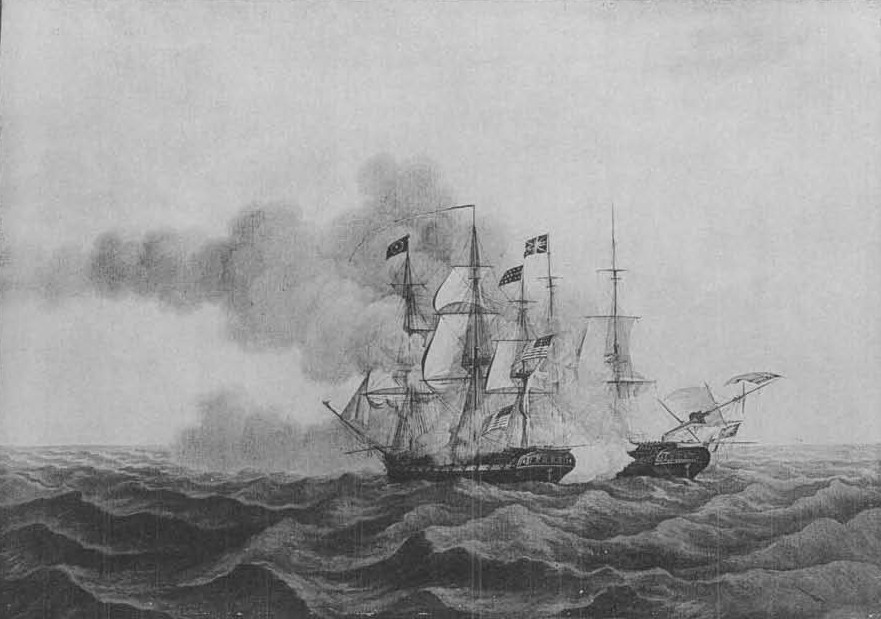 "The Constitution and the Guerrière"
By Michaele Felice Corné
After a few years, as is the way with such things, interest in the victories of the War of 1812 was forgotten for matters of more immediate importance, but Corné had made hay while the sun shone. Although the demand for pictures of naval battles had disappeared, he found himself in far more comfortable circumstances than he had ever expected to be, and in 1822, having taken a liking to Newport, Rhode Island, he purchased a piece of land there, with a stable on it which he refashioned into a dwelling house for himself and Botomore. The latter revived his talents as a confectioner and set up a shop in the front room. For the last twenty-three years of his life Corné lived in Newport, where he soon established a reputation as a local celebrity. He was fond of company and was, in turn, apparently a favorite with all people in Newport. He was a great raconteur, and his stories and anecdotes, told in his peculiar accent and dialect—for he never fully mastered the English language—were apparently famous. He still indulged his art and made many sketches. In fact he completely covered the walls of his little house with his pictures, but he seems to have done no more serious work after he came to Newport. The Redwood Library and the Newport Historical Society have a number of his sketches of groups of people in costumes of his time, which he must have made at this period.
A resident of Newport who knew Corné in his latter years wrote of him as follows:
Mr. Corné was a native either of Italy or France, but passed his early manhood in Boston, coming to this city in his mature age. He was by profession an artist of real merit, which was proved by the portrayal, sometimes in crayons, on the plastered walls of his chambers. The perspective of many of them was admirable, and the representation of flame and smoke belching from the cannon's mouth was startlingly realistic. The wooden well-curb on his limited lawn was painted in brightest hues, and the depicture of water coming from the mouth of a dragon with outspread wings was gazed at for hours by passers-by, and received the intense admiration of the children in the town.
Mr. Corné was a chef of high ability; his soups and a certain preparation of macaroni linger even now, like a sweet savor, in the memory. His delicacies, made from Newport quince into choice marmalade, were duly appreciated by the housewives of the town, and they easily commanded what was then considered extravagant prices.
Mr. Corné talked with an intermingling of the French and English languages which sounded so musically and euphoniously that one never tired of listening to him. He was fond of giving special prominence to the final syllable of every word, and his whole bearing and manner were so elegant and even courtly that he seemed a French count in disguise. He was unmarried, but found in his friend, Mr. William Bottomore, a genial companion, they for a score of years residing under the same roof.
Mr. Corné was the fortunate possessor of an annuity which assured him the comforts of life and possibly some of its luxuries. At his death his residence became legally the property of his adopted son, Mr. Bottomore.
Oddly enough, one of the reasons for Corné's fame today is to be found in the fact that he is said to have been the man who introduced the tomato to America. Although this familiar fruit of today was an ordinary staple of diet in Italy in Corné's time, it apparently had never been cultivated in this country and, in fact, was considered poisonous and not fit for human diet. Whether Corné brought some seeds with him is not known, but even soon after his arrival in Salem the Reverend Doctor Bentley, in his diary, speaks with amazement of the fact that Corné ate tomatoes without suffering any dire effects and recommended them to everybody. In New-port, likewise, Corné cultivated a large garden of tomatoes and gradually interested his neighbors in this fruit. From this small beginning their use as a food gradually spread over the country.448
Thus Corné spent the declining years of his life in Newport, a popular and picturesque figure in the community. Much of the time he worked in his garden over his tomatoes, while he lived comfortably on his macaroni, tomatoes, olive oil and chianti. He was quite a sportsman and loved nothing better than a day of fishing or duck shooting, on which expeditions he was usually accompanied by Botomore and some of the younger sportsmen of Newport, with whom he was a great favorite. Occasionally he painted on the walls of his little house scenes of his earlier years in Italy—glimpses of the high Italian hills, picturesque peasants, and fishermen along the shore. He died in 1845 at the age of eighty-three.
Corné was not by any means a great artist, and he was modest enough not to claim any such distinction, but his wall paintings, such as those in the Sullivan Dorr House, are among the best remaining in America, and his naval paintings, although not of great merit, are familiar to school children all over the country. If he was, as has been claimed, the one to introduce the tomato to America, certainly that is something to be remembered for. Thus the refugee from Napoleon's wars made his contribution to the country of his adoption even as, a century and more later, many of the refugees from another war are making theirs to American civilization today.
President Murdock spoke briefly about American place names, with particular reference to Mount Cardigan in New Hampshire.449
The Editor communicated by title the following paper by Mr. George M. Elsey:
IN 1765 the radical merchants of Boston organized the Sons of Liberty to lead local resistance against the Stamp Act. Bold though they were in opposition to it and to the Townshend Acts, the Sons of Liberty lacked the self-assurance which would have come from the knowledge that their work was respected by men whom they admired. In 1768 they made a bid for outside support by writing to the idol of liberals on both sides of the Atlantic, John Wilkes. The tone of deep respect and humble courtesy in their first letter, dated June 6, is amazing to those familiar with the later careers of its signers, Benjamin Kent, Thomas Young, Benjamin Church, John Adams, and Joseph Warren. After the great Wilkes replied to this first letter of the group, the Bostonians took heart and wrote personal letters to him describing their grievances and begging for his assistance.
Two of the letters of this correspondence were, for political reasons, soon printed. Wilkes's first two replies to the Sons of Liberty were published by him in August, 1771, as evidence in an attempt to disprove charges that he was an enemy of the Americans.450 He stoutly defended his friendship for the colonies in the Political Register: "The cause of Liberty in America received every assistance I could give on late important occasions, by the feeble productions of this pen. In no other way could I be useful in a prison."451
Several others of these letters have been printed from time to time by Wilkes's biographers, but the bulk of the correspondence was not published until 1914 when Worthington C. Ford edited seventeen letters to Wilkes from the Boston Sons of Liberty and two replies by Wilkes.452 Eight additional items in this correspondence have been found recently, and they are now printed here in their entirety for the first time.
Four of these are addressed by Wilkes to William Palfrey. They are important for their indication of Wilkes's interest in the American radicals and his responsiveness to their appeals. Although he was busy directing London politics from his cell in King's Bench Prison, Wilkes kept the colonists in mind, corresponded with at least one of them informally and personally, and gave advice and encouragement. The other four letters, from Palfrey to Wilkes, are much longer, for Palfrey took to heart Wilkes's request for information. As a business partner of John Hancock and as Secretary of the Boston Sons of Liberty, Palfrey was a daily associate of the radicals and was in the thick of their activities. He wrote his letters carefully and self-consciously, and their interest lies in the reasonably detached account of the political events of 1770 in Massachusetts which the young merchant thought would interest Wilkes while in his London prison.
The texts of the Wilkes letters are from the original manuscripts, unless otherwise noted. Those of the Palfrey letters are from his corrected drafts. With the exception of the letter of September 27, 1769, which is in the Harvard College Library, the manuscripts are owned by John G. Palfrey, Esq., who has kindly given his permission for their publication.