The Annual Meeting was held at the Algonquin Club, No. 217 Commonwealth Avenue, Boston, on Saturday, 21 November, 1908, at six o'clock in the afternoon, the President, Henry Lefavour, LL.D., in the chair.
The Records of the last Stated Meeting were read and approved.
The President spoke as follows:
There have been removed by death from our rolls since the last meeting three members:
Andrew Cunningham Wheelwright, a Resident Member since 1896, a man of large public interests, gracious and generous in his sympathy and his philanthropy.
Grover Cleveland, the twenty-second President of the United States, and the most distinguished of our Honorary Members. He brought into public life a lofty rectitude of purpose and an unflinching devotion to the public welfare. He represented the highest type of public service. His influence gained with his increasing vears, and History will accord to him a large and honorable place.
Daniel Coit Gilman, elected a Corresponding Member in 1899, Professor in Yale University, President of the University of California, organizer and first President of Johns Hopkins University, first President of the Carnegie Institution: There have been few educators who have made so deep an impression upon the academic policies and methods of this country. He introduced the best elements of the German university and adapted them to our educational needs. Author, editor, publicist, director of philanthropic and educational agencies, his long life was filled to the end with useful and serviceable activities.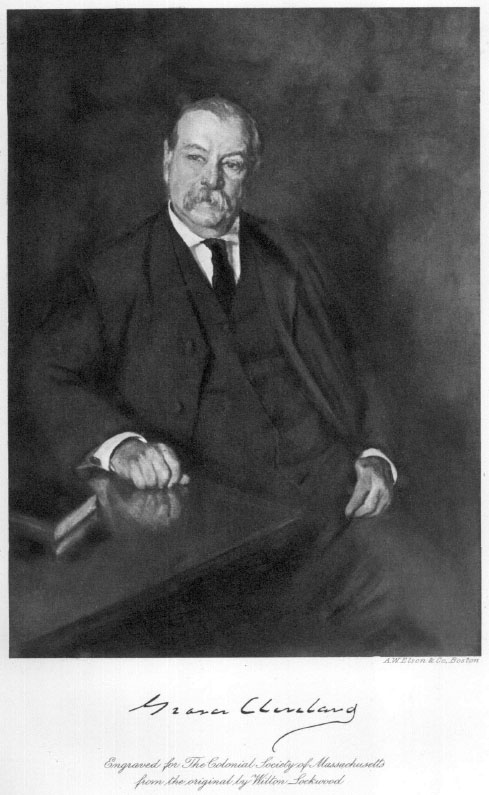 Since the last annual meeting, the Society has held the usual five monthly meetings at which interesting and valuable papers have been communicated. We continue to be indebted to the American Unitarian Association for its generous hospitality in furnishing us accommodations for our meetings. The average attendance has been as large, if not somewhat larger, than in the preceding years. Suggestions have been made to the Council that a later hour in the afternoon, or possibly an evening hour, would meet the convenience of a larger number of members, and the Council has directed that a communication be sent to the resident members with a view to ascertaining their preferences with respect to this subject.
During the year the Society has lost through death two Resident Members,—
Stanley Cunningham

,

Andrew Cunningham Wheelwright

;
one Honorary Member,—
and two Corresponding Members,—
John Chandler Bancroft Davis

,

Daniel Coit Gilman

.
There have been elected three Resident Members,—
William Wallace Fenn

,

Julius Herbert Tuttle

,

Charles Edwards Park

;
one Honorary Member,—
and three Corresponding Members,—
Francis Philip Nash

,

James Kendall Hosmer

,

Frank Warren Hackett

.
There are at present five vacancies in the resident membership for which nominations will be duly presented by the Council. Mr. John Eliot Thayer, who was elected at the last annual meeting a member of the Council for two years, found himself unable to serve, and Mr. Thomas Minns was chosen by the Council in his stead.
During the year, Volume X of the Publications, containing the Transactions at the meetings from December, 1904, through November, 1906, has been published and distributed. Another volume of the Transactions (Volume XI), extending through the meeting of December, 1907, and a volume of Collections (Volume IV) have been put in type and the plates cast. These volumes will be printed and published as soon as the income of the Society warrants the expense. In addition to these volumes, there have been put in type the Transactions through the meeting of April, 1908 (Volume XII), and the beginning of the volume devoted to the Harvard College Records. To cover the cost of the latter volume, the Society is indebted to a generous donation from our associate, Mr. Frederick Lewis Gay.
The income from our General Fund and our Publication Fund is enough to enable us to publish our Transactions, but not enough to permit the publication of such Collections as are very much needed by students of colonial history and which we hope it is to be our privilege, as it surely is our duty, to make available. In view of this, the Council addressed to the Society during the year a statement of the work that had been accomplished, the rate of progress, and the tasks that it seemed desirable to undertake. This appeal has met with a generous response from several of our members. In particular, the Council desires to record its appreciation of the gift of two thousand dollars from Mr. Andrew McFarland Davis, to whose generous and loyal support from the beginning the Society has been deeply indebted.
The subscriptions which for the last four years have enabled the Society to employ an Editor of Publications will be exhausted by the close of another year. The possibility as well as the success of our Publications requires a large portion of the time of such an editor, and the Council expresses the hope that gifts for this purpose may be received, and that the funds available for printing and publication may not be seriously depleted for that purpose.
In compliance with the requirements of the By-Laws, the Treasurer submits his Annual Report for the year ending 18 November, 1908.
CASH ACCOUNT
RECEIPTS

Balance, 18 November, 1907

$916.94

Admission Fees

$30.00

Annual Assessments

650.00

Commutation of the Annual Assessment

100.00

Sales of the Society's Publications

229.87

Sales of the Society's paper

60.86

Interest

2,699.75

Contributions from two members

130.00

Editor's Salary Fund, subscriptions

750.00

Publication Fund, gifts

650.00

Temporary Loans, without interest:

Henry H. Edes

$1,000.00

Andrew McFarland Davis

500.00

Henry W. Cunningham

500.00

2,000.00

Mortgages, discharged or assigned

5,700.00

Charlestown Five Cents Savings Bank, amount withdrawn for investment

700.00

13,700.48

$14,617.42

DISBURSEMENTS

University Press, printing, binding, etc.

$3,288.27

A. W. Elson & Co., photogravure plates

85.00

Mary H. Rollins, indexing Vols. IV and XI

200.00

Boston Suburban Express and Parcel Co., distributing Vol. IX

32.75

Phillips's Back Bay Express, distributing Vol. X

31.75

Ewing W. Hamlen, stenography and typewriting

28.20

Caroline B. Shaw, stenography

6.00

Library Bureau, index cards

6.00

Clerk hire

62.40

Albert Matthews: salary as Editor of Publications

1,000.00

Carnegie Institution, subscription for 1907 toward Bibliography of American Historical Writings

50.00

Hill, Smith & Co., making record books

16.00

Boston Storage Warehouse Co

24.00

Carried forward

$4,830.37

$4,830.37

William H. Hart, auditing

5.00

Miscellaneous Incidentals

534.53

Temporary Loans, without interest, repaid to:

Henry H. Edes

$1,000.00

Andrew McFarland Davis

500.00

Henry W. Cunningham

500.00

2,000.00

Deposited in Charlestown Five Cents Savings Bank

501.78

Mortgages on improved real estate in Boston

6,700.00

Interest in adjustment

21.47

14,593.15

Balance on deposit in State Street Trust Company, 18 November, 1908

24.27

$14,617.42
The Funds of the Society are invested as follows:
| | |
| --- | --- |
| $52,500.00 | in First Mortgages, payable in gold coin, on improved property in Boston, Cambridge, and Brookline. |
| 5.00 | deposited in Charlestown Five Cents Savings Bank. |
| $52,505.00 | |
TRIAL BALANCE
DEBITS

Cash

24.27

Mortgages

$52,500.00

Charlestown Five Cents Savings Bank

5.00

52,505.00

$52,529.27

CREDITS

Income

$24.27

Editor's Salary Fund

$1,250.00

Publication Fund

3,350.00

General Fund

7,905.00

Benjamin Apthorp Gould Memorial Fund

10,000.00

Edward Wheelwright Fund

10,000.00

Robert Charles Billings Fund

10,000.00

Robert Noxon Toppan Fund

5,000.00

Robert Charles Winthrop, Jr. Fund

3,000.00

Andrew McFarland Davis Fund

2,000.00

52,505.00

$52,529.27
Henry H. Edes,
Treasurer.
Boston, 18 November, 1908.
The undersigned, a Committee appointed to examine the accounts of the Treasurer of The Colonial Society of Massachusetts for the year ending 18 November, 1908, have attended to that duty and report that they find them correctly kept and properly vouched, and that proper evidence of the investments and of the balance of cash on hand has been shown to us. This examination is based on the report of William H. Hart, Auditor.
Gardiner Martin Lane,
Francis H. Lincoln,
Committee.
Boston, 19 November, 1908.
The several Reports were accepted and referred to the Committee of Publication.
On behalf of the Committee appointed to nominate officers for the ensuing year, Dr. James B. Ayer presented the following list of candidates; and, a ballot having been taken, these gentlemen were unanimously elected:
VICE-PRESIDENTS
WILLIAM WATSON GOODWIN
MARCUS PERRIN KNOWLTON
RECORDING SECRETARY
HENRY WINCHESTER CUNNINGHAM
MEMBER OF THE COUNCIL FOR THREE YEARS
On the recommendation of the Council, it was—
Voted, That the Society gratefully accepts the gift of Two Thousand Dollars from Mr. Andrew McFarland Davis; that it be added to the permanent Publication Funds of the Society; and that it be forever known as the Andrew McFarland Davis Fund in grateful remembrance of one of the Founders of the Society whose loyalty and devoted service to it have been constant and conspicuous.
____
After the meeting was dissolved, dinner was served. The guests of the Society were the Rev. Dr. Edward Caldwell Moore, the Hon. John Taggard Blodgett, the Hon. Henry Newton Sheldon, Dr. Charles Pickering Putnam, and Messrs. Clarence Saunders Brigham, Edward Henry Clement, Archibald Murray Howe, Charles Rockwell Lanman, Morris Hicky Morgan, Grenville Howland Norcross, William Lowell Putnam, and Barrett Wendell. The President presided.