[1]
Some further Acct of passages Relating to the church of Christ in plimouth, from the year 1703. and so on 'till the year 1723.
In as much as it may be of considerable use to the church of God to have a book of remembrance written of what does occur in their day, and In as much, it hath been the desire and practice of those that been before mee in this church I shall apply my self from time to time to Record such Ecclesiastical transactions, and762 Remarkable providences, as763 may Occur from this Time;
And here it may not be Improper to Insert a Catalogue, of the Names and Number of communicants or members in this church at this time, viz march 10th 1703. wch take as followeth
1. The names of the Men.764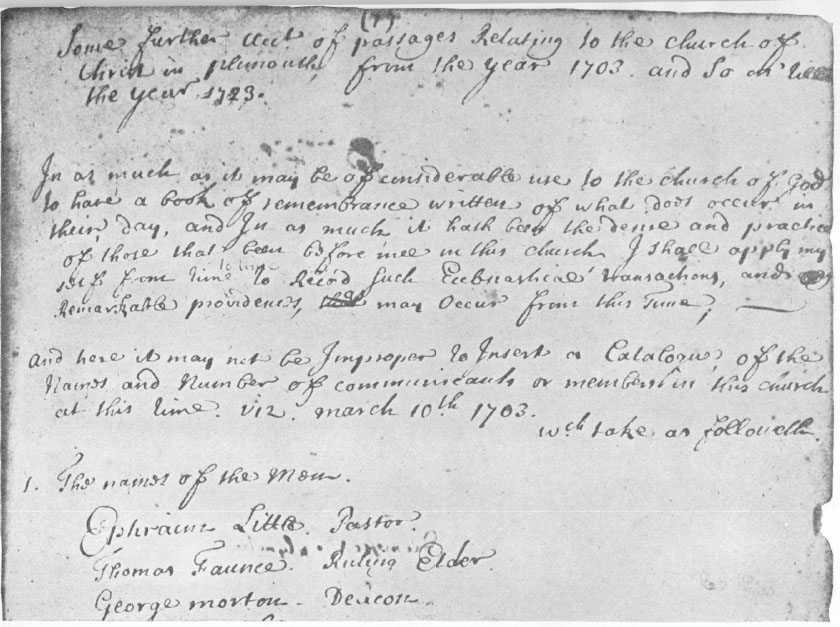 HANDWRITING OF EPHRAIM LITTLE
engraved for the colonial society of massachusetts
added since Mr Little ordained
The names of the Women that are of the church this 10th of March 1703.
Added since Mr Littles ordination
The whole number of Communicants Just an hundred and three; the Lord add unto his Church such as shall be saved; 103 Communicants.
Since added.