[a1018]
[1]

Votes & Transactions of ye Chh recorded in Page 1 & on

[2]

Baptisms1019 by Mr Leonard page

1191020

[3]

Baptisms1021 by Chandler Robbins

1571022

[4]

Names of Chh Members alphetically disposd

1681023

[5]

Chh Members admitted1024 by C. Robbins

1721025

[6]

Marriages1026—by C. Robbins

1911027

[7]

Owning ye Covenant — by Mr Leonard

2371028

8

Owning &c C. Robbins

2401029

Dismissions1030 — Mr L

2541031

10

Catalogue of Chh Members — Mr L

2551032

11

Dismissions — by C. Robbins

1711033

12

Confessions &c

791034

13

Deaths, Account of — since my Settlemt in 1760

1041035

14

Confession of Faith, accordg to the Scriptures, adoptd

1795

Page

921036

15

Account of a glors Revival of Religion, in 1792 & 93

page

831037
p 881038 1794 Proposed Separation
2181039 card Playing
381040 character of Nathl Leonard1041
[b1042]
1745 May 23d Recd of Mr Return Wait 10/ for the use of the Land [ ] & his Wood House &c Stands1043 on the Parsonage for last year:
N Leonard
1746 Apl 13 Recd of Mr Return Wait 10/ ditto [ ]
1747 May 18 Recd Ditto 10/ old tenor
1748 Apl 20 Recd ditto 10/ old tenor
1750 Apl 24 Recd ditto for the Two last Years 2/8 Lawful Mony
1752 Apl 7 Recd of Mrs Wait for ye Two last Years 2/8 Lawful Mony
1754 Sepr 11 Recd of Mrs Martha Wait Widw 1 Penny Lawfull Mony for the use of that Corner of the Ministry Lot at the South West Corner of her House.1044
Plimo Novr 1771.1045 As it has been a Matter of Question with some, whither publick Confession of scandelous Sins, should be recorded; as the recording of them transmits the Memory of their Sin to posterity & may be a Disadvantage some way to ye Children of those that have fallen into Sin—& some other Reasons — I have maturely considered the Matter, & am fully of opinion that 'tis proper & best that such Confessions be recorded for the following Reasons
Chandler Robbins
1. There are sundry Accounts of ye Falls of some Eminent Saints tha[t] are recorded in Scripture, & of their Repentance, which a[ handed down to all posterity — & no doubt for wise & good End[s]
2. The recording publick Manifestations of Repentance may [tend] to encourage others to hope for that Mercy of God in Chris[t] which has brôt to Repentance those who have grievously fallen
"For this Cause I obtaind Mercy — that in me first — &c
3. The falling into Sin is just Cause of Shame — but 'tis no Shame to confess it but a lasting shame not to confess it. nor can it properly operate to the Disadvantage of posterity to have it known, that my Ancestor who fell in[to] Sin was brôt to Repentance & restored as we hope to ye favor of God & M[en]
4. It has been the common practice of many Chh's to have suc[h] Confessions put upon Record & even of this Chh in some Instances. And
5. It seems very expeedient & in some Cases quite needful they sh[ ] as we have very lately had occasion to observe — A person [was] propounded to Communion, who had many Years before f[allen] into Scandal—& had also made publick Confession—but [not] being recorded, it was not known, nor rememberd by a[ny of] ye Chh at this Distance of Time,1046 and as in her [ ] she made no Confession of her Sin (& it was known she had fallen)—great Uneasiness almost Universally till Satisfaction was gain[ ] personal, particular Enquiry — Therefore for these & other Reasons [ it
my Duty to record Confessions as in Page 79.1047
A Continuation of the Records of the First Church of Christ in Plymouth began July 9th Anno Dom: 1732.
Vol: II.1050
July 3d 1744 The first Precinct in Plymouth took down the Old Meeting House. The three following Lords Days the Congregation Met for religious Worship at the Court House
July 17th Began to Raise the New Meeting House, before we began the raising We Sang togeather in Psalms 127th 1 verse & in Psalm 122 the 6, 7, 8, 9, verse I then Prayed with the People. We finished the Raiseing July 20th Each Day we sang some part of a Psalm in the Morning & I Prayed. I also Prayed with the People Each Evening.1054 When the Frame was Erected the People were Dismist with singing the 115 Psalm 7, 10, 11, 12, 13, 14, 15–17. 18vs & with Prayer.
July 29th 1744 The Congregation Met in the New Meeting House (Lords Day) After Prayer We Sang the 122d Psalm & I Preached from the first 4 verses of sd Psalm.
O that the Glory of this House may be greater than the former.
Nathanael Leonard1055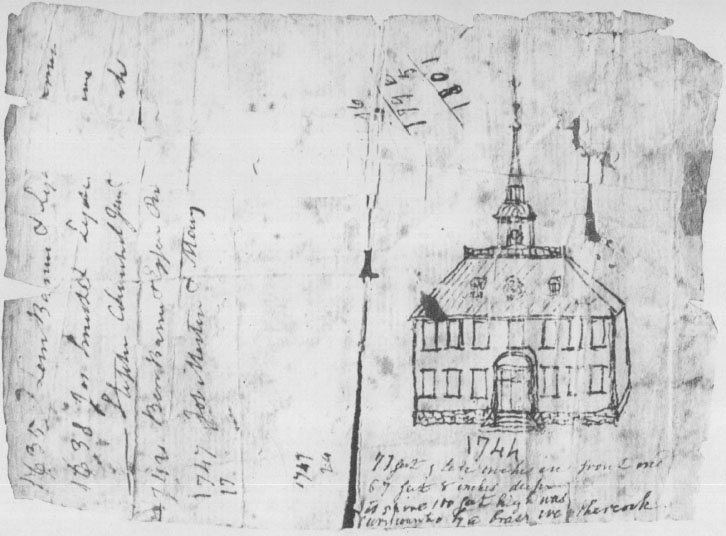 Third Meetinghouse, Plymouth 1744–1831
Engraved for The Colonial Society of Massachusetts from a drawing of unknown date