A STATED Meeting of the Society was held at the Club of Odd Volumes, No. 77 Mount Vernon Street, Boston, on Thursday, 28 February 1952, at three o'clock in the afternoon, the President, Hon. Robert Walcott, in the chair.
The records of the last Stated Meeting were read and approved.
The President reported the death on 26 January 1952, of Winthrop Howland Wade, a Resident Member.
The Recording Secretary, on behalf of the Corresponding Secretary, reported the receipt of letters from Mr. John Adams, Mr. Howard Arthur Jones, Mr. Augustus Peabody Loring, Mr. James Otis, Mr. Sumner Chilton Powell, and Mr. Alexander Whiteside Williams accepting election to Resident Membership; from Mr. Whitfield Jenks Bell, Jr., the Reverend Joseph Raphael Frese, S.J., and Mr. William Lewis Sachse accepting election to Non-Resident Membership, and from Mr. Douglass Adair, Mr. Marius Barbeau, Mr. Lyman Henry Butterfield, Captain William Robert Chaplin, Mr. Oliver Morton Dickerson, the Reverend Arthur Pierce Middleton, Mr. John Edwin Pomfret, Mr. Foster Stearns and Mr. Louis Booker Wright accepting election to Corresponding Membership in the Society. The President reported the resignation of Dr. Timothy Leary, a Resident Member.
As Mr. Sumner Chilton Powell, who was to present a paper to the Society on the early settlement of Sudbury, was ill, several members presented brief communications.
Mr. Henry Joel Cadbury discussed efforts to identify the early gifts of books to Harvard College by Bishop Berkeley and the Society for the Propagation of the Gospel in Foreign Parts, showing examples from both gifts that had survived through having been borrowed at the time of the fire of 1764.
Mr. Ernest Stanley Dodge read an indenture of 1759 which provided for the education and training of Nathaniel Hilton by the merchant Nathaniel Lee.
Mr. Walter Muir Whitehill then read portions of the wills of two Boston-born Loyalists, Thomas Boylston (1721–1798) and Admiral Sir Isaac Coffin, Bt. (1759–1840), who provided detailed instructions about charitable, educational, and civic institutions that they dreamed of founding in Massachusetts. Nothing came of these happy thoughts, for neither testator had, at the time of his death, sufficient property to make them possible. Both wills show the continuing affection of two Loyalists, one a merchant and the other a naval officer, for their native Boston; both are remarkable examples of the detailed workings of the philanthropic mind. The will of Thomas Boylston1 provided for a smallpox hospital, adorned by a statue of his uncle, Dr. Zabdiel Boylston, the New England pioneer of inoculation, an insane asylum, firewood for the Boston poor, whale oil lamps for Boston streets, a Merchants' Exchange in State Street, and an asylum for poor children of both sexes. Sir Isaac Coffin2 contemplated a system of nautical schools in Boston, Newburyport, and Nantucket, giving precise details of curriculum, cruises, and the like.
Mr. Samuel Eliot Morison concluded the meeting by reading extracts from the following account of our late President, which he was then engaged in writing:
AUGUSTUS Peabody Loring, Jr., tenth president of this Society, was born in Boston on 16 April 1885 and died in Beverly, 1 October 1951. "That genial and magnanimous man," as Walter Muir Whitehill has well described him, "no less remarkable for the breadth of his sympathies than for the astuteness of his judgment," was my oldest and best friend. His interests were so numerous and his activities so multifarious that I cannot give a well-rounded account of his career; but I shall try my best to describe the unfolding of his character, which combined the old New England integrity with an exuberant joy of living and a deep love for his fellow men.
He came of rugged seafaring and mercantile stock on both sides. The first Loring to emigrate was Thomas, a man of Devon, who came over to Hingham in 1634 and became a leading citizen of that old town on Massachusetts Bay. Thomas's great-grandson Caleb Loring (1736–1783), our Gus's thrice great-grandfather, moved to Boston where he followed the respectable and allied callings of rum distiller and merchant shipowner. Three of his four sons followed the sea; but the eldest, Caleb Loring (1764–1850) dropped the rum business and became a successful importing merchant. He married Ann Greely, daughter of a sea captain who was killed defending a letter-of-marque ship from an attack by a British frigate during the War of Independence.3 Caleb Loring in 1824 helped Bourne Spooner of Plymouth to finance a new ropewalk and to incorporate it as the Plymouth Cordage Company. The Loring family have been continuously interested in that company as directors, treasurers and presidents for over 125 years; Augustus P. Loring, Jr., was chairman of the board of directors at the time of his death.
Charles Greely Loring (1794–1867), the eldest son of Caleb and Ann, graduated from Harvard College in 1812, studied at the private law school of Tappan Reeve at Litchfield, Connecticut, and became a prominent lawyer of Boston. He was a Fellow of Harvard College for twelve years, a founder of the Union Club, a noted orator, and one of the leading local supporters of Abraham Lincoln.
Charles G. Loring was one of the first three Bostonians to buy farms on the North Shore of Massachusetts and create out of them summer estates; the other two being a Mr. Paine who bought the farm adjoining Loring's on the east, and Franklin Haven, who acquired most of the front of West Beach, Beverly Farms. The Loring estate, purchased in 1844, was in the Pride's Crossing4 section of Beverly, including Plum Cove, off which the Lady Arbella anchored in 1630, and running back to the main Salem-Gloucester road. Here Mr. Loring built the first summer house in 1845.5 It was said of him and his wife, "In their house you found the perfection of hospitality with an entire absence of display."6 How well his grandson and great-grandson kept that tradition alive, many of us know and will always remember.
The better-known Loring mansion on the estate, "Burnside," which Augustus P. Loring, Jr., inherited, was built by his grandfather, Charles G. Loring's son Caleb W. Loring, in 1852. It was erected on one of the most beautiful sites on the entire North Shore: a bluff with a warm, sunny outlook facing Salem Bay, approached by a narrow driveway following the valley of the brook that flows into Plum Cove. Much of the original estate has since been cut up among different Loring kindred; Fishing Point at the western end of the beach, now the Richard Sears estate, was given to the original owner's daughter, Mrs. Asa Gray; another house, now the Quincy Shaw estate, was given to Charles Greely Loring, Jr.; and a wooded section was set off in 1900 to Justice William C. Loring, who built the house lately owned by his nephew Caleb.
Caleb William Loring (1819–1897), grandfather of Augustus P. Loring, Jr., graduated from Harvard College in 1839 and from the Law School three years later. Like his father he became a leading member of the Boston bar and a director of the Plymouth Cordage and several other manufacturing concerns. He acquired a fortune which was wiped out in the panic of 1873 through the circumstance of having endorsed the notes of a brother-in-law who owned a cotton mill that went under. There was a legal way out, but he felt a moral obligation to pay the creditors in full, and did so. This instance of Loring integrity was often referred to by his son and grandson with pride—the only pride of ancestry I ever heard either of them express. All his property except "Burnside" had been sacrificed, but he held onto that tenaciously, continued his intelligent planting of the estate, and lived there the year round.
It was Caleb William Loring who brought the Essex County strain into the Loring blood by marrying Elizabeth Smith Peabody, daughter of Joseph Augustus and granddaughter of Joseph Peabody, a famous Salem shipmaster and merchant. Of this union there were born two sons and two daughters: William Caleb (Harvard College 1872, LL.B. 1874), a member of the Boston law firm of Ropes, Gray and Loring, and for twenty years associate justice of the Supreme Judicial Court of Massachusetts; Augustus Peabody (1857–1937, Harvard College 1878, LL.B. 1881), father of the subject of this memoir; Katharine Peabody, and Louisa.
Augustus Peabody Loring, youngest of the family, was just entering college when his father went broke; but he was not disheartened. He worked his way through college and law school, helping to support his father and sisters, and acquired for his own residence, about 1882, a farm on Thissell Street, Pride's Crossing, adjoining the Beverly Commons. This he operated as a dairy farm, living there and delivering milk himself before taking an early train to Boston each morning. On 3 June 1884 he married his second cousin, Ellen, daughter of George Augustus and Eliza (Peabody) Gardner. She was a granddaughter of John Lowell Gardner, a wealthy East India merchant of Boston, and a niece of John Lowell Gardner, husband of the famous "Mrs. Jack" of Fenway Court.
The young couple lived a good part of the year at "Off Lots," as they called the Thissell Street farm, and spent the winters in an apartment at the Hotel Kensington, corner of Exeter and Boylston Streets, Boston. There, their first child, Augustus Peabody Loring, Jr., was born on 16 April 1885. His younger brother Caleb was born there in 1888; his sister Ellen Gardner Loring (always known as May), who became Mrs. Samuel Vaughan, was born at Pride's in 1889.
Mrs. Augustus Peabody Loring was a beautiful, warm-hearted and affectionate woman. Always shy, and for much of her life an invalid, she never cared to go out in society; and her husband was so deeply devoted to her, begrudging every moment spent away from her side, that he declined membership in the numerous men's clubs and societies in which Boston abounds. Elected to this Society in 1903, he seldom if ever attended a meeting. Summers were spent at "Off Lots," and the family's chief recreation was sailing. No matter how hard Mr. Loring had to struggle, he would always have a boat in which he and his wife could sail week ends and cruise down east in midsummer. On one of these cruises, the Lorings fell in love with Bartletts Island in Blue Hill Bay, and the Judge, who also sailed, joined them in purchasing a large part of that beautiful island.
Our Gus and his brother Caleb attended Noble and Greenough's School in Boston, starting in the primary department; but they were allowed pretty much to run wild in the summer. Their friends were mostly the children of permanent residents of Beverly. The writer well remembers what terror the "Loring gang" inspired among proper, well-dressed little boys like himself, when they came tearing along on bicycles.
The boys' experience on the water began so early, in their parents' yacht, that they never remembered when they first learned to sail. For several years they played about with catboats and the like; but around 1899 their father gave them a beautiful little 15-foot waterline knockabout, designed by Binney and built by Lawley. They named her Rikki-Tikki, after the Kipling mongoose. In the summer of 1900, when Gus was fifteen, he and his friend Charley Read, who had just turned thirteen, had an adventure in this boat which caused all North Shore parents' heads to wag. Permitted to make an overnight cruise to Rockport, they made an early start; but the wind was so fair and brisk on passing Cape Ann that it seemed too bad to end the cruise there. So, without letting their parents know, they started gaily eastward, destination North Haven. They had no proper charts and no provisions except canned baked beans, strawberry jam and bread. Bravely they sailed through the night, standing watch and watch, steering a compass course for the mouth of the Penobscot, and feeling like Columbus and Magellan. Daylight found them out of sight of land. Presently it clouded over; at noon the wind shifted to the SE, blew up a gale and a hard rain. Gus had no idea of his position, but wisely decided to square away and sail before the wind toward the coast. As the tiny yacht scudded before the gale with two reefs in her mainsail, the sea made up, the tender broke away and was lost, and the jib blew out of its hanks. Around four o'clock the boys heard the sound of breakers on a rocky lee shore. In that wind and sea it would have been impossible to claw off, so Gus decided to run his boat right onto the rocks and jump for it the moment she hit. But before they resorted to this desperate expedient, the rain lifted enough for the boys to see a clear passage almost ahead. Straight through it they sailed into smooth water,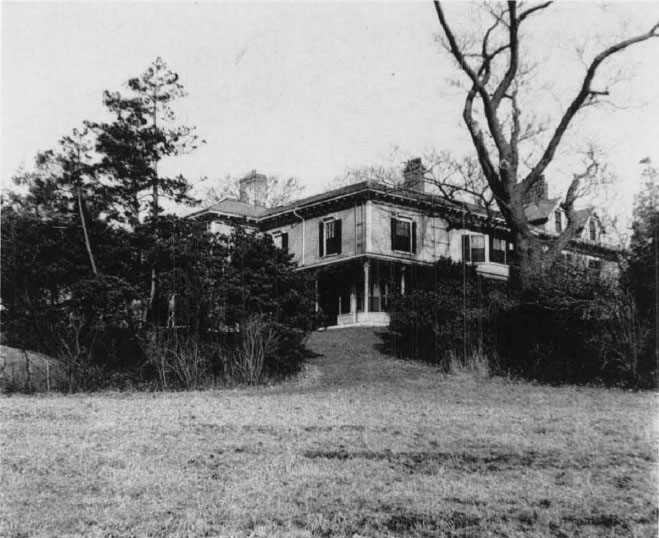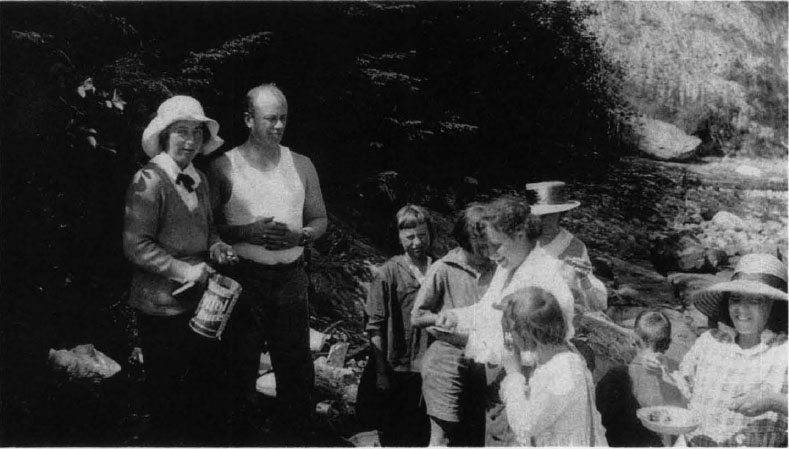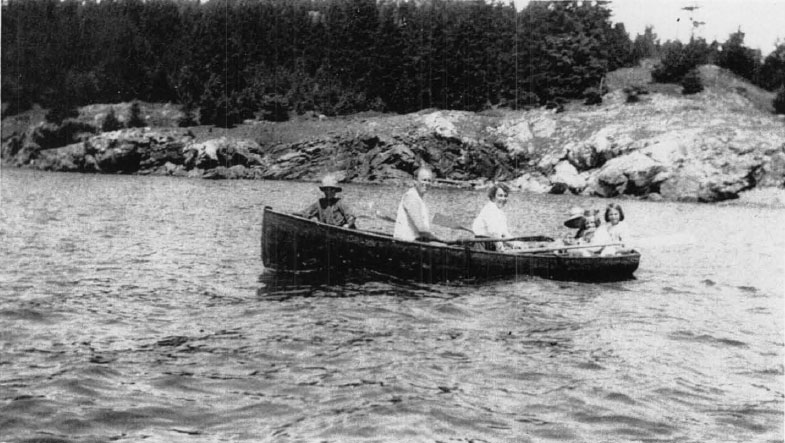 rounded up under an island and dropped anchor in a sheltered cove. They had miraculously escaped striking on Outer Heron Island, had sailed through the passage between Wood End (Damariscove) and Fishermans Island into Boothbay, and were now anchored in Squirrel Cove on the well-known island of that name.
Next day they sailed Rikki-Tikki up to the dock at Boothbay Harbor and Gus telephoned his parents. Mr. Loring sent Captain Henry C. Carmen, his sailing master, to Boothbay to help the boys get home. "Weary looking boys," recalled Captain Carmen in 1952; "They were ofle pleased to see me." They spent that night in Boothbay Harbor, started at 7 a.m. and made Portland that night. Next morning they got under way at 4:30, "got out by Cape Elezbeth and Gustus took the wheal. I told him to keep her WNW for the Nuble for the wind mite change to the W more after. We got safe past the Nuble. I took the helem and told them . . . 'you ease off the sheets I bring to head for Thatcher, we will soon get across.' We had about all the wind we wanted. We went flying across the bay. They would not go below. Past Thatcher and by Gloster. 'Now Capt. Augustus you air on the home stretch, take the helem, you can put her wherever you want to.' If I do say it they mity happy. You would never know they were the same boys as when I saw them at Boothbay. We got at Bevely around little after 7 p.m. . . . and they went home. Agustes seam to feel ofle bad about what hapened, would not make any talk about it at all."7
Mr. Loring, instead of punishing Gus for the adventure, praised him for "saving his ship"; and next summer Caleb, not to be denied, went cruising down east in an 18-footer with a 17-year-old Jackson cousin as pilot. Thus the Loring boys had an incomparable training in seamanship and self-reliance. The ocean is a tough old schoolmaster who plays no favorites and suffers no weaklings.
My first acquaintance with this unique family was in the summer of 1901 when Sam Vaughan and I, having heard of the Rikki-Tikki exploit with envy, persuaded our parents to sanction a much less adventurous cruise around Mt. Desert Island in my 16-foot North Haven dinghy.8 Bartletts Island was our first call. We tied up at the new Loring float, went ashore, and of course were invited to dinner. It was then that Sam Vaughan looked on Gus's sister May and decided that she was the girl he wished to marry (he then being 14 and she 12); while I gazed with admiration on the hero of the Rikki-Tikki cruise, and hoped he might one day be my friend.
That opportunity came in the fall of 1904 when Gus, after a year at the Adirondacks-Florida school and I, after two years at St. Paul's, entered Harvard with the class of 1908—a year that then seemed impossibly remote. It was the gilded age at Harvard. Nobody from a preparatory school thought of rooming anywhere but on Mount Auburn Street, the "Gold Coast" as it was called; so to accommodate the young gentlemen, speculative builders put up a series of private dormitories. The latest of these, given over to our Freshman class, was called Ridgely Hall. Gus and I had single suites on the top floor, along with a very noisy and amusing group of classmates. Although ignorant that our respective fathers had been classmates and friends, and three of our four grandfathers classmates and friends—a fact wisely kept from us—we were strongly drawn to each other and spent a great deal of time in each other's company, discussing all manner of things. We liked to dash into town at a moment's notice, dine at some fifty-cent table d'hote restaurant like Marliave's, and go to the theatre together. But we got to know each other best in the country where we spent every possible week end, and on the sea to which both of us were passionately addicted.
In those days Harvard College was supposed to be individualistic, and that was true, by and large, of the entire student body; but for the minority who had come up from the fashionable preparatory schools and who aspired to membership in the hierarchy of clubs, a fairly rigid conformity was exacted. Gus was too much of an individualist to room with anyone, say or do the right thing, wear the right clothes or cultivate the right boys. He never would learn to dance; he played an indifferent game of tennis, and no golf, and as a gangling youth almost six feet tall and weighing 135 pounds, he was not fitted for the rougher sports. His favorite form of exercise in college was to row single or double sculls on the Charles. Although highly intelligent and keenly interested in politics, history and government, Gus wrote with difficulty and so had a hard time passing examinations; Latin he never could master. By grace of Dean Shaler, who recognized in him a promising young man, Gus was admitted to the Lawrence Scientific School, thence certified back to Harvard College, and finally graduated A.B. in five years.
His younger brother, Caleb, in the Class of 1910, had a wide range of friends and these Gus shared. It was they who, in his senior year when he was rooming in Randolph Hall, brought him into several college clubs and societies. The Hasty Pudding show that year, a musical comedy entitled "The Fate Fakirs," was a roaring satire on the Pilgrim Fathers. Gus as Biggs, body-servant and shadow to Governor Breadfruit (N. S. Simpkins, Jr.) played a pantomime rôle that rocked the house, although he had a close competitor in "Putzi" Hanfstaengel as Gretchen Spootspeiffer, a Teutonic maiden in flaxen wig and long braids who tried to lure John Alldone (Roy Snyder) away from Priscilla Melons (Gordon Ware). The following year Gus had another comic part as "Googoo, a Private Detective," in "The Builders of Babylon."
At the parental farm, throughout our college years and after, I shared in the Loring "perfection of hospitality with an entire absence of display." Mr. and Mrs. Loring led a life apart from the North Shore social set; not from scorn or superiority, but simply from indifference9—but they were kindness itself to their children's many friends. The old farmhouse at "Off Lots" had been added to, year by year, until it looked something like a stalled train of cars hauling a large music room. The only older person I remember there as a visitor was Dr. William Everett, then in a rather disgusting old age that justified his earlier nickname "Piggy." The Lorings were the only family who would still put up with him. His manners were horrible; but his memory went back over fifty years to the time when his father was President of Harvard College, and he fascinated Gus and myself with tales of Napoleon III, Louis Blanc, Mr. Gladstone, Abraham Lincoln, Charles Sumner, and the Prince of Wales who had lately become Edward VII.
Gus and I often went to the farm in winter and cooked for ourselves over an open fire; there was always a rowboat for fooling around the shore on calm, sunny winter days. But my pleasantest memories of "Off Lots" are of summer days and spring week ends, when the Loring fleet was afloat. Augustus P. Loring, partly because he wished to help W. Starling Burgess who had set up a yacht yard at Marblehead, used to buy a yacht every few years and have Burgess remodel it, and order small boats built for his children. I remember especially two beautiful black schooners, Baboon and Barbara, and a sleek, white, 60-foot Herreschoff sloop, Ladrone. These, and the Judge's Venire, flew the old Loring house flag—a white burgee with red points—at moorings off Plum Cove, where "Burnside" met the sea. In the old mansion there dwelt Gus's unmarried aunts, Miss Katharine and Miss Louisa; the one a lady of incisive intellect, great organizing ability and a rare sense of humor, who intervened in Beverly politics to such good purpose that a defeated candidate once told Gus ruefully that the only reason he lost was because he had neglected to call on Miss Loring. Louisa, the younger, was lissome and romantic; both were great friends of the brilliant James family and of John Singer Sargent, who painted them in their garden.
Every fair day after breakfast, the young people mounted bicycles (as the Loring ladies forbade cars on their driveway after Sam Eliot snorted by in a red Winton touring car) and rode down to the beach at Plum Cove. Each one of the three children had a racing boat designed and built by Starling Burgess—May, 15-foot Niebelung, followed by Secret; Caleb, who was the principal racer of the family, 18-foot Scrapper, followed by Myrmidon and Q-boat Orestes; Gus, a 15-footer named (with more appropriateness than was suspected) Little Misery. She would not win a race for her owner, even after her stern was cut short.
If it was a race day, the Lorings' guests acted as crew; if not, the boats raced each other, and often on a Saturday or Sunday Mr. Loring would take the whole crowd in his schooner on a long sail, or have them landed on one of the Gooseberry Islands where, with great gusto, he would make a fish chowder in an iron kettle—none other would do. In the late afternoon, if we were not becalmed, there would be a little pat-ball tennis at "Off Lots," a hearty supper with perhaps twelve at table, and in the evening singing around the piano, informal dancing or just reading and talking. There was no radio in those days, and nobody ever seemed to wish to go out to a silent movie. The Loring family was entertainment enough.
After trying in vain to win races with Little Misery, Gus decided to try cruising. In a Massachusetts Bay 25-footer (41 feet over all) named Jingo, a fast and not very seaworthy sloop, he cruised between Beverly and Halifax for two or three college summers. She was his first auxiliary yacht. Under Jingo's cockpit was installed a primitive, one-cylinder gasoline engine which started by cranking; it had a dangerous open cogwheel gear which cost Gus a finger one rough day. As member of one of the shorter cruises I had opportunity to observe Gus's fine seamanship at the age of 20, in fair weather or foul; his expert cooking on the tiny stove, supplemented by a tin oven, and his never-failing good humor and consideration. These failed not even when I ran Jingo onto a ledge in the Western Way after offering to pilot her out to sea. He was the perfect shipmate, if there ever was one.
In 1907, although Gus still had Jingo for cruising, Mr. Loring bought for him Sally VIII, a Burgess-designed Sonder-class racing boat, about 36 feet over all, which had not been a success under her previous owner. Gus and Starling Burgess raced her together with great vigor during the summer of 1907, winning the Quincy Cup with three out of five firsts. She then entered the competition to represent the Eastern Yacht Club in the Kiel races against the German Sonders. My memory of this series, some of which I witnessed, is that Sally VIII should have been selected on her record but was not; owing, it is said, to the yacht club committee's fear lest the Burgess idiosyncrasies (and there were many) embarrass them with the meticulous Germans. Gus was justly indignant over this and gave up racing permanently.
A summer or two later, by way of reaction, he went in for steam; took an engineering course, passed engineer's license and, with the aid of the janitor of one of his father's buildings, cruised in a 40-foot steam launch Spitfire to Roque Island, his grandfather Gardner's estate in eastern Maine.
After winning his bachelor's degree in 1909, Gus entered Harvard Law School, but he had to leave at the end of two years for three reasons—marriage, politics and examinations. Taking the most important first, he was married on 22 June 1911, to Rosamond, daughter of Alfred and Mary (Rice) Bowditch, a descendant of Nathaniel Bowditch the navigator. Rose, as we called her, had been brought up very simply in the family house on Moss Hill overlooking Jamaica Pond, and at North Haven, Maine. There never was a couple more suited to each other than Gus and Rose. Gentlefolk born, they were completely lacking in pretense. They had seven children (including one who died young) to whom they were devoted parents; they loved the same things and made friends with the same people. They liked working with their hands, and Rose had a strong intellectual bent which stimulated her husband's and brought out the best in him. During their first nine years together they lived in a nondescript wooden house at 34 Thissell Street, Prides, and this remained their summer home until 1945. Their winter home was No. 81 Marlborough Street from 1920 to 1931, when Gus inherited a share of No. 2 Gloucester Street from his uncle the Judge, bought out his co-heirs, and made that his winter home.
While still in college Gus decided on a politico-legal career, much to the astonishment of his classmates. In the fall of 1907 he ran for the Beverly Common Council as a member from Ward 6 ("The Farms") and received the highest vote—154 ballots—of the five candidates, defeating the senior member of the Council. This outcome was a surprise; summer residents of Ward 6, although required to pay more than their share of the city taxes, were not expected to do anything about it except grumble. Gus, however, had not grown up with the "natives" for nothing, and he liked them as well as they liked him. Following his election (to quote the Beverly newspaper), "Millionaires and mechanics gathered in Grand Army Hall, Beverly Farms, to celebrate the election . . . of Augustus P. Loring, Jr., the first Harvard student to take President Eliot's advice and 'get into politics.'" The councillor-elect was quoted as promising to do his best to persuade the wealthy summer residents to be taxed in Beverly for their personal property, which it was claimed would "result in a $12 tax rate." Needless to say, this happy result was never attained; but the junior councillor made good with his fellow members, pulled his weight on the Board, was re-elected in 1908, and the next year moved up to the Board of Aldermen.
All this took a great deal of time from his studies as well as his home life, and resulted in his being dropped from the Harvard Law School in 1911. He was registered in Boston University Law School as a special student in 1912–1913; but again, politics took too much time and he had to leave without taking a degree. So he did not stand for re-election in 1912–1914. In 1915, when he had made a start in business, he was again elected alderman of Beverly, and served on the Board until 1921.
Alfred Bowditch, Rose's father, was a Boston trustee. He gave Gus a place in his office in 1913, and there he learned the trustee business, with all its ramifications of investment, the law of trusts, and personal relations. And so matters went on until 1918 when Alfred Bowditch died and Gus inherited both his business and his responsibilities. After carrying on both business and politics for three years longer, Gus realized that one or the other had to be given up. It was too bad he could not have continued in politics, for which he had very special aptitudes and tastes. He could certainly have gone far in those days when the Republican Party was supreme in the Bay State, and especially in Essex County. But he had a wife and four children to support; so there could be but one decision, to drop politics. Always a Republican, and of the liberal and progressive wing, Gus was appointed a member of the Republican State Committee but found service on that body little to his taste and resigned after two years.
Although Gus at first shared one office, at 111 Devonshire Street, with his wife's cousin, Ingersoll Bowditch, and later at 35 Congress Street with his father, he always remained an independent trustee. The trend of the times was for trust companies, whenever an individual trustee died, to take over his business. But Gus constantly increased his own, because of excellent and conscientious personal attention to his clients. For instance, he never went to Europe subsequent to his wedding journey, although he loved European travel; and never to Florida in winter, although he hated cold and loved a hot climate; nor did he take a vacation farther afield than Maine, because he felt that some client might need him in a hurry. He had an enormous stock of wisdom and common sense that made his advice valuable, and a way of putting the advice that always made it welcome. And he had a remarkable sympathy and understanding for the foibles of mankind, which made him a natural refuge in time of trouble. He was a careful but shrewd investor, studying the trends of the times and not clinging to declining securities because of sentiment. He and his clients weathered the long depression that began in the fall of 1929 as well as anyone did in New England.
After several boatless years, Gus in 1927 purchased a 32-foot cruising yawl, Minerva, in which he and Rose, with as many small children as could be squeezed in, made an annual cruise to Maine. Two or three weeks were generally spent at Bartletts Island where the elder Mr. Loring had established a farm and built houses for his children and grandchildren. I then had a camp nearby, on Mt. Desert, so that the arrival of the Lorings and Vaughans was the signal for a series of visits and sailing or rowing picnics, where the children bathed and Gus cooked an enormous meal over a driftwood fire. Sometimes we piled into a buckboard for a trip to Jordans Pond; but for the most part our pleasures were taken simply on Bartletts and the adjoining islands, at one of those little coves and shingle beaches filled with that detailed and delicate natural beauty that makes Maine unique. Sometimes the little girls put on amateur theatricals in the boathouse by the landing with a background of blue water, green spruce trees and the graceful hills of Mt. Desert.
"What do you do over there?" asked dwellers in the fashionable resorts.
"Nothing!" was the answer; "We just enjoy ourselves!"
If a small boy wanted to spend the day running a jalopy up and down the one road on the island, that was all right. If two children wished to paddle a canoe through the Narrows to Goosemarsh and carry over to Prettymarsh, they could. May Vaughan liked to sit on the grass or the rocks all day and simply drink in the beauty of the place. Gus and Rose might take two or three of the children and walk to Brig Landing Cove to watch the seals and look out over the bay to Blue Hill. On the southern end of the island was a grassy point with the cellar hole of a house where a reputed pirate had dwelt, and behind which he had allegedly buried a pot of gold, for which the small boys loved to dig furiously—for as much as half an hour at a time. At the north end was a singularly beautiful cove between two rocky headlands, where the salt water was warm for swimming and a spring of sweet water helped solve the problem of picnicking. There, and at Hardwood Island, we often met for a picnic—and what picnics! The Lorings commonly brought an enormous beefsteak, or a large fish caught in the weir at Bartletts Island, potatoes to roast, a box of Cuban guava jelly to spread on toasted pilot bread, a couple of pies and a large, rich cake. The Morisons' contribution—a hodfull of clams dug at Sawyers Cove, a few loaves of store bread and the remains of a ham—seemed niggardly by comparison. But seldom was anything left for the gulls and crows.
In abandoning politics, Gus did not give up public service. In 1921, when he refused to run again for the Board of Aldermen, he consented to be nominated as member of the Beverly School Committee. Of that committee he remained a member for 19 years, serving as chairman of it from 1924 to 1940. A most faithful attendant at meetings, although it meant spending two evenings a week the year round, he was very zealous to maintain high standards of instruction, to increase the teachers' salaries and, while seeking the best for the Beverly children, to protect them from falling victim to current educational fads and heresies. He made a special effort to obtain first-class superintendents and supported them when once appointed. At one time, for several months, he acted as superintendent of schools during the illness of the incumbent. And it was typical of Gus that he entertained the committee at his home and was regarded by all the members with affection as well as respect.
He had been in the Massachusetts Naval Militia for two or three years in college, and there is extant a photograph taken at Provincetown—the limit of the Massachusetts Naval Militia's summer cruise—of classmates Austin Mason and Augustus P. Loring, Jr., in natty blue uniforms. Some physical disability kept him out of the armed forces in World War I but he served as Captain of Company F, State Guard; and during the famous Boston police strike of 1919 he became a volunteer police captain and handled one of the toughest assignments, the police station at City Square, Charlestown, with an even-handed justice tempered with good humor. Most of his public service, however, was in connection with charitable institutions and historical and other learned societies.
Gus loved to say with a laugh that, having got through college with great difficulty in five years, he could never have been elected to a learned society but for his wife's influence. There was something in this. Rose was an expert bookbinder, doing work equal to that of any professional. From bookbinding she became interested in decorated end papers, learned to make them herself and found them in great demand among fine printers such as the Merrymount Press. As an expert on the subject (her Decorated, Book Papers, 1942 and Marbled Papers, 1933, are supreme in that field), she was consulted by members of the Club of Odd Volumes. And, as they could not elect her (since like most of the Boston societies it is strictly unisexual), they took in her husband in 1932. But wifely influence is not the whole truth. Augustus P. Loring, Jr., was earlier elected to this society, in 1931. He had always been interested in history, and he was also a collector, primarily of the Gillray and Rowlandson satirical prints, and of Horace Walpole's Strawberry Hill imprints. And he also prepared and delivered papers, two of which, Nathaniel Bowditch of Salem and Boston, Navigator (for the Newcomen Society, 1950) and Kim's Store (for the Club of Odd Volumes, printed in Old-Time New England, XLI, No. 4, 1951) are real contributions to the maritime and social history of Essex County.
From this society's membership, Gus went on to enter the ranks of the Massachusetts Historical Society, Essex Institute, Bostonian Society, American Antiquarian Society, Peabody Museum, Walpole Society and Newcomen Society. And he was the interested sort of member who sooner or later was asked to become an officer, and the conscientious sort of member who accepted. Thus, in addition to becoming recording secretary and president of this society, he was trustee and president of the Peabody Museum, councillor and treasurer of the Massachusetts Historical Society, treasurer of the Boston Society of Natural History, councillor of the American Antiquarian Society, director of the Essex Institute, president of the Bostonian Society, secretary and president of the Club of Odd Volumes. A regular attendant at meetings, Loring sometimes appeared to doze off, but he always seemed to know what was going on and entered into the discussions with great zest. His minutes of previous meetings of societies in which he was recording secretary were a joy to hear.
Nor did his learned-society and charitable interests stop there. He was a fellow of the Society of Antiquaries of London, trustee and vice-president of the Boston Athenæum, secretary of The American Neptune, Incorporated, trustee and president of the Farm and Trades School on Thompsons Island, trustee of the Industrial School for Crippled Children, trustee and treasurer of the First Church in Boston (Unitarian), trustee of the Masonic Education and Charity Trust, trustee of the University Associates, councillor of the Society of Arts and Crafts. Besides his work for public education at Beverly and for endowed education at Thompsons Island, he was an important worker for his second alma mater, Boston University. The Chancellor of that University, Dr. Daniel L. Marsh, has written to me as follows:
When I telephoned Gus that I was desirous of talking with him, having in mind his nomination as a Trustee of Boston University, and saying that I would call upon him at his office, he at once replied that he would stop in and see me at my office. We had a very pleasant conference on the subject, and when he left he said: "Not only do I regard this appointment as a Trustee of Boston University as the greatest honor of my life, but I especially wish to be a useful trustee. I want to accept the responsibilities as well as the honors of the office."
And he did accept the responsibilities of trusteeship. He was most faithful in his attendance at all Board and Committee meetings, seldom ever missing a meeting. He was soon made a member of the Executive Committee of the Trustees, and he there displayed such intelligent and constructive views that he was also made a member of the Investment Committee. At the time of his death he was serving as a Trustee of Boston University, as a member of the Executive Committee of the Trustees, as a member of the Investment Committee, and also as a member of several of the Standing Committees. The Standing Committee in which he was most interested was the one on the School of Nursing.
As a "joiner," Loring had a remarkable range. He was not only a member of the principal social clubs in Boston—St. Botolph, Union, Somerset, Tavern, Thursday Evening and Wednesday Evening—and of the Century of New York; he belonged to the Charitable Irish Society, the local Grange at Beverly, the Masons, Elks and Odd Fellows.
As an investor for himself and his clients, Loring inevitably became a director or officer of numerous business corporations in addition to the traditional family interest in the Plymouth Cordage Company. His list of directorships includes the Bay State Corporation, the Boston & Maine Railroad, the Consolidated Investment Trust, the Dwelling House Associates, the Fall River Gas Works, the Fort Worth (Texas) Transit Company, the Galveston-Houston (Texas) Company, Houghton Mifflin Company, the Massachusetts Hospital Life Insurance Company, the New England Trust Company, the Suffolk Savings Bank and the University Associates.
A letter from the President of the Galveston Transit Company (of which the Galveston-Houston owns the common stock) indicates that Augustus P. Loring, Jr., was the same in Texas as in Boston:
Mr. Loring's interest in the companies with which he was connected did not stop at the business office level; he placed much emphasis on the character, background and family relationship of those key men responsible for setting the policies and conducting the affairs of his companies. Like all good business men he was interested in a business being profitable and paying good dividends, yet he continually reminded all of us that our thinking should be equally directed in terms of building for the future. With business problems becoming more and more pressing and acute, there was a great sense of satisfaction and re-enforcement of courage to feel that Mr. Loring was standing behind you to pat you on the back and lend his cooperation and assistance whenever and wherever needed. A fellow will work his heart out when he feels he has a man like that standing behind him.10
How Loring found time for all these activities was a mystery for his friends; for he always had time for them. The hospitality that he and Rose dispensed at Pride's and at 2 Gloucester Street was of the same character as that of his parents and grandparents; with this difference, that they did not confine themselves to entertaining the friends of their children. They both knew all manner of people. Their friendship crossed all the barriers of class, region, race and religion. Gus did not have one set of "downtown friends" and another of "uptown friends"; if he made a friend in business, that friend and his wife were welcomed at the Loring house. We of this Society well know the quality of that hospitality; the dinners starting with cocktails and Jamaica rum swizzles, accompanied by biscuits spread liberally with paté, followed by a thick soup, a saddle of mutton, a vintage Burgundy and Chateau d'Yquem; for the Lorings had one of the best cellars in Boston. Above all, one remembers the kindness, the interest in what their guests said or did, and the good-humored, easy conversation. Visitors from Texas and New Orleans, United States naval officers, travelers from Europe, learned from the Lorings what New England hospitality could be. André Simon, President of the Wine and Food Society (of which Gus was secretary of the local unit), described a Loring dinner in his magazine. At the time of the Harvard Tercentenary the Lorings entertained the Chancellor of the University of Sydney and his wife, and that led to a succession of jolly visitors from "down under." All these guests, distinguished or undistinguished, were mixed up with old Boston friends and the Loring children and their friends, to everyone's mutual enjoyment. The Lorings were geniuses in the art of hospitality.
In due course yawl Minerva was given to his elder son, Augustus P. Loring III and Gus purchased a slightly larger one named Fiesta. He never had a paid hand in his yachts but did all the sailing and much of the fitting out himself. He and Rose continued their summer cruises to Maine, generally accompanied by one of their offspring, or by an old friend. And by this time the Lorings had friends in every port who would row out to the yawl at anchor and give a down-east greeting: "Hullo, Mr. Loring. Fleshed up some since last winter, hain't you?" And he usually had, alas. After a few efforts at slimming, he would eat hearty; his weight became almost twice what it had been in college days. In sailing, although naturally more cautious than of old, the quality of his seamanship never faltered, and he could take down a gasoline engine or even one of those abominable contraptions that take the place of plumbing in small yachts, and put it together again. Every day, rain or shine, he jumped overboard into the chilly Maine water. In Sawyers Cove he astonished the natives at the age of 65 by diving down to fix something on the bottom of my boat, that I couldn't get at.
In the summer of 1950 Rose was not well enough to cruise with her husband; but down east he sailed with his youngest daughter and a friend. Fiesta was anchored in Sawyers Cove when word came that Rose was very ill; Gus hastened home by air and that was the end of his last cruise. She died at Beverly, 17 September 1950.
Gus carried on bravely for more than a year, but it was obviously an effort. For the first time his weight seemed an impediment to him rather than a mere witness to good living. In March, 1951, on returning from a business trip to Texas, he had to go to the hospital for an operation on a brain tumor so he was absent from the last Council dinner that he gave at 2 Gloucester Street. He was long convalescing, long in recovering the power of speech; and not until June was he able to be moved to "Burnside." One of his daughters or daughters-in-law kept house for him, and a trained nurse was constantly in attendance.
There I saw him for the last time on a bright, sunny day in August. He provided a typical Loring Sunday dinner—roast beef, Burgundy and ice cream with a rich sauce, carving the roast himself. Then he walked slowly down to the little beach and sat there, surrounded by frolicking grandchildren, great-nephews and great-nieces, smiling at them benevolently like the head of the clan that he was. Small boys tried to sail small boats and got in irons and had to be rescued by their parents. Others rowed skiffs and bumped into each other. Little girls paddled, splashed and screamed; babies crawled on the beach, putting bits of driftwood into their mouths and looking up at Gus with a smile when he amused them with funny "boos." It might have been the same place fifty years earlier; the scene gave one a momentary feeling of permanence and security. Gus Loring's speech had returned, and we talked of other days until the shadows began to fall on the shore where he had first learned to row, swim and sail. And so we parted, he with a message of love to my wife whom I was to meet at the airport, and an invitation to stay at "Burnside" in September.
That month he suffered a relapse and was taken to the Beverly hospital where his condition was so desperate that he had to be operated on at once; and the operation disclosed that he had cancer in three places. Next day, 1 October 1951, he died. His funeral at the First Church in Boston on 4 October was the scene of such an outpouring of grief and loyal friendship as is seldom witnessed.
As I look back on Gus's life, on this rare friendship lasting half a century, I think that the key to his character was his love of people; not only his own people, but all kinds of people of all ages and walks in life. Seeing them, talking with them, helping them solve their personal problems, doing business with them, attending society meetings, entertaining, was his greatest pleasure as it became theirs. He was a living treasury of amusing anecdotes about people. Often have we roared with laughter together over the foibles and peculiarities of homo sapiens Bostoniensis; but never have I heard him say anything mean or malicious about a person, and if anyone in the company was inclined to run somebody down, he would always come up with something good about him. And it would be impossible to estimate the number of people for whom his kindly interest, his shrewd advice, his timely admonition, meant a turning point in their lives.
I can find no more fitting words to conclude this tribute to Gus than those which an historian three centuries ago used for Governor Winthrop: "A worthy gentleman who had done good in Israel, having spent. . . his bodily strength and life in the service of the country; not sparing, but always as the burning torch, spending."