It is the editors' hope that this edition of Thomas Hutchinson's correspondence will provide both specialists and the general audience with an easily handled, highly readable resource of Hutchinson's life and times before his departure for England in June 1774.
The edition begins with Governor Belcher's instructions to Hutchinson prior to his voyage to England in 1740, just as he was making a name for himself in Massachusetts politics. It ends with a letter written more than thirty years later, as he once again left America for England, having achieved the highest provincial office.1 For the years in between, over 2,200 letters written by or to Hutchinson were identified by the editors.
The bulk of these letters reside in two main collections. The larger of the two is held by the Massachusetts Archives, which houses not just the commonwealth's official papers but also Hutchinson's private papers, both his copies of outgoing correspondence and many of the letters he received as incoming correspondence. Hutchinson left his papers, along with material associated with his history of Massachusetts, at his home in Milton, fearing that they might fall into the hands of his enemies if left in Boston after he departed for England. Ironically, in November 1774, his son Thomas Jr. and his family fled the Milton house and moved into Boston for their personal safety, leaving many of their possessions behind. Shortly after the battles of Lexington and Concord, the house was partially looted. The Milton Committee of Safety removed the balance of the contents, and the house became a barracks for patriot troops during the siege of Boston. Among the items they overlooked, however, was a trunk in the attic that contained exactly what they most wanted: Hutchinson's papers. Later that month, in April 1775, a neighbor, Samuel Henshaw, while rummaging through the house, discovered the trunk and its contents. Henshaw alerted a local militia colonel to what he had found, and on 29 April 1775, the Massachusetts Committee of Safety ordered General John Thomas to seize the papers and turn them over to Samuel Dexter, a representative from Dedham and former member of the Council.2
In May 1775, the Provincial Congress appointed a committee to review the documents and publish extracts of the letters that would prove damaging to the loyalist cause. The Reverend William Gordon of Roxbury took a leading editorial role, and some letters still bear marks of his exclamatory notes and emendations. A highly selective publication began in the 5 June Boston Gazette but was soon picked up by the Massachusetts Spy, the New England Chronicle, several other American and British newspapers, and John Almon's Remembrancer (published in London). Within a few short years, all or part of nearly 150 letters had appeared in print. The presentation of such sensitive material, quoted out of context and surrounded by Gordon's inflammatory rhetoric, was sufficient to cause even some of Hutchinson's most loyal supporters to desert him.
The trunk full of papers remained in Gordon and Dexter's care throughout the Revolution until 1783 when they surrendered it to the secretary of the commonwealth at the request of the legislature. The collection remained in the care of the commonwealth until 1819 when the papers were divided into three groups. Secretary of the Commonwealth Alden Bradford elected to turn over to the Massachusetts Historical Society the historical documents that Hutchinson had assembled while writing his history of Massachusetts. They were subsequently reclaimed by the commonwealth in 1873 after a protracted ownership dispute and deposited in the Massachusetts Archives as volumes 240, 241, and 242.3 The original manuscript of the second volume of Hutchinson's History of the Colony and Province of Massachusetts-Bay apparently remained in control of the commonwealth throughout this period and was housed in the Massachusetts Archives as volume 28. Hutchinson's voluminous correspondence in all likelihood also remained in control of the state and was designated volumes 25, 26, and 27 in the Massachusetts Archives.
Over the years, these three volumes of correspondence have become known as the Hutchinson letterbooks, although in truth only volumes 26 and 27 were true bound letterbooks when they were in Hutchinson's possession; they contained his copies or drafts of the letters he wrote from late 1761 through the end of 1773. Volume 25 comprised a collection of loose papers of various sizes, which included Hutchinson's incoming correspondence as well as some drafts and copies of his outgoing correspondence. These items were later bound together into a single volume after the material left Hutchinson's control. At some point after 1775, an unknown editor or curator created indices for all three volumes that were incorporated into each at subsequent rebindings.
Despite the fact that Hutchinson the historian was a noted collector of ancient manuscripts, there was an unfortunate imbalance between the amount of surviving incoming and outgoing correspondence. Perhaps many of the letters written to him before 1765 were destroyed during the sacking of his house, or perhaps he himself destroyed many of the letters before his departure for England in 1774. Nevertheless, the same imbalance between incoming and outgoing correspondence also appeared to be true of his years in England.
Collectively, the three volumes comprised a rich resource for scholars of this period, and by the early twentieth century, they were clearly showing signs of heavy use and advanced age. During the 1930s, employees of the Works Projects Administration made a haphazard attempt at conservation of volumes 25, 26, and 27. More recently, however, the Massachusetts Archives disbound its volumes of Hutchinson correspondence and divided them into small groupings of pages residing in acid-free folders in a climate-controlled vault. The traditional Massachusetts Archives reference numbers remained the same, however, reflecting the original organization into three bound volumes.
The Massachusetts Archives material would be extremely difficult to use had it not been transcribed by Catherine Barton Mayo in the early 1950s. Malcolm Freiberg carefully reviewed Mayo's transcripts with possible publication in mind, and they were presented to the Massachusetts Historical Society in 1957, where most scholars have read them either in typescript or on microfilm ever since. Because they were in most cases letterbook copies, the Massachusetts Archives version of a letter did not always provide the most authoritative text. Hence, readers comparing the Freiberg-Mayo transcripts with this edition may find significant differences.
The Massachusetts Archives volumes also included important supplemental information not available elsewhere, such as Hutchinson's memoranda of letters not fully recorded, which were incorporated into the calendar here, and occasional non-epistolary material that added to a greater understanding of Hutchinson's thoughts and actions.
The three volumes of correspondence in the Massachusetts Archives were the starting point for this edition, and the editors broadened their search from there.
The second large collection of Hutchinson correspondence resides in the National Archives of the United Kingdom (formerly the Public Record Office) in Kew, England, mostly in the Colonial Office 5 series. For his outgoing correspondence—the bulk of which Hutchinson wrote to his superiors in England—both his original letters and usually his duplicate letters were preserved in separate volumes, bound at some later date along with any enclosures he sent.4 Government clerks also transcribed Hutchinson's letters into entry books at their respective offices. The letters British officials wrote to him were usually recorded by clerks before being sent to North America, both in official entry books and in letterbooks. Those copies were also preserved at the National Archives UK.
Smaller but highly significant collections of Hutchinson letters reside at the Massachusetts Historical Society, the William L. Clements Library at the University of Michigan at Ann Arbor, the Huntington Library in San Marino, California, and the British Library, which holds Hutchinson's authorial copies made during his last six months in America and continuing through the end of his life. Over thirty other repositories in Scotland, England, Canada, and the United States also hold collections of varying extent of Hutchinson material dating from 1740 through 1774.
With such a large volume of correspondence, particularly as his prominence in provincial affairs rose, it is hardly surprising that approximately one-fifth of Hutchinson's surviving letters—both his authorial copies and his outgoing correspondence—were written in hands other than his own. His formal handwriting was easily identifiable, but when rushed his handwriting became a cramped scrawl that bore little resemblance to his more graceful, deliberate script. The identification of Hutchinson's handwriting was also made difficult by his occasional use of a small, tight script that used a great many abbreviations and very few vowels. This abbreviated hand was not to be confused with the cipher he rarely employed to keep portions of his letters private (discussed below). Roughly 1,800 of the more than 2,200 letters identified by the editors were written in his hand.
In the remaining 400 letters, at least ten different hands were detected. By comparing handwriting samples, the editors identified which hand transcribed which letter for the majority of letters. If a letter appeared in a hand other than Hutchinson's own, it was likely that of one of his children. The handwriting of two of his sons, Elisha and William Sanford, accounted for nearly three-fourths of all letters not written by Hutchinson himself. Elisha made file copies of roughly 100 letters and William Sanford 175. His eldest son, Thomas Jr., also copied about 60 letters. The hand of Hutchinson's youngest daughter, Margaret (Peggy), appeared in only a small number of letters—perhaps 13—although she was traditionally assumed to have served as her father's chief amanuensis. Hutchinson also used the copying services of a number of secretaries, possibly as many as a dozen during the 1760s and 1770s. Most copied only one or two letters for him, usually enclosures or duplicate copies for his superiors in England. Hutchinson did, however, seem to rely on one secretary more than others, who copied about 20 letters for him.
Hutchinson apparently maintained careful control over his letterbooks, since only his children wrote in them when he didn't do so himself. In only a very few instances did secretaries write in one of the letterbooks. Nevertheless, the children's clerical duties were not confined to the letterbooks alone; he also employed them in copying duplicates and enclosures for his superiors in England.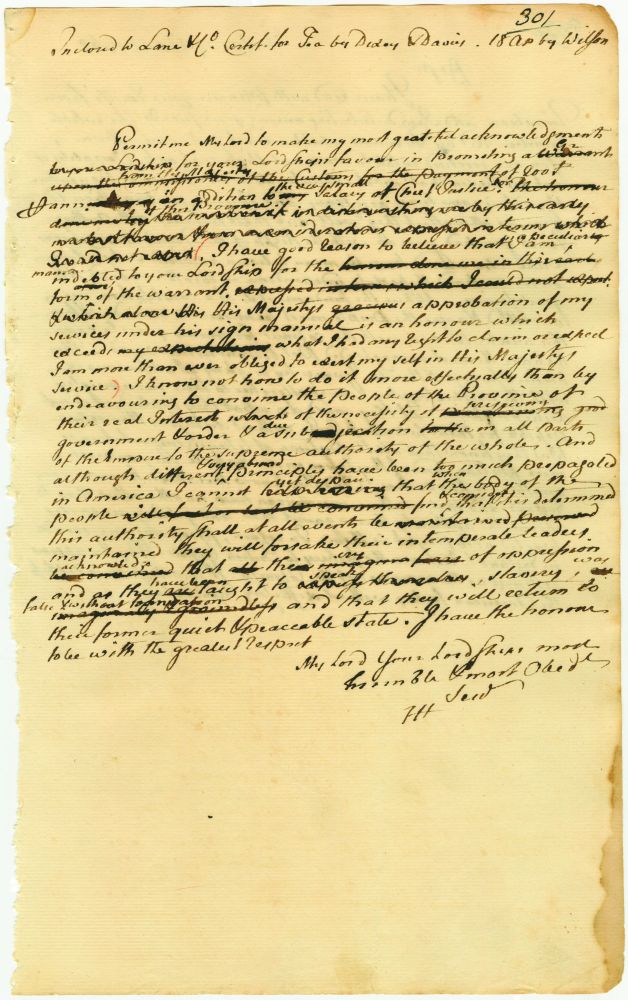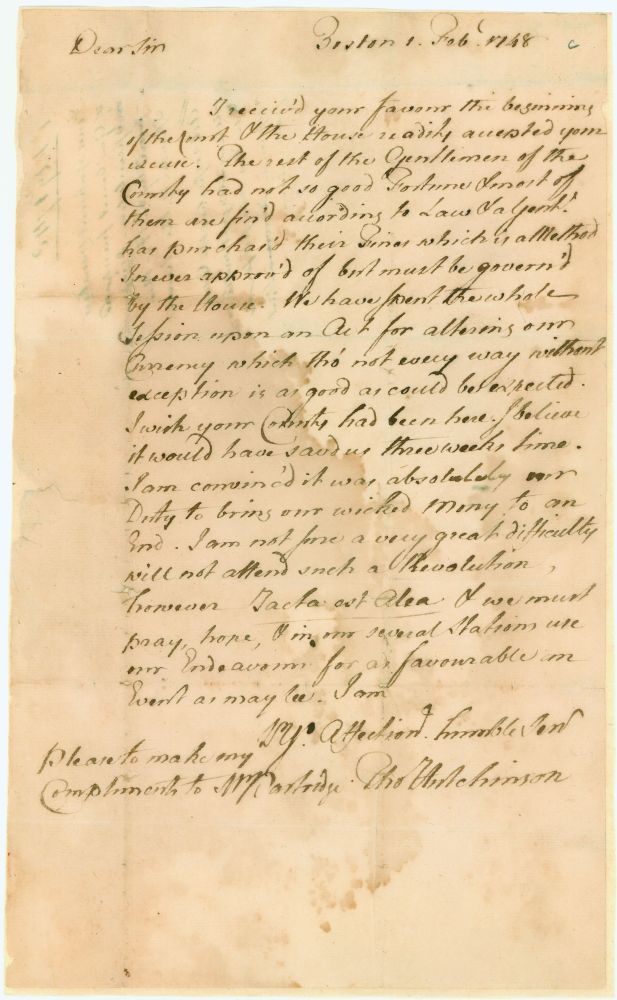 A draft of one of Hutchinson's letters in his letterbook, Mass. Archives, SC1/series 45X, 26:301. Courtesy of Massachusetts Archives. A receiver's copy of one of Hutchinson's letters, Thomas Hutchinson to Israel Williams, 1 February 1748, Israel Williams Papers. Courtesy of the Massachusetts Historical Society.