Framing the Interior:
The Entrepreneurial Career of John Doggett
RICHARD C. NYLANDER
John Doggett (fig.1) was one of more than a dozen looking-glass makers and picture framers who plied their trade in early nineteenth-century Boston. His name is one of the most recognized by furniture historians today, as indeed it was in his own time. In the many notices of auctions of household furnishings in the 1820s, the only looking-glass maker identified is Doggett or his firm, implying a mark of recognizable quality.1 The First Exhibition and Fair of the Massachusetts Charitable Mechanic Association, an organization he joined in 1804 and served as both trustee (1813–16) and vice president (1822), awarded a silver medal to the Doggett firm for the frames it exhibited, noting they were "decidedly the best work in the exhibition, being in handsome style, and of the best gilding. The large Mirror Frames, and one enclosing a picture by Fisher, are worthy of high commendation."2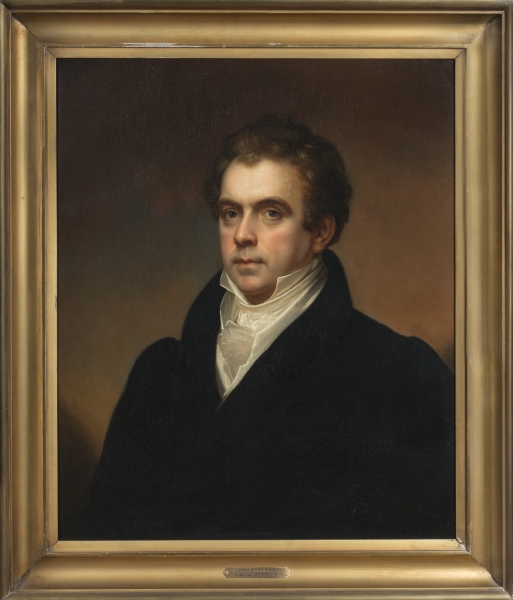 Doggett's nearly fifty-year career witnessed changes in fashion as well as technology, new ways of marketing, economic highs and lows, and trade and tariff restrictions. He seems to have been a savvy businessman, always seeking the best price on materials and terms of credit from his suppliers, quick to observe trends and grasp the opportunity to capitalize on them, and willing to pursue several avenues to satisfy what he once called "the very peculiar and difficult to please" taste of Boston's citizens.3
John Doggett's early career in Roxbury, Massachusetts, is documented through his daybooks, in invoices at various manuscript collections, and by labeled looking glasses and picture frames. However, except for references to the American Kings, a series of lithographic copies of the Gilbert Stuart portraits of the American presidents that Doggett commissioned in 1822, and an occasional footnote about the frame of a particular portrait, little has been published about his business activities after the formation of John Doggett & Co. in 1810. The firm subsequently relocated to Boston, a move that took Doggett from a community of craftsmen and artisans into a growing center of artists and entrepreneurs.