"Tortoiseshell & Gold":
Robert Davis and the Art of Japanning in Eighteenth-Century Boston
TARA HINGSTON CEDERHOLM AND CHRISTINE PALMER THOMSON
Over the years, scholars of American furniture have found the japanning tradition in eighteenth-century Boston to be an endless source of fascination and frustration. Many have written on the subject, tracing the origins of particular objects, tracking provenance, and searching for information that would shed light on the craftspeople who did this remarkable work, yet we still know precious little about them. In the context of American decorative arts, japanning is purely a Boston phenomenon. Although japanners advertised in other colonial cities, such as New York and Philadelphia, it is the work from Boston that survives today. We know the names of several artisans associated with Boston japanning, but rarely did they sign their work. A few notable exceptions bear mention: the signatures of Robert Davis and William Randle and a label by Thomas Johnston have survived to give us clues to their working styles. For the majority of surviving Boston japanned furniture, however, the identity of the decorators remains anonymous.1
In 2004, a Boston japanned high chest in well-preserved condition appeared on the market (fig. 1). On the underside of an upper drawer is the boldly painted signature of its japanner, Robert Davis, who was clearly proud of his work (fig. 2). Prior to this event, only one known object with surviving japanning was signed by Davis: a high chest at the Baltimore Museum of Art (fig. 3). Much of the surface decoration on the Baltimore Museum high chest is missing or buried under darkened varnishes, but with this new discovery, the distinct style of this craftsman became more discernible. These two examples show that Davis was a highly skilled draftsman with a confident and graceful hand; his work exhibits flourishes as distinct and unique as a signature.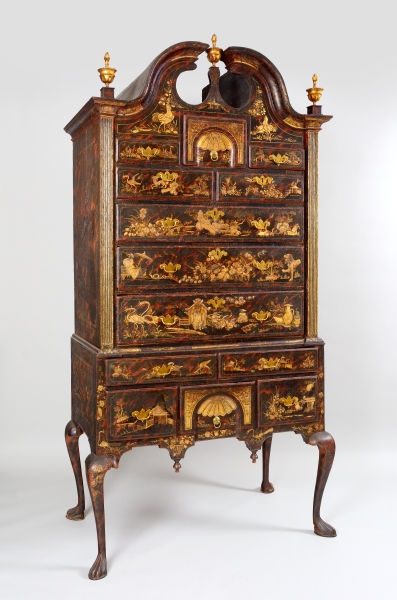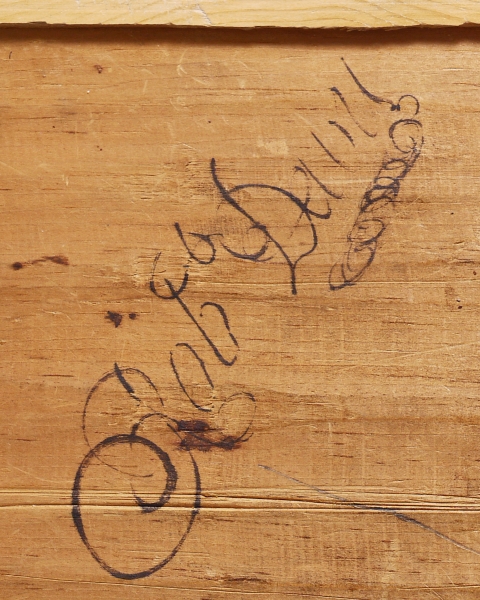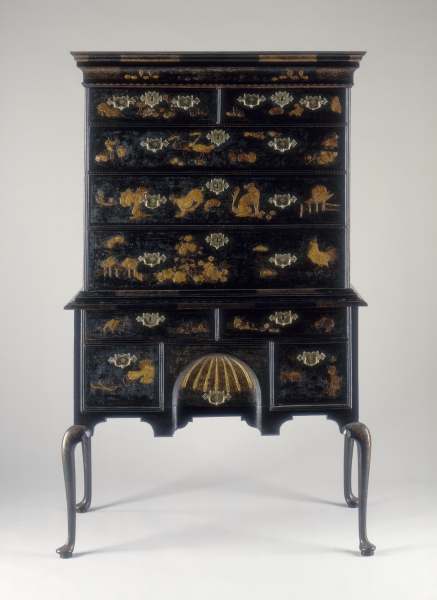 The opportunity to examine the work of Robert Davis gave birth to our idea of methodically comparing imagery on signed and unsigned pieces, with the expectation that the Boston japanners would be distinguishable by their distinctive styles. To identify characteristics in japanned decoration that were particular to Davis, we photographed each motif on the signed high chests and entered them into an image database.2 We then photographed the decoration on thirty-nine of the fifty-three known Boston japanned objects to compare the motifs and styles with Davis's.3 We tagged each motif with specific keywords, which allowed us to sort for a particular type (e.g., "crane," "flower bouquet," or "building"). Initially, we thought these images would fall into recognizable groups, even if we were unable to assign each group to the hand of a known japanner. Yet, the strict protocols of technique and iconography that all japanners followed made it difficult, in some cases, to identify a particular hand.
The parameters of our study grew dramatically once we realized that, to give better context for our observations, we needed to study and catalogue not only the imagery on all known Boston examples but also the decoration on japanned pieces from other areas where the style flourished, namely England, Europe, and South America. In addition, we sought to find sources of inspiration for the Boston japanners in prints, ceramics, and lacquerwork.
To date, we have compiled a list of fifty-three Boston japanned case pieces and clock cases, some of which are known only by photographs (see appendix).4 The types of japanned case forms from the first half of the eighteenth century in Boston are relatively few: flat-top high chests with either turned William and Mary–style bases or cabriole legs, bonnet-top high chests (with scrolled pediments), clock cases, dressing tables, a bureau table, and a slab-top table (fig. 4). We know of no surviving tea tables decorated by Boston japanners, although the form is often noted in period inventories. For example, the July 29, 1739, probate inventory of Isaac Royall Sr., in Medford, Massachusetts, lists amongst his possessions a "Japanned tea table."5 We know that Davis decorated tea tables with japanning because his probate inventory included such pieces both "japann'd" and "not finisht."6
| | |
| --- | --- |
| High chest; flat top, turned base | 15 |
| High chest; flat top, cabriole legs | 10 |
| High chest; bonnet top | 9 |
| Clock case | 12 |
| Dressing table; turned base | 1 |
| Dressing table; cabriole legs | 4 |
| Bureau table | 1 |
| Table; slate top with turned base | 1 |
| TOTAL | 53 |