DECEMBER MEETING, 1931
A Stated Meeting of the Society was held, at the invitation of the President, at No. 44 Brimmer Street, Boston, on Thursday, December 17, 1931, at three o'clock in the afternoon, the President, Samuel Eliot Morison, in the chair.
The Records of the last Stated Meeting were read and approved.
The Corresponding Secretary reported that a letter had been received from Mr. Zechariah Chafee, Jr., accepting Resident Membership in the Society.
Mr. Frederic Ives Carpenter, of Belmont, Mr. Robert Ephraim Peabody, of Jamaica Plain, Mr. Augustus Peabody Loring, Jr., of Boston, Dr. Harold Bowditch, of Boston, and Mr. William Emerson, of Boston, were elected Resident Members. Mr. Leonard Woods Labaree, of New Haven, was elected a Corresponding Member, and Dr. Timothy Leary, of Jamaica Plain, was elected an Associate Member.
The President presented, on behalf of Mr. Thomas H. Johnson, a paper entitled "Jonathan Edwards and the 'Young Folks' Bible,'" to be published elsewhere.386
Mr. Matt B. Jones presented
Music at religious services in the early New England churches consisted of singing a metrical version of the Psalms, alternately read and sung line by line, except in a few churches where the whole congregation was furnished with psalters. After its publication in 1640, the Bay Psalm Book was generally used, although other versions found some favor. Until the eighteenth century was well ushered in, not more than ten tunes, it is said, were used in this connection, and few congregations could sing more than five.387
One finds little criticism of the manner of singing in vogue until the middle of the second decade of that century, although it should be noted that when the newly gathered Church in Brattle Street, Boston, was organized in December, 1699, under the pastorship of the Reverend Benjamin Colman, just returned from an extended stay in England, it promptly "Voted Unanimously that ye psalms in our public Worship be sung without Reading line by line."388 Gradually, however, there arose a feeling that the manner of singing in the churches had degenerated from that of the earlier years, although one queries whether there actually had been a change or whether public opinion was at length aroused to long existing defects.
At any rate, in 1715, John Tufts published at Boston his Introduction to the Singing of Psalm-Tunes, "with a collection of tunes, in three parts." Of this book Evans says that it was the first publication of its kind printed in the United States. On September 24, 1716, Cotton Mather notes in his diary: "The Psalmody in our Assembly must be better provided for";389 and again, under date of October 13, 1718, he says: "The Psalmody is but poorly carried on in my Flock, and in a Variety and Regularity inferior to some others. I would see about it."390 With Cotton Mather "I would see about it" was frequently synonymous with "I will write about it." Hence it was doubtless as the fruit of thoughts like these that his Psalterium Americanum, The Book of Psalms, "all in blank verse," was published at Boston in 1718.
Samuel Sewall gives a picture of what was going on in Boston in the winter of 1720/21: "At night Dr. Mather preaches in the School-House to the young Musicians, from Rev. 14.3 — no man could learn that Song. — House was full and the Singing extraordinarily Excellent, such as has hardly been heard before in Boston. Sung four times out of Tate and Brady."391
During the next five years the question of singing by note in the churches was clearly controversial, and the literature on the subject is considerable.392 The laudable efforts of the reformers did not meet with universal favor. The elder brethren, especially in the rural sections, were not disposed to accept the newfangled contrivances. The situation is described by Mather himself in a letter to Thomas Hollis, under date of November 5, 1723, as follows:
A mighty Spirit came Lately upon abundance of our people, to Reform their singing which was degenerated in our Assemblies to an Irregularity, which made a Jar in the ears of the more curious and skilful singers. Our Ministers generally Encouraged the people, to accomplish themselves for a Regular singing, and a more beautiful Psalmody. Such Numbers of good people, (and Especially young people,) became Regular Singers, that they could carry it in the Congregations. But, who would beleeve it? Tho' in the more polite City of Boston, this Design mett with a General Acceptance, in the Countrey, where they have more of the Rustick, some Numbers of Elder and Angry people, bore zelous Testimonies against these wicked Innovations, and this bringing in of Popery. Their zeal transported some of them so far (on the behalf of Mumpsimus) that they would not only use the most opprobrious Terms, and call the Singing of these Christians, a worshipping of the Devil, but also they would run out of the Meetinghouse at the Beginning of the Exercise. The Paroxysms have risen to that Heighth, as to necessitate the Convening of several Ecclesiastical Councils, for the Composing of the Differences and Animosities arisen on this occasion.393
After such an indictment one feels that it is appropriate to allow these "Elder and Angry people" an opportunity for at least a brief defence, but apparently their opposition was chiefly vocal. Some statements of their arguments may be found in the ministerial tracts favorable to "regular singing" which have been referred to, but they are in a way men of straw, set up by the authors to be bowled over, and must be viewed accordingly. Probably the liveliest statement is to be found in the Reverend Thomas Symmes' Utile Dulci (Boston, 1723)—described in the title as a "joco-serious dialogue concerning regular singing" — in which the author says that he has answered all the objections which he has heard to the new method of church singing. They may be summed up as follows: It is a new way — an unknown tongue; it is not so melodious and pleasant as the old way, some have called it yelling; there are so many tunes that we shall never have done learning them; the practice of singing by note exasperates men's spirits, grieves good people, and causes them to behave themselves indecently and in a disorderly way; this way of singing is Quakerish and Popish and introductive of instrumental music; the names given to the notes are "baudy, yea blasphemous"; this new method is needless, since the Fathers that knew it not are got to heaven without it, so what need of all this "Adoo and Pudder for nothing"; the bringing up of this mode of singing is a contrivance to get money; too much time is spent in learning it, and it causes people to "tarry out disorderly"; it is a company of "young upstarts" that fall in with this way and set it forward, and some of them are "lewd and loose" persons guilty of prophaneness in "Singing Psalm Tunes in Barns and at Plow and Cart . . . nay they'll Sing Fa, Sol, La in the Tavern."
It would have been wholly unlike Cotton Mather to refrain from active participation in this debate. That it was much in his mind is attested by several entries in his Diary.394 One is not surprised, therefore, to find in the Boston News-Letter for February 13, 1720/21, an advertisement which describes as "Just Publish'd and to be sold by Samuel Gerrish" the great preacher's pamphlet entitled The Accomplished Singer, which is, although we have been a long time in reaching it, the subject of these notes, and which bears the imprint, "Boston: Printed by B. Green, for S. Gerrish at his Shop in Cornhill. 1721." The advertisement was repeated in the News-Letter for February 20, but not thereafter.
Ten copies of the tract are known to exist.395 As originally printed, it consisted of a title-page upon the reverse of which is printed "A Proposal" that pastors use a short expository preface to the psalm that is to be sung by the congregation. These two unnumbered pages are followed by twenty-four numbered pages, A to C in fours, D in two with D2 blank. This title, which is hereinafter referred to as the original title, is as follows:
The Accomplished SINGER./ INSTRUCTIONS/ FIRST,/ HOW the PIETY of/ SINGING/ WITH A/ True DEVOTION, may be/ obtained and expressed; the Glo-/rious GOD after an uncommon/ manner Glorified in it, and His/ PEOPLE Edified./ AND THEN,/ HOW the MELODY of RE-/GULAR SINGING, and the/ SKILL of doing it, according/ to the RULES of it, may be easily/ arrived unto.
Then come three lines of quotation, followed by the imprint given above.
Subsequent to the printing the author decided to change the language of the title, and there was printed an additional two-leaf signature consisting of a half title, reverse blank, and a revised title-page, reverse blank. In the case of eight of the ten known copies the blank reverse of the revised title is or was pasted over the original title. In three cases it is still so pasted, and in five cases it is known to have been pasted, but the two title-leaves have now been separated in order that both texts may show. In one copy, owned by Lemuel A. Welles, Esq., of New York City, the half title and revised title are stitched up with the remaining signatures, and the same was once true of the copy owned by the writer of these notes; but amid the vicissitudes of more than two centuries the revised title-leaf has become detached and has disappeared.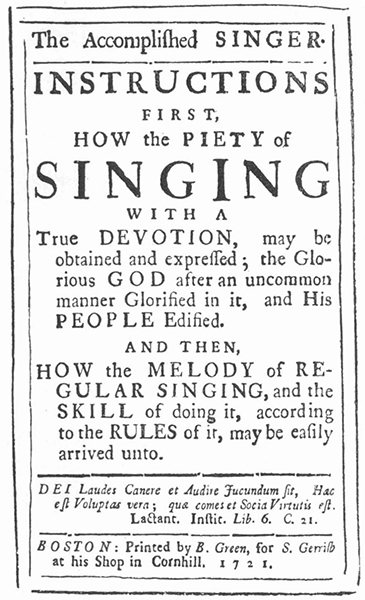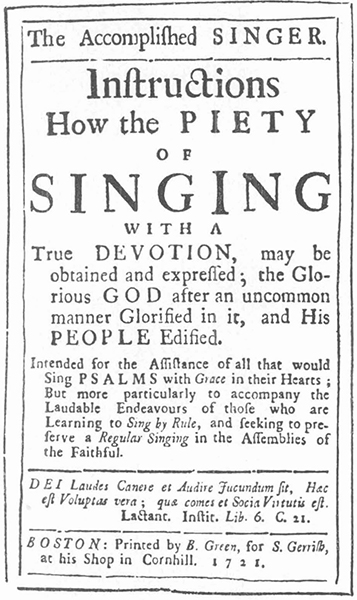 The revised title reads as follows:
The Accomplished SINGER./ Instructions/ How the PIETY/ OF/ SINGING/ WITH A/ True DEVOTION, may be/ obtained and expressed; the Glo-/rious GOD after an uncommon/ manner Glorified in it, and His/ PEOPLE Edified./ Intended for the Assistance of all that would/ Sing PSALMS with Grace in their Hearts;/ But more particularly to accompany the/ Laudable Endeavours of those who are/ Learning to Sing by Rule, and seeking to pre-/serve a Regular Singing in the Assemblies of/ the Faithful.
Three lines of quotation and the imprint follow as in the original title, except for the insertion of a comma after the word "Gerrish."
It is quite clear that when the pamphlet was put on sale by the publisher the revised title had been printed, because Gerrish's advertisement quotes the revised title in condensed form. Doubtless the titles were pasted together by printer or bookseller at or before sale. It is perhaps not wholly speculative to suggest reasons for the failure to paste the titles together in copies four and nine of the census given in the note on page 190.
In the former case the original title-page bears the date 1701 instead of 1721. This is obviously a printer's error, for Gerrish did not establish his bookshop until 1707. It is reasonable to suppose that it is one of the copies which came very early from the press, and it may have been given out in advance of public sale into the hands of some especially interested person who later procured and stitched on the half title and revised title.
On the half title of Mr. Welles's copy is written the date "Feb. 14th 1720/21," and the inscription "Mr. Green to S. Williams." On the revised title-page are the signatures "Joseph Green's 1720/21" and "S. Williams 1721." Joseph Green was the minister of that name who was born in Boston, graduated from Harvard College in 1720, and was ordained as minister of the East Parish, Barnstable, Mass., in 1725; while S. Williams is probably the Reverend Solomon Williams, graduate of Harvard in 1719, and ordained as minister at Lebanon, Conn., in 1722. If young Mr. Green bought this book on February 14, 1720/21, as seems probable, he was treading closely upon the heels of its first offering in Gerrish's bookshop and may have been ahead of the business of pasting, in which case the bookseller or his boy might well deliver an unpasted copy. Some further evidence of the correctness of this surmise is to be found in a notation on the blank reverse of the half title of this copy in a contemporary hand to the effect that: "You must put this title Page upon the tother."
It is of interest that Evans, Sabin, and Sibley make no mention of two title-pages, and that they give only the revised title. Sibley states that the "Proposal," which is in fact printed upon the reverse of the original title-page, is pasted to the reverse of that title; that is, he noted that there were two leaves pasted together but did not suspect the original title concealed between them.
Three of the ten copies of the tract have "An Attestation From the very Reverend Dr. Increase Mather" carefully pasted upon the blank reverse of the half title. It is printed upon a separate leaf. In three other copies this attestation was formerly pasted upon the reverse of the half title, but has now been separated from it. Four copies lack the attestation, and there is nothing to indicate that it was ever a part of them.
It is clear that in its earliest form the tract had only a single title, and one rather naturally wonders why the half title, the revised title, and the attestation were added to it later.
It may be noted that the final sentence of the original title contains a promise that the text does not fully make good, and it is possible that the author thought it wise to modify it into the somewhat less definite phraseology of the revised title, which Mr. Thomas J. Holmes has characterized as "more intriguing and tentative and less positive in its claims." But there is another possible reason for the change that ought not to be lost sight of.
The Reverend Thomas Walter was Cotton Mather's favorite nephew. One needs only to turn to the pages of Mather's Diary to be assured of his affection for his sister's son, the great anxiety that the young man occasioned him in his early years, and the joy that followed his successful entry into his uncle's profession. As noted above, Thomas Walter's The Grounds and Rules of Musick Explained Or An Introduction to the Art of Singing by Note was published in the same year as The Accomplished Singer; in fact, the issue of the Boston News-Letter for February 13, 1720/21, which announces the publication of Mather's tract, also announces that Walter's book is "Now in the Press," and it is referred to in the Boston Gazette of May 8, 1721, and July 17, 1721. Mather's Accomplished Singer is largely historical in character, while Walter's book is definitely a text book for use among those learning to sing by note. In view of the relations between the authors it would have been entirely in keeping with Mather's attitude of helpfulness to his nephew if he had modified the original title-page of The Accomplished Singer in such a way as to remove any inference that the two books in any considerable measure covered the same ground.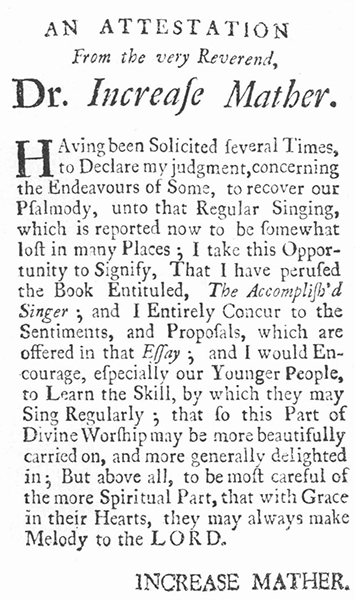 No definite reason for the subsequent printing of the attestation appears, and it is perhaps unwise to speculate, but, whatever the occasion, we may well believe that it constituted still a third step in the mechanics of the somewhat hesitant accouchement of this rare and interesting little tract. This belief may be based upon the failure of the publisher to mention the attestation in his advertisements of February, 1720/21, as would have been natural and customary, and also upon the absence of this leaf from so large a proportion of the known copies.
The President communicated by title a paper by Mr. Thomas H. Johnson on
The rewards of antiquarian research, however valuable, are not always so genuinely interesting as those bestowed upon the investigation of an author's reading. For, as Professor Lowes' almost classic Road to Xanadu so startlingly indicated of Coleridge's writing, an author, however much he live in a world of unreality, does not write of things which he has not experienced; and, furthermore, the experience that is written about is very likely to be the distillation of some pattern of consciousness that has been arranged and fused from the most disparate and seemingly incompatible essences.
The poetic mind of Coleridge may seem more patently to challenge investigation than the prosaic mind of Edwards. But the minds of these two men were less different than one at first might suppose. Both were vigorously philosophic and, as William James would call it, "tough-minded"; both read constantly and omnifariously; both chased speculative ideas with the delight that a dog takes in chasing rabbits; both journeyed frequently into mental worlds where the atmosphere is much too rarefied for those who are untrained to follow; and, unburdened with the artifices others would need, they sustained themselves at will in any empyrean. And yet, mystics and seers though they were, they never became mere disembodied spirits. One is therefore the more eager, knowing how doubly fascinating the writings of Coleridge become when his reading has been disclosed, to search out the clues that lead to Edwards' literary background.
The clues are many. Edwards' controversial treatises, written to destroy the arguments of his opponents, are documented with notes that show how deeply he has been stirred to admiration or contempt by some pamphlet or other; his letters eagerly discuss the books he has read, or gratefully acknowledge the receipt of a "pacquet" of books from friends in Boston or correspondents in Edinburgh; his Diary and Resolutions occasionally make reference to books that have interested him, or those that he feels he must see. Best of all there is his Catalogue. But I am getting ahead of my story, which should begin the study of Edwards' reading where he himself started.
Jonathan Edwards' training for a life of study began early. His father, the Reverend Timothy Edwards, who was particularly distinguished for his accurate knowledge of the Greek and Roman classics, prepared pupils for college in the early years of the eighteenth century; and, his reputation as tutor being unusually high, his son Jonathan, whom he taught, must have received the best of preparatory educations. Jonathan's sisters were also trained by their father — some in Greek, all in Latin;396 and in their father's absence from home, the four that were older than Jonathan undertook their brother's tutoring. He was studying Latin at the age of seven, for in a letter to his wife on August 3, 1711, Timothy wrote:397 "I would have Jonathan keep what he hath Learnt in his Grammar, & so I would have the Girls do, & I would have none of them forget their writing." And again, on August 7, he wrote:
I desire thee to take care that Jonathan dont Loose wt he hath Learned but yt as he hath got ye accidence, & about two sides of propria Quae maribus398 by heart so yt he keep what he hath got, I would therefore have him Say pretty often to the Girls . . . .
Jonathan's mother, a daughter of the distinguished pastor Solomon Stoddard, of Northampton — from 1667 to 1672 he had served as Librarian at Harvard College, the first of whom there is record — must have aided her son's education, for she "was always fond of books, and discovered a very extensive acquaintance with them in her conversation."399
At the outset, however, it must be understood that Jonathan Edwards, born into a provincial family, always lived in rural New England; and that many of the facilities for a good education — libraries, personal association with cultivated minds, a cosmopolitan breadth of interests such as were to be found in Boston — were his only upon rare and hard-earned occasions. His friends were such men as David Brainerd, Eleazar Wheelock, Joseph Bellamy; not the Mathers, Wigglesworths, and Chauncys. He did not, like the Mathers, have friends abroad among the noted men of the century; nor did he, like Increase, travel abroad or enjoy political prestige. His temper was provincial. He did not have a social nature, as did many of the urban clergy. Their names are synonymous with colonial aristocracy, theocratic government, and Harvard College. Edwards' name is associated with the more democratic and provincial developments — Indian missions, revivals, and the new colleges, Yale and Princeton. There is a tinge of wistfulness in the opening sentence of the only letter he ever wrote to Edward Wigglesworth, Professor of Divinity at Harvard — written as late as 1757, the year before his death — in which he is discussing a book of Jonathan Mayhew: "I can't assign any particular acquaintance as my warrant for troubling you with these lines; not being one of them that have been favored with opportunities for such an advantage."400 Edwards' provincialness must be made clear from the start, because he became a writer of such influence and popularity, here and abroad, that his works at the turn of the nineteenth century had been more widely printed and frequently reprinted than those of any other American minister — more so, indeed, than the works of any other American writer whatsoever, if we except Franklin.401 He achieved this fame while living in the rural parish of Northampton and the frontier settlement of Stockbridge. Especially interesting, then, becomes the search to find how he built up that background of reading with which he later produced sermons and treatises that have been for two hundred years considered chief among the remarkable displays of disciplined thinking in American letters.
I have pointed out that Edwards' home training was begun under the guidance of two especially able parents. But his father was not a scholar, nor did he have the means or interest to collect a library so fine as those some of the urban ministers had gathered. Yet since Jonathan had written his notable "Of Insects" and "Of the Rainbow" before he entered college402—that is, before he was thirteen years old — one knows that this training had opened many studies to his extraordinarily active mind, and had made him a keen observer. We also know that in these pre-college days he had become acquainted with Sir Isaac Newton's essay on Optics, and that he was experimenting with rainbows, using such crude but ingeniously homemade materials as a glass bottle, a stick, and a puddle.403
In the absence of a more precise knowledge of his father's library, we can only say that it was small; and concerning Jonathan's early reading, we can only hazard the guess that probably he began his college life with little background besides a formal training in the classics. As a freshman, he continued Latin and Greek, and undertook Hebrew. But though Edwards seems later to have read Latin with ease, he always preferred English translations whenever he could secure them; he seldom made reference to a Greek text, and all that remains of his Hebrew is a negligible amount of marginalia and a few Hebrew idioms that he jotted on old envelopes.404 Latin was supposed to be used by undergraduates in their class work and conversations, but there are those who doubt whether many lived up to the standards.405
His sophomore year laid that foundation of logic on which his later fame was to rest. Four days a week were devoted to the study of it. In his junior year he began the study of physics; and the meticulous care with which he builds the ideas that appear in the Notes on Natural Science, written at this time, reveals his great concern for this new branch of learning.
His senior year was largely given to metaphysics and mathematics, and his Notes on the Mind and Notes on Natural Science show how profoundly this boy was moved by the vision of the new world of ideas that opened before him. The logic that he learned in the sophomore year was employed constantly, for all undergraduates disputed syllogistically five times a week, using as textbooks Ramus, Burgersdicius, and Keekermann.406 Locke's Essays, which had appeared less than thirty years before, he avidly read when he was but fourteen,407 as well as that miscellaneous storehouse of Platonism, Ralph Cudworth's Intellectual System. For his study in physics, Edwards probably used Rector Pierson's manuscript notes on Natural Philosophy,408 and we know from a letter of Edwards to his father, dated July 21, 1719, what texts he probably bought during his senior year:409
I have enquired of Mr. Cutler, what books we shall have need of the next year. He answered he would have me get against the time, Alstead's Geometry and Gassendus' Astronomy . . . and also, the Art of Thinking,410 which, I am persuaded, would be no less profitable, than the other necessary, to me. . . .
But his college reading, though intensive in prescribed fields, was not wide. For one thing, the library was very limited.411 The study of mathematics in Edwards' undergraduate days had been stretched to include only the textbooks mentioned in the preceding quotation. Algebra was not then taught; nor were aesthetics, politics, or history. Modern natural sciences were undeveloped, and the systems taught were narrow and intended for theological students, who made up the major part of all classes.412 Had he attended Harvard, where the library was more ample, or entered Yale at a later time, he would probably have been more widely read when he graduated. He surely read much during the period of his study for the ministry; and between his return in 1723 from eight months of preaching in New York, and the beginning of his tutorship in 1724, he had leisurely days in New Haven. He has left no record of his reading during this time, but undoubtedly he acquired a background then that was broader than his modest temper allowed to appear. "Remember," he wrote in his Diary, under date of January 10, 1724, "to act according to Prov. XII. 23, A prudent man concealeth knowledge."413 "In writing," he says in rule twelve of his Notes on Natural Science, "let there be much Compliance with the readers weakness and according to the Rules in the Ladies library Vol. 1, p. 340 & seq."414 And rule nine reads:415 "To be very moderate in the use of terms of art. Let it not look as if I was much read, or was conversant with books, or with the learned world." Though he made these resolutions when he was young, he efficiently practiced them all through his life. Perhaps the most interesting rule that he states is one in shorthand which says:416
The World will expect more modesty [because] of my circumstances in America young &c. Let there [therefore] be a superabundance of modesty and [though perhaps 'twill] otherwise be needless it will wonderfully make way for its reception in the world. Mankind are [by] nature proud and exceeding envious [and evermore] jealous of such upstarts and it exceedingly irritates and affronts them to see them [appear] in print. Yet the modesty ought not to be affected and foolish but decent and natural.
The purpose of this discussion is to show how Edwards built up a background of reading, yet the more one knows of him the less easy such an attempt becomes. Not only was he diffident, but he had so little pride in any of his accomplishments that he left no record of his library or of his reading. Even his most learned treatises — those written in Stockbridge — do not parade any knowledge. So effectually had he lived up to his early resolutions that we can distinguish only scatterings of his preparatory reading, for the footnotes and even the imagery of his language are sparse. We know that he built up a good-sized library, but we do not know what it contained. In 1753, when Edwards made his will, his library, bequeathed to those of his sons that should "be brought up to learning" was valued at £80, and contained three hundred volumes and five hundred and thirty-six pamphlets.417 But no itemized inventory of this collection was made, and there is not today, so far as I know, a single volume from it extant. It went to his son Jonathan, but from that time all trace of it is lost. Hence the first and most valuable evidence of his interests in reading is out of our reach.
Had he kept a diary, as one would conjecture he might almost certainly do, one could find there the second-best source for one's knowledge. But it happens that the least interesting writing Edwards undertook was the turgid, colorless document begun in 1723 and intermittently continued for four or five years, that may be termed Diary only by courtesy. It records the adolescent introspections of a precocious Puritan, and ceases abruptly when the self-castigation has become intolerable.
We turn next in our search to his correspondence, but find little help there, for unfortunately only a very small amount of it remains. Yet from his letters we learn that he was starved for reading — doubly starved in that he who was so omnivorous a reader thought he had so little to read. Indeed, the Edwards correspondence is a check upon rather than a key to his reading. His Notebooks occasionally — almost inadvertently — supply a hint, but for this particular search are even less valuable than his correspondence.
Then one looks to discover what facilities were close at hand to which he might resort. Did he have access to libraries other than his own? Something is known of his grandfather Stoddard's library in Northampton, mentioned, though not itemized, in Stoddard's will of 1728. It consisted of four hundred and sixty-two volumes and four hundred and ninety-one sermons and pamphlets.418 But this collection went to Stoddard's eldest son Anthony, pastor of the church in Woodbury, Connecticut; and though Edwards may have had access to it, he could not have used it conveniently, nor does he ever seem to have done so. He and the neighboring ministers sometimes swapped books. To Joseph Bellamy, of Bethlehem, Connecticut, he wrote in 1747:419
I herewith send you Mastrict, & one vol. of Turretine, If you have one of Mr. Beach's & Dr-Johnsons last, I should be glad if you would lend them to me, after you have used 'em sufficiently your self, & send 'em by some safe hand.
And preserved on a scrap used in writing Efficacious Grace appears the first draft of a letter to Caleb Clark:420
If you are not like to be over-loaden in coming Home I should be glad if you could bring some Books belonging to Mr. Darling for me. If you can bring 'em, & speak to Job Strong about 'em He knows what they be & will Procure 'em for you.
Perhaps those are the same books of which he is speaking in his letter of March 9, 1741, to Dr. Benjamin Colman, of Boston, which begins: "I humbly thank you four [sic] your kindness by Mr Clarke in those Books you sent me by him."421 In January, 1747, he wrote to the Reverend Robert Abercrombie, of Pelham:422
I wrote to you, a Little while ago, desiring you, if you went speedily to Boston, to enquire of Capt. McCun, for some Pamphlets & Letters, that I understood were sent me from Scotland, that I had not received, & to bring them with you: I hear you have been to Boston, & are lately returned. I shall be glad if you would write me word, by the first good opportunity, how you found; and if you brought me any letters or Pamphlets, send them; for I want them very much.—please also to send me word how long it will be e're Capt McCun & Capt. Scot set sail for Scotland.
And in August, 1748, he wrote to his Scotch correspondent, the noted theologian Dr. John Erskine:423
It might be of particular advantage to me, here in this remote part of the world, to be better informed what books there are, that are published on the other side of the Atlantic.
In another letter to Bellamy, he wrote:424
It now comes to my mind that I heard that Dr. Pynchon425 of Long-meadow, has Turretine, and that he lately offered to change it away for other Books; so that in all probability you may there have it at a moderate Price.
So much for the type of information that his correspondence offers. But Edwards had yet another library to draw on — one which he himself helped to build. During the thirties there was established the Associated Ministers of the County of Hampshire, "a vigorous organization" made up of thirteen pastors, among whom, in addition to Edwards, were Isaac Chauncy, of Hadley, William Williams, of Hatfield, Stephen Williams, of Longmeadow, Samuel Hopkins, of West Springfield, and Ebenezer Devotion, of Suffield.426 It was organized "for the mutual improvement of its members" and maintained a library for them. Means were available, furthermore, for the purchase of expensive books — such, for instance, as the eighteen-volume set of the Present State of the Republic of Letters, (London, 1728–1736) — as the following makes clear:427
May ye 4th 1739 Then Receiv'd of Mr Stephen Williams as Treasurer of ye Association In order to pay for ye Republick of Letters the full & Just Sum of Thirty one pounds Eighteen Shillings wch together wth Twelve pounds I Receiv'd of ye Rev'd Mr John Sergeant (for wch I Gave him a Receipt) makes up ye full Sum of forty three pounds Eighteen Shillings I Say Receiv'd by me
Jonathan Edwards
But how extensive their library grew, and what became of it when the Association ceased, are questions as unanswered as the final disposition of Edwards' own.
From the newspaper scraps which Edwards made into covers for his notebooks we can conjecture whence his weekly news came to him. And important, of course, though not extensive, are the quotations within and the references attached to his treatises. Yet the sum of all items which we can gather by these methods is small indeed, and we might still know very little about Edwards' reading were it not for a document which is certainly the most interesting and curious manuscript among his unpublished papers. This is a notebook or journal that he labelled, as aptly as any name could describe it, Catalogue428 — a thin, brown-paper volume of forty-three numbered pages, measuring eight by six inches, bound between paper covers of a slightly heavier, greyish-brown material. It is an invaluable document, since it contains upward of five hundred itemized book titles. It is a puzzling one, for the items do not represent certainly anything more than his literary interests — that is, the Catalogue is not a list of books which he had collected. But since it is so important in a discussion of Edwards' reading, it must be examined with some care.
Evidently while he was at New Haven, either as tutor or student, he had the idea of jotting down names of books in which he was or thought he might be interested. In close-packed file, on the back of an envelope addressed to him "At Yale-Colledge," he began as follows:
| | |
| --- | --- |
| Bible | Lock of human Understanding |
| Mr Baxters Life | Art of thinking |
| Mr Stoddards Safety of appearances | the tongues |
| His Manuncripts | Isaiah |
| The English Grammar | the Psalms |
| Mr Watta Poems | Revelation |
| The Bible | Acts |
| Guardian | Proverbs |
| Bp of Bangor | Ezra |
| Mr Watts sermons | Nehemiah |
| Elisha Coles of Gods Sovereignty | Romans |
| Mr Flavels Application of Redemption | Galatians |
| Dr Mantons Sermons | Job |
This is a sample of the whole page, and those items which he crossed out, are here so reproduced. From the nature of the items listed, and from the way some, like the Bible in this excerpt, are reentered crossed off, I sometime ago concluded that the list was begun very early, and that the items crossed probably represent books that he had read. And after a more minute study of the Catalogue, together with other sources of Edwards' reading, I still hold the opinion as far as its early pages are concerned. There is a notation in the middle of the first page which reads "vid Aug 28 1723," and I think that it probably refers to his diary of that date, which imposes a discipline upon himself bordering on unctiousness:
When I want books to read; yea, when I have not very good books, not to spend time in reading them, but in reading the scriptures, in perusing Resolutions, Reflexions, &c., in writing on Types of the Scripture, and other things, in studying the Languages, and in spending more time in private duties.429
Probably the jottings on this envelope gave him the idea of keeping a record of books that he did not wish to forget, for the Catalogue proper begins on the first bound sheet, numbered one, and the envelope is set loosely into it. Page one430 has other notations besides the comparatively simple horizontal line; a few items are crossed off in that way, but in addition all of them have a vertical or diagonal line drawn through, not as if they all had been crossed off at once, but as if they had been checked at different times. For example:
Lock of Education
the independent Whigg
Bp X Burnets Pastoral Care
*Bp Burnets X history of the Reformation
Jenkins Reasonableness & certainty of the Xtian Religion
Dr Cheyne's Religious Philosophie book
Sir Isaac Newton's mathematick Philosophy more easily demonstrated with Dr halley's account of Comets illustrated being 40 Lectures Read in the Publick Schools of Cambridge by Mr Whiston
In addition to the lines, there now and then appears a X or a star. No amount of study makes these markings clear. The two sides of the envelope and the first three numbered pages of the Catalogue contain well over half of the total list of entries, which seldom are accompanied by comments of any sort. But as one progresses through the Catalogue one finds such diverse items as the following:
To Read the bible Comparing it with the key of
the bible [page A]
a new comparison of all Religions with the Xtian. That
I have seen at New Haven [page 2]
Sir Isaac Newton's Observations on the Prophecies
Refer'd to in the London Magazine in April 1736 [page 5].
X Dr Doddridges Family Expositor of which I have
Proposals for printing by subscription from Dr.
Colman [page 7].
An Inquiry into the original of our Idea of Beauty
that seems a very ingenious thing by the specimens
of that Book in Chambers431 under the word Common Places
where tis mentiond as a Book in octavo. & the 199
pages Referd to. also under the word Evil [page 8]
X To send for a number of the narratives of the wicked
Life & Remarkable Conversion of Patience Boston alias
Samson who was Executed at York July 24. 1734432 [page 8].
Mr Addisons Evidences of the Xtian Religion. with several
additions from his other writings a Book in the Spring-
field Library433 [page 10]
Two vol of sermons one on the Power & Grace of X and
Evidence of holy Gospel the 2nd Edition and the other a
series of Discourses on the Important Subject of Regen-
eration. Both By Dr Doddridge. mentioned in his Letter
to me [page 10]
The whole concern of man in what he ought to know & do
in order to Eternal Salvation laid down in a plain &
familiar way for the use of all, but especially the
meanest reader. divided into seventeen Chapters by
John Edwards D.D. of which see the printed advertisement
in the drawer in which this is commonly laid [page 11].
X Discourses deliverd at Cambridge against Arminianism by
Mr. William Hammond A.B. against Arminianism. a Large
Pamphlet which Mr. Brainerd says is lately come over to
Boston which Dr. Pynchon bought one of [page 16].
Mr. McLaurin Professor of Mathematicks in Edinburgh his
account of Sir Isaac Newtons discoveries. Mentiond by his
Brother Mr. McLaurin of Glasgow in his Letter to me of
April 14. 1748 [page 17].
Mr. Gill on the 5 Points in four volumes in octavo of
which Mr. Prince and Mr Foxcroft [told me?] when I was in
Boston [page 18]
The Knowledge of divine things from Revelation & not from
Reason & Nature much commended by Dr. Ellis [&] Dr Gibbons
of Boston. The author he said was a tip-top man [page 32].
N.B. It is said that the addition to Chambers dictionary
has two first volumes may be had separate. in a Catalogue
of Books printed in London brought from N. York by my
wife June. 1754 [page 35].
The Praeceptor two vols octavo. See Mr. Hopkins Letter to
Capt. Hubbel. of Jan. 13. 57 in my drawer [page 42].
X from something I saw in Boston in Print Johnsons dictionary
was said to be in two vols 8vo Price 10s Sterling in
England By Mr Boons account this is the Abridgment of
Johnsons English dictionary [page 42].
These items clearly show that Edwards turned his Catalogue to more than one use. He kept here the names of books he wanted to remember, and information about where books could be secured. Sometimes he quoted from books that he had seen, and occasionally he abstracted a book — possibly because he feared he might not have access to it again. He read the magazine advertisements minutely and set down the magazine and page in which he saw the book advertised; quite often he quoted the words of the advertiser. The Catalogue was evidently begun in the early twenties, and the entries were made chronologically until within a year of his death.434
One would like to reach some certain conclusion about the use to which the Catalogue was put, but probably nothing is possible beyond reasonable guesses. Whenever Edwards quotes from or abstracts a book, we know that he had read it; whenever he includes a book which other evidence shows that he had read, we know that he had finally secured the book which he had hoped to see. But his complicated checking of books suggests no conclusive evidence that he either had or had not read them. Probably he used the horizontal line early in the Catalogue to represent a book read — later, simply to cross out a mistake. He used the vertical line throughout as if he meant to indicate a book that he had read, though we know that he sometimes read books that are not crossed or checked — or, in fact, entered in the Catalogue at all; so that no complete solution to the checking system seems possible. But the Catalogue shows with perfect clearness two important things: first, the direction in which his literary interests lay; and secondly, the books he read as demonstrated by quotations taken from them. I shall try to make a clear distinction between his interests and his actual reading.
· · · · ·
As Edwards' profession was theology at a time when the number of theological books and pamphlets issuing from the presses of England and America far outnumbered any other category — in this country, all other categories put together — one naturally finds that his reading was intensively theological. The quotations and direct references in his treatises furnish us our most certain knowledge of his reading. The following list of authors and their works is therefore inserted here, because it is definitely an example of his professional reading:435
William Ames, De Conscientia (1632; translation). Affec., p. 77 n.
Aristotle, De Mundo. Observ., p. 259.
Isaac Barrow, Works (1683–9). Bible, p. 210.
Jacques Basnage de Beauval, History of the Jews (1708). Messiah, p. 21.
Arthur Bedford, Scripture Chronology (1741). Bible, p. 175.
Benjamin Bennet, Truth, Inspiration and Usefulness of the Scripture (1730). Observ. (frequently).
Samuel Bochart, Opera Omnia (1692). Bible, p. 315.
Anthony Burgess, The Doctrine of Original Sin (1659). Affect., p. 170 n.
John Calvin, Institutes. Affec., p. 161 n.
Thomas Chubb, Posthumous Works (1748). Will (frequently).
Samuel Clarke, A Discourse Concerning the Being and Attributes of God (1716). Observ., p. 313; Will, p. 84.
Ralph Cudworth, The True Intellectual System of the Universe (1678). Mind, p. 673.
Humphrey Ditton, A Discourse Concerning the Resurrection (1714). Observ., p. 206.
Philip Doddridge, Practical Discourses on Regeneration (1742). Misrep., p. 558 n.
—— Scripture Doctrine of Salvation (1761). Affec., p. 288 n.
Epicurus, "the very worst of heathen philosophers." Will, p. 224.
John Flavel, Touchstone of Sincerity (1678). Affec. (frequently).
—— Husbandry Spiritualized (1669). Affec. (frequently).
—— Preparation for Sufferings (1682). Affec. (frequently).
—— A Discourse of the Causes and Remedies of Mental Errors (1691). Affec. (frequently).
—— Sacramental Meditations (1689). Affec. (frequently).
Theophilus Gale, Court of the Gentiles (1669). Affec., p. 194 n.
Solomon Glassius. Philologiæ Sacræ Libri V (1711). Misrep., p. 542 n.
Thomas Goodwin, Works. Crea., p. 76.
Hugo Grotius, De Veritate Religionis. Observ. (frequently).
Thomas Hobbes, Works. Will, p. 60.
Henry Home, Lord Kames, Essays on the Principles of Morality (1751). Will, p. 290.
Samuel Hudson, Vindication of the Essence and Unity of the Church Catholic Visible (1650). Misrep., p. 538.
Jeremiah Jones, New Method of Settling the Canonical Authority of the New Testament (1726). Affec., p. 211 n; Observ., p. 247.
Richard Kidder, Demonstration of the Messiah (1684–1700). Observ., p. 242 n.
John Locke, Essays (1690). Will (frequently).
Moses Lowman, Argument from Prophecy (1733). Prayer, p. 515 n; Messiah (frequently).
Thomas Manton, Sermons (1678). Remarks, p. 559.
Isaac Newton, Chronology of Ancient Kingdoms (1728). Observ. (frequently).
William Nicholls, Conference with a Theist (1696, 1723). Bible, p. 163.
Charles Owen, Wonders of Redeeming Love (1723). Observ., p. 507.
John Owen, Discourses Concerning the Holy Spirit (1693). Affec., p. 138 n.
—— Exercitations on the Epistle to the Hebrews (1668–84). Bible, p. 169.
William Perkins, Works (1618). Affec., p. 61 n.
Plato, De Legibus. Observ., p. 259.
Edward Polhill, Speculum Theologiæ in Christo (1678). Remarks, p. 425.
Matthew Poole, Synopsis Criticorum Aliorumque Sacræ Scriptæ Interpretum (1669–76). Messiah, p. 110.
John Preston, A Heavenly Treatise of the Divine Love of Christ (1640). Affec. (frequently).
—— The Golden Scepter Held forth and the Churches Dutie in her Carriage (1638). Affec. (frequently).
—— Paul's Conversion (1637). Affec. (frequently).
Humphrey Prideaux, The Old and New Testament Connected in the History of the Jews (1716–18). Bible, p. 146.
Andrew Michael Ramsay, Philosophical Principles of Natural and Revealed Religion (1748–49). Observ., p. 315.
Thomas Ridgley, Body of Divinity (1731). Trinity, p. 91.
Samuel Rutherford, Survey of the Spiritual Antichrist (1648). Affec., p. 169 n.
Thomas Shepard, Parable of the Ten Virgins (1660). Affec. (frequently).
—— Sound Believer (1645). Affec. (frequently).
—— Sincere Convert (1641). Affec. (frequently).
Thomas Sherlock, Use and Interest of Prophecy (1725). Bible, p. 169.
Samuel Shuckford, Sacred and Profane History of the World Connected (1728). Bible, p. 241.
Richard Sibbes, Bruised Reed (1630). Affec., p. 296 n.
Philip Skelton, Deism Revealed (2nd. ed., 1751). Observ., p. 314.
John Smith, Select Discourses (1660). Affec., p. 112 n.
Johann Friedrich Stapfer, Institutiones Theologiæ Polemicæ (1743–7). Observ. (frequently).
Henry Stebbing, Treatise on the Spirit (1719). Will, p. 153.
Solomon Stoddard, Works. Qualif. (frequently); Affec. (frequently).
Jean Baptiste Tavernier, Travels (1684). Bible, p. 176.
John Taylor, Scripture Doctrine of Original Sin (1740). Sin, p. 307.
—— Paraphrase on the Epistle to the Romans (1745). Sin, p. 307.
Gilbert Tennent, The Divine Government over All (1752). Crea., p. 19.
John Tillotson, Sermons (1695–1704). Observ. (frequently).
Matthew Tindal, Christianity as Old as Creation (1730). Observ., p. 275; Remarks, p. 433.
George Turnbull, Principles of Moral Philosophy (1740). Sin, p. 307.
François Turretin, Institutio Theologiæ Elencticæ (1688). Affec., p. 170 n.
Isaac Watts, Essay on Freedom of the Will (1732). Will, p. 13.
Edward Wells, Historical Geography of the New Testament (1708). Bible, p. 355.
Daniel Whitby, Discourses Concerning Election (1710). Will (frequently).
Solomon Williams, Works. Misrep. (frequently).
Henry Winder, Critical and Chronological History of Knowledge (1745). Observ., p. 240.
Edwards refers to the following as if familiar with their works:
John Beach, in a letter to Joseph Bellamy, Jan. 15, 1746/7 (New England Quarterly, i. 231).
Thomas Boston, in a letter to Gillespie, Sept. 4, 1747 (Works, i. 241).
George Campbell, in a letter to Erskine, 1754 (Works, i. 545).
Isaac Casaubon, in a letter to Erskine (id.).
Jonathan Dickinson, in a letter to Bellamy, Jan. 15, 1746/7 (New England Quarterly, i. 231).
John Erskine, in frequent letters to Erskine (Works, i).
Thomas Gilbert, in a letter to Erskine, 1754 (Works, i. 545).
James Hervey, in a letter to Erskine (id.).
Samuel Johnson, in a letter to Bellamy, Jan. 15, 1746/7 (New England Quarterly, i. 231).
Petrus van Mastricht, in a letter to Bellamy (id., p. 229).
Marshal Montagu Merrick, in a letter to Erskine, 1754 (Works, i. 545).
Alexander Moncrieff, in a letter to Erskine, 1754 (id.).
Henry Pemberton. A View of Sir Isaac Newton's Philosophy (1728), in the Catalogue, p. 3.
Chevalier Ramsay, (A. V. G. Allen, Jonathan Edwards, pp. 346 ff.).
William Warburton, in a letter to Erskine, 1754 (Works, i. 545.)
Joannes Wollebius, (Bibl. Sacra,xxxviii. 364).
And these also he had read, for he quotes from them in his Catalogue:
Joseph Butler, The Analogy of Religion.
John Clarke, An Essay on Study.
Ebenezer Erskine, Sermons.
Herman Frink, Discourse concerning preaching.
Nathaniel Lardner (no title mentioned).
Cotton Mather, Manuductio ad Ministerium.
John Owen, Exposition on the Hebrews.
Micajah Towgood, Dissenting Gentleman's Letters.
Daniel Waterland, Queries.
George Whitefield, Journal and Sermons.
His letter to Professor Wigglesworth436 discussed books by Jonathan Mayhew and Thomas Emlyn. But there are a legion of theological items in the Catalogue which he probably read, yet which can be chronicled here with certainty only as books in which he was interested. Many titles are entered so briefly as to make identification difficult. Yet there are many others that should be noted. "St Austins Conversion" (page A) is not crossed, but Mr. G. P. Fisher thinks that Edwards was acquainted with Augustine;437 Richard Baxter is many times mentioned; so are Dr. George Bull and the "Bp of St David's." Bishop Thomas White's noted commentary on the Bible is crossed; likewise, on page A, Bunyan's Excellency of a Broken Heart. The name of Gilbert Burnet appears more than once; and such writers as Philo the Jew, Tertullian, Josephus, and Eusebius appear on early pages. We know that he had read some of the writings of John Clarke, Jonathan Dickinson, and Philip Doddridge, whose names appear often throughout the Catalogue. So do the names of Thomas Manton, John Edwards, Charles Owen, John Owen, Robert Fleming, Isaac Watts, William Whiston, and John Howe. The two authors whom Edwards most venerated were Isaac Newton and John Locke, and nothing they published escaped his notice. Luther's Colloquies is entered crossed on page A. At least one work by each of the following — all entered very early — appears: William Beveridge, Thomas Bradbury, Daniel Finch (Earl of Nottingham), Matthew Henry, Robert Jenkins, William Jameson, William Law, Edward Leigh, John Lightfoot, Simon Patrick, James Ray, John Sharp, William Wall, Thomas White, Edward Wigglesworth, Samuel Willard, and Robert Woodroe.
Though Edwards was a strict believer in the tenets of his own theology, he strove constantly to broaden and deepen his training in all branches and forms of religion, whether expressed by Jews, Romanists, Deists, or Anglicans. In a letter of 1755 to the Scotch clergyman, John Erskine, he wrote:438
I had before read . . . that book of Mr. David Hume's, which you speak of. I am glad of an opportunity to read such corrupt books, especially when written by men of considerable genius; that I may have an idea of the notions that prevail in our nation.
Hopkins noticed this willingness of Edwards to read books of which he disapproved:439
He read all the books, especially books of divinity, that he could come at, from which he could hope to get any help in his pursuit of knowledge. And in this, he confined not himself to authors of any particular sect or denomination; yea, took much pains to come at the books of the most noted writers, who advance a scheme of divinity most contrary to his own principles.
Thus while his background in Calvin, Cudworth, Grotius, Mastricht, and Turretine appears established by his frequent reference to them, many Church of England divines are also quoted by him: Warburton, Barrow, Tillotson, Samuel Clarke, Prideaux, Whitby, Sherlock, and Kidder. From English and Scotch Nonconformists he derived arguments or authority: Ames, Rutherford, Flavel, Manton, Poole, Owen, Ditton, Doddridge, Erskine, Hervey, and Boston. He also had at hand the works of the French protestant divine Basnage, famous for his historical treatises on the church, and of the Scotch Roman Catholic Ramsay; and he superbly ridiculed the English Deists, Chubb — whom Voltaire praised — and Tindal.
Whoever is familiar with Edwards' writings must know his dependence upon and contributions to contemporary philosophy. Yet the limited knowledge available as to his reading offers no solution of certain traditional Edwards problems — such, for instance, as whether or not he was acquainted with the philosophy of Berkeley before he developed his own youthful theories of idealism. Actually there is no direct external evidence that he had read Berkeley at all, for he never discussed him, and the latter's Theory of Vision, Principles of Human Knowledge, and Alciphron, though entered in the Catalogue, are not crossed off. Francis Hutcheson is entered in the Catalogue, and so is Cumberland's Law of Nature; but neither is crossed, though Professor Foster thinks, from the quality of Edwards' philosophy, that he was acquainted with them, as well as with Leibnitz to whom there is nowhere a reference.440 As a boy, Edwards had read Shaftesbury's Characteristics, for in the Notes on Science one reads: "Oftentimes it suits the subject and Reasoning best to Explain by way of objection and answer after the manner of Dialogue like the Earl of Shaftesbury."441 We have noted that he had read Hume sometime before 1755. He quoted in the Catalogue from "an Advertisement at the End of Mons Paschals thoughts," and more than once made reference to a volume he regarded with great esteem, the Chevalier Ramsay's Philosophical Principles.442 In 1749 appeared Henry Grove's System of Moral Philosophy, which Edwards had read before the end of the year 1751. Turnbull's Moral Philosophy he read shortly after the Grove volume; and also Principles of Morality and Natural Religion, by the fashionable physician Dr. George Cheyne. Henry Winder's History of Knowledge is also quoted in the Catalogue. Locke, of course, Edwards read, and probably Malebranche's Search After Truth, which he early crossed off. Pemberton's View of Sir Isaac Newton's Philosophy, Watts' Logic, and perhaps something of Descartes were also among the philosophical works familiar to him. In any case, he mentions them all in one place or another, and he could hardly have read at all in the field of philosophy and religion without being acquainted with them, if only at secondhand. He makes reference to Hobbes and Lord Kaimes; and of the important Deists he was thoroughly familiar with Chubb,443 Tindal, and Whiston.444 Of the moralists, we have noted Samuel Clarke, Shaftesbury, and Bishop Butler; of the mystics, probably we should not omit William Law445 and Dr. Cheyne.
The eighteenth-century connection between science and philosophy was as interlocking as that between philosophy and religion. Edwards' early acquired and well-informed interest in the sciences — physics, astronomy, mathematics, even medicine — did not lag. These entries in the Catalogue, for example, are suggestive: "To Enquire after some Philosophical Treatise of the nature of Electricity the best that is extant"; "History of the Royal Society"; "Cowper's Anatomy." We also find Edwards inquiring for editions of Euclid by Whiston and Scarburgh. The last entry of all is a quotation from Ward's Mathematics. Whiston's Astronomical Principles of Religion and his New Theory of the Earth; Dr. Woodward's Natural History of the Earth; Watts' Last Principles of Astronomy and Geography; and, of course, Newton's Principia, Optics, and Mathematic Philosophy are entered each time they were re-issued from the press, so fascinated was Edwards by the genius of that scientist.
He records dictionaries and grammars on every page. Probably he did not own Robert Ainsworth's Thesaurus Linguæ Latinæ Compendiarius, which he had seen advertised in the London Magazine of April, 1736, and in the Republic of Letters, for he was almost wistful in outlining the advertisement of it, and he entered it uncrossed more than once. Three important books of reference, however, he did own: Cruden's Concordance, Greenwood's English Grammar, and Chambers' Dictionary; for he quotes from them all many times. Bennet's Hebrew Grammar and Richard Busby's very popular Greek Grammar appear on early pages of the Catalogue, in which are also listed new editions of Bailey's Etymological English Dictionary, Bayle's Dictionary, recently translated into English, Bohn's Geographical Dictionary, Calmet's Dictionary of the Bible, Collier's translation of Moreri's Historical Dictionary, Martin's Bibliotheca Technologica, and Moll's Geography; a Dictionarium Sacrum, a Globular Atlas, and Bedford's Scripture Chronology.
Nearly forty histories appear, including both political and religious subjects. He had easy access to, or perhaps owned, a few; for he quotes more than once from such as a History of the Popes, Oldmixon's Critical History of England, Laurence Echard's Roman History, and Gillies' Historical Collections. There are also entries of the works of the historians Burnet, Collier, Raleigh, and Rollins. He did not, however, mention Kennett, Tindal, or Bolingbroke.
Miscellaneous items that he owned — or at least quotes from — are the Art of Thinking, the book he asked his father to send him in 1719; some unnamed work of the classicist John Hudson; James Wiston's Stenography, Or the Art of Short-hand Writing, a volume by which he doubtless intended to further his skill in that art, though no record exists to show that he did so; Locke's Dialogues on Education; Youth's Friendly Monitor; and the ubiquitous Dr. Cheyne's An Essay of Health and Long Life.
He seemed to be very interested in stories of travel, for he quoted from Tavernier's Travels,446 Admiral Anson's Voyage Round the World,447 and the Chevalier Ramsay's Voyages of Cyrus.448 He had also seen advertised, and noted in his Catalogue, "A compleat collection of voyages & Travels consisting of about 600 of the most authentic writers, continuing whatever has been observed worthy of notice in Europe Asia Africa and America . . . By John Harris D D & F R S."449 Other miscellaneous titles that were entered in early pages in the Catalogue include: "Dictionary Domesticum being a compleat Household dictionary showing the whole art of cookery art of making all sorts of English works The Art of Managing Bees"; an essay on midwifery; William Darrell's The Gentleman Instructed; "Onania or the heinous sin of self Pollution and all its frightfull consequences on both sexes considered."450 These items do not exhaust the entries of special or peculiar interest, but they are entered early in the Catalogue and therefore are more likely to have been read.
Finally, and most interesting perhaps, are the items of his reading or acquaintance which are of a more literary nature — the periodicals, and such works as might go under the head of biography, poetry, and romance. There can be no doubt that he was a subscriber to and an eager reader of literary magazines; the ones with which he was familiar included all those of note in the early eighteenth century. The earliest one mentioned in the Catalogue is the Guardian (page A). Both the Spectator and the Englishman are entered early, and both are crossed. Steele is very frequently mentioned throughout the Catalogue, and on page two his Lover and the Reader (1715) has been crossed and checked. Addison's venture of 1715–1716, the Freeholder, appears on page A, and again on page two, both times crossed. Trenchard and Gordon's Independent Whig (1721) has been entered crossed on page one. We may feel almost certain that he subscribed to the London Magazine for a year at least, since not less than fourteen quotations from it appear in the Catalogue between March, 1736, and March, 1737. Notice has already been taken of how the Hampshire Ministers' Association bought the eighteen-volume set of The Present State of the Republic of Letters. Edwards perused those volumes with attention, for he has extracted some comment from almost every volume. In 1750, he quotes from the Newcastle General Magazine. Perhaps the item abstracted from it, as well as the two from the Scots Magazine of approximately the same date, came to him in a "pacquet" from one of his Scotch correspondents. So probably did the Glasgow Journal abstract of 1753. About 1754, he entered Mrs. Haywood's Female Spectator, but it stands without comment and is not crossed. From March, 1751, to January, 1754, are seven references to the Monthly Review, a scientific and literary magazine, whig and nonconformist, which would suit him well and to which I imagine he subscribed. He may have read from such diverse periodicals articles by Defoe, Arbuthnot, Bolingbroke, Swift, or Johnson. Addison and Steele were the earliest of the eighteenth-century authors for whom Edwards showed warm regard. Addison's Works he has jotted down on page three, and the only reference to drama — Cato — appears crossed on page A. Steele's Christian Hero is entered on page one. The Duke of Marlborough died in 1722, and shortly thereafter Edwards records a biography of him written by Steele.451 A very early entry is this: "the Gentlemans library and Ladies library Published by Sir Richard Steel containing rules for conduct in all Parts of life."452 He may have read Montaigne's Essays, entered on page five, and he certainly had read Halifax's Advice to a Daughter.453 Of biography, Richard Baxter's Life, Plutarch's Lives, Stanley's Lives of the Philosophers, Matthew Henry's Life of the Reverend Philip Henry are all entered and crossed; possibly he had read them all. On page twelve he makes this comment: "The Adventures of Telemachus written by the Late arch-Bp. of Cambray [Fénelon]. which Chambers says is a work never enough to be applauded under the word Romance." The entry does not suggest that he had read Telemachus, though it very clearly shows his indulgent attitude toward "romance." According to Dwight, Edwards had read Sir Charles Grandison with warm approval.454 In the Monthly Review Edwards saw advertisements of Pamela and Amelia wherein the latter is praised "as recommending virtue and conjugal Love"; and it is quite apparent that he regarded Richardson and Fielding favorably, although this is contrary to the general impression that he despised novels.455
Interesting indeed is the fact that he read no small amount of poetry. Paradise Lost, Watts' poems and hymns, Nicholas Brady's translation of Virgil, Blackmore, Quarles, Pomfret, Prior, the brothers Wesley — these are all listed and crossed off. Elizabeth Singer Rowe is quoted by Mrs. Edwards in her Narrative,456 and mentioned three times in the Catalogue. Pope's Homer and Miscellanies are also crossed off; unquestionably he had read them. Young's Night Thoughts is included, though only to be praised from an advertiser's quotation, for he evidently had not, at that time at least, read the poem. No other poets are mentioned; he seemed to have no interest in Dryden, Gay, the Philipses, Parnell, Winchelsea, Tickell, Broome, or Hughes. But they are the poets who would appeal to him least, and the striking thing is that he knew so many. It is hardly to be expected that dramatists should appear in the list.457 He nowhere mentions the literary figures in this country whose works had in their time achieved fame or attracted notice: Anne Bradstreet, Michael Wigglesworth; nor his own contemporaries, the wealthy and brilliant Joseph Green, and the "American Pope," Mather Byles, though of the two latter he might have read something, for their work appeared occasionally in the London Magazine.
What, then, are the conclusions we may draw from Edwards' reading: its extent and significance? His life spanned roughly the first sixty years of the eighteenth century — years which show a growth in colonial culture that was notably rapid. John Dunton noticed that in 1686 Boston supported eight bookstores,458 but the number of those stores does not represent necessarily a demand for general literature. Ford says that in a shipment of eight hundred and seventy-four books to the bookseller Usher in Boston in 1685, more than seven hundred and fifty were school texts and religious works, while but six represented the fields of history, biography, and travel;459 and private libraries were so rare that there were scarcely above half a dozen owners of libraries of importance in any of the colonies before 1730.460 One such was the library of Cotton Mather, who, in his Diary for October 16, 1700, speaks of acquiring new volumes, "which were now added unto my Library, that has already between two and three thousand in it."461 J. T. Adams is not optimistic of the culture attained by the people as a whole in the years near the turn of the seventeenth century, and remarks that "in the early years of the eighteenth century the people of New England touched their lowest point intellectually and spiritually."462
But as the eighteenth century progressed, the cultural life in the older settlements grew more varied and became more closely allied to the intellectual life in England than it had been in the latter part of the seventeenth century.463 During the decade 1730–1740
Young ladies were vehement novel-readers. . . . Boston booksellers were advertising Aphra Behn and Restoration comedies; Thomas Fleet sold collections with such alluring titles as The Amours of Count Pulviana and Elionera, and The Loves of Osmin and Duraxa. . . . Libraries were being founded; in 1739 three were started in Connecticut for "law,464 physick, philosophy, history, divinity, poetry, etc."465
That books were difficult to secure in the frontier towns is evident from the letters that passed between Edwards and neighboring ministers, in which they discuss borrowing and swapping them; and from the statement of Parkes that "ministers in country villages would lend out books among their parishioners."466 Even in the larger centers, the knowledge of the world of affairs did not circulate by means of local newspapers till the advent of the Boston News-Letter (1704), and this was the only paper published in the country for fifteen years.467 The material that the early newspapers used was limited to the briefest discussions of current affairs, mainly borrowed from other newspapers here and abroad. Public opinion and discussion were furthered instead by town meetings, assembly sessions, tavern talks, and controversial pamphlets. Even when newspapers reprinted from English journals, they gave little of cultural value.468 The native output of literature, whether it saw light in the newspapers or by separate publication, was limited to sermons, elegiac or commendatory poems, sporadic and still-born heroic couplets, light verse, narratives of Indian captivities, and a few histories, biographies, sketches, and memoirs.469 The opinion of America abroad, even a century later, is well known. Timothy Dwight quotes from the review of Ashe's Travels in America in the Edinburgh Review:470
In short, Federal America has done nothing either to extend, diversify, or embellish, the sphere of human knowledge. Though all she has written were obliterated from the records of learning, there would (if we except the works of Franklin,) be no positive diminution either of the useful or the agreeable.
Reading by the general public was not common in the colonies; in the frontier sections, Adams says, "education and thought declined,"471 and private libraries were the exception, even among ministers.472 A comparison of Edwards' reading, as indicated by his Catalogue, letters, and quotations, with the private libraries of the time,473 and with bookstore items,474 shows that he had neglected few authors of repute that he could have read, although, to be sure, Bacon, Browne, Burton, Fuller, Hooker, and Taylor are names Edwards did not mention; Hakluyt's Voyages are missing, and of course all drama — except Cato.475
The seven hundred books sent to Yale College in 1714 by Jeremiah Dummer476 included many items that are noted by Edwards in his Catalogue: Locke's Essay, von Helmont's Works, Newton's Principia and Optics, Whiston's Astronomical Lectures and Theory of the Earth, Gassendi's Metaphisica, Pemberton's View of Sir Isaac Newton, Raleigh's History, Steele's Tatler and Spectator, and Blackmore's Poems. In the field of pure literature, however, Dummer's contributions were rich in items that Edwards never mentioned as having examined: Cowley's Works, Chaucer's Works and Life, Milton's Complete Works, Jonson's Works, Spenser's Works;477 and the collections of books that Berkeley478 and Yale479 sent included the best of English literature from Shakespeare to Pope.480 But the difficulties encountered by Wethersfield and New Haven students who wished to get books from the Yale library (at Saybrook before 1719) must have been tedious. The Berkeley and Yale collections arrived after Edwards had graduated. These facts, together with the knowledge that Edwards' interest in pure literature was of secondary importance to him, must account for the lack of his reading background in the Renaissance classics.
Therefore what literary background Edwards as a provincial minister could have, he must get, not by casually following the taste of the community, or by reading the easily circulated books of the time, but rather only by an eager, patient, persistent effort of inquiry and intermittent reading; and that is exactly what we have observed that he did. His wide literary acquaintance would have been unusual for any colonial minister; it was phenomenal for a provincial one.
Surveying the whole range of letters, we observe that Edwards' reading was wide, and considering the size of his library, we may conclude that his reading was undoubtedly much more extensive than the evidence in the Catalogue and the references and notes in his treatises, miscellanies, and letters would suggest. Yet, broadly speaking, Edwards never became a scholar, though his tastes and instincts were definitely scholarly. His frequent attendance at commencements at Yale and Princeton, his journeys to Boston and New York, his interest in ministers' conventions, were all instigated by the desire for an exchange of ideas and by a wide-awake search for news of the learned world. Like Franklin, he had a genuine thirst for knowledge, and his tireless quest for a new interpretation of half-understood phenomena was fully as intense and original. The imaginative genius of Edwards and Franklin differs in that Franklin turned all his myriad-faceted interests to utilitarian use, whereas Edwards discarded all elements of knowledge that could not be applied directly to the spiritualizing forces in man. Or to shift the figure, he tried to adjust the spokes of his knowledge so that they should radiate from one hub — the human soul. In his magnificent and single-purposed plan to war upon hypocrisy and moral sloth, to exalt man's infinite capacity for greatness by contrasting it with man's spiritual failures, he seems more akin to Swift than to Franklin; and in his effort to stir and enrich the soil around the spiritual roots of America, he was indeed, as has been recently so ably pointed out,481 far more radical than we had imagined. Yet the brighter light that we throw on him serves also to mark in bold relief his heavier features. One of the greatest of the many tragedies in Edwards' life is strikingly seen in his refusal or failure to use with any breadth of application the full power of a mind that had the rarely coupled talent for keen observation and philosophical synthesis. Of all the Americans of his day — perhaps of any day — none had more notable natural endowments for pure scholarship or a more original metaphysical mind, yet none has left monuments so crumbled and overgrown. One cannot refrain, in conclusion, from pondering what this intellectual arm might have accomplished of permanent value in other feats had it not been so tightly bound by theological dogma.
Mr. Allyn B. Forbes communicated a note on
Commentators on the development of scientific thought in this country in the colonial period point with justifiable satisfaction to the group of seventeenth- and eighteenth-century Americans who were honored with membership in the Royal Society. At the same time it is occasionally intimated that the Society in some instances showed a possibly unwarranted enthusiasm in the choice of its American members. The latest writer on this subject, Mr. Frederick E. Brasch, is particularly troubled about the cases of William Brattle and John Leverett.482
Mr. Brasch's difficulty with Brattle arises from the fact that he considers Thomas Brattle the one of that family to whom the honor would have come more deservedly. William Brattle, he says, "had no claim or contribution to offer in return for the honor which posterity has ascribed to him," unless it were that he was "the founder of the modern philosophical school, established in Harvard in 1690." Indeed, before he gets through with the subject, Mr. Brasch appears to doubt whether the younger Brattle was ever a Fellow of the Royal Society at all. To be sure, the election is mentioned in the Society's records, but it is suggested that in a time of "uncertain printers or proofreaders, or, possibly, secretaries" this may have been a misprint for Thomas Brattle, for whom he tries to build up a case for an election to the Society between 1689 and 1692. Mr. Brasch ends by referring to "the period in which the Brattles483 are reputed to have been elected fellows of the Society . . . ."
He does not get himself so badly entangled when he considers the case of President Leverett. He merely says: "What reason the Royal Society had for conferring in 1713 a fellowship on Leverett is not known, except possibly for his high standard both as a leader at the bar and in scholarship and administrative power. This seems somewhat unusual at that time, since Leverett had made no particular contribution to science in the colonies."
Whatever legitimate mystery there may be as to why these two men should have received such recognition is cleared away by a letter from Henry Newman (H. C. 1687) to John Chamberlayne, F. R. S., with whom Newman, himself a man with active scientific interests,484 had been thrown into close contact from the time he had first come to London to live.485
Whiteh[all] 23d Novr 1713.
Mr Chamberlayne
Sir
In obedience to yr Commands I shall heartily recommend it to Mr Thos. Brattle's Executors in N. Engld to bestow his mss. relating to Astronomy, Musick and other parts of ye Mathematicks on the Royal Society but I have been thinking that the Request will go with the better Grace if the Society be pleas'd to choose his Learned Brother Willm Brattle the Minr of Cambridge in N. Engld to be a fellow of their Illustrious Body, he being I believe chief if not ye only Executor yt Mr Brattle has left. And because he may not be alone in such a complemt I would humbly propose that the Learned Presidt of Harvard College at Cambridge John Leverett Esqr who is his Cotemporary may be also admitted to that Honour. Both these Gent, are ye 2. Great Luminaries for Learning in that Country, and will I am sure in that Capacity reflect honour upon the Society because to my Knowledge they have many years since perus'd with delight their Transactions & recommended 'em to their Pupils as the best standards of Natural Philosophy now extant. I submit it to you whether you will mention this to the Honble Society & am wth great respect
Sr
[Henry Newman]
While it is impossible to prove that these suggestions were original with Newman, it is a significant fact that the elections followed on March 11, 1713/4. Newman may thus well have felt that he had repaid these two men some small measure of his obligations to them, of which he was keenly conscious as long as he lived.