APRIL MEETING, 1932
A Stated Meeting of the Society was held, at the invitation of Mr. James P. Baxter, 3rd, at Apthorp House, Cambridge, on Thursday, April 28, 1932, at half after eight o'clock in the evening, the President, Samuel Eliot Morison, in the chair.
The Records of the last Stated Meeting were read and approved.
The Corresponding Secretary reported the death of William Wallace Fenn, a Resident Member, on March 6, 1932; of Frederick Jackson Turner, a Corresponding Member, formerly a Resident Member and President of the Society, on March 14, 1932; and of Edward Percival Merritt, a Resident Member, on April 16, 1932.
The Corresponding Secretary reported the receipt of letters from Mr. Clifford Kenyon Shipton, accepting Resident Membership, and from Mr. Walter Goodwin Davis and Mr. Max Farrand, accepting Corresponding Membership.
The President appointed the following Committees in anticipation of the Annual Meeting:
To nominate candidates for the several offices,—Messrs. Alfred Marston Tozzer, James Phinney Baxter, 3rd, and Frank Brewer Bemis.
To examine the Treasurer's account, — Messrs. Nathaniel Thayer Kidder, Matt Bushnell Jones, and Richard Ammi Cutter.
The Council recommended for adoption by the Society the following amendments to the By-laws:
Chapter II, Article i, paragraph 1, to be amended to read as follows: The number of Resident Members of the Society shall not exceed One Hundred. They shall be elected from among residents of Massachusetts, i. e., those who have a usual place of residence or business in the State. The number of Corresponding Members shall not exceed Fifty. They shall be elected from among non-residents of Massachusetts. The number of Associate Members shall not exceed Ten. They may be elected from residents or non-residents of Massachusetts.
A Resident Member shall be transferred by the Council to Corresponding Membership, if he ceases to have a place of residence or business in Massachusetts; and a Corresponding Member may be transferred by the Council to Resident Membership if he acquires a place of residence or business in Massachusetts.
Chapter II, Article 7, to be expunged.
These amendments were unanimously adopted by the Society.
Mr. Charles Eliot Goodspeed communicated the following paper:
The following letter is printed in the Boston Gazette, and Country Journal of Monday, September 24, 1759:
To the Publishers of the Boston-Gazette, &c.
Messi'rs Edes and Gill,
It being my lot to be plac'd in a small parish within this province, where the poverty of the people prevents their hiring persons to teach the children any other Books than those which is chiefly the business of a School-Mistress: I have to my great surprize, discovered lately several things which may have a bad tendency, that has crept into the New-England Primer. And altho' it may be look'd upon by many at first view, a trifling affair, yet, with reference to the little tender ones who are to receive the first information of their duty to God and man from that little book; in my humble opinion, cannot be tho't so by those, who have a due regard for their offspring. — What I principally intend to take notice of, are the little Pictures, beginning with Adam's Fall, and ending at Zaccheus climbing the Tree: Which I suppose were at first put in for some good purpose, to make children more intent on their book, it being a good means for that end: If this was not the Design, it would be difficult to give a good reason why they are inserted. These little Pictures go thro' with the alphabet, and against each letter there is a representation, with two lines of verse to interpret them: But I remember a few years ago the late Rev. Mr. Prince of Boston, thinking some of them too trifling, had many of the lines with pictures alter'd to something of more importance, which was tho't to be for the best; for instance, — instead of the Cat doth play, and after slay against the letter C, it was a representation of the crucifixion of Christ, with these words, Christ crucify'd, for Sinners dy'd: But to my great surprize, these new pictures have now the old verses against them; and thus the representation of our blessed Saviour's going to the cross, when darkness was over the whole earth, has for its meaning the destruction of mice by a cat: What! Are the children to be told that the death of their Redeemer is of no more importance than the death of a mouse! Which is the consequence if there be any thing in the representations — This is certainly the worst of them, for which reason, it being so shocking, that I am obliged to disfigure the picture with my pen, as much as if it was a Graven Image. Some other representations are very ridiculous, which if you have room you may insert, to shew their folly. I shall put them as they stand alter'd in the alphabetical order — omitting those letters, which are agreable to the old primers — Letter D, is the representation of the deluge, with these words, a Dog will bite a Thief at Night. E represents Elijah in a cave, fed by the ravens; and has for its interpretation, The Eagle's Flight is out of Sight. F represents Felix trembling at St. Paul's preaching; with this interpretation, The idle Fool is whip'd at School. When we come to K, it represents the rebellious Korah and his company swallowed by the opening of the earth, and this has for meaning, Our King the Good, no Man of Blood: As for the King, I cannot tell who it must mean; but certainly it does not deserve to be in a Book, which is to be taught the children of the Loyal New-England People. — L represents Lot running from the destruction of Sodom; with this interpretation, The Lyon bold, the Lamb doth hold. M represents Moses leading the children of Israel thro' the Red-Sea; and has against it, The Moon gives Light, in Time of Night. N represents Noah viewing the new world after the deluge, and has against it, Nightingale's sing, in Time of Spring. — O represents three young pious men, as Obadias, &c. and has against it, The Royal Oak it was the Tree, &c. R represents pious Ruth following Naomi, and has against it, Rachel doth mourn for her First-born. S represents Samuel at Prayer, against it, Samuel anoints whom God appoints. T represents a young man running away from — what I cannot tell, but was design'd for sin, and has the looks of it, being without body, and an odd figure to be sure it makes; against it is, Time cuts down all, both Great and Small. — V represents Vashti for her pride being set aside; — the interpretation is, Uriah's beauteous Wife, made David seek his Life. The other alterations are immaterial: — I would now ask, What parent would chuse to let their children be instructed in things so erroneous, as some of the above, and neglect troubling themselves, with what is taught them? — Surely it is of great concern, if they prize a good education: — As for the occasion of this imposition, I am ignorant; whatever it be, it ought to be inquired into, and a stop put to it; or perhaps we may still be further imposed on; and soon have fixed over, The Picture of the Man with Spears, The Pope or Man of God,566 and so many Virtues pointed to, as there are Spokes: Nay, they may still go further, if this is allowed in, and give us the title page of the Spelling-Book and Psalter, and the same book contain part of the mass-book, with prayers to the virgin Mary and other saints. But I hope, by your publishing this, it will be a means of preventing any farther designs, and put a stop to those that have gone so far already. I send it to you, as I have not found any erroneous Primers with your name thereto, and hope for the Benefit of the rising generation, you will not omit publishing this, however your business may be incommoded by giving offence, to any of your brother Printers, or book-sellers. — A parent of one of my pupils, informed me, That altho' Mr. S. Kneeland's Name was in the title page of these erroneous Primers; yet he knew from the character that good Gentleman sustained in Boston, he could not be guilty of such a base method to get off his books; but that some young men of that Name in his office, whom he understood the fraternity of book-sellers had set to work, must have done it; whether thro' ignorance or design he could not tell; but however it be, should be glad you would advertise where the Good Primers are to be sold, and whenever the other is published, to advertise that by the name of, The Wicked Primer.
Your's, &c.
A Child's Instructor.
Sept. 11. 1759.
This letter discloses two facts in the history of the New England Primer. The first concerns the major changes in its best-known feature, the alphabetical rhymes. In the earliest edition known to exist, printed in Boston in 1727 by S. Kneeland and T. Green, thirteen of the verses are of a secular nature:
The Cat doth play

The Lion bold

And after slay.

The Lamb doth hold.

A Dog will bite

The Moon gives light

A Thief at night.

In time of night.

An Eagles flight

Nightingales sing

Is out of sight.

In Time of Spring.

The Idle Fool

The Royal Oak it was the Tree

Is whipt at School.

That sav'd His Royal Majestie.

As runs the Glass

Time cuts down all

Mans life doth pass.

Both great and small.

Our KING the good

Xerxes the great did die,

No man of blood.

And so must you & I.

Youth forward slips

Death soonest nips.
Paul Leicester Ford, after mentioning some "haphazard" changes in these verses made at various times, writes:567
. . . but a more sweeping alteration was made between 1740 and 1760. As originally written, many of the verses had a decidedly mundane quality, and so some New England writer or printer undertook within that period, to evangelize those lines which had an earthly tendency.
It may be added that some of the verses originally of Biblical character were also altered, and, at least in the edition of 1761, which is the issue of the nearest date to 1759 to which I have access, the text of some lines which correspond in subject with those in the edition of 1727 has been changed. From the letter which I have read, the author of the changes to which Ford refers is shown to have been the Reverend Thomas Prince, and the date of the alterations not later than 1759. They were probably made after 1750, as in two issues of the latter date the secular lines are found.568
The second bit of information which "A Child's Instructor" gives is that an issue of the Primer had appeared in which some of the old cuts were used with the new verses. We can scarcely agree with the suggestion, quoted by the writer from the parent of one of her pupils, that this freakish combination was made in the printing office by design, as no motive appears. The disclaimer of any suspicion of Samuel Kneeland as the responsible party is followed by the suggestion that the work must have been done by "some young men of that Name in his office . . . whether through ignorance or design" she could not tell. It seems probable that the young men here referred to were Daniel and John, two of Kneeland's sons, who were at that time employed in their father's office. It is a matter of some interest in this connection that for several years they had been employed in pirating Ames's Almanacs at the instigation of competitors of the rightful printers. Thomas says that about 1759 John Draper, the printer of Ames's Almanac, formed a connection with Green and Russell and T. and J. Fleet for its publication and that they "were not disposed to supply booksellers as formerly." He adds:569
The booksellers, immediately on the publication of the Almanack, had it reprinted; and soon after a number of the principal of them set up a printing house for themselves and engaged Daniel Kneeland and John, his brother, to conduct it for them, under the firm of D. & J. Kneeland. The Kneelands continued to print for these booksellers several years, in part of the building occupied by their father as a printing house; after which some difficulty arising, the booksellers put a stop to their press, and divided among them the printing materials.
From the foregoing, it seems a plausible conjecture that the reference in the letter to Kneeland's sons may have been made at the instigation of other printers who, for the reasons just given, were ill-affected towards them.570 This surmise finds a slight confirmation in a mention of "wicked Primers and erroneous Almanacks" made at the close of a letter from another correspondent to the Boston Gazette, and Country Journal, over date of October 28, 1759, but printed in the issue for December 17 of that year. This communication is reprinted in full, for although its matter is largely extraneous to our subject, it is interesting in illustration of the untrammeled thought of the time on matters both orthoëpical and theological:
Sirs,
I am a plain honest Countryman. — I can read my Bible and other good Books; and when I fall in company with any of my own Townsmen, I am able to bear a Part in the Conversation. But there have lately come to live among us several polite Gentlemen from Boston; with whom if I ever chance to be present, I can scarcely understand them. I think by endeavouring to embellish our Language, they spoil it by their newfangled Words, and by altering the Pronunciation of other Words. And our Minister who is very desirous of appearing to the best Advantage, forsooth must take it in his Head to adopt some of their pretty Words of the new Pronunciation. In a Sermon not long since, he told us, That "by the Light of Naichur only we might form a compleat Susetem of Morality; and that tho' some of the ancient Philosophers were involved in Skepticism, yet" &c. After Service I took the Freedom to ask one of our polite New-Comers, and was not a little surprised when he made me understand the Meaning. According to this Way of pronouncing, Why not Sumepathy, Sumptom, Sunod, for Sympathy, Symptom, Synod? Why not deskend instead of descend? Why not Skepter instead of Sceptre?
I was reading an old Gazette of yours the other Day, where mention was made of an Aid de Camp of General Forbes's being dispatched with Orders to an Officer to proceed with his Detachment towards Fort Du Quesne: and because I read like an Englishman, I was laughed at by one of these Boston Gentlemen who was sitting by; and he mended the Matter, as he tho't, by calling the first-mentioned Officer's Title an Aidecong, and the Name of the Fort Du Cain. He might be right for ought I know, — but what I was going to observe from this was, that if I deserv'd to be blamed for calling these outlandish Words wrong; What do they deserve, who while they are so solicitous that the French Language may be preserved pure, are spoiling plain English?
In a Letter you printed lately, the Writer tells his Friend, "We hear that General Amherst was to set off from Crown Point as last Thursday." What Need of the Word as? I mention this, because that many People affect to talk as well as write in this quaint Way. But the Speech of Ashdod571 prevails in too many Instances to be here mentioned.
But this is not the worst as to our Town. — Our Minister, as I told you before, is fond of appearing fashionable. In his Preachments therefore, instead of the Word Holiness we have Virtue; for Affliction, Misfortune; and instead of such holy Language as the Apostle uses — if the Lord will I shall do thus and so, a heathenish perhaps is substituted. In the Description of a converted Man we used to hear of his heavenly Temper, of his Love to Acts of Devotion, of the Joys of Religion arising from the Witness of the Spirit — Now he describes the converted Man (tho' by the Way he seems in a great Measure to have left off using that Term) as one that is fair and honest in his Dealings, and is kind and generous to the Poor — and this partial Account of him is all we have — Not a Word of being being [sic] pious towards God, or temperate, sober and chaste with Regard to himself. — Benevolence seems to be a darling Word with him. He told us last Sabbath, that "an honest, benevolent, charitable, or in a Word, a downright upright Man, need not be afraid of Death." For my Part I believe he is turned a downright Arminian. I greatly suspect he is the Author of the little Piece intitled A Winter Evening's Conversation,572 and some other bad Books. I am the more confirm'd in this, because as I have Reason to think, his Bible is not like other Ministers Bibles. He has lately bought a new Quarto Bible, a beautiful London Impression, as he told me, with the Apocraphy and several other Things in it, which I think might as well have been left out. I took it up the other Day at his House, and by Chance opened [at] the CXLIXth Psalm; where the Contents immediately before it are in these Words — The Prophet exhorteth to praise God for his Love to the Church, and for that Power which he hath given to the Church (underlined in italics) TO RULE THE CONSCIENCES OF MEN. I immediately shut it up, not daring to look any further, fearing it was all of a Piece. I went directly home, and on looking over my own, (an Edinburgh Impression,) I found no such Popish Doctrine. — Strange that there should such Words be suffered to be in a Bible! But our Minister did not seem to like it the worse for it. I have been told by Men of Reading, that formerly when the Arminian Doctrines were amost universally preached in England, the Nation never was in so much Danger from the Increase of Popery; and that Arminianism and Popery always went Hand in Hand. Heaven preserve our Parish from Popery! You were so good as publickly to warn People against purchasing wicked Primers and erroneous Almanacks — Pray desire all that go to buy a Bible, to turn to the CXLIXth Psalm before they purchase it. Now we are in so good a Measure delivered from the Fears of our antichristian Enemies, if Popery should be bro't in by our pretended Friends, it would be shocking.
I had almost forgot to tell you, when speaking of our Minister's public Performances, that he has not said a Word about the Devil, or so much as mentioned his Name for these two Years. — What can be the Meaning of this Silence? We used frequently to hear of his Wiles and Stratagems. — But, Sirs, I fear this Omission is owing to Design, and that we are in more Danger of the Devil than ever, tho' we are not so often warned of our Danger. I have a thousand other Things that lay with Weight on my Mind, but have not Time now to mention them. You see I have written freely to you, you may freely publish what I have written to the World.
Your's
Z. A. Y. B.
October 28, 1759.
Having already suggested that an animus towards Daniel and John Kneeland might have been in the minds of the writers of both of these letters, I take one more step in the dubious field of conjecture. In the last letter quoted, the writer desires "all that go to buy a Bible, to turn to the CXLIXth Psalm before they purchase it." It is at least a matter of curious coincidence that Samuel Kneeland (in partnership with Timothy Green) should have pirated a quarto edition of the Bible under a London imprint less than ten years before.573 If, as is probable, there were unsold copies of this Bible in 1759, is there a possibility that it was his edition against which buyers were warned? May this be evidence of another attack on the Kneelands from the source previously mentioned? I offer these queries as matter for consideration.
The starting-point of this paper574 is an attempt to identify a two-page leaflet, here reproduced in facsimile, which is among the Prince Collection in the Boston Public Library. The text of the leaflet reproduces a public act of the University of Franeker in Friesland in the year 1617, conferring upon Thomas Parker (1595–1677), who subsequently became the first pastor of Newbury in Massachusetts, the degree of Master in Philosophy and of Liberal Arts. This degree was equivalent to the English Master of Arts; for in Continental and Scottish universities the Faculty of Philosophy corresponded to the Faculty of Arts at Oxford and Cambridge; the Ph.M. was simply the M.A. writ large, and the Ph.D. writ small.575
Thomas Parker, a Puritan worthy who passed the last forty-three years of his life in the frontier settlement of Newbury, enjoyed the most varied academic education among the 130 or more university alumni who came to New England in the Great Emigration.576 Alumnus of no less than four universities, he precipitated a controversy which agitated theological circles in the Netherlands and Germany. He was the only son of that famous Puritan divine Robert Parker, who is regarded as one of the founders of Congregationalism.577 Born on June 8, 1595, at Newbury, Berkshire, whither his father had retired after giving up a fellowship at Magdalen College, Oxford, his education probably began in his father's study. Cotton Mather writes:578
He had been admitted into Magdalen Colledge, in Oxford; but after the Exile of his Father, he removed unto Dublin, in Ireland; where he found from Dr. Usher the same favourable Aspect, which that eminent Person did use to cast upon young Students that were ingenious: And from thence he went after his Father into Holland, where Dr. Ames favoured him with his Encouragements and Assistances, in the Prosecution of his honest Studies now at Leyden.
Mather confused the order of events. Robert Parker crossed to Holland in 1607 in order to avoid prosecution before the Court of High Commission for his Separatist activities, and settled at Leyden. Thomas, who was then twelve years old, probably accompanied or shortly followed his father to the Low Countries, and had a part of his grammar-school education there. The first record of his matriculation in any university is at Trinity College, Dublin, in Michaelmas term, 1610.579 At that time Dr. James Ussher, the future Primate of Ireland, was fellow and professor of divinity at Trinity College. Thomas Parker may well have been placed under his tutelage, as Cotton Mather suggests. Instead of taking a degree at Dublin, Parker proceeded to the University of Oxford, where he matriculated on April 23, 1613.580 Lacking other evidence, we may accept Cotton Mather's statement that Parker's college was Magdalen, where his father had taken his degrees and held a fellowship.581
Thomas took no degree at Oxford. Robert Parker died at Duesbert in the Netherlands in 1614. Presumably Thomas was recalled to Holland by his mother, for on July 15 of that year "Thomas Perkerus Anglus," aged 20, registered as a student of theology in the University of Leyden.582 Cotton Mather states that he was there encouraged and assisted by Dr. William Ames, his father's friend and companion in exile, who at that time was regent of the Staten-College for theological students in the University of Leyden.583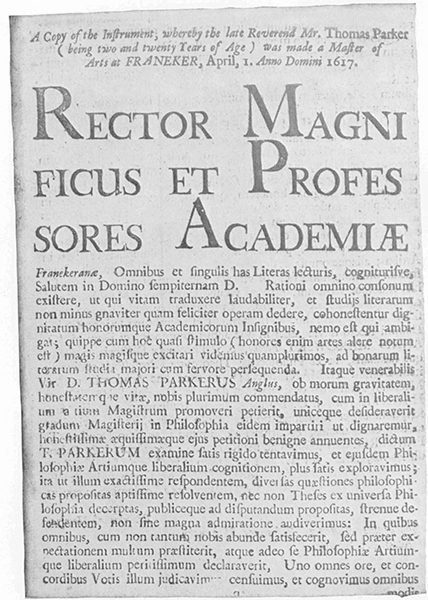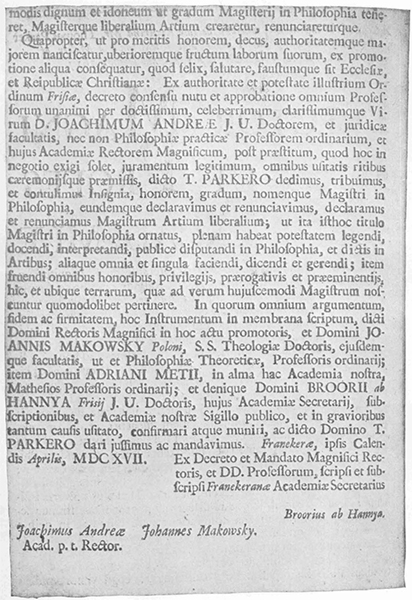 Once more the young Englishman changed universities before taking a degree. Possibly some difficulty arose, because in all his academic wanderings Thomas had received no arts degree, a prerequisite for proceeding to the baccalaureate or doctorate in theology at most European universities. Perhaps it was easier to obtain this prerequisite at Franeker. In any case, the next trace we have of Parker is the record, on this unique imprint, of having taken the degree of Master in Philosophy at the University of Franeker on April 1, 1617. Cotton Mather must have seen a copy of this imprint, or the original diploma; for he quotes from it in the Magnalia.584
It will be noted that the first academic dignitary, after the Rector, who attests Parker's degree, is Johannes Makowsky, Polonus, S.T.D., Professor of Theology and of Theoretic Philosophy. Jan Makowsky (1588–1644) or Maccovius, as he is generally called, was a Polish Protestant of noble family, who professed theology in the University of Franeker from 1615 to 1644.585 He was active, quarrelsome, and given to overindulgence in drink, which appears to have been a prevailing distraction at Franeker. A contemporary reports the students there as "Sacrificing to Bacchus, fighting, and . . . provoking one another to duels. . . . To Franeker I shall go, where the beer is praiseworthy as the wine is cheap, and the company so delightful that I shall spend all my money on conviviality.586
If Parker participated in these student revels, we know naught of it. His recorded distinctions at Franeker are of a more strictly academic nature. About the time of taking his degree, he published seventy theological propositions or theses which aroused tremendous excitement.587 Supralapsarian in character, they were considered of a highly dangerous tendency. Sibrandus Lubbertus, colleague and rival of Maccovius, made Parker's theses the occasion of a violent attack on the learned Pole, who had been Parker's particular teacher, and had moderated the disputation in which he defended the theses. Hostility between these colleagues had long been smouldering; and there now broke forth an academic altercation which took on the nature of a public dispute. Lubbertus, in a letter to the classis of Franeker, declared that Parker's theses contained no less than fifty errors, which were worse than the heresies of Arminius; he compared them with certain theses defended by Maccovius on former occasions, and with students' notes of Maccovius' lectures. Before long the Provincial Deputation (the executive council of the Estates of Friesland) received a letter from the Faculty of Theology of the University of Heidelberg, bitterly complaining of Parker's theses as filled with errors, novelties, and ambiguous propositions. They demanded that the government investigate the University of Franeker and see to it that all such false doctrines be eradicated and their teaching forbidden. The Provincial Deputation took this charge seriously, and appointed a committee to look into the matter. The committee issued a report acquitting Maccovius of heterodoxy, especially of Socinianism, Gentilism, and Pelagianism.
The alarmed theologians were not satisfied, and the next year Parker's theses were taken up by the famous Synod of Dort. The initiative came from David Pareus, the eminent theologian of Heidelberg. Diodatus of Geneva regarded the question as a domestic one that should be dealt with by the Dutch alone; but the Synod appointed a committee, including two Dutch and two foreign theologians, and two ministers not members of the Synod. The now famous Theses of the young Englishman were bitterly attacked by Lubbertus and stoutly defended by William Ames. This was not merely out of friendship for the young man, but because Ames was of the same Neo-Scholastic school of thought as Maccovius; the other Dutch theologians, it appears, had got beyond Scholasticism, and considered that way of thinking outmoded and papistical.588 Ames declared that there was only one theological error in the theses; the rest were grammatical and rhetorical, and the Synod should not stoop to condemn mere mistakes in grammar.
On April 20, 1618, the Committee of the Synod handed in its report on what they called the "causa Maccoviana." Again Maccovius was acquitted of Socinianism and divers other heresies; but they deplored his usage in the theses of "certain ambiguous and obscure Scholastic phrases, which Scholastic method of teaching he presumes to introduce into the Belgian Universities, and he must be warned to speak with the Holy Spirit, and not with Bellarmine and Suarez."589 The Synod accepted this report, and the matter was officially settled; but it was many years before theologians ceased to bandy words over young Thomas Parker's Theses Theologicæ de Traductione Hominis Peccatoris ad Vitam.590
Parker in the meantime had been almost forgotten. According to Cotton Mather, he intended to be ordained in Holland, but was put off through the hostility of Lubbertus; and although Maccovius obtained an order from the Estates that the ordination should proceed, Parker decided to return to his native place as schoolmaster. He also assisted Dr. William Twisse, the then minister of Newbury. For a time Parker studied Scholastic theology, but gave it up as spiritually unprofitable, although intellectually gratifying.
In 1633/34, Parker emigrated to New England in the Mary and John with a number of families who settled at Ipswich, where for a year he assisted Nathaniel Ward, the "simple cobler of Agawam." In 1635, with his cousin James Noyes and his nephew John Woodbridge, he founded the adjoining settlement of Newbury, Parker becoming pastor and Noyes teacher of the church. Despite his early training, Parker leaned toward Presbyterianism, which was not agreeable to his flock, who were nevertheless devoted to him personally.
Parker never married, but lived with his colleague. "There was the greatest Amity, Intimacy, Unanimity, yea, Unity imaginable between Mr. Parker, and Mr. Noyes," wrote Nicholas Noyes, a nephew to both.591
So unshaken was their Friendship, nothing but Death was able to part them. They taught in one School; came over in one Ship; were Pastor and Teacher of one Church; and Mr. Parker continuing always in Celibacy, they lived in one House, till Death separated them for a Time; but they are now both together in one Heaven, as they that best knew them have all possible Reason to be perswaded.
Noyes draws a charming picture of Parker in his old age, as a grave and kindly old bachelor who loved to sing psalms, who prepared boys for Harvard, putting them through Latin, Greek, and Hebrew grammar without the use of the rod "unless for Lying and Fighting, which were unpardonable Crimes in our School"; who spent his spare time in writing interpretations of Bible prophecies;592 and in the end "scarcely called anything his own but his books and his cloaths." He was much disturbed by his sister in England becoming unorthodox, and in a letter to her which was printed at London in 1650, with an introduction by Benjamin Woodbridge, he declares: "Your printing of a Book, beyond the custom of your Sex, doth rankly smell; but the exaltation of your self in the way of your Opinions, is above all."593
Thomas Parker died at Newbury on April 24, 1677. Presumably the Franeker diploma, "in membrana scriptum," was found among his effects, and was printed in Boston by someone who was especially interested in the patriarch of Newbury. It has been suggested that the text might have been printed in the Netherlands in 1617, and the heading added after Parker's death on some surviving copies. But Dr. P. C. Molhuysen, Librarian of the Royal Library at the Hague, writes me that it was not customary for recipients of degrees in Dutch universities to have their diplomas printed, at least not before the nineteenth century; that he has never seen a printed copy such as this, and that the typography proves that this was not printed in the Netherlands. Our one surviving copy got into the hands of that indefatigable collector of New England items, Thomas Prince; and by him was preserved in order that posterity might know the academic distinctions of Thomas Parker.
Mr. Albert Matthews read a paper entitled, "Benjamin Franklin's Alleged Daughters."