1728–1758
BY tradition, the first Marblehead resident was a man named Dolliber who spent his first winter living in a hogshead. The area of more permanent settlement was in the vicinity of Little Harbor, a sheltered cove protected by two, high, wooded islands under the lee of the northeast headland of the Great Harbor. A few small fish houses may have predated even Dolliber's hogshead inasmuch as Marblehead may well have been a seasonal English fishing and curing station from the earliest years of the seventeenth century. Gradually, from the 1630s, the settled area spread out. One arm wrapped around the shore to the north and west past Naugus Head to a point ultimately known as "Ferry" by virtue of the landing there for the Marblehead terminus of a Salem-Marblehead ferry. The other arm, reaching down in the opposite direction to the low granite cliffs of the Great Harbor, probably took longer to grow, but it was here that the early town put down its permanent roots.
Unlike Salem to the north and Boston some fifteen miles southwest across Massachusetts Bay, those who came to Marble Harbor, Marvil Head, or Marble Head, as it was variously called, were mostly fishermen. They appear to have come from Cornwall, Devon, Dorset, and the Channel Islands, as well as a few from the coastal fishing ports of Normandy and Brittany. They were generally regarded by their pious brethren in the neighboring settlements to be crude, un-Christian, and Godless.
Bowens came to Marblehead during the second quarter of the seventeenth century. One of them, Tom, attained notoriety for the establishment, of which he was the proprietor, on the Salem Harbor side of the Marblehead peninsula. Tom Bowen's "Church" was a seven-day grogshop, unmindful of Puritan blue-laws and, consequently, well frequented. These early Marblehead Bowens, nevertheless, were not related to Ashley by common ancestry, although by his time everyone in Marblehead was related to everybody else three or four times over.
Ashley Bowen's ancestors came from Swansea in Wales. The first to appear in New England was Richard, who settled at Rehoboth, Massachusetts Bay, in 1640. He and his descendants all sired enormous families, offshoots of which soon began to drift all along the Atlantic seaboard from Nova Scotia to Virginia. One of Richard's numerous great-grandsons was Nathan, father of Ashley. His branch had entrenched itself in the environs of Rehoboth where several attained sufficient local influence to represent that town for a number of years at the Great and General Court in Boston.
Nathan Bowen was born at Rehoboth on 4 April 1698 (O.S.). Eventually, it is believed, he became a clerk for a Boston merchant, possibly James Bowdoin, a circumstance which helps to account for his acquaintance with the Hallowell family of Boston and his subsequent marriage in 1719 to Benjamin Hallowell's granddaughter, Sarah Ashley. Nathan Bowen, for reasons best known to himself, removed to Marblehead the previous year, 1718. He was to remain there, a formidable personage, almost to his death in 1776, by which time divided loyalties had caused him to flee from the coast into the hinterlands of Essex County.
At the time of his arrival in Marblehead, the town, under the prodding of the Reverend John Barnard, was beginning to emerge from a long history of commercial lethargy and indifference.
[In 1714] When I first came [Barnard said] there were two companies of poor, smoke-dried, rude, ill-clothed men, trained to no military discipline but that of "whipping the snake," as they called it; whereas now [in 1766] and for years past, we are a distinct regiment, consisting of seven full companies, well clad, of bright countenances, vigorous and active men. . . . When I came, there was not so much as one proper carpenter, nor mason, nor tailor, nor butcher in the town, nor any thing of a market worth naming; but they had their houses built by country workmen, and their clothes made out of town, and supplied themselves with beef and pork from Boston, which drained the town of its money. . . . And, what above all I would remark, there was not so much as one foreign trading vessel belonging to the town, nor for several years after I came into it; though no town had really greater advantages in their hands. The people contented themselves to be the slaves that digged in the mines [the fisheries], and left the merchants of Boston, Salem, and Europe, to carry away the gains; by which means the town was always in dismally poor circumstances, involved in debt to the merchants more than they were worth; nor could I find twenty families in it that, upon the best examination, could stand upon their own legs; and they were generally as rude, swearing, drunken, and fighting a crew as they were poor. . . . I therefore laid myself out to get acquaintance with the English masters of vessels, that I might by them be let into the mystery of the fish trade, and in a little time I gained a pretty thorough understanding in it. When I saw the advantages of it, I thought it my duty to stir up my people, such as I thought would hearken to me, and were capable of practising upon the advice, to send the fish to market themselves, that they might reap the benefit of it, to the enriching themselves, and serving the town. But, alas! I could inspire no man with courage and resolution enough to engage in it, till I met with Mr. Joseph Swett, a young man of strict justice, great industry, enterprising genious, quick apprehension and firm resolution, but of small fortune. To him I opened myself fully, laid the scheme clearly before him, and he hearkened unto me, and was wise enough to put it in practice. He first sent a small cargo to Barbadoes. He soon found he increased his stock, built vessels, and sent the fish to Europe, and prospered in the trade, to the enriching of himself; and some of his family, by carrying on the trade, have arrived at large estates. The more promising young men of the town soon followed his example; that now we have between thirty and forty ships, brigs, snows, and topsail schooners engaged in foreign trade.
Throughout Marblehead's transition from a simple fishing village that had begun not only to nurture its fishing fleets but to cultivate its overseas trade, Nathan Bowen's stature was also increasing. His rapid rise to prominence is difficult to account for unless it was because he was becoming well known throughout the Province as the author of The New-England Diary, Or, Almanack. Written in Marblehead, and during at least part of its seventeen- or eighteen-year life printed by Thomas Fleet in Boston, he commenced the undertaking in 1721 inasmuch as his "editorial" for the issue of 1737 states that this was his "Seventeenth Essay of this Kind." He was then in competition with Nathaniel Ames, who, about 1729, took Bowen to task for some of his astronomical calculations.
I have once more ventured into the World [Bowen wrote for the Almanack of 1730], notwithstanding a Repulse I met with the last Year from a Young Stripling, who under the Influence of Mercury, gave his Pen a Latitude beyond that of his Beard; but let him know, That tho' he hath so great a virtue for the Merits of his own performance, were I disposed to pick holes in his Coat, I should leave him in a ragged Condition. . . .
Within a very few years of his settlement in Marblehead, Bowen became a Notary, then Justice of the Peace, and, with cap-touching deference, was called "Esquire." He must have been possessed of an intransigent personality. Upright, according to his own lights, he was uncompromising, feared, and respected. In the course of his duties as Justice of the Peace, he sat in judgment on an infinite variety of civil and petty criminal complaints. He evidently believed in the philosophy that it takes two to make a fight, because more often than not both defendant and plaintiff ended up guilty, subject to fines, costs, and judgments for the King.
His daughter Elizabeth accused him once of being too much involved with the things of this world to spare time or give affection to his family. One senses the same, somewhat resentful, feeling throughout Ashley Bowen's writings. Nathan Bowen was almost beyond reach, a lofty, righteous, godlike figure to be viewed from afar.
When Ashley's mother died as a result of childbirth, his father lost no time remarrying and placing his eldest children in situations from which they could cause him the least amount of trouble or responsibility. Thus, Ashley, at the age of thirteen, was apprenticed to the sea. For the next two decades he was intimately caught up in the passions of conflict between England and France. His experiences were to mold his way of thinking for the remainder of a long life.

1728 According to my father's statement of matters, I was born on the 8 of January this year in a house that he and one Cogswell built that the late Thomas Bartlett, painter, owned not far from the brick ponds in Marblehead the first year of King George the Second.1
1739 In March the snow Marblehead, Captain Staly, was cast away on Ipswich beach, the captain lost, &c.2 This summer, as my father taught the art of navigation, Captain Edmund Gale's son Edmund and Mr. John Waldron, Mr. James Smith, and Mr. John Stone came to learn the art of him, and by that means I got so much acquainted with them that they would persuade my father to let me go to sea with them, and they carried it so far as to get Captain Gale to speak to my father, and he concluded to let me go with them. The snow [Diligence] was built and taking in her load of fish at Boston bound for Bilbao, as then it was a time of peace with Spain. And parents made preparation for me to go the voyage, and on the 24 day of September I sailed for Boston, and the same day arrived at Boston His Majesty Ship Tartar Pink with the declaration of war with Spain and England.3 So we were obliged to unload our fish and fix for Cape Fear in North Carolina where we took a load of tar and carried [it] to Bristol, [England,] where all our hands were pressed except our Captain's son, Edmund Gale Junior. From Bristol we went to Swansea in Wales and took in a load of coals and came home. Arrived at Boston in August.4 Then I inclined to go to school this fall. My brother Edward sailed with Captain Gideon Ball in a ship for London and was impressed, and in October my mother died, which was the greatest part of my ruining as may be seen the year following.5
1741 This is the hardest winter as any now in America have ever seen. Early this year my father went a-suiting to Mistress Hannah Harris, a fine rich widow. To obtain his wish he would separate his own family or anything else. When our mother died, she left nine children—one an infant; Edward, on board a man-of-war; Mary, a young woman who had the care of our family; Nathan, a ship's cousin; poor I, a hardy lad to stand all brunts in behalf of the rest, for my father took care to keep the shore aboard by a good fireside, and Nathan with him. We at home had neither wood nor food but what I should fetch from Mrs. Harris's, and so I fit the remaining part of this winter.6 And in April come a snow from Boston consigned to Captain Tasker, and, as hands was very scarce, Captain John Stacey and Captain John Tasker recommended me to Captain Peter Hall as an apprentice to him.7 And Mrs. Harris had a son named Nathaniel which had been a voyage to sea, and my father and his mother said that we two would lessen their family much if they were both bound out. And Mrs. Harris bound Nat to Jacob Fowle, a house carpenter, and my father bound me to Hall. I was bound April the 15, witness John Stacey and John Tasker. After I was bound, my master said two shifts of apparel would be sufficient for me, but with difficulty I got that, and so I came off an apprentice at 13 years and three month old.
Note: I was bound the 15 of April to Captain Peter Hall of Boston to serve him seven years. He then commanded a fine snow called the Hawke, after Captain Edward Hawke, then commander [of] His Majesty's Ship Portland, then at Boston and owned by Sir Harry Frankland, a native of England.8
We sailed about the first of May and before we got Halfway Rock astern I had a smart rope's ending from my master.9 O Dear my Mother! We went to Philadelphia and back to Boston. . . . and when returning [home], we was informed that there was a strong press [pressgangs] home, and our captain intended to land our men at Marblehead, but as we got to the Graves it fell flat calm and we came to an anchor and made signals for a boat to come off, and intending to take out three of our men that were liable to be pressed. One coming off saw the man-of-war's barge coming with all fury, [so] she returned again. Then our Captain concluded to try to secrete the men [and] ordered one to hang up his hammock in the cabin. Now, our snow was intended for a privateer and [there were] two press beds in our bulkhead of our cabin for conveniency for our cabin guns. And I took the Captain's bedding out and put in the hammock and the mate's bedding in a cabin in the steerage. And just as the barge come along side I put two of our men in the Captain's press and one in the mate's press, and, as the doors hung up, after the men were in I let down the doors and buttoned them. The Captain ordered me to stay below and down came a midshipman and demanded of me, "Where is your men?" I said they were sent ashore at Marblehead in a fishing boat. He ordered me to open our lazarets scuttle, which I did. Then finding [it] all full, he examined our small arms and missing some of our cutlass and pistols out of their places and began to examine our bulkheads. And seeing the hinges and the thickness of our press, [he] looked at the hooks that held up the press door [and] said, "Boy, what are these hooks for?" I said to hang up wet clothes. And then he stooping down to unbutton the press doors, I took him by the skirts of his coat. I said, "Sir, will you have a dram?" He, looking earnest at me, said, "You are a knowing Dog! You may fill me a junk bottle of rum!" I said, "Sir, will you have a lump of loaf sugar?" And he said, "Put it in the boat!" and went on deck. [Then he] said, "There is none to be found on board." So they took two prentices &c. Now, sir, as soon as the barge was gone, I let the safe guard[ed] prisoners out, and they were almost strangled to death being so close confined and two of them very large and bulky [so] that they reflected on being confined but had rather have stood on deck and opposed the press gang. One of these men's names is or was Jacob Hawkins; another is or was Robert Knight, both born in Marblehead. The other [was] Jacob Waters, born in our Charlestown; the two prentices, one named William Clemons [and] the other James Master, and they were both cleared. . . .10
Note: on our voyage to Phi[ladelphia], my master's wife was delivered of a daughter. And, as Customs Service visitors came &c, one evening came one Mr. Willy Nichols to see my master, he being a neighbor where he formerly had lived near the Old North Meeting House. I coming home from on board, dirty as I was, for if I had a clean shirt I must wash it myself, my master said, "You, sir, serve a glass of wine here!" And as I came to my Uncle Nichols and gave him a glass I smiled and bowed to him. Said Nichols, "Captain Hall, what boy is this?" He said, "It is Bowen, the Lawyer's son, of Marblehead." And said Nichols, "What is his name?" "Ashley," replied Master, and Nichols, recalling the cast in my eye, said, "Captain Hall, will you let him come to see me tomorrow?" Hall said "yes" and Nichols went off saying to me, "Come and see me tomorrow," which I did, and he said if my father would not get me away from Hall he would, for he saw enough, and he wrote to my father on the subject &c.
Now it was in the time of New Lights or [George] Whitefield and Company.11 As my sister Molly was baptized by Mr. [Simon] Bradstreet some small time before, she then being a member at our Uncle Webb's New North Meeting House, and so she would have me baptized there.12 My master indulging me to spend the evening with her, she took the opportunity to take me with her to Parson Webb's and fit me to be baptized &c. As we [were] preparing our ship for sea, my master allowed me to go to my sister's as often as I should desire, and in order for my being the better prepared for the business he, Mr. Webb, gave me a book of instructions, and I read it as often as I could find time. At length the day was fixed on that I was to be baptized. Note: my master was not consulted in the business, and it happened that one H. Johnson, being at tea at his acquaintances', happened to hear this discovery that there was to be a grand christening at the New North on Sunday. He being a church-man [he] came and acquainted my master of its being me. He, my master, came home and inquired into the affair and found that I had a book, which he demand[ed]. I shew it to him. He directed to me to take the book and carry [it] to Parson Webb's with his compliments and said I was his apprentice and I should not be christened in his time. So I left the book and came off well satisfied as to christening.
Being now fitted, we came to Marblehead to load for Gibraltar. We sailed and arrived safe and after discharging our cargo we took on board fine red sand for ballast, with some wines [and] some large anchors. [In] October we left Gibraltar bound for Boston. Note: we took on board the common sand which was as the red sand in time glasses, and as we came to the westward and, supposed that we were near our Banks, we prepared our vessel for a winter's course by getting our guns in the hold and our topgallant yards and masts down &c. About the 20 of November we experienced a smart gale of wind at NW. We lay our snow to on Friday night under a double-reef[ed] mainsail and at Saturday noon wore ship and lay on the other tack. Our carpenter, finding the pumps choked with the fine sand, made short boxes of the lower b[oxes?] and bags of the upper boxes and &c. After the carpenter had done all that he could to the pump boxes and sounding the pump [we] supposed all was well. The gale continued all Saturday night and our officers supposed all was well. But at 8 o'clock Sunday morning, as my busin[ess] was to get bread out of the hold and water &c., as the watch was called &c. Mr. Kinney, our First Mate, was a-turning out and I was going down the after hatchway, the wind roaring so we scarce could hear one another, the mate told his dream that he was chased by a number of wild cattle and could not make his escape from them. As soon as I got below [away from] the noise of the wind, I heard the cask in the hold knocking against each other and our vessel half full of water. I got up as quick as possible and said, "Mr. Kinney, I can interpret your dream. Your oxen are our water casks and others are all afloat in the hold and our vessel is half full of water." My mast[er], hearing me, said that was not to be trifled with, and all hands turned out, went to work, and got to bailing with all the buckets, kegs, &c. I attended with bread and brandy till Monday morning. We were 24 hours before we freed her, and then my master ordered all hands on deck and said, "Brothers, you all see the position of our ship. I think [it] fitting to engage a winter's course," and all consented [to m]ake sail for the West Indies, and so we go so we [ ].
Note: we must have suffered much if we had not [stowed the] guns and had got them down in the hold; although we had filled all our empty water cask and other cask with sand, our vessel was so light we could not tack to windward no more than an empty barrel. And when we arrived at St. Eustatius, we were fain to be warped in by the Dutch ship.
This spring [1742] we lay at St. Eustatius loading with molasses in snow Hawke. We had a good passage home [and] arrived at Nantasket in March, where all our men were impressed. Then [we] went to Cape Ann and run our cargo, and after some time we brought our vessel to Marblehead and lay. Our owner being a Collector [of Customs] and his vessel at the same time a-running goods made some difficulty. In May we carried [the] snow to Boston and completed for sea. My father came to Boston but would not get me clear of Hall, so when we got to sea I paid for his visit.
Note: we fitted out with all kinds of provisions for the garrison of Gibraltar, and as we entered the Strait we found four cruisers and we beat them all off and got in safe. And we lay here six month and then we went to Port Mahon and sold the rest of our cargo and from that to Cagliari in Sardinia; then back to Mahon again and Gibraltar and home. Note: we sailed from Boston June the 30, 1742 and arrived July 1, 1743. When we returned we arrived at Cape Ann and run our cargo of fruit and wines, and there was a great noise about it as about this time a vessel was informed against and Sir Harry [Frankland] was obliged to take notice of her and seized her and the concerned swore vengeance against our snow. And we fitted out but Dall [?] and the best voyage that offered was to Philadelphia and Louisbourg. Note: my master had got the Leghorn Cough and gave it to his wife, and going a winter's course and out of credit and I, myself, an apprentice makes it all look cold, and not much clothing or bee[f?].13
1743 We sailed for Philadelphia the last of September and in going up the river some of our hands took the boat and made off, and at town our Chief Mate left.14 Mr. May then was shipped [and] a Scotchman as Mate, named Crumbe, and my master had so much of the Leghorn Cold that he was obliged to heave down here. And with difficulty we were manned again but we put to sea [with] one Robin Knight, a pilot, for the coast of Cape Breton. We arrived at Louisbourg before Christmas and took two-thirds [of] a cargo of rum and sailed for Gibraltar . . . and after getting off the coast, we having a sheep on board, my master had it killed to save his life. And in some days after, the weather being summer-warm, the hind quarters of the meat grew stale, and my master took the hind quarter and divided them, and in doing it he borrowed a slice from one part and put it to the other and had it boiled. On Saturday, it being a fish dinner, my usual way was to get the fish that was left at noon for supper. Accordingly, when I had got supper in order, as I took great delight in fitting for my master [his] supper, it being Saturday night and I had made two large cans of toddy. In those days, I gave the care of the frying pan to a Frenchman to take care of till I should go aft and lay the [table] cloth, &c., but when I came forward I found all burnt up.
1744 The beginning of this year I find trouble enough as the supper of my master's was burnt. He called for the meat which I had put away for him at noon, which I brought to him and shifted into another dish. And as I had no supper, I took the two slices as I shifted the meat [as] I was always allowed to do and put the two legs in a clean dish by themselves. And in the morrow, Sunday, my master took physic for the Leghorn Cough, and, after its working, he called for his meat. I hastened as usual to get it, and as he examined the dish he said to me, "Is this all the meat I told you to put by?" I said, "Yes, Sir," not thinking of his being so exact as he never was so with me before. He said again, pointing [his] knife to the dish, "Is this all the meat I told you to put by the last night?" I said the two small slices were so thin and watery-soaked I did eat them as I had no supper else. Then said my master with his hands wrung together, "May God never smile on me if I do not tie you up tomorrow morning and flog you as much as ever you saw a soldier flogged at Mahon!" which was a thousand lash. And my master called for his saucepan and minced up his meat and went on as calm as ever with me, but I knew him to be a Englishman, not, as he hath often said, a New England man [who] promises and never pays. He would always fulfill his engagements with me. And so the day passed on with me, but I made no scruple of my pay on the morrow, I having no back doors to go out of and not a friend on board that would assist me. I did not know what course to take for my escape from the punishment throne, so in the morning watch after the helm was relieved at six—my watch below—I dived down in the hold, there being a tree of small fustic stood against the bulkhead of the lazaret.15 I unstowed till I found length enough for my body to lay undiscovered, and I hauled the wood in again so qu[iet?] that I was not discovered by any of our people when in pursuit of me.
Monday morning. At 7 a.m., my master rung his bell for me, and, as I did not answer, the Mate came to inquire for me but could not find me so my master ordered all hands called and went a-searching for me in the longboat and everywhere I possibly might have got on deck and then ordered lights with lanterns to pass fore and aft the hold. I could have put my hand on them, but they could not see me. So continued till 8 o'clock. Then my master come to the hatchway himself and said, "Ashley, come out and I won't touch you." But I thought that too faint to trust so I lay the[re]. Next came the people and said, "Ashley, come out and your master will not touch you." Then came master again and said, "Ashley, you know me! If I say a thing I will stand to it. Come out and I will not touch you." I was loathe to trust that and lay still. And then the people came and said, "Ashley, for Godsake come out for your master will die!" And then came master himself and said, "Ashley, for Godsake come out and I will not ever strike you again!" Some of our people said that he [Ashley] threatened to go overboard last night. Others said [he] had rather die than bear the beating his master would give him. Now I find by this time the rum cask grew very hard and hunger came on. I thought with myself, what should become of me, for after all if I should worry them out hunger would oblige me to come out for drink and meat. So I began to think to give up. The people came down and said, "Ashley, your master will die if you do not come out!" Then about 12 at noon my master came and said, "Ashley, if you will come out I will give you my word I will not touch you any more!" And I thought better to come out by an act of grace than to hazard any more delays. I said, "Here am I!" and directly our people flew down and hauled the wood away and got me out. And one of them desired me to go and ask my master pardon, which I declined.
Monday noon. As soon as I had got into the steerage I saw my master on his knees at prayer on the stern locker. I went into the cabin and he looked at me and said, "How could you serve me so?" I said I knew that he would beat me as he said. He said, "Make me some toddy!" Accordingly, I made it and gave it him, and so on till dinner. All that day quite mild, but the next day, after I had killed a pair of fowls, master chose to gut them, and, after washing his hands, he asked for a clean towel. I had ½ dozen of towels cut from a piece of osnabrigs, but I had but 2 hemmed and both them foul. I went to his chest to get a new one. As I was in haste, I put a foul one in between the gripes and [the] longboat so the roll of the vessel caused the fowl to fall out on deck, and, finally, it washed out of the scuppers. My master, seeing it, stepped down to me and took me by the hand and said now you should not run away from him and brings me up on deck and orders the Boatswain to get two seizings of spun yarn, and I was tied to the rail by each wrist and my trousers let [down] about my heels and my frock tucked into my collar. The Cook was ordered to get a bowl of pickle from the beef cask; my feet [were] tied to the fife rail and master would take his cat with 9 parts of log line and give me a dozen strokes on my back; then take his hand full of pickle and pat it on my back; then take his quadrant and look for the sun; then took a tiif of toddy, and so regularly he would do that office, one after another, till the Mate interfered for me and said if I should die on the passage out he would be a witness against him.16 He said he would do it till I should cry, for I could not cry, so I spit on my shoulder and wet my eyes and was let go.
So my master and I stood it the rest of the passage until we arrived at Gibraltar, and as he was a man so well acquainted in luxury and a noted Mason, he must make as grand show as possible of his abilities. Soon after we arrived, my master made an entertainment and invited a good family on board as a visit, and, as he frequently lodged on shore at every port, so he coming on board, desired me to scour the paint work in [the] cabin and windows, and all fell in for company the 3d day after. Accordingly, I took soap and sand and scoured the paint and cleaned the windows and glasses &c. and did all I could to make the best appearance I could, and got all dry. But the 2d morning my master came on board, and, after his examining all the cabin and glasses &c., he saw one of the towels, as I had cleaned the windows with [one], and said, "You Rascal! Is this one of my towels?" I said I was forced to take it to clean the glass with and immediately upon it, he, for his word's sake, would not strike me himself, called the Boatswain to tie me up by my two thumb at a staple in the cabin. As we were so nigh [to] the New Mole he thought not to take me to the rail. So the Bosun did and gave me the hint to cry out, but the master of Masonry came in upon us and takes the cat out of the Bosun's hands and took the lines in his hand and struck me with the rope on my back [so] that I have thought that I have felt it ever since. After his passion was over with me, for he durst not afr[ . . . ]at the Scotchman his mate ill, so all was laid on poor Ashley's back. So, after master was gone on shore, my old friend Mr. Thomas Ling's launch come on board for some what as we had sundries to sell on board.17 So I laid in with the crew.
This evening, when Mr. Ling's launch returned on board, I concealed myself in her and when I got on board there I made my application to Mr. Ling and he took me into his berth and the doctor messing with him. The doctor desired to see my back and Mr. Ling entertai[ned] me all night, and next morning the doctor went on shore, and some time after I saw our yawl come on board the chebec with the doctor and my master. And coming along side I handed the rope to my master which said to me, "Sir, you have got a bigger ship for your money!" I answered, I hoped so. Then my master asked for the Commanding Officer, which [was] the leftenant, and master was demanded aft and then came forward again and ordered my things into the yawl, and Mr. Ling and the leftenant had some words but Mr. Ling could not prevail to keep me on board. So I went on board snow Hawke again, and when I came on board I found a French cook and poultry and bread &c. So my master thought to make me as great an example as [possible and] he ordered me to be lashed by my two thumbs and to hang across the rig rope of our awning without trousers or breeches. The yawl being gone after two gentry and when they came on board [and] saw me in that posture, the woman cried out, "Captain Hall, for Godsake let us go on shore again on a Christian land!" With that, my master ordered me to be took down, but the company would not stay to eat any of the Frenchman's cookery and all hands of them returned on shore again, master and all. So good.
1744 May. Laying at Gibraltar in the New Mole, so called. Came in the Solebay with a Spanish ship, and the prize hauled in to New Mole.18 We lay alongside of her so our Mate and people all went shares in the plunder—that the men-of-war's men called plunder—and we got a good deal of riches. Then came a 60-gun ship bound for Mahon, and we sailed under her convoy and arrived safe at Mahon and landed our cargo of rum, and there we found letters for us not to return home to New England till the cry was over, for the people swore there they would destroy [our] vessel and cargo. So my master thought to get her into the King's Service [as] a transport, but as she was single-decked he could not get her in. And a brig belonging to Boston cast away on the island [so] my master shipped the captain—his name is Blaney—[as] master of our snow Hawke to go to Cagliari and get a load of salt and then to Boston.19 And she did accordingly. And my master keep me and the snow's yawl with him at Port Mahon, and my master was determined to be a merchant and bought sundry kind of stores accordingly, and I kept store and he hired a house, and we keep house and store, and for a Mrs. I had 21 for wisling[?] for and some soldiers' wives; he would lend 3 half johannes at a time and his wife possibly not 3 pence Sterling, [she] suffering at Boston, New England. Note: my master's wife was Elizabeth Kinney, a daughter to Mr. Benjamin Kinney, sister on mother's side to Colonel [ ] Carnes, a brazier at Boston, but much reduced.20 I was not bound to my master's wife with himself, and now, keeping store at Mahon, I of course was acquainted in the land affairs as well as sea. So I did my endeavor to please both as my master was a Free and accepted Mason [and as] I had a great opportunity to inform myself of both as much as my capacity would allow me. So I made it my study to conform to the Will of God.
1744 At Port Mahon. September and October I was employed attending store. Note: we sold Liverpool potatoes by the quint[al] and, as we had porter in bottles, loaf sugar and brown and so [forth] by retail, a soldier came for ½ quintal of potatoes and, having nobody to assist me, a large hogshead having some potatoes in it, I stooped [into] the cask and lay the whole of my body on the chime of the cask. And [as] I was getting the potatoes, my master came in and saw me in that situation and, having an exceeding large cane, he gave me [so] many smart blows on the small of my back that I could scarce get home. I made complaint to the General but [got] no relief. Another time he at me with his cane across my face. He broke the bridge of my nose. Then he would punch at me with his [cane?] in my stomach or anywhere he could come at best &c. Note: after the snow returned from Cagliari he would not let them have product for fear the Mate and people would leave her and bribed the product master till the convoy was ready, and she sailed for home crippled as she was, for she carried away her foremast and shipped it again, new stepped at the partners, and reef[ed] foresail, but my master sent his picture home to his wife and some effects else, but did not pay any of the people their wages. Note: the first part of this year the Spanish fleet got out of Toulon and a French fleet came out with them, and as an English ship would go to engage a Spaniard a French ship would run between them to take the fire from the English. So the French got the Spanish ships out of their port, and Admiral [Thomas] Mathews had the supreme command, although the inferior officer for Old [Richard] Lestock was a man of war from his youth, and between them both [the] Spanish fleet got off and the French into Toulon, &c.21
1744 At Port Mahon. December. One evening as I left our store I came to Mrs. Wallace's to see if my master was there, as I frequently did every evening when leaving our store, and I found my master and Mr. Preston, a Church of England clergyman, Chaplin to the Army, and my master said that "This lad of mine was never christened."22 The parson asked my master if he was sure of it. He said he was for "he intended to have been christened after he was bound to me, but I prevented it." Then the parson asked me if I would be christened. I said if it could be done with sincerity I should be glad. Then the parson asked my master if I could read. He said I could and that I knew the church service well. The parson said it might be done if the lad chooses. Mrs. Wallace asked me if I would accept of her as a godmother and my master asked me if I would accept him as a godfather, and a Mr. Paton asked me if I would accept him as another godfather, to which I agreed, and Mr. Preston desired me to wait on him at his house soon in order to be examined, and I went and afterwards it was agreed to be done on the Eve of Christmas. So my master and my godmother both prepared a cake each. Note: the cake was four pounds of flour, four pound of loaf sugar, four pound of butter, and two dozen of eggs, the yolk only, and beat up well, and they tried, which shouldst be the best, and, on the day before the time, my master wrote bills to Admiral, to General, to Captains of the soldiers, to Captain of the Navy, to merchants, to all men of n[ote?], and to a Romish Bishop and a priest, about 33 [in all]. My master prepared a fine suit of clothes new.
1744 December the 24. This day our matters were all fitted for the evening and at dark the room was furnished with guests and then came on the ceremony, and I was christened by the name of Ashley and signed by the sign of the Cross in token that hereafter &c. And after the ceremony was over, one merchant by the name of Green took his hat and put a guinea in it and went round the room and collected 19 dollars and one real of plate and brought [them] to me and said, "Here, take this. [It] is your own and make good use of it as an encouragement for you!" And I took care of it. Two large cakes, a fine large English cheese with many sorts of wine, rack punch, rum ditto, and brandy ditto in a large upper room. So finish the christening and year 1744.
1745 This is a year of trouble for me, all but death. The first part was spent mostly a-masquerading and &c. I was employed keeping store and attending my master &c. The largest ships were all boot-topped and some hove down. We sold a great deal of rum, but rum being in much demand [and there being] a fine well of fine water in the bounds of our store, my master would employ me in dodging off 10 or 12 gallons of rum out of a 60-gallon cask and filling it with water. And so we go on, and my master thought it most to his advantage to victual on board His Majesty Ship Dorsetshire with the leftenants and officers, so I was enrolled on board the Dorsetshire23 [ ] I rubbed on till March. Note: His Majesty Ship [M]arlborough of 90 guns was run down keel out by hand.
1745 At Port Mahon, an apprentice to a P. Hall. As the fleet were all now a-fitting out, my master could not be allowed to keep on board the Dorsetshire. I was forced to shift as we could about our dinners as provisions were scarce and company plenty. We did as we could; oftentimes more company than good, &c. As there was more demand for rum, and ours almost gone, my master had sold nearly the last tierce to a native, he made me draw off 15 gallons of rum and fill the tierce with water, and [it was] done by candlelight and the stones of the well was of chalk. My clothes was so dirty I could not well be seen in that dress, so my master gave me a smart trimming that I could not put up with. And His Majesty Ship Rupert, Captain [John] Ambrose, lay at St. Phillips, bound to Alexandria, and Mr. Richard Pollard [was] a midshipman on board. I conclu[ded to make] the attempt of leaving my master at Mahon, and the next night I packed all my duds and waited off for St. Phillips and found a man with a boat, and I hired him to put me on board the Rupert.24 And when I came on board I found Mr. R. Pollard and he said he would acquaint the Captain as soon as he returned on board. Note: the Captain of the Rupert was gone on board Admiral [William] Rowley for orders and [to] take his leave. And the ship's barge came alongside on one side. My master came alongside with his yawl on the other side. And [with] the ship with her 3 topsails atrip and a peak on her anchor, my master demanded me of Mr. Pollard and I was delivered up to my master.
As my master and I came over the side of the Rupert, she broke ground and filled away for sea, and my master ordered the boat's crew to go alongside the Dorsetshire. And when on board, he asked Mr. Griffith to let the Boatswain's Mate bring me to a capstan bar in order to frighten me, which was done, and Captain Burrish, walking his quarterdeck, the people called out "flogging on board." Some left their stations and others, making uproars, Captain Burrish wished to know the meaning [and] sent for Mr. Page, the First Leftenant, which said that Mr. Griffith was the author of it.25 Then Mr. Griffith was sent for and had a smart repremand for his conduct, and so I was released and sent out of the Dorsetshire. And as we came to Mahon, he said he would send me to school and he would never strike me more. So I went to school for a fortnight and then he could do nothing without me. About this time, came in a fine prize ship, taken by the fleet, a ship bound to Martinique from Marseilles [and] taken off Cape de Gata, [which had] run into the whole fleet. Leftenant Fraser of the Burford, prizemaster, came to our house and gave the ship so good a character that my master bought an eighth part of [the] ship and cargo and fitted her out for the West Indies.26 And we sailed in June under convoy, and we arrived at Gibraltar and sailed again under convoy and [had a] 28 day's passage from Gibraltar to St. Eustatius.27 Note: a few days before we arrived, master gave me a smart trimming and I swore I would leave him.
1745 On board the ship Strange, Peter Hall, master, laying in St. Eustatius Road, belonging to Port Mahon. As I came to St. Eustatius, I found several of my acquaintances—Captain William Orne, and others. Note: Captain John Shannon of Marblehead died here and one James Biles was [his] mate and of course became master. And Captain Orne and others advised me to quit the ship [and] come home to Marblehead. As I was taken sick, I was put to sick quarters and I got somewhat better. My master went to St. Christophers, and, as I supposed Biles to be nearly ready, I took all the clothes I had out of the ship and put them in a bag and set off for Biles's schooner on a Saturday night. But as she was not so ready for sea, I was forced on shore again with Biles's promise to take me off again. And in the afternoon he would neither bring my clothes on shore to me nor take me off, so [I] was in a fine box, &c. Biles's boat was ashore several times, but they would not take me off and finally they put to sea with my clothes and all, a gale of wind coming on. And I have not any clothes from the ship. I could have wished the Devil had Biles and Orne before that I had harkened to them, but [I was] in fear of my master's coming down from St. Kitts. As it happened, there was an English privateer in the Road. I entered on board her and so got off with what duds I had. As soon as we got on board the privateer, we came to sail. Bright moonlight. We saw a sail coming down from St. Kitts, and we stood for her [and] found her to be my former master, Peter Hall. We let her pass and stood all night on a wind to the SE-ward. This sloop is the Bumper of Montserrat, Michael Beesley, commander, 6 four-pounders &c.28
1745 I was determined to leave my master Hall as he hath left his wife at Boston. I suppose that he could not have held me as he was bound to learn me and to treat me well. I took this opportunity to try the title and so left him to shift without me. Note: as the privateer was going down to Eustatius, she took the carpenter off a ship with her, and she took a French sloop and sent her in to Nevis, which caused her to return to Nevis again. When she arrived, the captain of the ship put the captain of [the] privateer in prison for carrying away his carpenter. Well then, what must I do, for my master would pursue me to Nevis. So Captain Beesley hired a shallop to go to Montserrat. I asked him to let me go with him, and he gave me his consent, so I went to Montserrat where I found a sloop belonging to Philadelphia, Peter Bostick, m[aster]. I asked him for a passage with him to Philadelphia and he granted it, and I came to Philadelphia. Note: Mr. [ ] Harris, a supercargo, died at sea and I attended him and took care of his clothes and was well treated for it. And after I got to Philadelphia, I ship again with Captain Bostick for Charlestown and Jamaica. I was well treated by both the owners. One was Solomon Fussell, the other, John Norwood.29
Plate I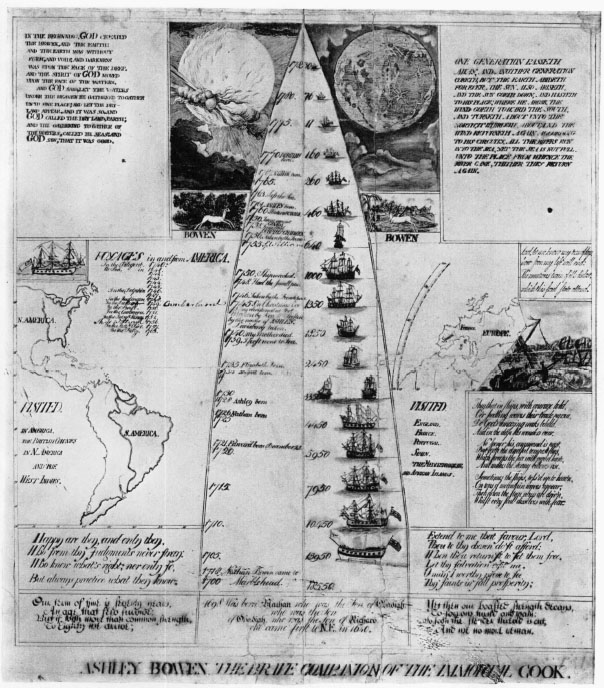 Drawn by Hannah Crowninshield of Salem, this history of Bowen's life to the year 1785 was presented to him in 1806 by the Reverend William Bentley. It is meant to compare his life with the sailing of a ship.
Marblehead Historical Society
Plate II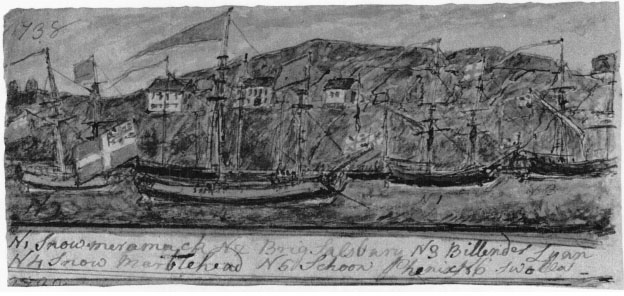 1738. No. 1—snow Merrimack. No. 2—brig Salisbury. No. 3—bilander Lynn. No. 4—snow Marblehead. No. 5—schooner Phoenix. No. 6—Swallow.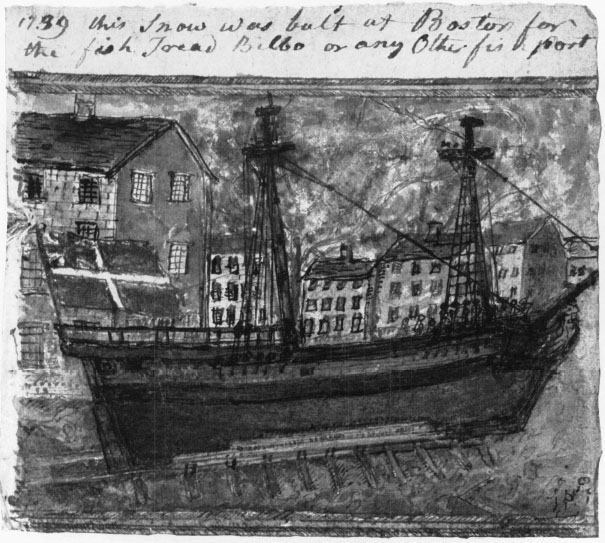 1739. "The snow Diligence belonging to Mr. Thomas Gunter of Boston, New England. Captain Edmund Gale of Marblehead is to command her. This snow was built at Boston for the fish trade—Bilbao or any other fish port."
Marblehead Historical Society
Plate III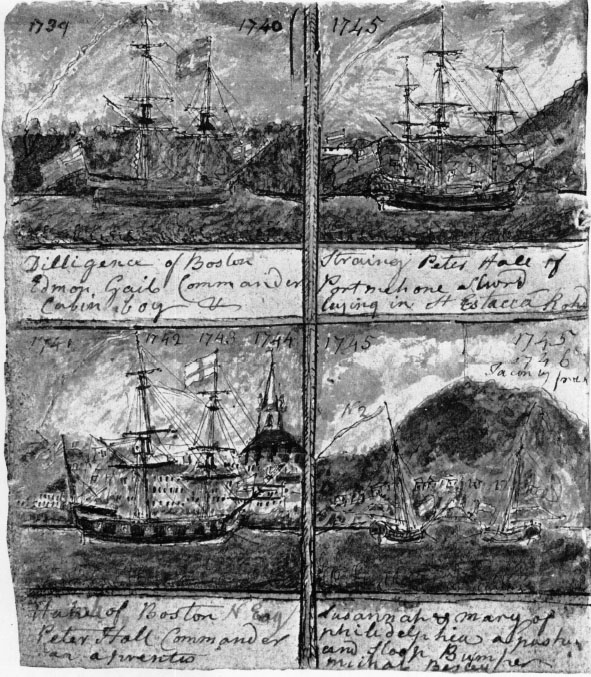 (Upper left) 1739–40. Snow Diligence, Edmund Gale, of Boston. (Lower left) 1741–44. Snow Hawke, Peter Hall, of Boston. (Upper right) 1745. Ship Strange, Peter Hall, of Port Mahon. (Lower right) 1745–46. Sloop Susannah Mary of Philadelphia, and sloop Bumper, Michael Beesley.
Marblehead Historical Society
Plate IV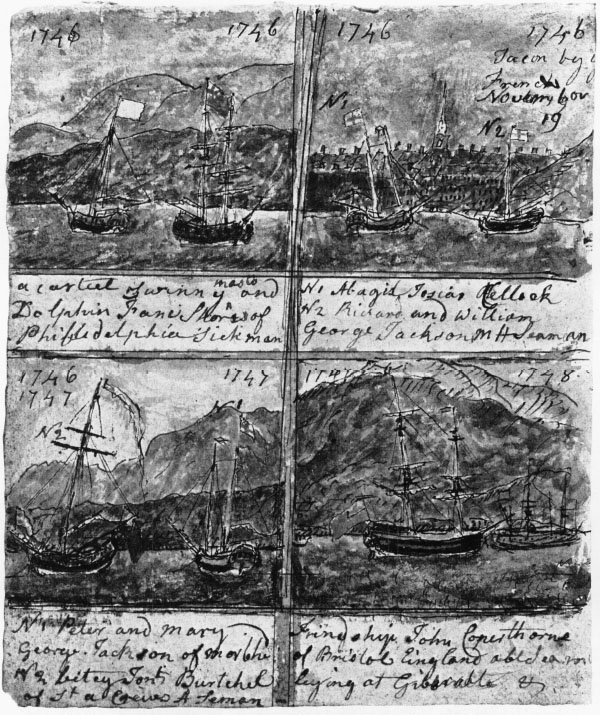 (Upper left) 1746. A cartel, Swinny, master, and brig Dolphin, Francis Shores, of Philadelphia. (Upper right) 1746. No. 1—schooner Abigail, Josiah Kellog. No. 2—sloop Richard and William, George Jackson, of Marblehead. (Lower left) 1746–47. No. 1—schooner Peter and Mary, George Jackson, of Marblehead. No. 2—sloop Betsey, Jonathan Burchall, of St. Croix. (Lower right) 1747–48. Snow Friendship, John Copinthorne, of Bristol, England.
Marblehead Historical Society
Plate V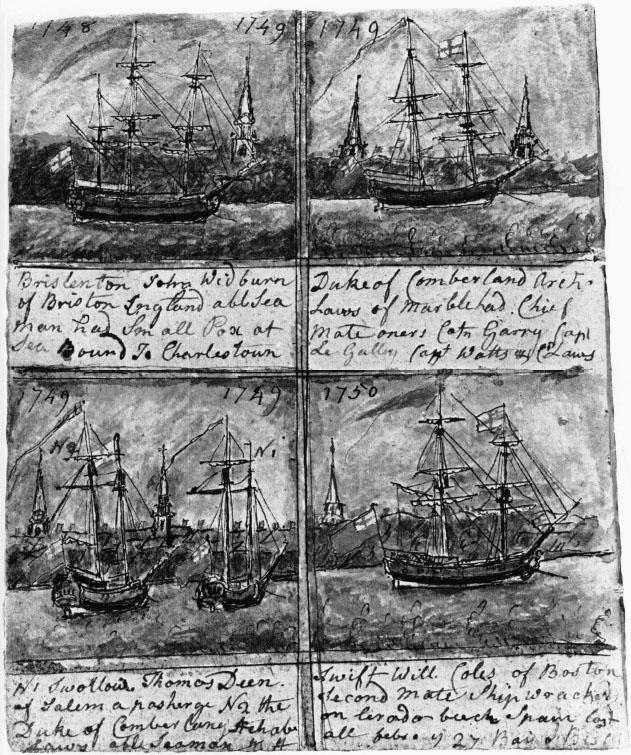 (Upper left) 1748–49. Ship Brislenton, John Widburn, of Bristol, England. (Lower left) 1749. No. 1—schooner Swallow, Thomas Dean, of Salem. No. 2—schooner Duke of Cumberland, Archibald Laws. (Upper right) 1749. Brig Duke of Cumberland, Archibald Laws, of Marblehead. (Lower right) 1750. Snow Swift, William Coles, of Boston.
Marblehead Historical Society
Plate VI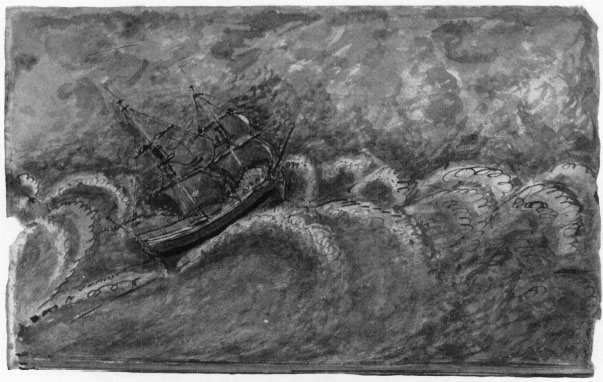 Snow Swift, Captain William Coles, in a storm, 26 February 1750.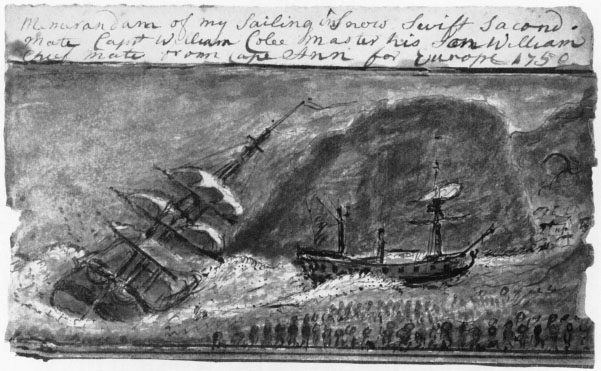 Snow Swift, Captain William Coles, owned by John Rowe of Boston, wrecked with the ship Grand Bigonia on Larado Beach, Spain, 27 February 1750.
Marblehead Historical Society
Plate VII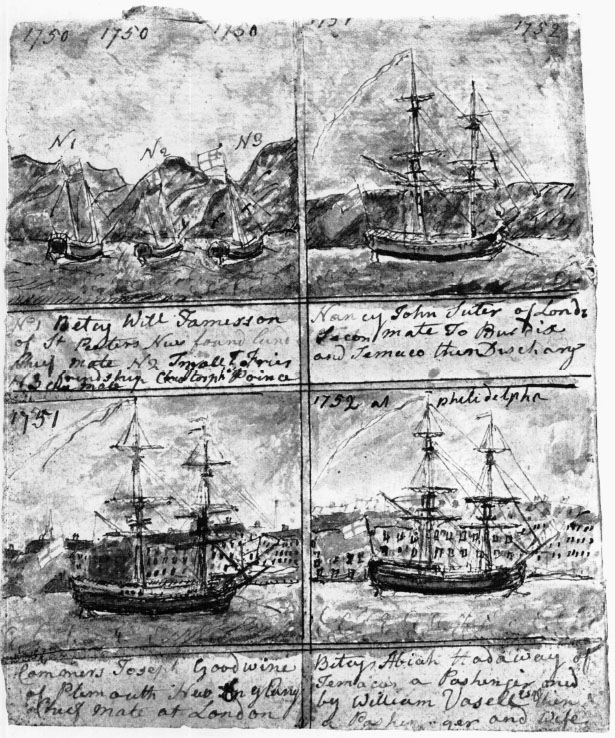 (Upper left) 1750. No. 1—schooner Betsey, William Jameson, of St. Peter's, Newfoundland. No. 2—schooner Tryal, J. Frier. No. 3—sloop Friendship, Christopher Prince. (Lower left) 1751. Snow Commerce, Joseph Goodwin, of Plymouth, New England. (Upper right) 1751–52. Snow Nancy, John Suter, of London. (Lower right) 1752. Snow Betsey, Abiah Hadaway, of Jamaica.
Marblehead Historical Society
Plate VIII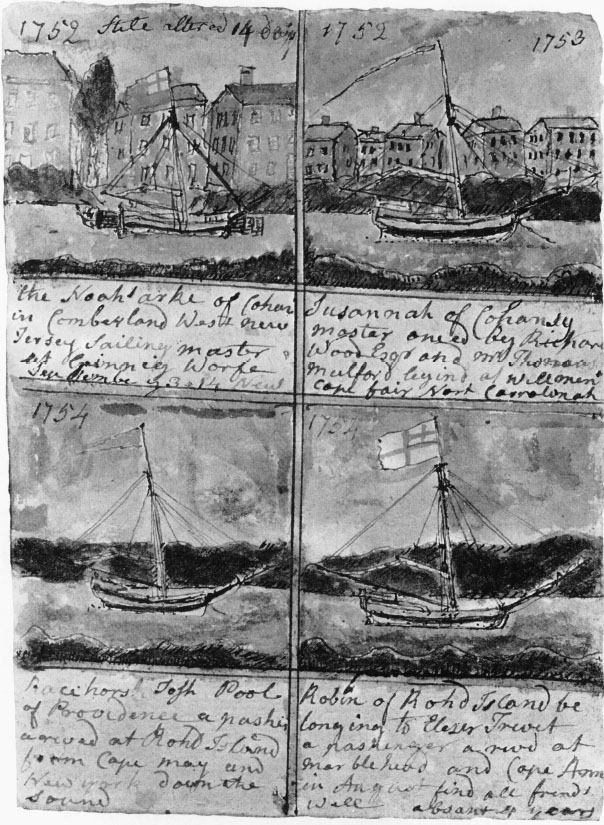 (Upper left) 1752. Sloop Noah's Ark, of Cohansey, New Jersey. (Upper right) 1752–53. Sloop Susannah of Cohansey at Wilmington, N. C. (Lower left) 1754. Sloop Racehorse, Josiah Pool, of Providence. (Lower right) 1754. Sloop Robin of Rhode Island, owned by Eleazer Trevett.
Marblehead Historical Society
We sailed for Charlestown and arrived safe and took in a freight of rice and sailed for Jamaica, but we were taken on the 10 of January 1746. The sloop's name was Susannah and Mary, after the owners' wives. So ends the year 1745, and 1746 begins with new trouble.
1746 We sailed from Charlestown December the 27, 1745, and January the 2 we saw some of the Islands and [we] run on all day and at night hove to for fear of the Keys. And on the 3 of January, we were taken by a French privateer schooner [commanded by] an Irish rebel leftenant, and we were carried in to Petit Goâve in Hispaniola, and our Captain and but myself were stripped, the people stripped as naked as they were born. I lay in with one of the people and save[d] all that I had on except one new shirt, which the man gave me two pistareens for, and I was fain to distribute all but one shirt and trousers to my shipmates—[it] was all that I had.
This is another dark year for me, for I was taken by an Irish Frenchman, and after we brought to, our Captain and two hands went on board the schooner in our boat, and the Irishman, Monsieur LeGrand, and 4 Frenchmen came on board us, and I, [to] be sure, came to be a linguist for our Mate. And as our Mate was much frightened, he said, "Jack, I have two dollars by me. I would give them to him!" I said, "Damn him! I would not give them to him!" He said, "Do give them to him!" and I mustered up all my French and said to the leftenant, "Mosher La Pilote Jen a Dwo peasea. S vou Wolle pruney Le Wite. A dona Vou." The French Irishman [said], "S Boon Gosson Commesay Urion Jaro moy Wolled Rturney."30 Our Mate said, "Jack, you speak French!" but the Irishman spoke better English. Then I takes out my silver buttons out of my sleeves and gave [them to] him and he promised me to return them to me again. So we arrived safe to Petit Goâve, and at the first time I saw Captain Bostick on shore I saw him and Mr. LeGrand a-talking in English, so I thought I did not need to speak French, and I asked him for my buttons in English and he said that he should go to Leogane tomorrow and get his gold ones and then he would return me mine. But the next news I heard of him was that he was hung at the Admiral's fore-yardarm as a rebel, or to be.
And we were all ordered to an outhouse as a prison and some niggers as guards over us. There were 51 prisoners when we came, and one died of a day every day till we left the place. Our allowance was 1 pound of bread a day and one pound of salt beef per day and nothing else, so we live and died. The French steward was allowed one pound of beef a man, but he would serve 3 pound to 4 men, bad as it was. And Commodore Macklemar, an Irishman by trade, was the Commander-in-Chief, and he came to see us, and our people chose me spokesman, and I complained of our beef and he chastised the steward. There being compla[ints] of the doctor, he was chastised also. Afterwards, I was taken sick myself, and the doctor took notice of me and sent me a dose that I never got clear of till I had the smallpox. So I had the fever and ague every other day and was twice laid by as dead but come to again, as the niggers were ordered to examine for the dead every morning, and if any that were supposed to be dead and were not given up [by] the rest, [they] were to go to as close prison, and I believe there one or two were buried that might have lived. And so I lived, almost starved for some soft food.
On Easter Sunday I was at the Island of Hispaniola a prisoner, and my discovering my cat was the greatest means of my recovery of my health. On Easter Sunday, I thought to go down into the town, and I set out to walk, and at length I came in sight of the Church, but God in his providence ordered me to a house where was two shady trees, and I sat down at the door and soon discovered my cat and called her to me and she came. And an nigger belonging to the house said "Master, do not hurt that cat." I said that the cat was mine and I should take great care of [her] and [ ] and was well pleased. After Church, as I sat with my cat on my shoulder, the master of the house came from Church and said to the nigger, "Why do you let the cat out?" The nigger answered he [Bowen] was the owner of the cat, and when his dinner was ready he ordered a plate, knife, and fork and sent me a plate and a large tumbler of wine and water, and I made a fine dinner and I returned home a new man to my distressed brethren. The next morning the nigger came for me to go to his master and I went, and he desired me to pick out some fish out of a hogshead. And so I stayed all day and at night I returned home with some provisions for my messmates. And so the merchant treated me all the time till the cartel came and when I came away he gave me sea stores and wished me well. And all for my cat.
After the cartel sailed, we fell in with the Merlin, sloop of war, which took 19 men out.31 I looked so sickly they would not take me, so I got safe to Kingston, Jamaica, where I found Mr. John Norwood, our former owner of sloop Susannah and Mary, and I was kindly received by him and sent on board a brig in the [ ]. Note: my brother Nathaniel Goodwin was here and would have me to go home with him, but Mr. Norwood chose my going home with him, and I stayed on board the brig and came to Philadelphia a sick man, but my having the fever and ague so much that I could not get a voyage and stayed all summer at Philadelphia.32 I got some insight at rigging.
1746 May. I arrived at Philadelphia in brig Dolphin, Francis Shores, master, owned by Mr. John Norwood, and I was so ill with the fever and ague I could not get a voyage anywhere and no New England men [were] here. As the brig's rigging was not tallied, I getting acquainted with a young man, a rigger, and he got me to work with them as I knew the ropes as they were unrove. And I was employed some time in the rigging loft, and I got so in debt that I was fain to go to work with a plasterer and agreed to serve him three year. And it happened that my intended master and his brother were in partnership and my master was the youngest brother, and there was a day set for a Thanksgiving and the day before I was ordered home by my master to get wood and go off [on] errands. But the oldest brother said I must go for him first. My master ordered me to go for him first, and there was a very great dispute about it, but I said I could not serve them both. So I set off for home, and as I was going home I saw a schooner coming up the river, belonging to Salem. I did what my intended mistress desired me to do but would not go to my master's brother's house, and in the evening the two brothers came home and had a great dispute on my serving them both. My master said I should be bound to him alone and his wife insis[ted I] be bound the next week. But on Thursday, or Thanksgiving day, I went on board the schooner where I found some acquaintance, and the captain said that he knew my father and would take me home and lend me what money I should want. The next morning, both brothers came for me to go to be bound to them both, and it proved very good to me for I had a good opportunity to get clear of both. And when the schooner [was] ready, I got money and paid my landlord and came home.
1746 October. I left Philadelphia in schooner Abigail, Josiah Kellog, master, and arrived at Salem in a fortnight, where I find my father and family all well. And my father paid Captain Kellog what money he had paid for me at Philadelphia, and I stayed at home but a little while before I was shipped by Captain George Jackson to go to St. Eustatius in a sloop [Richard and William] that two young men had bought to make a drogher of.
Note: there was an express from Annapolis Royal that a fleet of French men-of-war were at Chebucto, now Halifax, and was bound for Boston but sickness dis[s]ipa[ted? them] and they were all dispersed and lost. None returned to France.
1746 November. I sailed with Captain Jackson about the first of November and was taken the 19 [th] by two French privateers. I was taken with Captain George Jackson from Marblehead for Eustatius in a sloop that two men belonging to Eustatius [owned], and we were in sight of St. Christophers when we were taken by two French sloops, and John Adams and myself [were put] on board a sloop and cruised in her 13 days and then [were] put on shore at St. Eustatius. And as I had not clothes sufficient to engage a winter's coast, I was advised to sail with Jonathan Burchall, a native of Bermudas, but sailed from St. Croix, a Danish island. And as I was going through the tavern my master Hall came with a file of soldiers after me, but I escaped to the back and got off clear. I shipped myself on board a Danish sloop [Betsey], Jonathan Burchall, master, belonging to a Mr. Anson at Basiend [sic], St. Croix, where I became a Dane and sailed from there about 6 month.
1747 I sailed in the Dane service till June and then I find passage for Marblehead in schooner Peter and Mary, George Jackson, master, and I was discharged from the Dane and came home and tar[ried] at home two month. And I was recommended to one Captain Richard James to sail in a new ship a-building [for Mr. Thomas Gunter] at Newbury, Mr. John Reed, Chief Mate, and all hands from Marblehead. But my opinion of Captain James was much different from his great recommendation. I went round to Boston in the ship but could not go any further this voyage. He proved himself to be what his real character was, which was Bloody DICK.
I, finding my townsmen to prove so bad, I was determined to go abroad and try strangers, and in October I went to Boston and went up and down from North End to South to find the biggest rogue I could. There was a plenty of voyages offered, but none suited me as well as an Irishman which bore a name of the biggest rogue. His name was John Copinthorne, a Corkcolen.
October 1747. I shipped with Captain John Copinthorne of Bristol, England, [in the snow Friendship owned by Mr. Perry, an anchorsmith in Bristol], for Gibraltar, Faro, and Bristol.33 He gave me three pounds Sterling per month bound to Gibraltar and Bristol, [I] to be discharged at Bristol. I found the best friendship in him as I ever found in an American or Englishman.
I arrived at Bristol in March [1748], and I boarded at Mr. James Perryman's, late of Marblehead, and after I had learnt navig[ation] I was a-coming to Boston as Second Mate of a new ship that should be built for Messrs. Perry and Company, John Copinthorne, master.34 He paid me 13 guineas, the balance of my wages. But before I could engage with the master of [a] snow that was bound to Boston, came news of peace with France and Spain, so I was forced to lay on my [. . .] till I had spent the whole of my 13 guineas. So, instead of having 3 pounds Sterling per month to go for Boston, I must give 3 pounds and work my passage besides. I was all to leeward in my pl[ans].
In July, I engaged to sail in the Brislenton, [Captain John Widburn], in Devonshire's and Reeve's employ and worked on board by the day till the ship was below the rolems[?] and then put in to pay at 25 shillings per month.35 We sailed on the [ ] of July. And I had the smallpox at sea and that carried off all the poisoned disorders which hung about me from the time I was a prisoner at Petit Goâve, as I have mentioned before. We arrived at Charlestown in September and lay all winter, and in February 1749 I was discharged.
Now, after laying all winter at Charlestown, I come [to] Marblehead and I had a promotion, but short.
1749 March. I arrived at Salem in schooner [Swallow], Captain Thomas Dean, and come to Marblehead, and my father ordered me to board at Mr. Elias Currel's, and I was soon shipped on board the [schooner] Duke of Cumberland, and I went to Barbados in her, Archibald Laws, master.36 I was before the mast, and after our return from Barbados we turned her into a brig and Captain Laws took me [as] his mate, and we went to Louisbourg, and I carried 6 quintals of merchantable May fish as adventure for Mr. Currel to get a tierce of rum for him. And I did get a tierce of rum on his account.
I arrived in October and as our owners, Captain LeGall[ais], Captain Gerry, Captain Watts, and Captain Laws has a sloop now ready for Carolina and wanted all the rum that come in the brig, which was 6 tierces, [they] took mine with the rest and would fain put me off with dry goods for Mr. Currel's and my adventures. But Mr. Currel's insisting on the rum, and they declining giving me it, so my honored father wrote to Captain Laws concerning the rum as my property and insisted on it, so the owners said that my father threatened the vessel as the goods were contraband, and [so they] gave me one barrel of rum for Mr. Currel and I could get nothing for myself and [was] turned adrift although I had shifted my board on Captain Watts's request and boarded at Mr. Simpson Boden's. So much for Marblehead roguery.
Note: my first difficulty was, as I found out, that Captain Watts had a difference with Mr. Currel and, he being a Scotchman disaffected with Mr. Currel, came on board the brig Duke of Cumberland and asked me to the cabin and said that I should not expect employ if I continued [boarding] in such a family and advised me to go to board at his Sister Boden's, and he would do as much for me as anybody should, and I adhered to him and left my boarding at Mrs. Currel's to Boden.
1749 November. I ship in snow Swift, Captain William Coles, [as] Second Mate. Snow laying at Cape Ann. We sailed from Cape Ann January 15, 1750 and arrived at Lisbon for orders and sailed for Bilbao, and on the 26 of February we came to an anchor to the eastward of St. Anthony's Head in com[pany] with the Grand Bigonia and Captain Linch in [a] snow.
February 26, 1750 At 4 o'clock p.m., the snow Swift and ship Grand Bigonia of Bilbao and a snow, Captain Linch, [were] all beating into St. Anthony's, but the gale was so high that we all were fain to clew up our topsails in the squalls, and the ebb tide come out of St. Anthony's. We were all forced to come to an anchor, and about 12 [at] night our cable parted and we let go another anchor and brought up abreast of Captain Linch. The Bigonia hoisted many lights and keep firing off signal guns all the latter part of the night and [at] dawning she cut her cables and run ashore at [ ] high water [on Laredo Beach] and cut her mainmast away and [bows]prit. At 8 a.m., Captain Linch put [away] for Bilbao and was lost. At 8 a.m. we parted our other cable, and, [there bei]ng no other anchor to let go, we run her ashore. At 11 ditto we run ashore at Laredo Beach.37
Memorandum of my sailing in snow Swift, Second Mate, Captain William Coles, master, his son William, Chief Mate, from Cape Ann for Europe, 1750. The snow Swift, William Coles, commander, on Wednesday, February the 27, 1750 was shipwrecked. Note: this snow belonged to Mr. John Rowe of Boston, ¾ of ship and cargo. The other 4th belonged to Captain Coles, an native of Topsham in England. We sailed from Cape Ann, January the 15, 1750 and arrived at Lisbon and was advised for Cadiz or Bilbao. When off the Rock, the wind being southerly, stood to the northward for Bilbao. On February the 26 this afternoon a smart gale at NW. We tried to get into St. Anthony's, but we could not. We took a pilot for Bilbao [but we] were forced to come to an anchor. Note: the ship Grand Bigonia and Captain Linch in a snow fr[om] Lisbon came to an anchor with us [and] lay all night.
1750 After I was shipwrecked in the Swift, I got to Bilbao and there I found some friends, viz. Captain A. Tucker, Kimball, and some Salem men. So I live well and I was advised to go Mate of a schooner to St. Peter's, Newfoundland, William Jameson, master. And [we] sailed from Bilbao [in the schooner Betsey] and arrived at St. Peter's, and I went to the Bank a-fishing till the last of September and [I was] then discharged and a bill on Mr. Griffen for my wages got to Boston safe.
1750 At Boston. December. I shipped myself Mate of a sloop [Friendship], Captain Christopher Prince, master, for New Bern, North Carolina. [We] sailed the 21 of December [and] arrived at Cape Lookout 25 Jan[?] where I lay all winter. In the spring, came a snow from Jamaica, Joseph Goodwin, master, belonging to Plymouth, New England. As I was off my guard and over-persuaded, I changed with [ ] Brimall, Mate of snow [Commerce], bound for London.38
1751 I sailed for London, Mate of the Commerce. Arrived at London July 2. Snow sold. I tarried at London four months. Note: I saw my old master, Peter Hall, late of Boston, and I came from London in the Nancy, Second Mate, John Suter [master], at Bordeaux. Christmas Day [we] called at the Grand Canary; from thence to Jamaica, and I was discharged by Captain Gloss.39 So goes on.
Halfway Rock to Boston Lighthouse NE ∙ SW
From Marblehead Rock to ditto NE by N = SW by [S]
From Marblehead Rock to the Graves NE by E ½ E SW by [W ½ W]
From the Graves to Long Island Head NNE & SSW
From Halfway Rock to Boston Light NE & SW Distance 15 miles
From Marblehead Rock to B[oston] Light NEbN & SWbS 14 miles
From Marblehead Rock to the Graves NEbE & SWbW
1752 At Jamaica. April. Sailed for Philadelphia in the snow Betsey, Abiah Hadaway, master. William Varsell, Esq. and wife and wife's sister [were] passengers, and [the snow was] owned by Squire Varsell. I was a passenger. The carpenter was a cousin of mine and Mr. Greener [Greenough?] married his sister. Note: Greener was Mate, so I fare well, and we arrived at Philadelphia the beginning of May, &c. I arrived at Philadelphia, and I was recommended by Mr. [ ] Greener to Mr. Noah Bowen to go with him as Sailing Master of a sloop to New York and to Rhode Island at £3 currency per month and [to] Carolina in [the] winter. I went to Cape May and fixed [the] sloop and loaded her at Tuckahoe Egg Harbor, and delivered our load at Wilmington.
1752 October. Mr. Thomas Mulford ship[ped] me to go to Cape Fear with him [as] Sailing Master, and I came to Cohansey with [the] sloop [Susannah] and took in a cargo for Cape Fear. A young woman freighted one half of the vessel, by the name of Polly Walling, and we sailed from Cape May. Arrived at Cape Fear and arrived at Wilmington and went up the NE branch as far as Exeter, then to Wilmington, so home. Note: Captain Townsend and crew [came] home with me and all our passengers, men, women [and] ch[ildren].
1753 March. I returned from Cape Fear as above. I was employed this spring in the Delaware River. June. I had a freight for Rhode Island. I went through the Sound by way of New York, back outside Long Island, and so passed the summer season. In September, came a Mr. John Leeke as agent from a company of whalemen to engage my vessel, for me to go master or for me to get any other. So my owners agreed for [the] sloop to go, to be ready by November 20 at Cape May.
1753 November 20. At Cape May. Took on board 12 men and all their appurtenances for whaling and two whaleboats and set out for a whaling voyage. I have £3 currency per month and 2/-1/2 per on oil. We are engaged to attend the men, of March to bring them home again and all their effects.
[December 1753]
4 This morning laying at Smith's Island wind bound.40 Our people went a-clamming and afterwards they went to catch porpoises, but caught none, and afternoon five of us went to the main and filled a cask of water and came on board and found two Virginia men on board. This morning very foggy, the wind at SSE or thereabouts, warm weather. This evening somewhat clearer. Saw Cape Henry once more again. This night very foggy again. All well on board.
5 This morning laying at Smith's Island yet wind bound and very foggy. After breakfast, the weather threatened us with a fair wind, but it disappointed us of it, for the wind came all round to north and so to NE, and [it] came as thick as before and some rain and looks very stormy, so that we thought fitting to keep a good harbor whilst we had it rather than to have a lee shore at sea. So [we] conclu[ded] to rest ourself as well contented as we well could. This day our people went on shore twice for clams and Yoppon tea, and at night we let old Simon go under foot. It blows very hard at NE or thereabouts.
6 This morning we found the wind at ESE and full of fog and hath been so all night. And our boat went on shore and cut some firewood. Some of our people tarried on shore and we that stayed on board got our large anchor up and on our bow again. Some rain and warm air. Our boat and people went and filled two cask of water. The wind at SE.
7 This morning we lay at Smith's Island wind bound as we have done a week and have scarce seen the land above once or twice a day since we have lain here, it being so full of fog and smoke and our people almost out of hopes of ever having a fair wind again. We have had the wind to the southward all the last night and a very wet fog so that we were afraid that our sails would rot from the boltropes. This morning we saw the land and we did not know but that we should have a fair day once more again, and we loosed our sails to air, for they could not dry for the fog, and we saw a sail off in the bay. All our people in general are well but very uneasy. And we had the wind to the southward and eastward all day, and our people, most of them, went on shore and got some clams and came on board and we got our boat in at night. We were fain to let old Simon go to keep her steady with the tide. The wind at SSW all night, some rain and some fogs.
8 This morning as soon as all hands turned out, we got our best anchor up and to the bow again. The clouds promised for a fair wind, but we cannot trust to it till we see it, for all former signs fails us. I think at present T. Green hath the fever, and about nine o'clock the wind came to the northward and we came to sail and came to sea. Close weather. Saw three sail bound in to the Bay of Virginia, and we stood across the bay, and at twelve Cape Henry bore west, distance 5 leagues. And we saw a brig passing to windward, and at six Currituck bore west, distance 4 leagues. And we steered SbE all the fore part of the night, and we run along shore till twelve. Some rain. This evening we had the wind at NE or thereabouts. Here is to sweethearts and wives.
9 This morning we continued sailing along shore with the wind at north and we had some rain. We saw the land, and at four we jibb[ed] and stood in to make the land plain and soon found that we were at the back of the surf and we jibb again within twice our length of shore. And we double-reefed our mainsail and handed our jib, and after we jibbed we handed our mainsail till daylight, and then we made more sail and saw six sail bound over Hatteras. And we made the pitch of the Cape and came over at ten o'clock. We brought over no less than ten foot and a half of the shoalest water, and we hauled along shore for to make Cape Lookout. Fair weather. All our consorts came over safe as well as ourselves. All our people are well except some that are seasick. We have the wind at NNW-ward, and at two we were so off Ocracoke, and we had a pilots come on board. And we told him that we did not want [a pilot], and we asked him the distance to Point Lookout, and he told us a great lie, for he told us only one-half more than it was, and I did not believe him. And we saw twelve sails in the inlet and five that was bound in and one that keep along for Lookout Harbor. We saw a sloop on shore. Fair weather but little wind, and at six o'clock we were about six miles to the southward of Ocracoke, and we had little wind all night and fine moonlight keep sight of the sloop all night. Warm weather. We had the wind to the southward, and we stood for Cape Lookout to make a harbor, and we sailed along shore all night, the wind at S-west, or thereabouts.
Monday, 10 This morning at dawning we saw Cape Lookout, and we had little wind, or calm, and we throwed both our boats out and towed three or four miles. And the other sloop got her boats out likewise, and we had the wind at south or thereabouts. And we turned over the shoal at one o'clock, and we had no less than two fathoms water over the shoal. And then we bore away for Lookout Harbor, and we found a sloop a-coming to sail bound for New York, and the other sloop came in after us and we found her to be Benjamin Bunker from Nantucket, in nine days from thence. And this afternoon came in to this harbor two more sloops belonging to Nantucket, John Starbuck and Captain Macy, and the two latter were bound for Cape Fear in order to try another berth for whaling at the south. Fair sunshine a day and a fine moonlight night.
11 This morning there was a small breeze at west, and we thought to go out, but the wind soon left us and we concluded to rest ourself as contented as we could, and our boat went on shore for water. And we lay here all the rest of the day. The wind came to the southeast or thereabouts. Fair at night 3 some rain. We went to see our friends. This day our people went and helped haul a seine and got in three or four hauls. The valley of three whaleboats loaded with fish of one sort or another.
12 This morning the wind continued at so'westerly and a smoky air. We lay here in a harbor yet wind bound and two sloops more bound to Shallotte and some of our people went on shore and brought off some potatoes. Came on board Captain Starbuck.
13 This morning we were a-laying at Point Lookout. A smart breeze of wind at SWbW and hath been so most part of the night past. A smoky air. Mulford and John Lineard [Leonard?] went on board of Captain Starbuck to breakfast, and after our people got their breakfasts they most of them went on shore. All our people are well, in general, but very uneasy for to have our passage completed.
This forenoon we saw a whale close under our sterns, but the wind blows so hard and a large sea [running] that we could not engage him. This afternoon the wind came more to the westward as to the northward and we made some preparations for sea. Fair weather and warm air.
14 This morning at four o'clock turned out all hands, and we took one whaleboat on board and then we hove apeak on our best bower anchor, and then we took on board our other whaleboat and came to sail. The wind at NNW and a fine breeze. The other two sloops came to sail likewise, and we steered WSW, but we soon found that we could outsail the other sloop. And the wind soon came to the westward, and at noon we had an observation: Latitude is 34d-20m north. I judge that we have made a WSW ¼ W course of it and distance 30 miles from Cape Lookout. Fair weather, little winds or calms, all well on board. This evening we stood in till seven and then tacked, and at eight we hove her to under our foresail, but we found she lay too much in the trough of the sea [so] that we were fain to balance our mainsail and handed our foresail. And [there was] a very large sea from the S-westward.
15 This morning we lay to till four and then we made sail and we hauled in NNE in order for to make Lookout Harbor. And at half after six we saw the land and we soon found it to be Bare Banks and we run along shore, and we saw the other two sloops after us. And at eleven we came to at Lookout Harbor and the other sloops came in after us. And the wind blows very hard at NW or thereabouts, and we let go our small anchor under foot, and at four we saw a sloop bound to the southward and the sea was so hard that they did not care to go over and they stood off to the eastward in order to go round him. And a very cold night and the wind comes more to the northward, but I did not forget the usual custom, sweetheart.
16 This morning we found the wind at NNW, and at six some of our gentry were for sailing and made a great to-do, so we came to sail and run along shore. And at twelve we were abreast of Bear Inlet, all well. We left our two consorts in Lookout Harbor, and at two were abreast of New River and little wind, or calm. At night we had the wind at north and so round to the eastward and so to the southeast to the morning as till night and smooth water.
Monday, 17 This morning at twelve we had a small breeze at NE and so to the ESE and looks for rain. We steered along south till daylight, and at six I saw the Pitch of the Cape, and then we kept her away for the Fear Point[?] and at nine we came over and we brought over ten foot and a half at the safe water. And we run up to the fort and came to and we left one boat and some of our people and we took a pilot on board and came to sail and run to Brunswick, and from thence to Wilmington that night.
18 This morning at dawning we all hands of us turned out and begun to make ready to get all our passengers' goods on shore, and at sun's rising we hoisted our colors and haul[ed] her to the wharf, and we begun and put all Tom Green's things on shore and another passenger and some of Mr. Mulford's goods on shore. And at ten [we] left Wilmington and came to at Brunswick. At three and at four came to sail again and [with] another sloop in company, both bound for Lockwood Folly, and came to at the fort at daylight. And we lay all night here at the fort. Fair weather, the wind at NE or thereabouts.
19 This morning at dawning all hands of us turned out and some went on shore for the other boat and some went for some potatoes to James Twain's. And when they brought the boat that was left on shore off, we took her on board and hove ahead on our best anchor, and the other boat soon came on board again and we came to sail and sailed out over the bar of Cape Fear and sailed towards Lockwood's Folly. And the wind failed us so we were fain to get both boats ahead, and we towed her to the Folly and we went in at half flood and carried ten foot water. And we moored her here and our people went on shore at the west side of the Folly in order to build them houses. Fair weather and warm. The other sloop did not come to sail when we did so she was fain to lay at sea all night, and we lay in a fine harbor.
20 This morning we all hands turned out and carried sundries of our peoples' things on shore, and at noon came some Carolina ladies on board and some men and Samuel Lineard, &c. All our people are well and good-humored. This flood came in the other sloop and lay just by us, and we saw a sloop in the offing that had carried away her bowsprit at sea.
21 This morning at dawning some of our people turned out and got the tea kettle over the fire and got something hot for us, and afterwards they got all their things on shore and lodged on shore all night, and all our whalemen lodged on shore all night. Mulford and some more went a-hunting today.
22 This morning at sunrising we turned out and did sundries and our people came and carried most of their things on shore, and we cleared our hold out and overhauled Mulford's apparels and found them in good order. And we have fine weather for the season of the year. All's well on board, and tonight I do not forget my Girl though she is absent from me.
23 This morning at three o'clock Captain Lyon came on board of us and Mulford went with him to Little River, and at daylight I went on shore and took breakfast with some of the whalemen, and some of them came off on board with me, and in the evening I went and stayed on board of the Rhode Island sloop till eight o'clock and [then] came on board again. Warm weather.
Monday, 24 This morning some rain and a very hard wind at SE. And at twelve came off Mulford and John Lineard and we got both our anchors up and came to sail and sailed to the landing and moored again and lay all night.
25 This morning, being cold and Christmas Day, I hoisted our colors, and Mr. Mulford and J. Lineard went to Mr. Daniels's to dinner. A smart wind at NW or thereabouts. All well.
26 This morning I hoisted our pendant and about noon I went to the beach to see our people and came on board before evening. And came down many of the inhabitants.
27 This morning came on board several Carolina gentlemen an[d] No[r]man, and after breakfast they all went to the beach to see our people. And in the afternoon Mr. Daniels went and the rest of his company to haul his seine and got a large parcel of large mullets. And at evening the gentle folks came back to the landing. Very cold. It hath froze all day today, but no snow.
28 This morning about daylight much rain, and after breakfast we loose[d] our sails to dry, and this forenoon Mr. Mulford set out for Sam Lineard, and at low water I carried the end of our small cable out to a stake on a bank on our off quarter. This day close weather. I made our sails up again. Mr. Daniels went and hauled the seine again and he gave me some fish, and I gave him some cider.
29 This morning close weather. I loosed our sails to air, and I am alone yet, ship-keeper [with] nothing to do.
30 This morning very cold and freezing weather. Loose mainsail to dry. In the afternoon I went to the beach.
Monday, 31 This morning clear and cold weather. The wind at NW all day, and so ends the old year.
[January 1754]
1 This morning clear and cold. At noon came on board Mr. Mulford from Little River. In the evening we went to the beach to see our people and came back in the evening. All well. Our people went after a fish but found it to be a mewgin,41 as they call them. The wind at north.
2 This morning we cleared our hold out and a made preparations to take on board [cargo] and Mulford overhauled his apparels and this day we took on board some pitch and stowed it away. All well.
3 This morning we begun and took on board pitch and stowed away till we had about eighty barrels on board, and we concluded to wait for Mr. Shaw's goods, and at night we went to the beach and found all well there. There passed by 3 sails bound for Cape Fear. Fair weather.
4 This morning fair weather. We lay here a-waiting for Mr. Shaw's goods, and at noon Captain Lyons and Mulford went to Mr. Daniels and at night came on board many men and tarried all night.
5 This morning our gentry went all on board of Captain Lyon to breakfast and we still a-waiting for Mr. Shaw's goods, and they came alongsides at evening. Some rain.
6 This morning some rain, and after breakfast we took all Mr. Shaw's corn and household goods on board and stowed them away and cleared our decks, and I got my beard off and came two of our whalemen to see us. And in the evening came Sam Lineard and Governor Youat[?] on board and likewise Mr. John Daniels. This evening somewhat cold but fair weather and a fine moonlight night. All well, but we find no trade here, for there is no pay that will suit us to bring to the northward.
7 This morning at daylight turned out and we got an [. . .] and the tide was so high that we could not roll pitch on board. The weather cold and freezing an hour after sunrising, and as soon as the tide fell we begun and took all Mr. More's pitch on board and hauled our [loading] stage on shore and cast all our fasts off and got our anchor up and towed some of the way to the mouth of this inlet. Note: we have a black nigger on board of Mister Daniels. We towed till we got aground, and I went and cut some firewood, and at high water we towed to the chops of this inlet and lay all night, and I went to Kimbo [Kimball?] and got his [ ].
I tarried in Cape Fear River all winter. The whalemen at Lockwood's Folly got nothing.
1754 March. Sailed from Lockwood Folly in sloop Susannah, with 12 men and all their empty barrels, butts, and appurtenances, but [they] did not get a drop of oil. So I lost nearly £12 currency by supplying one of the men. After we returned to Cape May and landed our people and their stuff, I took our small boat and came to Grinwags [Greenwich]. Our sloop was sold and I discharged. As I have sent many letters to my father and cannot get an answer, I find I cannot get anything. I think I'll go home to my father.
1754 I have tarried here at Cohansey two years and cannot get a letter from my father, although he hath sent me several. I have many friends here and relations, but [they are] not satisfied by my notes [without] a letter from home to prove that I am as I assert to be. Engaged with B. Sears to go to New York, but he sold his sloop also, and I came passenger with one [Josiah] Pool to Maurice River, and [I was] determined to take passage with him home and got my chest ready but could not get my sm[all?] debts in so I came away bare and not well clothed.
1754 I settled all my affairs at Cohansey that I could and sent my chest on for Maurice River, and when my unknown friend John Brick knew of my leaving the town of Greenwich he implored[?] me to tarry and said if I would abide with them he, John Brick, Junior, would build a sloop of such dimensions as I should think fit for foreign trade or coasting and that I should be charged with the one half of the vessel but would not demand any pay till she had earnt. But as my chest was gone I [. . .].
I left Greenwich the latter part of July and came to Maurice River in the Bay of Cape May, West New Jersey, and set sail for Rhode Island, a passenger, and came to New York and down [Long Island] Sound and arrived at Rhode Island, Josiah Pool master of sloop [Racehorse]. When at Rhode Island I went and saw Mr. Eleazer Trevett, and he had a sloop bound directly to Marblehead and I might have a passage, but I could not settle with Captain Pool for money I had lent him so could not go, and the sloop sailed but returned again this night. So good. I settled with Captain Pool, and the sloop [Robin] sailed for Providence Monday morning. I saw Mr. Trevett and he said one of his men had left the vessel and that he would give me wages round to Marblehead. So I came round as a hand and arrived at Marblehead. [I] find my father and his wife and all my brothers and sisters well. I stayed by [the] sloop till she sail[ed] for Rhode Island. After I was acquainted at Marblehead, I found a vacancy for a Mate in Robert Hooper's employ. I sat up for a Mate's berth. I saw Mr. Hooper and offered my service as a Mate, but the answer was "I do not know you!" I said my name was A. Bowen. [He said] "I know that, but as you have been master abroad I do not know your behavior." I applied to Jerem[iah] Lee, and he gave me the same answer and said I must go a voyage before the mast before I should have any employ from here.
1754 I have been out of employ from September till December. Mr. Robert Hooper [was] having a snow a-building at Newbury, and he gave the command to John Russell, and I engaged to go to Newbury with him for her as a foremast man. I went and helped get in her masts and then we rigged her and brought her round to Marblehead in her and I tended her all winter.
About the 12 of March 1755, we sailed from Marblehead in the fine new snow Halley, Captain John Russell, master, bound for Lisbon. Arrived at Lisbon in 25 days. Then we sailed for Cadiz, and there I saw Captain Joseph Prince and Captain John Griste in snow Champion. We sailed from Cadiz for Oporto where we discharged our cargo and took salt and came home complete in thirteen weeks.42 All well. Samuel Colton of Salem was Mate, and left. I supposed the berth belonged to me, but Mr. Hooper referred me to Captain [Joseph] Howard.
1755 August. I shipped [as] Sailing Master for a ship a-building at Boston, Thomas Goldthwait factor for one William Wonza of Bristol, England, to go for Bilbao if no war. To come to Marblehead to lade fish. I went to Boston. Was launched in ship William and when completed we sailed for Marblehead on September the 14 where we lay till the last of February when we sailed for Lisbon.43 As we were so long in loading after longering44 that on our passage we ship[ped] a sea and upset all our fish that was longered so much that, not withstanding I had got everything to the windward side, when we arrived at Lisbon with the black strake under water and our larboard side and bends out of water on the other, and we opened the lower hatches and put the hold to rights again. We discharged three of our men here, and I had her to man again, which I soon did, and we sailed for Bilbao and delivered all our cargo of fish safe. Then Captain Howard discharged me and all the crew and gave the carpenter and me 3 month pay to quit the ship, and I took passage with Captain Peter Green in the Lucretia for Lisbon, where we arriv[ed].45
1756 At Lisbon on board Captain Peter Green. I got to Boston in schooner Ranger, Barnabus Binney, master.46 Then I come to old Marblehead again and tarried in Mr. Hooper's employ till December. Then I shipped mate of Captain Philip Lewis for the West Indies in schooner Swallow of Mr. Hooper's.47
1756 When I entered on board the Swallow it was in the latter part of November when we sailed, and we were taken the 13 December by a John Chavers[?], commander, of Martinique and carried in there. Captain Lewis and myself [were] kept at the merchant's house. Our people were imprisoned. I had all encouragement to get away, which I took all the care I could in doing it. I got many of Captain Lewis's shirts and thin clothes away and my own. On Sunday, Captain Lewis, Mr. George Crowninshield, and myself made our escapes on board a schooner and got to St. Eustatius safe, where I find many friend. Note: Captain Lewis took a half Joe off one of the merchants and gave him an order to Barbados. Not good. Mr. James Freeman had bought a sloop, intending her to go to Martinique for a load of molasses and then to Marblehead. He offered the sloop to Captain Lewis but must have a Dutch paper carrier, but Lewis could not undertake this voyage, and he recommended me to Mr. Freeman. So, I went back to Martinique again where I was discovered but well treated by [the] merchant and captains of privateer and officers. I paid the half Joe that Captain Lewis had, and they gave me Captain Lewis's chest and bedding and my chest and all my things, and I went all round the island to get the cargo and got her full and down to Eustatius again, where I hoisted English colors and came home master. The sloop is the Olive of St. Eustatius.48
1757 Olive. I got home to Marblehead in June. I delivered my cargo according to bills of lading. I being consigned to Mr. Robert Hooper, I was obliged to follow his orders and lay up the sloop till hurricane month were over, and in September I had her [. . .] and the main deck caulked before the badness was discovered. And when the carpenters opened her sides to shift her beams they found every beam and knees rotten and were obliged to b[uild] all new main deck. And all that took them till November, and I did not sail from home till December.49 Arrived at St Eustatius 24 December.
1758 Sloop Olive begins this year with me. As the sloop cost so much to repair her, and but an old bottom, at last I concluded to take passage with my brother, [Nathan Bowen,] in the [brig] Hannah.50 So after I had settled all my business with Mr. Freeman I came away with him and went to Anguilla for salt and then home to Marblehead.
1758 Schooner Betsey [sic] belonging to Deacon Joshua Orne, Michael Coombs, master.51 I ship [as] his Mate and went to Lisbon and back again. I went one trip a-wooding to Townsend52 with Abras Mulle [Abraham Mully?] and did not go any more to sea this winter, and I stayed with my wife to see how it would suit to live on shore, and so forth.