The Colonial Society of Massachusetts

Invites you to submit a proposal for our

2020 Graduate Student Forum
More than 150 graduate students in early American history have shared their work in our Graduate Forum, which since 1999 has annually brought together a small cohort of promising students with Colonial Society members and friends for a day of discussion and scholarly engagement. Moderator Linda K. Kerber, May Brodbeck Professor in the Liberal Arts and Professor of History Emerita, Lecturer in Law, University of Iowa, will guide the discussions.
We invite papers on all aspects of early American history (up to 1815), though we may give preference to those focusing on New England.
We will commence with dinner for Graduate Forum participants and Society members on Thursday, June 11, 2020, at our townhouse at 87 Mount Vernon Street on Boston's Beacon Hill. Friday, June 12, will be a day of presentations and discussion, followed by Professor Kerber's closing remarks. The Colonial Society will provide accommodations and reimburse travel expenses for all graduate presenters.
Your proposal
--should not exceed five pages;
--should give a vivid sense of your dissertation topic;
--should highlight some methodological or conceptual problem you have encountered in your research.
Submit your proposal by January 31, 2020, to the Colonial Society's vice president, Robert Allison, at rallison@suffolk.edu. Contact Mr. Allison if you have any questions or concerns.
Testimonials from recent participants:
"The forum was one of the best conferences I've attended -- I feel so fortunate to have been a part of it!"
". . . it was a really great opportunity to workshop my ideas and get feedback."
Recent books by Graduate Forum alumni:
Jared Hardesty (2011 Graduate Forum) Unfreedom: Slavery and Dependence in Eighteenth-Century Boston (2016)
Kate Grandjean (2005) American Passage: The Communications Frontier in Early America (2015)
Jonathan Den Hartog (2003) Patriotism and Piety: Federalist Politics and Religious Struggle in the New Nation (2015)
Heather Miyano Kopelson, (2003) Faithful Bodies: Performing Religion and Race in the Puritan Atlantic. (2014)
Ruma Chopra (2007) Choosing Sides: Loyalists in Revolutionary America (2013)
Kathleen Donegan (2002) Seasons of Misery: Catastrophe and Colonial Settlement in Early America, (2013)
Linford Fisher,(2007) The Indian Great Awakening: Religion and the Shaping of Native Cultures in Early America (2012)
Emily Blanck (2002) Tyrannicide: Forging an American Law of Slavery in Revolutionary South
Carolina and Massachusetts (2012)
Ellen Hartigan-O'Connor (2002) The Ties that Buy: Women and Commerce in Revolutionary America (2009)
Colonial Society of Massachusetts Graduate Forum
June 12, 2020
Submit Proposals by January 31, 2020
Follow us on Facebook! Colonial Society of Massachusetts
---
Program of Our Previous Forum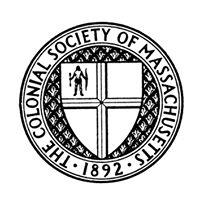 Colonial Society of Massachusetts
Graduate Student Forum
June 7, 2019
The forum is free and open to the public.
Turning to China 9:15 to 10:30
Anthony E. Guidone, George Mason University
America's First Global City: Salem, Massachusetts, 1790-1830
Simon H. Sun, Harvard University
Thomas Jefferson's Hau Kiou Choaan: China in Early American Life and Thought
Law and Disorder in the Colonial Northeast 10:45 to 12 noon
Arinn Amer, City University of New York
Tar & Feathers: Colonial Culture and the Making of Patriot Violence
Nicole Breault, University of Connecticut
Keeping Order: The Night Watch of Early Boston
Lunch Break
Elite and Popular Culture in Early America 1:15 to 2:30
George D. Elliott, Brown University
Alchemy and Household Science in 17th-Century Connecticut
Lance Boos, Stony Brook University
Print and Performance: The Development of a British-American Musical Marketplace in the 18th-Century
Final Reflections 3 pm
Marla R Miller
Associate Chair, Director of the Public History Program,
and Professor of History, University of Massachusetts
Programs for Graduate Student Forums from 2009 through 2019 may be downloaded at the links below.