To Sarah Savage Thatcher
Philadelphia 23 February 1796
My dear Sally
Yesterday was the celebration of President Washingtons birth. Immediately after twelve in the morning the Bells were rung—& the morning was ushered in by a salute from cannon & another peal of the Bells—Between eleven and twelve the various classes of people waited upon him in testimony of affection & congratulated him on the occasion—The House & Senate adjourned little after two & visited him—All were regailed with cake, punch & wine—A second salute was fired at twelve—& the Bells chimed at intervals thro' the day—
In the evening a Ball was given at the Amphitheater,1 & a supper at the Hotel2—The room was large & spacious enough to admit nearly one hundred & fifty couple[s] to dance at the same time & to the same music—It made a most splendid appearance being lighted by more than three hundred candles & lamps—The ladies were elegantly dressed in white & waving plumes on their heads—I tarried till half after eleven—I presume there were not less than five or six hundred persons present—The room was perfectly round, & not less than one hundred feet diamiter—On the side were boxes with three seats rising one above another towards the wall—with a walk of six or eight feet railed round—to seperate the dancers for others—
The President & Mrs. [Martha] Washington mixed with the company & conversed sociably with every one—
This is the first time I ever attended, tho I have had a card sent me every year since the commencement of the Government.3 I hesitated much about going—I weighed the profit & loss in my mind—& after a council of half an hour I concluded to go—I confess I was gratified, & tho I do not regret the loss of time, I feel no strong inclination to repeat the scene—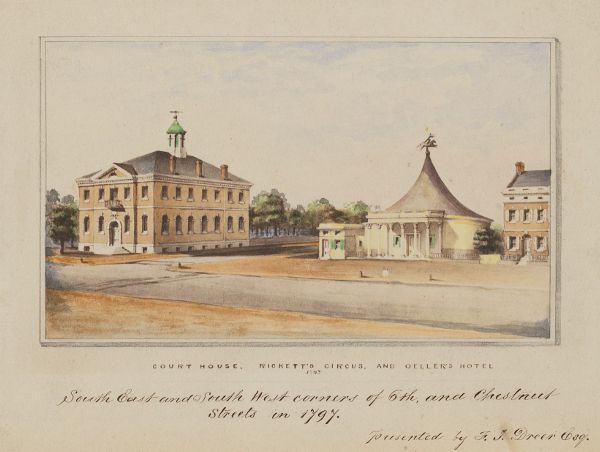 I have recieved yours of the 6th instant—Mr. Searl died early in January4—I was one of the Bearers, or as they are called here, pall-holders—I never saw him after I came to this City—I was told that it was thought it did him no service to see company—& I am not very fond of seeing any body deranged in mind—
When you wrote our dear little Lewis5 was ill with a sore mouth—I hope he has recovered—If your finances will admit I wish you to pay two or three dollars more to John Townsen—
I am glad to hear you were pleased with Mrs. Stacy6—I think her a charming little woman—& what gives me singular pleasure is to hear that he makes a good husband—I always had more faith in Brother Stacy than most of our acquaintance—He is esteemed; & has great confidence placed in him by the Gentlemen whose employ he is in7—
[. . . .]
The season of the year is now approaching for high, dry winds. I must therefore once more caution you all to be carefull of your fires—See the chimnies are all burnt while the house is covered with snow, or when it rains—And remember when the wind is high, to look frequently in the chamber, & on the roof of the house—by this means you may discover the fire in time to put it out, or to get the things out of the house—take care!
[. . . .]
Yours most affectionately
* * *
ALS, TFP. Omitted text relates to family friends and household management.