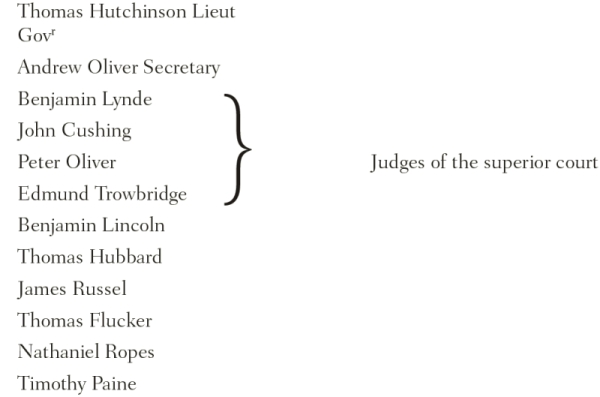 A List of 12 Persons proper to be appointed of the Council of Mass Bay in the first Instance.
The 6 first have been turned out of the Council
The 6 last are Councellors at present
To rank according to their former Appointments.1
Ms, RC CO 5/893, f 115.
In handwriting of Thomas Bernard. Written c. 19 Feb. 1769. This copy was enclosed in a duplicate of No. 736. The manuscript has been annotated, probably by a clerk in the Plantation Office: an "x" was placed in the left margin alongside the names of Hutchinson, Lynde, Cushing, Trowbridge, and Lincoln, though its significance is unclear. This list was compiled by FB with a view to identifying suitable candidates for a royally-appointed upper chamber. When Lord North's administration established such a Council with a royal writ of mandamus in 1774, under the Massachusetts Government Act, ministers considered lists of candidates submitted by FB at the time.2 Of those listed here five were appointed to the mandamus Council (Andrew and Peter Oliver, Russell, Flucker, and Paine), but only Flucker took the oath of office.