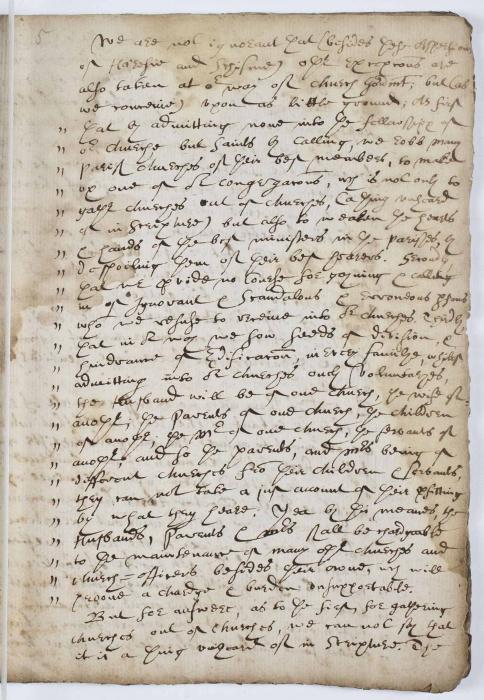 5
We are not ignorant that (besides those aspersions
of Heresie and Schisme) other Exceptons are
also taken at or way of church Govdmt; but (as
we conceive) upon as little ground; as first
" shal by admitting none into ye fellowshipp of
" or churches but saints by calling, we robb many
" parish churches of their best members, to make
" up one of ye congregations, wch is not only to
" gather churches out of churches, (a thing unheard
" of in Scripture) but also to weaken ye hearts
" and hands of ye best ministers in ye parishes, by
" despoiling them of their best hearers. Secondly,
" that we pvide no Course for joyning & calling
" in of Ignorant & Scandalous & Erroneous psons
" who we refuse to receive into or churches. Thirdly,
" that in or way we sow seeds of division, &
" hindrance of Edification, in every family, whilst
" admitting into or churches only Voluntaryes,
" the Husband will be of one church, ye wife of
" another, ye parents or one church, ye children
" of another; and so ye parents and mrs [masters] being of
" different churches from their children & servants,
" they can not take a just account of their pfitting
" by what they heare: yea by this meanes, ye
" Husbands, parents & mrs shall be chardgeable
" to ye maintenance of many of ye churches and
" church=officers besides their owne, wch will
" prouve a chardge & burden unsupportable.
But for answer, as to ye first, for gathering
churches out of churches, we can not say that
it is a thing unheard of in Scripture. The