private dupl:1
Castle William Aug 18 1765
Dear Sr.
The Letter to their Lordships inclosed with this is a duplicate, excepting in the address of a letter wrote to my Lord Halifax,2 which was yesterday put on board the Snow Elisabeth, William Bell Master, bound for Glasgow, as she passed the Castle: This will follow in 2 or 3 days. I have nothing to add to the Narrative, except that I heard yesterday that a paper was stuck up at the Exchange3 in answer to my proclamation, wherein it is asserted that the Persons at the head of the late insurrection are in all respects as good & respectable Men as the Governor & Council. Yet I understand the Town is grown quiet; but not a little elated on the success of the late commotion; and therefore ready to rise again on a like occasion.
You know that is been my Opinion4 that the first thing to be done in America was to regulate support & strengthen the Governments, so that their Authority might in no way be dependent on the humours of the people.5 To introduce parliamentary Taxations into America before the establishment of a power sufficient to enforce obedience to them is in my opinion beginning at the wrong End. The People know that at present they may chuse whether they will submit to be taxed or not;6 & in such a deliberation, it is easy to say what their choice will be. Whereas It should have first been made evident to them that they had no choice, and then submission would have followed. The want of this precaution will, I fear, create a great deal of trouble in other places besides this: It is well if this Spirit does not run thro' the continent. I am told7 that Mr Ingersol dont dare go into his Colony & is therefore retired to Rhode Island: In other Governments the principal people have declared that they will destroy the Stamp office. In the defenceless state which the Governments are in, there is not much probability that the Act will be carried into execution on Nov 1 in any of them: in this it is impossible.
Surely it is not known at Whitehall how weak & impotent the Authority of American Governors is in regard to popular tumults. Heretofore Some of them were allowed an independent company which afforded them some protection. Instead of extending this petty guard to the others, it has been taken away from those who had it, for the sake of the precision of Military Arrangements.8 In this defenceless state they are left exposed to the resentment of a furious people for business in which they have no hand. It is true a Governor is not in reason answerable for what the parliament does: but suppose when a Mob is up, a Wicked leader should tell them that the Governor recommended this Measure: It is directly received as truth; and the Governor's House & Life also immediately become the Objects of their fury.9 For my part I am entirely at the mercy of the Mob; & how merciless it is I have seen: I have no place of Safety to resort to, but this fort with a weak garrison.10 Here I have got my Wife & younger children & here I intend to live;11 but shall nevertheless do my business in town whilst I can safely; but shall sleep in it as little as I can. It is true nothing has been urged against me as yet: but as no lies are spared to incense the people, & the most improbable gain a ready beleif, I know not how long I shall be spared. At all Events, the Confusion which the first of Novr will bring upon the people will make it unsafe for me to live in the Town.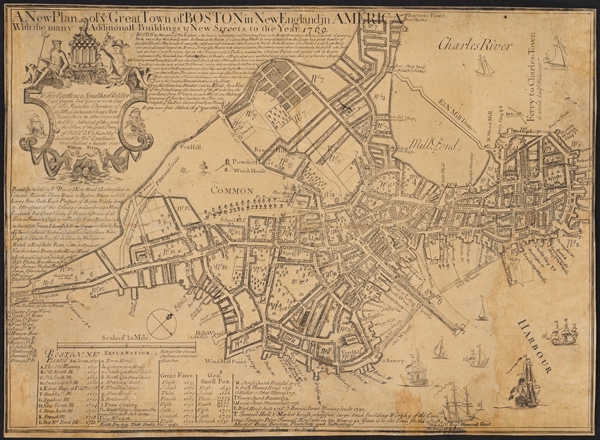 Another probable Event will drive me from thence: It may well be presumed that troops will be sent here; it is said in Boston that their Entrance will be opposed: Whilst such a dispute as this subsists, this can be no proper place for civil Government. I must beg of you, that in such a case I may receive orders to call or prorogue the Assembly to some other town, Salem for instance, which is the second Town in the province. Many reasons concur for this Measure: I depend upon the Assembly to set these Matters to right; as I really beleive that there is not one out of twenty throughout the province but what will disapprove the proceedings of Boston. But if they are to sit at Boston, they will neither be free from terror on the one hand, nor undue influence on the other: the Mobs there are bad, but the politicians are worse. Besides this Proceeding will not be an improper censure of the Town. You may say I can do this without an order: I have no doubt but that I have the power to call the Assembly where I please; tho' that has been heretofore disputed. But at the present I dare not: I have so large a stake at Boston which is not easily removed that I cannot venture to provoke the Mob of the place untill I have some protection to resort to.
I therefore very much desire to receive such an order as soon as possible: I shall endeavour to postpone the called the Assembly12 untill I receive orders from England;13 tho' I much doubt whether I shall be able to prolong it so long. The Winter Session generally begins about the middle of January; so if I could receive these orders before the end of December, it would be well enough. But in such Case you must send your dispatches by Merchants ships directly hither: nothing that requires the least expedition should be sent hither by the packet boat, which is the most uncertain & dilatory conveyance imaginable. I expect to be very much pressed to call an Assembly at the beginning of Novr; but I shall avoid it if possible: for I am very desirous of opening next Sessions with orders from home  if it can well be. But then I repeat it, they must be sent with all possible expedition. At least let me have an early Notice that my letters on this subject have been received.
I am Dr Sr Your most faithful & obedt Servant
Fra. Bernard
J. Pownall Esqr
dupALS, RC SA: WWM/R24/17.