Instructions to Col Richard Saltonstall and Lieut Francis Miller.
Whereas in pursuance of the advice of his Majesty's Council I have authorised you by my Warrants to raise & inlist a number of Men not exceeding sixty to be formed into an independent company, to serve in his Majesty's Castle William, in addition to the Garrison there; The following are your instructions for the execution of such Warrants.
1st. You shall be careful to inlist no Man but whose courage & fidelity you have just reason to depend upon.
2d. Each person is to be inlisted to serve for 4 months only & to be dismissed sooner if the Special Service shall cease.
3d. The Pay is to be the same as was allowed to the Provincial Soldiers in the last Campaign with the Same provisions as are allowed to the present Garrison.1
4th. Each person so inlisted is to have a bounty of 8 dollars to be paid him upon his arrival at Castle William.
5th As Soon as you shall have inlisted a considerable Number of Men, You shall return them to Castle William under the command of one of you by the best rout or conveyance which you shall be able to contrive; & the rest shall follow as soon as may be.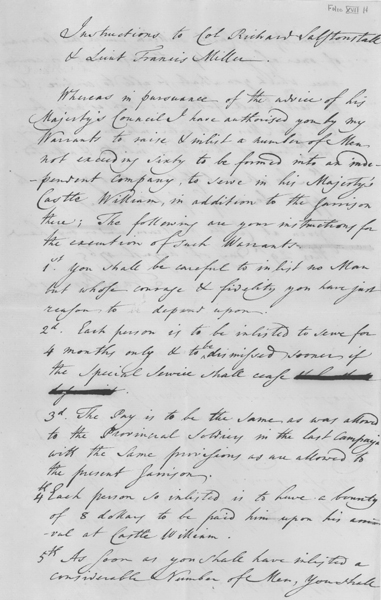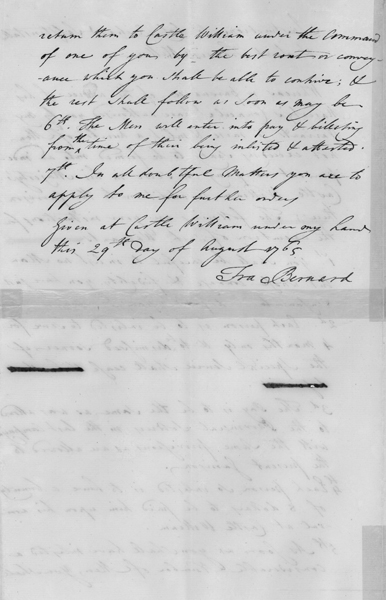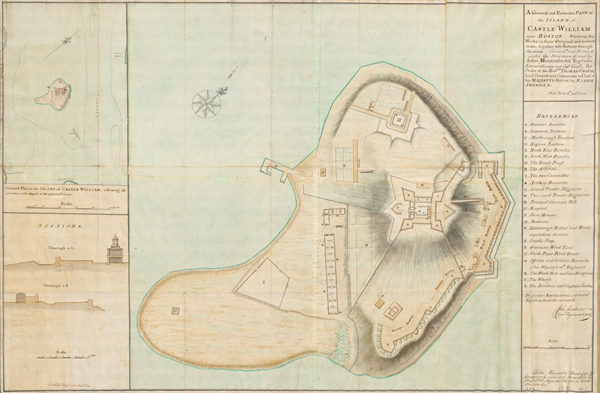 7th In all doubtful Matters you are to apply to me for further orders
Given at Castle William under my hand this 29th day of August 1765
Fra Bernard
Ms, RC MHS: Saltonstall Family Papers.