28 | Account of the Coast of Labrador
La Terre de Labrador, or the land for cultivation, if settled and improved by civilizing the natives, would afford a great fund for trade, especially that part of it called the Eskimeaux shore, between Cape Charles in the straits of Belle Isle, in lat. 51: and Cape Chudley, in lat. 60 North, bounding East on the Atlantic ocean. There is but one noted writer of the French nation who mentions the Eskimeaux Indians: The derivation of Eskimeaux must depend entirely on him, as it is a French termination.164 What nation of Indians he intends by his descriptions of a pale red complexion, or where situated, it is not easy to conceive; he surely don't mean those on the east main of Labrador, as it evidently will appear by the following observations that no foreigner had ever been among them, till Anno 1729; at least since Capt. Gibbons, in Anno 1614, who, had he seen any of the natives, it is probable, would have mentioned it;165 and therefore I suppose the French writer must mean those who live on or between the lakes Atchoua, and Atchikou, who have been known to trade with the French in Canada, and perhaps at St. James' Bay factory.166
The Eskimeaux coast is very easy of access early in the year, and not liable to the many difficulties, either on the coast of Newfoundland or Cape Breton.
This coast is very full of islands, many of them very large, capable of great improvements, as they have more or less fine harbours, abounding in fish and seals, water and land fowl, good land, covered with woods, in which are great numbers of fur beasts of the best kind. Along the coast are many excellent harbours, very safe from storms; in some are islands with sufficient depths of water for the largest ships to ride between, full of cod fish, and rivers with plenty of salmon, trout, and other fish. The climate and air is extremely wholesome; being often refreshed with thunder and lightning, though not so frequently as to the southward of Belle Isle straits: fresh water is found every where on the coast and islands in great plenty.
What follows shall be a plain narration of facts, as I received them from several persons who have been on the Eskimeaux coast, with now and then a digression, which I hope may be pertinent.
Captain Henry Atkins sailed from Boston in the ship called the Whale, on a voyage to Davis's straits, in 1729.167 On his return to Boston, he went on shore in several places southward of Davis's inlet, in lat. 56; but could not discover any where the least sign of any persons but the natives, having been there before him. In lat 53: 40: or thereabouts, being hazy weather, he could not be very exact, he descried twelve canoes with as many Indians, who had come from the main, bound to an island not far from his ship. The Indians came near and viewed his ship, and then paddled ashore to the island as fast as possible. Capt. Atkins followed them, and came to anchor that night, where he lay till the next day in the afternoon. He went on shore with several of his men, with small arms, cutlasses, and some small articles, to trade with the Indians, who made signs to him to come round a point of land, but he chose to go ashore on a point of land that made one side of a fine harbour. The Indians stood a little distance from the point, and by their actions shewed signs of fear and amazement. He being resolved to speak with them, advanced toward them without any thing in his hands, the Indians took courage and suffered him to come near them, he shewed them a file, knife, and sundry other little articles, to exchange for fur, whalebone, &c.: they did not apprehend his design, which obliged him to send on board his ship for a slab of whalebone, on sight of which they made a strange noise; it being near sunset, they pointed to the sun going down, and then lay down with their faces to the ground, covering their eyes with their hands: In a few minutes they arose again, pointing to the sun, and then turned themselves to the east, by which Capt. Atkins understood they would come to him again the next morning. The Captain then went ashore, and carried with him some trifles he thought most agreeable to the Indians, who returned to the same place, and brought a quantity of whalebone, at least fourteen feet long, and gave him in exchange for about 10s. sterling value, as much bone as produced him £120 sterling at Boston.
The Indians were chiefly dressed in beaver clothing of the finest fur, and some in seal skins. He could not distinguish their sex by their dress, but one of his seamen, being desirous to know, approached one of them, who, opening her beaver, discovered her sex, which pleased the Indians greatly. Capt. Atkins ordered one of his men to strip himself, which caused the Indians to hollow as loud as possible; while they were thus engaged one of the Indians snatched up a cutlass, upon which they all run off; Capt. Atkins resolved not to lose it and followed them, and making signs, they halted. He applied to one of them, whom the others payed most respect to, and got it returned; he then fired one of his guns pointed to the ground, which terrified them extremely, which their hollowing plainly discovered I am the more particular in this account from his own mouth, as I think it plainly indicates that the Indians on this coast and islands had never any trade or commerce with any civilized people from Europe or America of course not with the French from Canada, or the Hudson's bay factories.168 The Indians signified to Capt. Atkins, that if he would go over to the main, he should have more whalebone, but he did not choose to trust them. He observed their beaver coats were made of many pieces sewed together, being the best patches in the skin, which shews plainly they set light by their beaver skins, and this undoubtedly for want of trade.
Capt. Atkins observed they were dexterous, and active in the management of their canoes or boats, which were made of bark and whalebone, strongly sewed together, covered with seal skin, payed over with a dark sort of gum. These Indians were well made, and strong, very fat and full of blood, owing to their living on raw whale fat, and drinking the blubber or oil. Their limbs well proportioned, their complexion a dark red, their hair black, short, and straight, having no beard nor any hair but on their heads. Their behaviour very lively and cheerful; their language guttural and dissonant; their arms were bows and arrows, some of bone and some of wood; their arrows feathered and barbed; they sling their darts through a piece of ivory, made square and fastened to the palms of their hands. Capt. Atkins conceives them to be a very cunning, subtile people, who could easily apprehend his meaning, when he made signs to them, but took no notice of his speaking to them. As Capt. Atkins coasted that main, he found the country full of woods, alder, yew, birch, and witch-hazel, a light fine wood for shipbuilding; also fine large pines for ship masts, of a much finer grain than in New England, and of course, tougher and more durable, though of a slower growth; and no question but naval stores may be produced here. The two inlets called Fitch and Davis, it is not known how far they run up the country; Fitch's is a fair inlet, bold shore, and deep water, and great improvement might be made upon it, there being many low grounds, and good grass land: Capt. Atkins sailed up Davis's inlet, about 25 leagues. This coast is early very clear of ice, though at sea a good distance off there are vast islands of ice that come from Hudson's and Davis's straits, which are frequently carried as far as the banks of Newfoundland, by the strong current that sets out from those straits southward.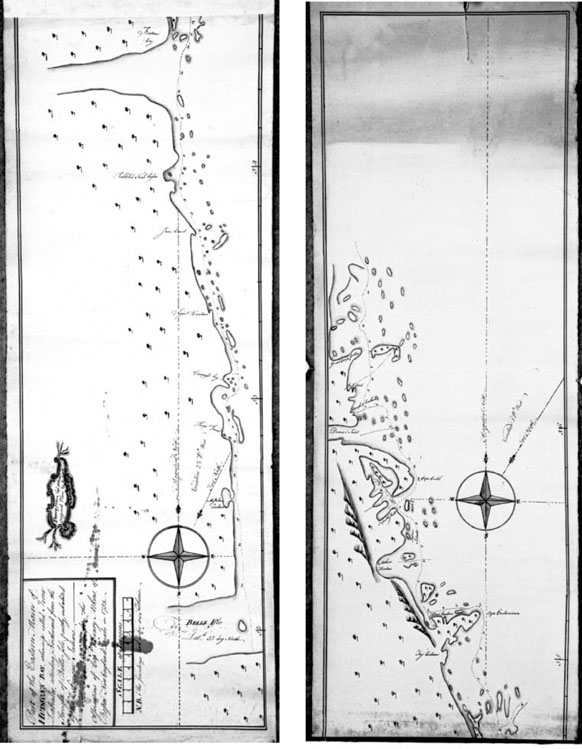 Map of the Coast of Labrador. Drawn by J. Leach from an original plan by Capt. Henry Atkins, 1764, in D/SB MP/8. The dotted line shows Atkins's journey along the coast. Courtesy of the Centre for Buckinghamshire Studies. Photograph by Peter Hoare.
Capt. Atkins made his last voyage on this coast. Sailed the beginning of June, 1758, arrived at Mistaken Harbour, which he called so, having put in there July 1st, following, in a foggy day, and went northward, (with fine weather, very hot, with some thunder and lightning) to lat. 57, searching for the Indians to trade with. Saw two large canoes which run from him: Despairing of meeting any more there, he returned southward, and went on shore in lat. 56: 40: at the Grand Camp place, which he called so from great signs of Indian tents that had been fixed there; here he also saw two Indian men, one woman, and three children, who run from him; he pursued and took them and carried them on board his vessel, treated them kindly, and gave them some small presents, and then let them go. They were well pleased with Capt. Atkins: they called whalebone Shou-coe, a woman Aboc-chu, oil, Outchot. When he sent his seamen to fetch one of their canoes that had drifted from the vessel's side, they said Touch-ma-noc.
I shall once for all take notice that the several harbours and places named by him, was from any thing remarkable he found in them, as Gull Sound and Harbour, from the prodigious number of gulls he saw there, also after the name of some of his particular friends.
The entrance of Hancock's inlet, in lat. 55: 50: a very fair inlet; very little tide sets in or out; from fifteen to twenty fathom water going in; five hundred sail of ships may ride conveniently in this harbour, secure from any weather. On the east side, the harbour is a natural quay or wharf, composed of large square stones, some of them of prodigious bulk. This quay is near three miles long; runs out into the harbour in some places sixty, in others two hundred feet broad; eight fathom water at the head at high water; so that ships might lay at the quay afloat, and save their cables. The harbour abounds in cod fish very large, that a considerable number of ships might load there, without going outside, which may be cured on the shore and at the quay, except in very high tides; while some are employed in the cod fishery, others might be catching salmon, seals, &c. in the harbours so called. Capt. Atkins and his people waded in Salmon river in two feet water, and catched some salmon in their hands, as many as they had salt to cure, one of which measured four feet ten inches long. How far up this river reached, he could not tell, but believes a good way in land, (though shallow in some places), to be capable of breeding such vast shoals of salmon, salmon trout, and other small fish that passed by them while fishing there; also several acres of flats in Salmon river, filled with clams, muscles, and other shell fish, among many other conveniences necessary to a good harbour, and some falls of water suitable to erect saw mills, grist mills, &c.; all kinds of sea fowl are very plenty and easily taken; a good settlement might be made on Fort island in this harbour, easily secured from any attacks of Indians.
On Cape Cod there is a vast plenty of wood; some pines he saw there sufficient to make masts for ships of six or seven hundred tons, and he doubts not but a little way in land they are much larger, and witch hazel, and other woods fit for ship building; the soil in this harbour is capable of great improvements, there being rich low grounds. The woods abound in partridges, pheasants, and other game, as well as bears, deer, beavers, otters, black foxes, hares, minks, martins, sables, and other beasts of rich fur. The beavers are of the black kind, of the finest fur in this country; he took particular notice of some small birds of passage, among them some robins, well known to love a pleasant climate; and on the shore side great plenty of geese, ducks, teal, brants, curlews, plovers, and sand birds; and from all Capt. Atkins and his people could observe, they are all well persuaded that the winters at this harbour, (he now called Pownal harbour in Hancock's inlet169), are not so uncomfortable as at Newfoundland and Louisbourgh, though so much further northward. In September 29th, 1758, he left this delightful inlet in fine weather, bound home to Boston, searching the coast and trading, put into Fortune bay, and left it October 16th; some sleet and rain and a little cold; had five days passage to St. Peter's bay in Newfoundland, where the weather had been so cold and tempestuous for fourteen days before, they could not catch fish, which Capt. Atkins might have done at Fortune bay the whole time.
I can hear of no vessel having wintered on that coast, except a snow which Capt. Prebble170 found at Fortune bay, when sent on that coast by Capt. Atkins in 1753. Capt. Prebble traded with the natives, about seventy men, women and children; got from them about 3000 lb. of bone for a trifling value. Capt. Prebble carried with him a young Frenchman, in hopes that some Indians might be found who understood the French language, but they could not find one who took more notice of it than of English; a plain proof these people had never left their own country to trade with the French; for it is very observable that the Indians who have been used to trade with the French, speak that tongue well. Capts. Atkins, Prebble and others agree, that the current sets southward; in the several harbours they went into they found the tides flowed about seven feet.
The river St. Lawrence being now opened to us, a passage from Boston may be made early to the Eskimeaux coast, through the straits of Belle Isle. I might here add sundry observations made by Capt. Atkins and others, respecting the advantages that might accrue to the whalemen and others, on this coast; and of their conjectures of the richness of this country in mines and minerals; but I, at present, content myself with a bare relation of facts, sincerely wishing the foregoing observations might be of any advantage to future navigators.
Boston, Feb. 16th, 1761.
PC Collections of the Massachusetts Historical Society, 1st ser., 1 (1792), 233-237.
When this document was first published no information was provided about its location other than in the preface: "The following account of the Coast of Labrador was found among some papers of the late Sir Francis Bernard, Governour of the Province of Massachusetts Bay, at the time it was written." The original text has not been found in any of Massachusetts's repositories or in the PRO.
Capt. Atkins's voyages are not discussed in the classic Lewis Amadeus Anspach, A History of the Island of Newfoundland (London, 1819) or any recent study, as far as can be ascertained, but are mentioned in W. Gillies Ross, "The Annual Catch of Greenland (Bowhead) Whales in Waters North of Canada, 1719-1915: A Preliminary Compilation," Arctic 32 (1979): 91-121. This "Account" provides a glimpse of Labrador before it became a British possession in 1763, whereupon an influx of colonial American and British vessels sparked conflict with the Inuit. FB composed the "Account" after speaking with "several persons" who had visited the Labrador coast: Atkins himself (FB notes that one anecdote came "from his own mouth"), Jedidiah Preble, and others who had accompanied Atkins, and probably Atkins's business partner Thomas Goldthwait (1718-79), FB's secretary at war. Nothing is known about Atkins's voyages other than what can be deduced from this document. He was certainly an interpid mariner and able navigator who headed for the Davis Straits in search of baleen, as many Massachusetts fishermen did in this period. He landed on the Labrador coast in 1729, probably when he was just a sailor, and returned as captain of his own vessels in 1753 and 1758; he likely made other voyages there also. The names of the bays and inlets, if chosen by Atkins, might indicate patronage by Thomas Hancock or Thomas Pownall. His journey along the coast in 1758 can be followed in a map that FB had prepared to accompany the "Account": Map of the Coast of Labrador, drawn by the Massachusetts cartographer John Leach from an original plan by Capt. Henry Atkins, 1764, in Spencer Bernard Papers MP/8 (see illustration p. 78). FB may have intended to write a scholarly paper, but, after sending Barrington a précis of the "Account" (No. 83) he did not persevere with the project.