[1731]
[Right upper strip:] Here lies the body of the wood, which consists chiefly of black oak, with a considerable mixture of white oak, and some walnut on the highland; but in the swamps of maple &c. The surface of this main body of woodland does not appear more hilly, uneven, rocky, or difficult to be traversed, than common. The swampy parts indeed are more firm than usual. This whole Lot lies common, having no fence against the road from A to B, nor from B to C against the adjoining Sewall School Lot. The whole of the Sewall Coll[ege] Lot is very well wooded, containing a great proportion of large trees fit for making board, planks, &c. and others suitable for ship timber, house frames &c. Large quantities of wood lie rotting on this lot and many old trees will soon be added thereto.
[Right lower strip:] The soil of this pasture appears to be moist and strong; but it remains too much covered with bushes.
[Next on the left:] The western part of this inclosure is mostly covered by a fine young growth of excellent white oak, which in a few years will furnish a considerable quantity of timber of the first quality.
[Next on left:] The eastern part of this inclosure is pasturage, and very strong soil, tho' considerably overrun by high blackberry bushes and whortleberry ditto.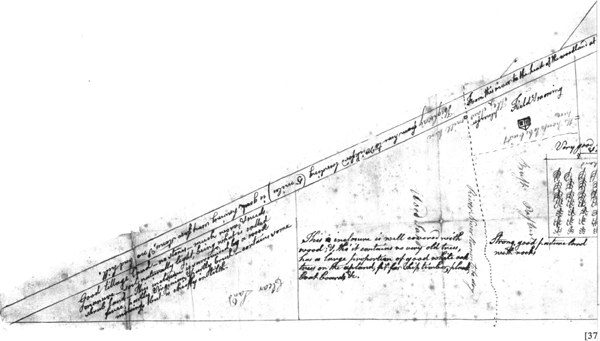 [Next on left, upper:] Rockey pasture—soil and aspect good for orchard.
[Next on left, lower:] This inclosure is mowing, and is surrounded by a new wall.
[Next on left, upper:] Field and mowing.
[Next on left, center:] Very good orchard—trees large and thrifty, and all [mildlings?].
[Bottom:] Strong, good pasture land with rocks. Wheat land formerly.
[Next on left:] This inclosure is well covered with wood; and tho' it contains no very old trees, has a large proportion of good white oak trees on the upland, fit for ship timber, plank, boat boards &c.
[Far left:] Good tillage land—no stones—much worn, and needs manure—soil naturally light, being what is called shrub land. This inclosure is surrounded by a wood fence partly Virginian and partly brush—contains some mowing, but is chiefly in tilth.
[Top triangle:] Woodland—not thick. This belongs to the farm and lies common.
[Around the outside:] From this river to the head of the woodland at B is one continued ascent—bad road—and from the point A almost impossible for a cart or sled by reason of its large and numberless rocks.
Highway from here to Wickford landing (5 miles) is good, having very few stones, and no bad hill.
Narragansett Farm Papers, p. 2. This probably dates from early 1731, when the Corporation began to concern itself with the building of a house on its lands in North Kingston, Rhode Island. The property had been given to the College by Samuel Sewall and his wife in 1696. There are earlier, fainter, markings underneath in several places on this document.
[See illustration opposite.]