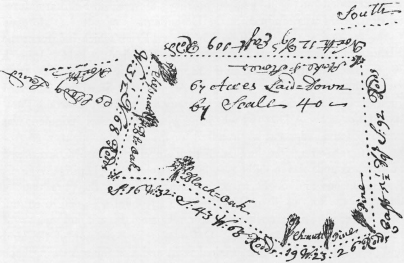 Laid out by the subscribers to Harvard Colledge sixty seven Acres of Land scituate in the Northerly Part of Townshend, beginning at a Chessnutt Tree in the Line of the School-land and Running West 31½ degrees North 32 Rods to a Black-Oak-Tree which is the most South-easterly corner of the land formerly laid out to said Harvard Colledg, and then by said land 36 Rodds to a Stake and Stones in the line of said Colledgland, which stake and stones is a corner of Abial Boyntons Fourth Division, Then by said Boyntons land S. 16 degrees W. 32 Rodds to a Black-Oak, Then S.43 degrees W. 68 Rodds to a Chessnutt, Then 19 degrees W. 23 Rodds to a Pitch-Pine which is a corner of said Boyntons Fourth Division, and his Meadow-lott, then W.42 degrees S. 26 Rodds by the Meadow-lotts to another Line, and from thence by common Land E. 5½ degrees S. 92 Rodds to a stake and stones at the corner of the School Land, from hence N.12 degrees E.109 Rodds by the School land to the corner first described. Allowance is made in this Lott for a Way Through the same when the Town shall think it Necessary.
Surveyed June the 13th 1739 John Stevens Surveyor.

Cambridge July 10 1739
Mr. Steward
Sir
Please to pay to Capt. William Lawrence of Groton four and forty shillings and 6d.
per Edward Holyoke, President
To Andrew Bordman, Steward
| | |
| --- | --- |
| surveyors charge | 0–15–0 |
| Making the Plan | 0– 3–0 |
| and Recording | 0– 2–6 |
| 2 Committee Men | 1– 4–0 |
| | £2– 4–6 |
Lands Papers, Miscellaneous, 1. 44. There is a sketch-map at the top of the document.