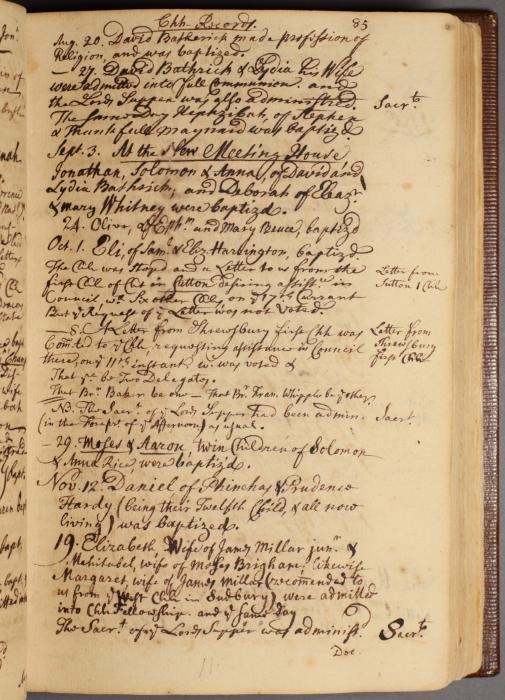 ___Chh- Records.

85

Aug. 20. David Batherick made profession of

Religion, and was baptized.

____ 27. David Bathrick & Lydia his Wife

were admitted into full Communion, and

the Lords Supper was also administred.

Sacrt

The same Day Hephzibah, of Stephen

& Thankfull Maynard was baptizd

Sept. 3. At the New Meeting House,

Jonathan, Solomon & Anna, of David and

Lydia Bathrick; and Deborah of Eleazr

& Mary Whitney were baptizd.

24. Olive, of Ephm and Mary Bruce, baptizd.

Oct. 1. Eli, of Saml & Eliz. Harrington, baptizd.

The Chh was Stopd and a Letter to us from the

Letter from

first Chh of Cht in Sutton desiring assistce in

Sutton 1 Chh

Council, wth Six other Chhs, on ye 17th Currant

But ye Request of ye Letter was not Voted.

____8. A Letter from Shrewsbury first Chh was

Letter from

Comm.ted to ye Chh, requesting assistance in Council

Shrewsbury

there, on ye 11th instant, wc was voted &

First Chh

That yre be Two Delegates.

That Brr Baker be one ___ That Brr Fran. Whipple be ye other.

===NB. The Sacrt of ye Lords Supper had been admin.

Sacrt

(in the Foreprt of ye Afternoon) as usual.

__ 29. Moses & Aaron, twin Children of Solomon

& Anna Rice, were baptiz'd.

Nov. 12. Daniel, of Phinehas & Prudence

Hardy. (being their Twelfth Child, & all now

living) was baptized.

19. Elizabeth, Wife of James Millar junr &

Mehitabel, wife of Moses Brigham; likewise

Margaret, wife of James Millar (recommended to

us from ye West Chh in Sudbury) were admitted

into Chh Fellowship and ye same day

The Sacrt of ye Lords Supper was administd

Sacrt

Dec.