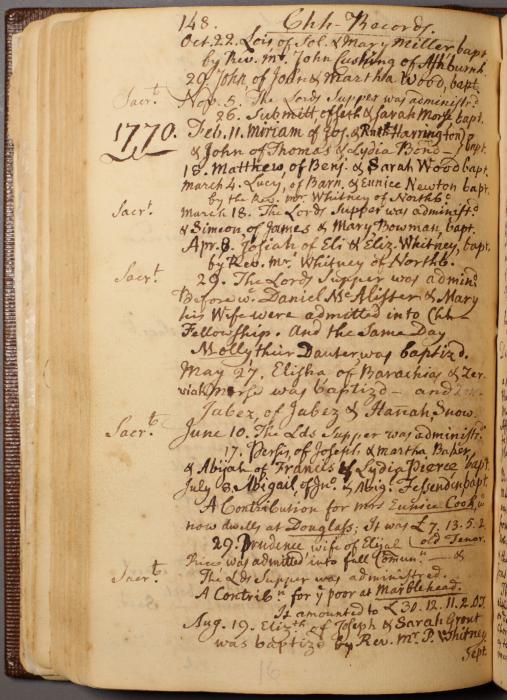 148.

_Chh- Records.__

Oct. 22. Lois, of Sol. & Mary Miller, bapt.

by Rev. Mr John Cushing of Ashburnh.

29. John, of John & Martha Wood, bapt.

Sacrt

Nov. 5. The Lords Supper was administrd

26. Submitt, of Seth & Sarah Morse, bapt.

1770.

Feb. 11. Miriam of Jos. & Ruth Harrington

& John of Thomas & Lydia Bond __

bapt.

18. Matthew, of Benj. & Sarah Wood bapt.

March 4. Lucy, of Barn. & Eunice Newton bapt.

by the Rev. Mr Whitney of Northbo

Sacrt

March 18. The Lords Supper was administd

& Simeon, of James & Mary, Bowman, bapt.

Apr. 8. Josiah, of Eli & Eliz. Whitney, bapt.

by Rev. Mr Whitney of Northb.

Sacrt

29. The Lords Supper was admind

Before wc Daniel McAlister & Mary

his Wife were admitted into Chh _

Fellowship. And the Same Day

Molly, their Dauter, was baptizd.

May 27. Elisha, of Barachias & Zer-

viah Morse was baptizd – and zer-

Jabez, of Jabez & Hannah, Snow.

Sacrt

June 10. The Lds Supper was administrd

17. Persis, of Joseph & Martha Baker,

& Abijah, of Francis & Lydia Pierce, bapt.

July 8. Abigail, of Jno & Abigl Fessenden, bapt.

A Contribution for Mrs Eunice Cook, wo

now dwells at Douglass; It was £7. 13. 5. 2.

29. Prudence, wife of Elijah

old Tenor.

Rice, was admitted into full communn ____ &

Sacrt

The Lds Supper was administred.

A Contribn for ye poor at Marblehead.

It amounted to £30. 12. 11. 2. OT.

Aug. 19. Elizth of Joseph & Sarah Grout

was baptizd by Rev Mr P. Whitney.

Sept.