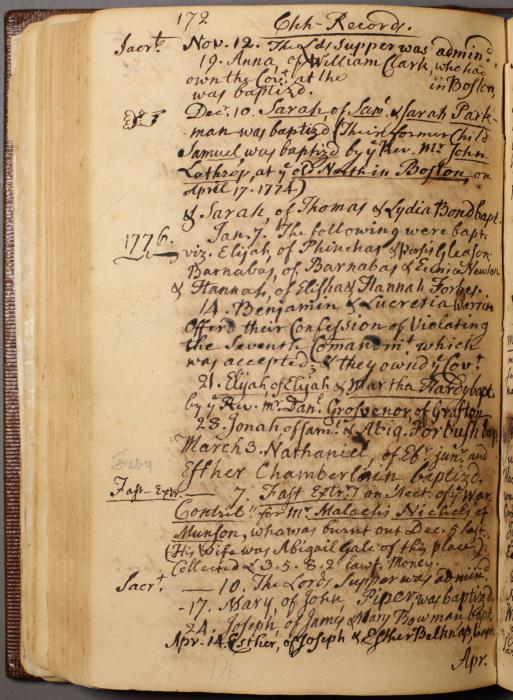 172

_Chh- Records._

Sacrt

Nov. 12. The Lds Supper was admind

19. Anna, of William Clark, who had

own the Covt at the

in Boston,

was baptized.

Decr 10. Sarah, of Saml & Sarah Park-

-man was baptizd (Their former Child

Samuel, was baptizd by ye Rev. Mr John

Lathrop, at ye old North in Boston, on

April 17. 1774).

& Sarah, of Thomas & Lydia Bond bapt.

1776.

Jan. 7. The following were bapt.

viz. Elijah, of Phinehas & Persis Gleason:

Barnabas, of Barnabas & Eunice Newton

& Hannah, of Elisha & Hannah Forbes.

14. Benjamin & Lucretia Warrin

Offerd their Confession of Violating

the Seventh Commandmt which

was accepted; & they ownd ye Covt

21. Elijah, of Elijah & Martha Hardy bapt.

by ye Rev. Mr Danl Grosvenor, of Grafton

28. Jonah, of Saml & Abig. Forbush bap.

March 3. Nathaniel, of Ebr junr and

Esther Chamberlain, baptizd.

Fast- Extr._____

7. Fast Extrry on Acct. of ye War.

Contribn for Mr. Malachi Nichols of

Munson, who was burnt out Dec. 5 last.

(His Wife was Abigail Gale of this place.)

Collected  £3.5.8.2 lawf. Money.

Sacrt

_____ 10. The Lords Supper was admnd

_ 17. Mary, of John, Piper, was baptizd.

24. Joseph, of James &Mary Bowman, bapt.

Apr. 14. Esther, of Joseph &Esther Belknap, bapt.

Apr.